In collaboration with the Garda Trentino S.p.A. Tourism Board.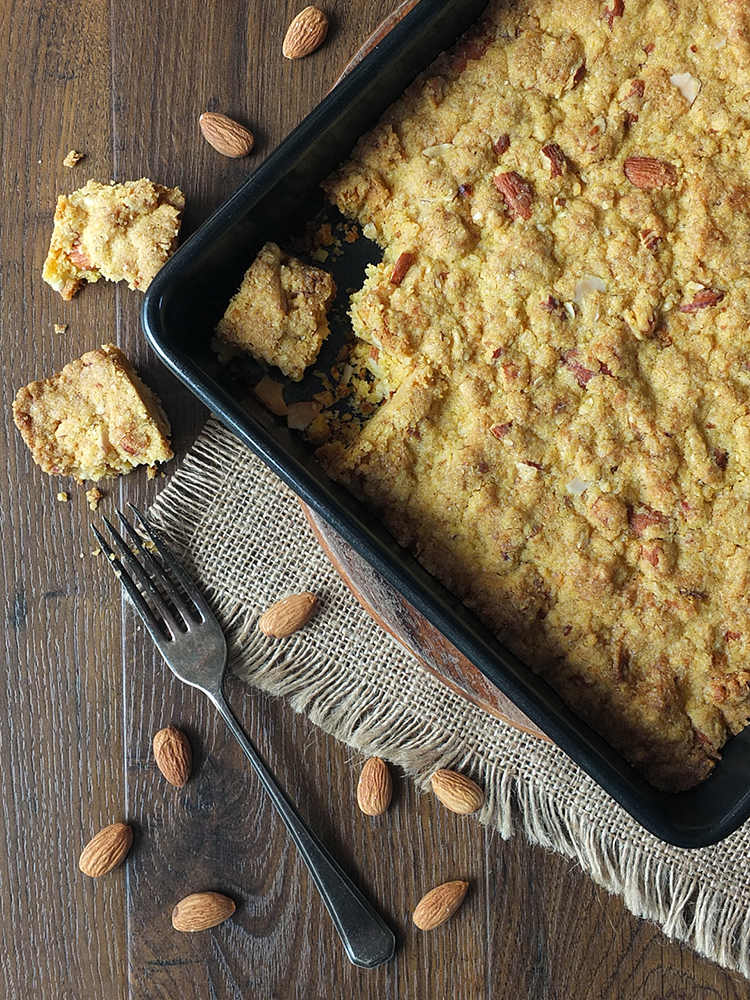 I watched the landscape change while on the train from Milan to Lake Garda a few months ago, during my first ever visit to the Italian mainland. I found the apartment buildings on the outskirts of Milan hugely fascinating, their tall, earthy hued walls dotted with canopied windows to keep the heat of the sun out of people's homes.
The landscape changed as the train moved through the countryside, with grape vineyards and cornfields making a regular appearance. It had been a long time since I've seen either crop growing, so I watched the fields pass by with interest.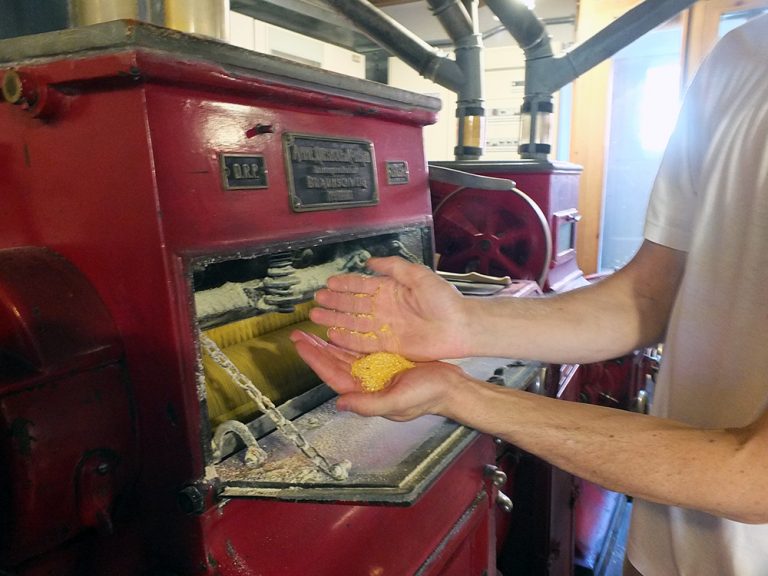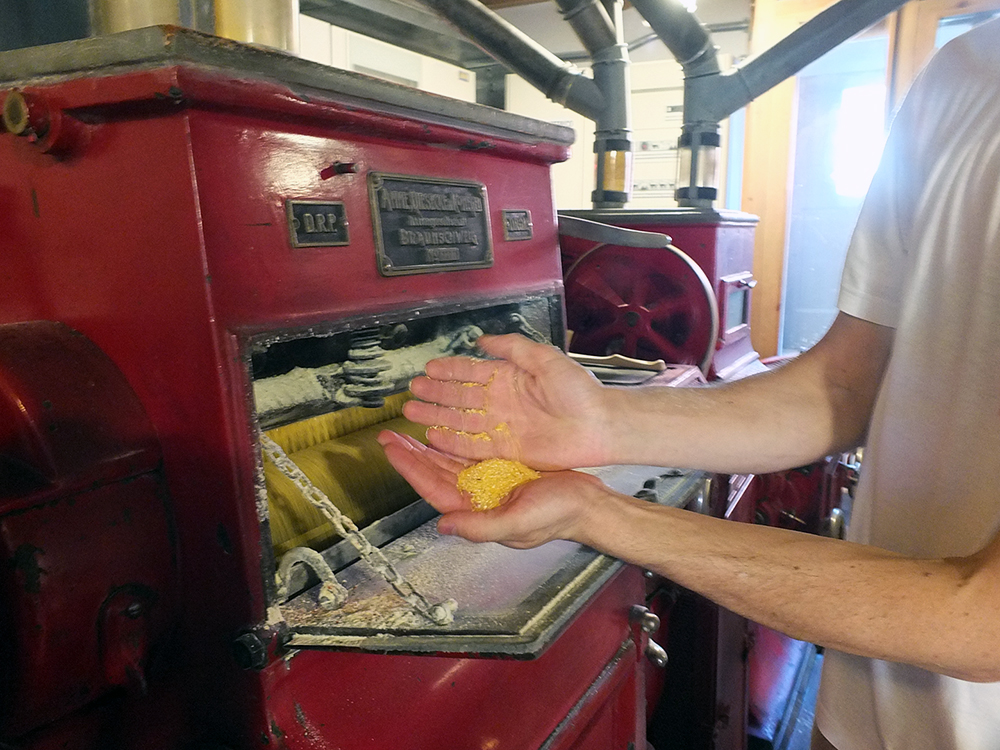 Fast forward a few days and I found myself on a tour of a corn mill by an incredibly passionate Italian artisan craftsman: Mr. Alberto Pellegrini.
Sections of the four-storey Molino Pellegrini corn mill, located in the village of Verone, just outside Riva del Garda, date back to the second half of the 1700s, and the equipment used to grind the dried corn date from 1860 and 1890! There was a steampunk air to the old wooden building and its vintage machinery which I absolutely loved.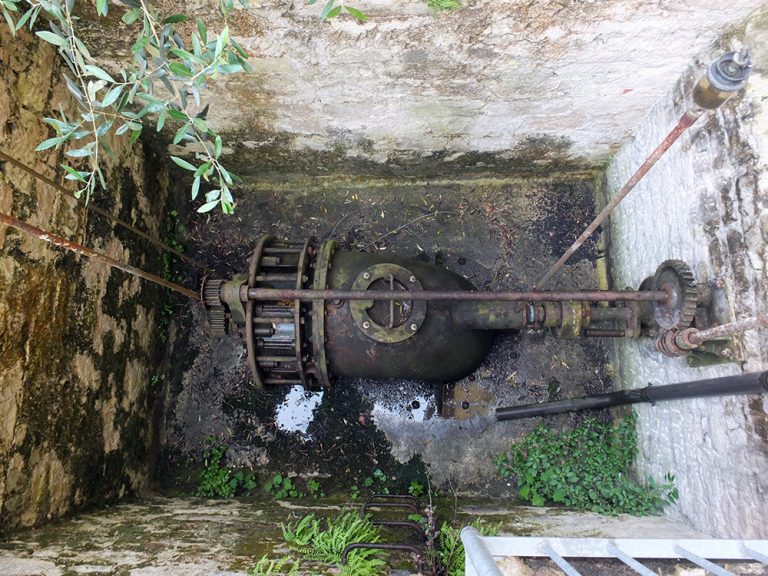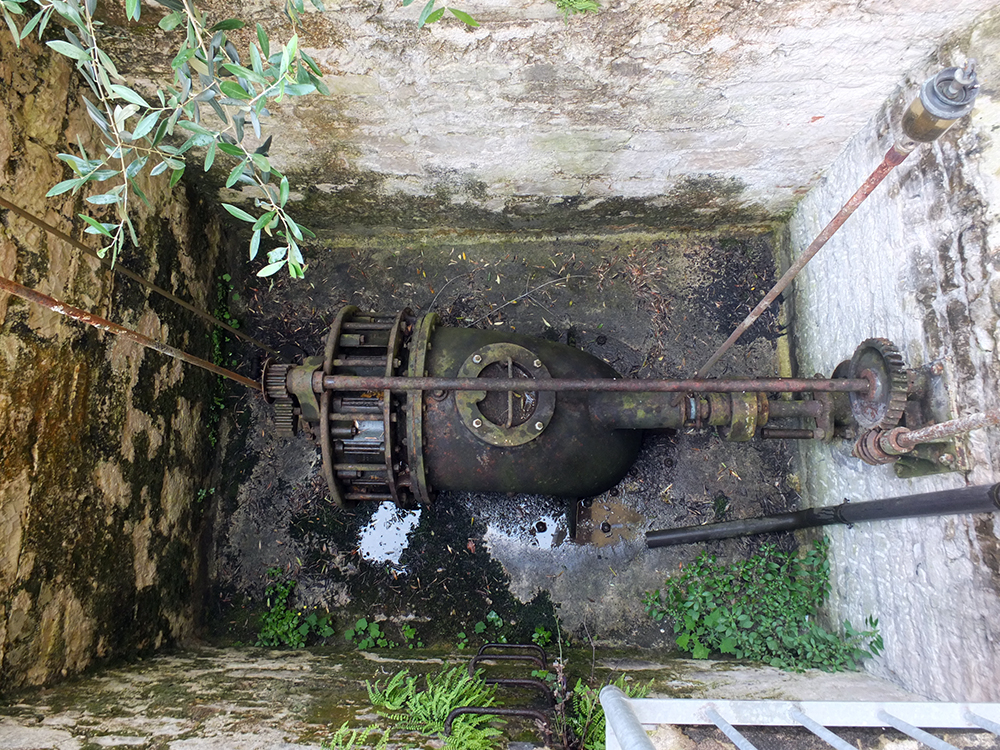 Although it is no longer used, the remains of the water turbine which used to power the mill are still there.
The entire place vibrated while the machinery was in operation, which is why the place still has wooden floors – a concrete building would crack under the constant movement.
Depending on what is being made, the corn can be run through the entire milling process up to ten times before it is sifted in a separate machine. It's a very time consuming (and noisy!) operation, but it results in a rather delicious and versatile product that is made with love; something you don't get in an industrial factory. There's no waste either, the bran is sent away to make animal feeds.
Molino Pellegrini produce a range of cornmeal in various grades from fine corn flour to coarse polenta, as well as buckwheat flour (a popular ingredient used in Italian cuisine) and a range of body care products. Soap with coarse polenta added makes for a rather effective exfoliant, I have discovered!
Unfortunately, they don't export their rather fantastic products, so you'll have to visit Lake Garda to try them for yourself. Many restaurants in the area serve polenta made with Molino Pellegrini cornmeal, and the Mr. Pellegrini offers tours of his mill, sometimes with a tasting session too. If you're ever visiting Lake Garda, I'd highly recommend visiting this place, perhaps after you've visited the Verone Waterfall.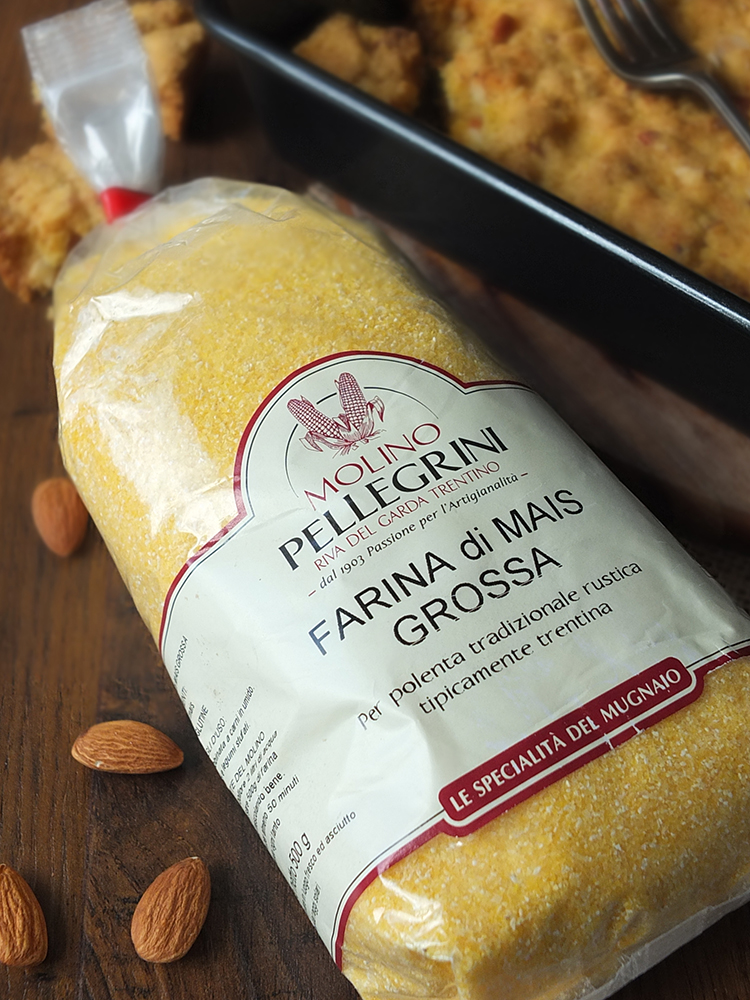 I wanted to try their product for myself, so I bought a few bags to bring back to the UK with me. Alberto and his wife very kindly gave me a recipe book, from which this recipe for Sbrisolona, a traditional Italian almond cake, came from.
Now, this recipe book is in Italian and I didn't realise until after I'd set my heart on making it one day, that it requires fine corn meal. I only had coarse to work with, so I ran it through my high-speed blender a few times to break it down further, which I think worked well.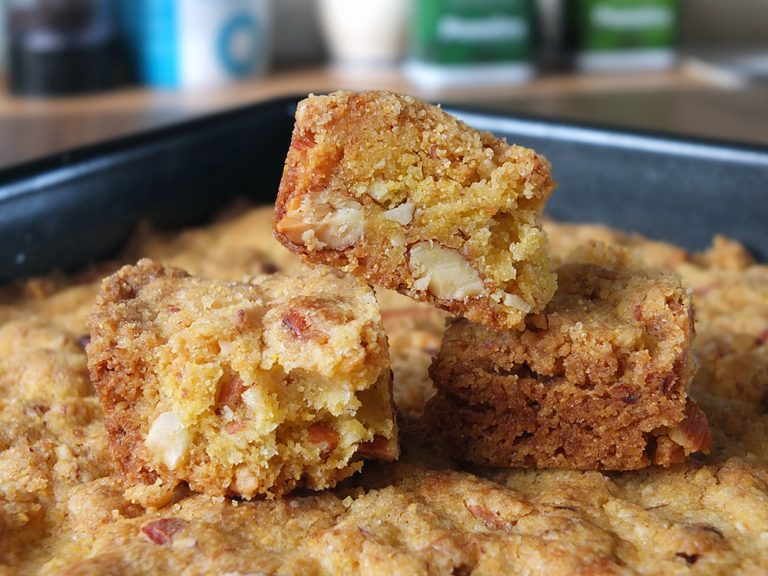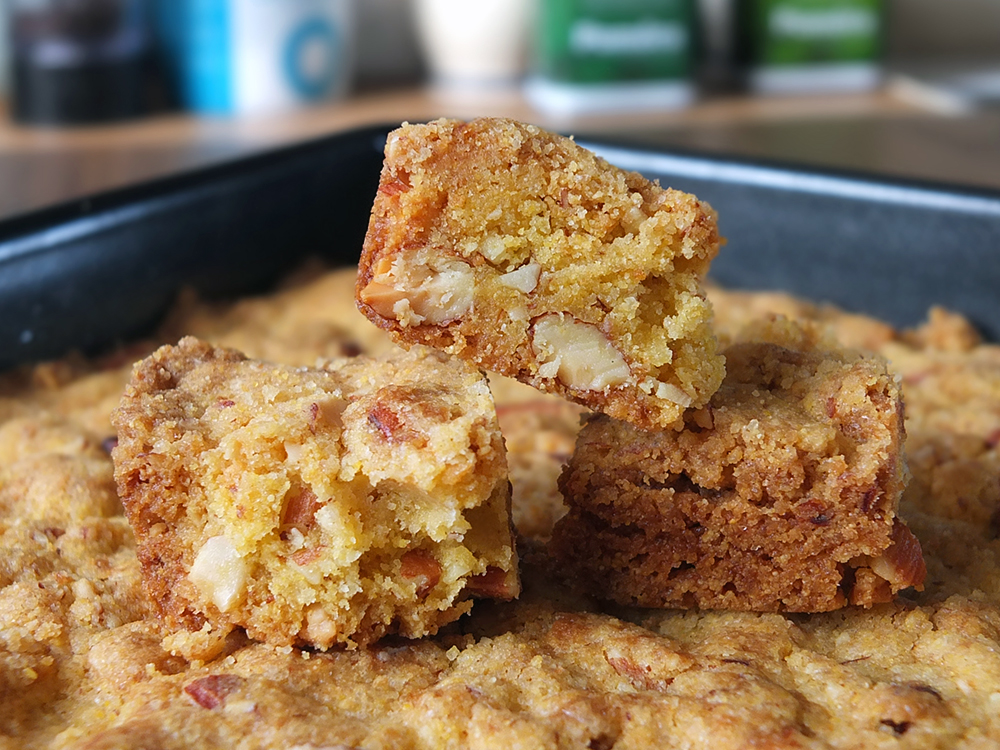 The resulting crunchy, crumbly, buttery bake is like nothing I have ever, ever eaten before. It is incredibly delicious and addictive; a cross between a streusel topping, biscotti, a buttery flapjack and a giant knobbly cookie. You don't slice it like you usually do with cakes, you break it into bite sized pieces, and in the traditional way, sprinkle it with grappa before you eat it. It is also usually served with a liqueur wine such as Malvasia, Vin Santo or the Passito of Pantelleria.
Unfortunately, I couldn't find any grappa at all in Shetland, and I didn't think to bring any back with me from Italy. All the more reason to visit again!
I started with whole almonds for this recipe too, blending them for five seconds in my blender so that they ended up in various sizes. I think this added to the amazing texture of the cake, which again (and I warn you!) is so, so very addictive! You'll wonder who ate all the cake…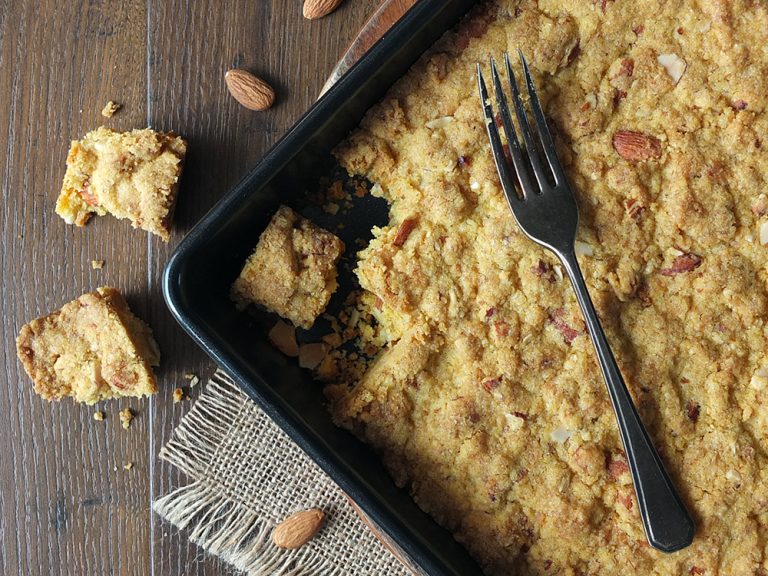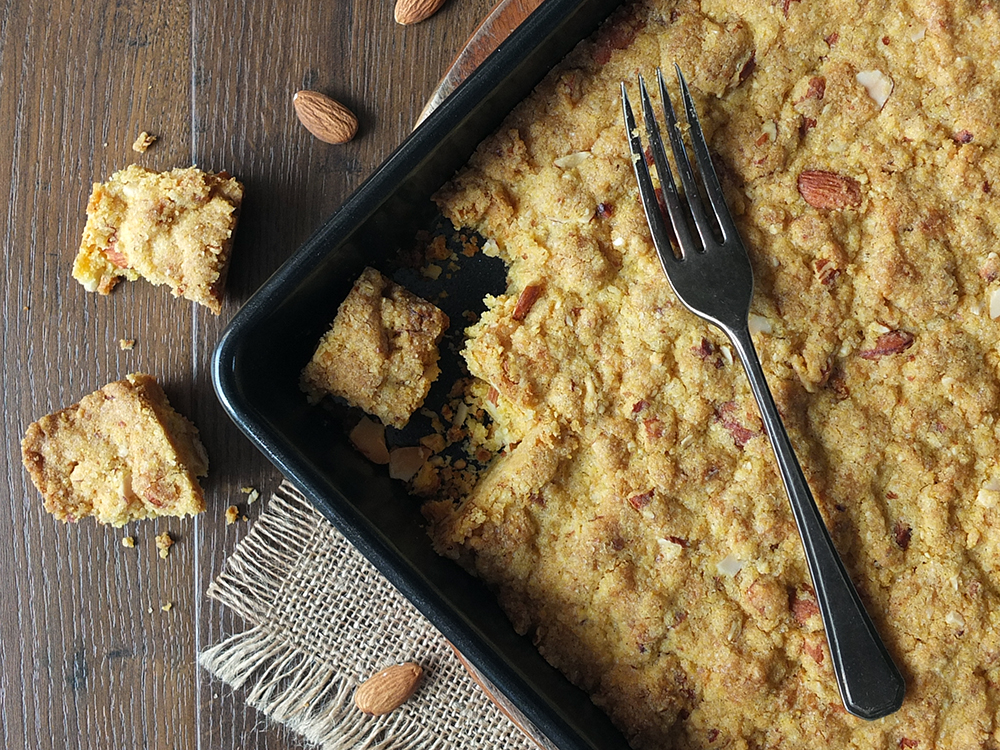 Sbrisolona is a traditional sweet from Northern Italy, originating from the city of Mantova in the 1600s when it appeared in the court of Gonzaga. It originally began as a poor family's dessert made from corn flour, lard and hazelnuts, but over the years the ingredients have refined.
The almonds should not be of uniform consistency like I mentioned above. Start with whole almonds and coarsely chop or blend them yourself so that they are uneven.
Try this recipe. You'll love it; trust me!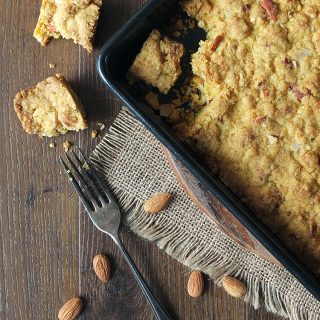 Torta Sbrisolona - an Italian Almond Cake Recipe
A traditional Italian almond cake made with cornmeal. The recipe was given to me by the husband and wife team at Molino Pellegrini, a traditional corn miller in Lake Garda, Italy.
Print
Rate
Affiliate Links
This recipe card may contain affiliate ingredient and equipment links. As an Amazon Associate I earn from qualifying purchases.
Instructions
Preheat your oven to 180C/160C fan and grease a 9 inch square tin.

Mix together the cornmeal, flour, almonds and caster sugar in a bowl.

Rub the butter in with your fingertips until the mixture resembles coarse breadcrumbs.

Add the egg yolks, lemon zest and vanilla and stir well with a wooden spoon to combine.

Press loosely into the prepared pan and bake in the centre of the oven for 30-40 minutes, until golden brown.

Leave in the cake tin to cool completely before breaking into pieces and eating. This recipe will keep for several days in an airtight container.

Serve with grappa sprinkled over the broken pieces for an authentic Italian treat.
OTHER ITALIAN RECIPES YOU MIGHT LIKE
Culurgiones – Sardinian Ravioli
Italian-Style Meatballs in a Rich Tomato Sauce
Quick & Easy Chilli Spaghetti for Two
Tuscan White Bean Salad
Italian Minced Beef Plait
Tenderstem Broccoli, Chilli & Garlic Spaghetti
Pappa al Pomodoro with Grana Padano & Prosciutto di San Daniele
Isabella's Arancini – Risotto Balls
Italian Coffee & Chocolate Chunk Biscuits
Tuscan Tomato Bruschetta
Proscuitto Wrapped Burrata with a Chargrilled Asparagus, Courgette and Grana Padano Salad
15-Minute Creamy Cheese & Black Pepper Pasta
Tuscan Castagnaccio (Chestnut Flour Cake)
Easy Sweet Potato Gnocchi with Creamy Spinach Sauce
5:2 Diet Minestrone Soup
Italian Hot Chocolate
Italian Fried Mozzarella Sandwich
Grissini Italian Breadsticks
FOR MORE INFORMATION
Molino Pellegrini Website
Garda Trentino S.p.A. Tourism Board
CLICK THE BANNER BELOW TO FIND OUT ABOUT GARDA CON GUSTO!

[color-box]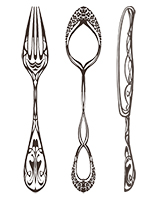 Have you made this recipe?
Take a photo and tag @tangoraindrop or use the hashtag #elizabethskitchendiary and share on Instagram and Twitter. It would make my day to see your creations!
[/color-box]
Elizabeth's Kitchen Diary was a guest of the Garda Trentino Tourism Board during her visit to Italy. A tour of Molino Pellegrini was provided as part of the culinary trip.