A no-fuss family favourite meal.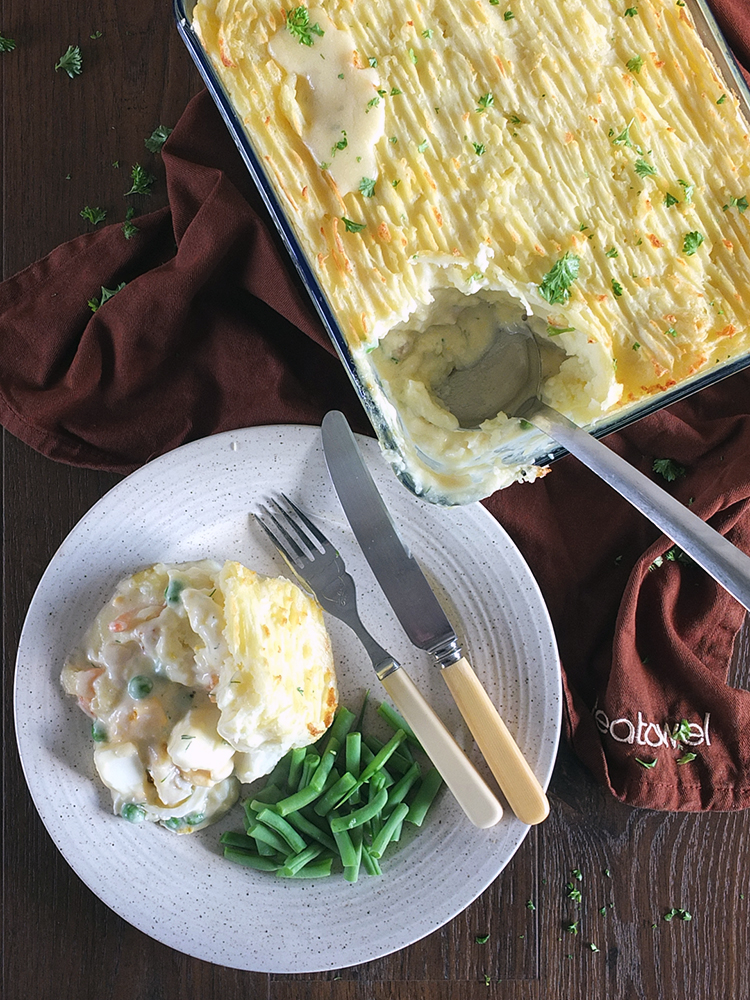 Fresh dill appeared in last week's veg box and I was inspired by both that, and the colder Autumnal temperatures of late, to make one of my hearty, creamy, family favourite fish pies.
For years making fish pies used to be a laborious task, taking absolutely forever what with poaching the fish first in milk infused with mace blades, whole peppercorns, onion and carrot, all the sieving and thickening and such malarky.
Then I discovered that the fish actually tasted better (and not at all rubbery like the twice-cooked fish you get when you poach it first and then cook it for half an hour in the oven – why, why would I ever have done that?!) if I just cubed it and stuck it raw straight into a cream mixture flavoured with (and I know I'm cheating here) fish stock made with a half a Knorr stock pot.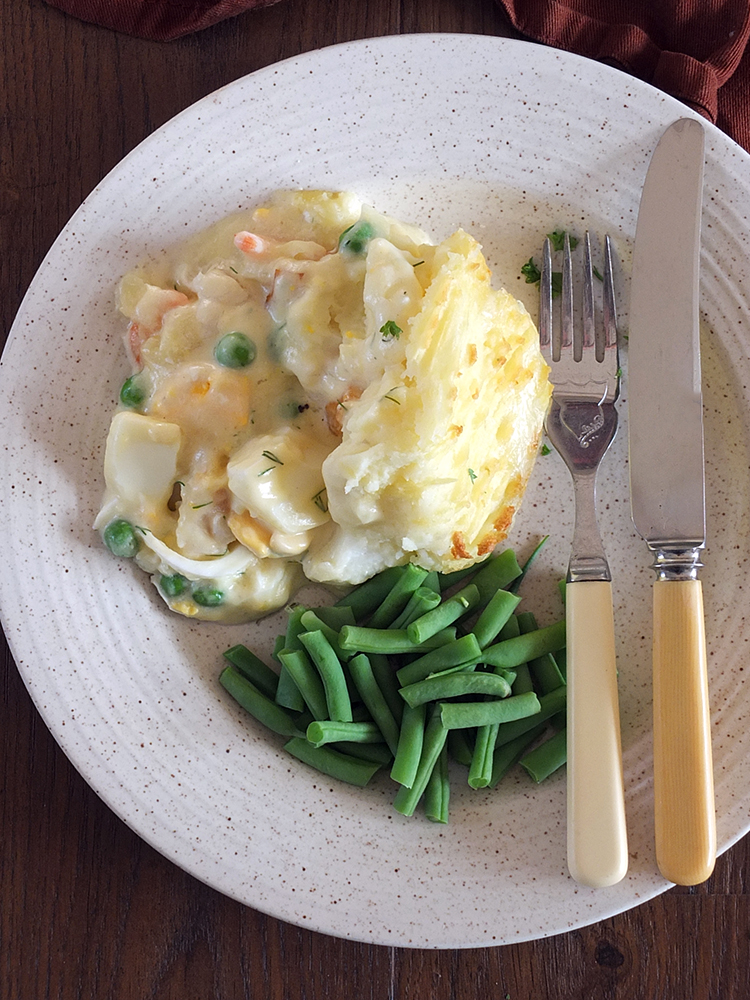 Plus, double cream makes for a much more hearty Autumnal/Winter dish than thickened milk. Trust me. This pie is proper comfort food. The kind of comfort food that you'll go back for seconds and thirds, even.
Leftovers, if there are any, reheat really well for up to two more days too. Simply transfer what you want to reheat into an oven proof dish, cover with aluminium foil and bake in the centre of the oven for 30 minutes.
I confess, sometimes I even lather tomato sauce on the top of leftovers, scoffing away while sitting on the couch binge watching my latest Netflix series (currently watching Salem!).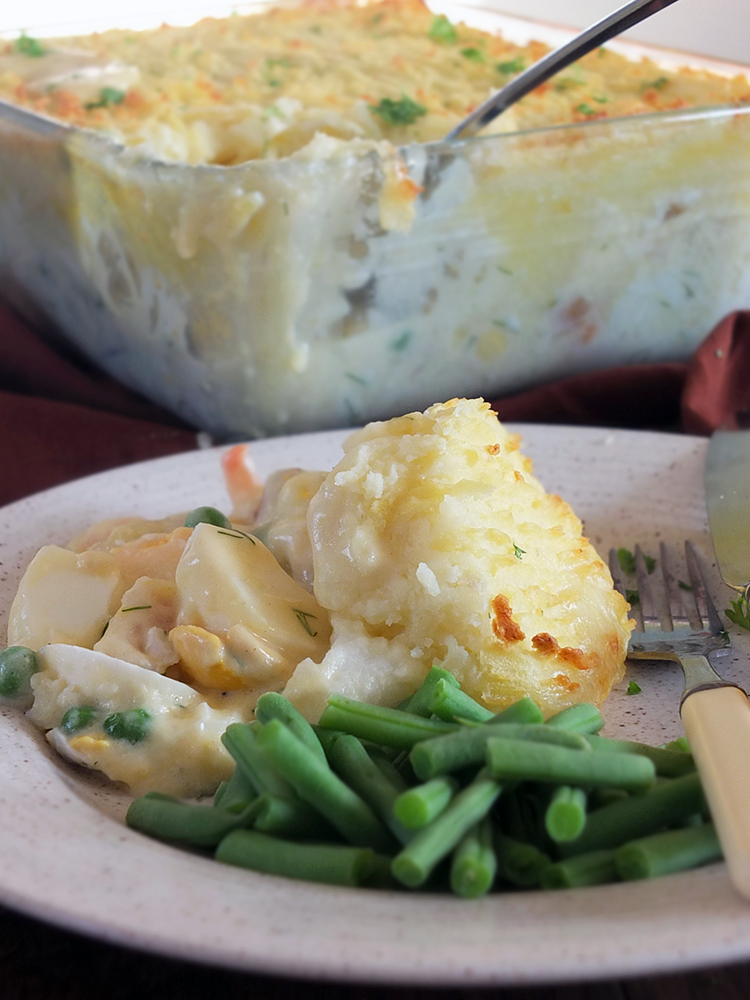 More often than not I'll serve this fish pie on its own, without any side dishes, but if I'm wanting to compensate for the calorie-heavy cream sauce I'll serve a smaller portion of fish pie with a generous helping of steamed greens, whatever happens to have appeared in my veg box that week. This time it was green beans, topped and tailed and blanched for just a few minutes to soften them, but so that they still retain some of their crunchy texture.
Note, you could also replace the smoked fish or the prawns with some fresh salmon. Simply cut into bite sized pieces as you do the white fish.
What's your favourite go-to comfort meal now that the evenings are getting colder? Let me know in the comments!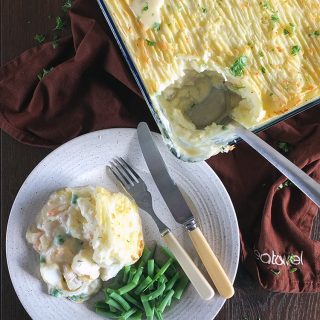 Creamy Fish Pie with Prawns & Dill
Our family favourite fish pie recipe with a hearty creamy filling flavoured with dill.
Print
Rate
Affiliate Links
This recipe card may contain affiliate ingredient and equipment links. As an Amazon Associate I earn from qualifying purchases.
Instructions
First, prepare your mashed potatoes. How much you make will depend on the size of the dish you're making the pie in and how much you love mashed potatoes. I usually cook about 1.5 kg potatoes and mash with 50 grams of butter and a generous splash of milk until they're creamy. Leave to cool before topping the pie.

Heat butter in a saucepan over a medium high heat and pop the kettle on to make the fish stock.

When the butter is bubbling, stir in the flour and cook for one minute, stirring constantly.

Remove the pan from the heat and stir in the fish stock and cream. Whisk until thoroughly combined and return to the heat, reheating gently until the mixture is thick and smooth. Set aside.

Cut your fish into pieces and add straight to the cream mixture along with the boiled eggs, frozen peas and fresh dill. Stir gently to combine.

Place the mixture into a deep 9 x 6-inch casserole dish, or, let's face it, any dish you fancy. Want a deep fish pie use a smaller dish. Want a thin layer of fish, use a larger dish.

Spoon over the cooled mashed potatoes and, using the tines of a fork, spread evenly over the cooled fish mixture. Dot with butter.

You can, at this stage, cover and refrigerate until needed or bake immediately in a preheated 200 C oven for 30-35 minutes until the top is golden and the cream mixture is bubbling a bit at the sides.

Serve with a green vegetable so you feel like you're offsetting the calorific cream content with something a bit more healthy. Or not. Enjoy!
Notes
Leftovers reheat very well. Simply cover the leftovers in aluminium foil and reheat for 30 minutes.
Environmental Information
OTHER COMFORT FOOD RECIPES
Pan-Seared Pork Medallions with Apples & Fried Sage
Slow-Roasted Rack of Lamb with a Creamy Mustard Tarragon Sauce
Braised Beef in Red Wine
Chunky Vegetable & Sausage Soup
Slow Cooker Lamb Chilli with Pasilla Peppers
Pepperpot Stew: A #SimplyHygge Recipe
Bacon & Potato Layer Bake
One-Pot Minced Beef Hotpot #LivePeasant
Quick Veggie Soup with Egg Dumplings & Dill
Chilli Chicken & Chorizo One Pot
Chuck Beef & Two Bean Chilli 
Buffalo Stout Beer Chilli
Speedy Beef & Vegetable Pie
The Ultimate Comfort Bolognese
Helzel Potatoes – A Childhood Favourite
Mushroom Soup with Freekeh
Feel-Good Fish Curry
Pappardelle with Squash, Chestnuts, Mushrooms & Sage
Slow-Cooker Venison and Bean Stew
Vegan Red Lentil Dahl 
Yellow Split Pea Soup (Vegan)
Leg of Lamb & Pearl Barley Braised in Red WIne & Balsamic Vinegar
Cider-Braised Pheasant with Shallots, Apples & Thyme
Kavey's Chicken Tarragon Pasta Bake
[color-box]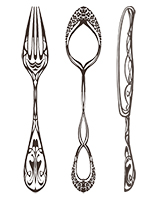 Have you made this recipe?
Take a photo and tag @tangoraindrop or use the hashtag #elizabethskitchendiary and share on Instagram and Twitter. It would make my day to see your creations!
[/color-box]