A creative lunch box ideas post in collaboration with Brioche Pasquier.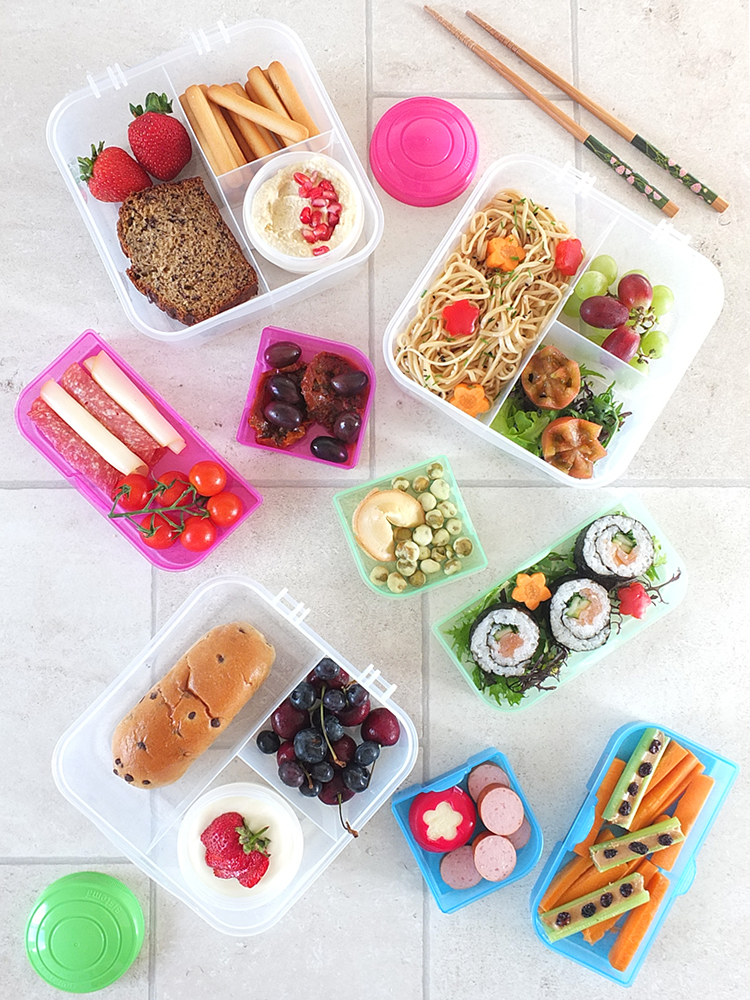 If, like me, you're suddenly faced with the daunting prospect of making packed lunches again after the kids have returned to school after the summer holidays, you might be looking for some new packed school lunch box ideas. Kids (and some grown ups too!) can be seriously fussy eaters and there's nothing more frustrating than packing a lunch box only to have to empty most of it back out into the bin after school. Argh, all that food waste!
So, here's a sneak peek into three of my lunch box ideas. There are three different themes, which vary somewhat, of course, depending on what I can source from the local shop, with components that my family will actually eat.
Yes, that's sushi. Yes, my family have rather interesting tastes!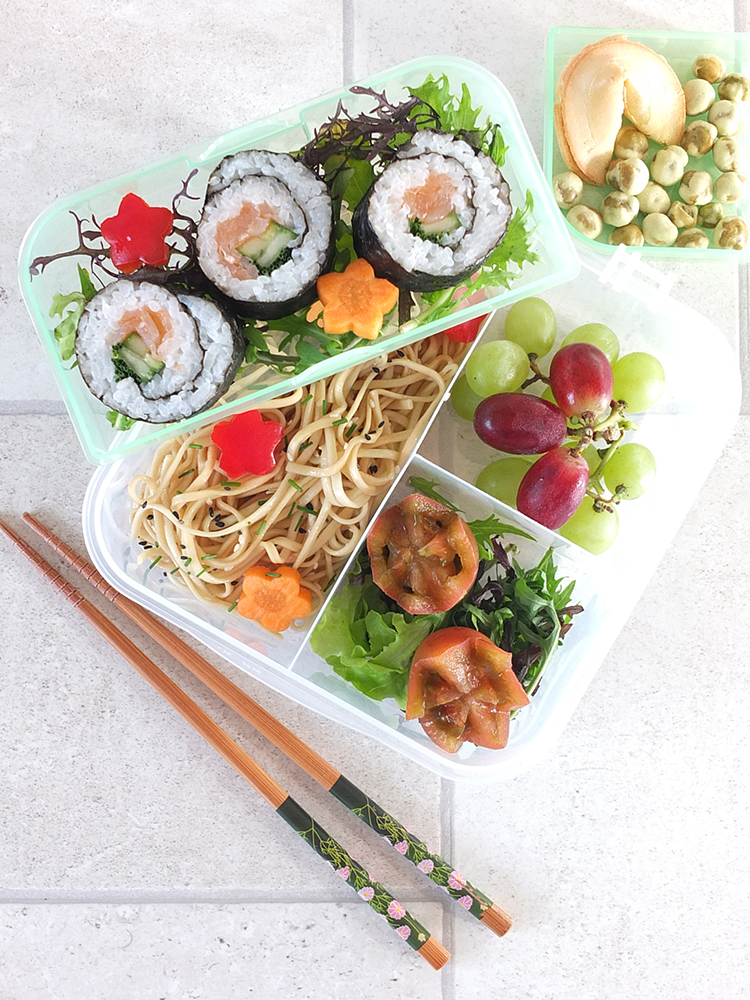 First up here's my Japanese-inspired sushi lunch box. This is one of my 10-year old daughter's favourite lunch boxes, with smoked Shetland salmon sushi. We learned recently that sushi is remarkably easy to make. I follow the recipe for this smoked salmon and avocado sushi, but substitute the avocado for thinly sliced cucumber for lunchboxes, as I don't want the avocado to brown.
To accompany, toasted sesame noodles made with medium egg noodles cooked according to the packet instructions, drained and then rinsed under cold water. I drizzle the cold noodles liberally with sesame seed oil, sprinkle with toasted sesame seeds and then either toss with julienned carrot strips and sliced spring onion or simply pop a few vegetable flower shapes on top, depending on who it's for (ie: my daughter or my husband).
For the sweet treat: wasabi peas, a fortune cookie and some fresh fruit.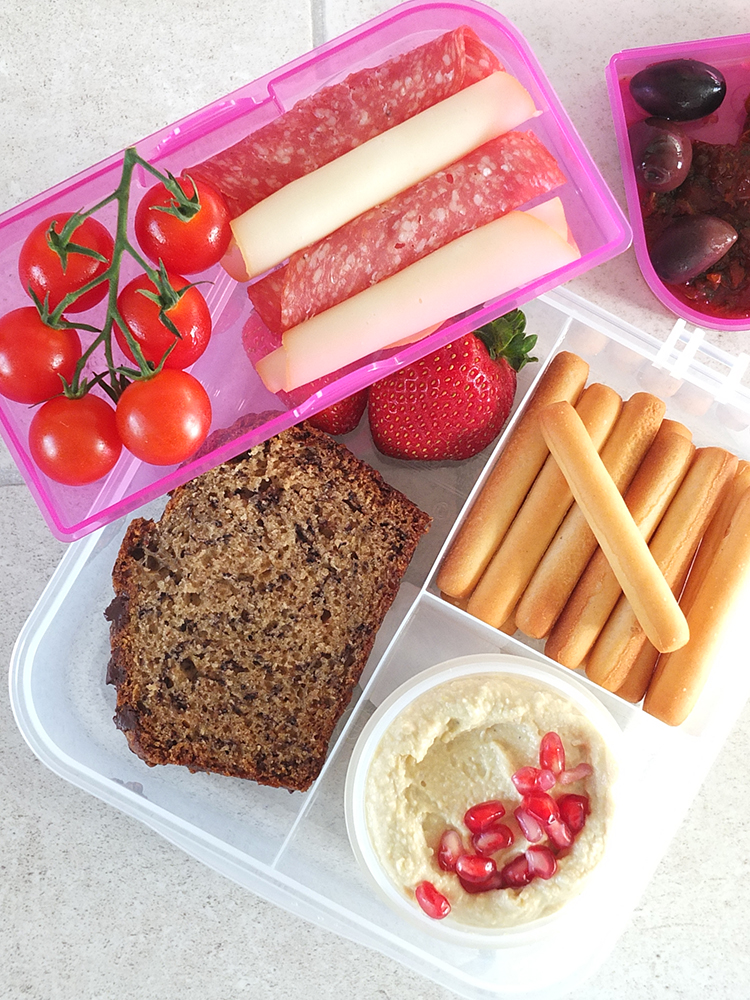 Next up, my Italian-inspired lunch box with a selection of antipasti and a home bake. I will include either bread sticks, sliced sourdough or ciabatta bread along with a pot of my simple and incredibly creamy hummus, peanut butter (we don't have a nut-free school) or cream cheese.
To accompany, sun-dried tomatoes, kalamata olives and a selection of Italian sliced meat and cheese (salami and smoked provolone are pictured). As always, there are fresh fruit and vegetables too, and for this particular lunch box, I included a slice of my family's favourite homemade banana cake. I've recently tweaked this recipe too, and my dark chocolate chunk banana courgette bread is making regular lunch box appearances too.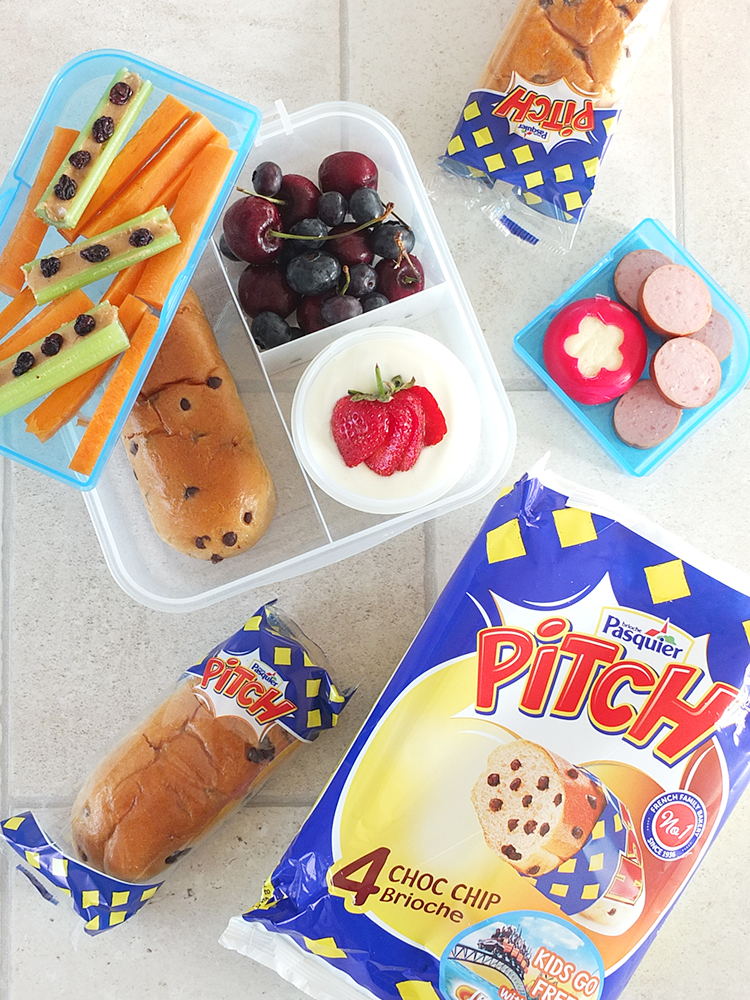 Last but not least, above is my eight-year-old son's favourite lunch box (except the fruit, of course, which I keep sticking in and he refuses to eat!). This lunch box features many of his favourite things including Brioche Pasquier Pitch Chocolate Chip Brioche. Sometimes I'll include other brioches from their range: their chocolate filled Pitch, Pains au Lait or Pains au Chocolat.
Did you know that the chocolate filled Pitch brioche came about in 1986 when one of the Pasquier sons would take a Pains au Lait out with him while playing sports? To make it more interesting, he would pop a chocolate bar into the centre and this gave their father the idea of filling the Pains au Lait with a chocolate hazelnut filling.
To accompany the brioche we've got smoked sausage, something I never knew about until I started attending Parent-Toddler groups here in Shetland and it was always served at snack-time; mini gouda cheese, fresh fruit and vegetables. This time I've added ants on a log, something my grandmother used to make for me: peanut butter is used to fill the gap in a celery stick and raisins (ants) are dotted along the top. Something a bit fun, and tasty too.
What sort of things do you put in your packed lunches? I'm always looking for inspiration, so do let me know in the comments! Meanwhile, here are XX other lunch box friendly recipe ideas!
OTHER LUNCH BOX IDEAS YOU MIGHT LIKE
Bento Sushi Rice Shapes
Hot Smoked Salmon Salad
Chewy Trail Mix Oatmeal Cookies
Cheesy Sweetcorn Muffins
Caprese Pinwheel Sandwiches
Packed Lunch Pizza Swirls
Chocolate Quinoa Bars Recipe
Sunny Picnic Quiches
Quick & Easy No Cook Tasty Snack Bars
Vegan Chickpea Curry Salad Sandwich
Tahini-Free Hummus Recipe
Homemade Mini Rustic Oatcakes
Vegan Muffin-tin Sushi Cups
Smoked Salmon & Asparagus Mini Crustless Quiches
Vegan Gluten Free Falafel Recipe
Banana Breakfast Muffins
Cheese & Olive Savoury Picnic Muffins
Coconut Cranberry Oatmeal Cookies
Pear Crisps
The Best Cheese Straws (and Three Extra Flavours)
SHOP THIS POST
Sistema Bento Cube Lunch Box
YumBox – the UK's favourite Bento Box
This is a paid post in collaboration with Brioche Pasquier. Thank you for supporting the brands who make it possible for me to do what I love: mess up my kitchen and share recipe stories.