In collaboration with Bertolli.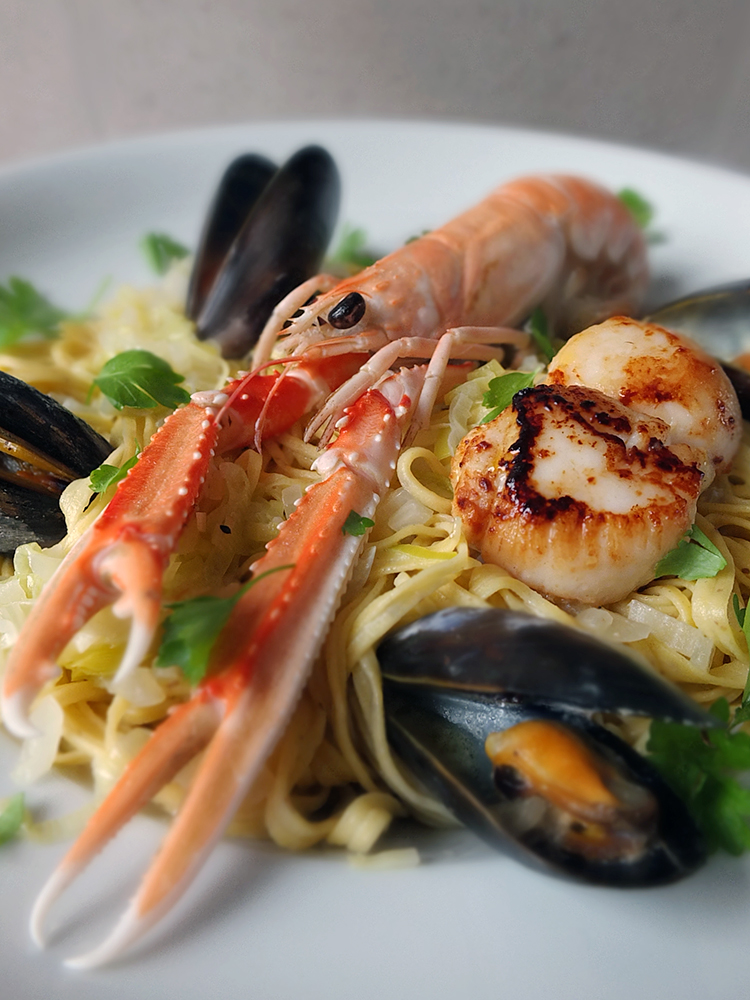 Italian cuisine is renowned to be one of the best cuisines in the world. It ties as a close favourite of mine along with the flavours of the Middle East.
Traditional Italian cuisine is not meant to be complicated with long, elaborate preparation methods, instead, it relies on good quality fresh ingredients to make it the speciality that it is.
Using this philosophy I prepared this rather delicious seafood linguine recipe in collaboration with Bertolli, producers of quality Italian olive oil spreads.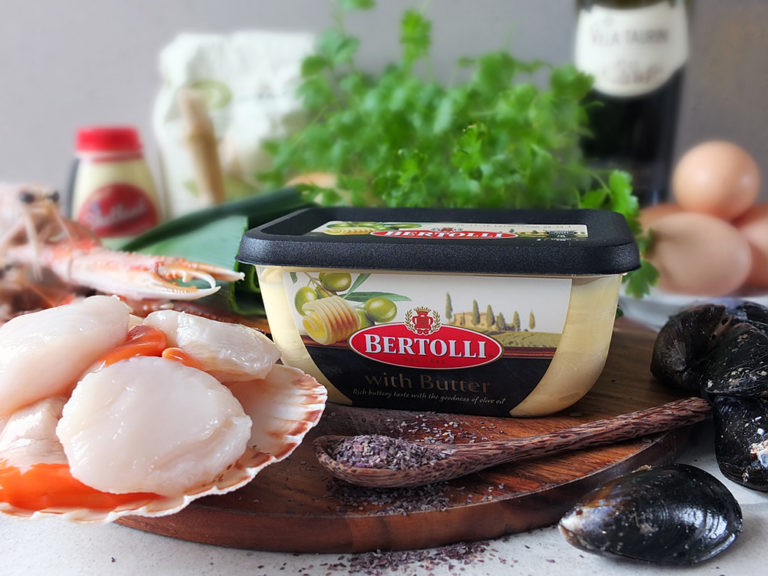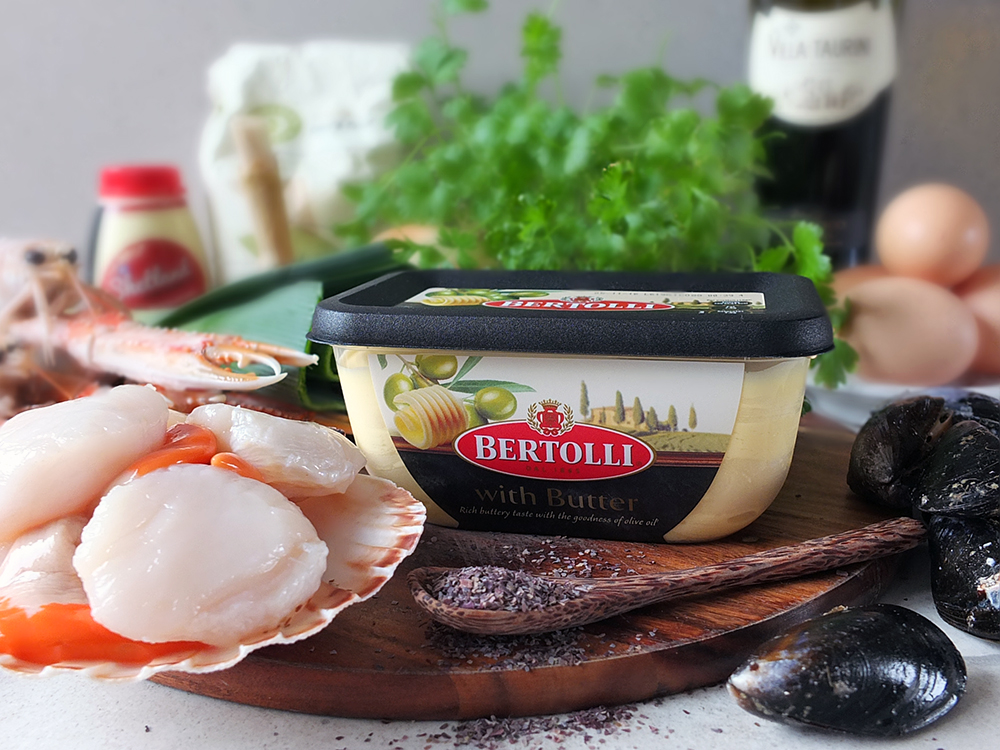 I live on a tiny little rock in the middle of the North Sea, midway between Iceland, Norway and the Scottish mainland; an island not particularly renowned for its sun-ripened tomatoes, vineyards and abundance of olives.
Instead, we are surrounded by some of the finest fishing waters in the world. The world's first MSC-certified king scallops came from our shores, and the shellfish from Blueshell Mussels, the UK's leading rope-grown mussels are second to none.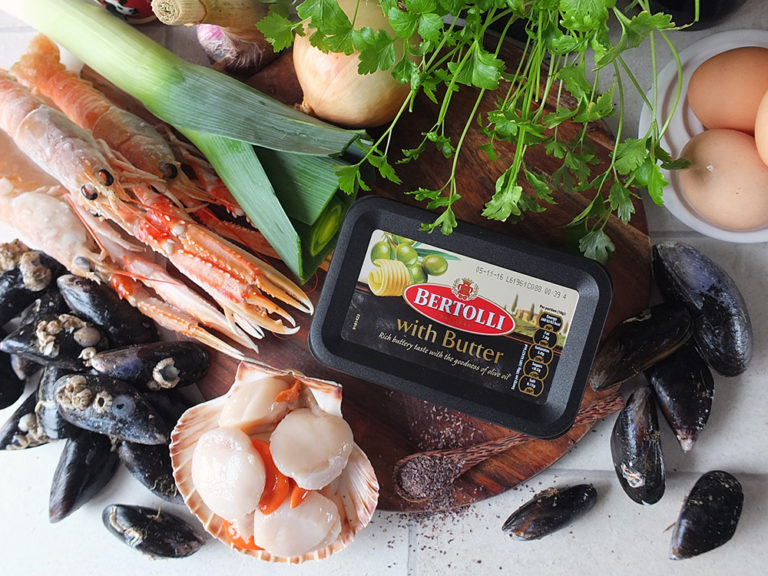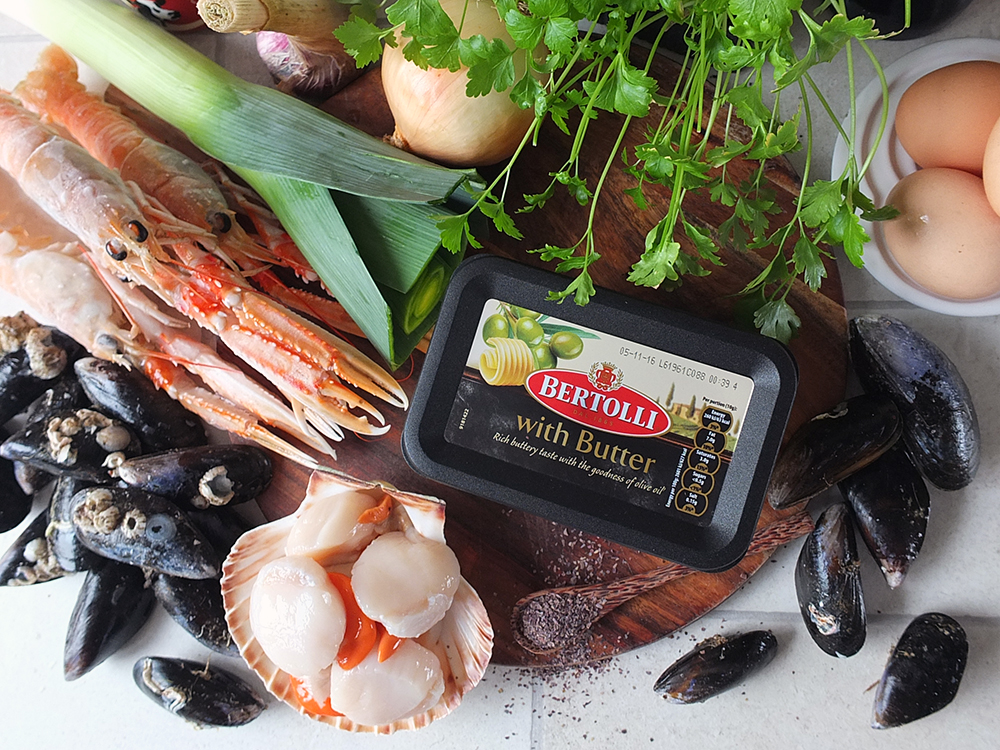 It's a small island, my island, and I know the names of the people who grow, harvest and process this shellfish. There's something incredibly wonderful about working with ingredients when you know where they have come from.
Combine this with freshly picked organic vegetables and free range eggs from my CSA veg box scheme and I'm beginning to touch on the spirit behind a good quality Italian meal.
I've used this locally sourced produce to create a delicious Italian-inspired seafood linguine, and I've made the linguine itself from the best ingredients I could find.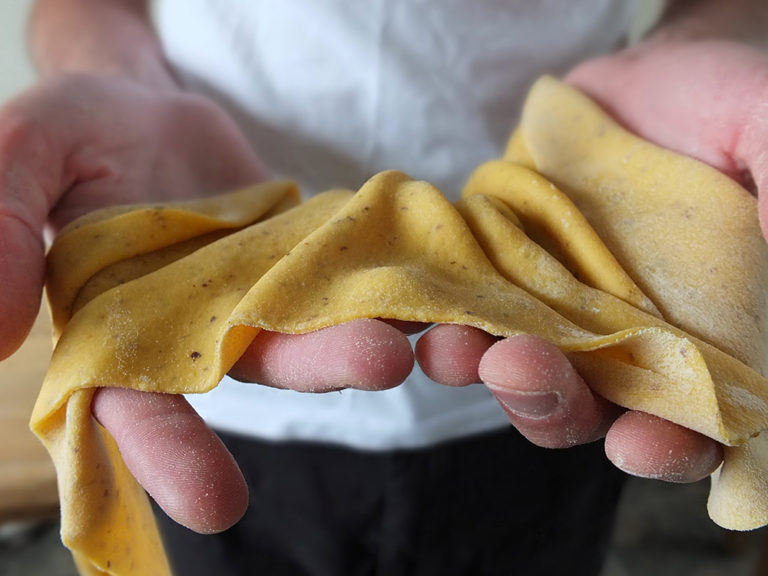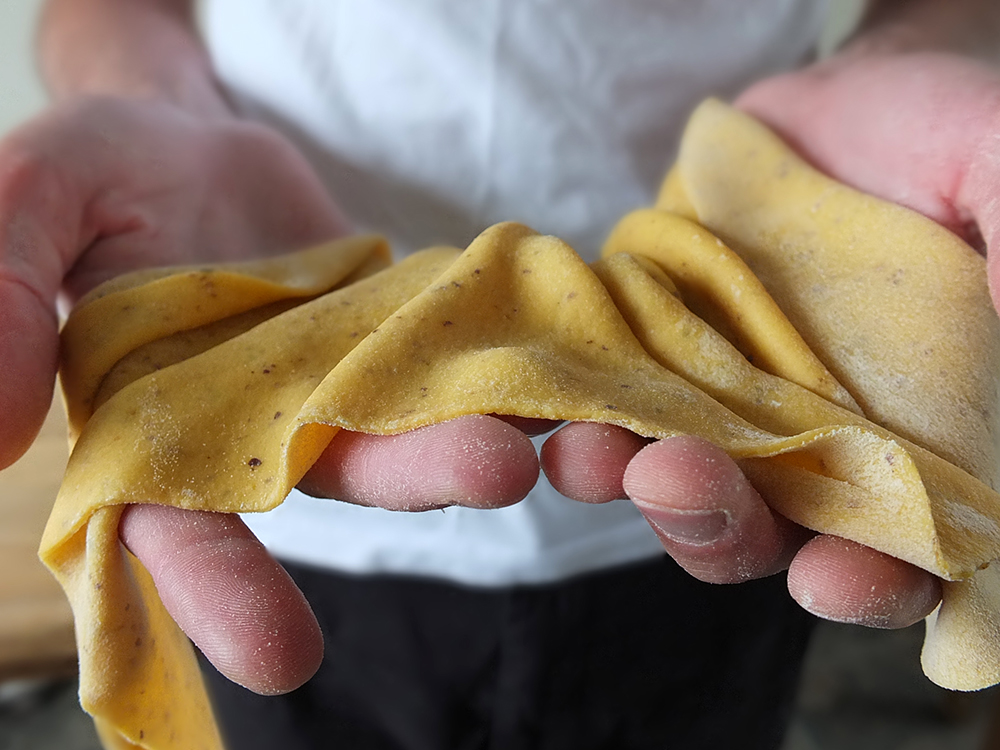 There is something intensely satisfying about making your own pasta from scratch. Some years ago I picked up a second hand Italian pasta machine in a charity shop outside Glasgow for only £10 and I haven't looked back. Fresh homemade pasta is a regular occurrence in our kitchen, and it's rather therapeutic to make if you have the time.
Making your own pasta is so simple to do – use one free range egg for every 100 grams of '00' Italian pasta flour and that's it! Make a well in the centre of the flour, crack in your eggs (see that gorgeous yellow glow the pasta has? You only get that from using high quality eggs with rich orange yolks), use a fork to start mixing it up and when it starts clumping you knead it, hard, for a good two or three minutes until it forms a smooth dough. Wrap in cling film and chill for an hour and roll out as desired! I've added a couple of teaspoonfuls of Scottish dulse flakes to mine, just to add my own island twist to a classic Italian recipe.
For simplicity you can always use a good quality ready made linguine for this seafood recipe, either fresh or dried.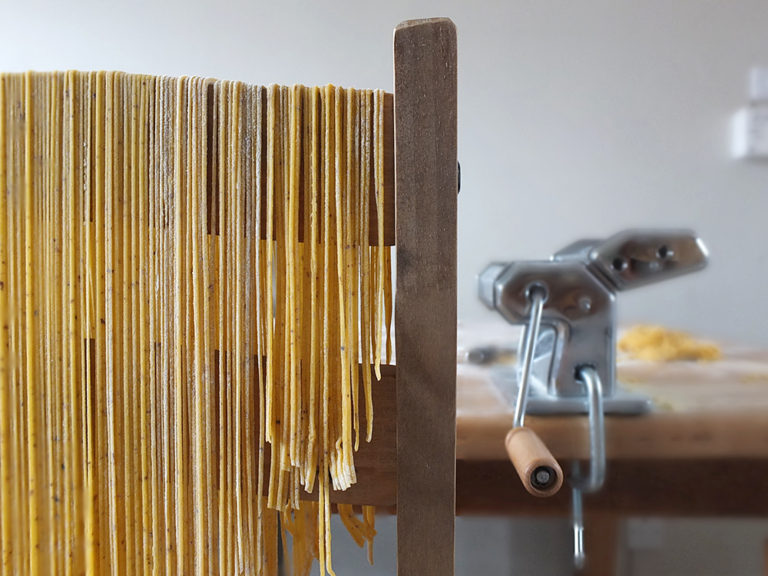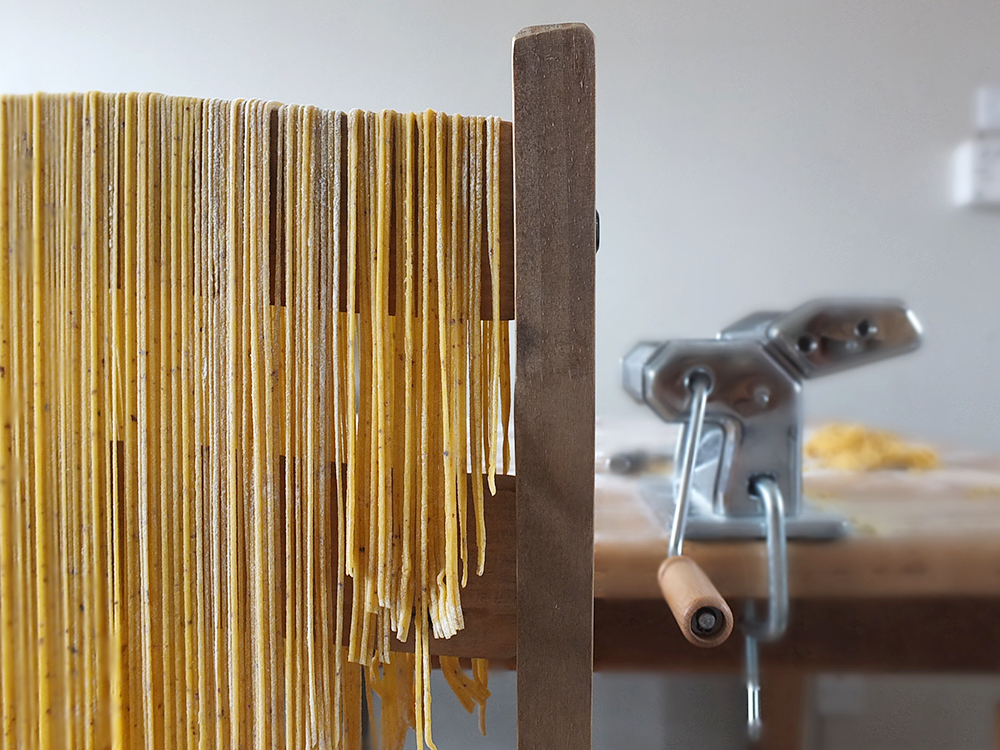 This Seafood Linguine recipe is inspired by one I was taught years ago by local Shetland Shellfish producer when I asked how he cooks his mussels at home, but I've added a few twists of my own, namely, using Bertolli with Butter to give the dish a lovely buttery taste, using a minimal quantity of wine and cream and adding a pinch of saffron. The mussels will create their own liquid while they steam in the cream and wine, adding to the lovely seafood flavour of the dish.
I have learned, recently, that authentic Italian pasta recipes do not require lots of sauce – a simple light coating of sauce is sufficient.
The showstopper for this dish is the langoustine, aka Norway lobster/scampi/Dublin Bay prawn. I bought mine, frozen, at a local fish market in a nearby village, just over £4 for four of them.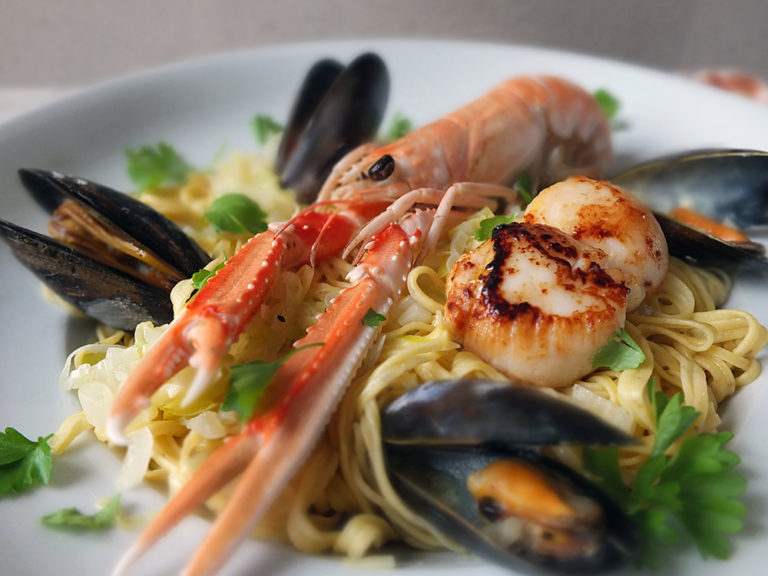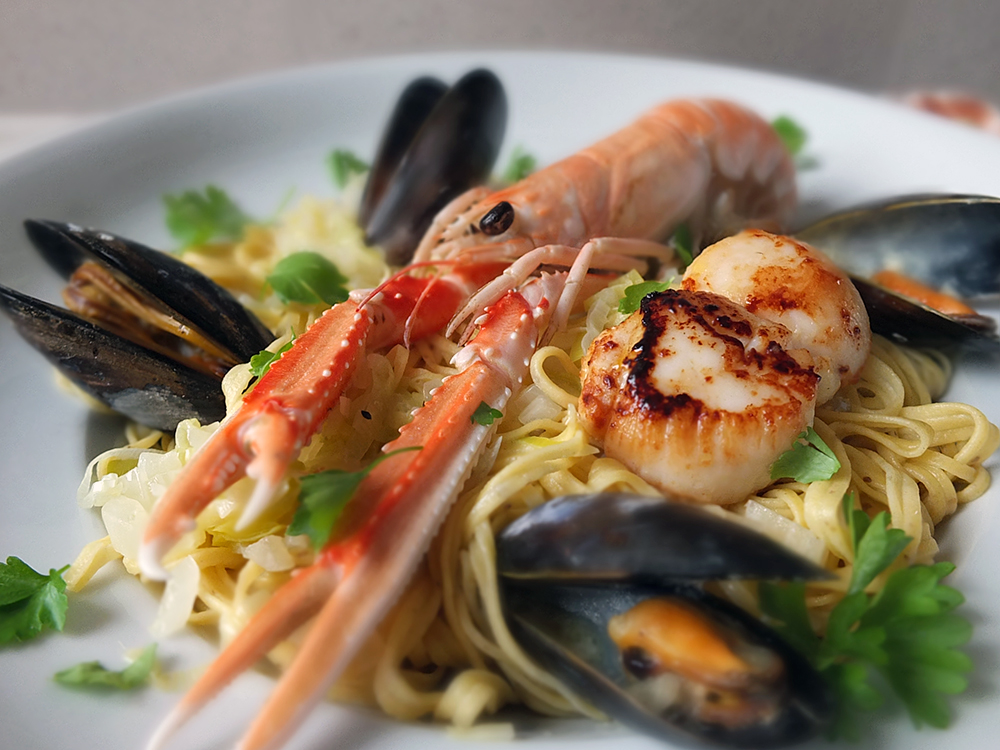 Langoustines are often frozen as soon as they are caught in order to maintain freshness, I was told by the fish monger. If you think of the number of days it might take for a fishing boat to return home and land its catch these frozen langoustines can often taste better than their fresh counterpart, or so I am led to believe. They only take a few minutes to cook, too, which is a bonus.
To present my seafood linguine feast I wanted to do something I'd learned about while visiting Norway recently. I had eaten a most delicious lunch at one of Bergen's finest seafood restaurants and noticed that the butter for the bread was served in a scallop shell.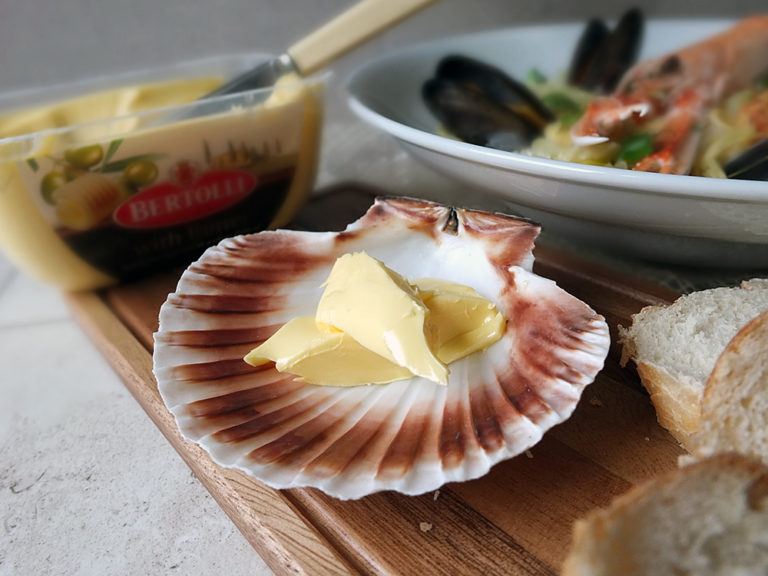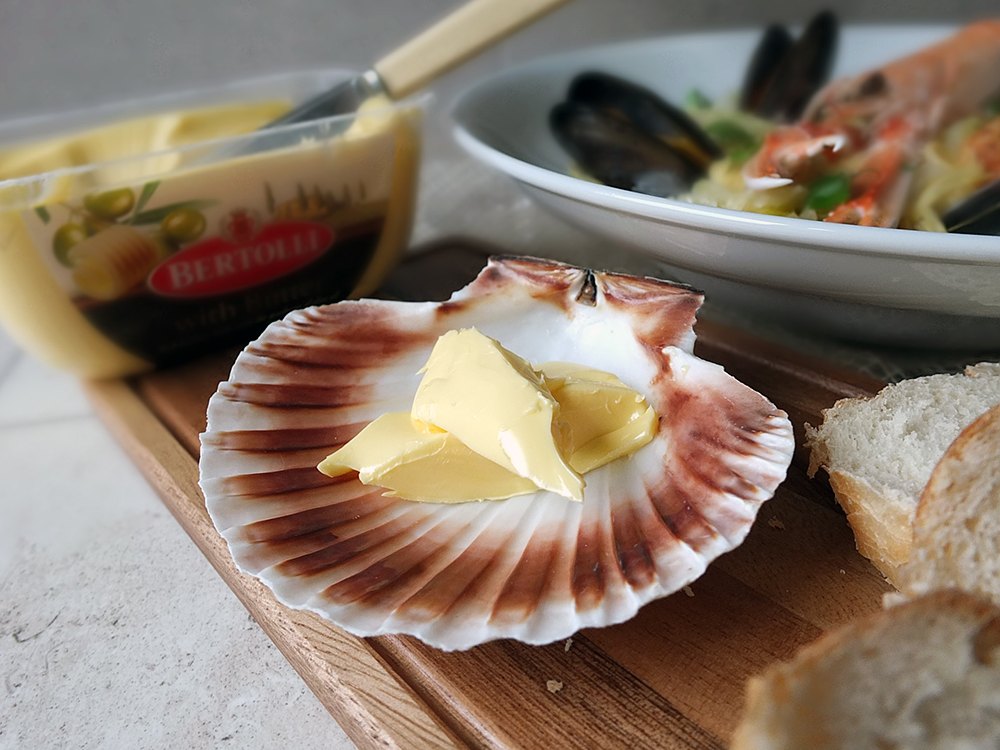 I picked up a dozen of these scallop shells straight from the shellfish processing plant in the same village as the fish mongers. They were going to be disposed of anyway, so they were more than happy to give me a few – they'd only just ten minutes before I arrived finished removing the freshly landed scallops from them.
In true Italian fashion I served my linguine with a nice white Italian wine and some crusty bread. I am led to believe that Italians eat bread with everything!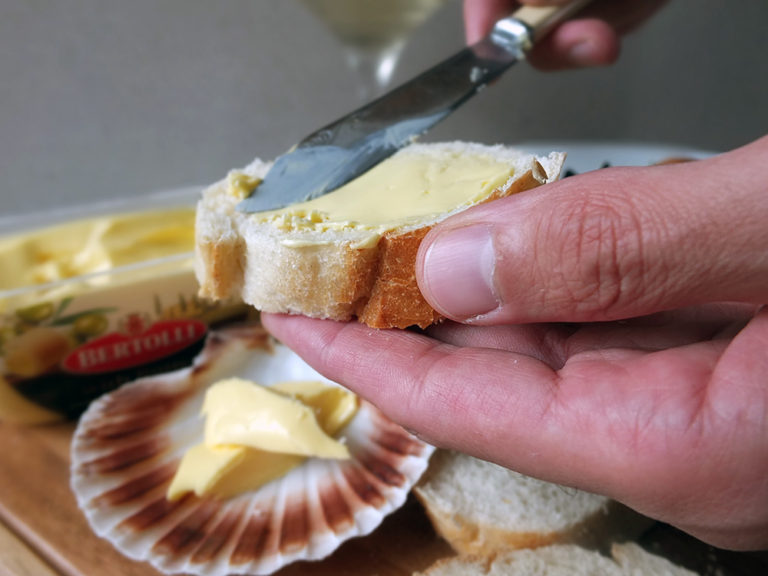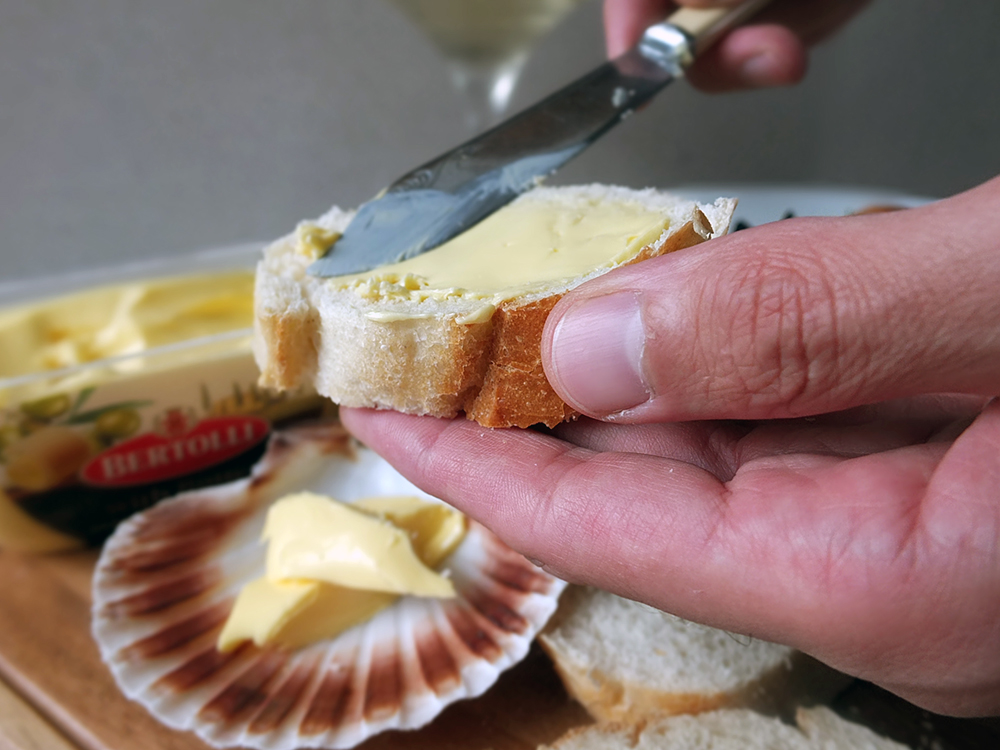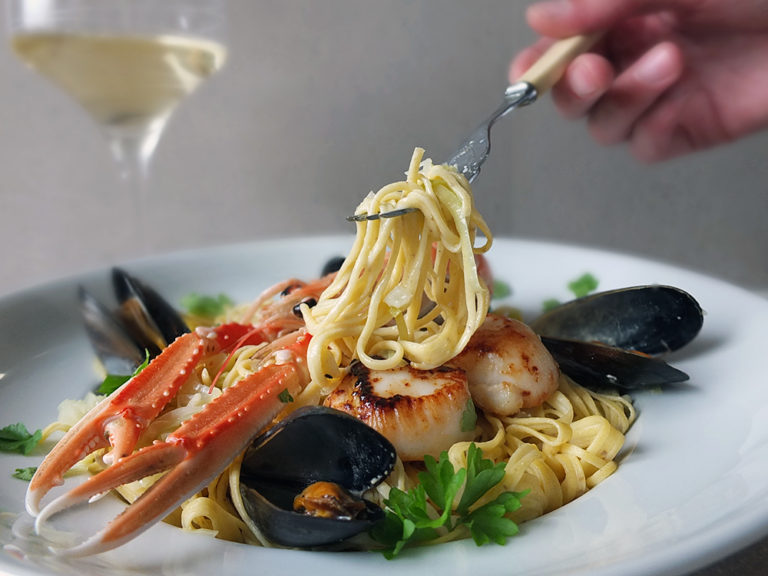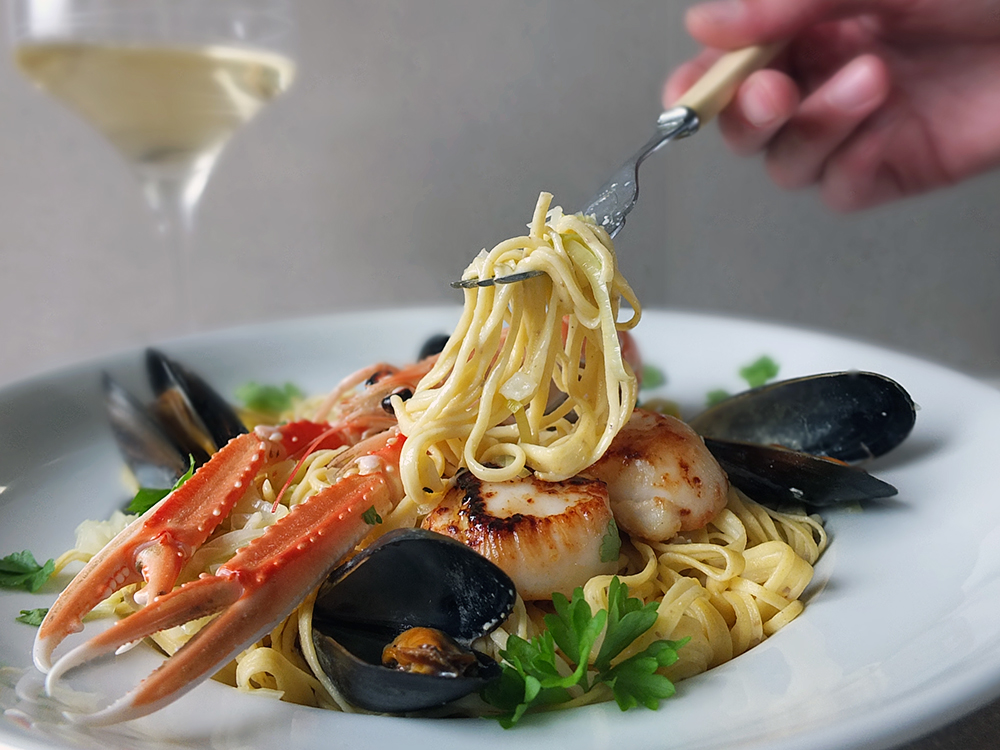 This dish has been made in collaboration with Bertolli so you'll have to visit their website for the recipe!
>> GET THE RECIPE HERE <<<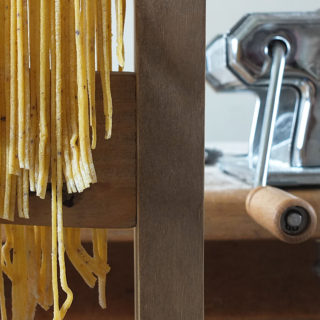 Seaweed Linguine
A touch of dulse seaweed flakes transforms ordinary pasta into the perfect accompaniment for fresh seafood.
Print
Rate
Affiliate Links
This recipe card may contain affiliate ingredient and equipment links. As an Amazon Associate I earn from qualifying purchases.
Instructions
Place the flour into a medium sized bowl and make a well in the centre.

Crack the eggs into the hole and, using a fork, work the flour into the egg until it starts to clump together.

Turn out onto a floured surface and knead for 2 minutes, until it forms a smooth but elastic ball.

Divide into two disc shapes, wrap in cling film and refrigerate for 60 minutes.

Run through your pasta machine, starting at the thickest setting (twice) and then working through each thinner setting until you reach the desired thickness. Mine was the second from the last setting.

Run through the linguine setting on your pasta machine and drape over the back of a wooden chair (or use knitting needles propped up under cookbooks if you don't have dowel rods or a wooden chair) to hold the pasta until it's ready to be cooked.
Environmental Information
Disclosure: this is a paid post. Thank you for supporting the brands who make it possible for me to do what I love: mess up my kitchen and share recipe stories!
[color-box]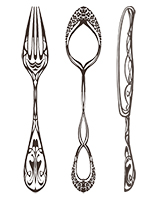 Have you made this recipe?
Take a photo and tag @tangoraindrop or use the hashtag #elizabethskitchendiary and share on Instagram and Twitter. It would make my day to see your creations!
[/color-box]