The Ptarmigan – Scotland's highest restaurant at 1090 metres.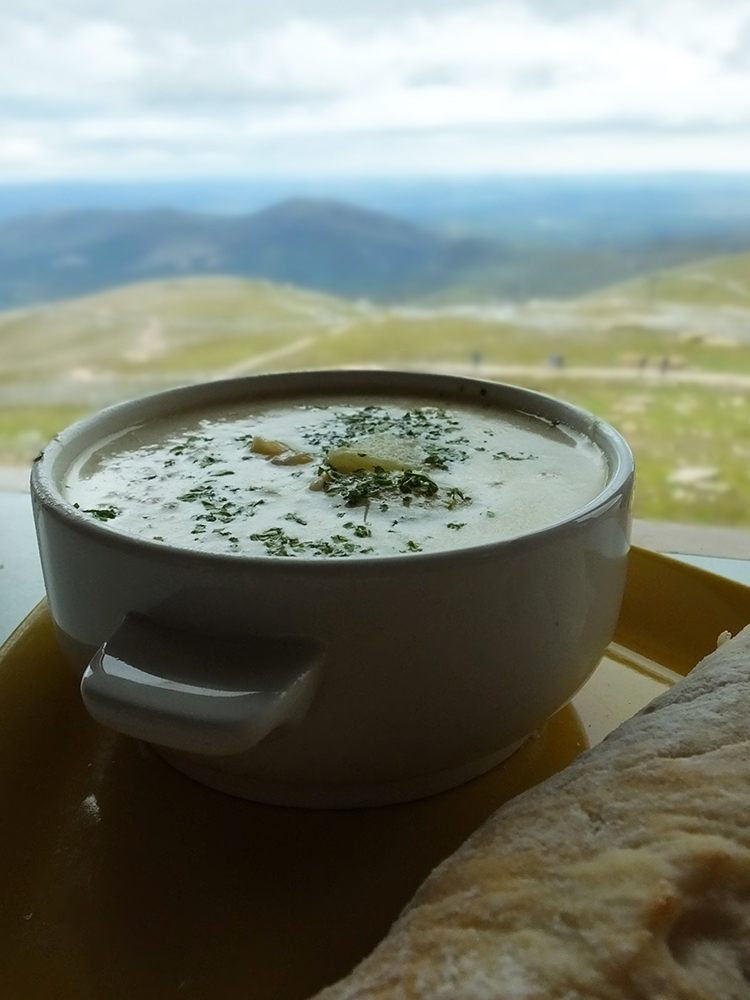 Situated in the top station on Cairn Gorm Mountain, in the most unexpected of places, you'll find Scotland's highest restaurant – The Ptarmigan.
At 1090 metres/ 3500 feet above sea level it's no problem to access thanks to Scotland's only Funicular Railway – a train carriage pulled 1.9 km up the mountain at 11 miles per hour.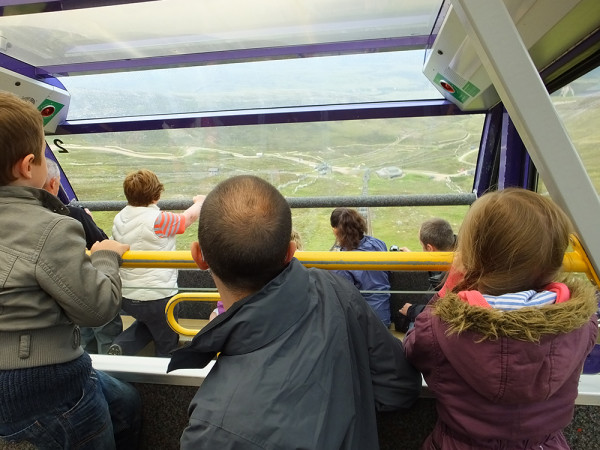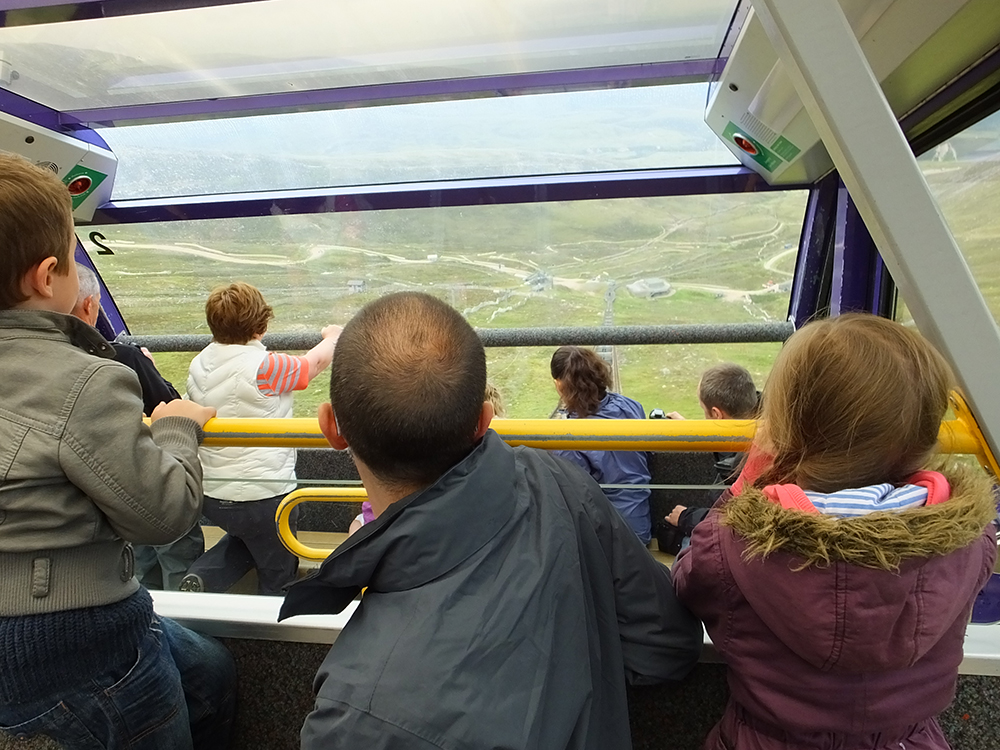 We took a visit up this mountain while we were camping in Aviemore in the summer of 2014, and although it was an interesting thing to do the whole experience was rather underwhelming. You don't feel like you're on top of a mountain. You're not allowed to leave the top station in a bid to help protect the landscape (which is rather similar to the landscape of Shetland) unless you are on a guided tour or mountain bike trek, so all we could see was from the windows of the funicular or the viewing platform at the top station.
So, standing outside on the freezing cold and incredibly windy observation deck I took three quick panoramic photos (one of which is blurry) and one proper photo (below), none of which convey the sheer scale of elevation and openness. Saying that, they're not really mountains are they? they are just kind of big rolling hilly hills? (She says, having lived for a time in the Rocky Mountains of Canada!). It probably would have been more satisfying to hike up the mountain, but given the weather being poor and having small children in tow we opted for the funicular.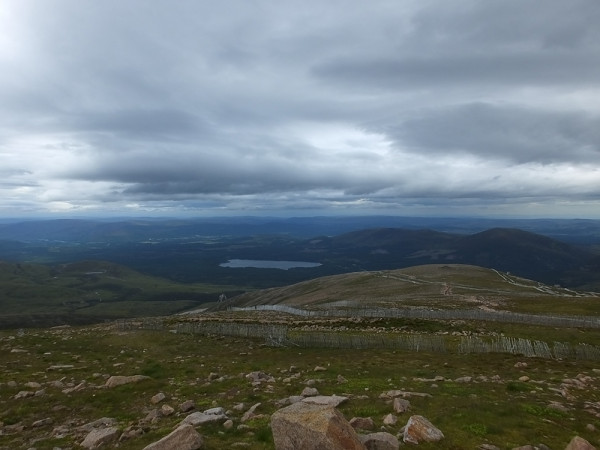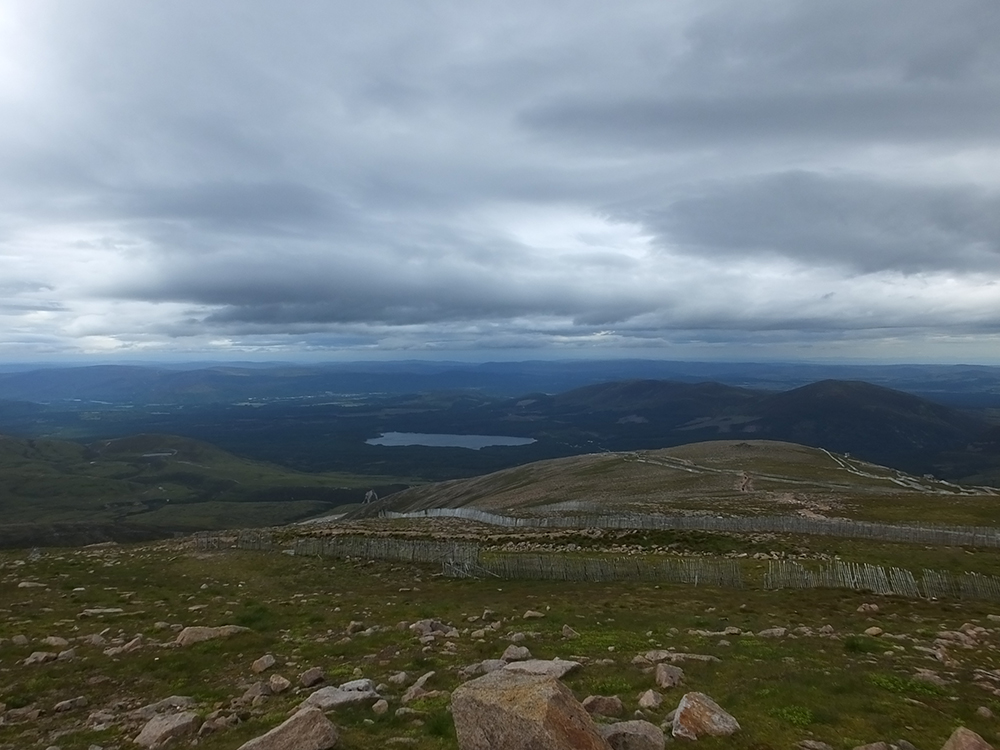 You can see Loch Morlich in the distance, where we biked to on our family mountain biking ride. The top station is also home to the highest post box in the British Isles – a photograph of which I took for Ness over at Jibber Jabber UK, who at the time, was collecting photographs of post boxes in the UK. There is also a museum/information area which describes much of the history of the mountain. This was quite fascinating and I could have spent ages browsing, but the family were keen to move on and upwards. There's also a gift shop where, for the first and only time on our entire mainland holiday I managed to find a sew on souvenir badge for my ruck sack.
They serve a wicked cullen skink soup on the top of Cairn Gorm at The Ptarmigan restaurant. At £4.95 for soup and crusty bread that's a pretty good lunch with a fantastic view.
Service in the restaurant was good, although it's cafeteria style rather than table service, and they have a pretty good selection of dishes considering fresh food has to be lugged up the mountain every day.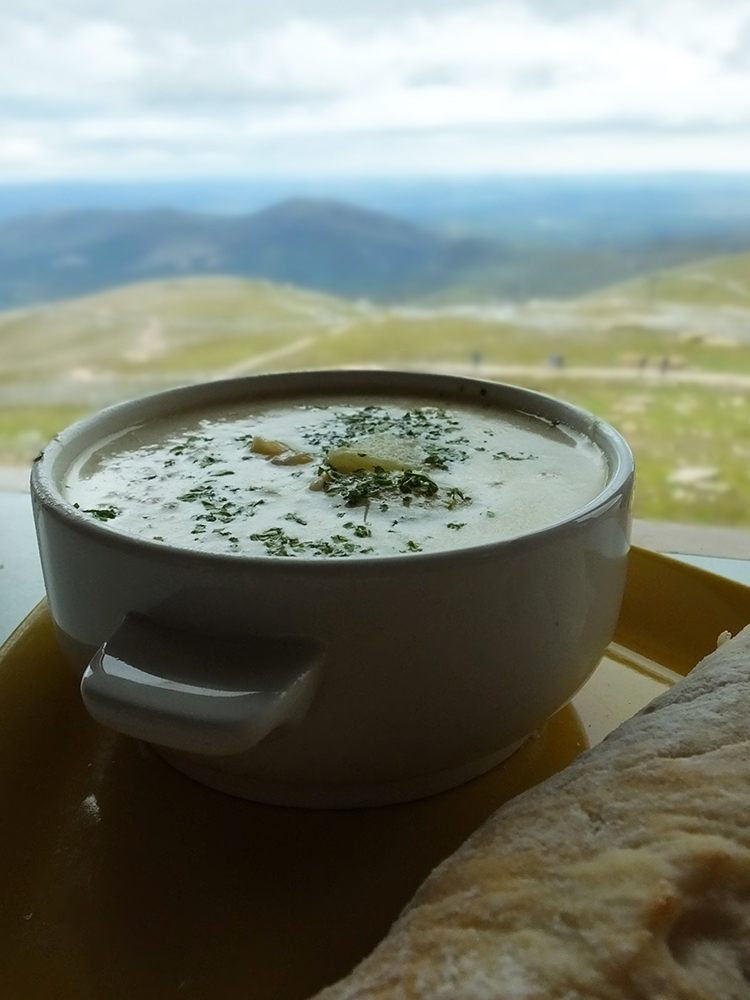 Cullen skink, Scotland's famous smoked fish soup, is a remarkably simple soup recipe to make. The key is to use quality locally sourced ingredients. It doesn't need any extra fancy ingredients – just some smoked fish (usually haddock), milk, leeks and/or onions, potatoes and, if you're feeling indulgent, a bit of cream.
I used smoked haddock from Blydoit Fish here in Shetland, leeks, onions and potatoes from my Turriefield veg box and Shetland Dairy milk and cream to make my soup. Turriefield onions are very strong flavoured so I only used half of one in my soup recipe. If you're using supermarket onions you might need to use a whole one.
I gently poach the smoked fish in the milk first so that it doesn't overcook and become rubbery. A sprinkling of parsley is added for a touch of color.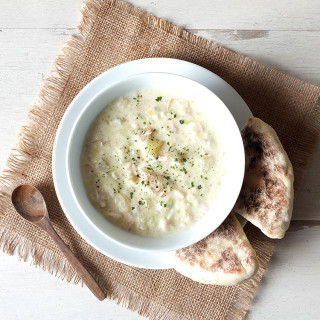 Affiliate Links
This recipe card may contain affiliate ingredient and equipment links. As an Amazon Associate I earn from qualifying purchases.
Instructions
Place the fish in a wide saucepan along with the whole peppercorns and cover with the milk. Bring to a gentle simmer and switch the heat off, pop the lid on, and leave to stand for 10 minutes.

Meanwhile, heat the butter in a soup pan and gently cook the leeks, onion and bacon until the vegetables soften.

Add the peeled, cubed potatoes and cook for a further five minutes.

Strain the fish reserving the milk and discarding the peppercorns. Keep the fish warm (I pop it in a bowl and put a plate on top).

Add the milk to the potatoes and vegetables and simmer, gently, until the potatoes are tender. Don't worry if the milk curdles a bit.

Using a hand blender or potato masher, puree half of the mixture (a hand blender will give you a creamier texture) and return to the pan.

Add the double cream and flake and add the fish. Season to taste.

Reheat the soup but don't allow it to boil.

Serve immediately with a sprinkling of fresh or dried parsley.
LINKING UP WITH A FEW FOOD BLOGGING CHALLENGES
Recipe of the Week by A Mummy Too
OTHER SMOKED FISH RECIPES YOU MIGHT LIKE
Smoked Mackerel Pate by Fab Food 4 All
Smoked Mackerel, Plantain and Broccoli Stir Fry by Recipes from a Pantry
Kale, Smoked Salmon & Cream Pasta by Family, Friends, Food
Leek and Smoked Mackerel Quiche by Hedgecombers
If you want to be kept up to date on my recipes, occasional craft tutorials, adventure stories and giveaways then please subscribe to my weekly newsletter; it gets sent out every Monday morning if there is new content. Your email address won't be passed on to anyone, you will never be spammed and you are free to unsubscribe at any time, no questions asked. Make sure you confirm your subscription or you won't receive the newsletter – if it hasn't arrived check your junk mail folder.
[wysija_form id="1″]