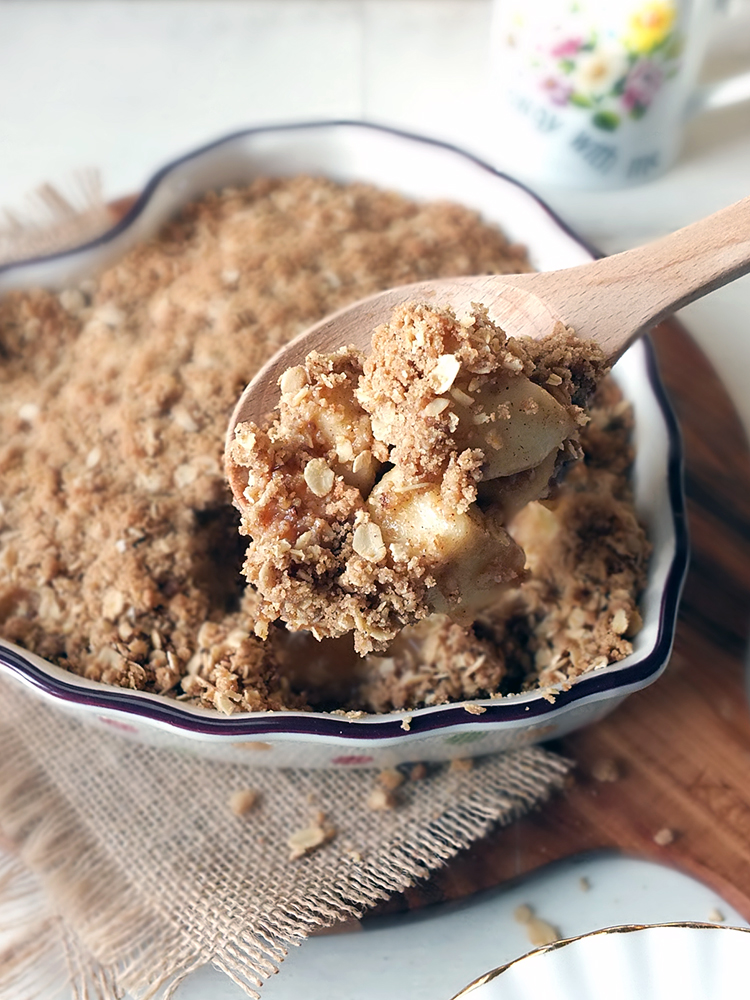 I miss trees.
Where I grew up in rural Cape Breton, on the east coast of Canada, we had more trees than you could imagine. Most of my childhood was spent in them, falling out of them, getting lost in them, and on many an occasion, eating from them.
There were so many wild apple trees where I grew up, and all sorts of varieties too. From the stomach-cramp inducing crab apples with their tiny rock hard green fruits to the most mouth-watering and ruby red varieties. There was one ancient and scraggly tree right beside our house which bore, at tops, two to three yellow-green apples each year. That tree was too difficult to climb, so I never did taste those apples.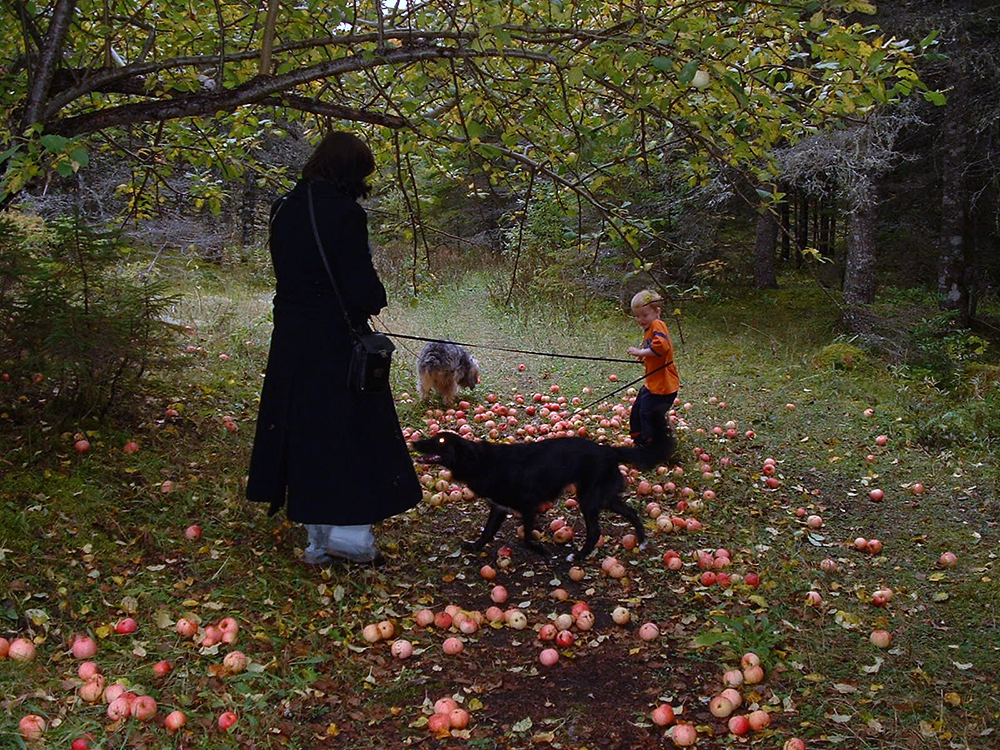 I also miss the smell of the apples, this time of year. That sickly sweet cider scent of apple decay mixed with the smells of the forest floor – just the thought of it is making me home sick and nostalgic.
I've only been back to where I grew up once, with my eldest son (who will be 16 this spring!), and he got to experience first hand the whole Cape Breton apple thing (except for the crab-apple induced stomach cramps – I learned the hard way to only eat one!).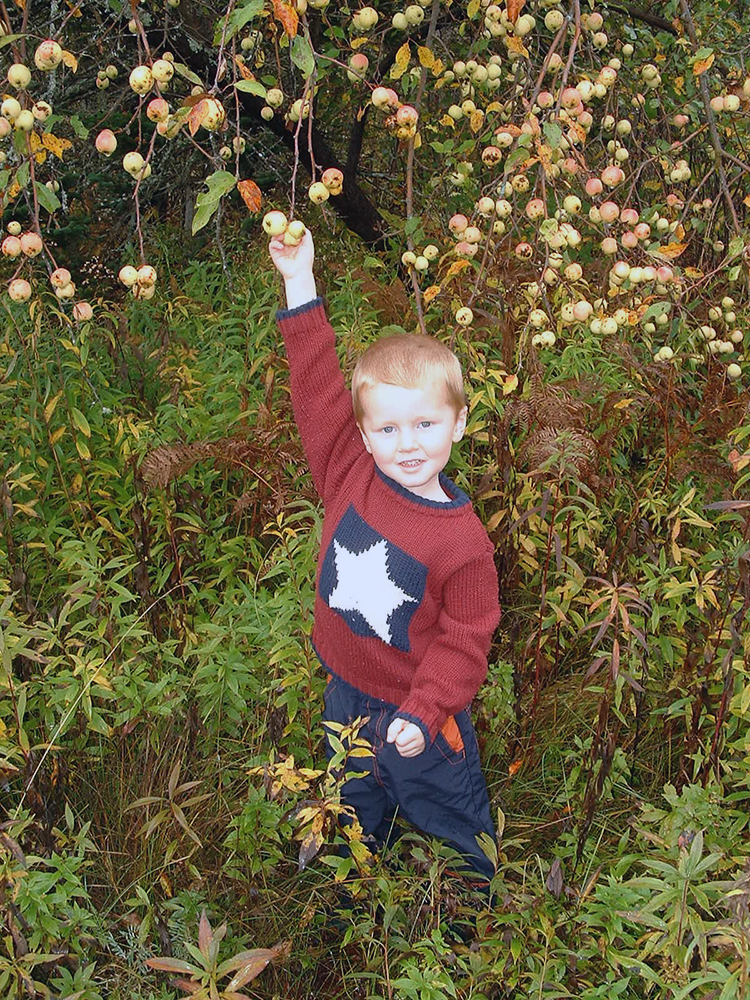 Despite this bounty of wild fruit, our home made apple crumbles were always made with tinned apple pie filling. I think it was the decade – everything came out of tins back then – fruits, vegetables, meatballs, you name it.
I loved those tinned apple pie filling apple crumbles!
I did bring the apple crumble topping recipe with me when I immigrated to the UK, and I tried making it a few times over the years, but that particular recipe is just not my thing any more; it's too buttery and dense. I prefer a lighter, crumblier crumble topping with a nice deep dish helping of real apples.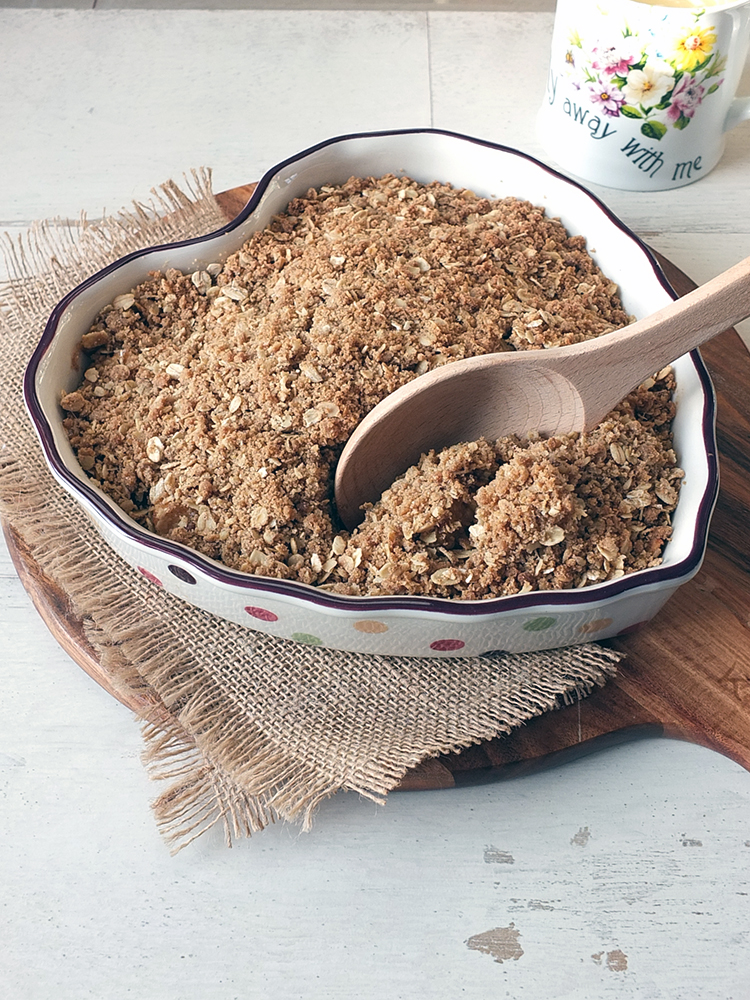 It turns out that the apples in that tinned apple pie filling were Bramley apples – the nice tart, green cooking apple. Tossing the raw, chopped apples with cornflour, cinnamon and sugar before sprinkling with the crumble topping makes for a nice, thick apple base where the apples retain just enough texture, and the cornflour mixes with the apple juices to make a nice cinnamon infused sauce.
Personally, I think this crumble is incredibly moreish and is rather nice to eat with custard in the bath. Just sayin'.
Cold leftovers make a rather scrummy breakfast too.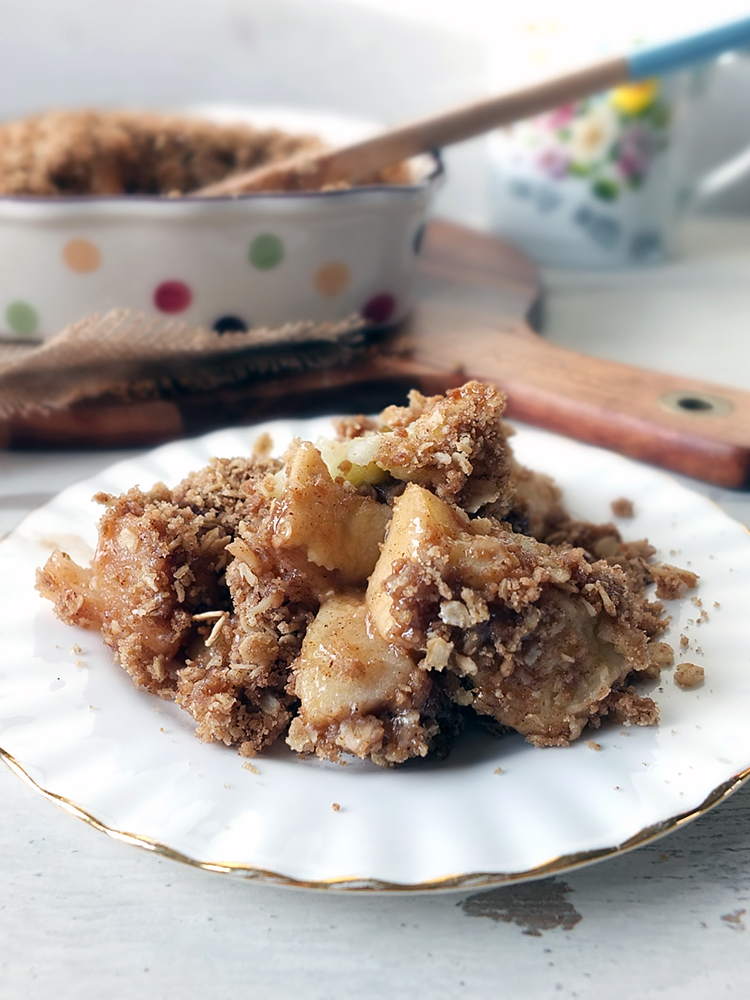 Please excuse the poor photographs in this post – I've been fighting with the low Shetland winter light these days. If the sun comes out it's not that high off the horizon so everything is cast in an autumnal yellow glow, or it's just too dark and overcast and all my photographs come out grey and desaturated with a blue tinge.
I should maybe, perhaps, spend some of this winter learning how to use all the settings on my camera (or improve my Photoshopping skills!).
Now, a big thank you to kaleidoscope.co.uk for sending me the baking dish, chopping board, spoon and mug you see in the photographs above.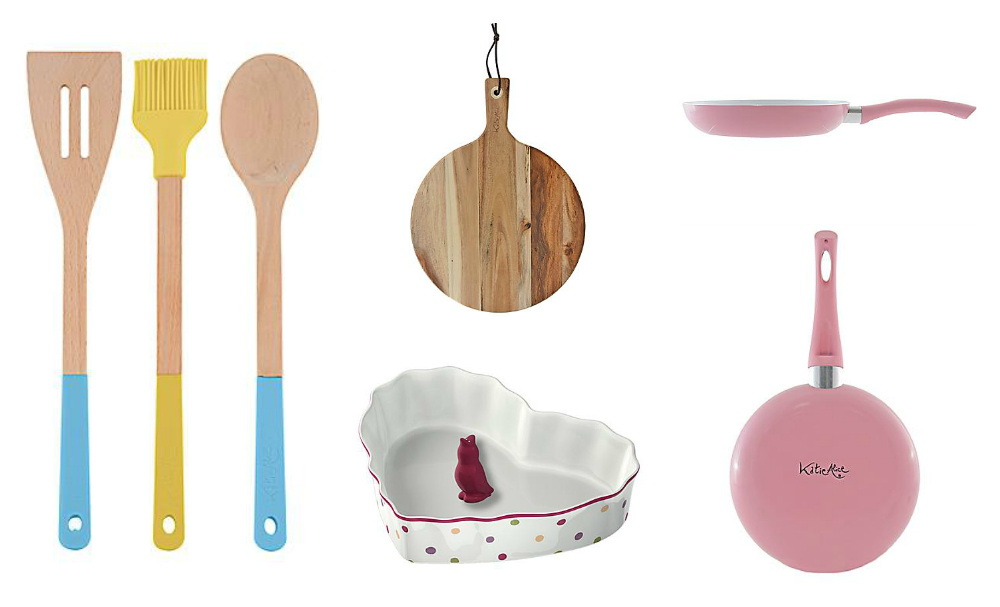 Kaleidoscope are a UK fashion, homewares and gift company supplying a wide range of products for all styles. I have to confess, though, that the Katie Alice range they sent me for review isn't something you would normally expect to see in my kitchen.
The English Garden frying pan and knife block (not pictured) are far too pink, girly and flowery for my tastes (I'm a cast iron kinda gal), but the Highland Fling pie dish with steam funnel is fantastic, and the acacia wood chopping board gets used regularly (last night it was used to serve cheese, olives, cold meats and chutneys for a quick no-cook dinner). It's not the best quality wood though, made out of sections of wood bound together with knots and blemishes filled with filler.
The English Garden utensils set (pictured above, left), again, I'm not keen on the colours, but for usefulness I rate them 10 out of 10, especially the pastry brush which is fantastic for brushing egg wash onto pies and breads.
Prices start from £15.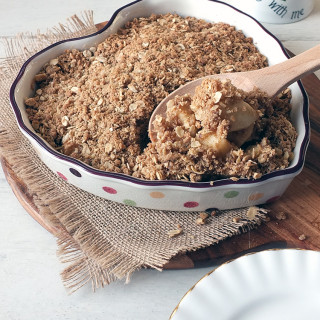 Bramley Apple Crumble
Bramley apples, brown sugar and warming spices make this recipe the perfect cold-weather comfort food.
Print
Rate
Affiliate Links
This recipe card may contain affiliate ingredient and equipment links. As an Amazon Associate I earn from qualifying purchases.
Instructions
Preheat oven to 180 C/ 170 C fan and butter a pie or casserole dish.

Peel and core your apples. Chop them into bite sized pieces and add the sugar, cornflour and cinnamon. Toss to coat and arrange in the base of your dish.

To prepare the topping, measure the dry ingredients into a medium sized bowl.

Add the cubed butter and rub the mixture between your fingertips until it resembles coarse breadcrumbs. Take care not to overmix or the butter and sugar will cream and you'll get a dense topping. We want to keep this as light as we can.

Sprinkle the topping over the apples and bake for 30-35 minutes, until the top begins to golden.

Serve hot with custard or ice cream. It's equally delicious cold for breakfast the next morning!
Environmental Information
OTHER CRUMBLE RECIPES YOU MIGHT LIKE
Pear, Chocolate & Ginger Crumble by Fab Food 4 All
Blackberry & Apple Skillet Breakfast Crumble by Elizabeth's Kitchen Diary
Chocolate Chip Apple Crumble by Tin & Thyme
Cookie Dough Crumble by Kavey Eats
Mini Apple & Blackberry Crumbles by Maison Cupcake
If you want to be kept up to date on my recipes, occasional craft tutorials, adventure stories and giveaways then please subscribe to my weekly newsletter; it gets sent out every Monday morning if there is new content. Your email address won't be passed on to anyone, you will never be spammed and you are free to unsubscribe at any time, no questions asked. Make sure you confirm your subscription or you won't receive the newsletter – if it hasn't arrived check your junk mail folder.
[wysija_form id="1″]
With thanks to Kaleidoscope for the review items. All thoughts and opinions expressed in this post are our own. This is not a paid post.