In collaboration with Tasty Easy Lamb.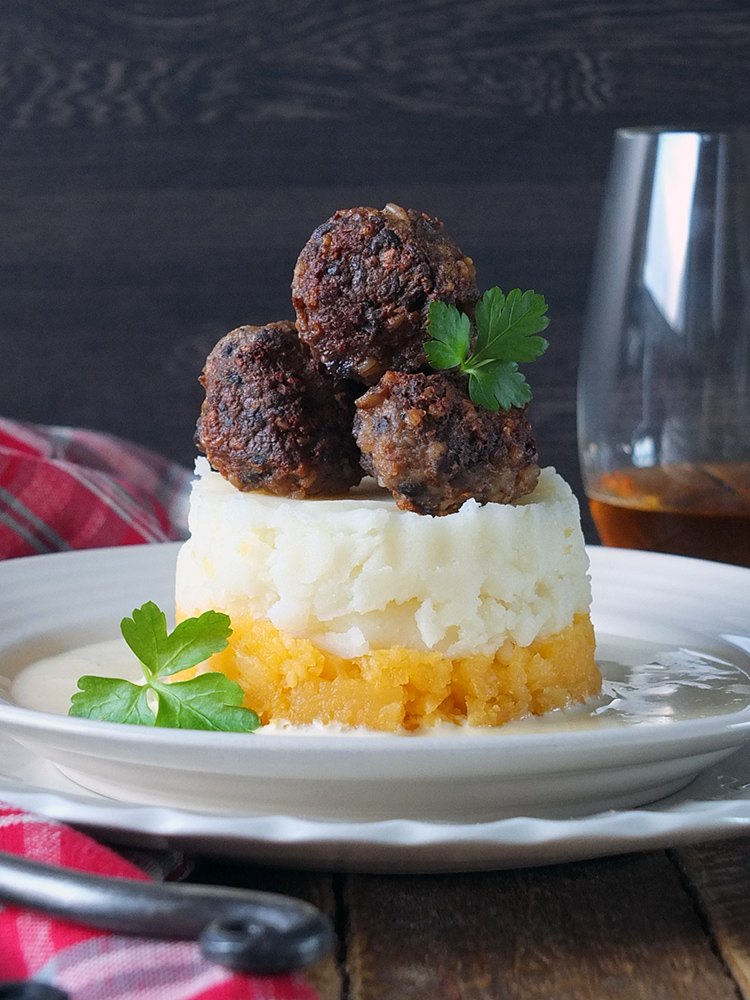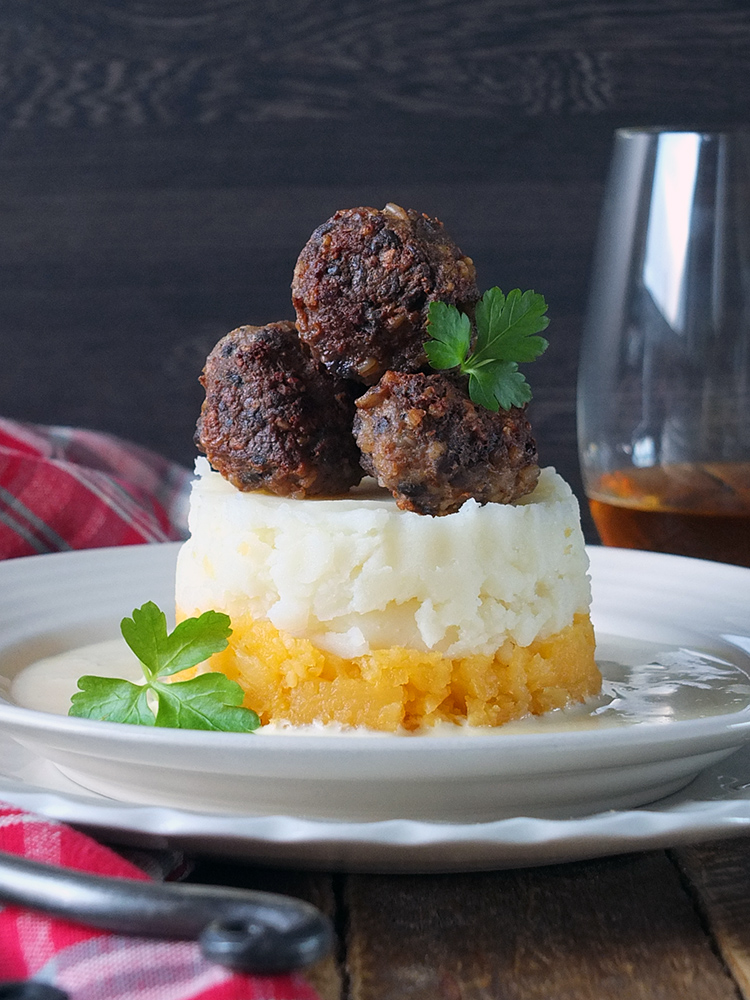 This modern take on the classic Burns Night supper is a remarkably quick and easy recipe to make, and it's the perfect introduction to haggis for people who aren't really sure if they'll like it or not.
The first time I ever ate haggis (and I confess I was sceptical too!) was in Ackergill Tower, in Wick, Scotland. The haggis was piped in and Robert Burns' 'Address to a Haggis' was recited by a sword-wielding kilted highlander with a booming voice who sliced into that haggis with his ceremonial knife with skill and grandeur. We were in the Great Hall in the 14th baronial tower, stags' head on the wall flanked by two aged military flags. The haggis was served on a bed of tatties and neeps with plenty of locally distilled Scotch whisky to wash it down.
It was the best haggis I've ever eaten. Alas, this was long before I ever thought to take photographs of my food so you'll just have to take my word for it.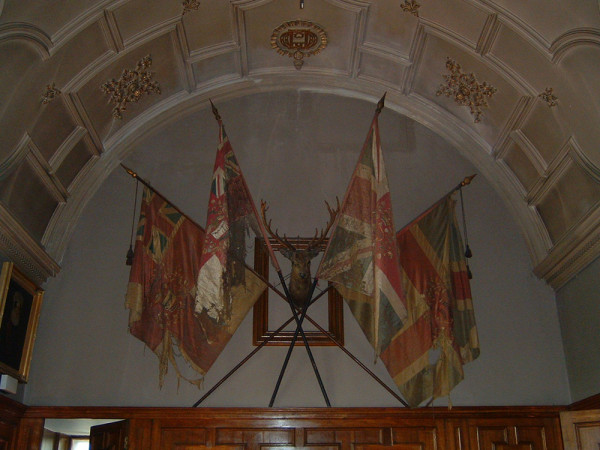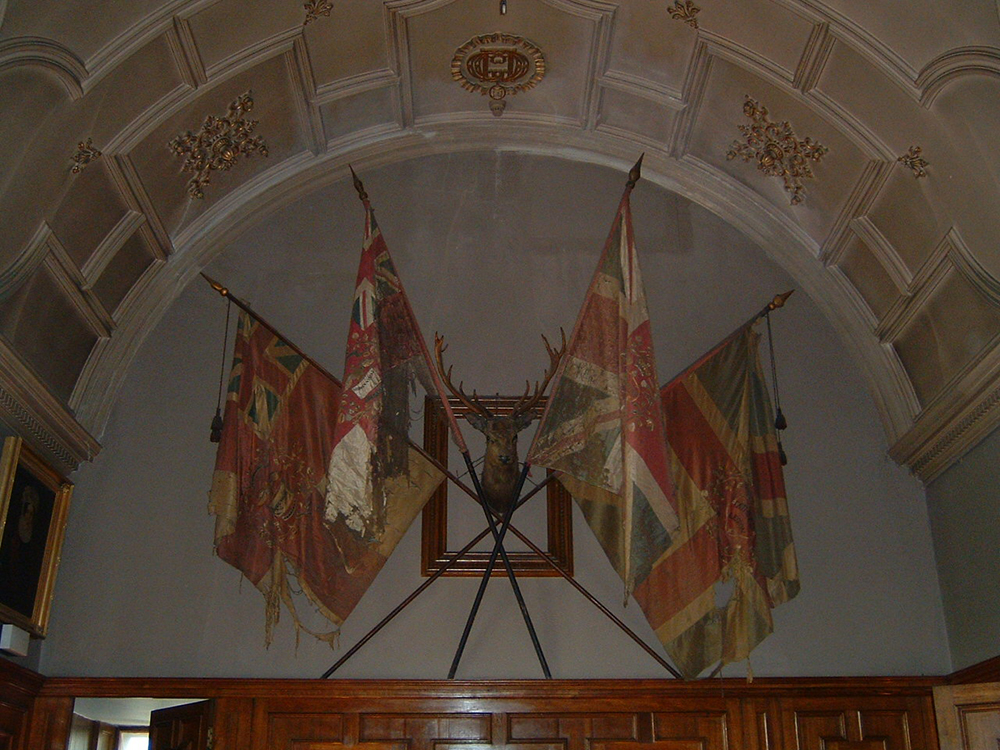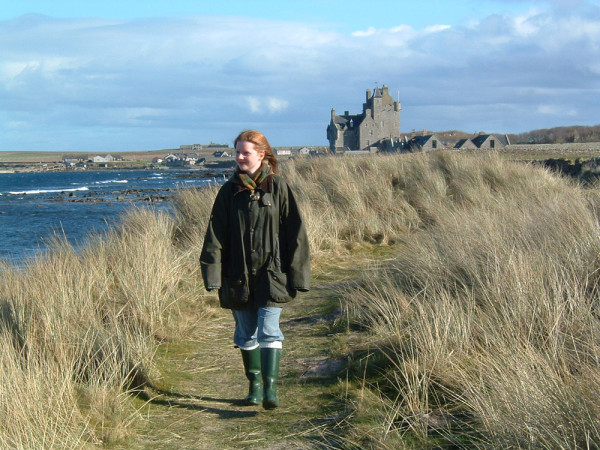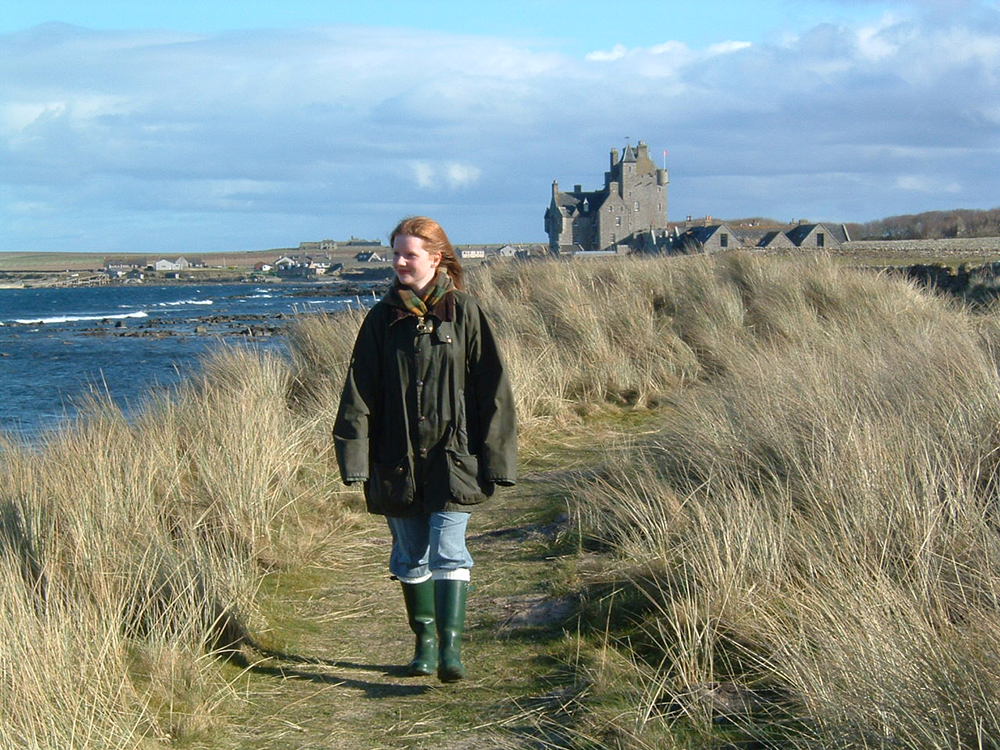 From then on I've had a fondness for the traditional Scottish dish, but alas, it's not a fondness my family share. So, to help gently introduce them to the idea of eating haggis (it really is quite a delicious meal!), I've combined it with equal parts of lamb mince and created this meatball recipe. The lamb mince helps tone down the peppery spiciness of the haggis, and it pairs perfectly with the whisky cream sauce.
This recipe was also partly inspired by the haggis bonbons enjoyed at Meldrum House, a charming 13th-century baronial mansion in Ellon last year. We were served these bonbons as part of our lunch menu, and I'm keen to try making them at home too. To prepare these, I believe all you do is form the haggis into balls, dip in flour, beaten egg and breadcrumbs. They're then deep-fried and served with a dipping sauce.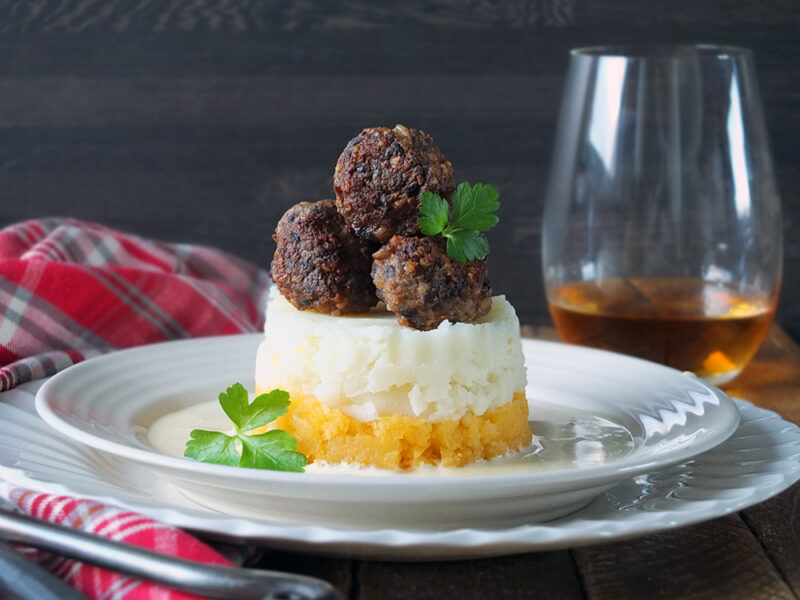 The whisky cream sauce in this recipe is extremely easy to make too – simply saute a small finely chopped onion or a few shallots in a knob of butter, pour in a generous dram of Scotch whisky and leave it to cook so that the alcohol burns off. This will leave the smoky whisky flavour without any bitterness. Then, pour in the double cream and leave it to gently simmer and thicken as you get on with the meatballs.
Make sure you use a good quality Scotch whisky for your sauce. It'll make all the difference to the flavour.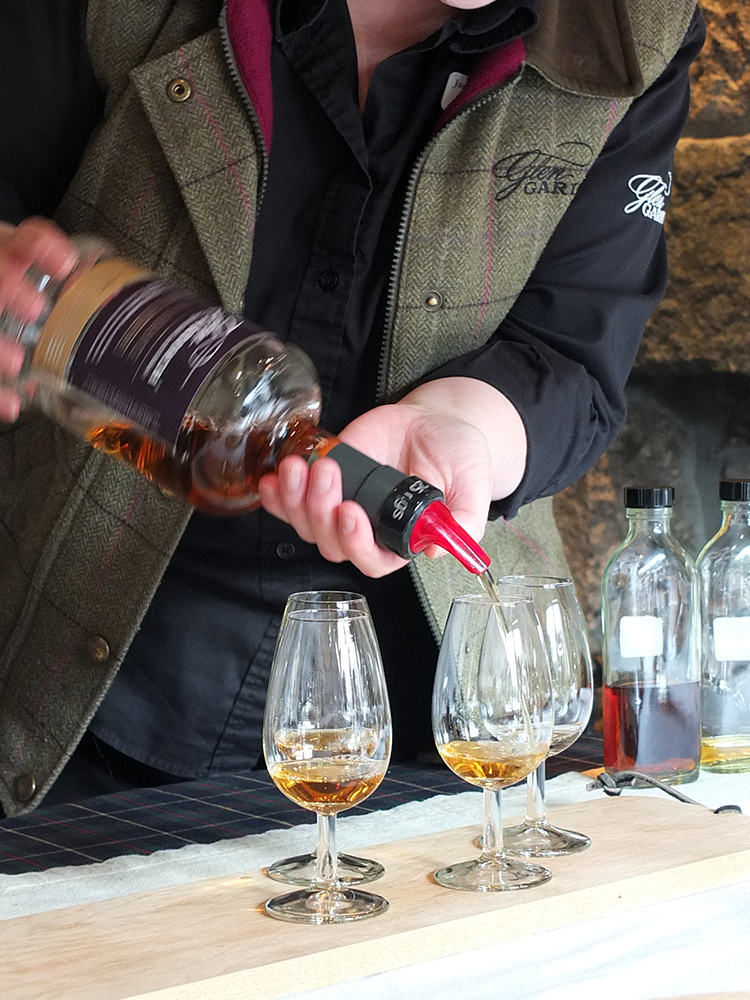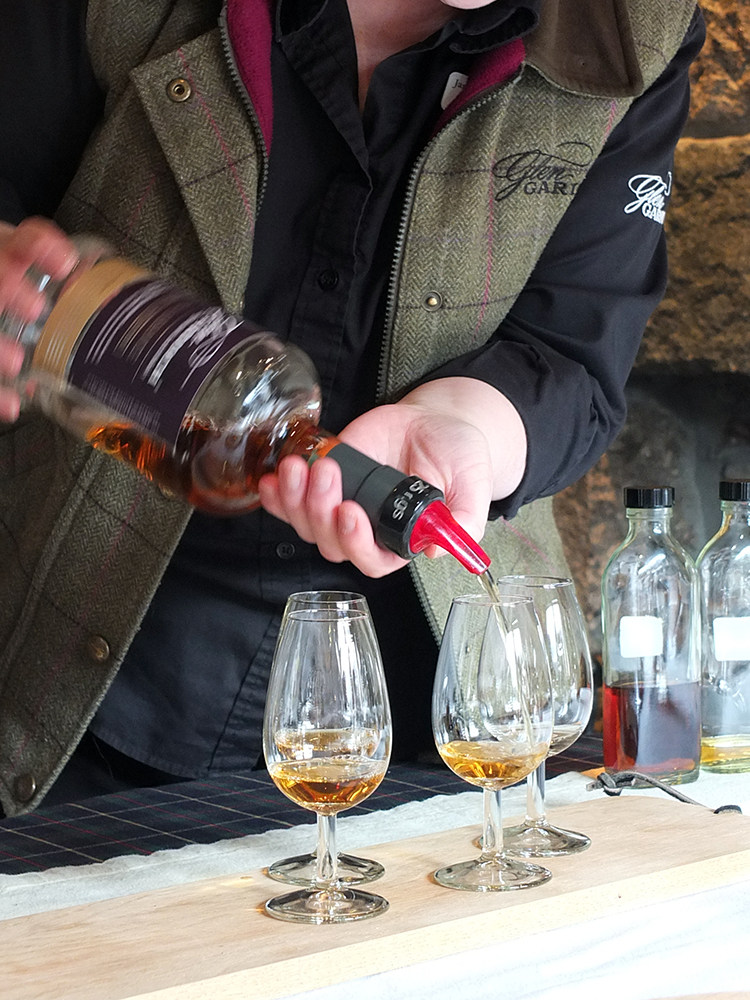 Serve your lamb and haggis meatballs on a bed of tatties and neeps in the traditional way. I've stacked mine using a large round cookie cutter as a mould – simply pack in your buttery neeps first, lift the cookie cutter slightly and finish off with a layer of your favourite mashed potatoes.
Garnish with a few of the meatballs and a sprig of something green for colour, and pour your whisky sauce around the base of the stack.
Fair fa' your honest, sonsie face,
Great chieftain o the puddin'-race!
How will you be celebrating Burns Night this January 25th? Let me know in the comments!
For more lamb recipe inspiration visit the Tasty, Easy Lamb website and follow them on Twitter, Instagram and Facebook.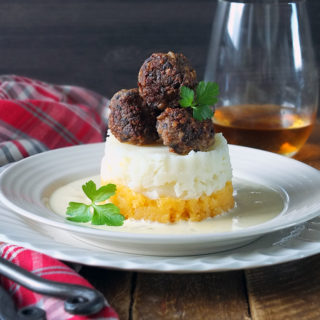 Lamb & Haggis Meatballs with a Whisky Cream Sauce
A modern take on a classic Burns Night Supper - lamb mince and haggis meatballs with a delicious and simple whisky cream sauce. Serve with tatties and neeps.
Print
Rate
Ingredients
for the meatballs
250

grams

lamb mince

250

grams

haggis

1

medium

free-range egg

beaten

1

tbsp

vegetable oil

for frying
for the whisky cream sauce
Affiliate Links
This recipe card may contain affiliate ingredient and equipment links. As an Amazon Associate I earn from qualifying purchases.
Instructions
Place lamb mince in a medium-sized bowl and crumble in the haggis with your fingers.

Add the beaten egg and using your hands, combine the mixture until everything is well incorporated.

Form meatballs about one inch in diameter and set aside on a plate.

Heat the vegetable oil in a non-stick pan. Fry the meatballs, in batches, for 10-15 minutes until well browned all over. Set aside on a paper towel to drain off any excess fat.

Meanwhile, prepare the whisky cream sauce. Heat the butter in a small saucepan and gently saute the shallots until softened.

Pour in the whisky and leave it to bubble so that the alcohol burns off.

Pour in the double cream and simmer for a few minutes until the sauce thickens.

Serve the meatballs and the whiskey sauce with tatties and neeps.
Environmental Information
OTHER LAMB RECIPES YOU MIGHT LIKE
Leftover Roast Lamb & Winter Vegetable Soup
Slow Cooked Lamb Shanks with Vegetables & Gravy
Indian Tapas: Lamb, Pea & Potato Mini Samosas
Slow-Cooked Lamb Casserole with Broad Beans & Apricots
Grilled Lamb Kibbeh Kebabs
Slow-Roasted Rack of Lamb with a Creamy Mustard Tarragon Sauce
Slow Cooker Lamb Chilli with Pasilla Peppers
Argentine-inspired Lamb Chops with Chimichurri
Lamb Casserole with Ale
Slow-cooked Shetland Lamb Casserole with Creamy Herbed Polenta
Pastitsio – Greek Macaroni Pie
OTHER BURNS NIGHT RECIPES YOU MIGHT LIKE
Haggis, Neeps & Tatties Pancakes
Orange Bundt Cake with Salted Caramel Whiskey Drizzle
How to Host the Ultimate Burns Night Supper
Instant Vegan Haggis, Neeps & Tatties Burgers
Haggis, Neeps & Tatties Pie
This is a commissioned recipe for Tasty, Easy Lamb. Thank you for supporting the brands who make it possible for me to do what I love: mess up my kitchen and share recipe stories!
[color-box]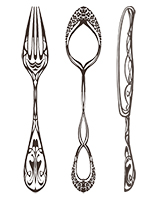 Have you made this recipe?
Take a photo and tag @tangoraindrop or use the hashtag #elizabethskitchendiary and share on Instagram and Twitter. It would make my day to see your creations!
[/color-box]