A somewhat more healthy chocolate Easter treat made with raw cacao.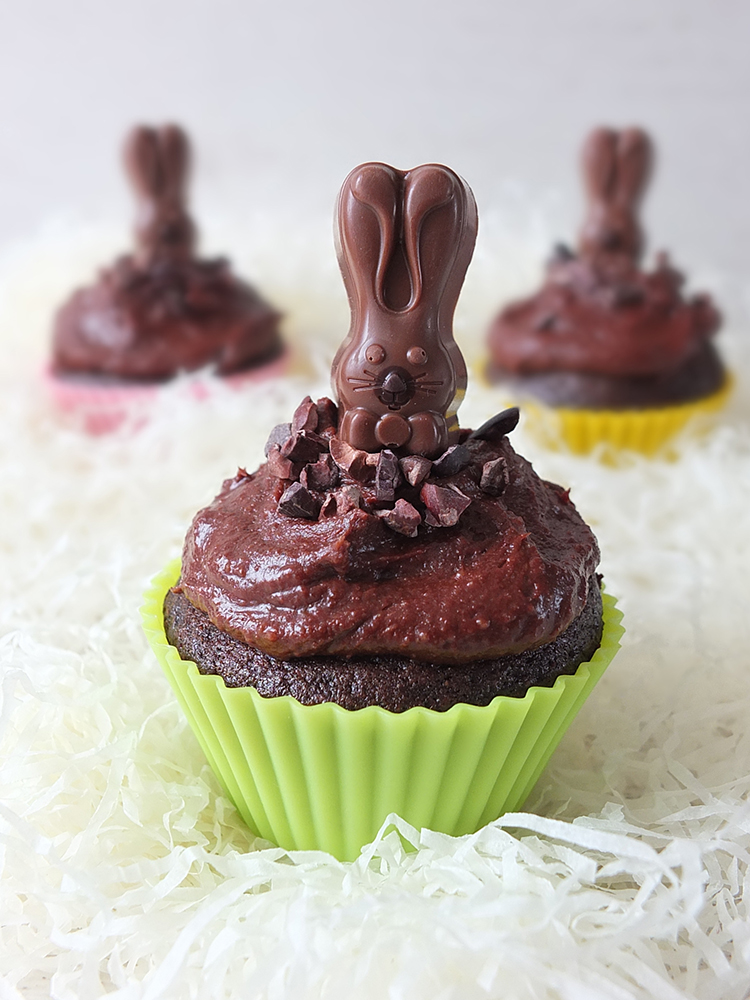 Wednesdays are pudding nights in our house. This (in theory) stops the kids from asking for sweet things after every meal through the rest of the week. In theory. It doesn't actually work like this, but I do try.
Some of you might have noticed that I'm on a healthy eating kick at the moment with my strength and fitness training for my upcoming epic 250 mile mountain bike cycle and mountain climb this summer (please consider sponsoring me – I'm raising money for the RNLI!). I've never been so aware of what's been going into my body, and I've never felt stronger or more fit. I'm feeling on top of the world, to be honest!
I still love chocolate though, and sweet treats, but I'm trying to make them a bit more healthy. Small steps.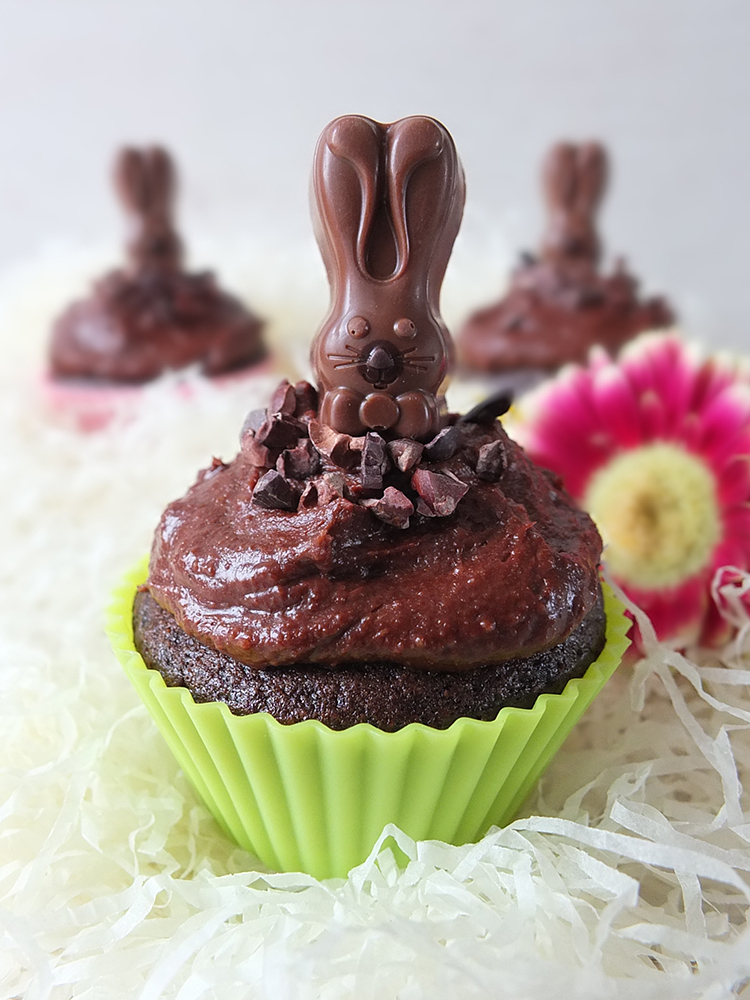 These cupcakes are made with golden wholegrain plain flour from Marriage's, which is a sweeter, milder wholemeal flour with a lighter colour, ideal for biscuits and cakes. It provides all the goodness and fibre of wholemeal flour, but it's still quite light and resulting bakes are not stodgy like a lot of wholegrain flour bakes are.
It's also made with dark brown sugar (just the supermarket variety, nothing special), instead of refined caster sugar. Even though it's still sugar it's sugar with a lot of the nutrients still in it, like potassium, calcium and iron. They're present in minimal quantities, but it's still better than white sugar which has no nutritional value whatsoever.
I've reduced the butter, and therefore the fat content and I've also used some superfoods raw cacao powder, kindly given to me to play with by BioGlan. Raw cacao provides a whole host of nutrients and it's been used for generations in Mexican, Central and South American cultures for it's invigorating and healthy properties.
And it tastes fantastic.
These chocolate topped cupcakes were my second attempt at making some Easter cupcakes for the kids. For the first lot my husband had specially picked up, at my request, some Easter coloured cupcake cases from a shop in town. They were rubbish! The cupcakes, when baked, hid the colour of the cases. They looked horrid before I'd even decorated them.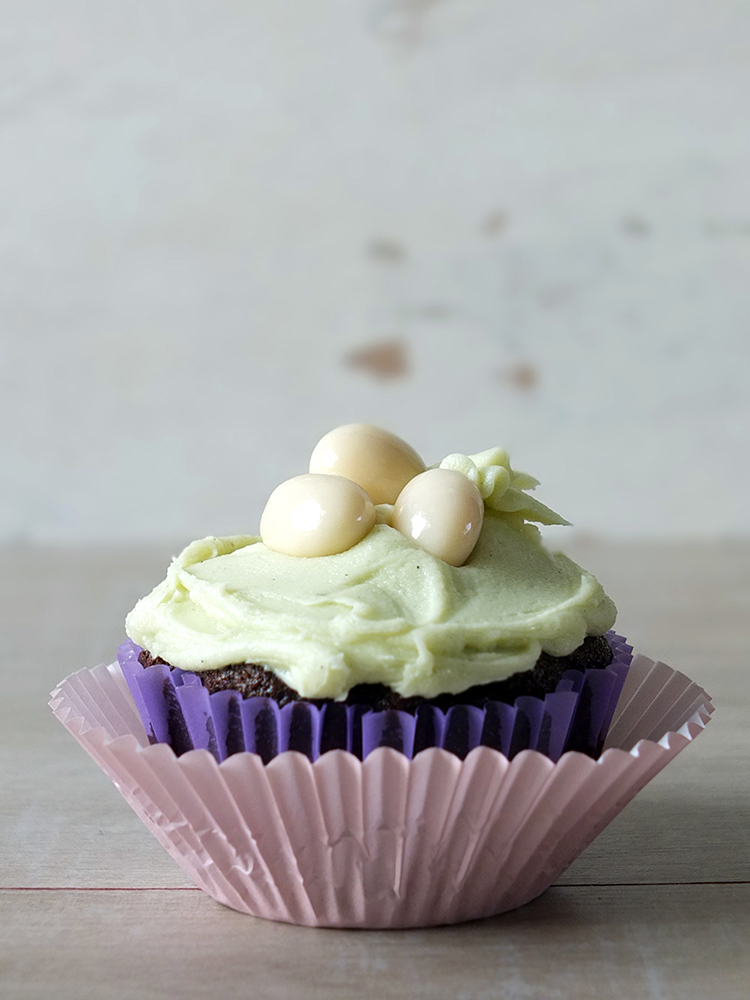 My attempts at naturally colouring the buttercream frosting with spinach powder from Absolute Spice, although successful in taste and texture, were wholly unsuccessful in the decorating department as I ran out of piping bags and have discovered that freezer bags are not a good alternative. Oh, and whizzing up freeze dried fruit with some butter in attempts to make coloured frosting doesn't work either. As for using yogurt coated peanuts as 'Easter egg' decorations? I liked them, but the kids were not so enamoured. They picked off the decorations, scraped off the icing and just ate the cakes.
My second attempt at icing was a bit more healthy, and it's a recipe my husband prefers. Vita Coco organic coconut oil is mixed with raw cacao and sweetened with some Canadian maple syrup and a touch of vanilla bean paste and decorated with raw cacao nibs. I used a fork to mix the ingredients, but you could always whiz it up in a blender for a smoother texture.
As an afterthought I stuck some Caramel bunnies from Hotel Chocolat on the top, but you could always decorate with whatever you fancy. They ate the chocolates, still scraped off the frosting (who doesn't like frosting?!) and devoured the cupcakes with glee.
Pudding night. Sorted. Even though my husband said the chocolate frosting looked like the rabbits had had a bit of a messy poo on the top of the cupcakes (the the rabbits themselves slightly remind me of The Cat in the tv series Mad Dogs).
The cupcakes themselves are approximately 145 calories each, without the icing and decoration, or 214 calories with the frosting.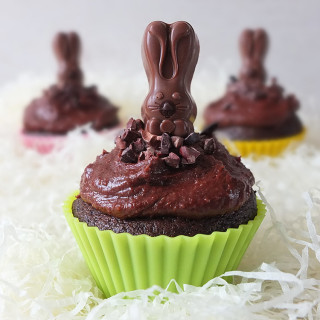 Raw Cacao Easter Cupcakes
A slightly more healthy chocolate Easter treat made with raw cacao.
Print
Rate
Ingredients
decorations
Chocolate decorations

as desired
Affiliate Links
This recipe card may contain affiliate ingredient and equipment links. As an Amazon Associate I earn from qualifying purchases.
Instructions
Preheat oven to 170 C (fan), 190 C and line a 12 hole muffin tin with cupcake cases.

Sift together the flour, sugar and bicarbonate of soda and set aside.

Place the water, raw cacao and butter in a small saucepan and gently heat until completely melted.

In a measuring jug, measure the milk and add the egg and vanilla and beat until combined.

Add the cacao mixture and the milk/egg mixture to the dry ingredients and stir with a wooden spoon until well combined.

Spoon into the prepared cases and bake for 15- 20 minutes, until well risen and a skewer inserted into the centre of one of the cupcakes comes out clean. Transfer to a wire rack to cool completely.

To prepare the icing, beat the solid coconut oil, cacao, maple syrup and vanilla together until creamy. Spread over the top of the cupcakes and decorate as desired.
Environmental Information
Click here to view the nutritional information for this recipe.
OTHER SLIGHTLY MORE HEALTHY EASTER TREATS YOU MIGHT LIKE
Chocolate Dipped Salted Figs by Celery & Cupcakes
Nettle, Lemon & White Chocolate Cupcakes by Tin and Thyme
Roasted Beetroot and Raw Cacao Cupcakes by Elizabeth's Kitchen Diary
Wholemeal Apple Hot Cross Buns by Fab Food 4 All
Gluten and Grain Free Hot Cross Buns by Simply Sensational Food
Superfood Cake Bars by Veggie Desserts
LINKING UP WITH SOME FOOD BLOGGING CHALLENGES
Recipe of the Week by A Mummy Too
Alphabakes "C" by Caroline Makes and The More Than Occasional Baker
No Waste Food Challenge by Elizabeth's Kitchen Diary (my flour was out of date!)
Simply Eggcellent by Belleau Kitchen
We Should Cocoa by Tin & Thyme, guest hosted by Lancashire Food
Treat Petite by The Baking Explorer and Cakeyboi
If you want to be kept up to date on my recipes, occasional craft tutorials, adventure stories and giveaways then please subscribe to my weekly newsletter; it gets sent out every Monday morning if there is new content. Your email address won't be passed on to anyone, you will never be spammed and you are free to unsubscribe at any time, no questions asked. Make sure you confirm your subscription or you won't receive the newsletter – if it hasn't arrived check your junk mail folder.
[wysija_form id="1″]
With thanks to Marriage's, BioGlan, Absolute Spice, Hotel Chocolat and Vita Coco for all the product samples. This is not a paid post, although it does contain Amazon affiliate links, highlighted in orange. Any purchase you make through these links (even if it's not the products mentioned) will earn us a small commission, and you will be directly helping pay our car garage bill, because the bleeping thing has broken down. Again.