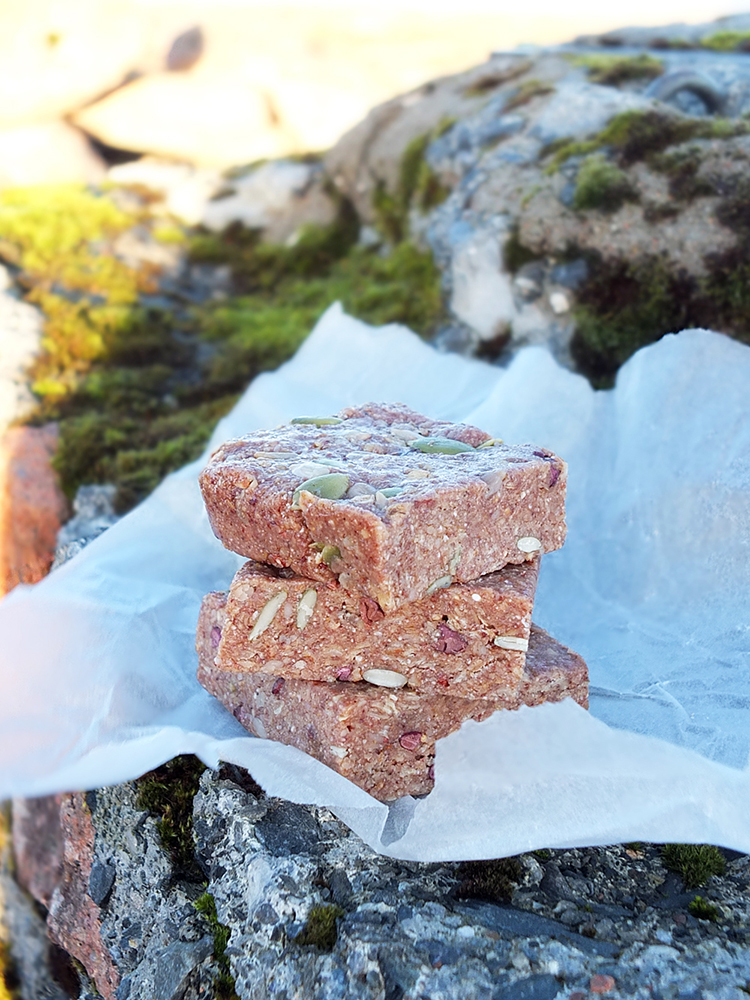 Happy New Year!
I hope you have had a lovely festive period, and that the New Year was greeted with a bang. Have you made any resolutions? What sort of things did you get up to?
Over the last few years we've started a new family tradition of bringing in the New Year watching the Jools Holland Hootenanney on BBC 2. I set out some nibbles, us grown ups share a bottle of something (Prosecco this year) while the kids drink something nice out of posh glasses.
The thing is that this New Year's Eve I was being sensible. I didn't want to start the New Year off with a hangover and I began my sensible eating plan (in a bid to shed the 1 kg I put on over the Christmas week), on Monday the 28th. So, that bottle of Prosecco wasn't going to be opened until Jools Holland started at 11:10 pm (I'd drawn a little 125 ml line on my glass so I could calorie count it! I'd earned these prosecco calories in advance with a hard core P90X3 work out!).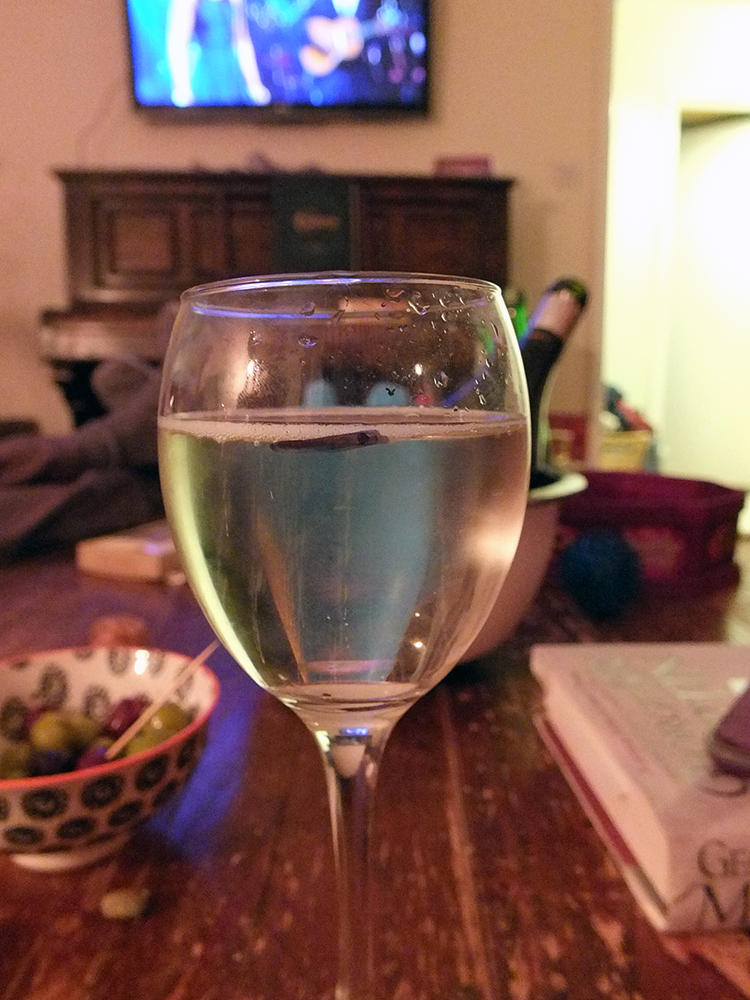 I had some time to kill before the festivities began.
The weather lately has been absolutely atrocious. On the mainland they've been calling it Storm Frank (has that finished now?). Up here we've been calling it 'winter', because the wind and gales of this extent are something we're used to with living on an exposed rock in the middle of the North Sea.
I checked the weather forecast for New Years Day. The wind was supposed to die down (only 21 mph rather than the 56 mph gusting to hurricane force we've grown accustomed to lately) and it was going to be sunny! The dark, dreary, heavy cloud was going to lift for the day!
I had a notion.
I was going to climb Ronas Hill once and for all. Ronas Hill is Shetland's highest hill, a marilyn standing at 450 metres, and despite living on these islands for nearly 17 years I'd never yet made it to the top (and it hasn't been for lack of trying – see our Simmer Dim Camping Story!). You can see this hill, pictured below back in November with her winter frock on, from our house. It taunts me – come and play! I was going to check to see if there was a cloud sitting on her first thing in the morning (they do that, clouds – even if the rest of the sky is blue and clear, sometimes clouds have a wee little rest on top of Ronas Hill.) I was going to climb it, and I was going to climb it myself.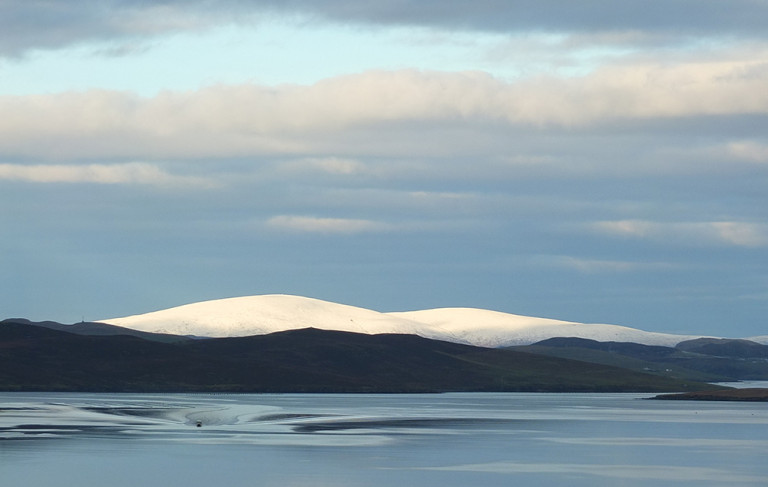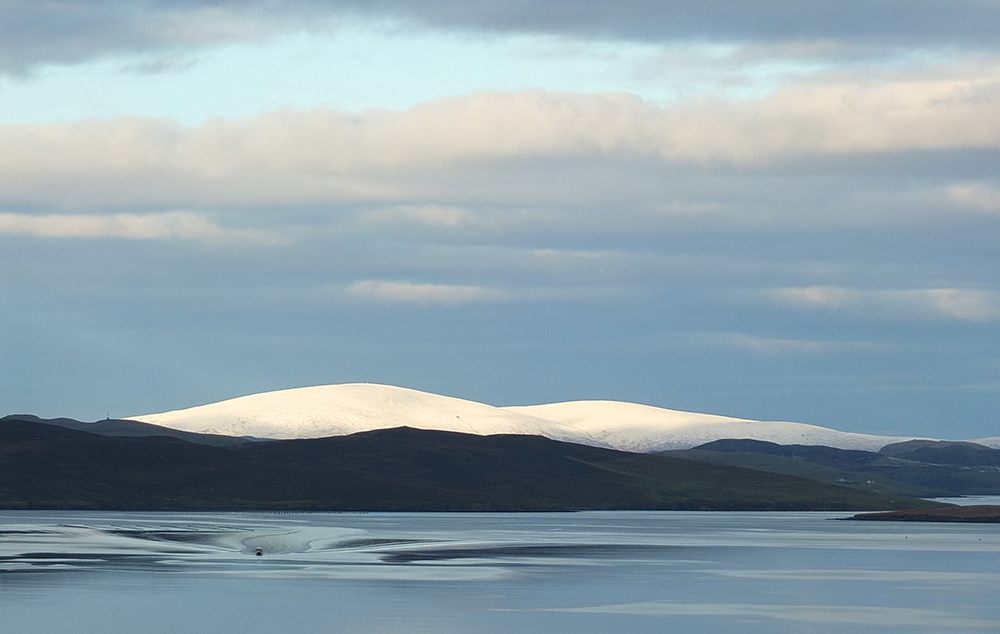 So, at ten pm on New Years Eve I was found in my kitchen preparing a batch of protein bars to take with me on my hike. I tweaked this recipe using the ingredients I had on hand in my kitchen – namely, a jar of macadamia nut butter a blog reader/Twitter follower gifted me when she visited Shetland last summer (thank you Jude!), the last of my flax seed and some raw cacao nibs Santa had brought me in my Christmas stocking.
There's only six hours of daylight this far north this time of year, so after checking if there was any cloud sitting on top of the hill (there wasn't!) I set out early with a rucksack loaded with provisions (just in case the cloud came in and I ended up lost. This sort of thing happens frequently.) – a wind up torch, a GPS, spare batteries for said GPS, mobile phone, spare socks, and a packed lunch including some extra protein energy bars.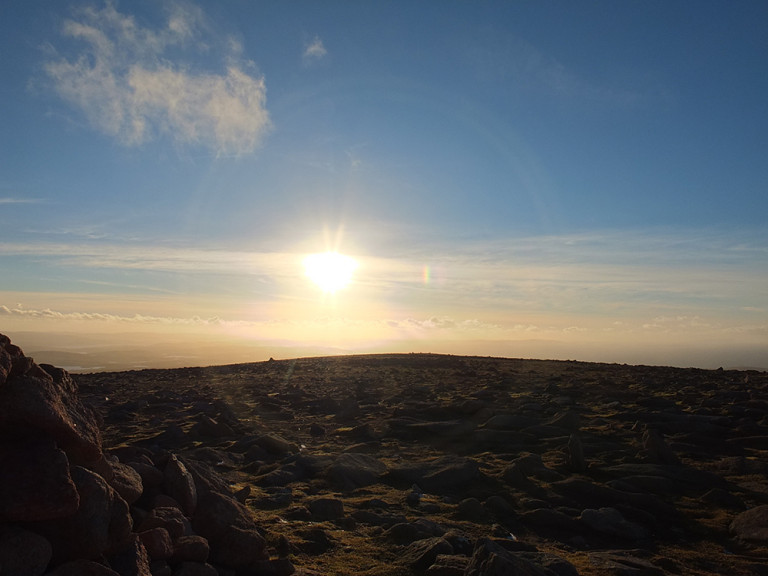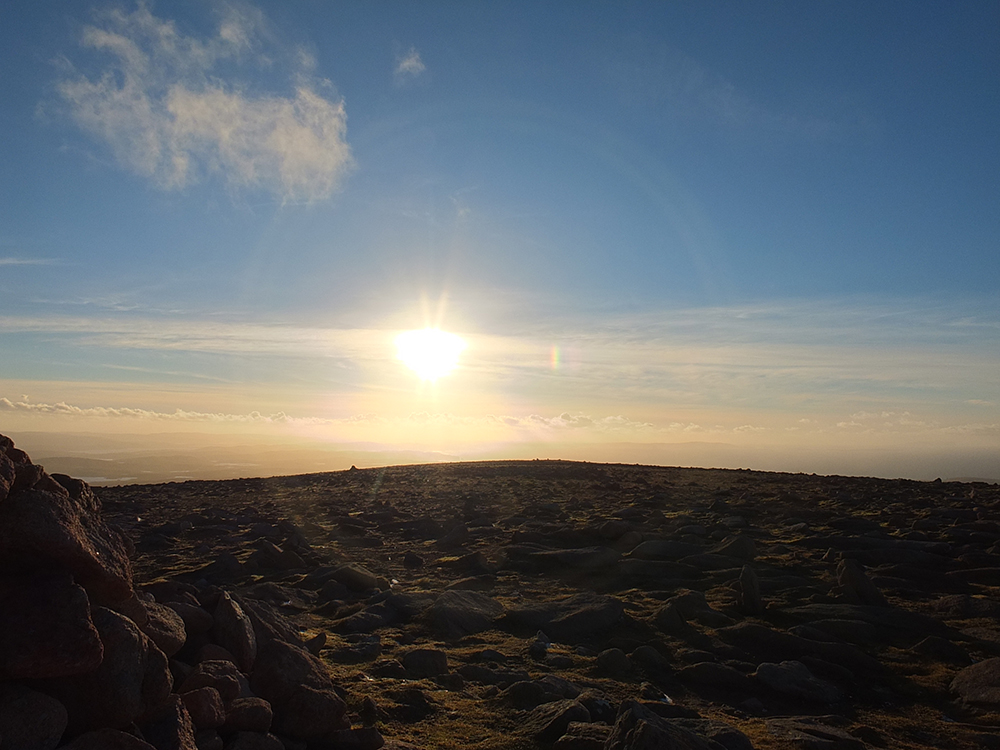 I made it!
It took me one hour exactly after parking at the top of Collafirth Hill and climbing to the cairn at the top of Roga Field (294 metres) and then to the cairn at Mid Field (388 metres) to reach the summit of Ronas Hill and phone my husband to let him know I'd made it.
Such stunning views! I could see all the way north to Unst, the most northerly island in the UK. I could see the lighthouse at Eshaness on the west side, I could see the Out Skerries off the east coast and I'm sure I could have seen quite far south if the sun hadn't been in my eyes. Photographs don't do it justice.
It was bitterly cold though! I was very grateful for my husband's sealskinz gloves. They kept my fingers nice and toasty warm while I explored the area. At the top of Ronas Hill there is a Neolithic cairn (dating back to 4000 – 2500 BCE) and an Ordinance Survey trig point with a low stone wall built around it.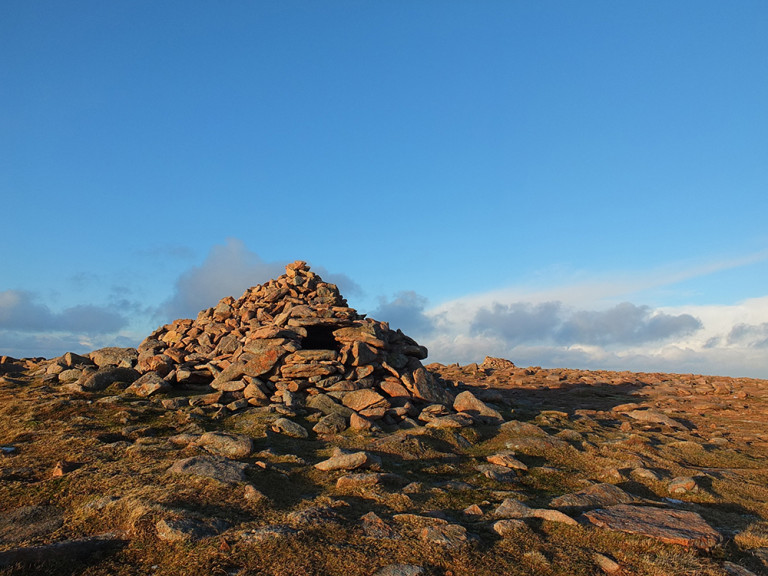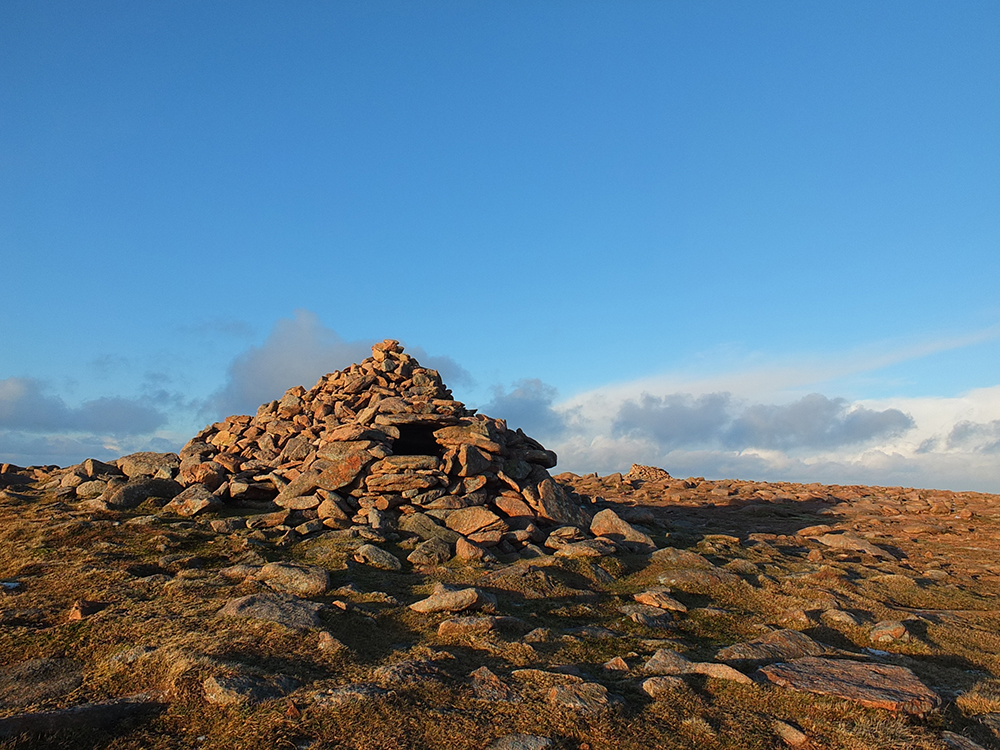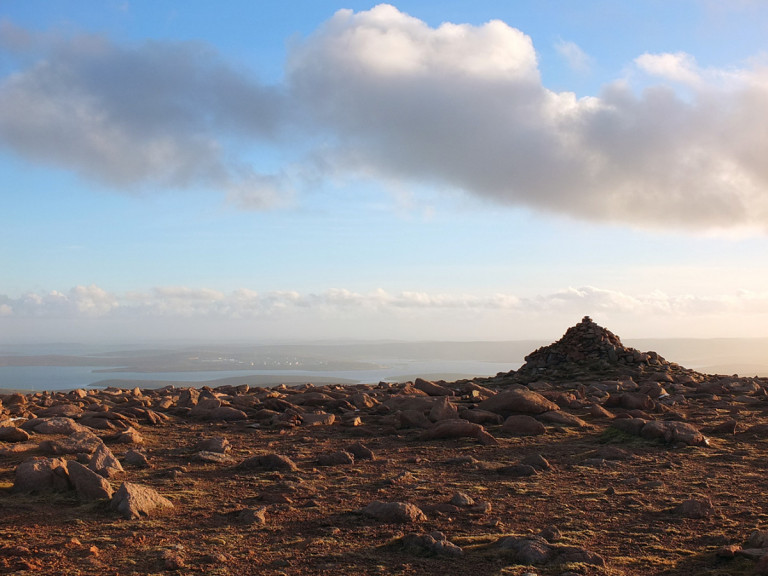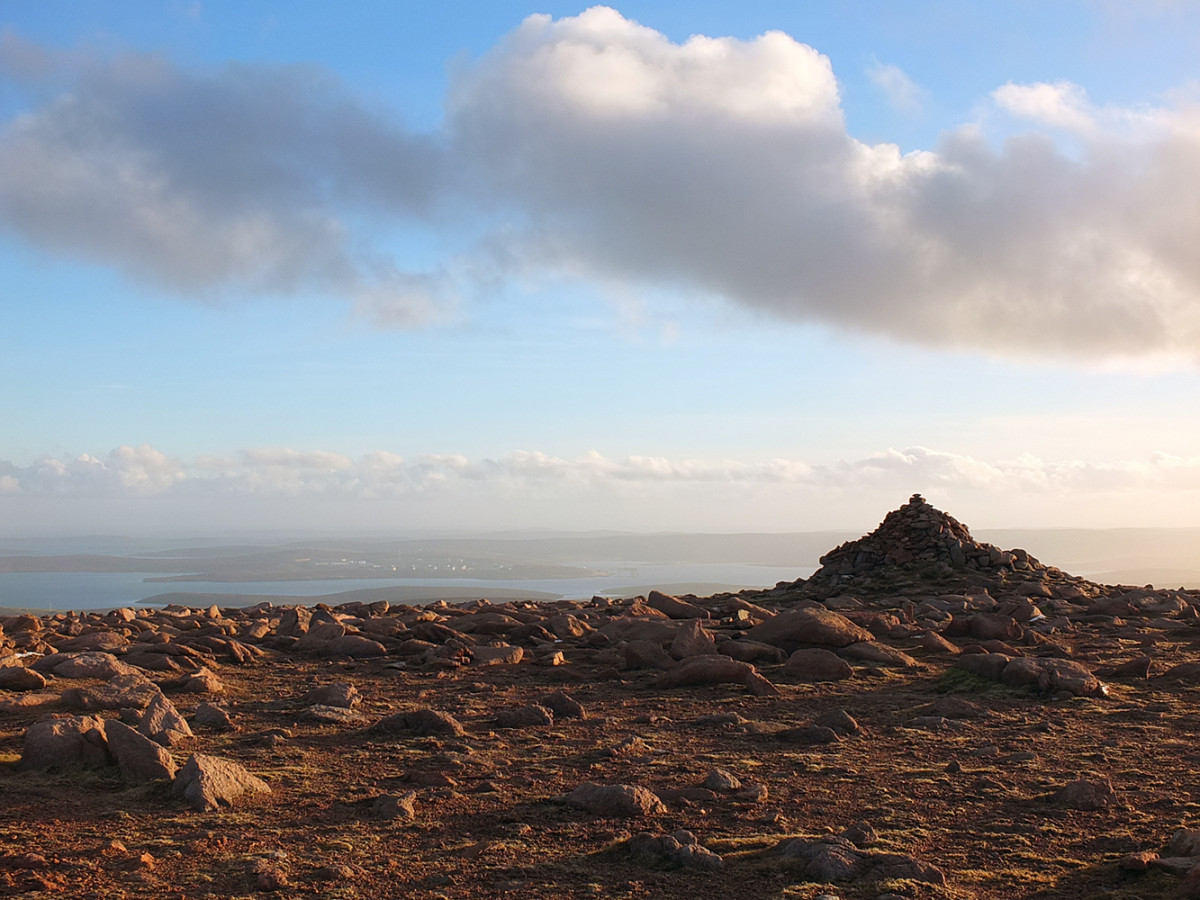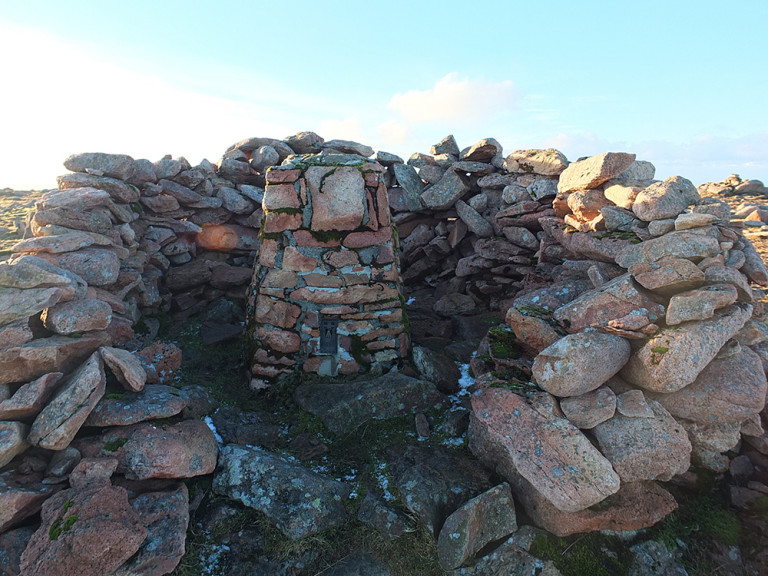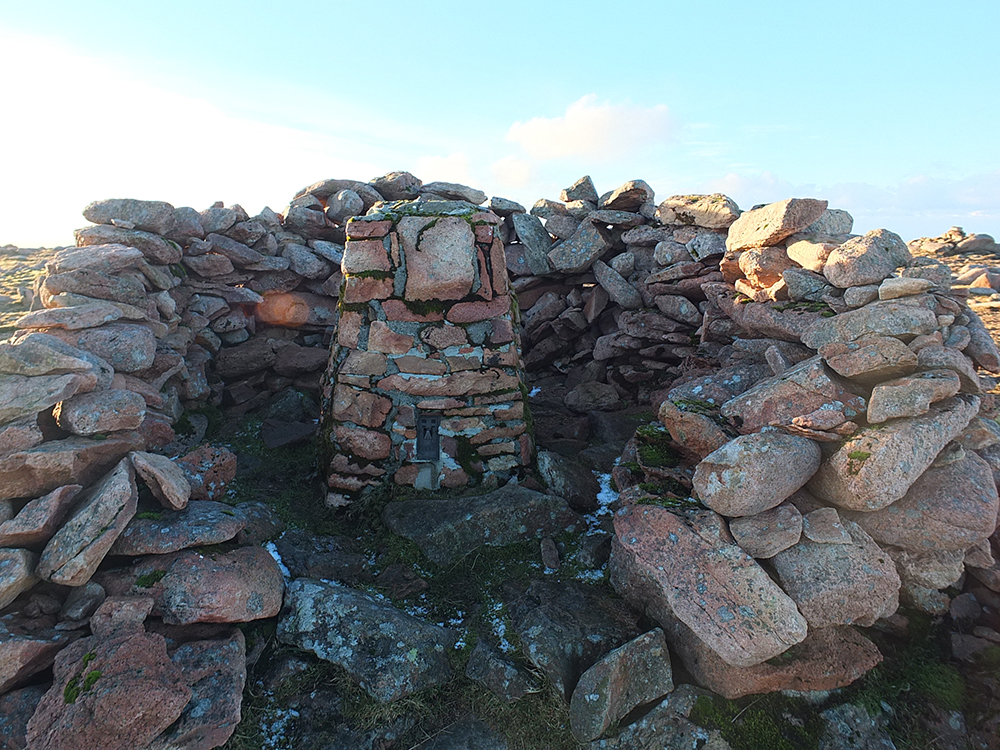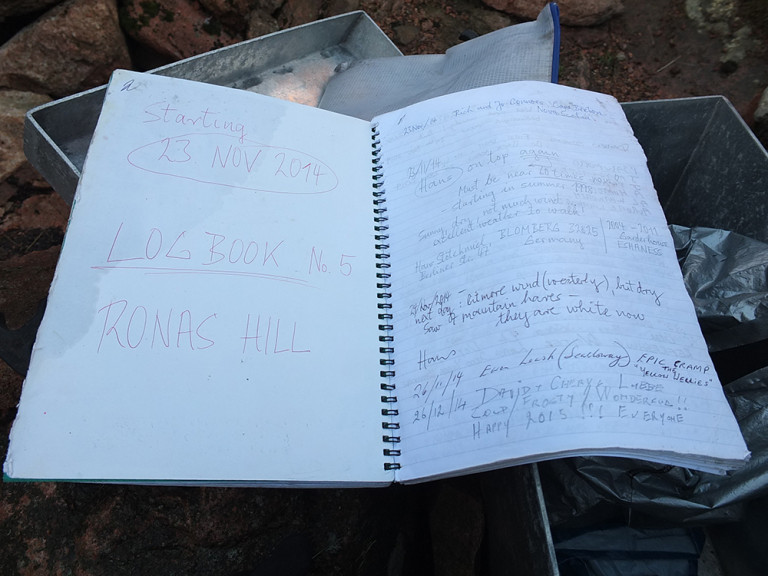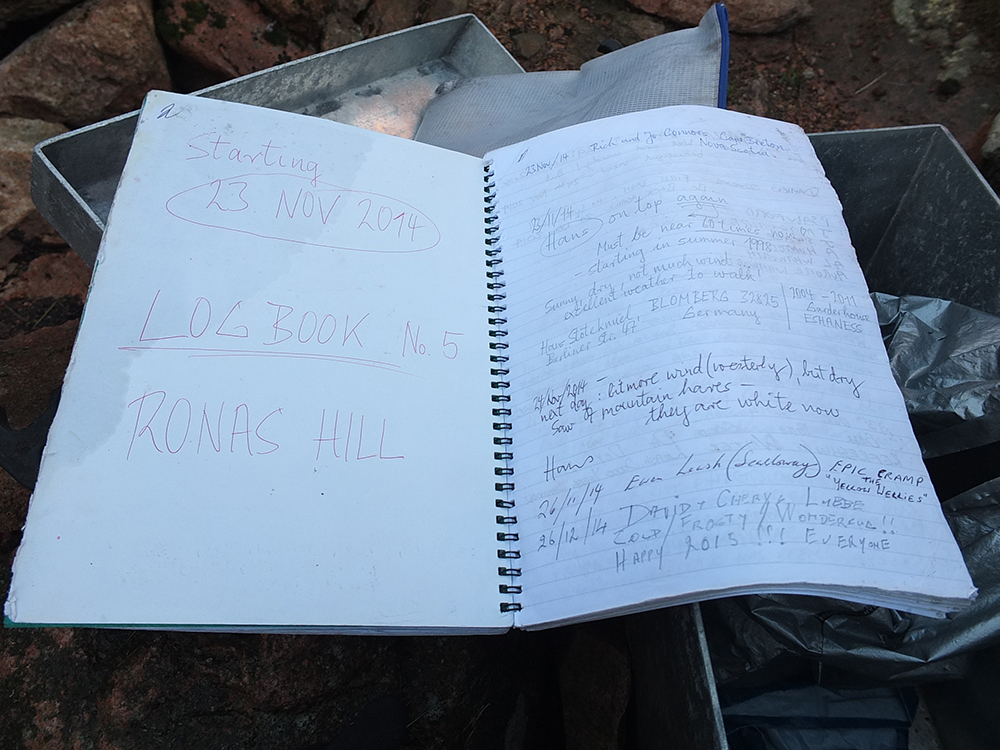 Behind the trig point I found a sturdy metal container containing a log book to sign! How fantastic!
It was at this point I sheltered and had a spot of lunch, a half sandwich and cappucino and one of my lovely superfood plant protein energy bars. It's packed full of all sorts of awesome superfood goodness – quinoa, flax, oats, seeds, nut butter, honey and the addition of both ground and whole raw cacao nibs gives it a lovely texture. I was really rather impressed with them, but given I'd only had six hours sleep and I was fueled on coffee and a banana that morning, I was quite hungry!
I'm not going to pretend that these protein energy bars are healthy. They're not. They're loaded with sugar and fat, but as far as fuel for hillwalking goes – they're pretty awesome.
The quinoa in this recipe isn't cooked. Rather, it's whizzed up in a high speed blender (I use the Froothie Optimum 9400) along with the flax seeds and some raw cacao nibs. Quinoa is rather high in protein – 14 grams per 100 grams of the grain.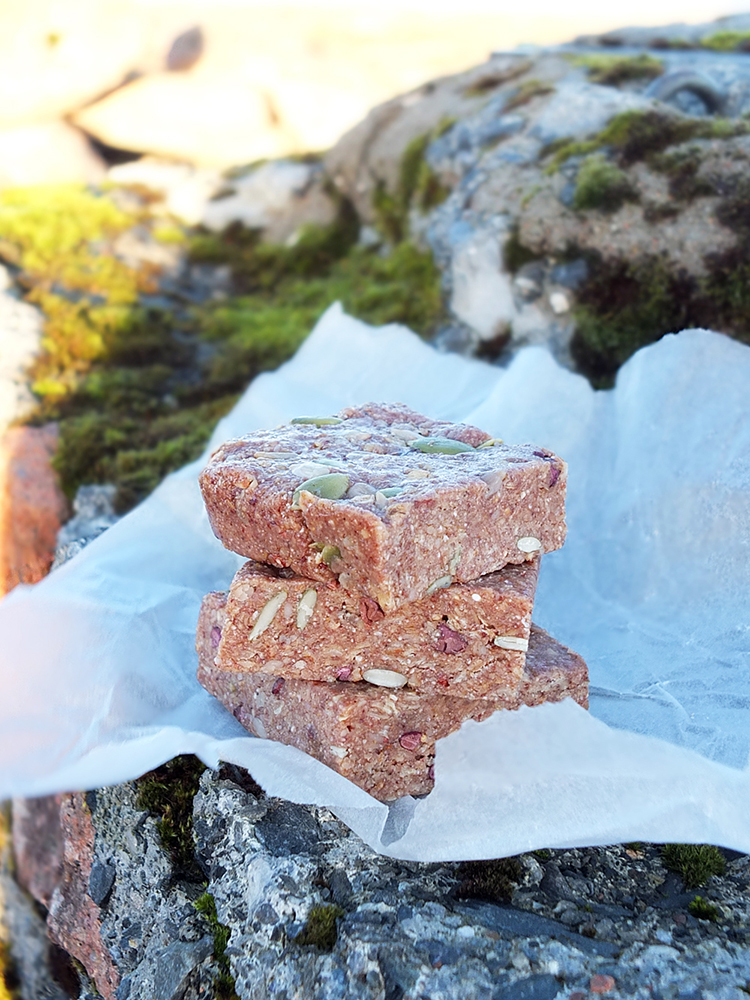 I confess I only have one photograph of these bars. I arranged them on the top of the trig point for a photograph, and standing up out of the shelter of the surrounding wall – my fingers haven't been that cold since I was a child in Canada! We used to spend hours out ice skating and our toes would freeze. As they defrosted in the warmth of the house they would burn with pain, and my fingers did just that as they defrosted back in my gloves on the way back down the hill. It was so cold!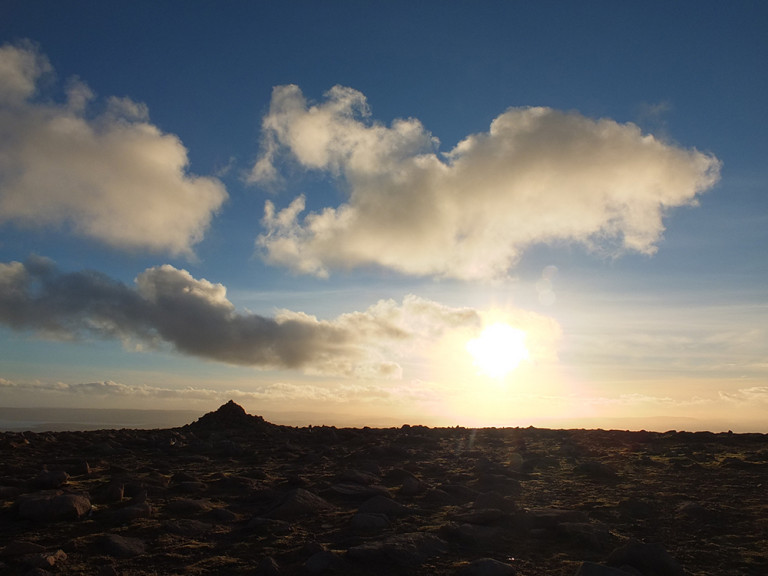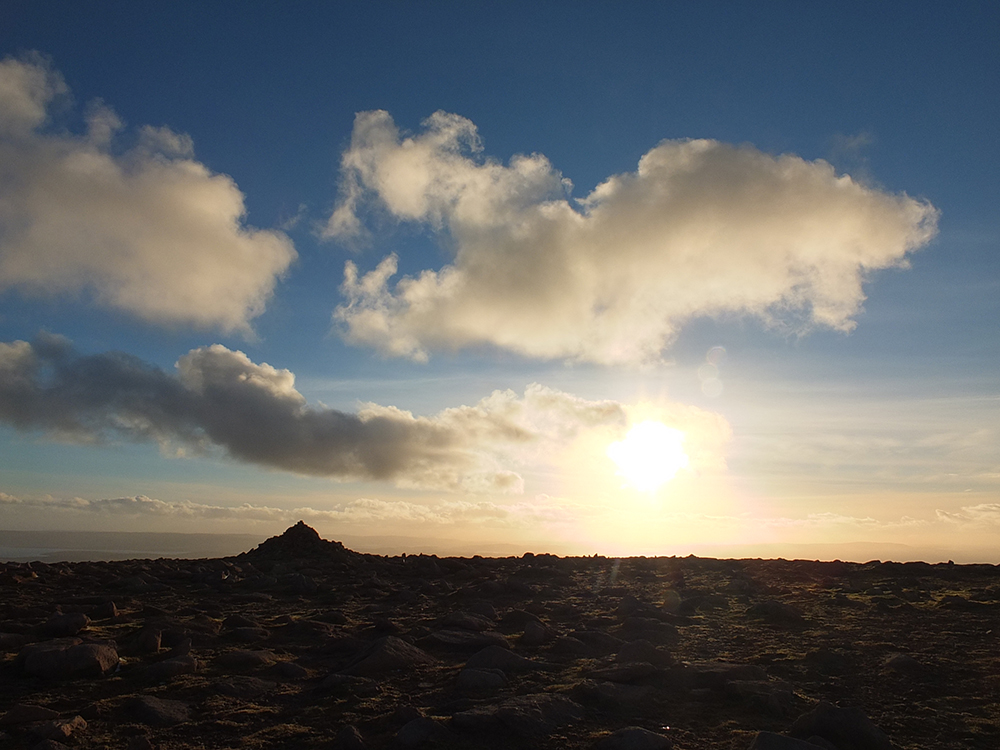 It's a very lunar landscape, isn't it. Ronas Hill is an ancient magma chamber from a volcano from long long ago, hence it's red stone. Centuries of freezing and thawing in the sub-Arctic climate has fractured the stone, creating the bizarre and unique landscape you see now.
I spotted two pure white hares and a few unknown to me bird species while up on Ronas Hill. Other than that I had the entire place to myself. Bliss.
A perfect way to start the New Year!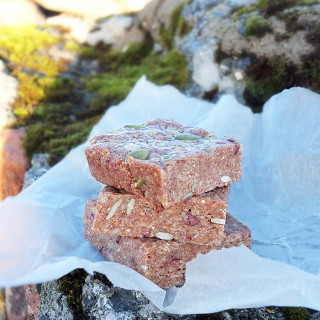 Quinoa Protein Energy Bars
Very simple to make and packed full of plant protein, these bars are great for a nutrient rich post-workout or hill walking snack.
Print
Rate
Affiliate Links
This recipe card may contain affiliate ingredient and equipment links. As an Amazon Associate I earn from qualifying purchases.
Instructions
Preheat oven to 180 C and spread the porridge oats out into a single layer on a baking sheet. Bake for 15 minutes, checking after ten, until light and golden. Set aside to cool.

Grind the dry quinoa, flax seeds and 30 grams of cacao nibs in a high speed food processor until fine. Tip into a large bowl.

Gently heat the nut butter and honey together in a medium sized saucepan over a medium-low heat until melted together. Add the vanilla.

Stir the nut butter mixture, oats, quinoa mixture and remaining ingredients together with a wooden spoon until well combined.

Press evenly into the base of a 8 inch square silicone baking tin (or a tin lined with greaseproof paper.

Leave to chill for several hours in the fridge, or overnight. Cut into bars and serve. Will keep for several days in the fridge.
Notes
Calories (when recipe is analyzed in My Fitness Pal): 278
Fat: 16 grams
Carbs: 32 grams
Sugar: 19 grams
Protein: 4 grams
Environmental Information
OTHER PROTEIN SNACKS YOU MIGHT LIKE
Chocolate Coconut Bounty Protein Bites by Kerry Cooks
Chocolate Coated Peanut Protein Bars by Elizabeth's Kitchen Diary
LINKING UP WITH A FEW BLOGGING CHALLENGES
We Should Cocoa from Tin & Thyme, guest hosted this month by The Lovely Appetite (theme: simple)
Recipe of the Week by A Mummy Too
Tea Time Treats with Lavendar & Lovage and The Hedgecombers (theme: open)
Tasty Tuesdays by Honest Mum
Out and About by Dragons and Fairy Dust
If you want to be kept up to date on my recipes, occasional craft tutorials, adventure stories and giveaways then please subscribe to my weekly newsletter; it gets sent out every Monday morning if there is new content. Your email address won't be passed on to anyone, you will never be spammed and you are free to unsubscribe at any time, no questions asked. Make sure you confirm your subscription or you won't receive the newsletter – if it hasn't arrived check your junk mail folder.
[wysija_form id="1″]
Elizabeth's Kitchen Diary uses the Froothie Optimum 9400 blender and the Froothie Optimum 600 slow juicer in many of her recipes. These are affiliate links, meaning if you buy a blender or juicer through them we will earn a small commission. This is not a paid post and all thoughts and opinions are our own.
This post also contains an Amazon affiliate link, highlighted in orange, which means if you click through and make any purchase at all via Amazon we will get a small commission and you will be helping to support our family.