In collaboration with Merchant Gourmet #EatWellLiveWell.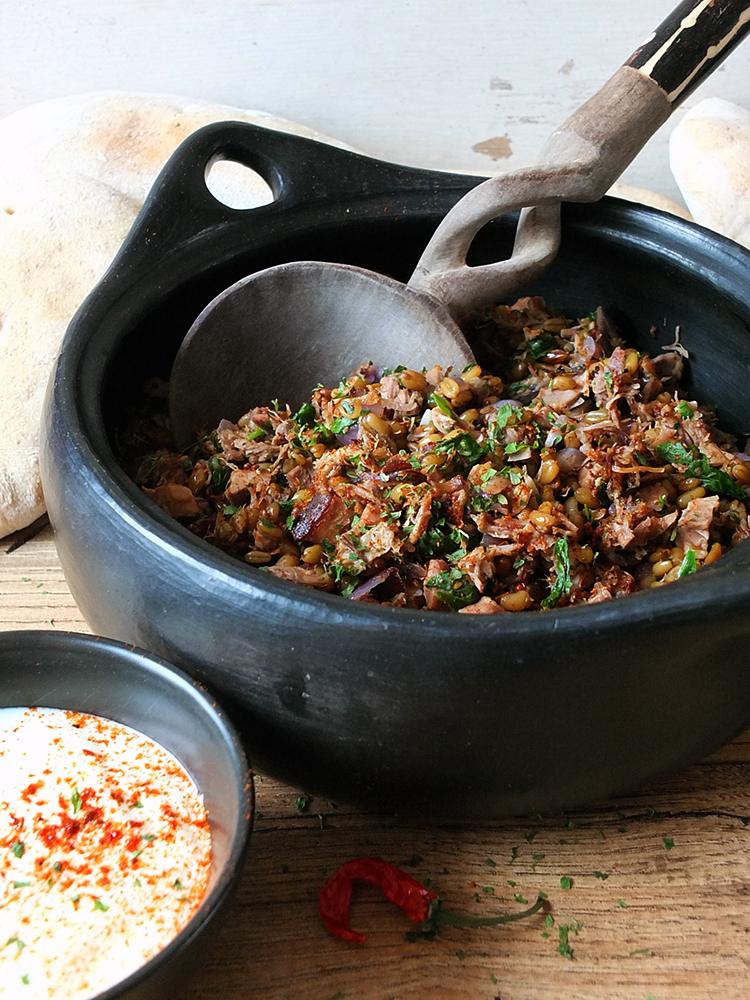 "Shetland to avoid scurvy epidemic as boat brings fruit and veg", reads the latest headline from Shetland's spoof news website, Da Bonxie.
They're not kidding.
After a spell of poor weather and cancelled ferry sailings, it's been slim pickings in the fresh fruit and veg departments at our local supermarkets and village shops.
I've lived on these wild and remote islands long enough to expect this, so every year I make provisions. Some of our veg box ends up in the freezer for the winter months and times just like these.
This recipe is entirely made from freezer and store cupboard ingredients, and the one lonely little onion remaining in the back of my cupboard. The lamb is leftover from our roast Shetland lamb Christmas dinner, cooled, cubed and frozen for later use. Even the yogurt is made from Hansells sachets from the cupboard. Just add water.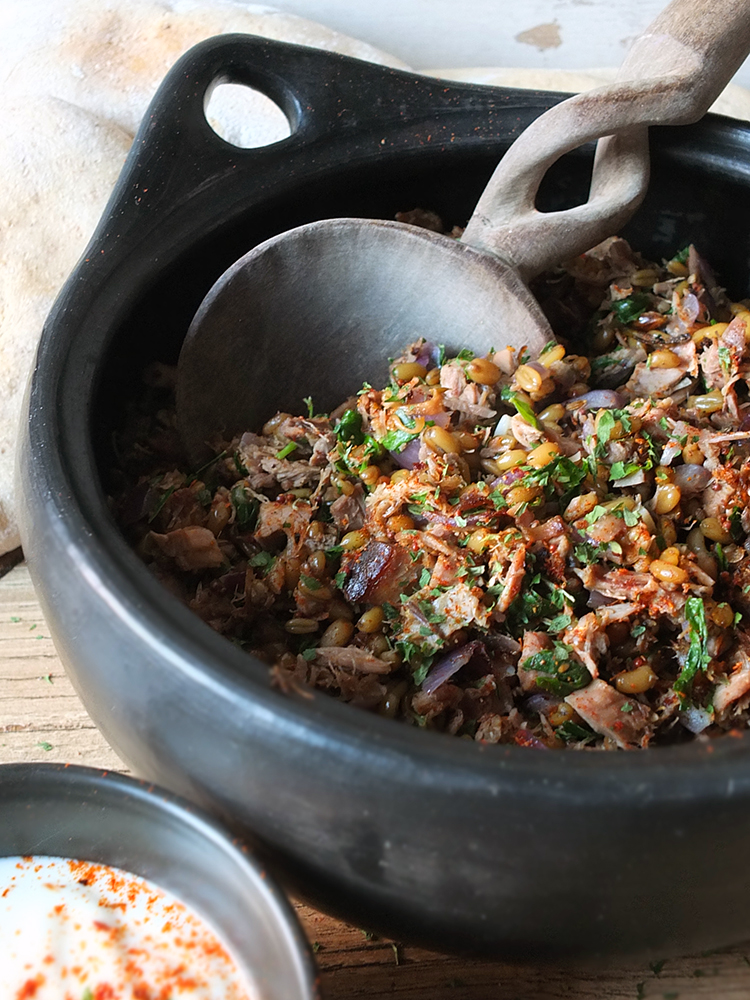 It's a very simple dish – sauteed onion with fragrant Middle Eastern spices (and some black mustard seeds because – yum – black mustard seeds!), to which the defrosted cubed Shetland lamb is added and cooked until heated through.
The star of the show is the addition of freekeh, something I've been keen to try since it began appearing on my fellow food bloggers' feeds for the last year or so.
Freekeh, pronounced 'free-kah' (but I totally pronounce it freaky and then get a song, I fink u freeky by Die Antwood, a rather bizarre South African band, stuck in my head on loop for hours on end – I'm humming it in my head as I type right now!) is a green wheat harvested when young and then roasted to create a distinctive smokey flavour.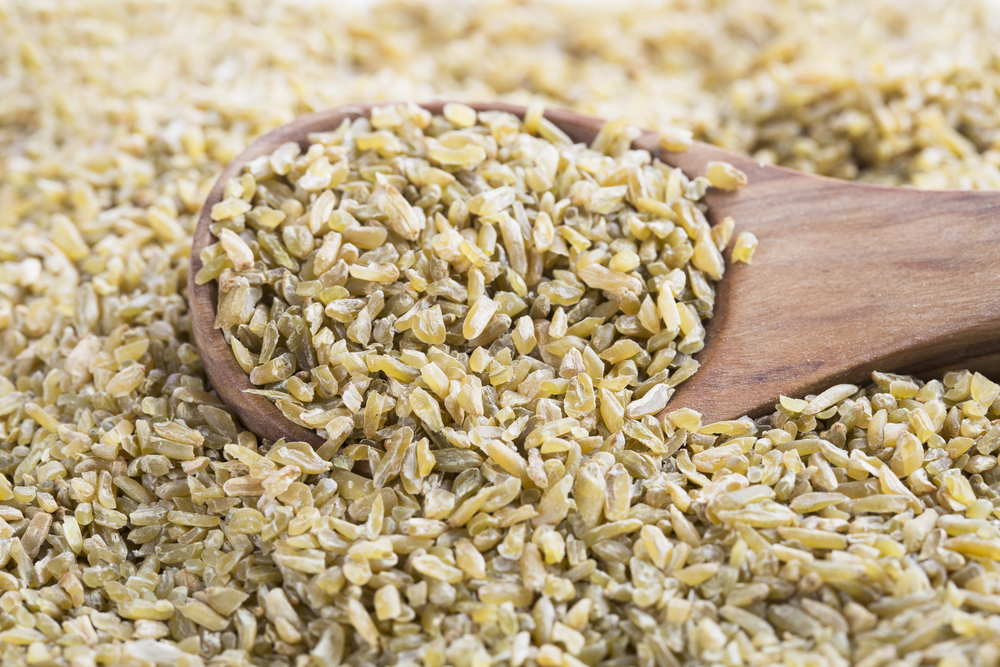 Freekeh is something I've been keen to try and have never seen available to buy in Shetland shops, so imagine my delight when a few sachets of ready-to-cook grains arrived through the post from Merchant Gourmet for me to have a play with, and one of them was a packet of freekeh!
Having never used the grain before, and having a very limited larder due to ferry cancellations, this Middle Eastern Spiced Leftover Roast Lamb with Freekeh and Baharat Spiked Yogurt is what I came up with for lunch one day. I was planning on serving it with some home made baladi (whole meal pitta bread).
Well, I tried to prepare it for lunch….
I was all organized. I'd put the baladi ingredients (you can find my recipe here) in the bread maker to be ready for just after 10 am, when I'd be finished my morning workout routine (the P90X3 is still going strong!), and I was nearly finished rolling the baladi out for its second proving when the electricity went off.
And it stayed off.
Until nearly 2 pm.
Lunch was a selection of crackers, cold olives and cheese from the fridge while my baladi rose, and rose, and rose. I ended up putting them in the fridge so it would stop rising and I had visions of having to cook my lamb dish over the gas camping stove for dinner that night.
Fortunately the electricity did come back on, and I managed to cook this dish ready in time for my husband arriving home mid-afternoon from his work. Of course, the sky was grey and overcast, but a tiny ray of light shone through so I was able to take a few hurried photos before the sun set. Apologies, you can't get any brightly lit stylised food photographs from me this time of year – the sun hasn't shone since New Year's Day!
My husband and my eldest son absolutely loved this dish, stuffing the still-warm pitta breads with the lamb mixture, and spooning over the baharat spiked yogurt. Baharat (pictured above, right) is a middle eastern blend of aromatic spices and you can find the recipe here.
I reheated leftovers for my dinner and thought the meal was rather dry. Edible and tasty, but a bit too dry. The yogurt helped, but I think some stock added to the lamb would have helped.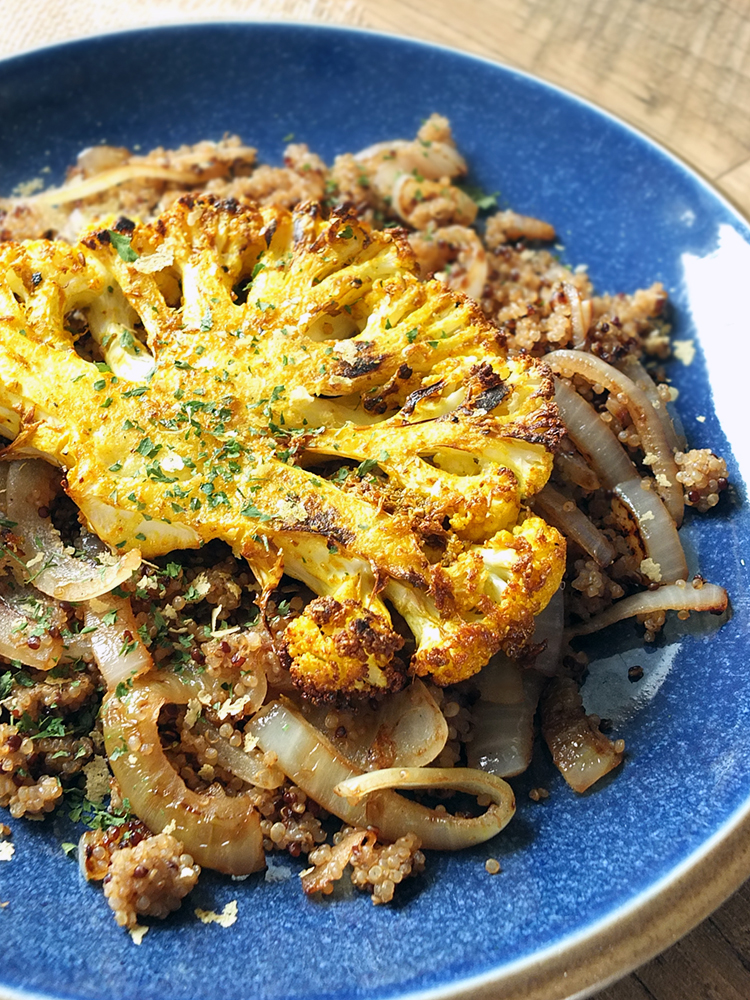 To kick start the New Year, premium ingredients brand, Merchant Gourmet, have teamed up with the UK's youngest female Executive Chef, TV personality and published author, Sophie Michell, to launch the nationwide 'Eat Well Live Well' campaign. This 'New Year, New You' collaboration is all about starting healthy habits by inspiring the nation to get cooking with pulses and grains.
Merchant Gourmet quality pulses and grains, available in most supermarkets, are easily incorporated into everyday recipes and meals. They are valuable, yet often under-used, sources of protein and other essential nutrients. I also received a package of red and white quinoa to taste test, and I tried out the spiced cauliflower steak from The Kitchn to serve with it (photo above). A rather filling and satisfying lunch!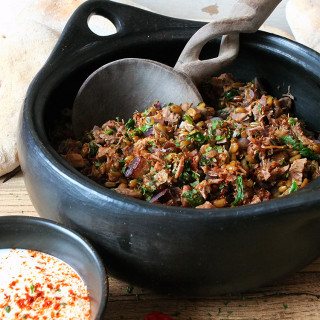 Middle Eastern Spiced Roast Lamb with Freekeh and Baharat Spiked Yogurt
A tasty and filling freezer/store-cupboard dish using up leftover roast lamb.
Print
Rate
Ingredients
for the yogurt
300

grams

plain natural yoghurt

1

tsp

baharat

or smoked paprika
Affiliate Links
This recipe card may contain affiliate ingredient and equipment links. As an Amazon Associate I earn from qualifying purchases.
Instructions
Heat oil in a large skillet and saute the onions, stirring frequently, until translucent and softened - about five minutes.

Add the spices and cook for a further minute.

Add the cubed leftover lamb and cook, stirring frequently, until heated through.

Add the ready-to-eat freekeh and heat for a further minute or so, until warmed through.

Stir through the fenugreek leaves.

Stir the baharat (or smoked paprika) into the yogurt and serve immediately with the lamb mixture and freshly made baladi (wholemeal pitta breads). You can either stuff the pitta breads with the mixture or serve them separately.
Environmental Information
OTHER FREEKEH RECIPES YOU MIGHT LIKE
Beetroot Salad with Freekeh Whole Grains by Maison Cupcake
Freekeh with Chicken by Little Sunny Kitchen
Lemon Coconut Cakes with Freekeh Flour by Tin & Thyme
Elizabeth's Kitchen Diary was sent a selection of Merchant Gourmet products to try out. All thoughts and opinions expressed are our own. This is not a paid post. This post also contains an Amazon affiliate link, highlighted in orange, which means if you click through and make any purchase at all via Amazon we will get a small commission and you will be helping to support our family.