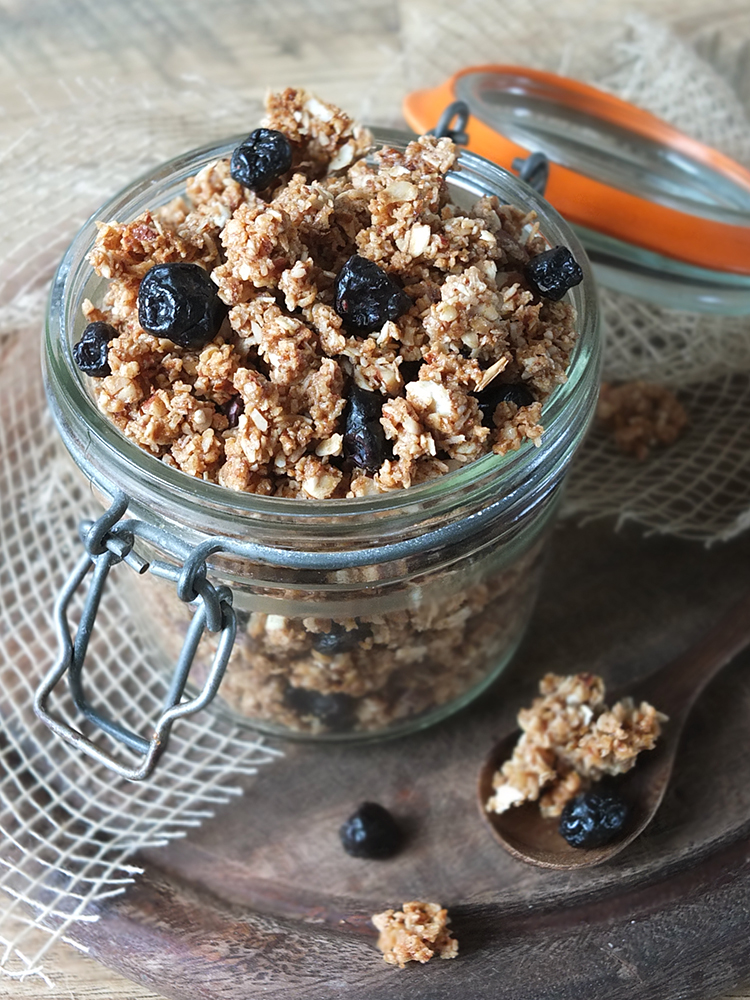 I'm not a boxed dry cereal with milk for breakfast kind of gal.
I used to be. When I was a child I loved my Alphabits, Froot Loops and Cornflakes (sprinkled liberally with sugar – ah the things we did in the 80s!), but as an adult… I'm not. I'm not sure when that transition from eating boxed cereal to other breakfasts happened, but it did, and I enjoy quite a variety of different breakfasts each morning.
Some of my favourite breakfasts include…
plain natural yogurt with fresh fruit sprinkled with an assortment of nuts and seeds – raw almonds, sunflower and pumpkin seeds, goji berries and, if I'm feeling particularly indulgent, some raw cacao nibs
banana and egg pancakes with maple syrup (1 mashed banana + 2 whole eggs + 1 very non-stick pan)
porridge made with water, a touch of cinnamon and sultanas with a mashed banana stirred into it
two poached eggs and a slice of thick buttery toast made from home made bread (with plenty of sea salt and cracked black pepper!)
smoothies – seasonal fruit, a spoonful of natural yogurt, soya or almond milk and perhaps a few nuts and seeds
home made granola on natural yogurt (there's a natural yogurt theme happening here, isn't there! I do like my yogurt!)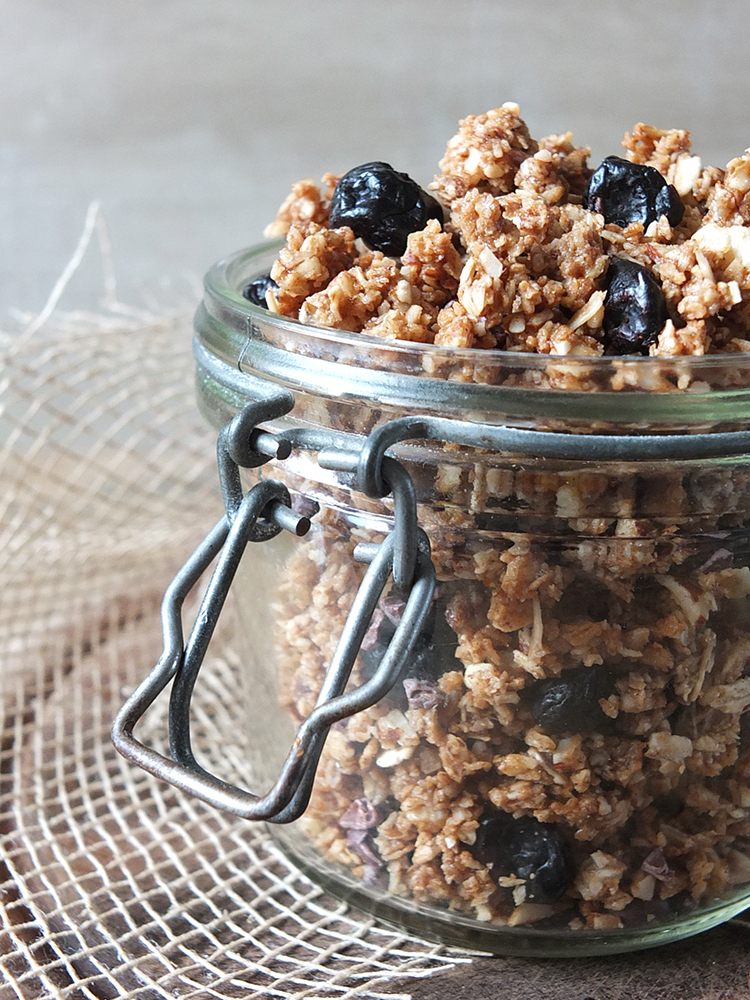 Shop bought granola is expensive and it's loaded with sugar. When you make your own you can control exactly what goes into it, tailoring it to your own preferences (ie: you'll never find dried papaya in any of my granola recipes – blergh!). I did make this recipe a little more sweet than I normally would, just for a treat – but it still only comes in at approximately 147 calories and five grams of sugar per 30 gram serving (according to the My Fitness Pal recipe analyzer).
The secret to getting the granola to clump together is to blitz the main ingredients together (I used my high speed Froothie Optimum 9400 blender) and coat them in whisked egg white mixed with oil. While baking, the egg/oil mixture creates little crunchy golden nuggets of awesome – ideal served over some natural yogurt with fresh fruit, or, like I did this morning – a generous spoonful of home made rhubarb compote made with the last bit of rhubarb from the depths of my freezer.
What's your favourite breakfast recipe? Are you a full English fry-up kind of person (there is a time and a place for these for sure!), or do you have something a little out of the ordinary to break your fast?
Let me know in the comments!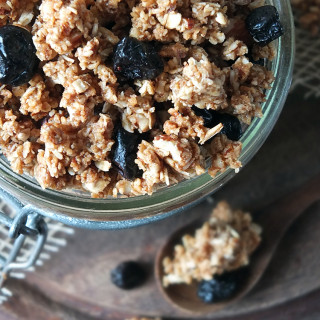 Coconut & Almond Granola Clusters with Blueberries
Coconut, almonds, dried blueberries and a touch of cinnamon make for a rather indulgent breakfast.
Print
Rate
Affiliate Links
This recipe card may contain affiliate ingredient and equipment links. As an Amazon Associate I earn from qualifying purchases.
Instructions
Preheat oven to 150 C (140 C fan) and line a baking tray with paper or a silicone baking mat.

Place the oats, coconut, almonds, brown sugar and salt into a high speed blender and blend for 10 seconds until the nuts are coarsely chopped and everything is combined.

Whisk the egg white until it is light and foamy, and stir in the sunflower oil.

Add the blended mixture to the whisked egg white/oil and stir throughly to combine.

Spread the mixture out on a single layer on the baking tray and bake for 20 - 25 minutes, stirring after 10 minutes, until light golden.

Leave to cool for 20 minutes on the tray before transferring to a bowl and tossing gently with the dried blueberries and raw cacao nibs.

Store in an airtight container.
Environmental Information
Click here to view the nutritional information for this recipe.
SOME OTHER GRANOLA RECIPES YOU MIGHT LIKE
Fruit & Nut Granola by Elizabeth's Kitchen Diary
Pecan Maple Cinnamon Granola by Celery & Cupcakes
Cherry, Coconut & Almond Butter Granola by The Baking Queen
Walnut & Honey Granola by Casa Costello
Nutty Chocolate Granola by The Veg Space
Apple Granola by Recipes from a Pantry
Coconut Almond Quinoa Granola from Nadia's Healthy Kitchen
Sour Cherry & Coconut Granola by Maison Cupcake
OTHER BREAKFAST IDEAS
Fruit Compote (great to top with home made granola!) by Fuss Free Flavours
Posh Brunch Egg on Toast by The Veg Space
Nutella IN Pancakes by Foodie Quine
Duck Egg Sandwich with Gruyere and Wilted Spinach by Supper in the Suburbs
LINKING UP WITH A FEW FOOD BLOGGING CHALLENGES
Recipe of the Week by A Mummy Too
If you want to be kept up to date on my recipes, occasional craft tutorials, adventure stories and giveaways then please subscribe to my weekly newsletter; it gets sent out every Monday morning if there is new content. Your email address won't be passed on to anyone, you will never be spammed and you are free to unsubscribe at any time, no questions asked. Make sure you confirm your subscription or you won't receive the newsletter – if it hasn't arrived check your junk mail folder.
[wysija_form id="1″]
Elizabeth's Kitchen Diary uses the Froothie Optimum 9400 blender, and the Froothie Optimum 600 slow juicer in many of her recipes. These are affiliate links, meaning if you buy a blender or juicer through them we will earn a small commission. This is not a paid post and all thoughts and opinions are our own.
This post also contains an Amazon affiliate link, highlighted in orange, which means if you click through and make any purchase at all via Amazon we will get a small commission and you will be helping to support our family. In the interests of disclosure, the Amazon link is for a product I was sent to review some time ago from Oxo Good Grips and it truly is the best non-stick pan I have ever owned!