Freeganism: the practice of reclaiming and eating food that has been discarded.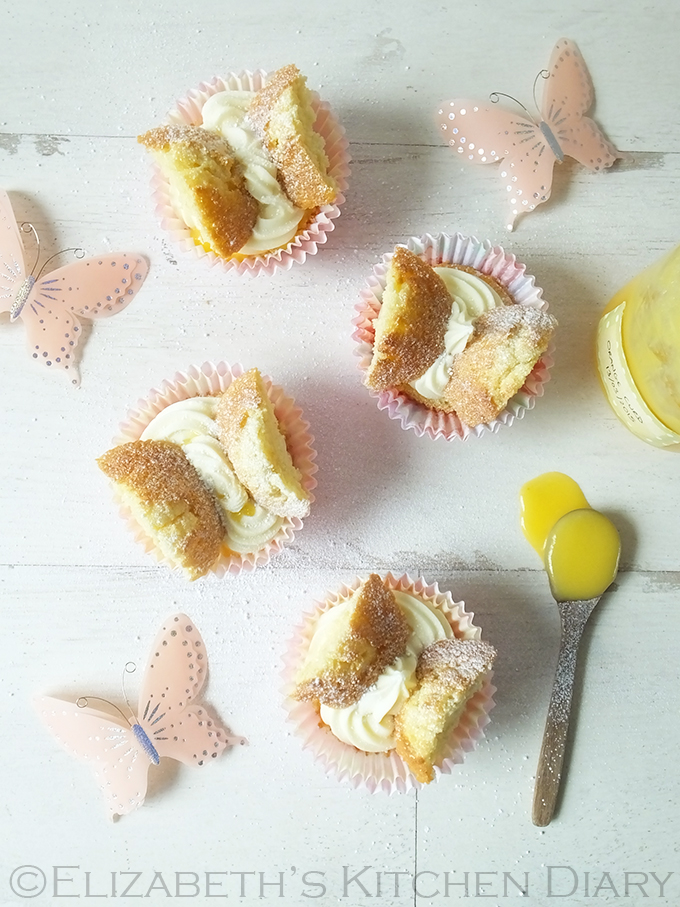 Regular readers might be aware of an appalling lack of recipe posts on my blog as of late.
This is for several reasons:
a) This past winter has been a long and dark one and I have found the poor light quality caused by low cloud cover (usually filled with rain whipped horizontally at the window by gale force winds) to be a deterrent from trying to take decent food photos. The fact that at mid-winter it's pitch black come four pm doesn't help either, and the studio lights I bought really cast a harsh unpleasant light. I need to rethink my kitchen lighting – LED overhead spotlights perhaps?
b) I've been on a diet. I began dieting in earnest in mid-December last year in a bid to lose the weight I'd gained after a serious foot crush injury two years ago. I have lost 23.5 lbs to date (go me!) – not much more left to go. I'm only now getting back into the swing of cake baking again now that I can have the occasional treat (accounted for, of course, in my Fitbit app, and earned, in advance, by taking extra steps!). Trust me, the giant plate of raw vegetables, grilled lean meat and pile of low fat cottage cheese I've been living off of was not worth blogging.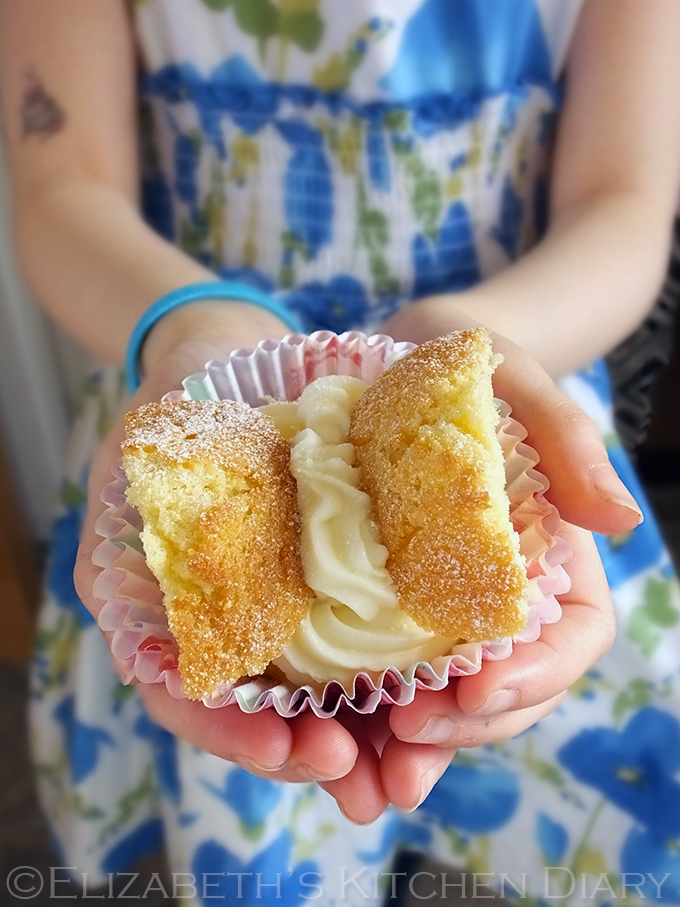 c) I've got a new part-time job in the village shop. They'd asked me to help out with two shifts a week for them awhile back, which I politely declined (it's been over 8 years since I've worked for anyone else!), but when a friend of mine (on the shop committee) came by to my house and all but begged me to reconsider, I thought that it actually might be a good idea. Being a self-employed freelance writer/stay-at-home Mum means the only grown up person I saw in the day was the local postie (before hubby – also a postie – came home, that is). I was needing to get out more. The sociable side of me was needing seen to.  However, part time job (I ended up taking 2.5 shifts over 3 days in the week) means that my 'working' week for freelance writing and blogging has been cut in half.
I'm not complaining. I really do love working at the shop. It gets me offline and away from deadlines, and I get to socialise. I'm actually starting to learn the names of the people I've been sharing a village with after all these years. Plus, it gets my step count way up! On a delivery day I can easily clock up 7 miles, without any extra effort! Being in the same village with the local school means I can walk to work, so there are no fuel bills to account for, and if my children need me for any reason I am only a few minutes away. Plus I get paid! It's rather nice being handed a wage packet again. 🙂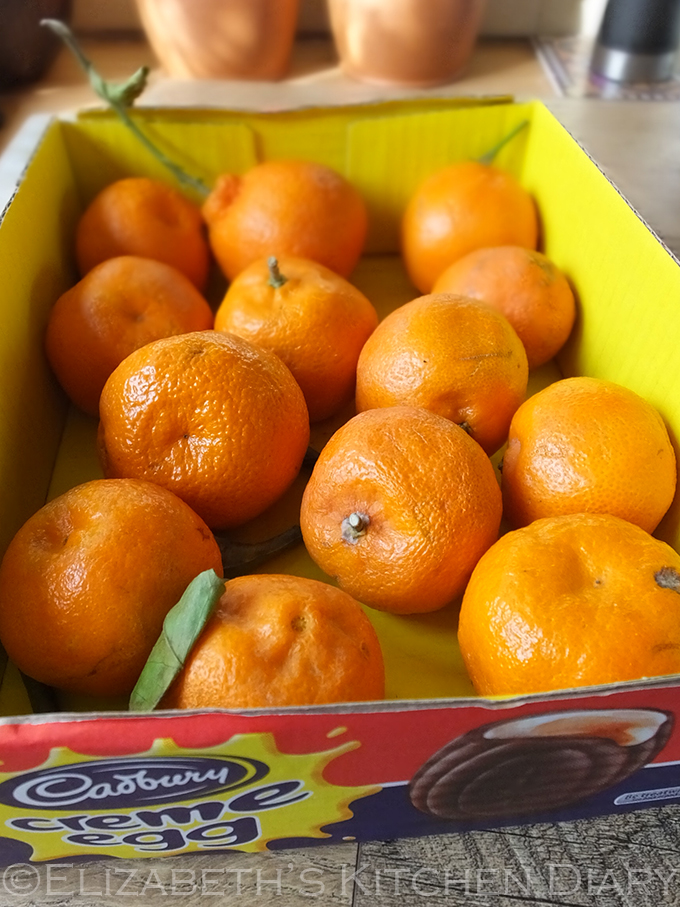 While at work the other day I spied one of my colleagues clearing out the fruit section of the shop. A whole box of oranges were destined for the bin, as they were unsaleable (bruised and definitely past their best). I rescued them from their journey to the local rubbish heap with no idea of what I would do with them once I got home. A bit of freeganism, don't you think? Those poor unloved oranges…
The idea for orange curd popped into my head. I've tried making both lemon and lime curds in the past, successfully, so I reckoned an orange curd would be quite nice. I found this recipe online, and tripled it as I had obtained 450 ml of fresh juice from all these lovely oranges. This filled three Kilner preserve jars with curd.
Now, what to do with all that orange curd?
Why, fill some butterfly fairy cakes!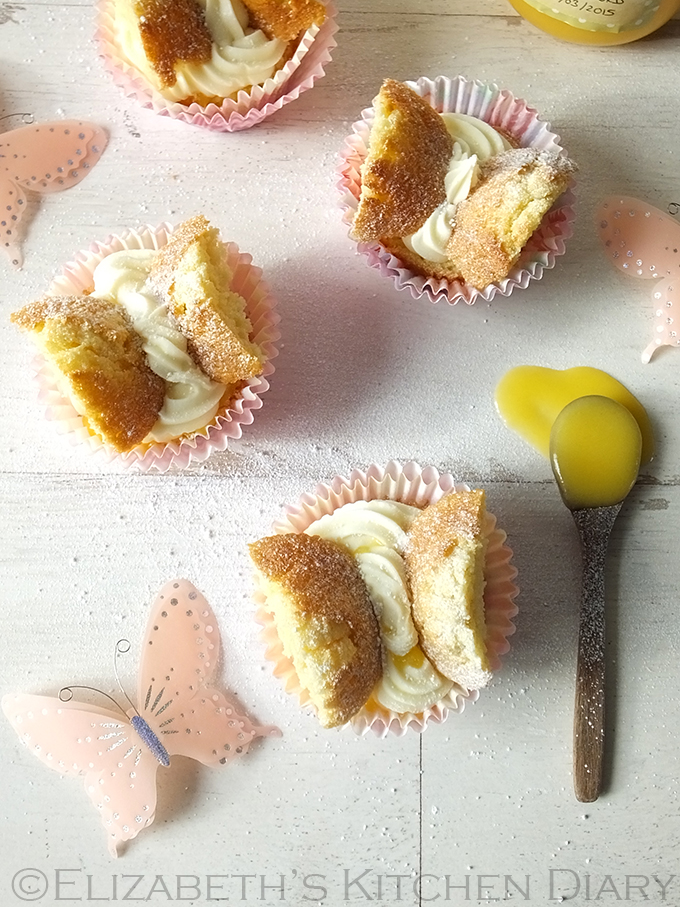 Would you believe this was my first ever attempt at making butterfly fairy cakes? Why have I never done this before? Such a simple, yet effective, technique. Unfortunately, the kids weren't particularly fond of the orange curd filling, but us adults certainly enjoyed them. In fact, I was found wandering the village streets late last night working off the calories I'd consumed having eaten two of these (they come in at around 290 kcal each!).
All in all, I was quite pleased with how the recipe turned out, although the orange curd didn't set as well as I had hoped. This might have been due to tripling the batch. Still, the consistency of it worked well for the cakes.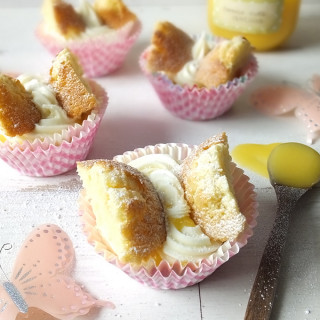 Orange Curd Butterfly Fairy Cakes
A delightful butterfly cake filled with orange curd and orange flavoured butter cream frosting.
Print
Rate
Servings:
10
butterfly cakes
Affiliate Links
This recipe card may contain affiliate ingredient and equipment links. As an Amazon Associate I earn from qualifying purchases.
Instructions
to make the orange curd
Place 2 inches of boiling water into a medium sized saucepan and bring to a low simmer.

Put the orange juice, sugar and butter in a heat proof bowl and suspend over the simmering water. Stir until melted.

Add the beaten eggs, and stir constantly with a wooden spoon for 20-25 minutes until the mixture is thickened and smooth. The mixture will coat the back of the spoon when it is ready, and a finger, drawn along the back, will leave a line.

Strain to remove any bits of cooked egg white, and pour into a sterilized bottle.
to make the butterfly cakes
Preheat oven to 200 C. Line a muffin tin with 10-12 cupcake cases, depending on their size.

Cream the butter and sugar together until light and fluffy.

Beat in the eggs and vanilla, and sift over the flour.

Combine well, adding 1-2 tbsp of orange juice to reach a soft, dropping consistency.

Spoon the batter into the prepared baking cases and bake for 15-20 minutes, until golden and springy on top.

Leave to cool before carefully slicing the tops of the cakes off. Cut each top in half to form the butterfly wings.

Using a small spoon, scoop about 1 tsp out of the centre of each cake (scoff these while assembling!).

To prepare the frosting, beat the icing sugar, butter, orange curd and enough milk together to form a pipable consistency.

Spoon 1 tsp of orange curd into the centre of each cake, and top with a swirl of orange butter cream frosting.

Push the two halves of the cupcake top into the frosting to form butterfly wings, and lightly dust with powdered sugar before serving.
Environmental Information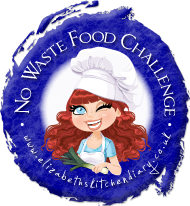 OTHER CITRUS CURD RECIPES YOU MIGHT LIKE
Granny's Quick Lemon Curd by Fab Food 4 All
If you want to be kept up to date on my recipes, occasional craft tutorials, adventure stories and giveaways then please subscribe to my weekly newsletter; it gets sent out every Monday morning if there is new content. Your email address won't be passed on to anyone, you will never be spammed and you are free to unsubscribe at any time, no questions asked. Make sure you confirm your subscription or you won't receive the newsletter – if it hasn't arrived check your junk mail folder.
[wysija_form id="1″]