For this easy BBQ recipe, locally reared Scotch lamb shoulder is marinated in warming spices before being grilled on skewers on the BBQ. Serve with a cooling tzatziki, salad and pitta bread. A recipe in collaboration with Scotch Lamb PGI.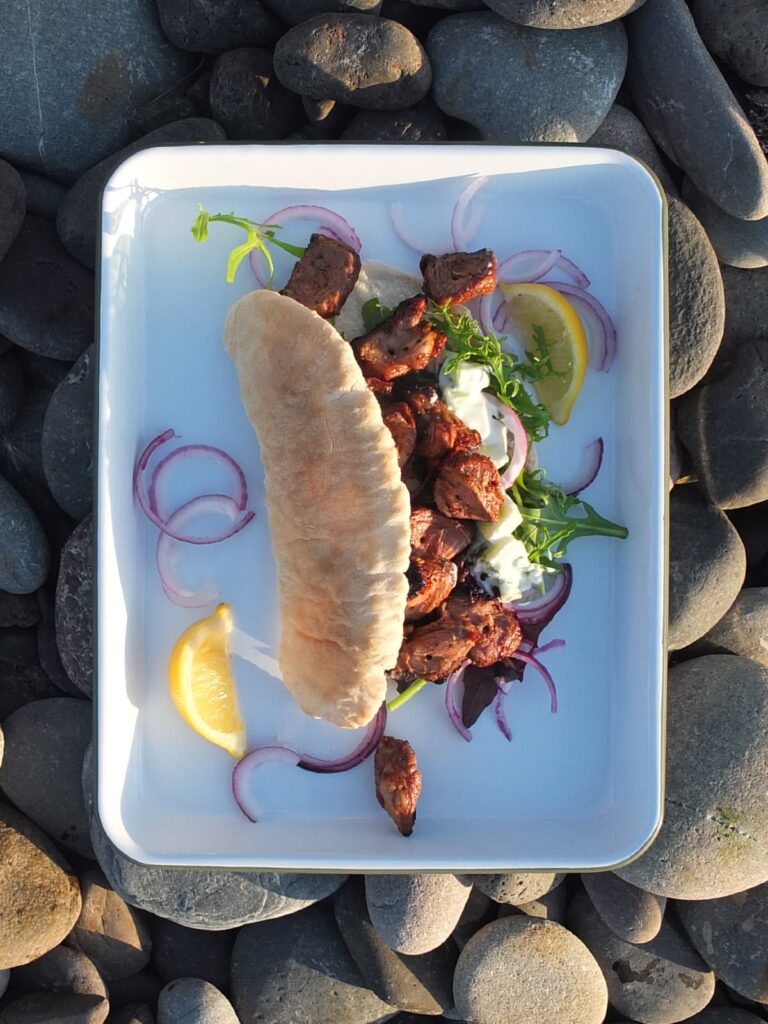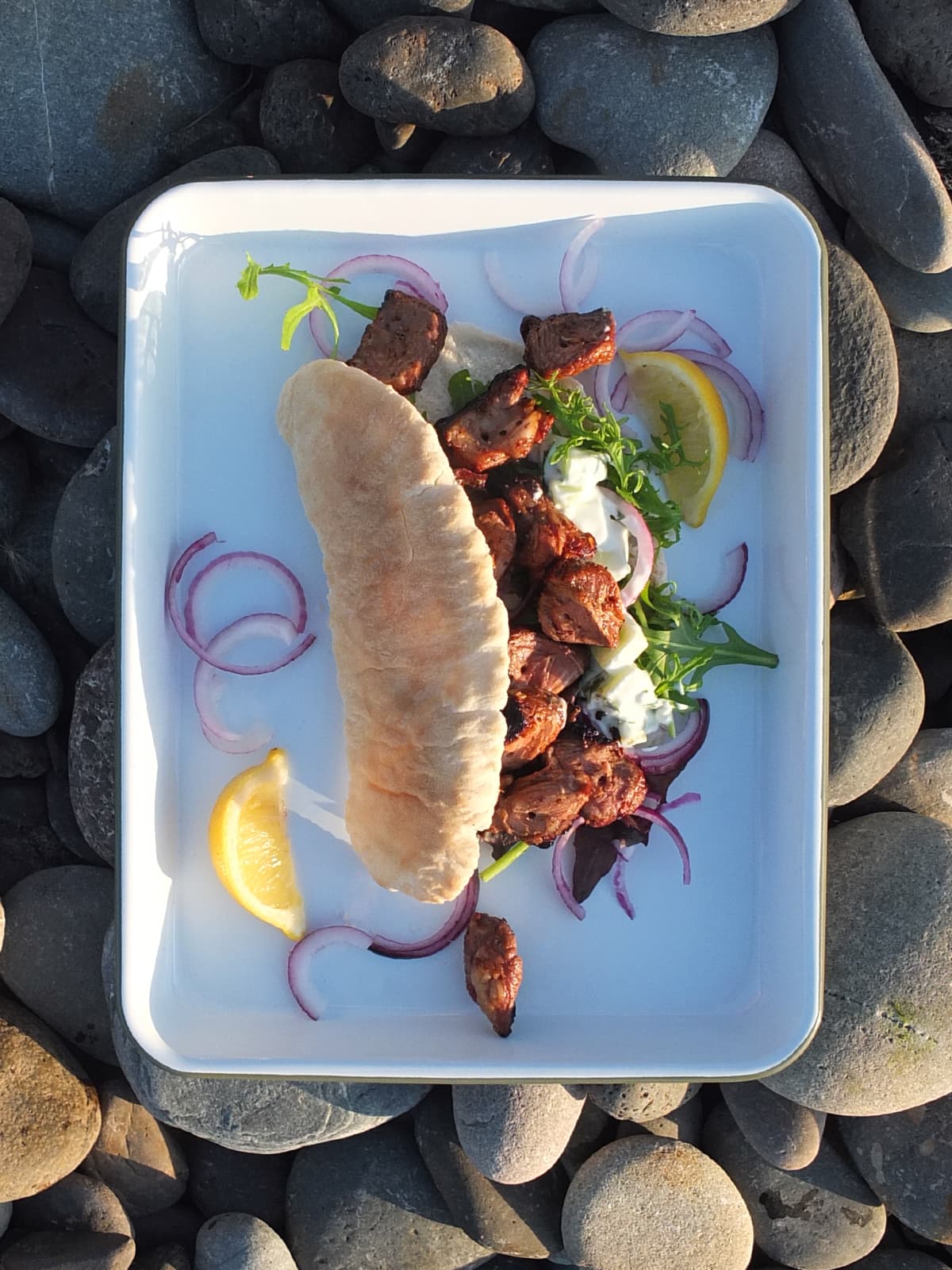 Supporting local businesses
We live in strange times. The routines of daily life, as we knew them, no longer exist. This is not entirely a bad thing, I don't think. The events over the last few months have caused many of us to rethink our priorities in life; to look at what really matters.
As a result, there appears to be a discernable shift in our consumer habits. We're shopping more often in our local independent shops. We're rediscovering that amazing adventures can be had close to home instead of jetting off on foreign holidays.
I believe that it's important as we're coming out of the recent chaos to support small, local businesses as much as we can. Shop local. Holiday local. Let's support each other as the economy (and us, as a whole) recovers.
Outdoor cooking
So, with what's left of the rest of this summer why not grab a (boy)friend, load up a van and head to the coast for some outdoor cooking?
For this recipe, I've teamed up with Quality Meat Scotland and Scotch Kitchen to share a slightly tweaked version of their BBQ Scotch Lamb & tzatziki pitta recipe. I've replaced lamb leg steaks with lamb shoulder and I've upped the spice content in the marinade, a lot. I do like my spice.
This is a super easy recipe to make with very little prep required. The most time-consuming bit, which we did at home before we left the house, was to cut a locally reared lamb shoulder into BBQ skewer-sized pieces.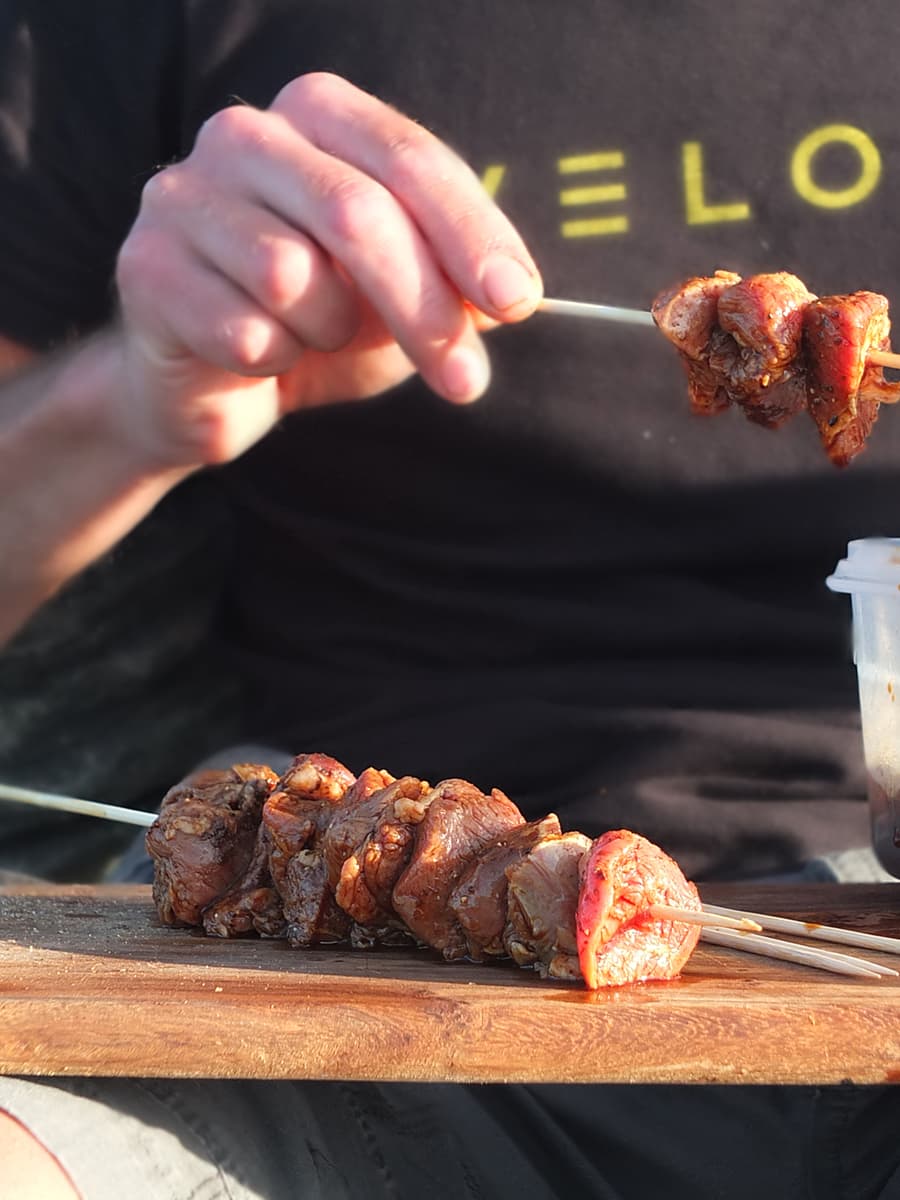 About Scotch Lamb PGI
Scotch Lamb PGI is whole chain assured lamb from Scotland. It an easy to recognise label that ensures consumers the product they are buying is from specific animals sourced from selected Scottish farms, including some in Shetland. These selected farms are adopting the best practice including animal welfare and natural production methods.
PGI stands for Protected Geographical Indication. It's an EU scheme to protect and promote high quality traditional and regional food products unique to a geographic area.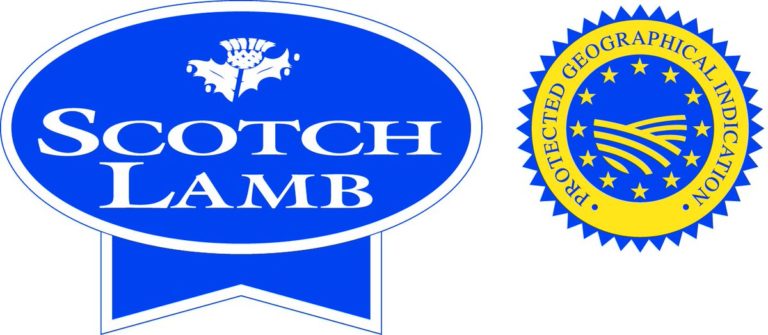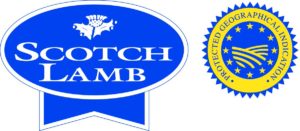 When you see the Scotch Lamb PGI logo, you can be confident that the lamb was born, reared and processed in Scotland and held whole life quality assurance.
When you're shopping (perhaps for the ingredients for this BBQ Scotch lamb recipe!), look for the blue Scotch Lamb label to guarantee the quality and provenance of the lamb in your basket.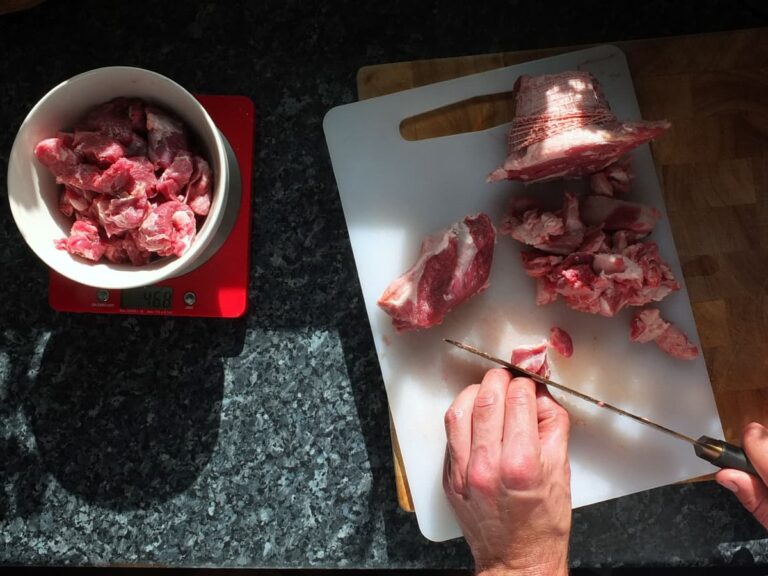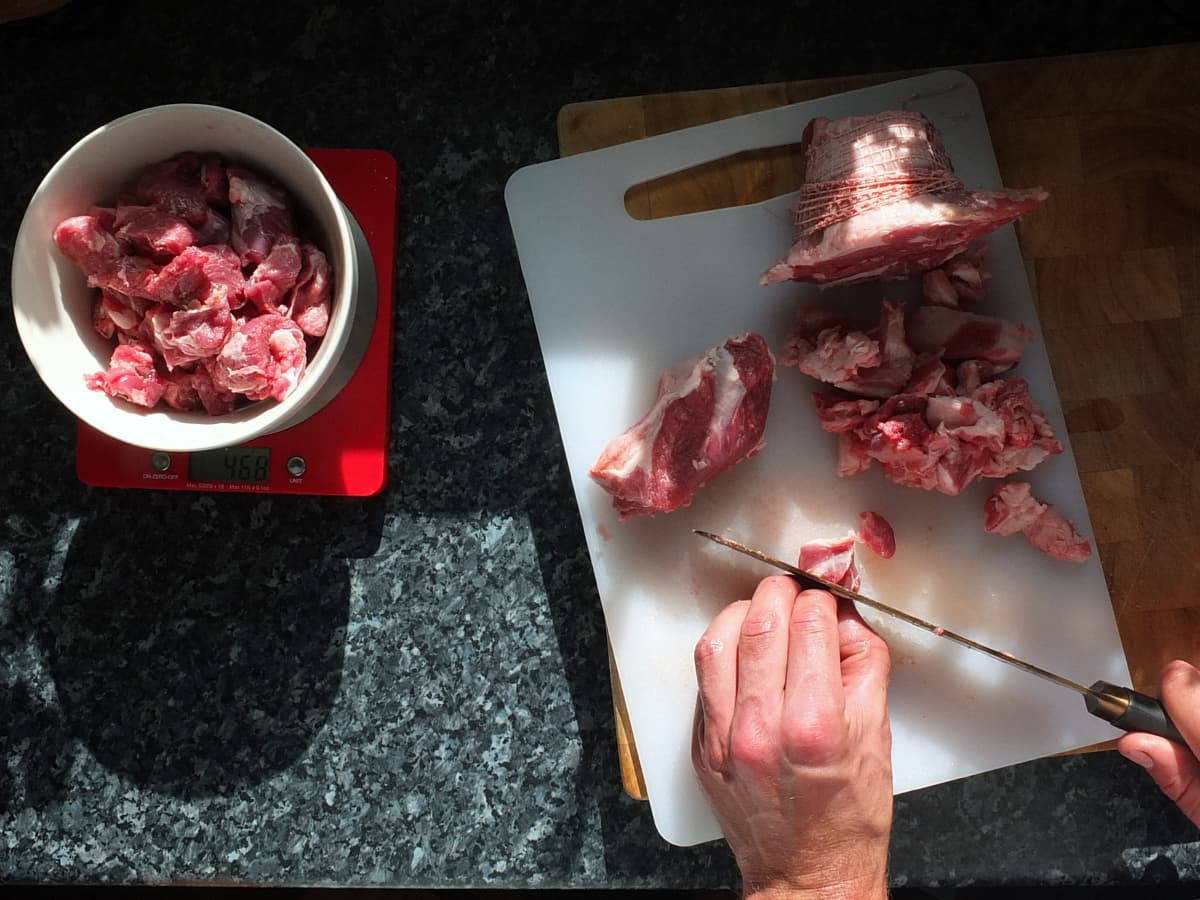 Why use lamb shoulder for BBQ skewers
With a whole lamb shoulder, you can cut the meat to the size and fattiness that you wish. Lamb shoulder also has more flavour than other cuts of lamb, and it marinades well, pairing with a wide variety of spices and flavours.
Don't throw those extra scraps away either – I've put mine in the freezer to roast alongside the bones from my next roast lamb dinner to make some homemade lamb gravy.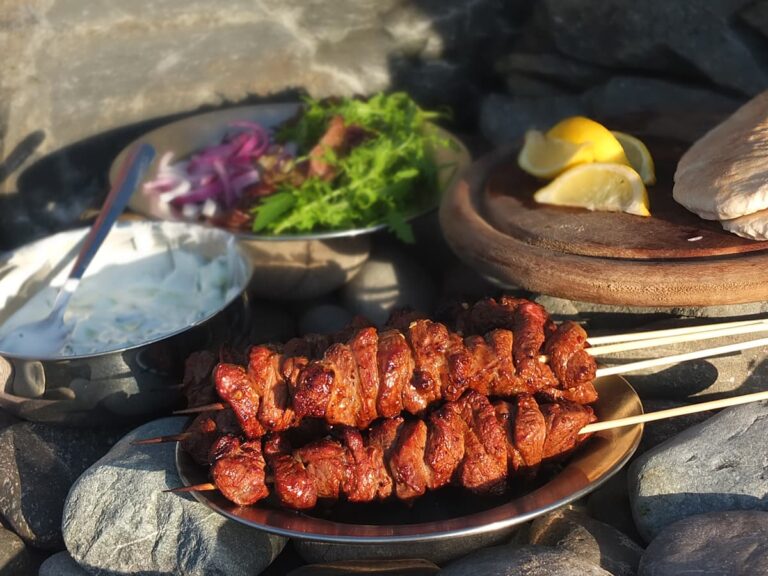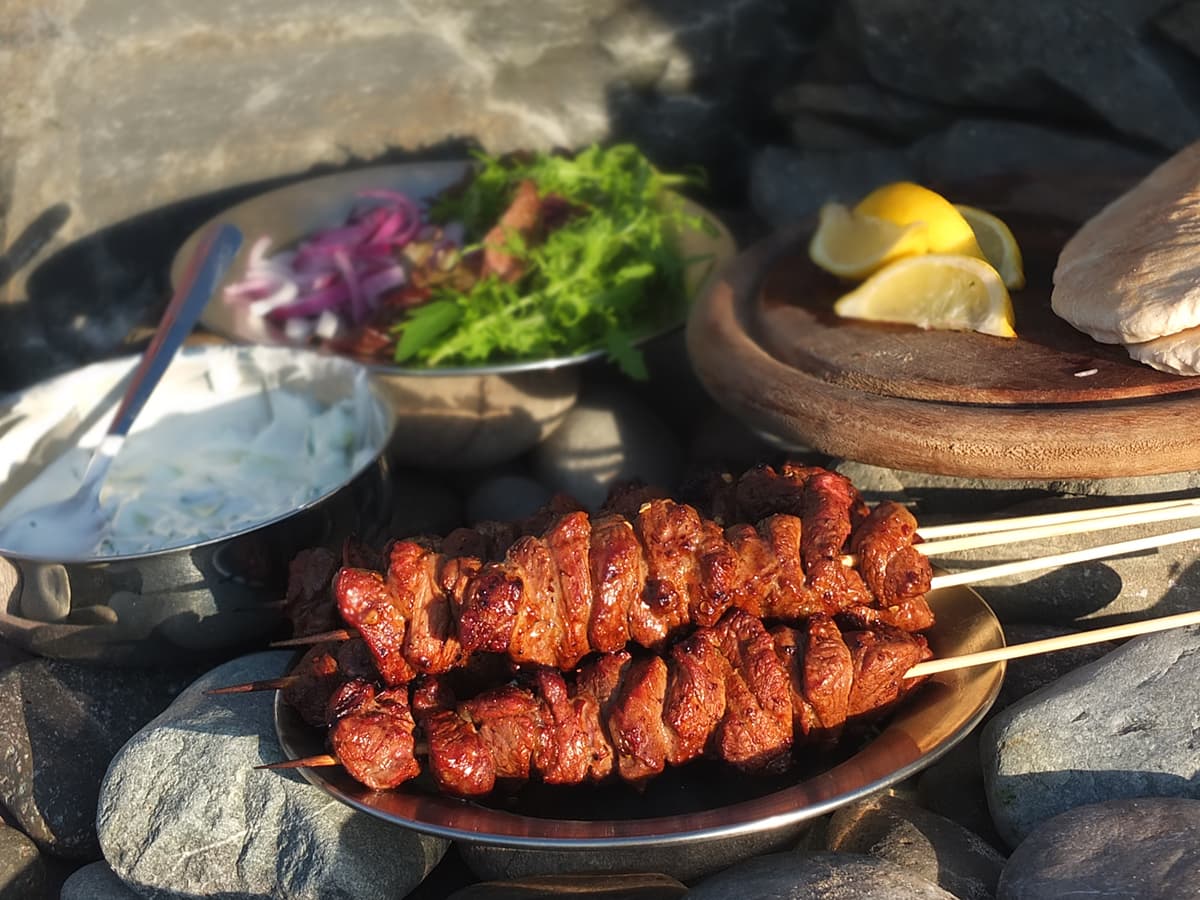 Ingredients you'll need…
600 grams of PGI Scotch lamb shoulder, cubed
1 orange, juice only
1 lime, juice only
30 ml dark soy sauce
1 dried red chilli, crumbled
2 tsp cumin seeds, toasted and ground (see notes)
1 tsp garlic powder
1/2 tsp ground ginger
1 tsp freshly ground black pepper
1/3 cucumber, peeled, deseeded and diced
a handful of fresh mint, finely chopped
120 grams of plain natural yoghurt
salad leaves, to serve
thinly sliced red onion, to serve
1 lemon, to serve
4 x pitta bread
Equipment you'll need…
1 x small portable, reusable BBQ
1 x instant light charcoal bag (because it makes bbq'ing so much easier!)
4 x bamboo or metal skewers
chopping board
sharp knife
spoon
bowl
plates or enamel trays to serve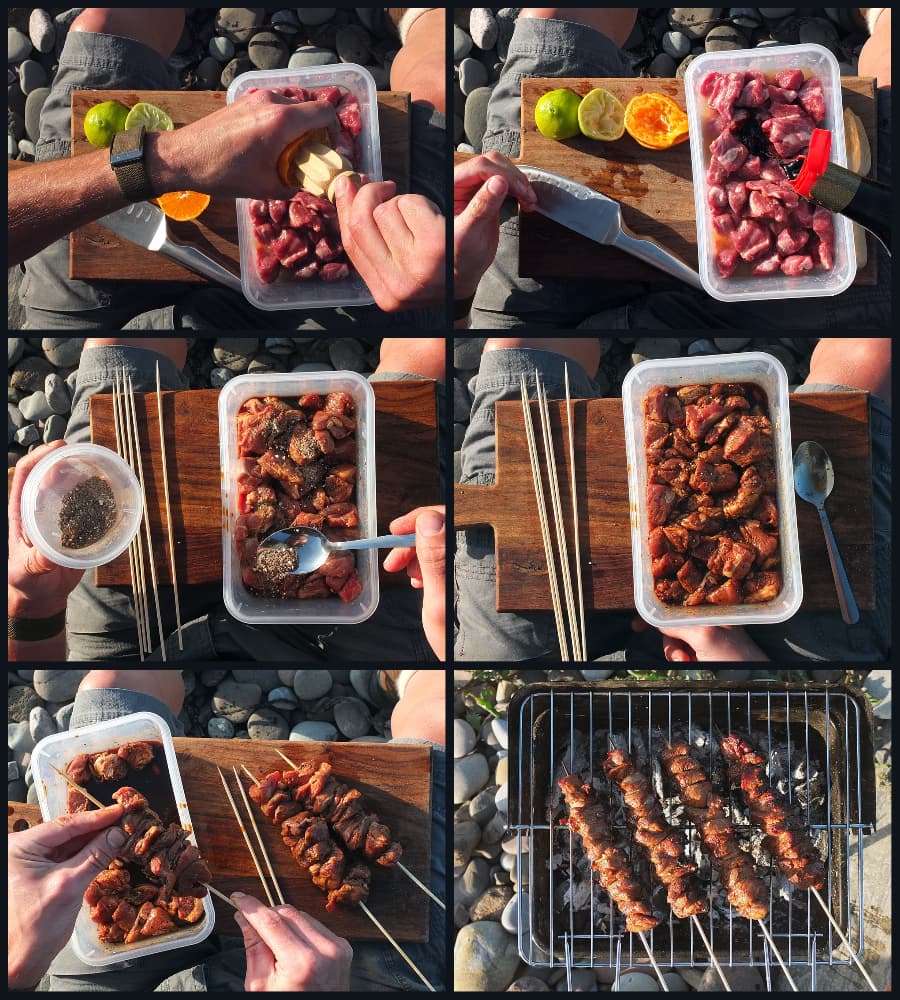 How to make it…
Squeeze the juice of one orange and one lime juice your cubed PGI Scotch lamb shoulder.
Add the dark soy sauce.
Sprinkle over the spices and stir to combine.
Leave to marinate for at least 10 minutes (longer if you have time). Get your BBQ lit while you wait (or do steps 1-3 before you leave the house, if you have time – we didn't as we were chasing the sun.)
Thread the marinated PGI Scotch lamb onto your skewers.
BBQ for 15 minutes, turning occasionally.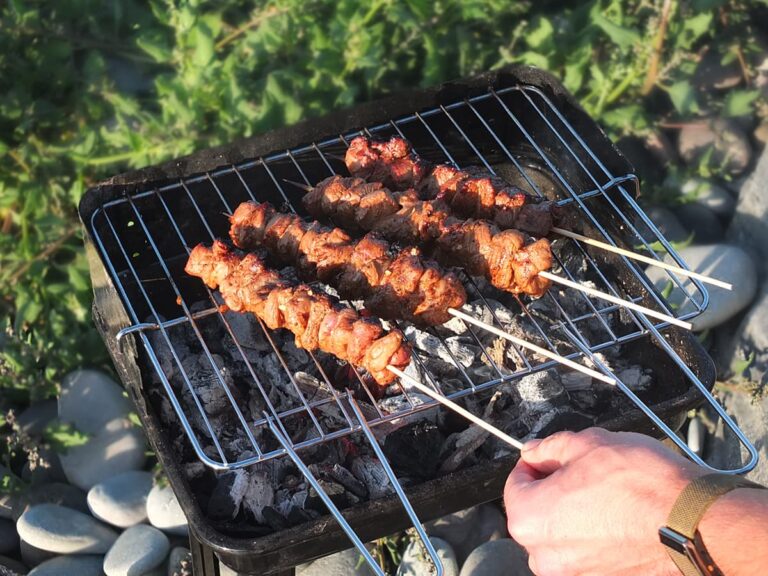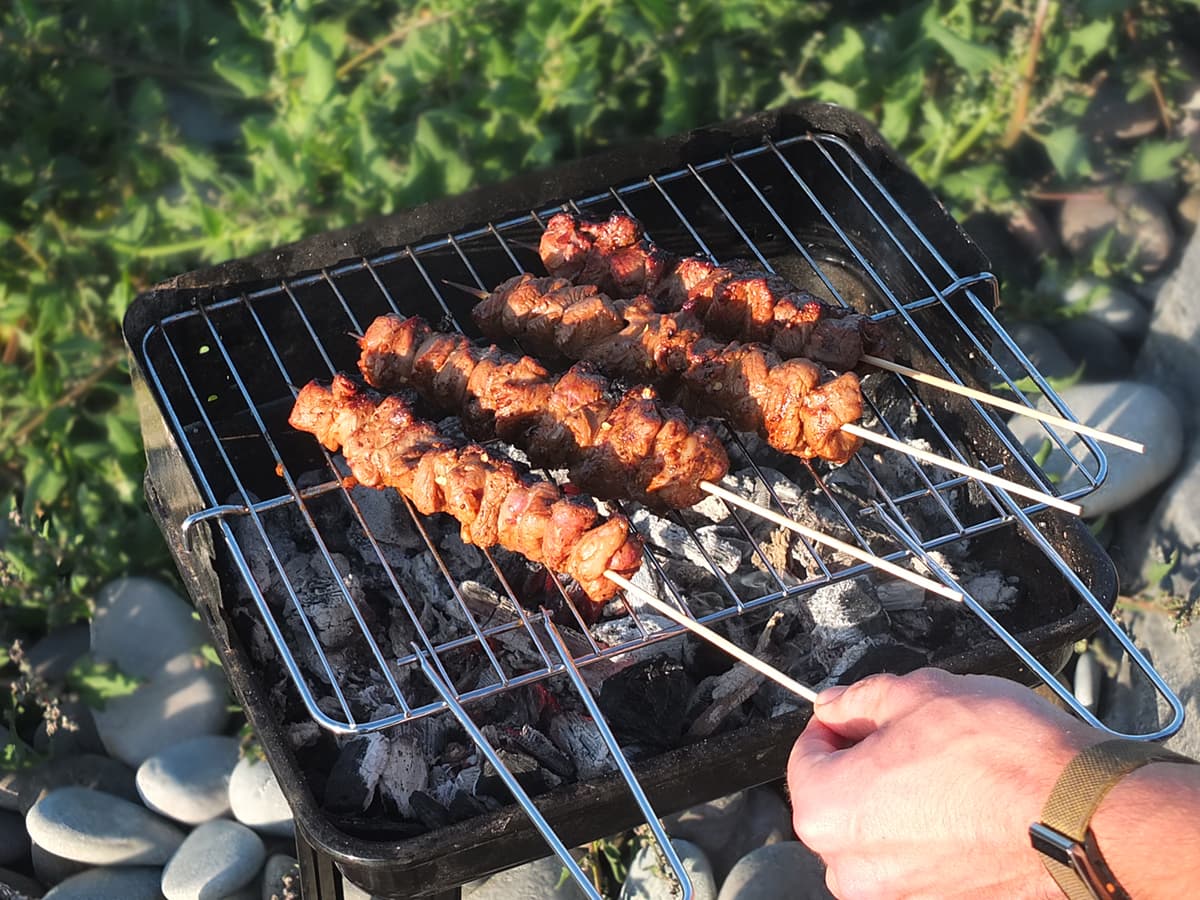 This Scotch Kitchen recipe was an absolute pleasure to prep and cook at the beach. Ok, truth be told I just took the pictures, but still. If you're looking for effortless spur-of-the-moment beach BBQ food, this recipe should be on your radar.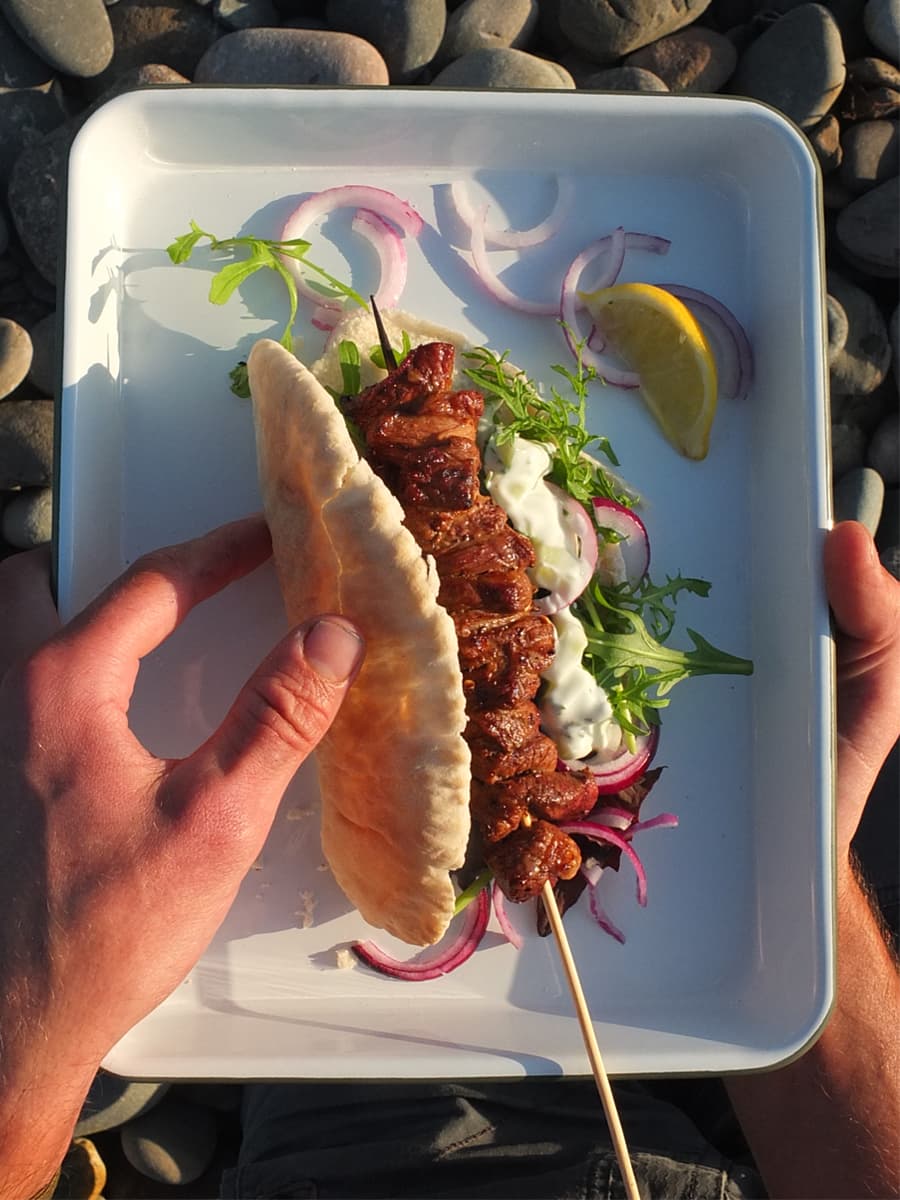 More Scotch Lamb recipe inspiration
Scotch Lamb PGI is a high-quality product that is not only quick and easy to cook but also delicious and nutritious. It is naturally rich in protein and provides both children and adults with a range of vitamins and minerals which contribute to good health and wellbeing.
For a fresh look at lamb visit scotchkitchen.com to find easy and quick recipe ideas. Don't forget to follow them on Twitter, Facebook and Instagram too!
What's your favourite way to cook with Scotch Lamb PGI on the bbq? Let me know in the comments!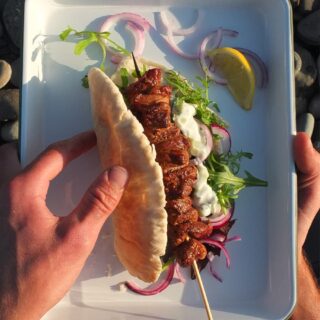 BBQ Scotch Lamb & Tzatziki Pitta
For this easy BBQ recipe, locally reared Scotch lamb shoulder is marinated in warming spices before being grilled on skewers on the BBQ. Serve with a cooling tzatziki, salad and pitta bread.
Print
Pin
Rate
Affiliate Links
This recipe card may contain affiliate ingredient and equipment links. As an Amazon Associate I earn from qualifying purchases.
Instructions
for the marinated lamb skewers
Squeeze the orange and lime juice onto the cubed lamb shoulder.

Sprinkle over the spices and stir to combine.

Leave to marinate for at least 10 minutes.

Thread the marinaded lamb onto your BBQ skewers.

Barbecue for 15 minutes, turning occasionally.
for the tzatziki
Peel the cucumber, remove the seeds and finely dice the flesh.

Finely chop the fresh mint and add to a serving bowl along with the cucumber.

Spoon in the plain natural yogurt and stir to combine.
to serve
Lightly grill the pitta bread, if desired, and serve the lamb with sliced red onion, salad and the tzatziki.
Nutrition
Sodium:
803
mg
|
Calcium:
139
mg
|
Vitamin C:
38
mg
|
Vitamin A:
177
IU
|
Sugar:
6
g
|
Fiber:
4
g
|
Potassium:
590
mg
|
Cholesterol:
64
mg
|
Calories:
343
kcal
|
Saturated Fat:
3
g
|
Fat:
7
g
|
Protein:
27
g
|
Carbohydrates:
44
g
|
Iron:
4
mg
Environmental Information
Pin this recipe for later
Other BBQ Lamb Recipes You Might Like
This barbeque recipe is super quick and easy to prep and easy to transport to a picnic/bbq site. It's also packed full of flavour!

Three super quick and easy Asian-inspired lamb marinades for lamb steaks, chops and kebabs. 

A quick and easy BBQ lamb dish. Serve with a giant toasted couscous salad for delicious al fresco dining!

This is a sponsored recipe post in collaboration with Scotch Lamb PGI, although all thoughts and opinions expressed are our own. Thank you for supporting the brands who make it possible for me to do what I love: pack up a van and eat good food on the beach.