In collaboration with Tasty, Easy Lamb.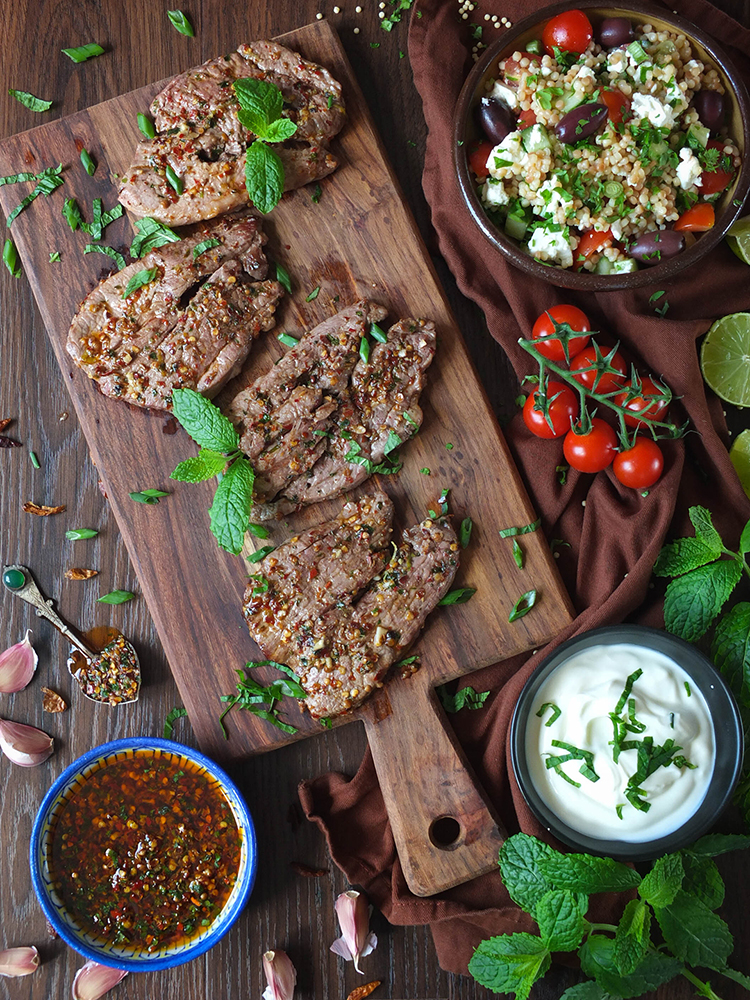 When we think of lamb we usually think of roast Sunday dinner with mint sauce, or perhaps a Donner kebab on a Saturday night. Regular readers might be aware that lamb recipes are appearing on my blog with more frequency. This is because we have teamed up with Tasty, Easy Lamb to show you just how versatile lamb can be as an ingredient, and how it can be so much more than just the occasional Sunday dinner.
Did you know that lamb leg steaks taste absolutely fantastic cooked on the BBQ? Lamb leg steaks are cut from the leaner parts of the leg and can be found either bone in or bone out. If you're looking for a high-quality lamb leg steak ask your butcher to cut your steaks from the topside.
Lamb leg steaks are excellent griddled, pan-fried or barbequed, and they only need 6-8 minutes on each side for the perfectly cooked lamb steak.
Recently we went on a little wild camping adventure with fellow food blogger Janie who writes The Hedgecombers and her bush crafting partner Jonny. Dinner was on me. After stopping off at the Anderson Butchers in Whiteness for some Shetland hill lamb leg steaks the kids and I packed up our own RAV to join Janie and Jonny on the island of Unst, Britain's most northerly inhabited island.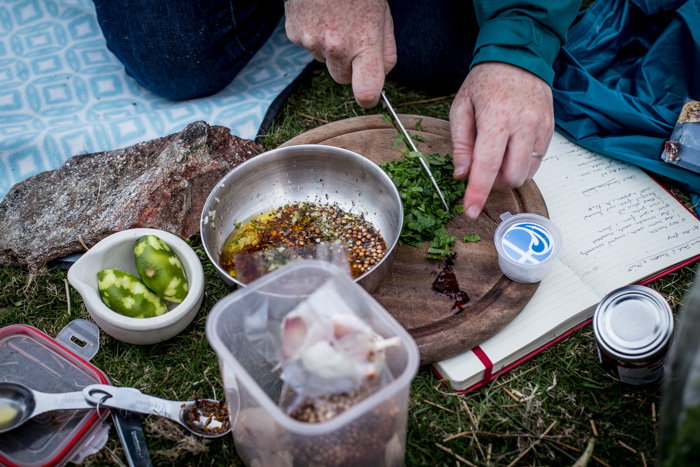 We found a fantastic sheltered spot by the Loch of Cliff, Britain's most northerly loch, and set up camp and as Jonny got the BBQ going I prepared the dinner. Janie made some of her rather delicious Hot Mulled Scrumpy Cider (aka Bonfire Juice) and played photographer for the evening while my hands were dirty.
These BBQ lamb leg steaks with harissa and mint are really easy to make. The marinade involves just a few simple ingredients and can either be prepared in advance or whipped up in a matter of minutes outdoors.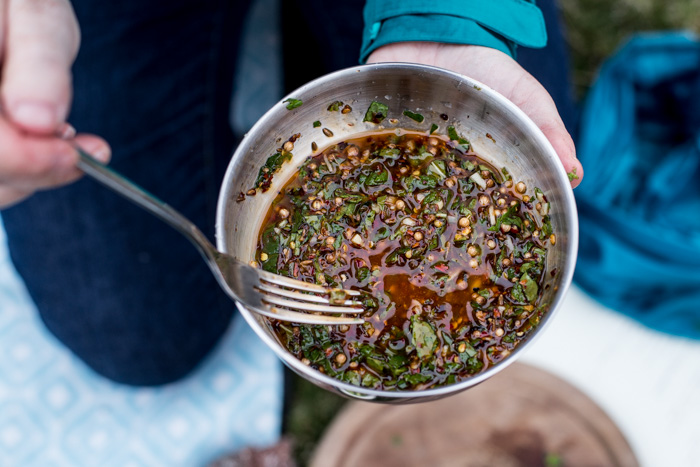 You can adjust the heat of your marinade to your liking by using more or less harissa. The harissa I used was made by our local veg box producers with (I'm quite sure) the hottest chillies available on the planet. Still, that didn't stop us from using two tablespoons of it in our marinade, calming the heat down afterwards with a generous dollop of natural yoghurt.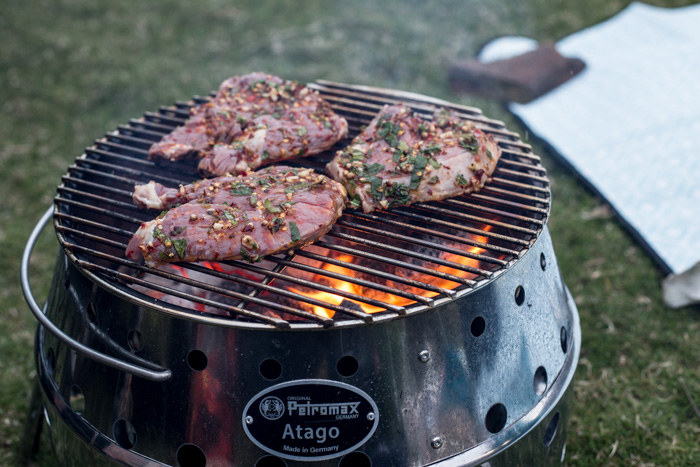 The resulting barbecued lamb was succulent and delicious, and served with a toasted giant couscous salad made for a rather exotic meal on the shores of the Loch of Cliff.
The salad itself is really simple to make too and again, it can be made in advance as it'll keep for a few days.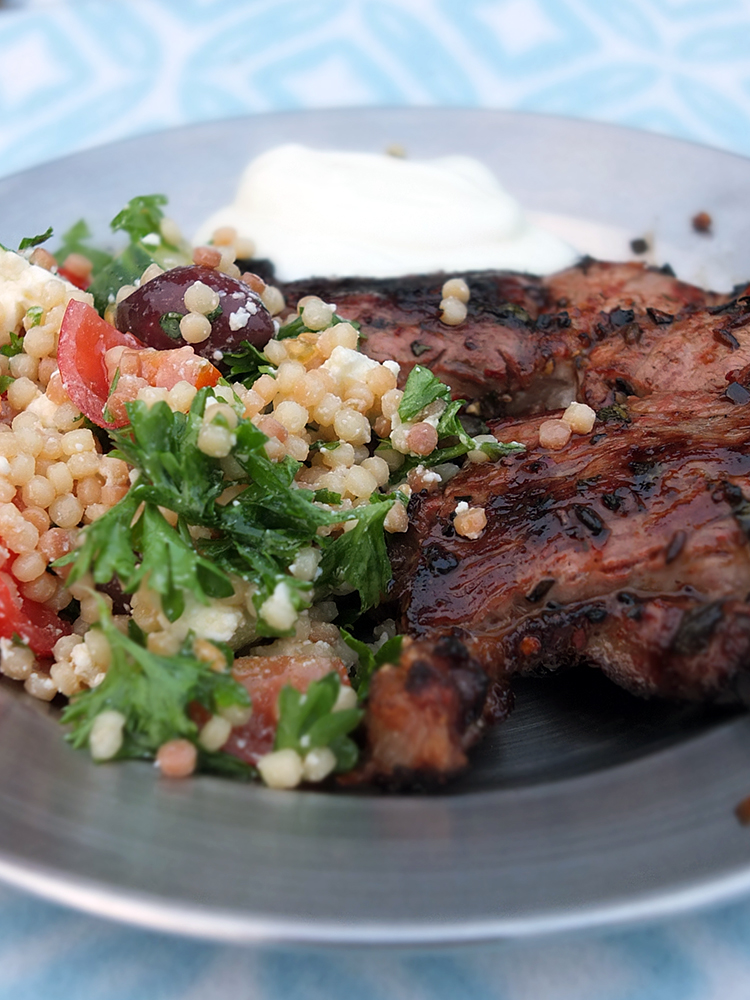 How do you cook lamb on your BBQ? Do you have any tried and tested recipes to share? If so, let me know in the comments!
For more lamb recipe inspiration visit the Tasty Easy Lamb website, and follow them on Facebook, Twitter or Instagram.
OTHER LAMB RECIPES YOU MIGHT LIKE
Street Food: Brazilian-Style Lamb Kibe
Chilean-inspired Lamb Burgers with Pebre & Marraqueta Buns
Brazilian-inspired Lamb Feijoada with Mango Salsa
Slow Cooker Lamb Chilli with Pasilla Peppers
Argentine-inspired Lamb Chops with Chimichurri
Lamb Casserole with Ale
Pistachio & Orange Crusted Mini Roast
Mediterranean-inspired BBQ Koftas, Couscous Salad & Baharat Yogurt Dip
Slow-cooked Shetland Lamb Casserole with Creamy Herbed Polenta
Pastitsio – Greek Macaroni Pie
Moroccan-inspired Slow-cooked Lamb
SHOP THIS POST
Petromax Atago BBQ/Stove/Firepit
Women's Cross Penine III Hybrid Jacket
Shetland Sea Salt
This is a commissioned recipe for Tasty, Easy Lamb, although all thoughts and opinions expressed are our own. Thank you for supporting the brands who make it possible for me to do what I love: mess up my kitchen and share recipe stories.