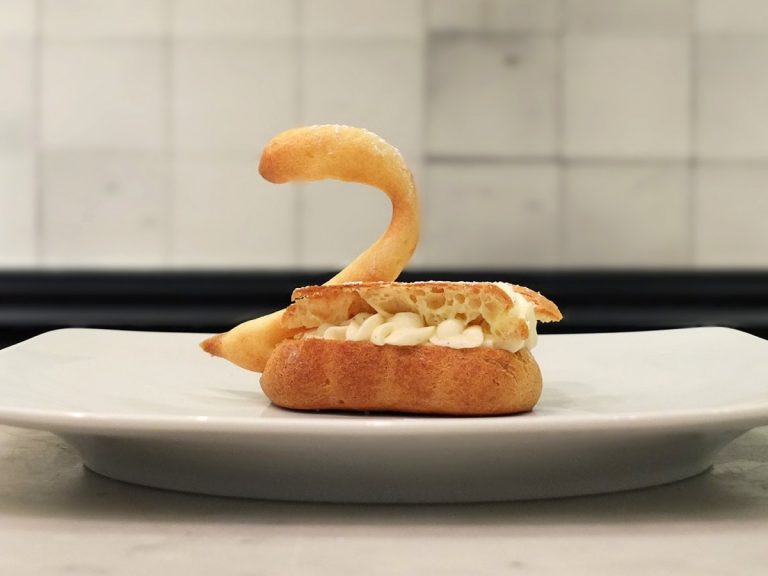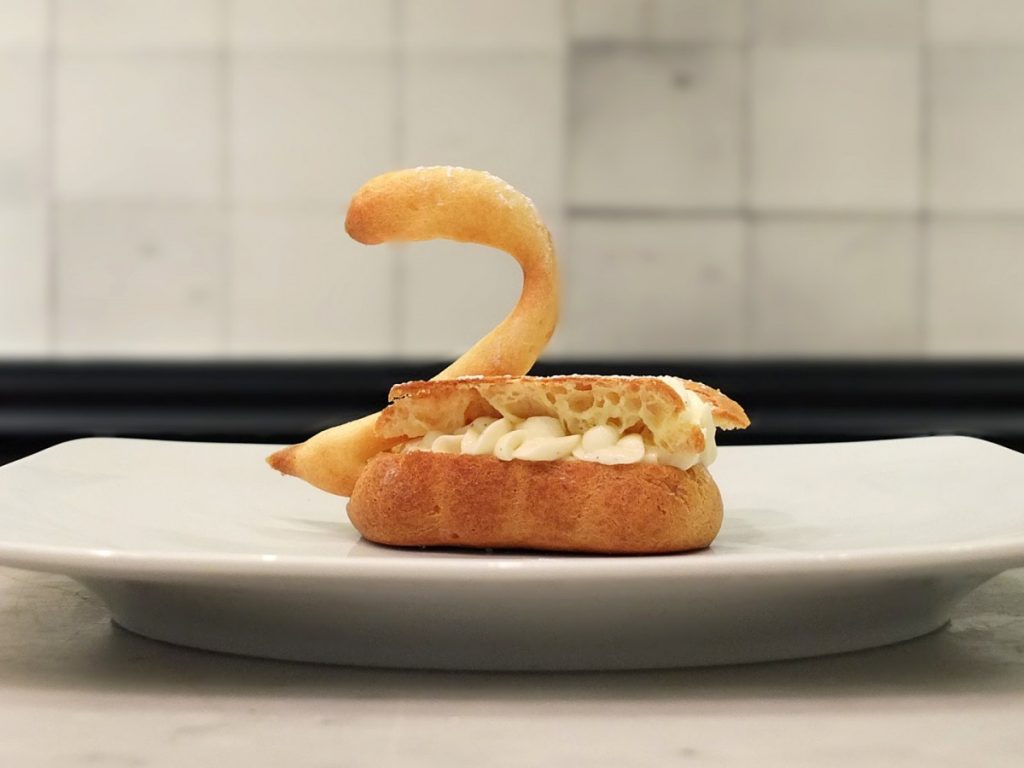 When I was around the age of 12 I first opened a cookery book and discovered the wonderful world of cooking. I am by no means professionally trained; bar a few summers working as an assistant cook at a children's camp in Canada what I know comes from years of trial and error. I've only ever taken cookery lessons twice in my lifetime, and both times they were in Paris, France.
A few weeks ago I was invited to Paris to enjoy and celebrate the bistronomy scene that the city has to offer. As part of our foodie experience, we were treated to a cookery class at L'Atelier des Sens where we learned about all things choux pastry.
Choux pastry is a light and airy pastry used in a wide range of French desserts such as profiteroles, eclairs and chouquettes, among many others. It is also remarkably easy to make.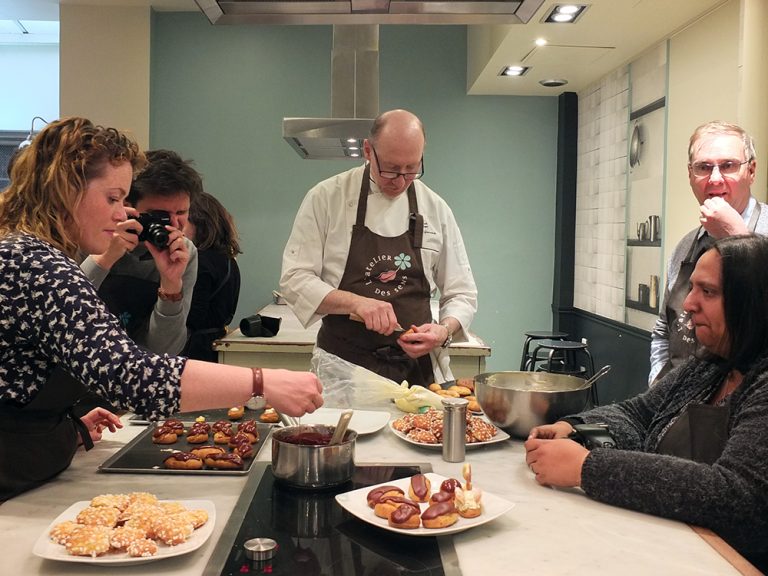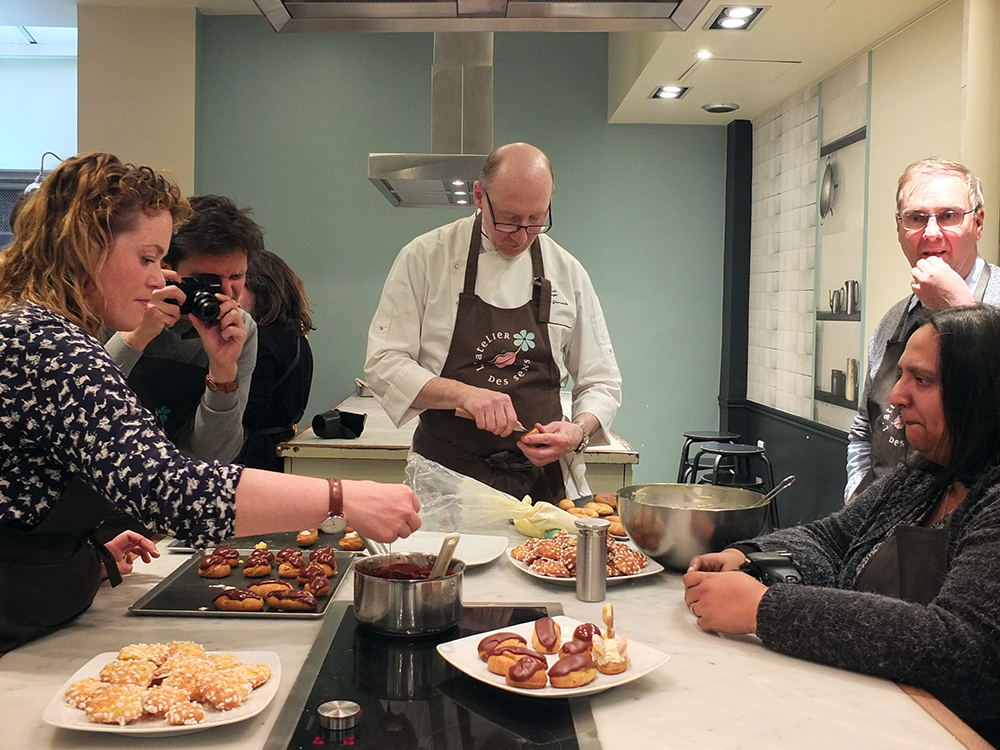 The airiness of choux pastry occurs because of its high water content. During baking this water evaporates, creating steam, which pushes the pastry shell outwards to give it its volume. The trick to getting a perfectly set pastry is to let some of this steam evaporate with the oven door open so that the pastry becomes crisp and golden instead of soft, resulting in pastry that sinks when cooled.
It's also important, when making the pastry mixture on the stove top, to ensure that the flour/egg mixture cooks and dries to a suitable consistency. The mixture should be thick and glossy and come away from the sides of the pan, but still be of a soft, droppable consistency.
In our cookery class, we learned just what this ideal consistency looks and feels like, and we made chocolate eclairs, choux pastry swans and some chouquettes with the mixture.
Chouquettes are small biscuits of choux pastry sprinkled with crunchy pearl sugar before being baked and then filled with crème pâtissière or a lighter Diplomat Cream we learned how to make – basically simple whipped cream combined with equal parts of crème pâtissière. They're incredibly tasty little morsels, I can tell you!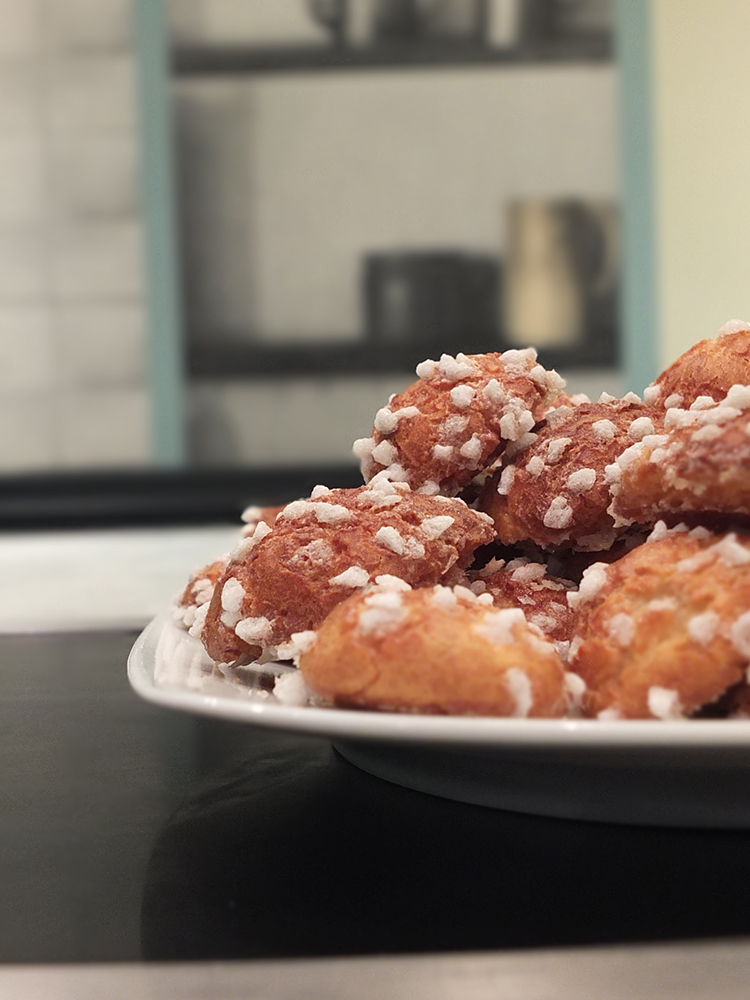 We also learned how to make crème pâtissière properly. I'd only ever attempted to make this delicious custard once before, in a massively failed attempt to make Nigella Lawson's Boston Cream cake, and I never tried it again until Paris.
I've been missing out! Again, this dessert is remarkably easy to make. Simply heat milk and some sugar in a pan with a halved vanilla pod, whisk together some egg yolks, sugar and cornflour and then pour the hot milk mixture onto the egg mixture, return to the heat and stir until thickened. Easy peasy!
Our cookery instructor also showed us how easy it is to make choux pastry swans. He filled them with the Diplomat cream and dusted them with a little bit of icing sugar for a showstopper of a centrepiece. I have plans to make these for my children for some special occasion in the near future.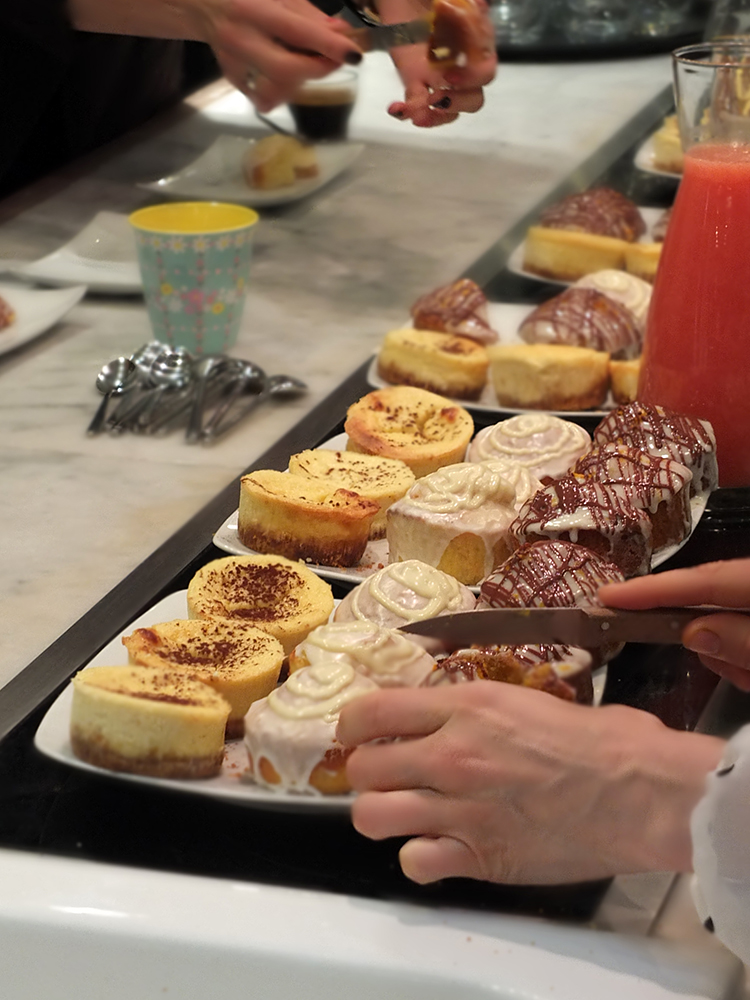 Next door to our class, another cookery class was running and that group learned how to make a range of cakes and cheesecakes. After both classes had ended we each shared our creations with the other group. It was a rather lovely way to learn about French cooking in an informal setting.
With huge thanks to the city of Paris for inviting me to experience Paris cuisine.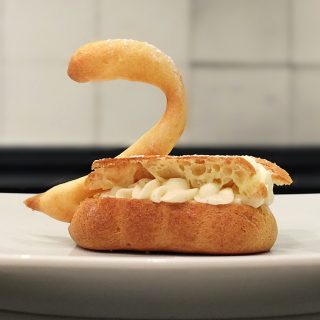 Chocolate Eclairs, Choux Pastry Swans and Crème Pâtissière
Recipes learned at a French cookery class in Paris.
Print
Rate
Ingredients
Affiliate Links
This recipe card may contain affiliate ingredient and equipment links. As an Amazon Associate I earn from qualifying purchases.
Instructions
For the Choux Pastry
Preheat oven to 200C/400F/ Gas Mark 6-7

Bring the milk, water, salt and sugar to a boil in a small saucepan. Don't leave it to boil as the water will evaporate.

Remove the mixture from the heat and add all of the flour in one go. Stir well with a wooden spoon and place the pan back onto the heat.

Continute to stir while the mixture cooks and the dough drys, coming away from the sides of the pan. It will form a soft dough.

Remove the pan from the heat and add the eggs, one at a time, beating well with a spatula between each addition.

The dough will become firm, but will still be soft enough to drop off the spoon. If it's too thick add a little hot milk to loosen it up.

Transfer the pastry mixture to a piping bag fitted with a 1/2 inch plain nozzle.

Pipe 4 inch long fingers onto a lightly greased baking tray, leaving room for them to spread.

Sprinkle the tray with a few drops of water and bake for 15 minutes, leaving the door closed. Then, open the door slightly and bake for a further 10 minutes or so until the pastry is crisp and golden-brown.

Remove the pastry from the oven and, using a small toothpick, carefully poke a small hole in the side of each pastry to let the steam escape. Bake for a further 5 minutes. Remove from the tray and leave to cool completely on a wire rack.
For the Crème Pâtissière
Split the vanilla pod down the side and place a saucepan along with the milk and 1/3 of the sugar. Bring to a boil.

Whisk the remaining sugar with the egg yolks in a bowl. Add the cornstarch and whisk well until combined.

Remove the vanilla pod from the milk, reserving the seeds.

Pour a little of the hot milk into the egg yolk mixture and whisk until combined.

Add the remaining milk and return the pan to the heat, whisking continually until the custard mixture thickens.

Transfer the thickened mixture to a bowl and add the butter. Stir well until combined. Cover and chill in the refrigerator until needed.
For the Fondant Frosting
Let the fondant melt in a bain-marie. Add dark chocolate, as desired.
For the Chocolate Frosting
Break the chocolate and place in a heat proof bowl over a pan of barely simmering water along with the butter and water. Leave to melt and then stir in the icing sugar.
To Assemble
Slice the eclairs lengthwise and pipe them full with crème pâtissière. Top with the chocolate frosting of your choice.
To make Swans
Pipe shorter lines of choux pastry as well as large number two shapes for the swan neck.

To assemble, cut the pastry top off and halve to form two wings. Arrange the neck with the base of the number two hidden down the length of the body. Fill with piped Diplomat Cream, equal portions of plain whipped cream mixed with cooled crème pâtissière. Arrange the wings on top of the cream and dust lightly with icing sugar.
Environmental Information
OTHER RECIPES USING CHOUX PASTRY
Ice Cream Puffs (Profiteroles)
Choux Cygnets
Belgian Chocolate Choux Buns with Vanilla Pastry Cream
Mont Blanc Profiteroles
Spring Lemon Eclairs
Strawberry Choux Buns
MORE PARIS POSTS YOU MIGHT LIKE
Parisian Bistronomy: Eating My Way Through the City of Lights
Duck Breast with Fig Sauce – La Cuisine Paris
Coffee in Paris
My Geocaching Adventures in Paris
Grilled Scottish Salmon with Creamy Polenta, Pistachios & Tomato Butter
FURTHER INFORMATION
L'Atelier des Sens Cookery Classes
ParisInfo.com
With thanks to the Paris Convention & Visitors Bureau for inviting me to Paris to experience French cuisine. All thoughts and opinions expressed are our own.