In collaboration with Tasty, Easy Lamb.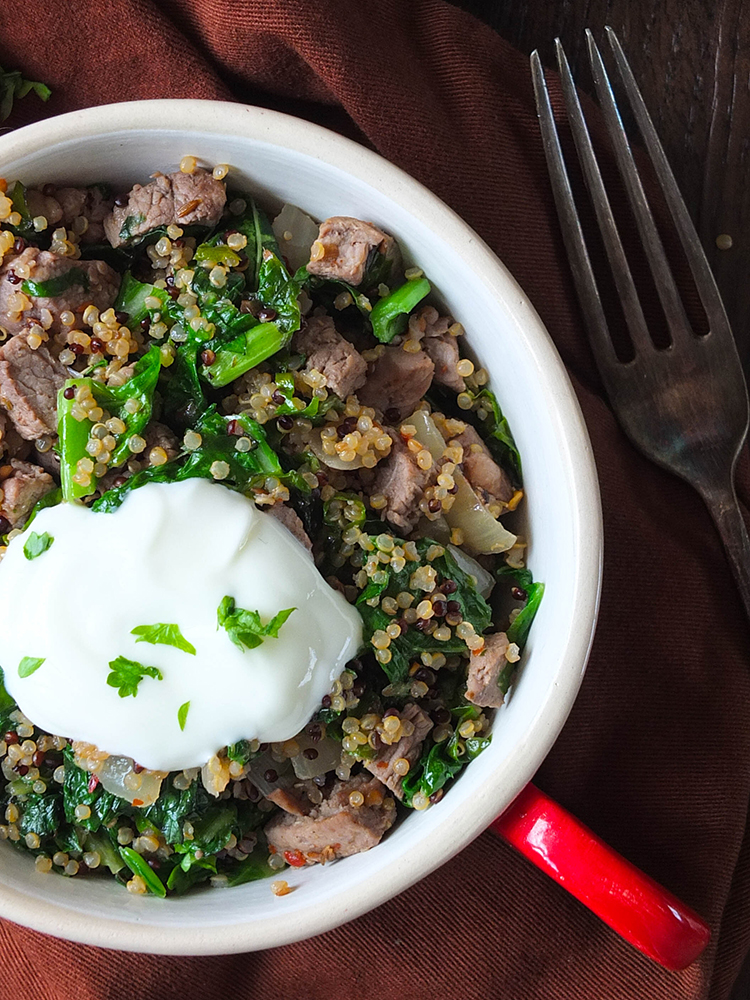 I do love cooking, but there are busy days when, after dealing with work, family, housework and exercising, I just can't face spending ages standing in front of the cooker preparing a meal.
This recipe and variations of it are my go-to recipe for such occasions. The ultimate comfort food when, at the end of a long day, the bra gets ditched (cue: heavy sigh of relief!), the pj's get put back on (does anyone else have a super cosy fluffy pair they live in when at home?), and this one-pan meal gets cooked. The rest of the evening is spent cosied up on the couch watching the latest series on Netflix or Amazon Prime. A well-deserved time-out after the chaos of day-to-day life.
Regular readers will know that we eat a lot of lamb in our house. I do love a Sunday roast leg of lamb, and leftovers are always cut into 1 cm cubes the next day and kept in the freezer for quick midweek meals like this. I've also made this recipe with leftover kibe, cut into small pieces, and leftover BBQ lamb leg steaks with harissa and mint (which was rather lovely – recipe to follow!). Cubed lamb takes no time at all to defrost, so it's ok if I've forgotten to take it out first thing in the morning.
I'm also a big fan of the ready-to-eat quinoa sachets you can get in the supermarket. I know quinoa takes no time to cook, but sometimes, well, y'know… lazy. I'm quite partial to the mixed red and white quinoa from Merchant Gourmet, and so I've used their sachet in this recipe. Feel free to replace the quinoa with rice, or leftover roast potatoes cut into bits.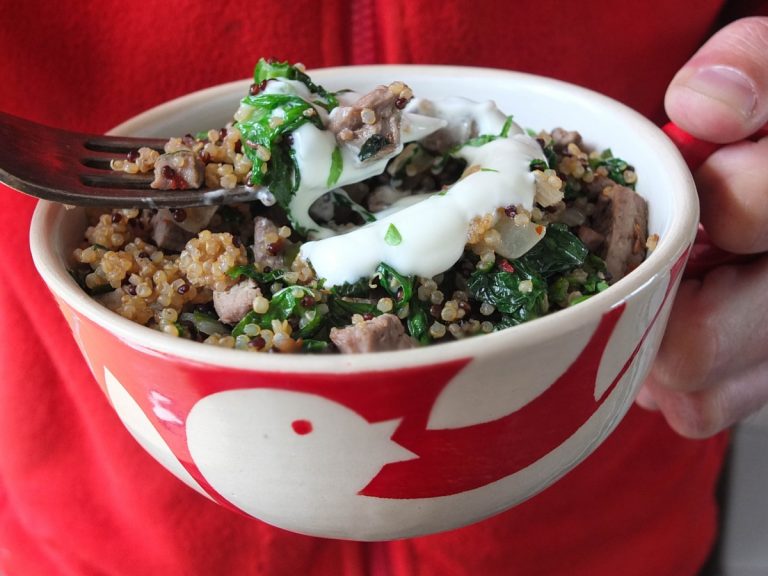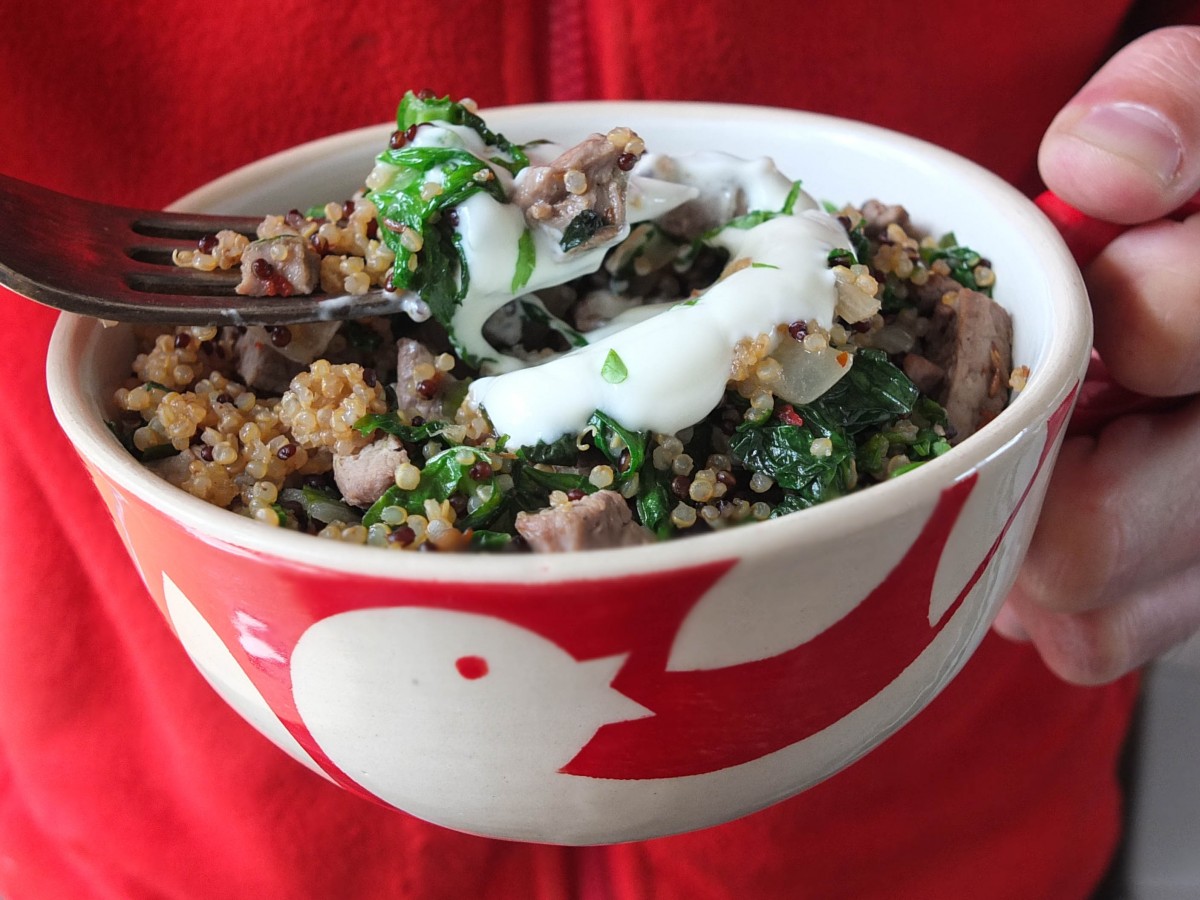 When it comes to greens, just chuck in half a bag of whatever you happen to have. I use whatever's arrived in that week's veg box – spinach, rainbow chard, kale or, as pictured above, spicy Chinese greens, as they give a nice kick to the dish. You could always throw in some leftover roast vegetables from your Sunday roast dinner too – this is a very versatile recipe!
The only work involved is frying an onion with some spices, and reheating everything else. Quick and easy and oh so delicious with minimal washing up. Win!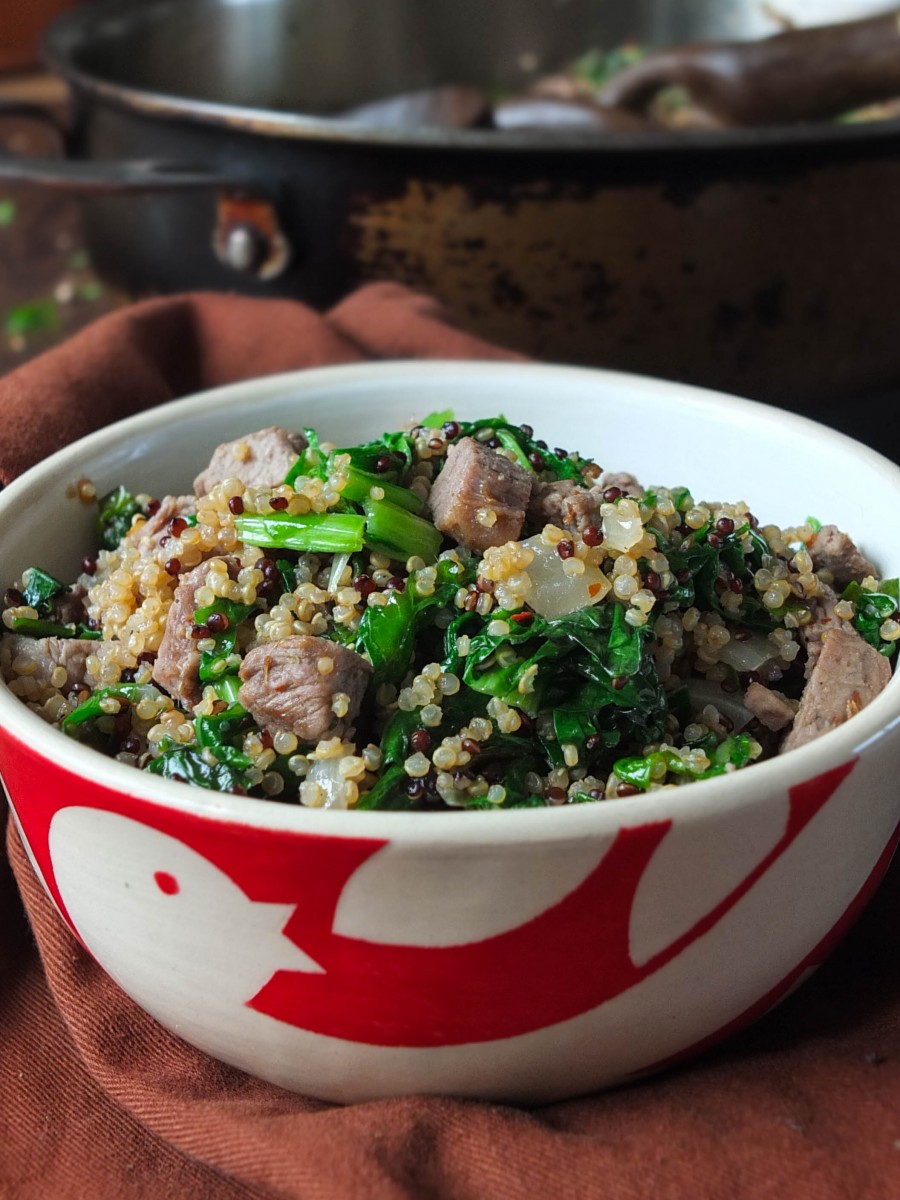 What's your favourite quick and easy midweek supper recipe? Let me know in the comments! And what are you watching these days on Netflix or Amazon Prime? I'm needing something new to watch now that The Walking Dead has finished. Inspire me!
For more lamb recipe inspiration visit the Tasty Easy Lamb website, and follow them on Facebook, Twitter or Instagram.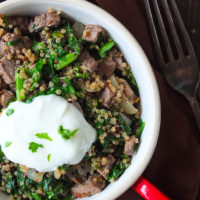 15-Minute Lamb & Quinoa One-Pan Midweek Supper
A quick and easy midweek supper made with leftover Sunday roast lamb (or any other cooked lamb). Proper comfort food!
Print
Rate
Affiliate Links
This recipe card may contain affiliate ingredient and equipment links. As an Amazon Associate I earn from qualifying purchases.
Instructions
Heat oil in a large saute pan over a medium-high heat.

Add the seeds and toast until they begin to pop. Add the onion and gently fry until they begin to soften without colouring.

Add the cubed, cooked leftover lamb and cook for 5 minutes until heated through, stirring occasionally.

Add your chopped greens and cook for a further minute or two until they begin to wilt and then add the cooked quinoa. Continue to cook until heated through.

Season well to taste and serve with a generous dollop of plain, natural yogurt.
OTHER LAMB RECIPES YOU MIGHT LIKE
Street Food: Brazilian-Style Lamb Kibe
Chilean-inspired Lamb Burgers with Pebre & Marraqueta Buns
Brazilian-inspired Lamb Feijoada with Mango Salsa
Slow Cooker Lamb Chilli with Pasilla Peppers
Argentine-inspired Lamb Chops with Chimichurri
Lamb Casserole with Ale
Pistachio & Orange Crusted Mini Roast
Mediterranean-inspired BBQ Koftas, Couscous Salad & Baharat Yogurt Dip
Slow-cooked Shetland Lamb Casserole with Creamy Herbed Polenta
Pastitsio – Greek Macaroni Pie
Moroccan-inspired Slow-cooked Lamb
SHOP THIS POST
Merchant Gourmet Red & White Quinoa
Copper Tri-Ply 24cm Saute Pan by ProWare 
Hand-crafted Handled Soup Bowl
This is a commissioned recipe for Tasty, Easy Lamb although, as always, all thoughts and opinions expressed are our own. Thank you for supporting the brands who make it possible for me to do what I love: mess up my kitchen and share recipe stories.