Bring a taste of the Caribbean to your dessert table with this cocktail-inspired cupcake recipe!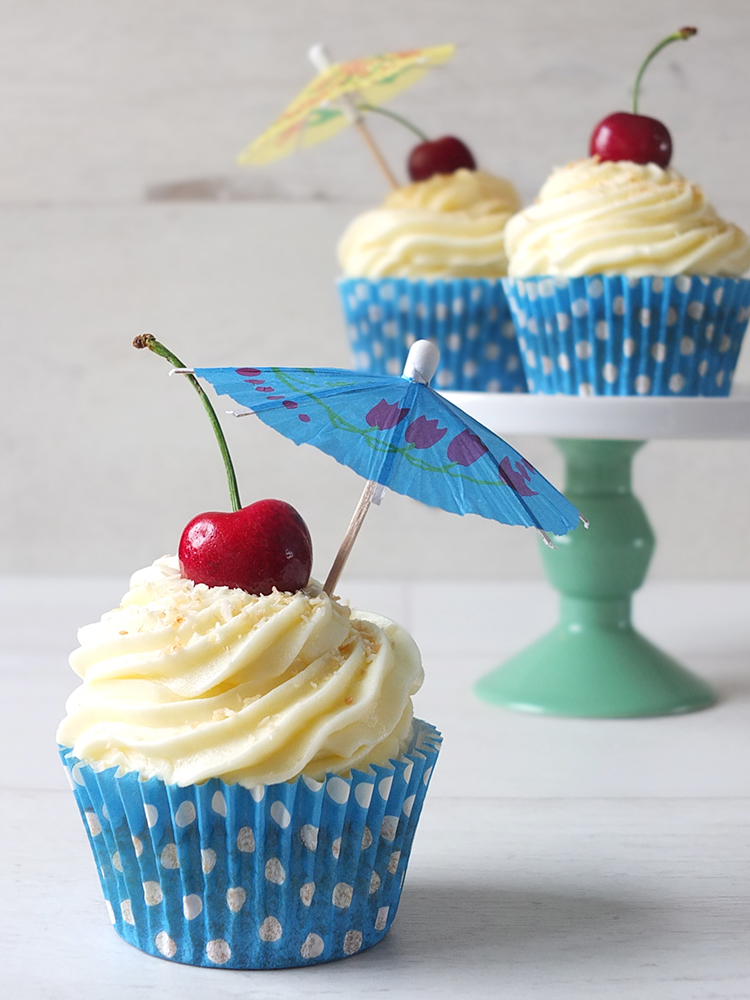 It's funny how recipe inspiration can strike in the most random places. I fancied baking something sweet for my family the other day when I spied half a fresh pineapple desperately needing using up in the fridge and remembered that there were some coconut flakes in the cupboard also well past their use by date. The idea for a piña colada cupcake was born!
My first attempt, I confess, was a bit more like a pineapple muffin. It wasn't sweet enough and the chopped fresh pineapple just didn't work when it came to an ideal cupcake texture, but these, these gorgeous little morsels you see in this blog post – now these totally worked. They're very, very nice indeed!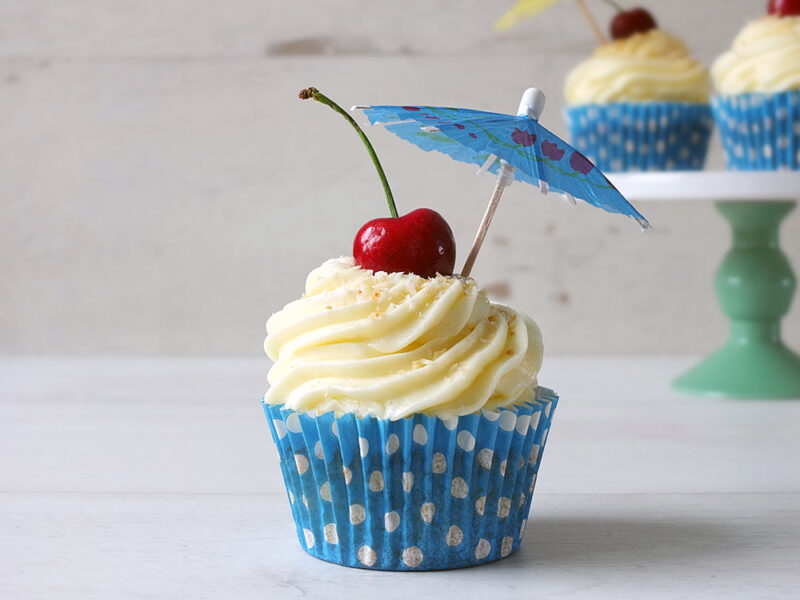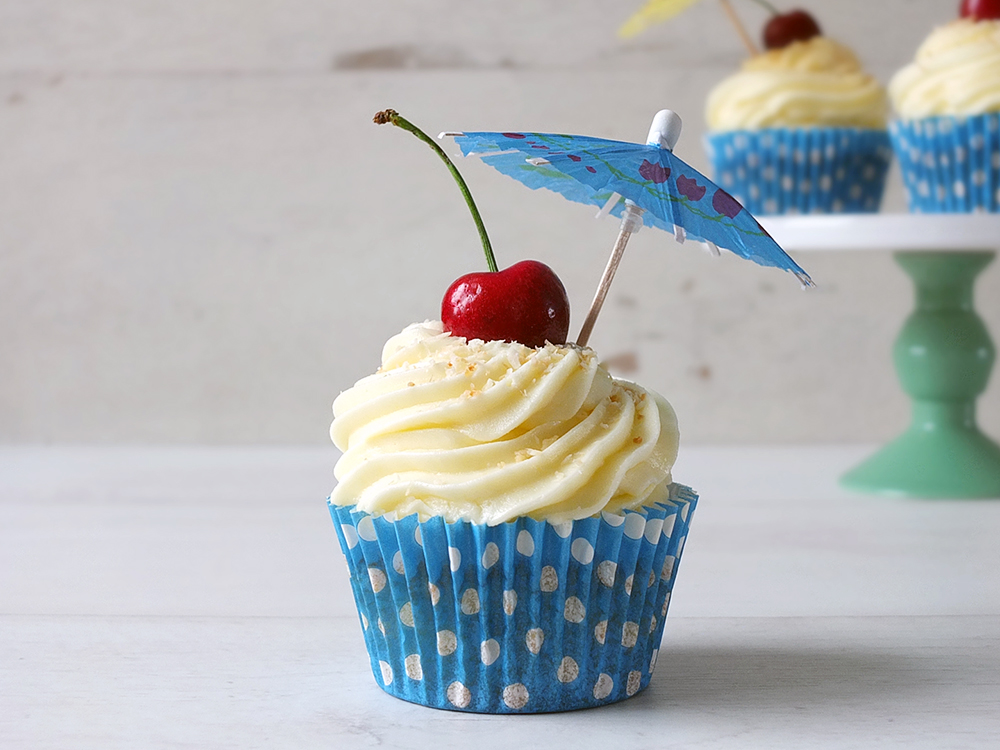 The cupcake itself is flavoured with coconut, pineapple and lime while the frosting has a nice lime zing to it. You could, if you wanted, make a more grown-up version and replace half the lime juice in the frosting with a tablespoonful of Malibu rum (either the coconut or pineapple version), for a more authentic piña colada flavour. Stick with the lime juice if you want a more child-friendly option (as demonstrated below by our youngest son!). Don't forget to garnish with a cocktail umbrella!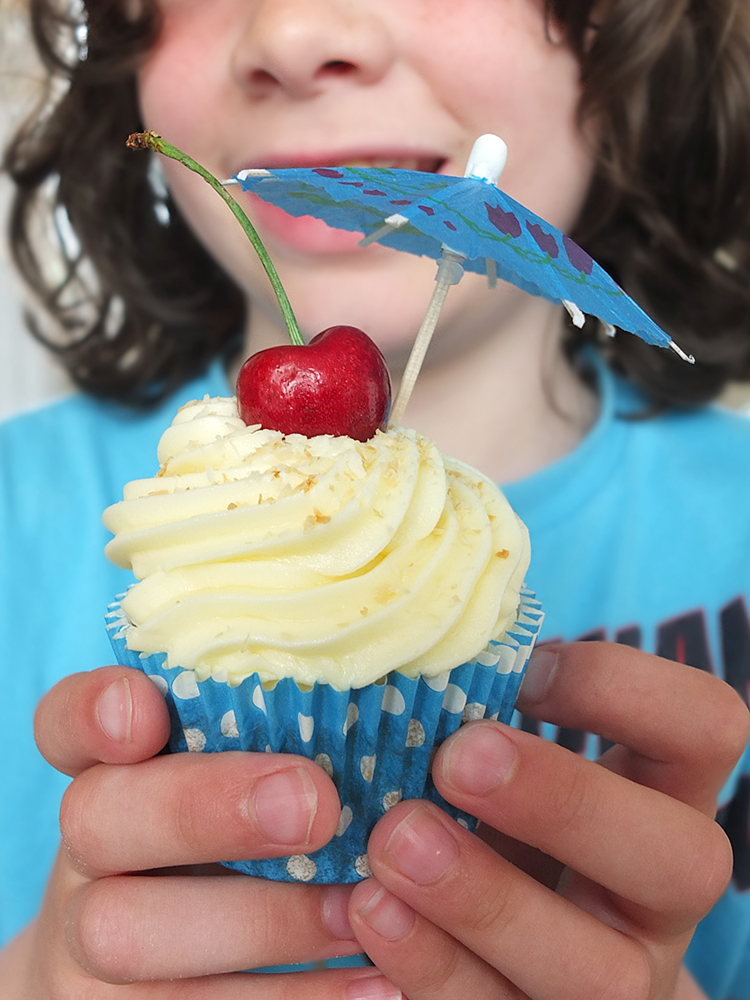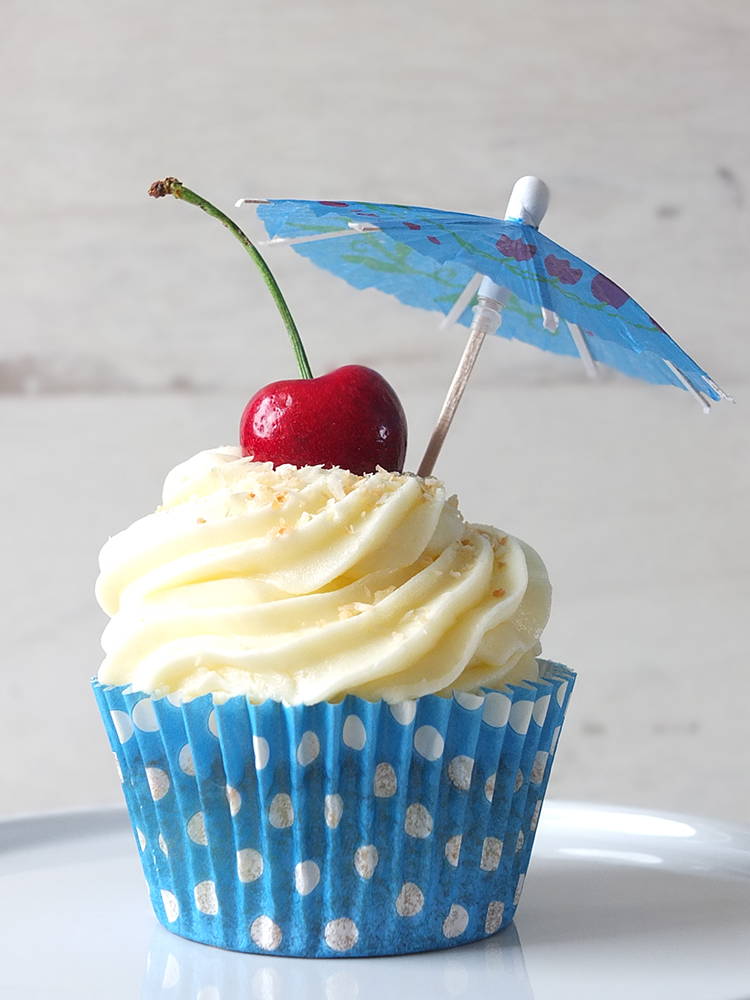 These cupcakes would make for a rather nice addition to a summer picnic in the garden or patio, I think. What's your favourite summertime flavour cupcake? Let me know in the comments!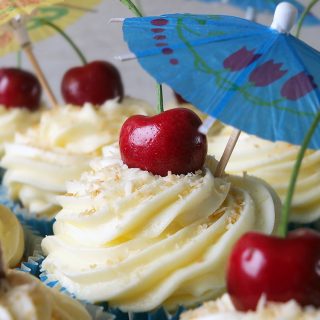 Piña Colada Cupcakes
Bring a taste of the Caribbean to your dessert with this quick and easy Piña colada cupcake recipe!
Print
Rate
Affiliate Links
This recipe card may contain affiliate ingredient and equipment links. As an Amazon Associate I earn from qualifying purchases.
Instructions
Preheat oven to 180C/160 C fan and line a 12-hole muffin tin with paper cases.

Cream the butter and sugar together until light and fluffy. Add the eggs, one at a time, along with a spoonful of flour, and beat well.

Fold in the remaining flour, coconut and lime zest. Add 2-3 tbsp fresh pineapple juice until the batter is of a soft, dropable consistency.

Spoon into the baking cases and bake in the centre of the oven for 20-25 minutes until golden and well risen. Transfer to a wire rack to cool completely.

To make the icing beat the butter and sugar together and enough lime juice to make it light and airy.

Frost the cupcakes with the icing and top with a little toasted coconut (see recipe notes) and a fresh cherry.
Notes
To toast the coconut place it in a non-stick pan over a medium heat and stir, frequently, until it begins to brown. Transfer immediately to a cool plate once it's reached the desired colour and leave to cool until needed.
OTHER CUPCAKE RECIPES YOU MIGHT LIKE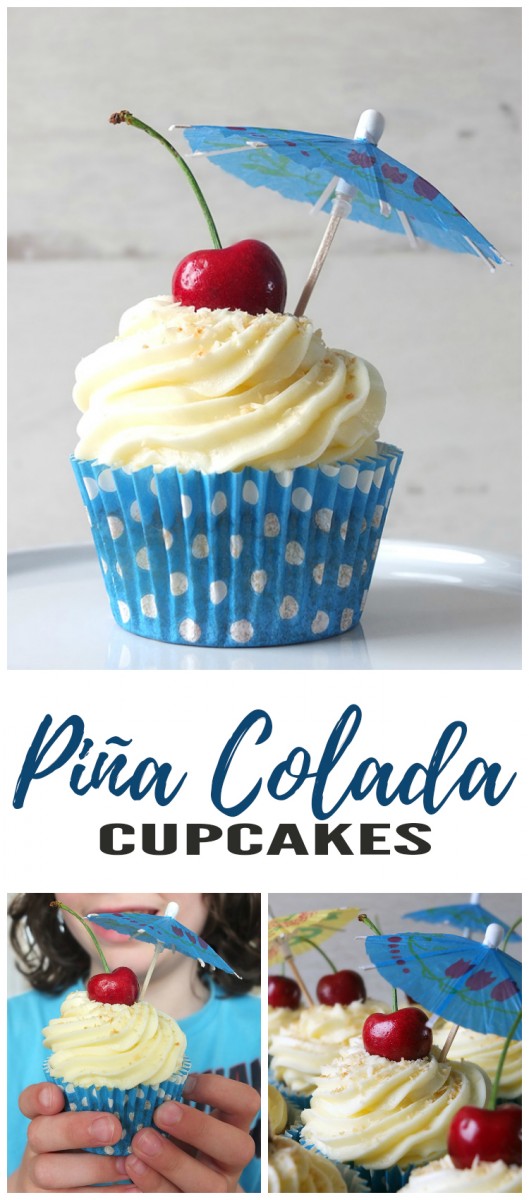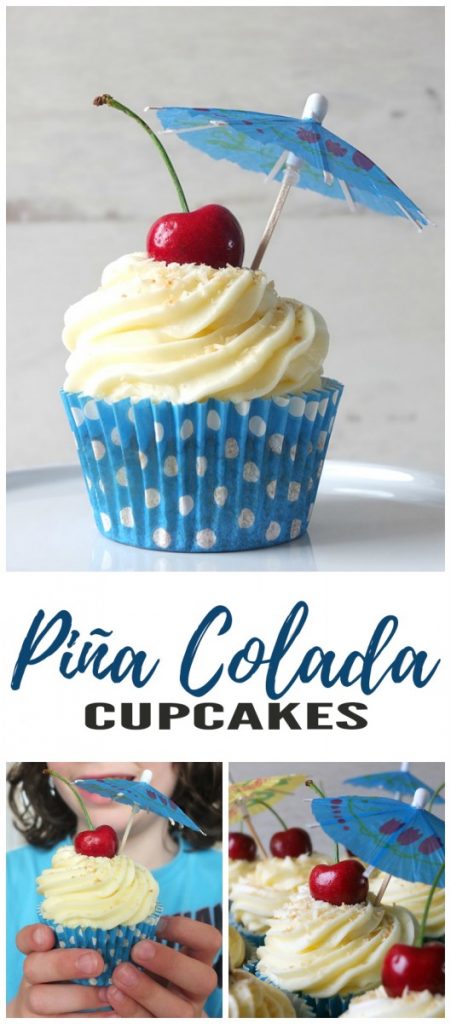 Chocolate Fudge Masquerade Party Cupcakes
A Selection of Cupcakes for Afternoon Tea
Kitty Kat Funfetti Fairy Cakes
Chocolate & Vanilla Cupcakes
Dark Chocolate & Bourbon Vanilla Steampunk Cupcakes
Strawberry Milkshake Cupcakes
S'Mores Cupcakes
Lime Cupcakes with Lime Buttercream Frosting
Orange Curd Butterfly Fairy Cakes
Chocolate Coffee Cupcakes with Coffee Buttercream
Chocolate Mint Rum Cocktail Cupcakes
Cardamom Beetroot Chocolate Cupcakes
Classic Chocolate Cupcakes with Vanilla Frosting
SHOP THIS POST
Blue Polka Dot Cupcake Cases
Paper Cocktail Umbrellas
Malibu Coconut Rum
Organic Desiccated Coconut
Green Ceramic Mini Cake Stand
The links shown above in orange are all Amazon affiliate links, which means if you click through to Amazon and make any subsequent purchase (anything at all) within the next 24 hours, we will earn a small commission.