Transform leftover roast lamb into a crispy lamb salad with coriander vinaigrette with this super easy recipe perfect for Mother's Day. This recipe, which is ready in under 15 minutes, has been created in collaboration with Try Lamb.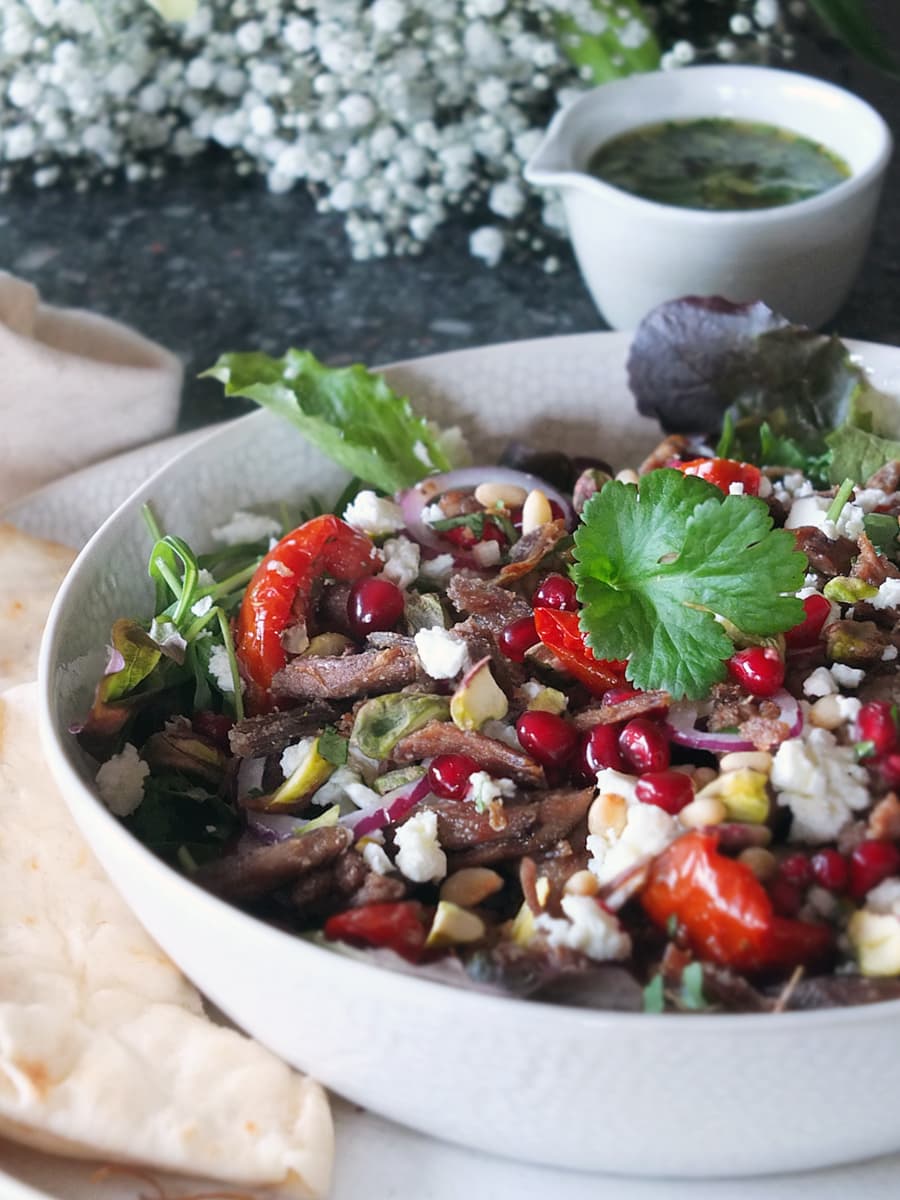 A Mother's Day salad recipe
Ok, I realise salad might not be ranking at the top of many people's lists when it comes to Mother's Day meals, but do you know what, this is just the sort of salad that I, as a Mum, like. It's the kind of salad I wish my kids would make for me (I wonder if this is the year they'll cook something for me…!).
This crispy lamb salad is made from loads of my favourite ingredients and it repurposes leftovers into something a little bit more exciting.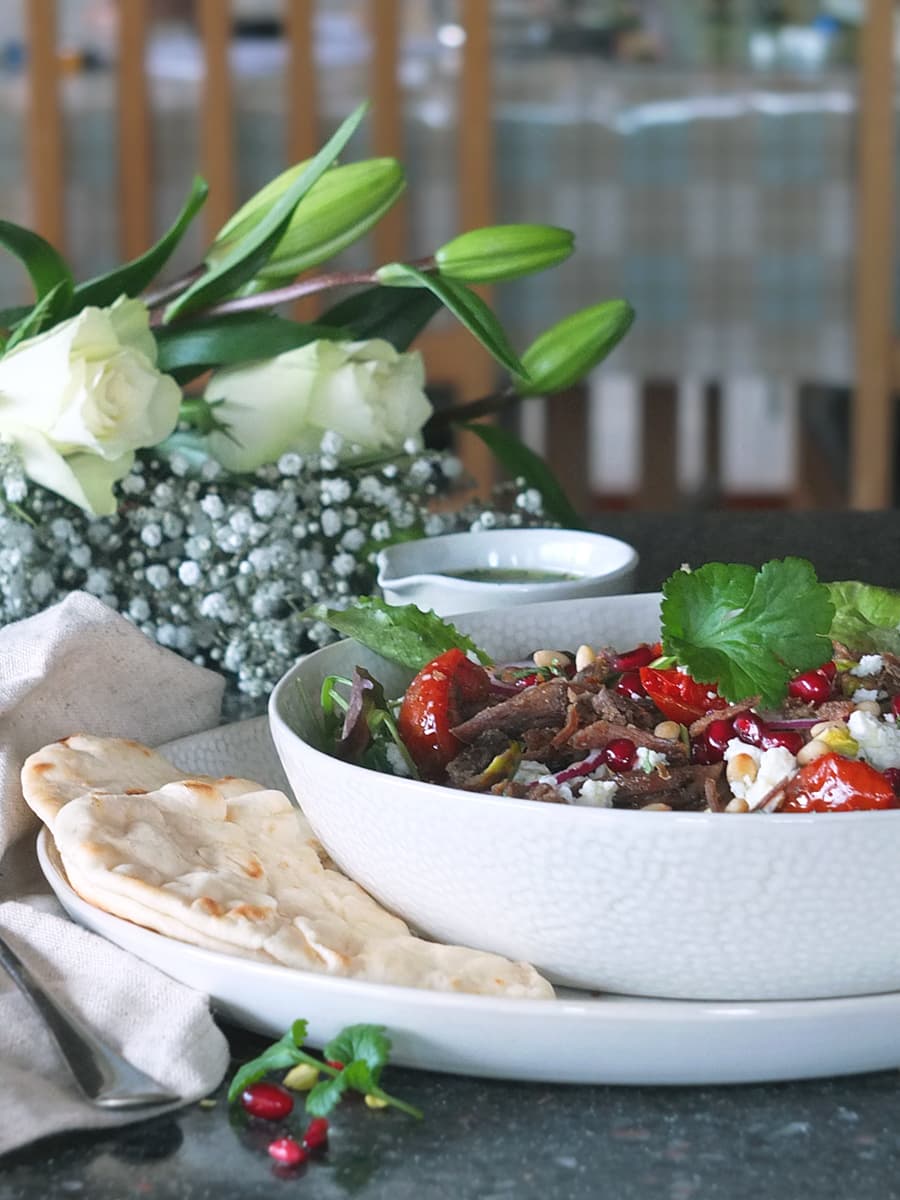 Crispy lamb – why you want it in your life
Think bacon bits, but next level. To make your leftover roast lamb crispy all you need to do is dredge your leftover shredded roast lamb in a little cornflour and gently fry it until crispy.
Lamb has a unique, rich, earthy flavour with a hint of smokiness. Crisping it up in this way makes for a mouth-watering ingredient, a filling, nutritious main component in what would otherwise be quite a light meal.
It ticks all the boxes as a salad topping, but you could, if you wanted, make a bigger batch and use it as a substitute for the duck in a crispy Peking duck wrap.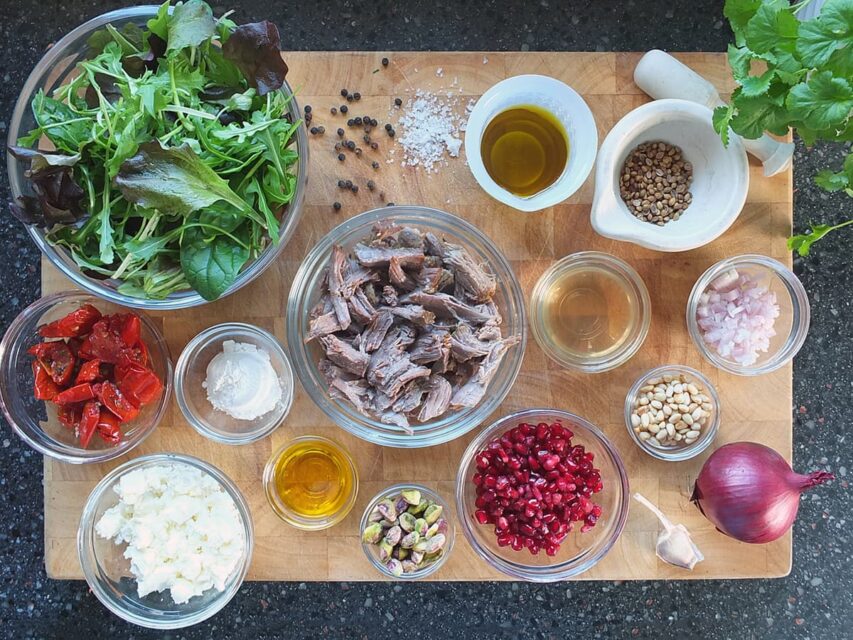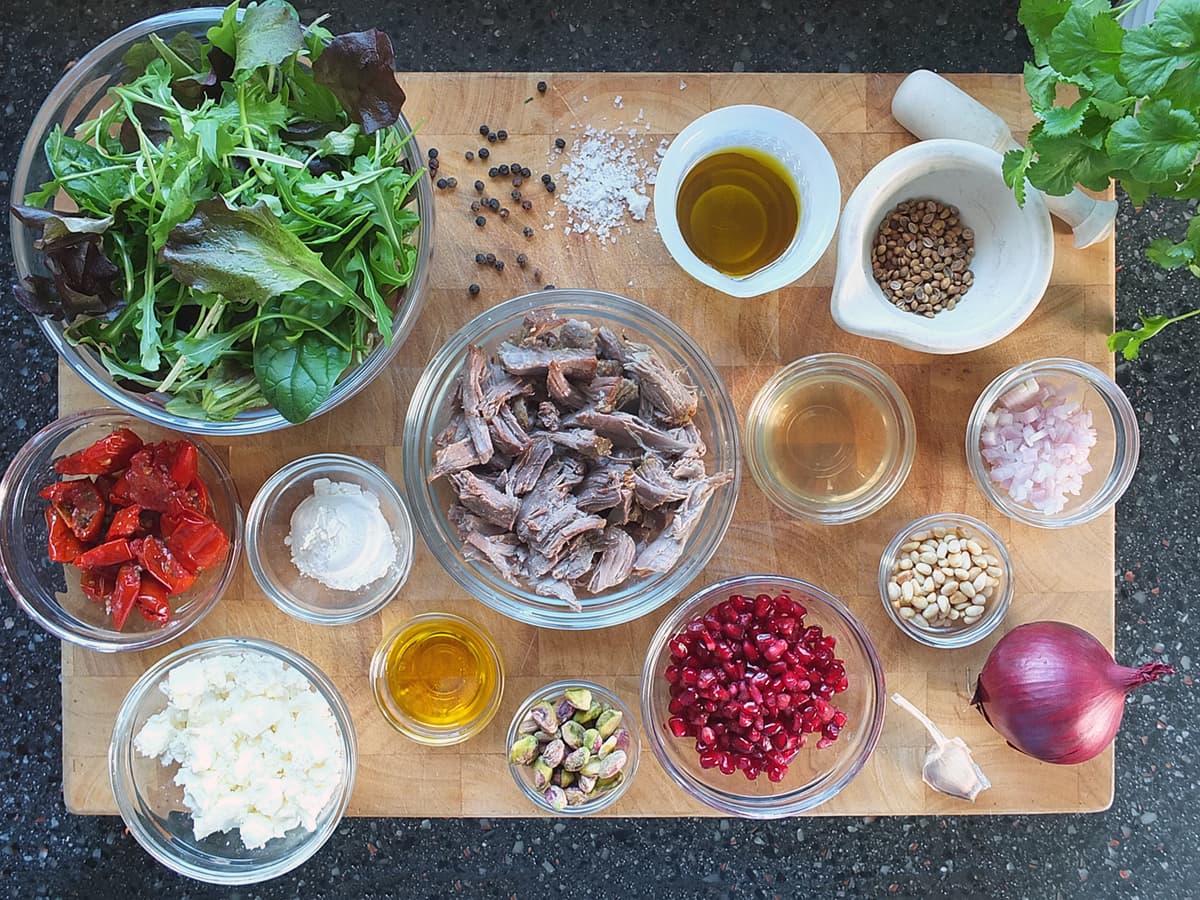 What you'll need…
Leftover roast lamb – use up that cold, leftover Sunday roast, shredding the lamb into bite-sized pieces.
Cornflour – to dredge the lamb before frying. This gives the lamb a nice crispy coating.
Rapeseed oil – to fry the coated lamb until crispy.
Coriander – use both the toasted whole seeds and fresh leaves for the coriander vinaigrette.
White wine vinegar – to give the salad dressing an acidic zing. Substitute with apple cider vinegar or lemon juice if preferred.
Olive oil – forms the base of the vinaigrette in combination with the vinegar.
Garlic – finely minced for a nice garlic kick.
Shallot – finely minced for flavour, use just a little bit.
Salt and pepper – add to the vinaigrette to finish it off.
Baby leaf salad – pick your favourite mild-flavoured salad blend for this recipe.
Sun-dried tomatoes – opt for semi-dried if you can find them.
Red onion – cut thinly into whole rings for presentation and flavour.
Feta cheese – pairs very well with the crispy lamb.
Pistachio nuts – adds a mildly sweet nutty flavour to the salad.
Toasted pinenuts – adds extra flavour and texture to the salad.
Pomegranate arils/seeds – for a little juicy pop of flavour and texture.
Flatbreads – to serve.

How to make this crispy lamb salad in six easy steps
Make the dressing – simply whisk all the ingredients together in a small bowl and set aside.
Dredge the shredded lamb in cornflour – take care each morsel is coated.
Fry the lamb until crispy in a little oil in a saute pan.
Drain the lamb on a piece of kitchen towel.
Add the lamb to the salad, layering salad leaves and sliced red onion beneath.
Assemble the remaining salad ingredients, drizzle with the dressing and serve!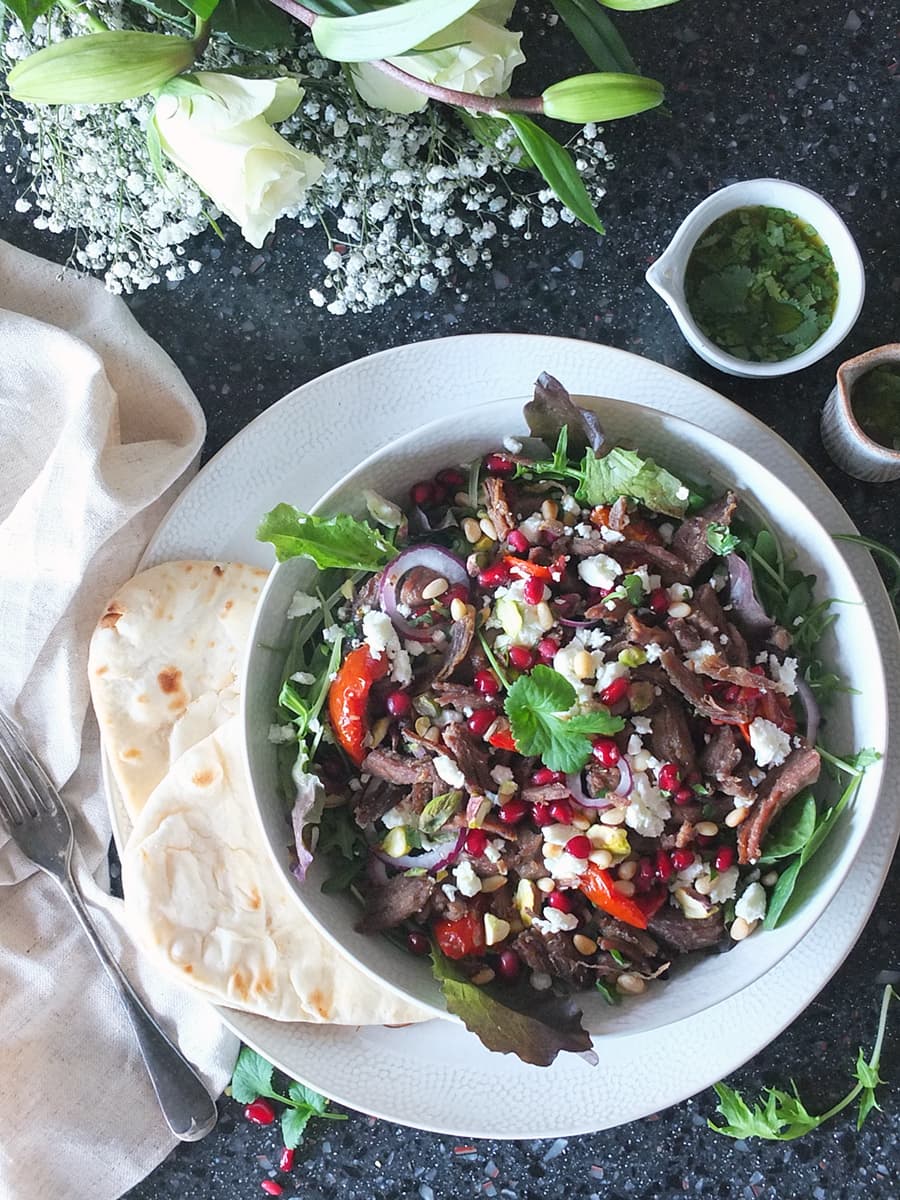 Try Lamb this Mother's Day
This Mother's Day why not treat Mum so something a little bit different. Times are still a bit strange this Mother's Day but if all goes well we should be able to meet up outdoors, weather permitting, for a Mother's Day picnic, at least.
This recipe can be prepped in advance and transported to an outdoor venue, or, if the weather isn't on our side, you could always make it and deliver it as part of a Mother's Day meal.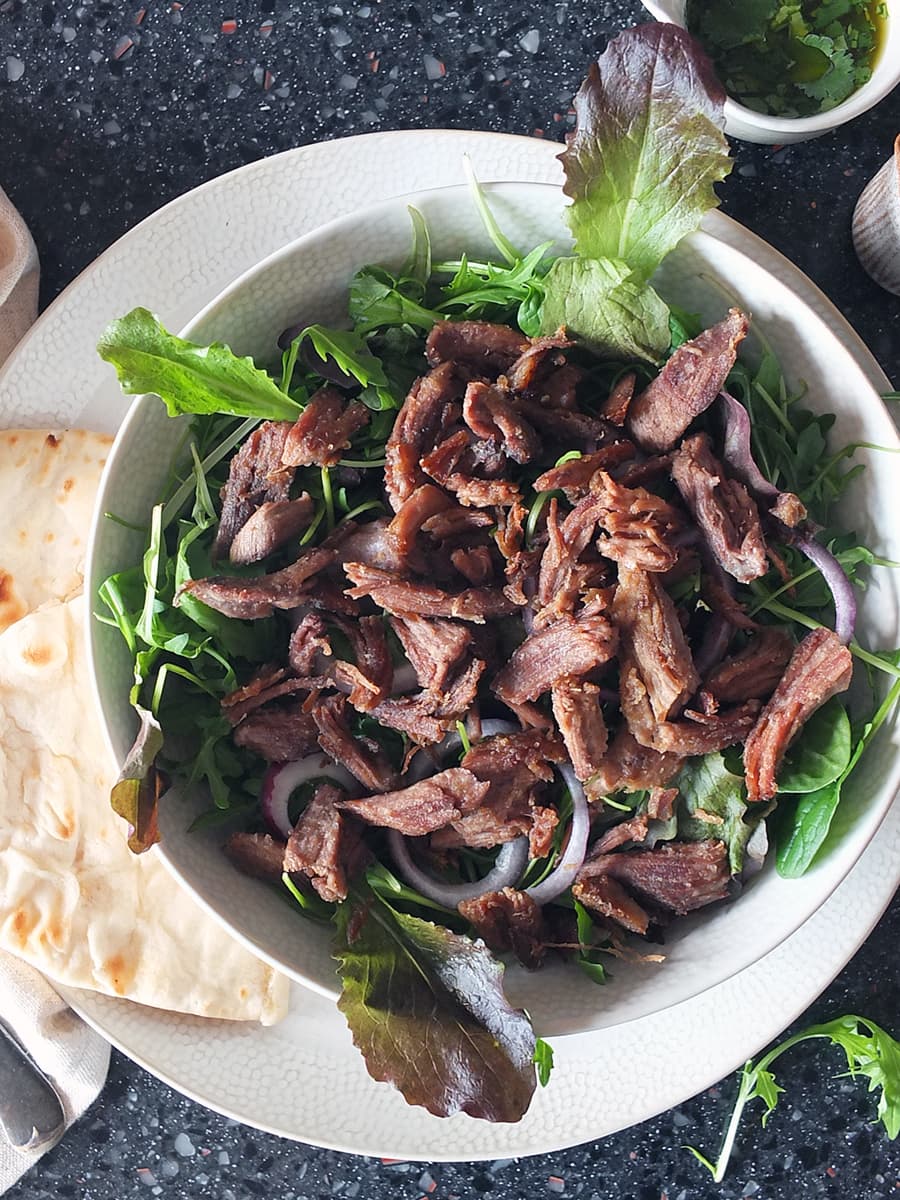 What else can you do with leftover roast lamb?
Everyone loves a Sunday roast, but one of the other reasons I love making roasts so much is for the leftovers. Leftover roast lamb is a very versatile ingredient… here are a few of my tried and tested leftover roast lamb recipes: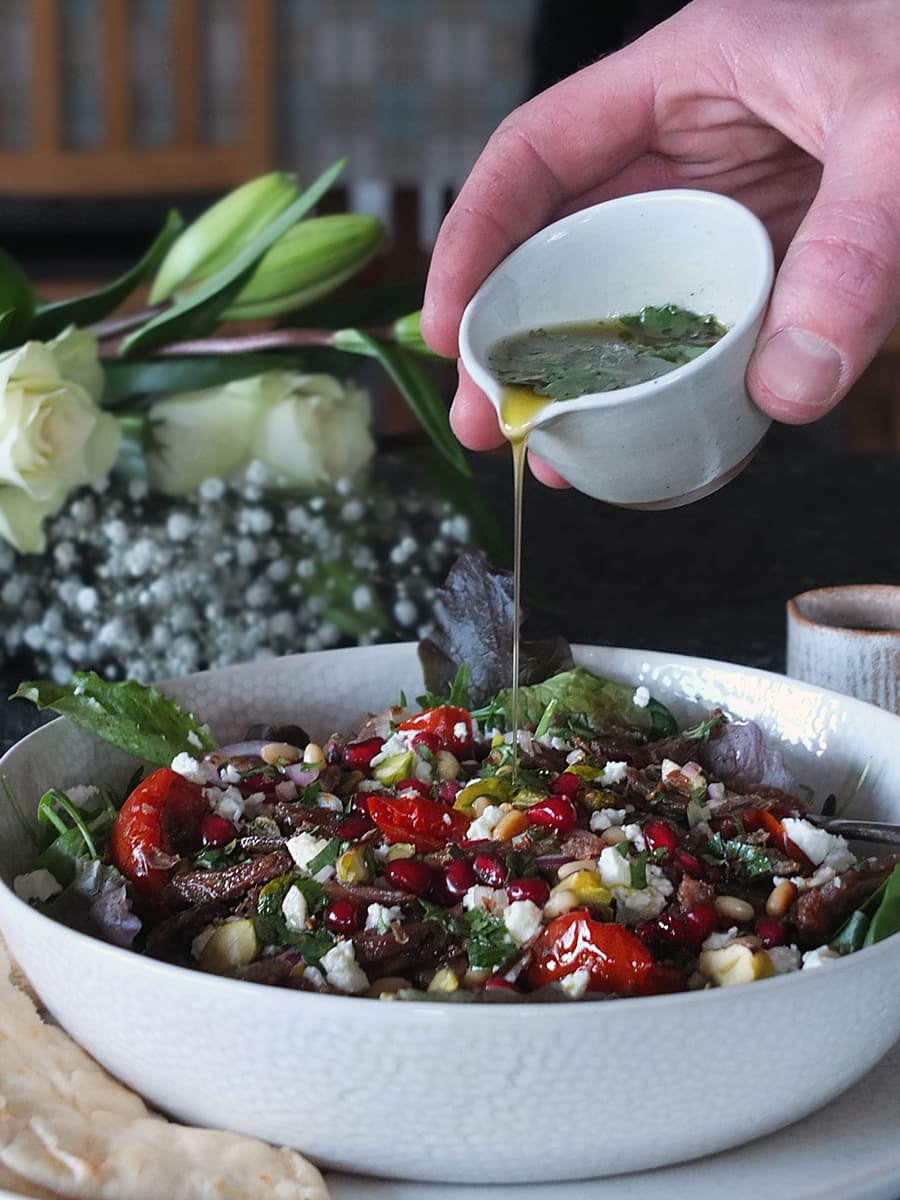 The Try Lamb Love Lamb Campaign
Lamb is an incredibly delicious and versatile ingredient. It's easy to grow, too, thriving in European pastures.
The Try Lamb, Love Lamb Campaign was created to showcase the ease and versatility with which lamb could be incorporated into family meals. I and a team of other foodies have been regularly sharing lamb recipes with our followers, in collaboration with Try Lamb, in hopes that we will help inspire you to give lamb a try this year. Trust me, you'll love it!
You can find out more about lamb by visiting the Try Lamb website.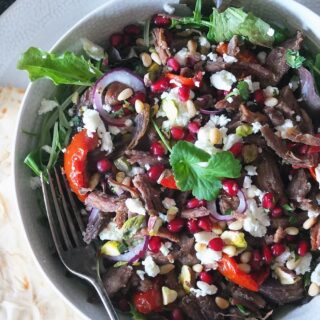 Crispy Lamb Salad with Coriander Vinaigrette
Transform leftover roast lamb into a crispy lamb salad with coriander vinaigrette with this super easy recipe.
Print
Rate
Ingredients
for the coriander vinaigrette
1

tbsp

whole coriander seeds

toasted and coarsely ground

30

ml

white wine vinegar

1

tbsp

shallot

finely chopped

1

garlic clove

finely chopped

1

handful

fresh coriander leaves

coarsely chopped

100

ml

olive oil

Shetland sea salt

to taste

freshly ground black pepper

to taste
for the crispy lamb
200

grams

leftover roast lamb

shredded

1

tbsp

cornflour

1

tbsp

Scottish rapeseed oil
for the salad
90

grams

baby leaf salad

1/4

red onion

sliced

2

tbsp

sundried tomatoes

coarsely chopped

70

grams

feta cheese

crumbled

1

tbsp

pistachio nuts

chopped

1

tbsp

pine nuts

toasted

2

tbsp

pomegranate seeds
Affiliate Links
This recipe card may contain affiliate ingredient and equipment links. As an Amazon Associate I earn from qualifying purchases.
Instructions
To prepare the coriander vinaigrette place all the ingredients into a small bowl and whisk until combined.

Dredge the shredded lamb with the cornflour, making sure each piece of lamb has a light dusting of the flour.

Heat the rapeseed oil in a saute pan and fry the dredged lamb for 6 minutes over a medium-high heat until crispy and golden.

Drain the lamb on some kitchen towel while you prepare the rest of the salad.

Arrange salad leaves and slices of onion in a serving bowl.

Top with the crispy lamb.

Finish with the remaining salad ingredients and serve with coriander vinaigrette.
Nutrition
Calories:
1003
kcal
|
Carbohydrates:
18
g
|
Protein:
25
g
|
Fat:
94
g
|
Saturated Fat:
23
g
|
Trans Fat:
1
g
|
Cholesterol:
104
mg
|
Sodium:
480
mg
|
Potassium:
687
mg
|
Fiber:
3
g
|
Sugar:
7
g
|
Vitamin A:
855
IU
|
Vitamin C:
17
mg
|
Calcium:
234
mg
|
Iron:
4
mg
Environmental Information
Pin this recipe for later
Other lamb recipes you might like
A simple yet delicious slow-cooked lamb shanks recipe with vegetables and gravy. Serve with creamy mashed potatoes.
In this epic Feast for Kings, we host a Game of Thrones-inspired banquet with a show-stopping triple crown roast of lamb and all the trimmings. 
This lamb bourguignon is a stove-top, slow-cooked lamb stew with tender pieces of succulent lamb braised in red wine and cognac. It is flavoured with carrots, onions, mushrooms, bacon and a Bouquet Garni.
This is a sponsored recipe post written in collaboration with Try Lamb, although, as always, all thoughts and opinions expressed are our own. Thank you for supporting the brands that make it possible for me to do what I love: mess up my kitchen and share recipe stories.