A lamb rack recipe in collaboration with Tasty, Easy Lamb.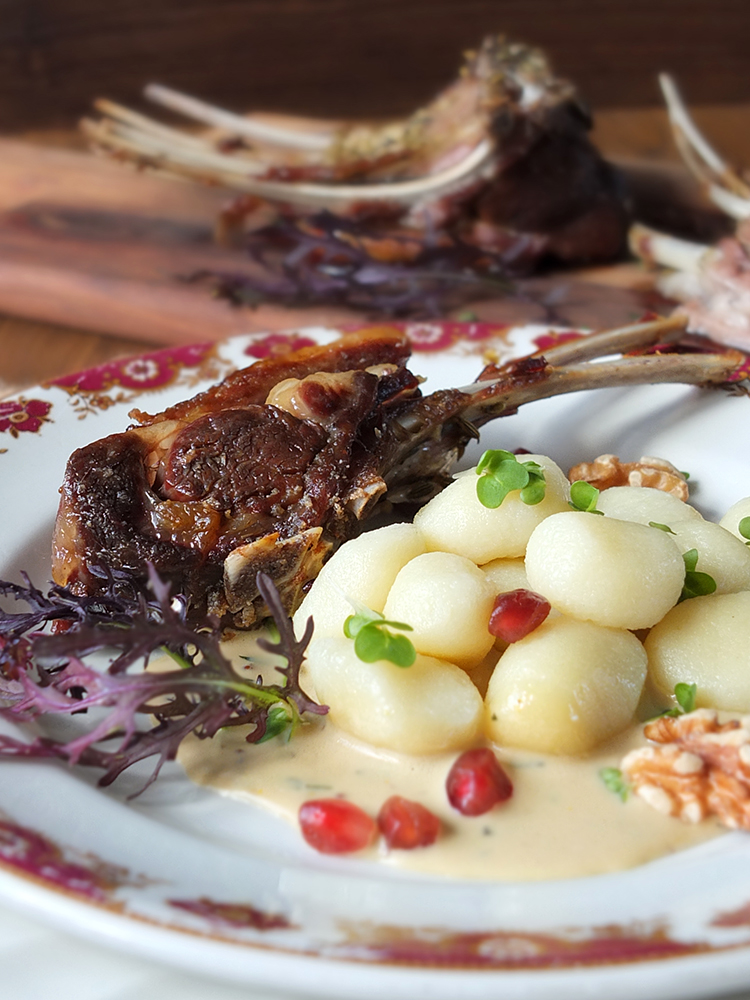 Regular readers will know that I have been doing quite a bit of travelling over these last few months. I've been wined and dined in Aberdeen, Scotland, explored some of the finest bistros Paris has to offer, spent a fantastic few days trekking and dining in Lake Garda, Italy, and, more recently, we've just come back from a rather fantastic holiday to Costa Brava, Spain.
So much good food! It's nice to be back in my kitchen though, experimenting with recipes. This particular recipe was created inspired by a meal I ate for lunch one day at a little Italian cafe nestled down a narrow lane.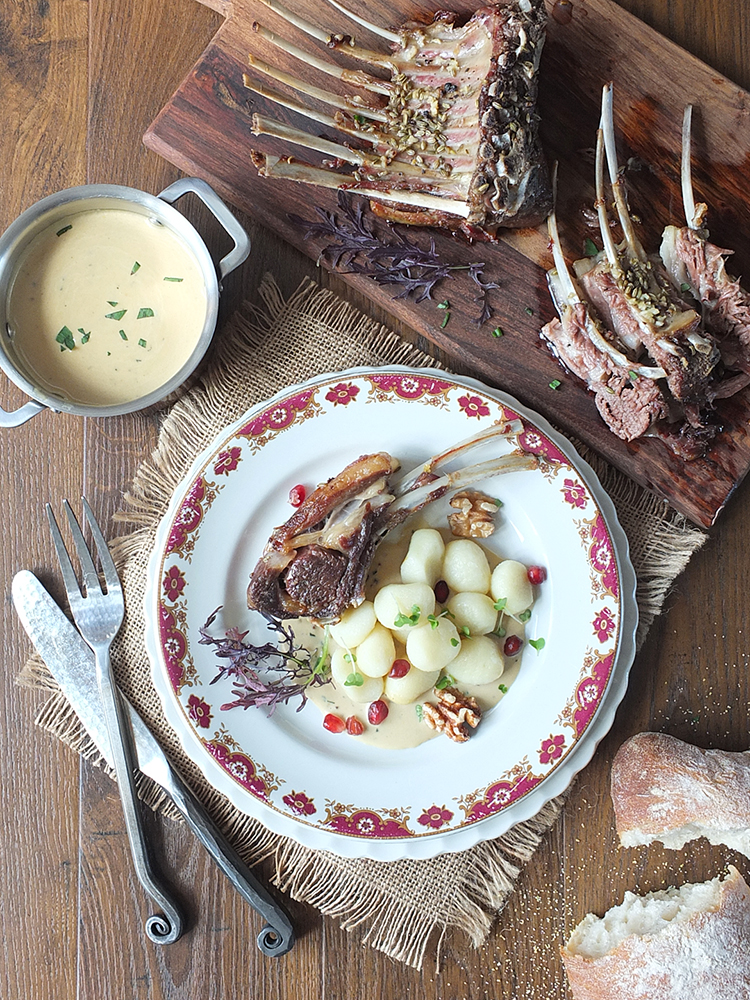 The original dish I ate was a slow roasted rack of lamb chops served with a mustard cream sauce on a giant cheese stuffed gnocchi. I have no idea how they made this giant gnocchi, and the cheese that was in it was made in small batches by a local elderly Italian farmer and it didn't even have a name. To simplify, I've used ready made gnocchi you can get in the supermarket – ready in just a few minutes.
For this recipe, I've used French-style lamb loin racks prepared by my local butcher. French rack of lambs tend to be on the pricey side though, so if you're looking for something a bit more budget (and time) friendly use lamb chops or lamb cutlets instead and cook quickly in a skillet instead of slow roasting.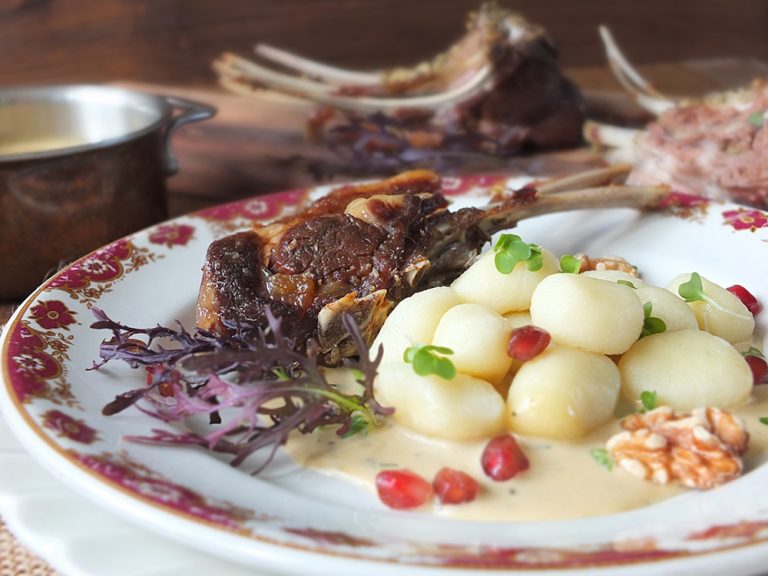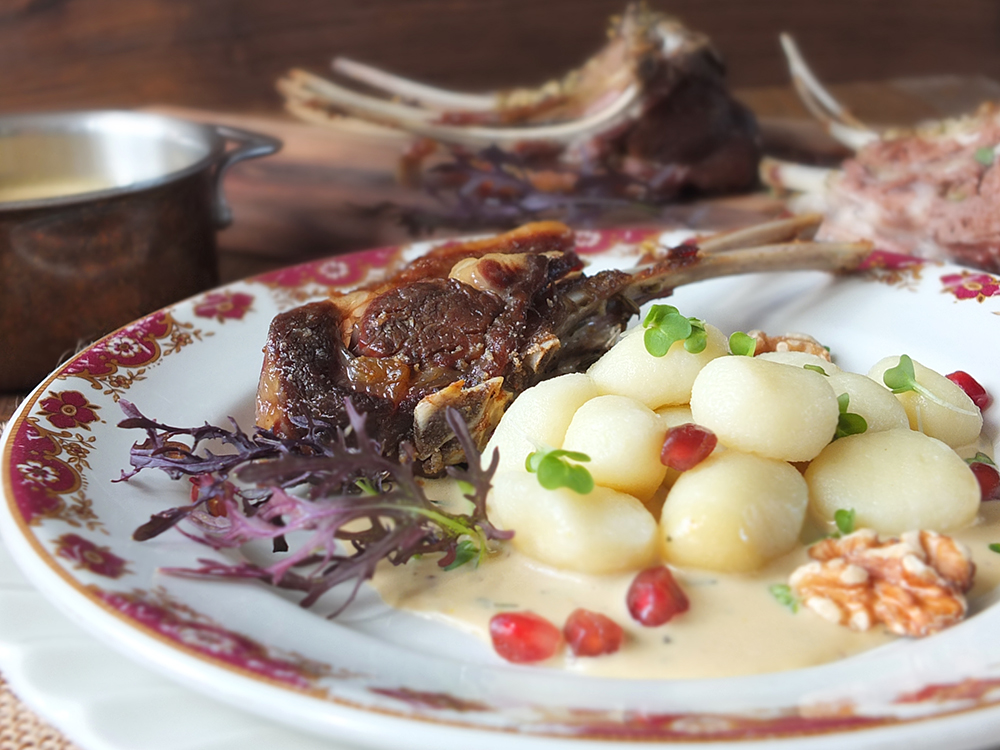 I like my lamb slow roasted over hours. It results in a tender, mouth watering, fall off the bone meat, but for those of you who prefer a more medium-rare lamb simply roast your racks of lamb at a higher temperature for just 20-25 minutes, covering with foil after 15 minutes so it doesn't brown too much. I'd invest in a digital meat thermometer too, to take the guesswork out of cooking meat, and you'll know when it's at the ideal temperature.
This creamy mustard tarragon sauce, I tell you, is something else too. Absolutely delicious! You don't need a lot of it as it's quite rich, but it really does transform this meal into something dinner-party worthy. Simply deglaze the pan with a bit of cognac, stir in some whole grain mustard, double cream and a sprinkling of freshly snipped tarragon leaves. Gorgeous!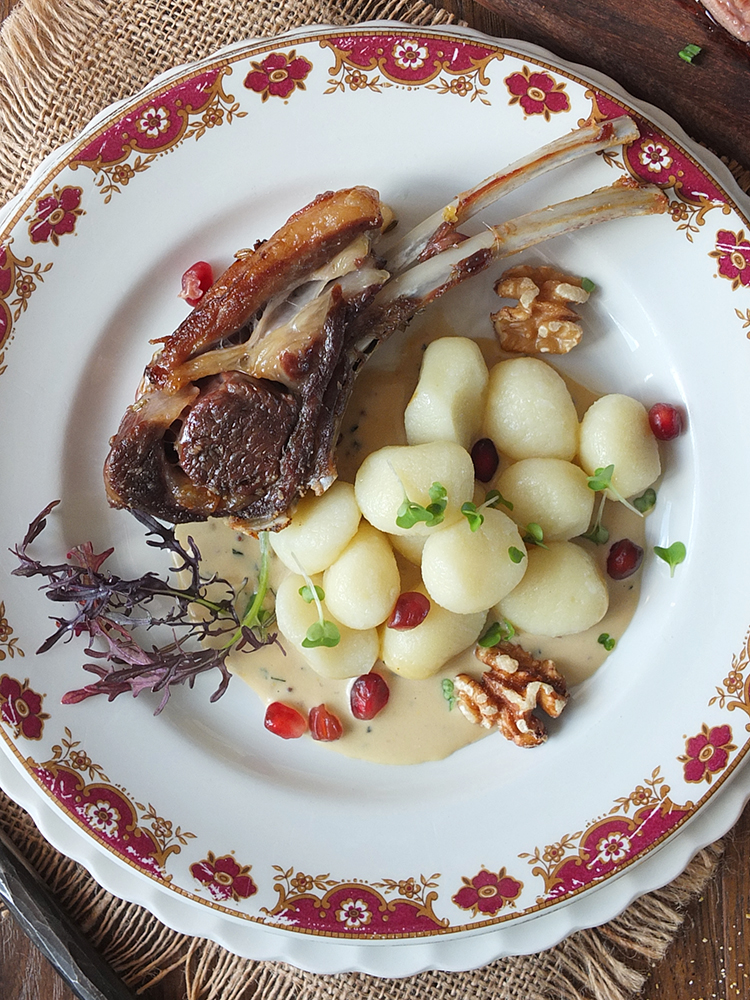 The garnishes, as simple as they are, really work well with this dish too. Just a few walnut halves, arranged sitting in the sauce, a little sprinkling of pomegranate seeds for that sweet and sharp bite and a few cress leaves. My original meal had a little sprig of lamb's lettuce as a garnish, which I couldn't source here in Shetland, so I used some pretty purple lettuce from my veg box to decorate.
All in all a rather fantastic (mother-in-law approved!) recipe. For more lamb recipe inspiration visit the Tasty Easy Lamb website, and follow them on Facebook, Twitter or Instagram.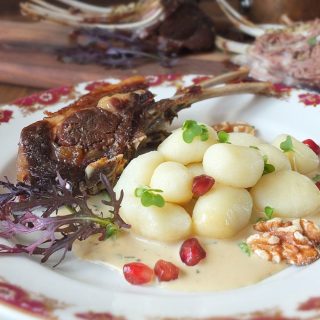 Slow Roasted Rack of Lamb with a Creamy Mustard Tarragon Sauce
This effortless meal is simple enough to prepare but would work well for dinner party entertaining.
Print
Rate
Ingredients
for the slow roasted lamb
for the creamy mustard sauce
to serve
500

grams

ready made gnocchi

cooked according to packet instructions

pomegranate seeds

to garnish

cress leaves

to garnish

8

walnut halves

to garnish

4

sprigs

green salad leaves

to garnish
Affiliate Links
This recipe card may contain affiliate ingredient and equipment links. As an Amazon Associate I earn from qualifying purchases.
Instructions
Preheat oven to 120 °C/ 250 °F/ Gas Mark 1.

Heat a large skillet pan for a few minutes so it gets very hot. Add the sunflower oil and sear the lamb racks on both sides but not the ends, until they are browned.

Place the lamb in a roasting tin and drizzle with the olive oil. Sprinkle with the fennel seeds and the garlic. Pour the water around the meat and cover the roasting tin tightly with aluminium foil.

Slow roast in the centre of the oven for 2-3 hours, depending on the size and thickness of your lamb racks.

Transfer the lamb to a serving platter and let stand, covered, for 10 minutes. Deglaze the roasting tin with the cognac, scraping up any delicious bits stuck to the bottom.

Add the wholegrain mustard and remove the pan from the heat. Stir in the double cream and gently reheat until warmed through. Stir through the tarragon and season well to taste.

To serve, spoon a small circle of mustard sauce in the centre of a plate. Top with the freshly cooked gnocchi and arrange a few sliced lamb chops on the side. Garnish with pomegranate seeds, walnut halves, cress leaves and a small piece of salad.
Notes
For a quick and easy version, simply fry 8-12 lamb chops in the sunflower oil in a skillet. Deglaze with the cognac and add 50 ml lamb stock before adding the rest of the sauce ingredients.
Alternatively, roast the lamb at 350 °F/180 °C/ Gas Mark 4 for 20 - 25 minutes instead for medium-rare doneness. You might need to cover with foil after 15 minutes to stop browning. Use a meat thermometer to check that the temperature is correct: 145 °F/ 62 °C (medium rare), 160 °F/ 71 °C (medium), or 170 °F/ 77 °C (well done).
OTHER LAMB RECIPES YOU MIGHT LIKE
Rack of Lamb in a Parsley Crust
Rack of Lamb with Anchovies and Garlic
Spicy Lamb Pizza with Feta, Rocket & a Yogurt Drizzle
BBQ Lamb Leg Steaks in a Herb Marinade
Leftover Roast Lamb & Mint Sausage Rolls
Quick & Easy BBQ Lamb Skewers
BBQ Lamb Leg Steaks with Harissa & Mint
15-Minute One-Pan Lamb & Quinoa Midweek Supper
Street Food: Brazilian-Style Lamb Kibe
Chilean-inspired Lamb Burgers with Pebre & Marraqueta Buns
Brazilian-inspired Lamb Feijoada with Mango Salsa
Slow Cooker Lamb Chilli with Pasilla Peppers
Argentine-inspired Lamb Chops with Chimichurri
Lamb Casserole with Ale
Mediterranean-inspired BBQ Koftas, Couscous Salad & Baharat Yogurt Dip
Slow-cooked Shetland Lamb Casserole with Creamy Herbed Polenta
Pastitsio – Greek Macaroni Pie
SHOP THIS POST
SuperFast Thermapen 4 Digital Thermometer
Ready Made Potato Gnocchi
Courvoisier VSOP Fine Cognac Brandy
[color-box]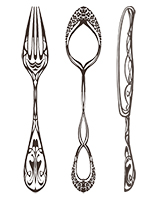 Have you made this recipe?
Take a photo and tag @tangoraindrop or use the hashtag #elizabethskitchendiary and share on Instagram and Twitter. It would make my day to see your creations!
[/color-box]
This is a commissioned recipe for Tasty, Easy Lamb. Thank you for supporting the brands who make it possible for me to do what I love: mess up my kitchen and share recipe stories.