and a Sunday walk around the southern tip of West Burra, Shetland.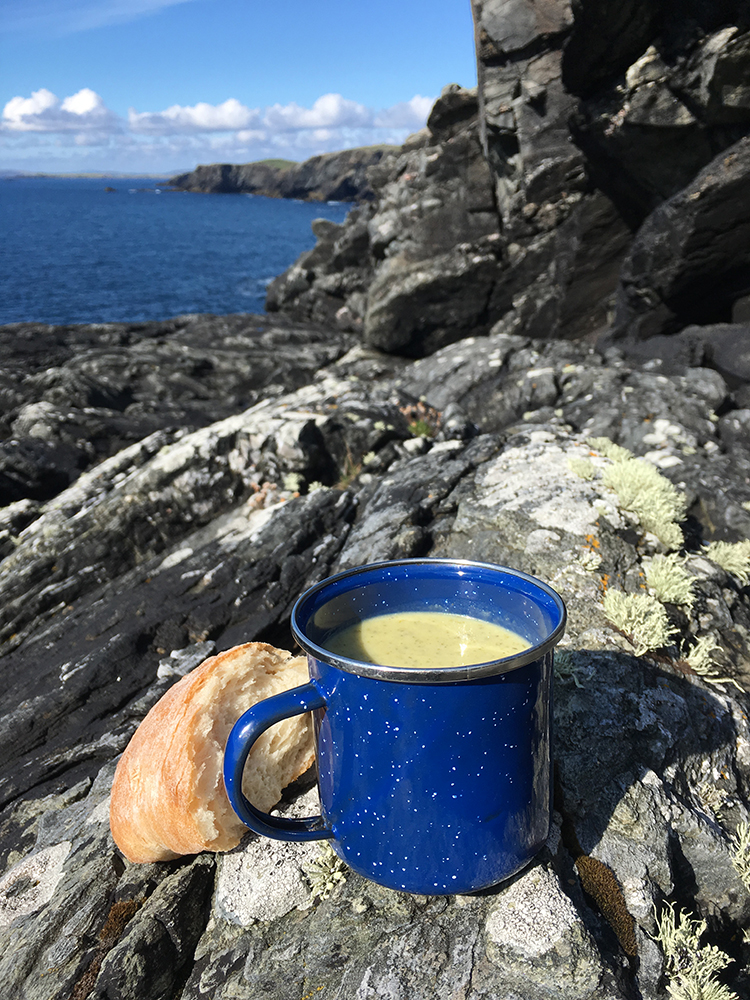 What a beautiful summer we've been having! This summer has honestly been one of the best summer's weather-wise, we've had in a very long time. The BBC news reported recently that it's been sunnier up here in Shetland than it has in Cornwall, which isn't a very common occurrence!
We've been taking advantage of this fine weather with as many outings as we can go on during the school holidays, and last weekend we packed a picnic lunch and headed to West Burra, on the south west side of Shetland, for a spot of adventuring.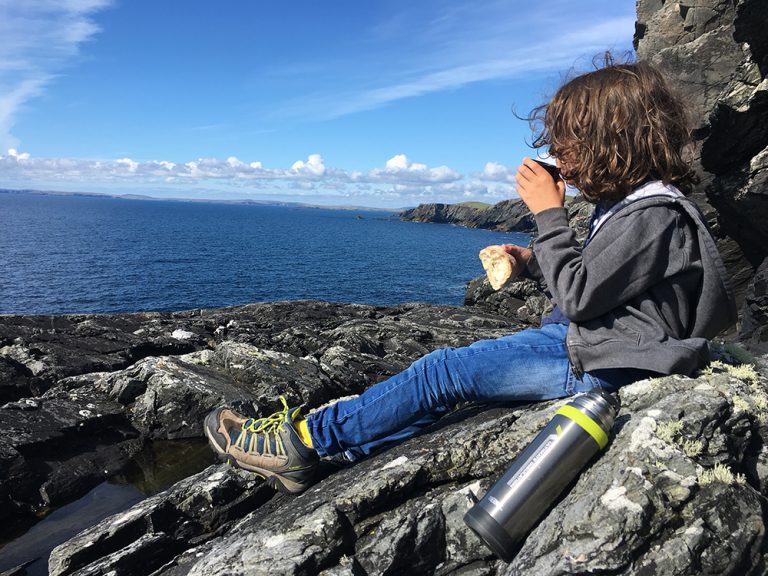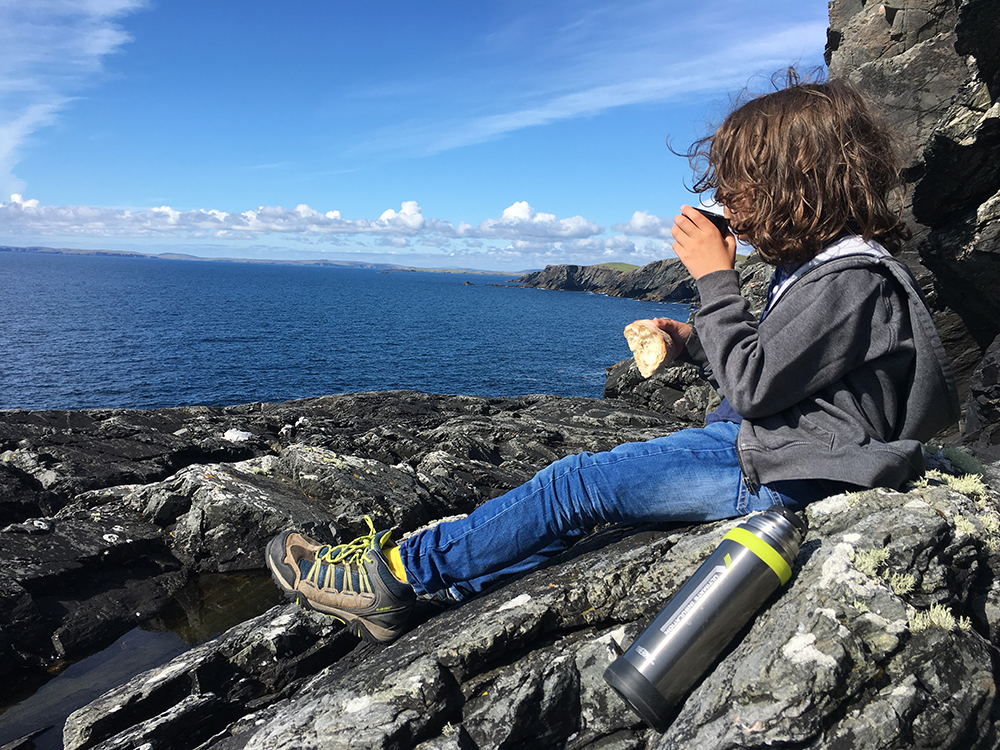 I took my family to a place where I went rock climbing once, 18 years ago, long before I had children. I can hardly believe I'd only been to this area once before. To get to it, cross over Banaminn Beach, Shetland's Carribean style sandy beach and climb up over the hill. There are two places you can get down/up fairly easily with a bit of a scramble. Perfect for family micro-adventures.
I remembered basking on the black rocks in the sunlight, the first time I visited this place, and much to my delight the weather was absolutely perfect on Sunday for my family to recreate that experience.
It's also peak veg box season just now. Our weekly veg box comes bursting with all sorts of gorgeous fresh produce, including courgettes. It can often be difficult to come up with ideas to use up all of these courgettes (they're not my family's favourite veg, I have to say!) but let me tell you, this Italian-style courgette and basil soup? This will solve any courgette glut problems you might have!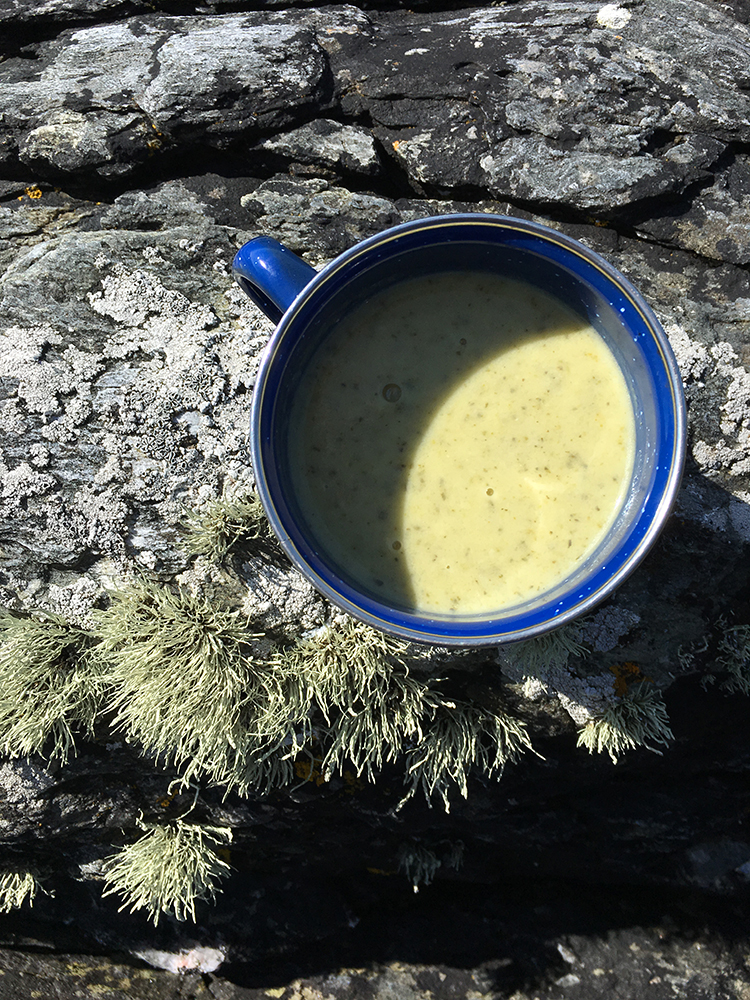 The original recipe is one I found on the BBC Good Food website which I slightly adapted to use ingredients I had on hand – namely double cream (and twice the quantity) replacing their single cream and swapping their Parmesan for Grana Padano cheese (which my husband prefers as it's less smelly!).
I was surprised to see that the original recipe had no onion in it, but I thought I'd give it a try to see and I was really impressed how deliciously flavoursome it was. I think an onion would detract away from the subtle flavour of the courgettes and basil.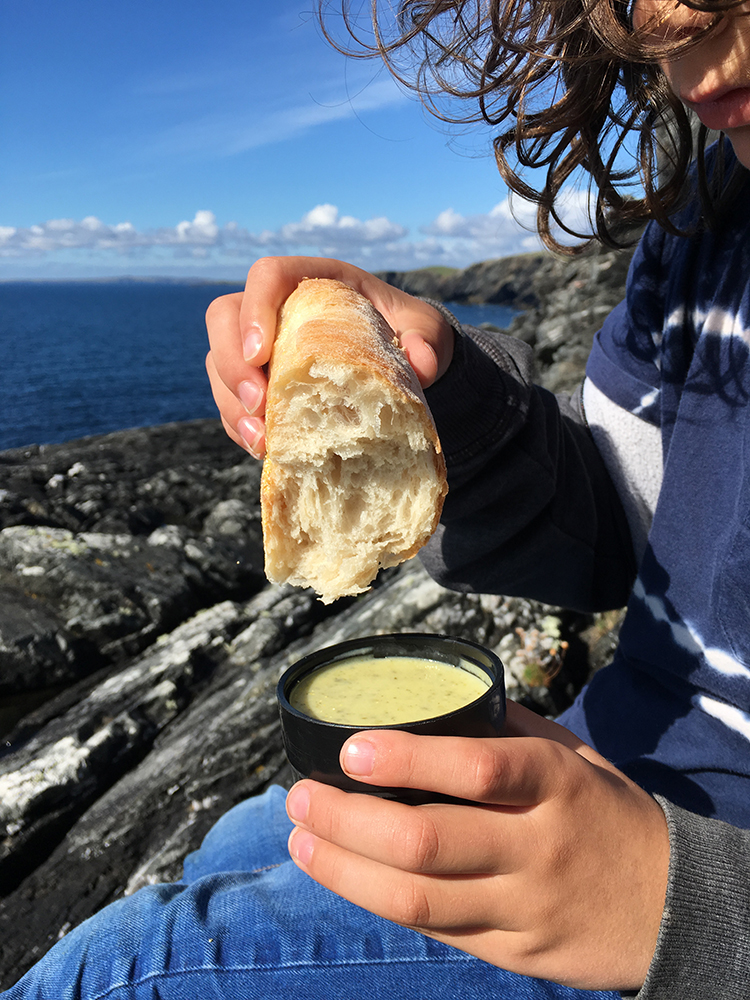 I also pureed the whole lot instead of leaving some pieces of the vegetable whole, as the original recipe calls for. This was because I was pouring it into a flask and not taking any cutlery on our walk. There's something satisfying about drinking soup out of a tin mug with a piece of crusty bread to dip, don't you think? Above, our youngest son models said ingredients (his idea to poise the bread above so it looked like he was about to dip it.)
All in all, it's a rather fantastic recipe and it will become my go-to courgette recipe for when those things reproduce exponentially in my vegetable crisper!
I've been experimenting with making a chocolate chunk courgette banana loaf, adapting our favourite banana loaf recipe to include grated courgette. I'm still tweaking the quantities to get the right consistency. The kids are devouring the experimental loaves though, with much delight! The perfect fuel for outdoor summer adventures.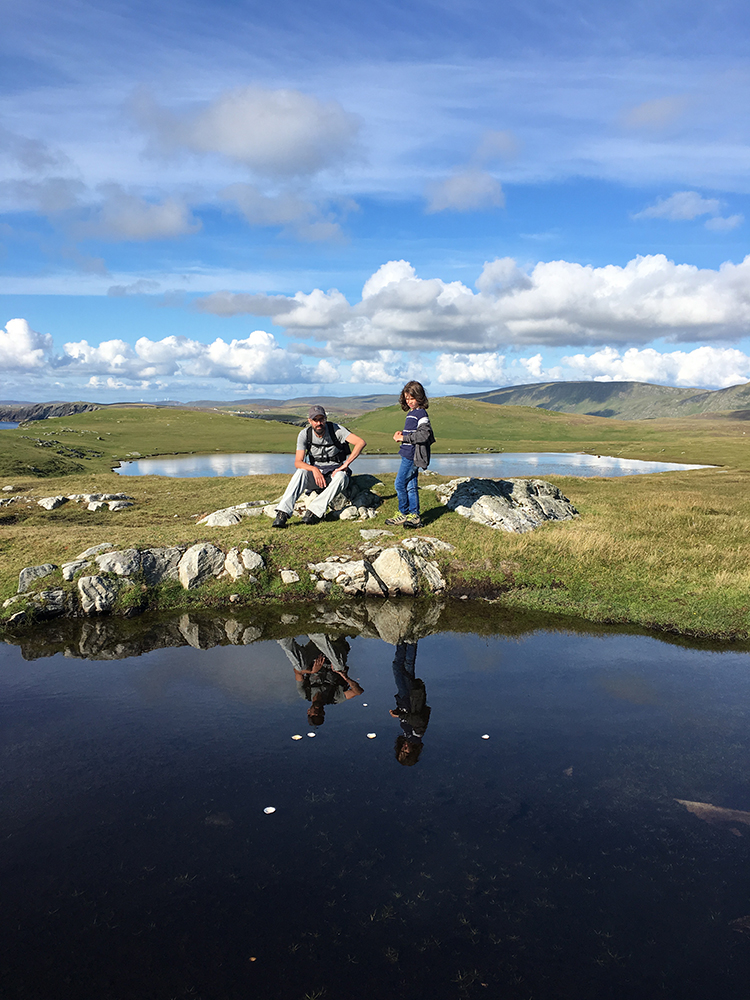 The above photo is one of my favourite images taken during our hike. My husband and youngest son deployed a fleet of limpet shell boats on one side of a small pond, watching as the light breeze sailed them across. They didn't make it, of course, and any limpet shell boats that didn't sink on their own accord were sunk with pebble cannon balls thrown from shore.
What's your favourite way to use up courgettes? Let me know in the comments!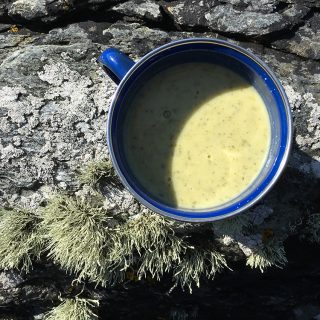 Italian-Style Courgette & Basil Soup
A simple soup yet flavoursome soup. Great for using up a seasonal glut of courgettes!
Print
Rate
Affiliate Links
This recipe card may contain affiliate ingredient and equipment links. As an Amazon Associate I earn from qualifying purchases.
Instructions
Heat oil in a large soup pan over a medium heat.

Gently saute the courgettes, garlic and basil for 10 minutes until the vegetables begin to soften.

Add the chicken stock and simmer with the lid off for 10 minutes.

Remove from the heat, puree with a blender or hand blender. Add the cream and cheese and stir until the cheese has melted.

Serve with extra Grana Padano cheese and fresh basil.
Notes
Recipe adapted from the Italian-style courgette and Parmesan soup from the BBC Good Food website.
Environmental Information
OTHER COURGETTE RECIPES YOU MIGHT LIKE
Courgette & Almond Polenta Cake
Roasted Courgette Salad with Lemon, Chilli, Basil & Crispy Shallots
Zesty Courgette & Leek Soup
Caramelized Courgette Soup
Creamy Courgette Puff Pastry Tart
Courgette & Hummus Pizza
Roasted Courgette, Tomato, Feta & Basil Tart
Turkish Zucchini Fritters
Courgette Quinoa Waffles
Grilled Courgette Salad with Feta & Pomegranate
Creamy Curried Courgette Noodles
Courgette Ribbon Salad
Baby Courgette Kimichi Recipe
Sausage Ragu Stuffed Courgettes
Quick Courgette Blue Cheese Soup
15-Minute Creamy Spinach Courgetti with Salmon
Courgette & Basil Soup with Foccacia Toast
Courgette & Poppyseed Muffins
Broad Bean & Courgette Soup with Gouda
Chocolate Courgette Loaf
Courgette Spaghetti Alfredo
Spiced Tomato & Courgette Chutney
Broad Bean & Courgette Salad
Courgetti Bolognese