In collaboration with Tasty Easy Lamb.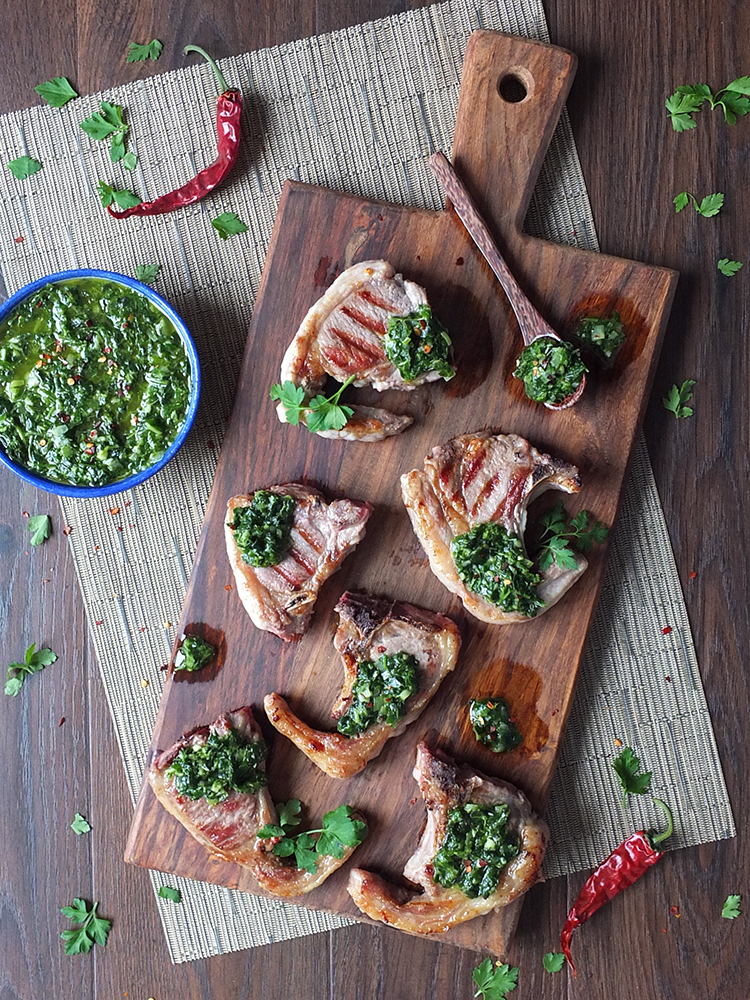 Bring a taste of the Argentine summer to your table with these South American inspired grilled lamb chops with chimichurri sauce.
I don't know about you, but this winter seems to be dragging on forever. I can't remember the last time I saw the sun for any length of time, although we have been fortunate to have not experienced too many gales so far. It just feels so very dark and overcast!* (Edit – just after I wrote this post we had two glorious days of sun!)
Saying that, it's noticeably not pitch black at four pm any more, and daylight is now appearing as the children head off to school. They days most definitely are getting longer, and I'm dreaming of summer and al fresco dining.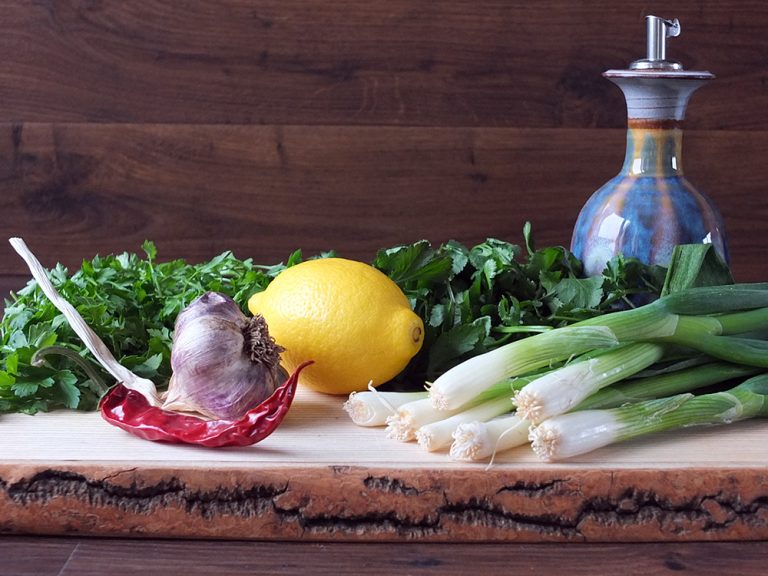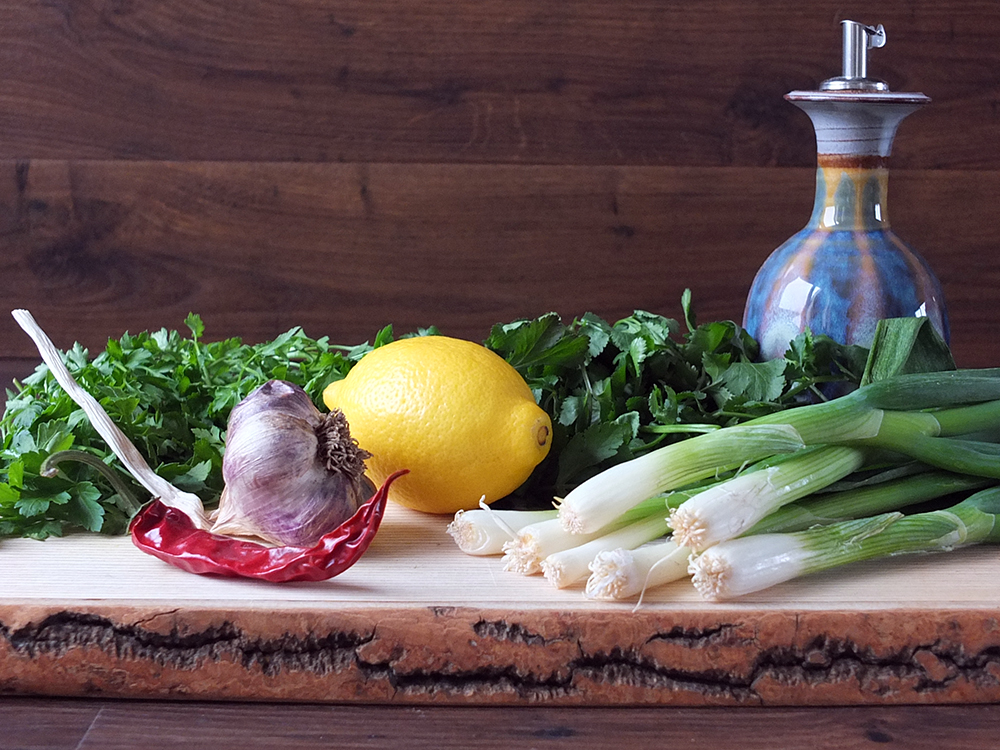 Chimichurri sauce is a staple accompaniment to grilled meats served in Argentina where they have no shortage of bright, warm sunny summer days to dine outdoors. Traditionally it is made with chopped parsley, minced garlic, oregano, olive oil, red pepper flakes and vinegar, but for my Argentine inspired version I've used fresh coriander and lemon juice, plus the whites of a few spring onions. Many recipes call for the addition of shallots or onions but I wanted a milder flavour.
It's really simple to make too. You can either finely chop everything by hand and mix it together in a bowl, or pop it into a small food processor as pictured below. Take care not to process it too much though as you don't want a puree, you just want a coarse, but uniform, consistency.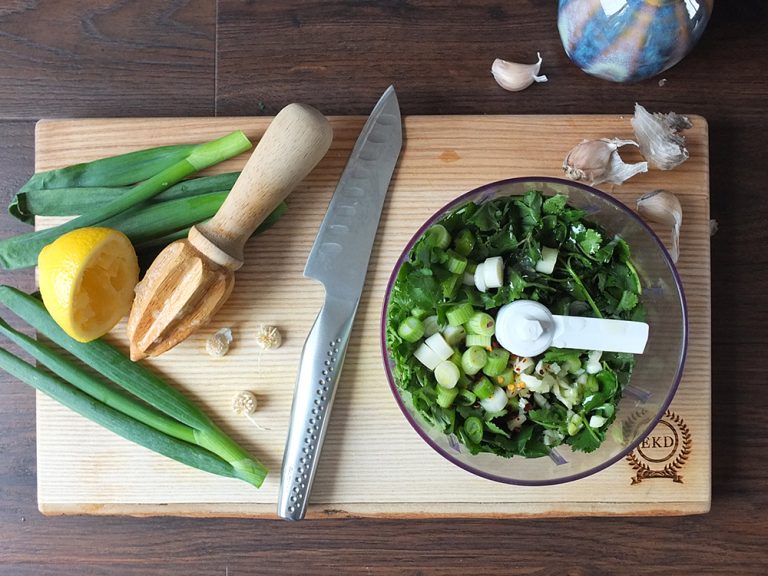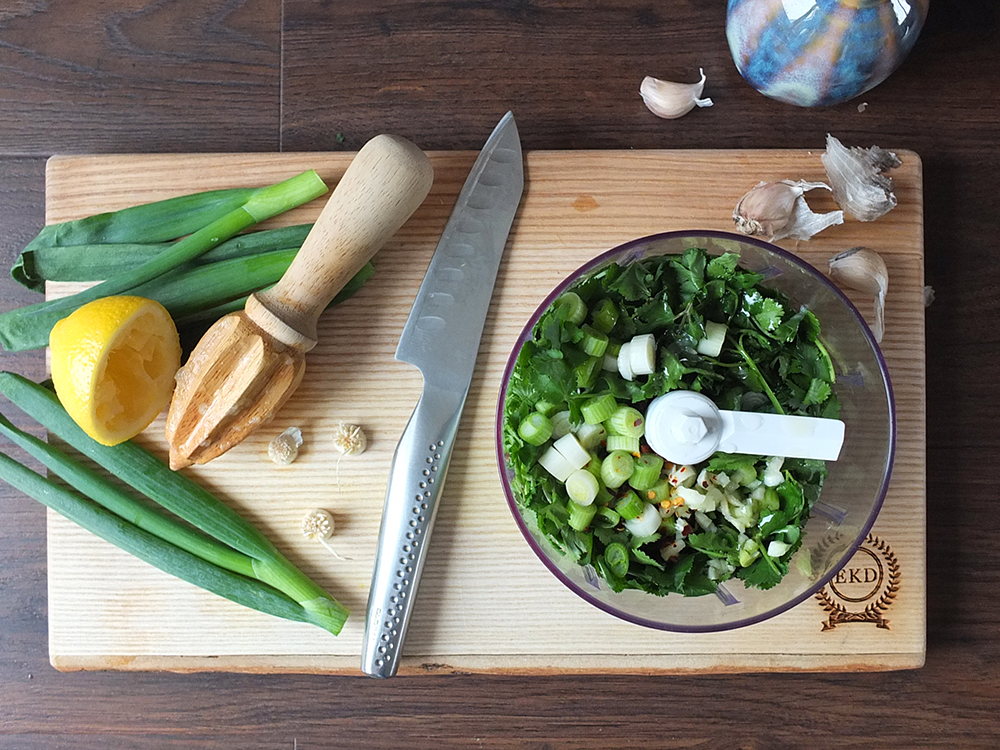 The resulting vibrant green sauce tastes like summer on a plate, a welcome flavour sensation on these dark winter days that remind you of brighter summer memories.
Leave your chimichurri sauce to develop in flavour, preferably overnight in the fridge if you remember in advance, but a half an hour will do. Serve with grilled meats, such as grilled (or oven roasted) lamb chops.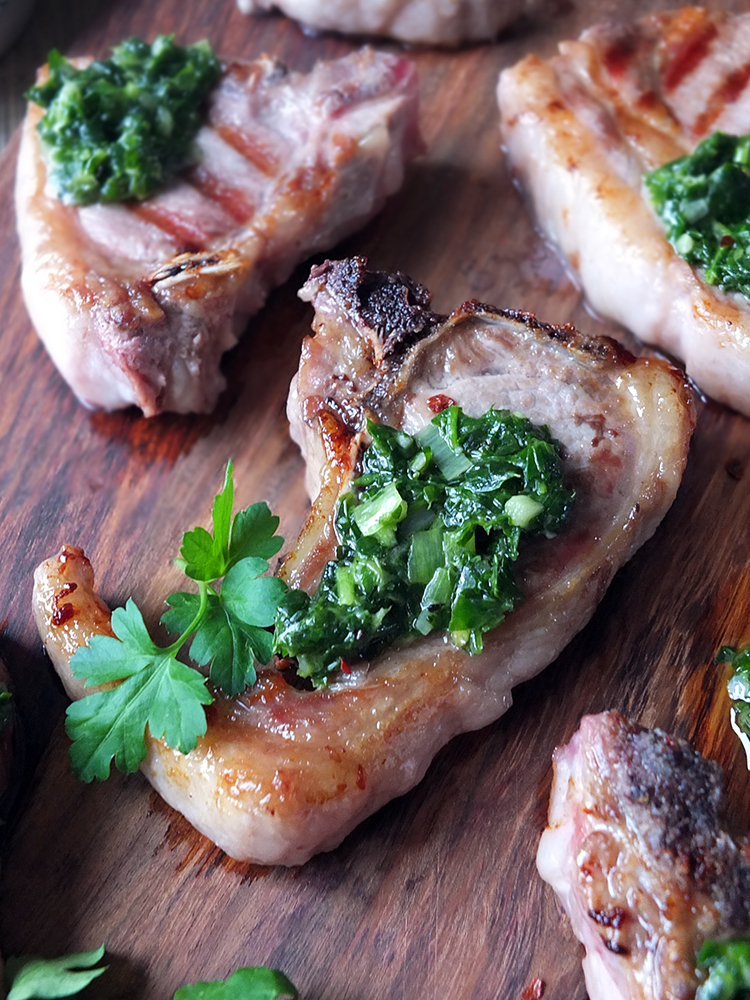 Lamb is such a versatile and easy to prepare meat. We often think of lamb as a Sunday roast only sort of ingredient, but it really can make for a quick and easy midweek meal like this recipe. Loin chops, pictured, take only a few minutes to cook on either side if grilling, or you can just pop them in the oven to roast.
For a really simple meal (and I make this frequently) just arrange your loin chops in a single layer in a roasting tin, surround in peeled and roughly chopped carrots, sweet potato, beetroot, onions and a few whole garlic bulbs cut in half (leave the paper on). Drizzle with oil, season with salt and pepper and roast for 45 minutes; a quick and easy one pan meal that the whole family will eat!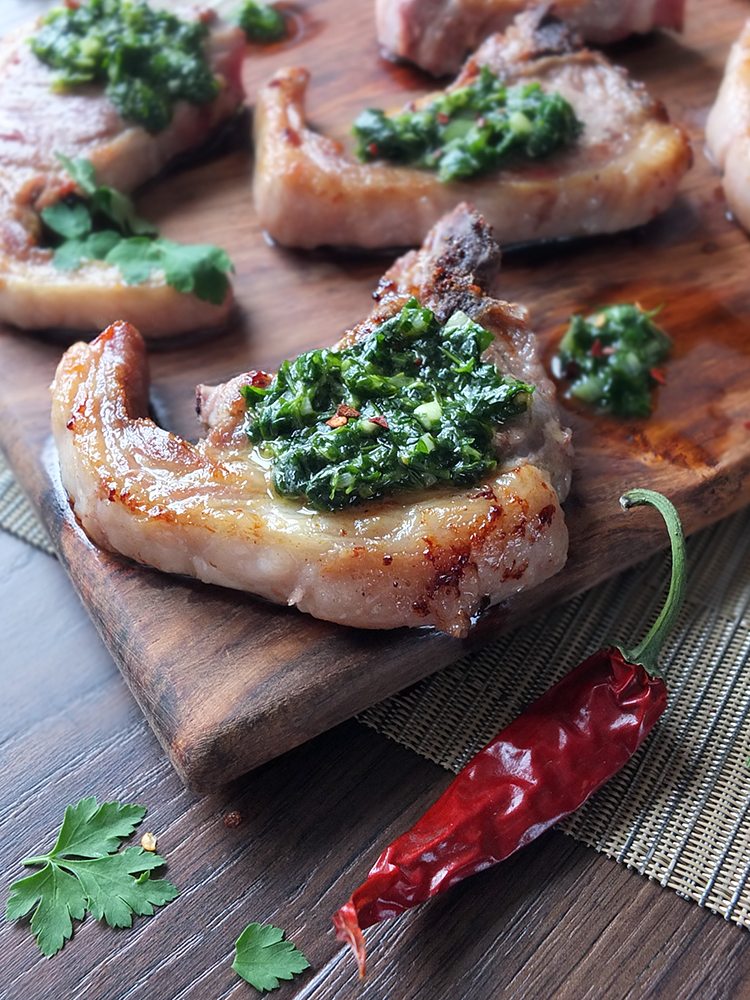 Lamb loin chops work perfectly well for this dish, but if you wanted to jazz things up a bit and impress some dinner guests you could always ask your local butcher to trim some lamb cutlets. For a more sophisticated meal serve these chops with the chimichurri sauce and a quinoa salad. For a simple midweek dinner serve with chunky oven chips and a side salad.
For more lamb recipe inspiration visit the Tasty Easy Lamb website, and follow them on Facebook, Twitter and Instagram.
What's your favourite way to serve lamb chops? Let me know in the comments!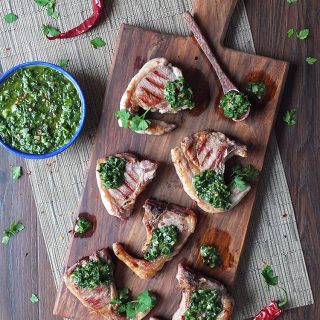 Argentine Inspired Lamb Chops with Chimichurri
Bring a taste of the Argentinian summer to your table with these grilled lamb chops and vibrant chimichurri sauce.
Print
Rate
Affiliate Links
This recipe card may contain affiliate ingredient and equipment links. As an Amazon Associate I earn from qualifying purchases.
Instructions
To prepare the chimichurri, place the fresh herbs, garlic, spring onions, chilli flakes, half the olive oil and the lemon juice into a small food processor and pulse until it reaches a coarse, but finely chopped, consistency. You don't want this to be a puree. Alternatively, finely chop everything by and and place into a small bowl.

Add the remaining olive oil, season to taste with salt and pepper and set aside for at least half an hour for the flavours to develop.

Meanwhile, heat a grill pan over a medium-high heat (if cooking indoors). Ideally this would be prepared outdoors over an open grill.

Brush your lamb chops with a little olive oil and sear on each side for four minutes. Transfer to a serving platter and leave to stand for two minutes before serving with the chimichurri.

Alternatively, preheat your oven to 180C/ 350 F/ gas mark 4, lightly brush the chops with a little olive oil and roast for 20 minutes until they are cooked through. Thicker chops will need longer in the oven. For medium- rare the temperature should read 63°C (145°F); for medium 71°C (160°F) and for well done 77°C (170°F).

Serve with chunky oven chips and a salad for a complete meal.
Notes
• Replace 1/4 of the coriander leaves with fresh oregano, if you can get a hold of it.
• Leftover chimichurri will keep for up to a week in the refrigerator. Bring to room temperature again before serving with grilled meats.
Environmental Information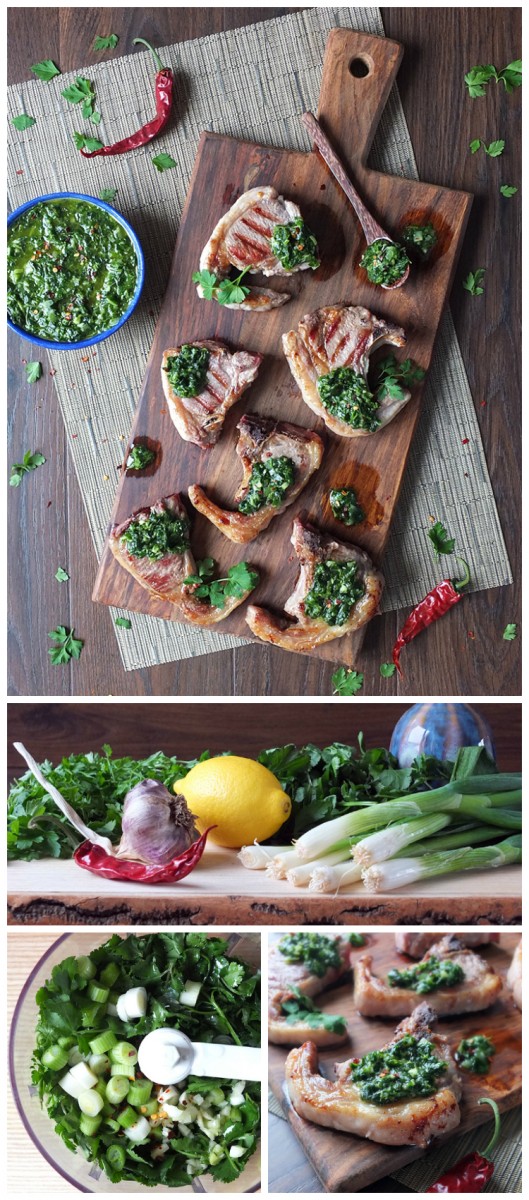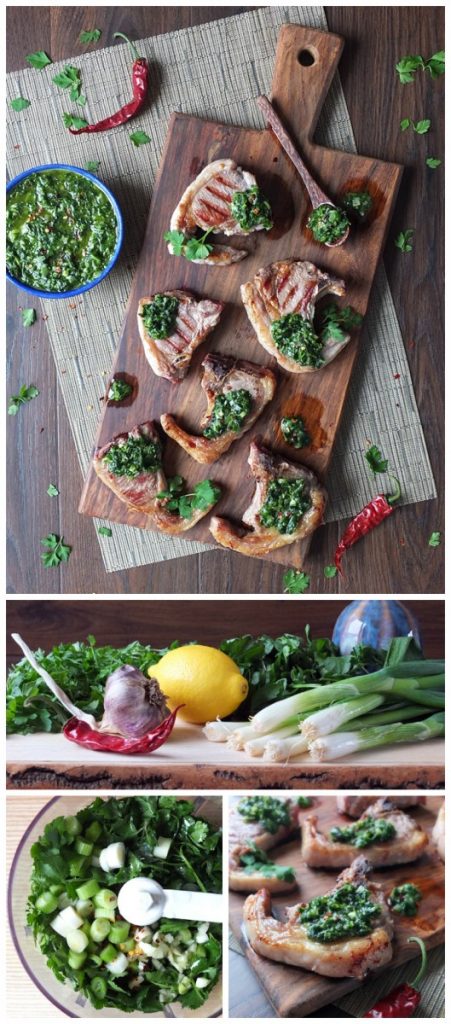 YOU MIGHT ALSO LIKE
Lamb Curry with Spinach
Lamb Casserole with Ale
Pistachio & Orange Crusted Lamb Mini Roast
Mamta Gupta's Meatball Curry
Mediterranean-inspired BBQ Lamb Koftas, Couscous Salad and Baharat Dip
Lamb Steaks with Shallots and Red Wine
Slow Cooked Shetland Lamb Casserole with Creamy Herbed Polenta
Pastitsio – Greek Macaroni Pie
Roast Lamb with Milk & Sage
Moroccan-inspired Slow Cooked Lamb
Sticky Lamb Ribs
SHOP THIS POST
Zyliss Easy Pull Manual Food Processor
Personalised Initial Monogrammed Chopping Board
Global Ni 11 cm Santoku Knife
Wooden Serving Board from Aurora Lerwick
Kitchen Craft Woven Vinyl Placemat
Wooden Lemon Juice Extractor
Rupert Blamire Olive Oil Decanter
Coco Wood Serving Spoon
This is a commissioned recipe for Tasty Easy Lamb. Thank you for supporting the brands who make it possible for me to do what I love: mess up my kitchen and share recipe stories.