A review & giveaway worth £113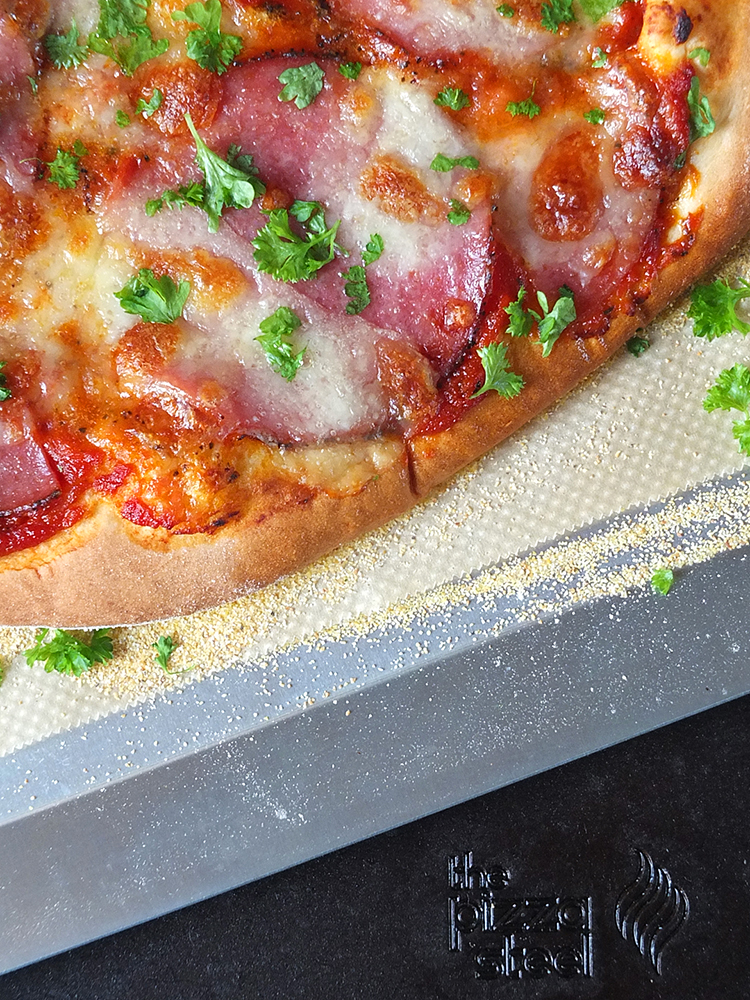 I am so silly excited to tell you all about this fantastic new product I've been sent to play with! We at Elizabeth's Kitchen Diary are quite fond of home made pizzas, crusty bread, rolls and baked goods and this new product has become a game changer when it comes to creating the perfect rise and crust.
Introducing… the pizza steel!
The family owned 'Bagestålet Aps' was founded in 2015 in Denmark by 'hyggelig' family Brian & Tina and their two daughters Isabella and Sophie. After a road trip through the UK in 2016 they established a UK base, The Pizza Steel Company Ltd, offering UK consumers the same product and service that has become so popular in Denmark.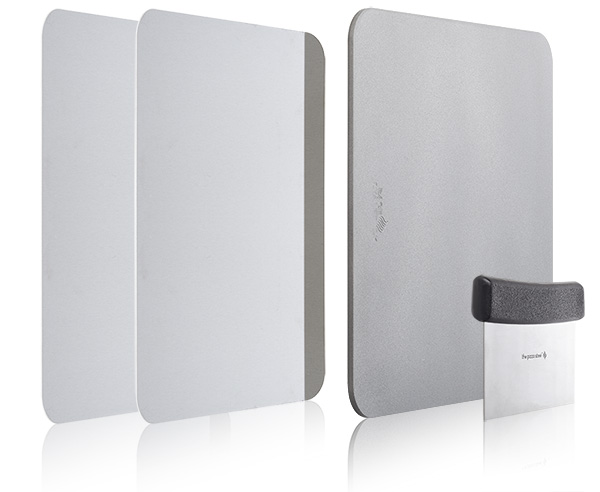 THE PIZZA STEEL
The pizza steel itself is a 6mm thick, 6.5 kg slab of carbon steel that stores and leads heat energy 20 times better than stone. Unlike traditional pizza stones which have a tendency to break, the pizza steel is virtually indestructible (it comes with a ten year guarantee), and because it holds heat so well you can bake and bake and bake until your heart is content.
It takes only 45 minutes to heat up, so just enough time to whip up a batch of homemade pizza dough (ok, it is if you're like me and use the 45 minute pizza dough setting on your bread machine!). The pizza steel does need to be seasoned before using for the first 3 or 4 times with a thin layer of olive oil. This transforms the steel into the gorgeous rich, dark black colour pictured.
It is available in two sizes: 30×40 cm and 35×40 cm and retails for £58.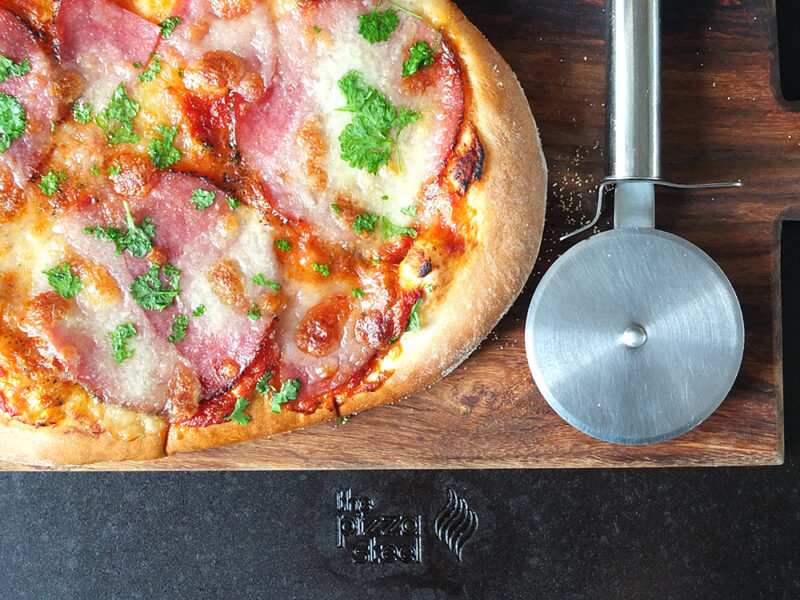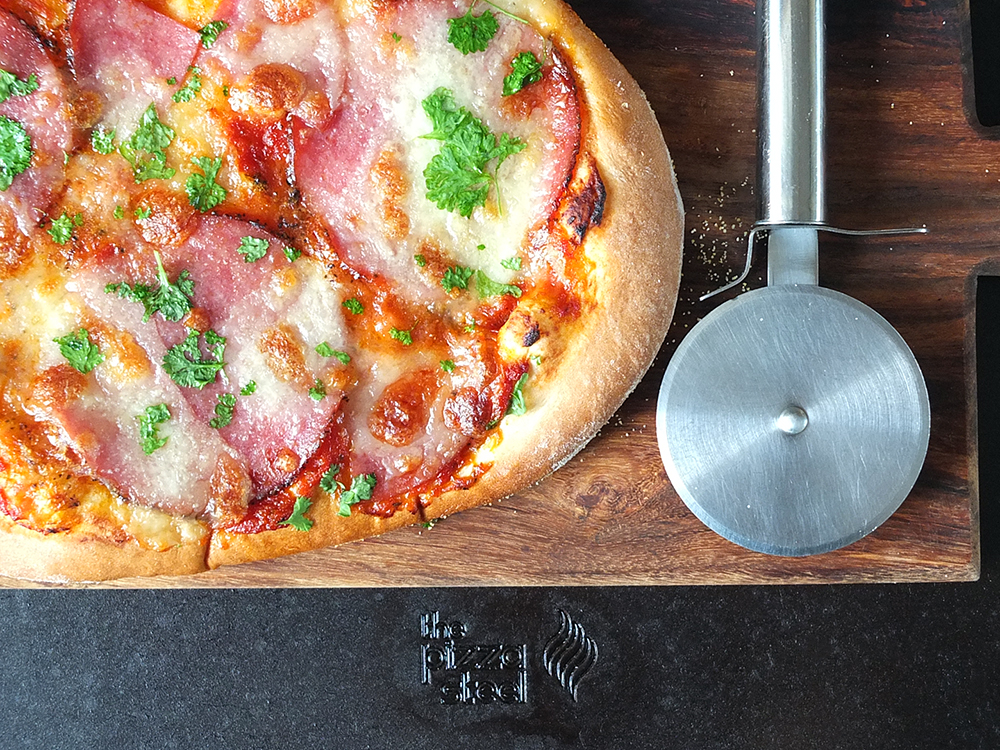 THE COMBI PEEL
To accompany the pizza steel, the combi peel is a 1 mm thick hardened aluminium designed to match the steel perfectly. It's the ideal surface for the final proving of dough. Simply cut a piece of baking paper the size of the peel and allow your dough to prove on it, and use the peel to slide the baking paper with the risen dough directly onto the pizza steel. It also acts as a pizza peel/bread paddle, meaning you can easily slide your prepared pizza onto the steel for baking. It's also available in two sizes to match the pizza steel and it retails for £19.
THE DOUGH CUTTER
The team behind the pizza steel recommend increasing the water content in your usual dough recipe to get the most out of your pizza steel. Most yeasted dough recipes have a ratio of 8:10 of water: flour, but they recommend working with a very wet dough – a 1:1 ratio, and so they have created the dough cutter to help you work with this wet dough.
Made from stainless steel, this dough cutter will help you cut out bread, buns and baguettes before baking them. It retails for £17.
THE PIZZA STEEL COMBO
These products are all designed to be used together. To purchase them each separately would cost £113, but for a limited time you can buy them all together for only £67.80 plus £4.50 shipping. And (this pleases me to no end!) they even ship to the remote highlands and islands!
Brian and his family don't believe that where we live should be the deciding factor in whether we make great pizzas or not. Other companies, take note! Fellow remote location dwellers will know the frustration felt after finding an item you want online only to find, after you've got to checkout, that they don't deliver to your area.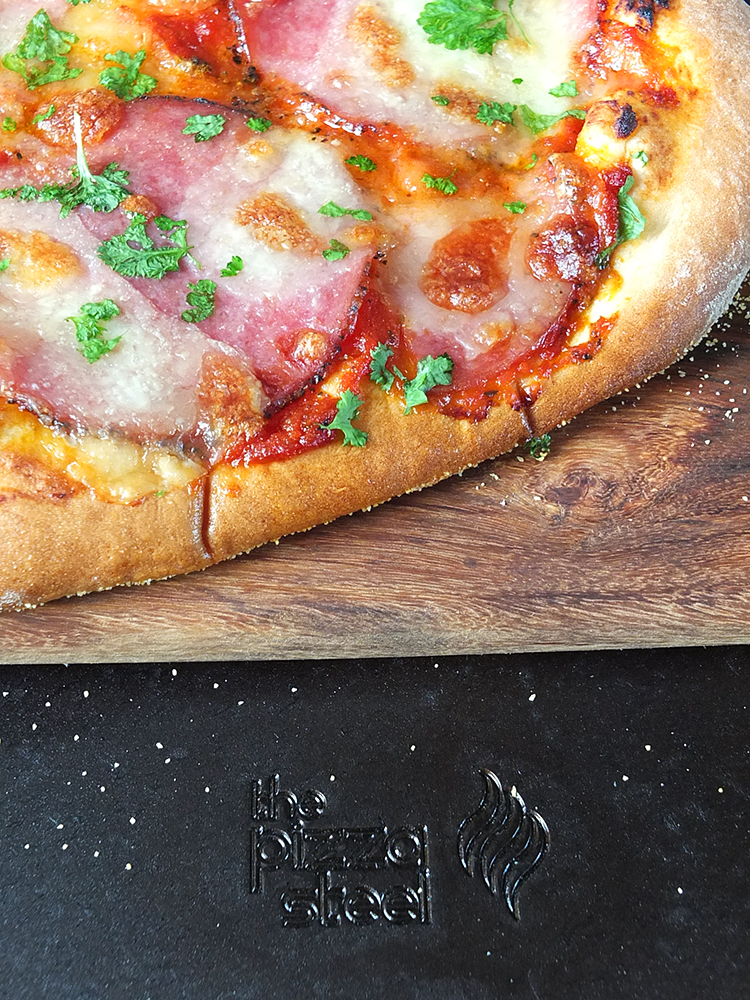 SO WHAT DO WE THINK?
We've only been working with this pizza steel for a week now, but in that time I've tried it out with two separate batches of home made pizza and we are seriously impressed with the difference. The pizza rises quicker and bakes evenly on the bottom creating the perfect crust.
As we're a family of five it usually means that I have to bake two separate pizzas one after the other (I find my fan oven doesn't cope well with two pizzas at once), and this pizza steel retains the heat so well that they can be baked one after the other, not a problem, and it's shaved three minutes off the cooking time. My pizzas used to take 13 minutes, and now they only need 10.
You can cook the pizzas directly on the peel itself, but for best results you slide the dough and the baking paper directly onto the preheated pizza steel in the oven.
Watch Brian's video below to see the pizza steel in action – it really does transform your baking!
French baguettes on the Pizza Steel
The pizza steel is only available online in the UK from pizzasteel.uk or in the EU from pizzasteel.com.
Enter the unique discount code ELIZABETHSKITCHENDIARY upon checkout for an exclusive 10% discount!
Follow Pizza Steel on Instagram and Facebook for recipe inspiration!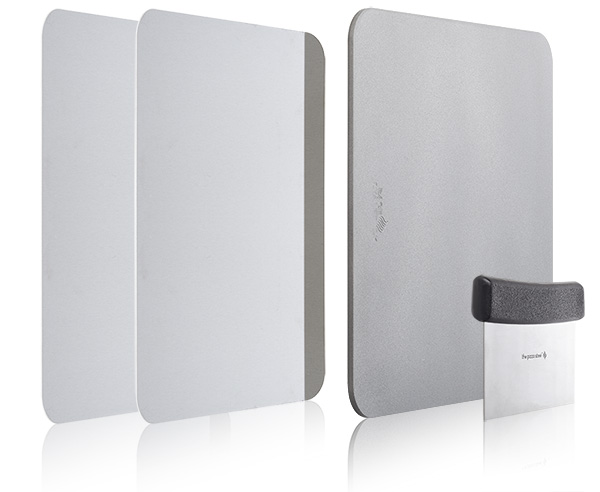 GIVEAWAY
Brian and his family have very kindly offered a pizza steel combo worth £113 to one of my lucky UK readers! To enter, simply fill in the Rafflecopter form below!
HOW TO ENTER
For your chance to win a £113 Pizza Steel Combo consisting of 1 x pizza steel, 2 x combi peels and 1 x dough cutter worth £113 enter using the Rafflecopter form below. Come back and tweet about the giveaway every day for more chances to win!
TERMS & CONDITIONS
This giveaway is open to UK entries only. Entrants must be age 18 or over. The winner will need to respond within 30 days of being contacted; failure to do this may result in another winner being selected.
The prize is offered and provided by The Pizza Steel Company Ltd. The prize is to win a £113 Pizza Steel Combo. There is no cash alternative and the prize is not transferable.
There is no entry fee and no purchase is necessary to enter this giveaway.
The promoter (Elizabeth's Kitchen Diary) reserves the right to cancel or amend the giveaway and these terms and conditions without notice.
Entry into our giveaways will be deemed as acceptance of these terms and conditions.
If you need some help using Rafflecopter, here's a quick clip to show you how. Rafflecopter will pick the winner at random from all the entries received. I will be verifying entries. Any automated entries or those who have claimed they have made the mandatory blog post comment and really haven't will be disqualified. It's mandatory! Please make sure your comment is eight words or longer or Google views it as spam and this negatively affects my spam score. All entries with comments fewer than the mandatory 8 words will be disqualified and deleted.
Closing date is midnight (that's 00:00 hours, 12 am on Sunday night/Monday morning) on Monday 13 February 2017 (GMT). The winner will be announced shortly afterwards.
HOMEMADE PIZZA RECIPES YOU MIGHT LIKE
Spicy Lamb Keema Pizza by Supergolden Bakes
Wild Scottish Venison Pizza with Wild Garlic Pesto by Elizabeth's Kitchen Diary
Spicy Butternut Squash Pizza with Crispy Kale by Amuse Your Bouche
Beet Pizza with Beet Leaf Pesto by Veggie Desserts
Low Carb Aubergine Pizza by Celery & Cupcakes
Garlic & Kale Pizza by Elizabeth's Kitchen Diary
Stovetop Pizza by Munchies & Munchkins
Pear Pizza with Stilton & Walnut by Greedy Gourmet
Double Pumpkin & Goats Cheese Pizza by Domestic Gothess
Chorizo & Grilled Vegetable Pizza by Elizabeth's Kitchen Diary
Squash, Walnut & Goat's Cheese Pizza from Tin & Thyme
An Easy Couscous Base Pizza with Sardines & Tomatoes by Recipes from a Pantry
Fruit Pizza by Elizabeth's Kitchen Diary
Simple Cheese & Onion Pizza by Jo's Kitchen
Wholegrain Pizza with Summer Pesto & Grilled Vegetables by Elizabeth's Kitchen Diary
Elizabeth's Kitchen Diary was sent a pizza steel combo for review purposes. All thoughts and opinions expressed are our own. This is not a paid post.