"Mum, you should make this soup in a restaurant! It's SO good!"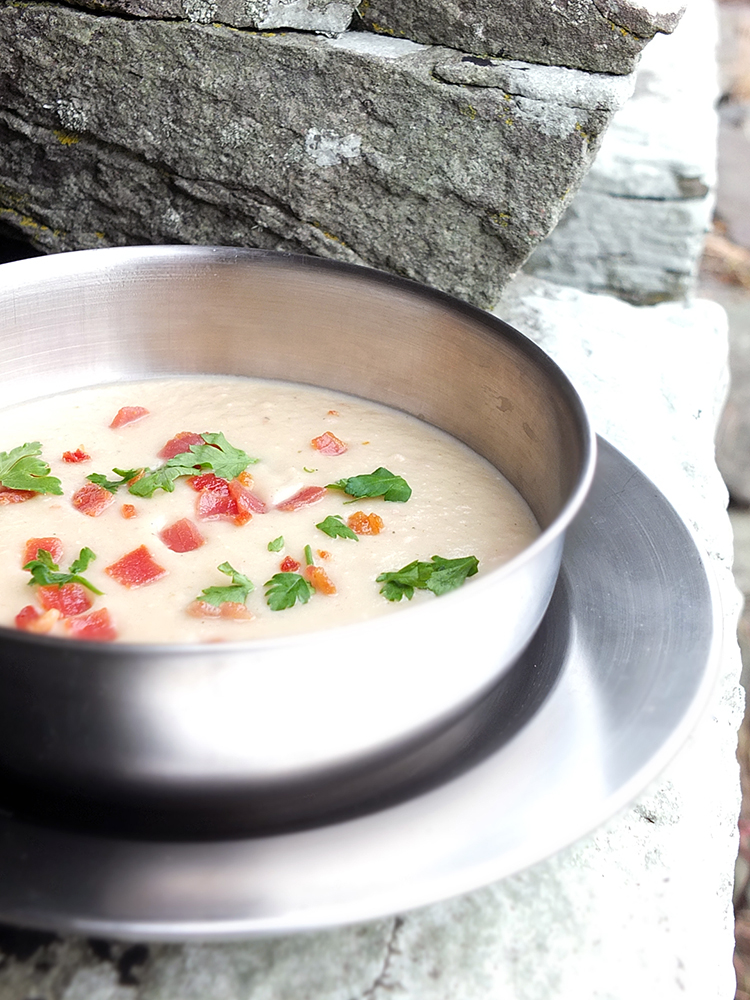 Random fact #1: my husband qualified to play at the Norsk Bordtennis Mesterskap (Norwegian Table Tennis Championship) when he was 15 years old. He never made it to the second round, but at the age of (nearly) 40 he's still rather proud of the fact he even made it to the finals.
Random fact #2: Our ten year old daughter takes fencing classes. She's only pint sized, but she's got enough confidence to wield the foil and 'stick them with the pointy end'. In fact, she's really rather good at it.
Next door to the fencing class, my husband discovered with great delight, people were playing table tennis. Out of curiosity, poked his nose in and, well, suffice to say he's rekindled his childhood passion for the sport.
This means that every weekend he takes a drive down to the south mainland where the table tennis team practise for a few hours. I don't travel to the south mainland very often due to the price of fuel and time it takes to get there, but given that he's taking this trip anyway the kids and I take the opportunity to join him and go on a little adventure to somewhere new, weather permitting.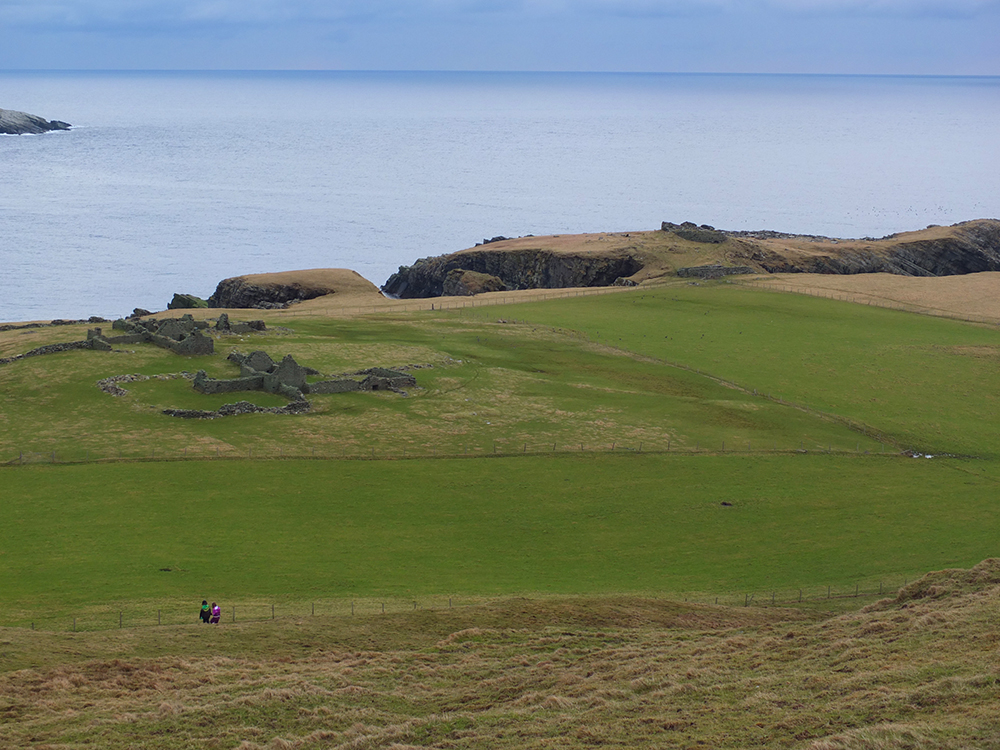 Sometime over the Christmas and New Year holidays while the winter gales were howling, I sat down by my over sized coffee table with my stack of Ordnance Survey maps of Shetland and highlighted all the marked standing stones in pink, and as an after thought, since I was scrutinising the maps, I marked all the brochs in yellow. Ideas for future exploration when the weather improved.
In case you're not familiar with brochs, they are Iron-Age drystone hollow-walled structures only found in Scotland. The Shetland Amenity Trust lists approximately 120 candidate sites for brochs around our tiny 80 x 35 mile group of islands. Most of them are toppled and buried, but a few good preserved examples remain.
I checked out the sites I'd marked on the map near to where my husband was to be practising table tennis. Spoiled for choice, we opted for the Broch of Burraland located on a tiny outcrop of land called Hoga, just across the Mousa Sound and the island of Mousa. Mousa is home to the finest preserved broch (pictured below), and it is one of the best preserved prehistoric buildings in Europe.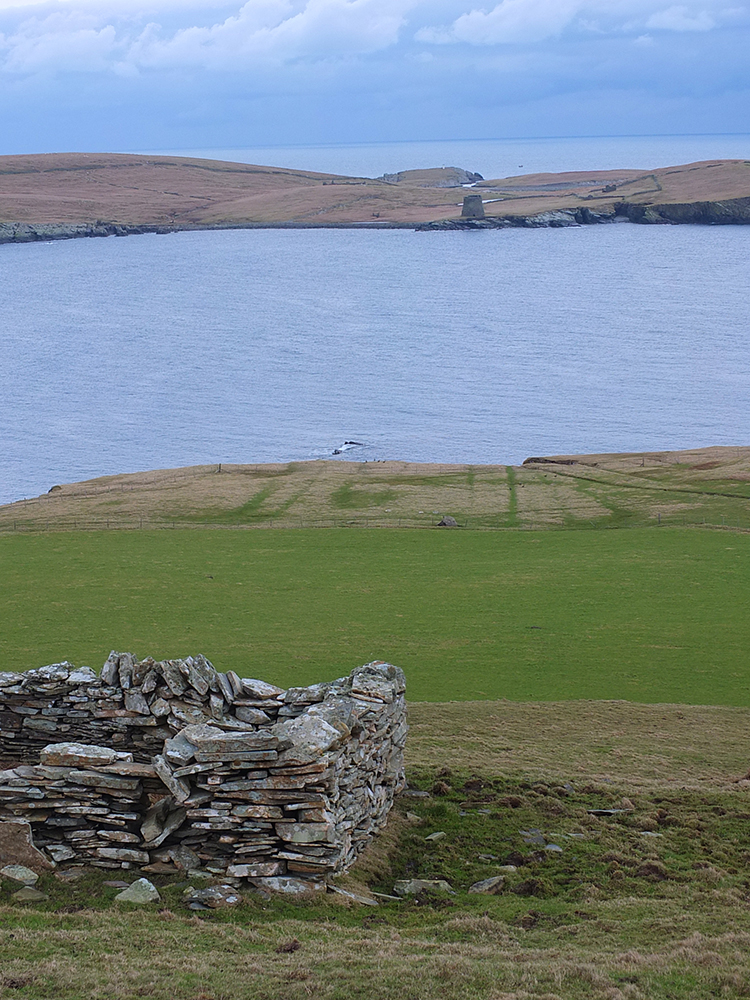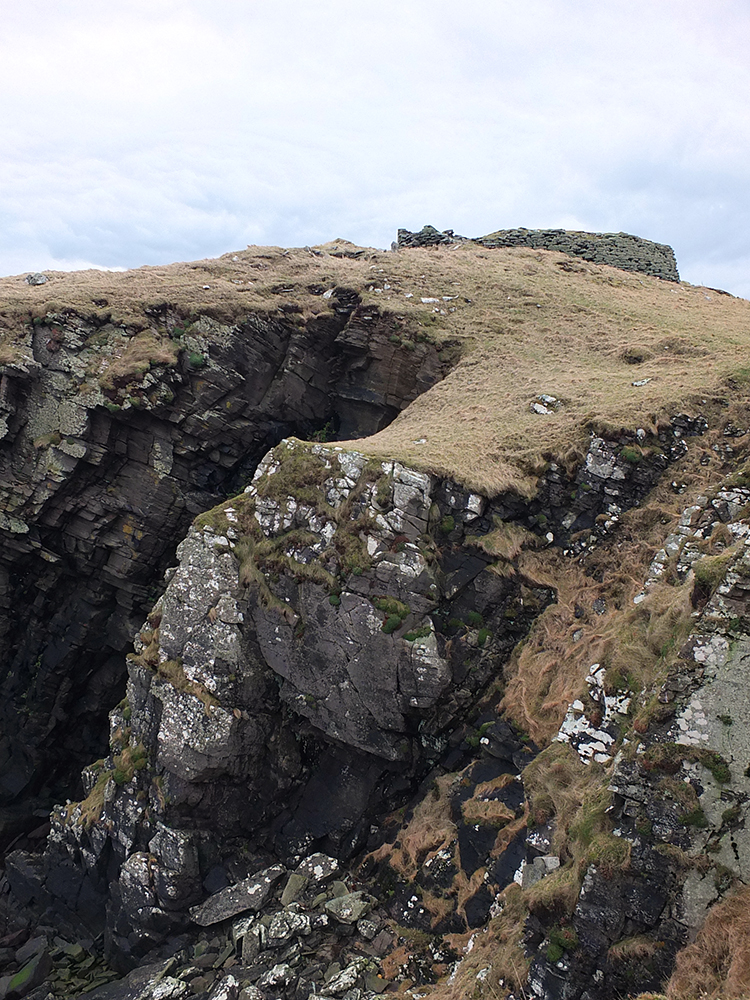 It's a pretty interesting spot, this. You get to the broch by crossing over a narrow neck of land and there are steep bird-filled cliffs around you. The fulmars weren't particularly pleased with us being so close to their nests, but once we found a spot out of the wind by the broch to sit and eat our picnic lunch they stopped complaining.
I'd made some soup earlier that morning deliberately to use up the last little bit of Christmas Brie left in the fridge. I also wanted to use up the cauliflower which I had intended on turning into cauliflower rice for a lower calorie option after my indulgences of Christmas and New Year, but do you know what? I don't actually like cauliflower rice. I'd rather just eat proper food and go for a walk to burn off the calories. Besides… bacon… and cheese… mmm!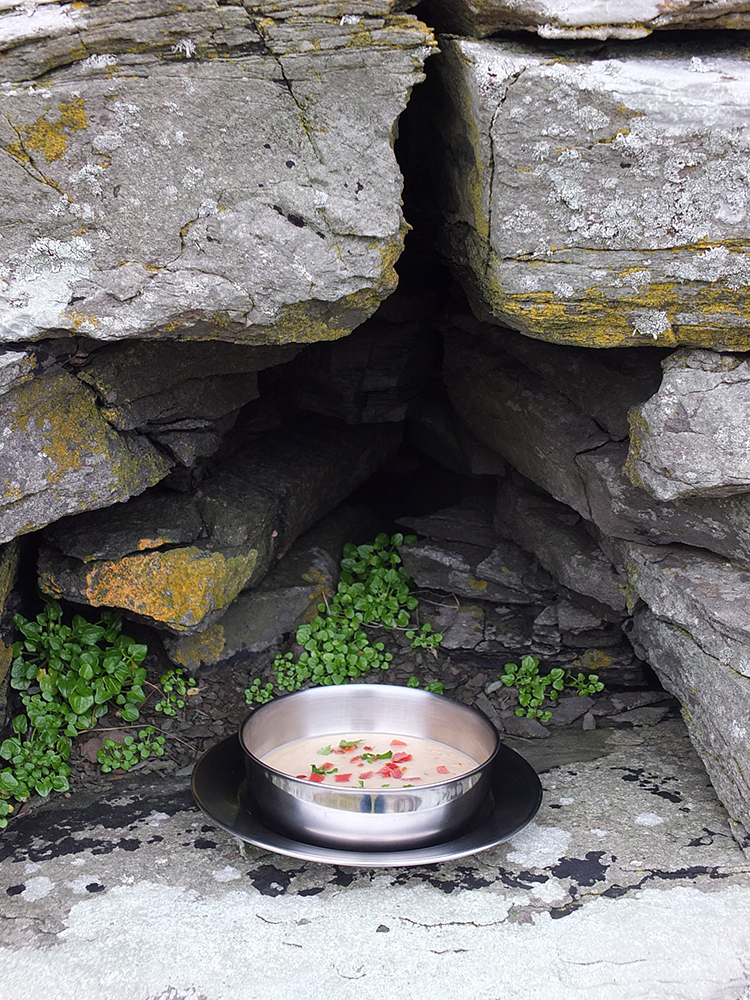 It's still only January, but look at the little peeps of new green growth already! The daffodils have already begun to poke out of the ground and some of the trees are even budding. It's been an unseasonably mild winter, to be honest, with temperatures frequently reaching 10 degrees C.
This soup though, it is so good, as confirmed by our rather fussy seven year old who has no qualms about telling me he doesn't like my cooking. This recipe, he stated with enthusiasm, should be served in restaurants. I might have beamed a great big smile. 🙂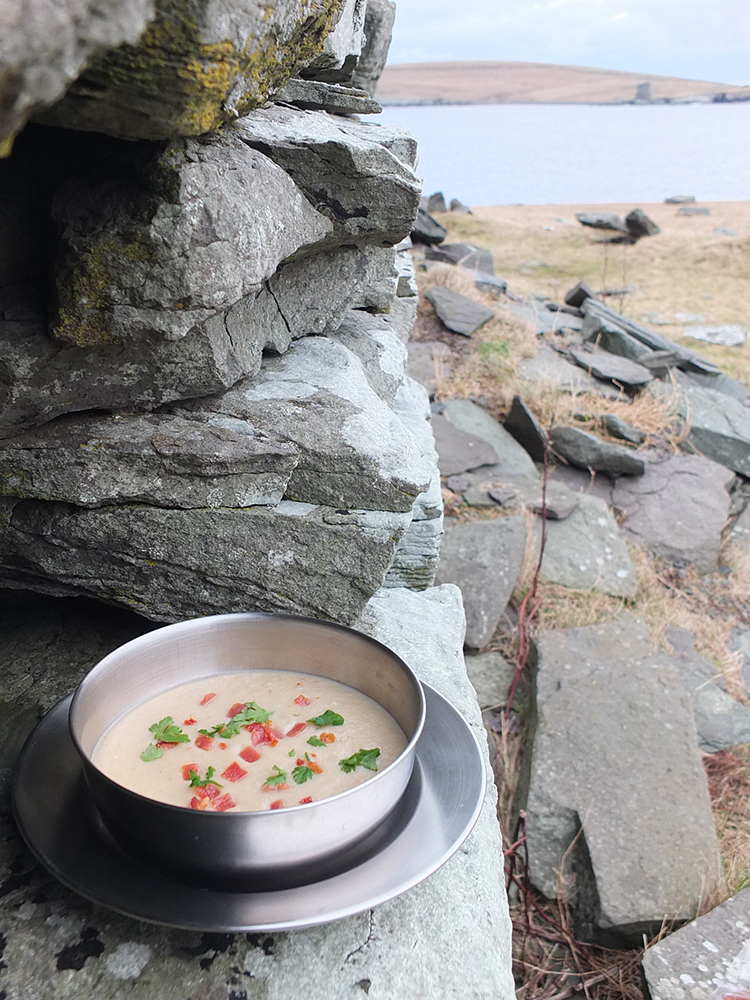 We had a rather enjoyable lunch by the broch, eating our soup, nibbling on some beremeal bread from the Quernstone Bakery and drinking cups of tea. This is a place I'd like to explore in more detail, but we didn't have a lot of time on this particular visit.
On our way to the broch we climbed to the trig point of a nearby hill, a particularly scenic veiw (my Fitbit says we did 100 floors that day!) but on the way back we took the coastal route along a crofter's track back to the car.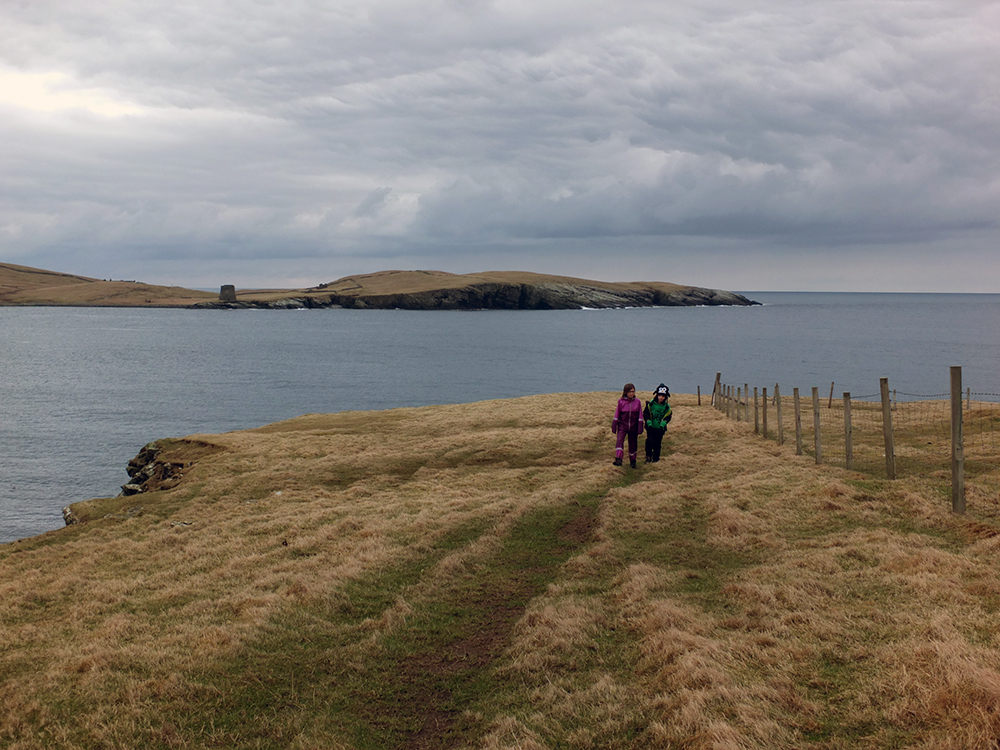 Despite the heavy cloud it stayed dry for our walk, and the soup warmed our bellies quite nicely.
I made this soup thick and creamy with the addition of a potato. I find that's a really good way to add some hearty substance to a broth which might otherwise end up too thin. Despite the addition of butter, bacon and cheese to this recipe, the calorie count only comes in at 280 per bowl, easily burned off by climbing 100 floors in one day!
Have you ever visited any of the brochs in Shetland? Where should we go on our next adventure? Let me know in the comments!
Servings

Prep Time

Cook Time

6

servings

15

minutes

30

minutes
Servings

Prep Time

6

servings

15

minutes
Heat oil in a soup pan. Chop the bacon into 1 cm cubes and fry until crispy, stirring frequently. Transfer to a paper towel to drain and reserve 1 tbsp of the bacon fat for the soup.

Add the butter and bacon fat to the same pan and saute the onion and the cauliflower until the onion begins to soften and the cauliflower begins to brown a bit on the edges.

Add the potato, thyme and chicken stock. Cover with a lid, reduce the heat and simmer for 20-30 minutes until the vegetables are tender.

Remove from the heat and add the Brie and half of the crispy bacon. Blend with a hand blender until it reaches the desired consistency, thinning with milk or cream, if desired.

Serve garnished with the remaining crispy bacon and some fresh parsley leaves.
Click here to view the Nutrition Facts for this recipe, as calculated on My Fitness Pal.

OTHER BACON AND/OR CHEESE SOUPS YOU MIGHT LIKE
Broad Bean & Courgette Soup with Gouda by Elizabeth's Kitchen Diary
Leftover Brussels Sprouts Soup by Greedy Gourmet
Easy Butternut Squash Soup with Bacon Brittle by Kavey Eats
Spiced Roast Pumpkin Soup with Garlic Croutons, Feta & Crispy Fried Sage by Domestic Gothess
Roast Harlequin Squash, Cauliflower & Mature Cheddar Soup by Elizabeth's Kitchen Diary
5-Grain and Onion Soup with Cheese Brulee by Family, Friends, Food
Glenda's Winter Lentil Soup by Fab Food 4 All
Broccoli & Cheese Soup with Bacon Fat Croutons by Kitchen Sanctuary
OTHER OUTDOOR RECIPE POSTS YOU MIGHT LIKE
Shredded Turkey & Soba Noodle Soup – To Go!
DIY Porridge Sachets for Bikepacking or Camping
Middle Eastern Spiced Campfire Chickpeas
Chocolate Orange Campfire Cake
Curried Butternut Squash Soup
SHARING WITH SOME BLOG LINKIES
The No Waste Food Challenge
SHOP THIS POST
Pomora Olive Oil
Essential Cuisine Chicken Stock
Summit Stainless Steel Camping Bowl Set
Didriksons Waterman Kids Waterproof Set

This is not a paid post although it does contain affiliate links. If you click on any of the orange links and make any subsequent purchase within the following 24 hours we will earn a small commission from Amazon.