In collaboration with üutensil & Albert Bartlett.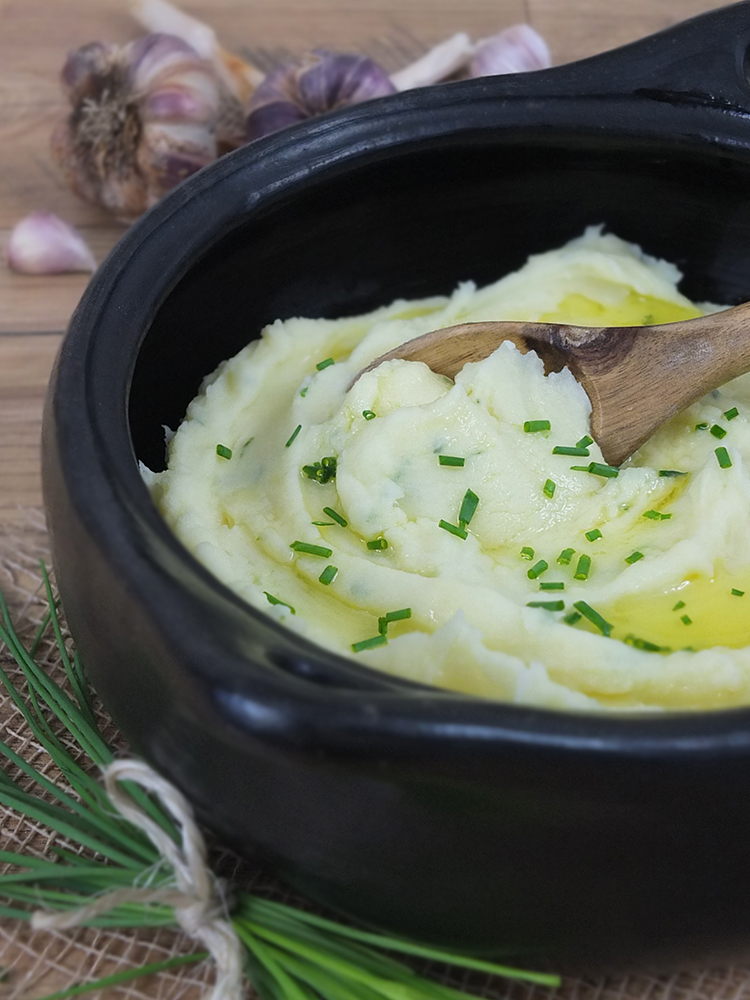 It's that time of year again when we stop craving salads and opt for carbohydrate loaded comfort food dishes – rice, pasta and potatoes. Ok, maybe that's just me. The vibrant light dishes of summer are replaced with filling and warming recipes corresponding with an instinct to hibernate, and in my case, start up crafting again.
Why is it that I only sew and knit during the winter months?
I, like many others of my generation, grew up on mashed potatoes and they represent something very nostalgic. There's nothing better than a generous bowlful of simple mash with lashings of gravy poured over it, is there.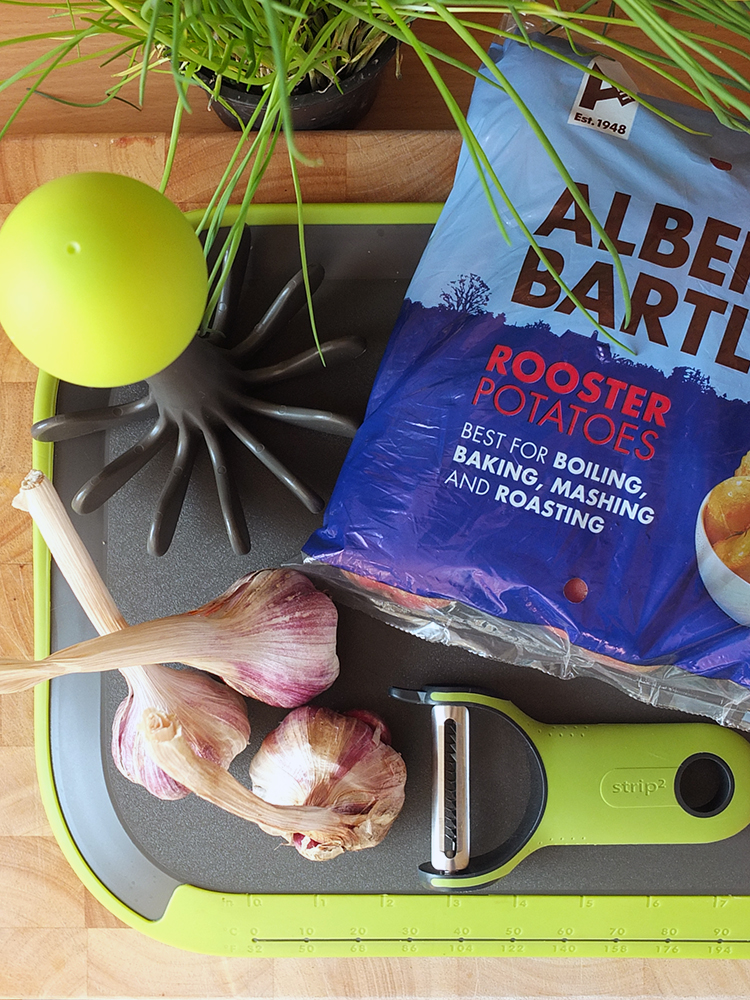 A decent mash starts with a quality potato. Locally grown potatoes like the Roosters, distributed by Albert Bartlett – best for boiling, baking, mashing and roasting. These particular potatoes were grown by Neil Smith in Angus (see image, below). There's something rather special knowing the name of the farmer who grows your produce, I think.
Sometimes I make a nice simple buttery mash, but sometimes I like to jazz it up a bit. I'm quite partial to my cheesy mashed tatties with kale recipe or sometimes I add a generous dollop of cream cheese and a sprinkling of skimmed milk powder for extra calcium, or sometimes I like to roast garlic and squeeze their delicious sweetness into the mash. This goes particularly well with grilled pork sausages and a generous spoonful of apple sauce. True story.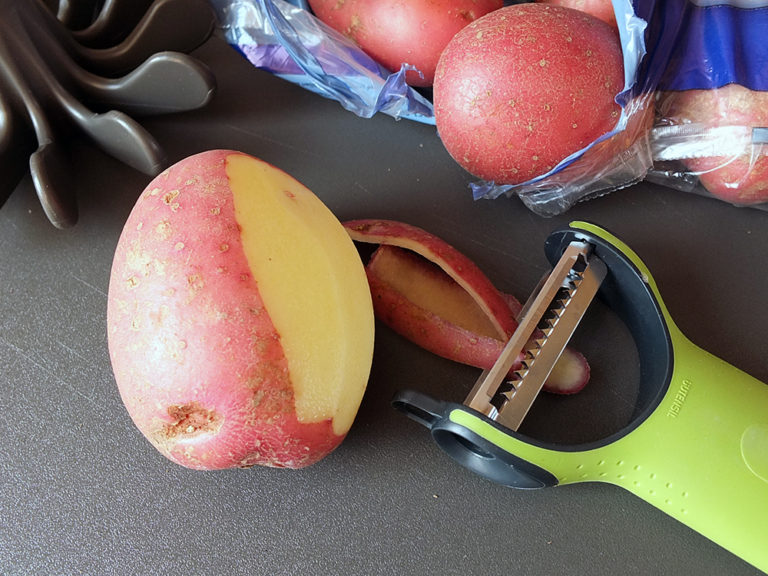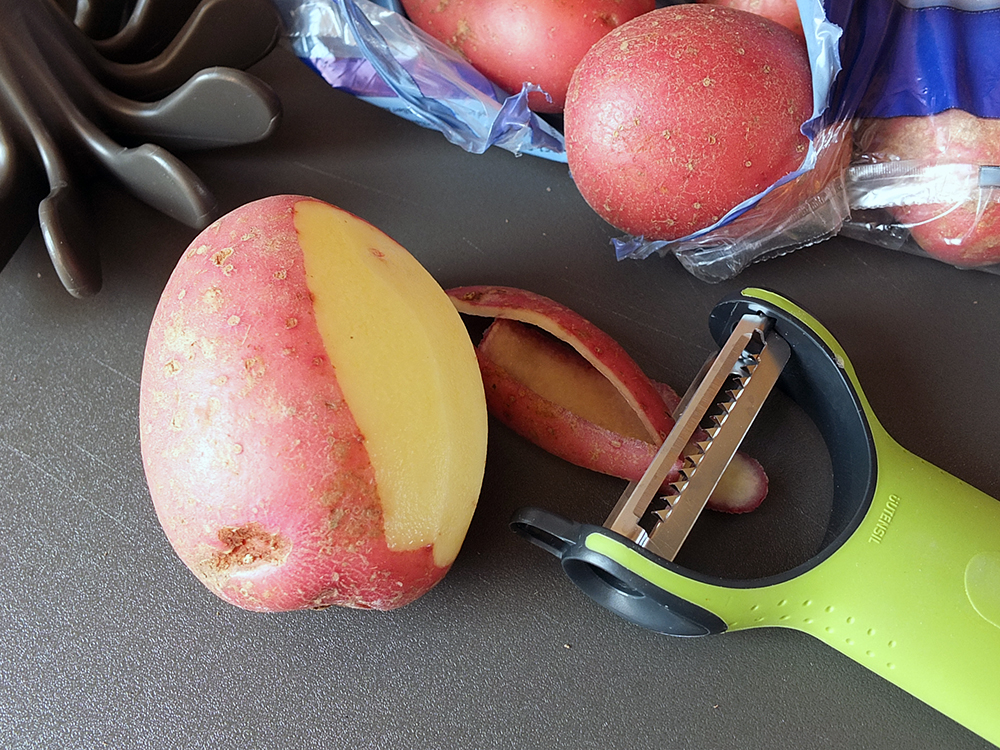 For this recipe I've used some really snazzy üutensil gadgets – the Strip², a multi-functional vegetable and julienne peeler; Tilt, an angled non-slip chopping board; Spudnik, an innovative rotation potato masher and swoosh&böl, a bowl/colander set.
üutensil are a British design company who create exciting and innovative kitchen products. They're wanting to revolutionise kitchen gadgets and they've come up with some rather clever ideas already. Take the potato masher, for example – besides having a super name (Spudnik!) it has rewritten the rules of mashing. Instead of pounding the cooked potatoes like we're used to, the Spudnik is simply rotated in the palm of the hand, crushing the potatoes into a delightful fluffy mash. Plus, it's a lot easier to clean than usual mashers are.
Their swoosh&böl is something that gets used regularly in my kitchen now too. It's a colander that is designed to fit perfectly into a mixing bowl – a two in one, and you can rotate the colander 90 degrees to give you a little extra draining room. It's perfect for kitchens, like mine, where the sink is nowhere near the cooker/work surface and you don't want to drip everywhere!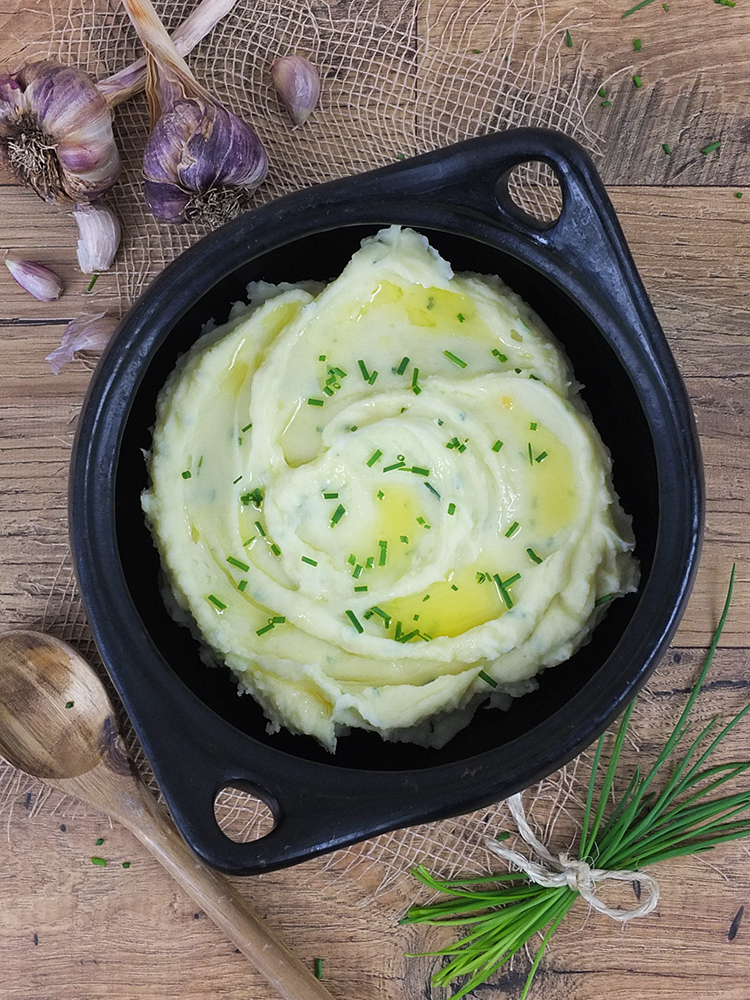 For these mashed potatoes I've roasted some locally grown garlic in some olive oil and mashed the slightly cooled contents into the cooked potatoes along with some cream and a sprinkling of fresh chopped chives.
Tailor the quantity of garlic to your liking – if you are a garlic fan like me a whole bulb is perfect, but if you just want a hint of flavour reduce the number of cloves accordingly.
Instead using butter I've mashed the garlic infused olive oil into the potatoes too, with a little extra on top for a drizzle. Don't throw the rest away as it makes a rather lovely salad dressing, or a drizzle for bruschetta for lunch the next day.
This mash goes really well with grilled meats or steak, and it's so deliciously creamy that you don't really need gravy to go with it.
You can find Albert Bartlett potatoes in your local Co-op, Morrison's, Sainsbury's, Asda, Aldi, Lidl and Waitrose, while üutensil products are all available on their online shop.
How do you make and serve your mash? Any tips? Let me know in the comments!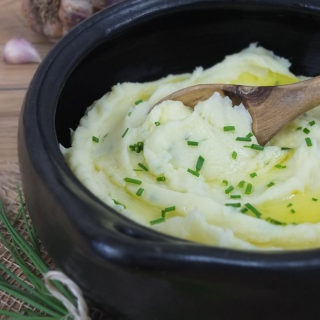 Creamy Roasted Garlic & Chive Mashed Potatoes
Roasted garlic adds a delicious sweetness to your mash; perfect with grilled meats and a side of veg.
Print
Rate
Affiliate Links
This recipe card may contain affiliate ingredient and equipment links. As an Amazon Associate I earn from qualifying purchases.
Instructions
Preheat oven to 170 C.

Separate the garlic cloves but leave them unpeeled. Place them into a small oven proof dish and cover in olive oil.

Roast for 15-20 minutes, until they soften. Leave to cool for 10 minutes before handling.

Peel and chop the potatoes. Cover in cold, salted water, and bring to the boil. Turn down the heat and simmer for 15-20 minutes until tender.

Drain and return to the hot pan. Place on the hot hob for a few minutes to allow more of the moisture to evaporate.

Mash. Add 1 tbsp of the garlic infused olive oil and enough warmed single cream to reach the desired consistency.

Stir in the chives, salt and pepper. Keep warm or serve immediately.
Notes
Don't discard the rest of the garlic infused olive oil - this makes a great salad dressing!
Environmental Information
This is a paid, commissioned recipe post for üutensil and Albert Bartlett potatoes. Thank you for supporting the brands who make it possible for me to do what I love: mess up my kitchen and share recipe stories.
[color-box]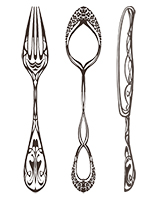 Have you made this recipe?
Take a photo and tag @tangoraindrop or use the hashtag #elizabethskitchendiary and share on Instagram and Twitter. It would make my day to see your creations!
[/color-box]