Add a bit of spice to your life with these indulgent cupcakes; the perfect quick weekend bake!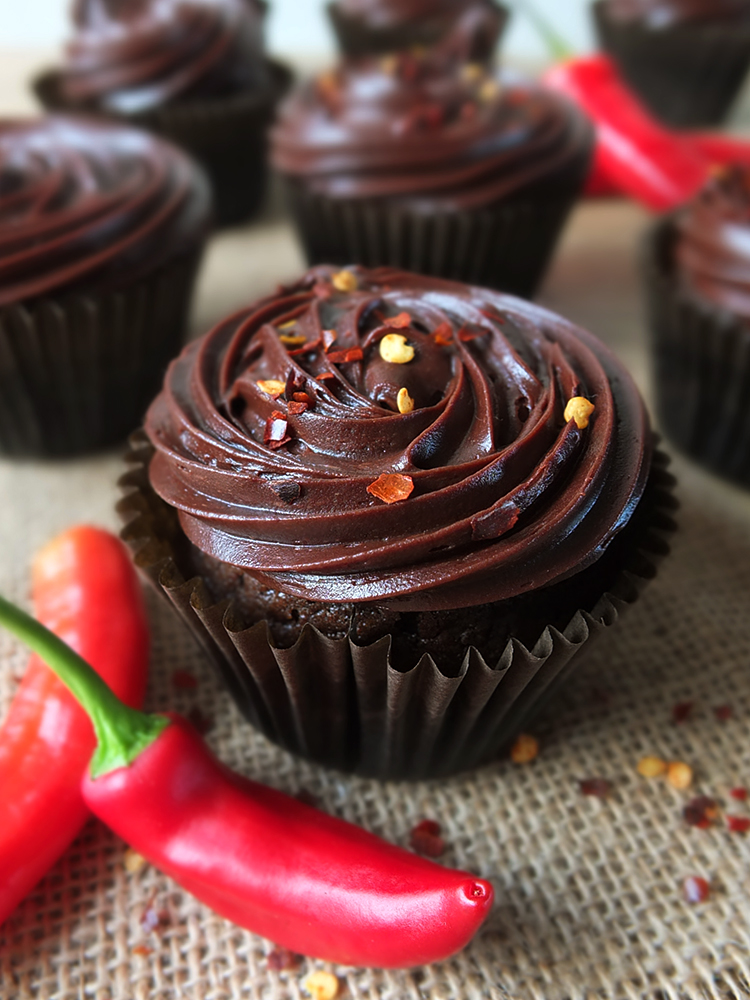 Bizarrely enough, the chocolate and chilli combination is a favourite with my children, especially my younger children who, if a piece of freshly ground cracked black pepper should dare to appear in their dinner lament, with great theatrical gusto: "Fire in the mouth! Fire in the mouth!"
It makes no sense whatsoever, but hey ho, that's kids for you!
Chocolate and chilli is a flavour combination that goes back for thousands of years, or so we learned when we were on our family Belgium Chocolate Experience in Brussels this summer.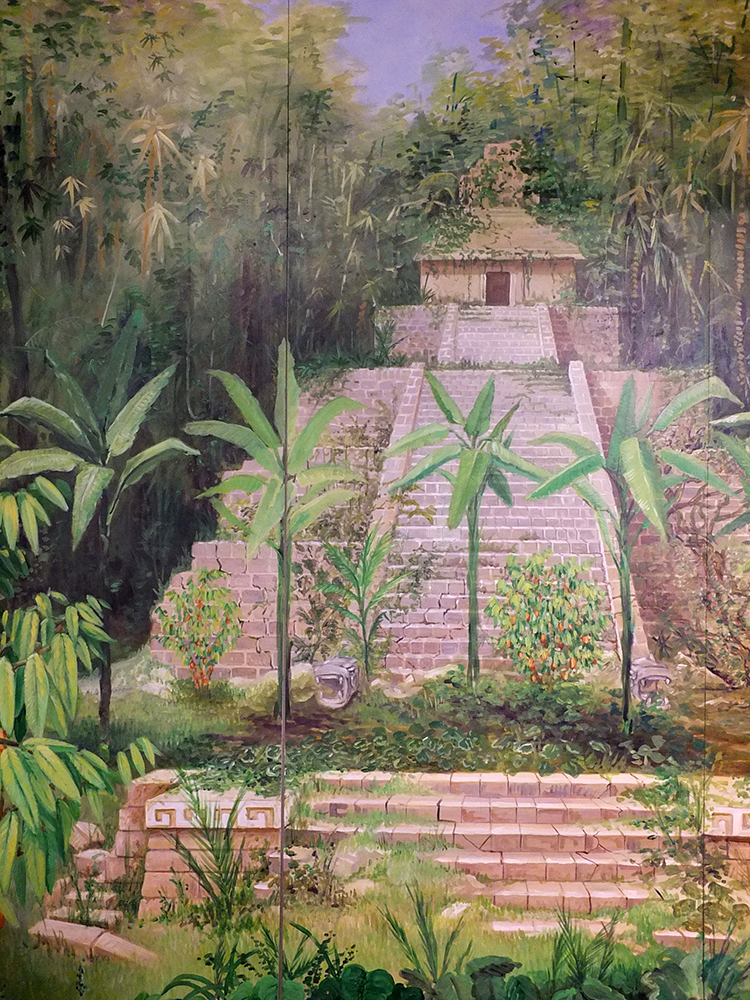 Pictured above, an Aztec Temple with cacao trees in the foreground. Photograph taken in The Chocolate Museum in Brussels.
The Aztecs believed that cacao seeds were the gift of Quetzalcoatl, the god of wisdom, and they were traded as currency. A bitter fermented drink was prepared from the crushed seeds, mixed with spices. It wasn't until chocolate was brought to Europe in the 16th century that we added sugar to it, and it started to resemble the chocolate taste we know now.
The Mayans mixed their roasted cacao seeds with water, chilli and corn meal, pouring the drink from vessel to vessel until the drink had a frothy foam on the top. Ancient hot chocolate!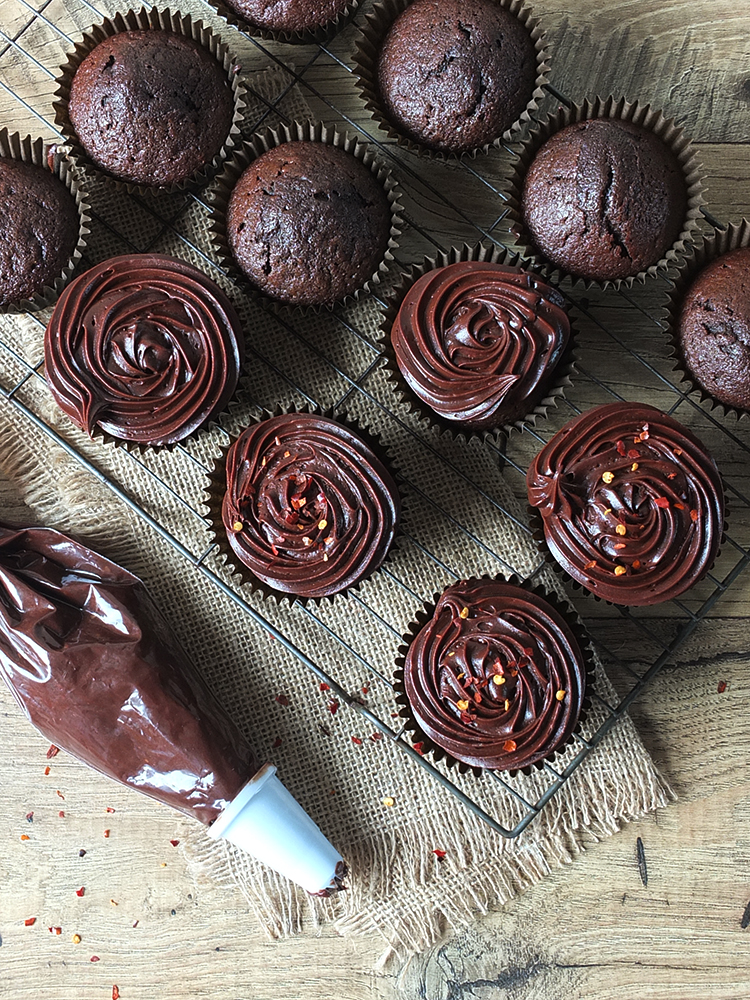 Now, chocolate is one of the most consumed ingredients in the world.
It's eaten pretty frequently in our house, I'll tell you that!
So yes, this chocolate cupcake recipe is really simple to make. Just sift the dry ingredients into a bowl, melt the cocoa powder (a proper decent amount too!) with the butter and some water to make a thick chocolate paste, and add to the dry ingredients with some soured milk, an egg and a touch of vanilla.
I've used ready made frosting for these because… lazy. Plus, I still haven't found the perfect home made chocolate frosting recipe yet.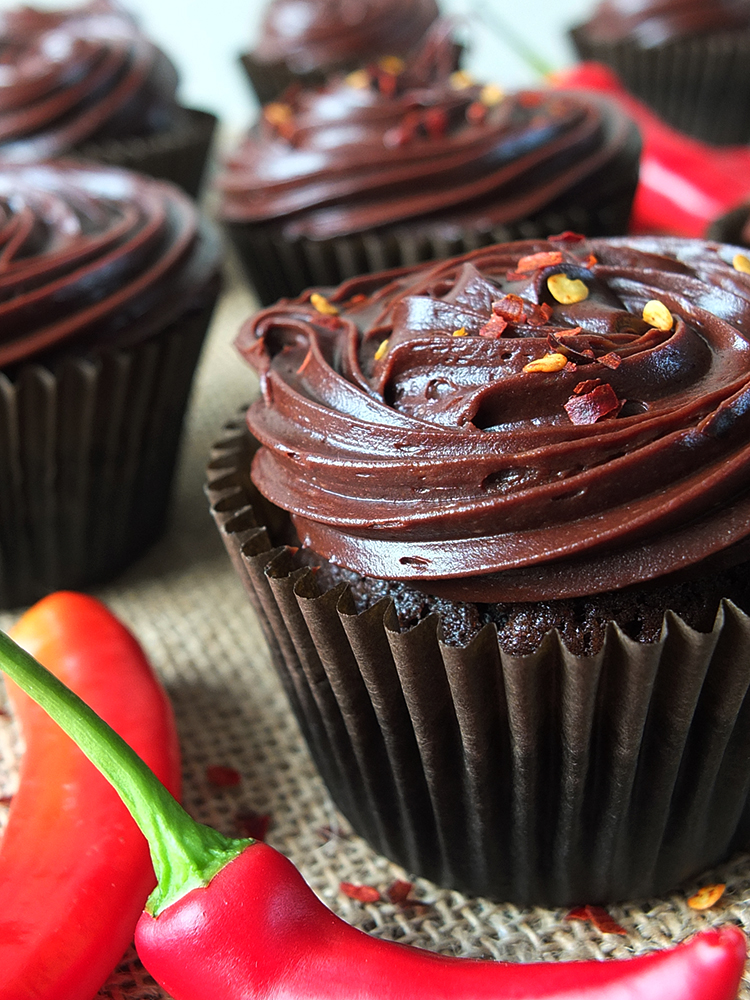 Feel free to vary the quantity of hot chilli powder in the cake mix itself. I've used only 1/4 teaspoon which imparts a gentle heat to the bake, but you could always up it to half a teaspoonful if you're feeling adventurous.
Alternatively, adjust the quantity of crushed chilli flakes on the top to vary the heat.
A rather delicious weekend bake for this shorter, colder Autumn days, if I do say so myself!
Enjoy!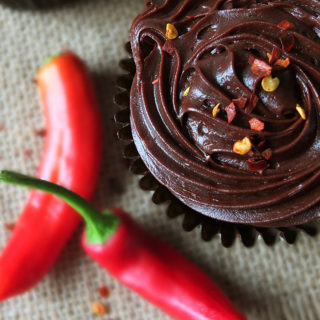 Chocolate & Chilli Cupcakes
Add a little spice to your life with these indulgent chocolate and chilli cupcakes; perfect for these shorter, colder days.
Print
Rate
Affiliate Links
This recipe card may contain affiliate ingredient and equipment links. As an Amazon Associate I earn from qualifying purchases.
Instructions
Preheat oven to 190 C/ 170 C fan/ gas mark 5/ 375 F and line a 12 hole muffin tin with paper baking cases.

Sift the flour, bicarbonate of soda, sugars and chilli powder together in a large bowl.

Measure out the cocoa powder, water and butter into a small saucepan and heat gently over a low heat until the butter has melted and the ingredients are combined. Do not allow this to boil!

Measure out the milk and whisk the egg into it. Add the vanilla.

Add the melted chocolate mixture and the egg mixture to the dry ingredients and stir to combine well. The batter will be thin.

Spoon into the prepared baking cases and bake for 20 minutes until well rise and springy. A wooden skewer inserted into the centre of the cakes will come out clean when done. Transfer to a wire rack to cool completely.

Frost and sprinkle with as many (or as few!) crushed chilli flakes as you'd like.
Environmental Information
OTHER CHOCOLATE CHILLI RECIPES YOU MIGHT LIKE
Double Chocolate Chilli Brownies
by Elizabeth's Kitchen Diary
Chilli Hot Chocolate
by The Hedgecombers
Chocolate Colettes with Vodka Chilli Truffle Fudge
by Elizabeth's Kitchen Diary
Chipolte Chocolate Beany Burritos
by The Veg Space
Vodka Chilli Truffle Fudge
by Elizabeth's Kitchen Diary
Chocolate & Chilli Cake
by Tin & Thyme
Raw Chilli Coconut Chocolate
by Planet Veggie
LINKING UP WITH SOME BLOGGING CHALLENGES
We Should Cocoa by Tin & Thyme
Treat Petite by CakeyBoi and The Baking Explorer (host)
[color-box]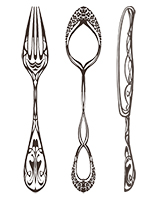 Have you made this recipe?
Take a photo and tag @tangoraindrop or use the hashtag #elizabethskitchendiary and share on Instagram and Twitter. It would make my day to see your creations!
[/color-box]