Making your own travel sweets is remarkably easy, once you get the hang of it. Colour and flavour these treats with your favourite flavourings, or just leave them plain. Post sponsored by Volkswagen.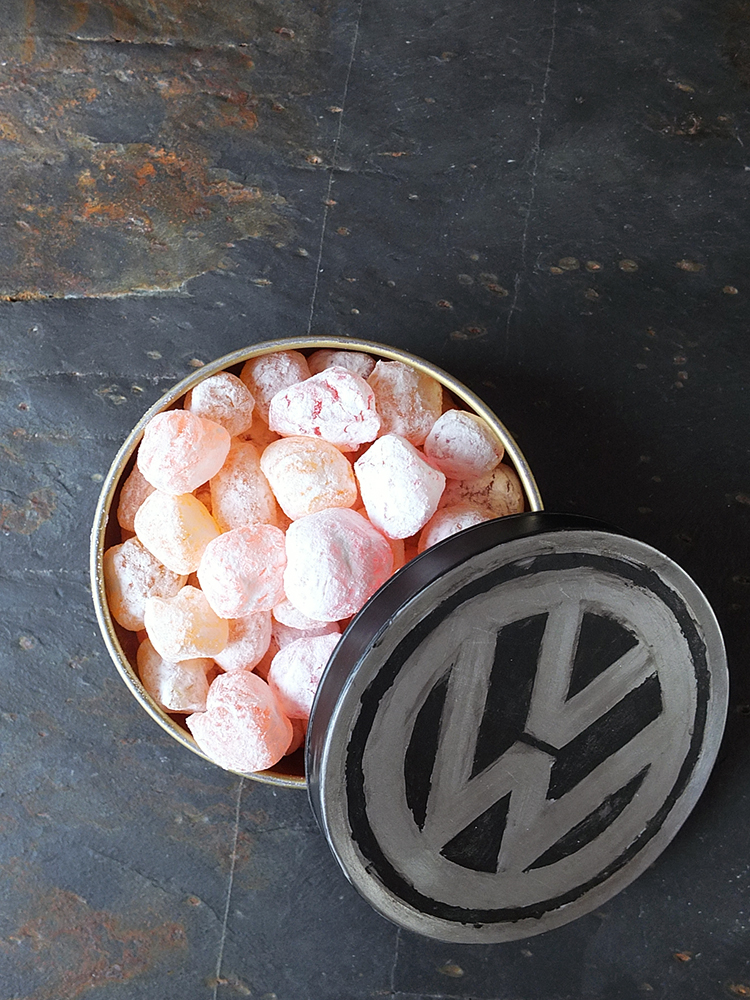 One of the key components of going on a road trip is that little tin of travel sweets hidden in the glove compartment or storage compartment in between the two front seats.
When we went on our epic road trip from Shetland to the Lake District and back up to Shetland via the Cairngorms a few summers ago we went through an awful lot of travel sweets. First, it gives you energy (driving can be really tiring), secondly, sucking on the sweets stops the kids from fighting with each other for at least ten minutes, am I right?
It's really simple to make your own travel sweets. My sweets take about fifteen minutes to make, start to finish, and they taste fantastic if I do say so myself!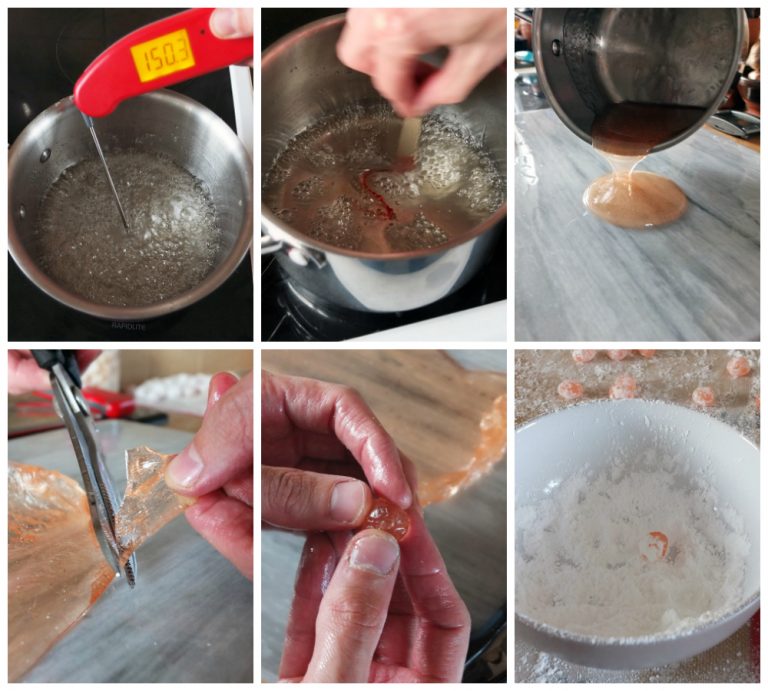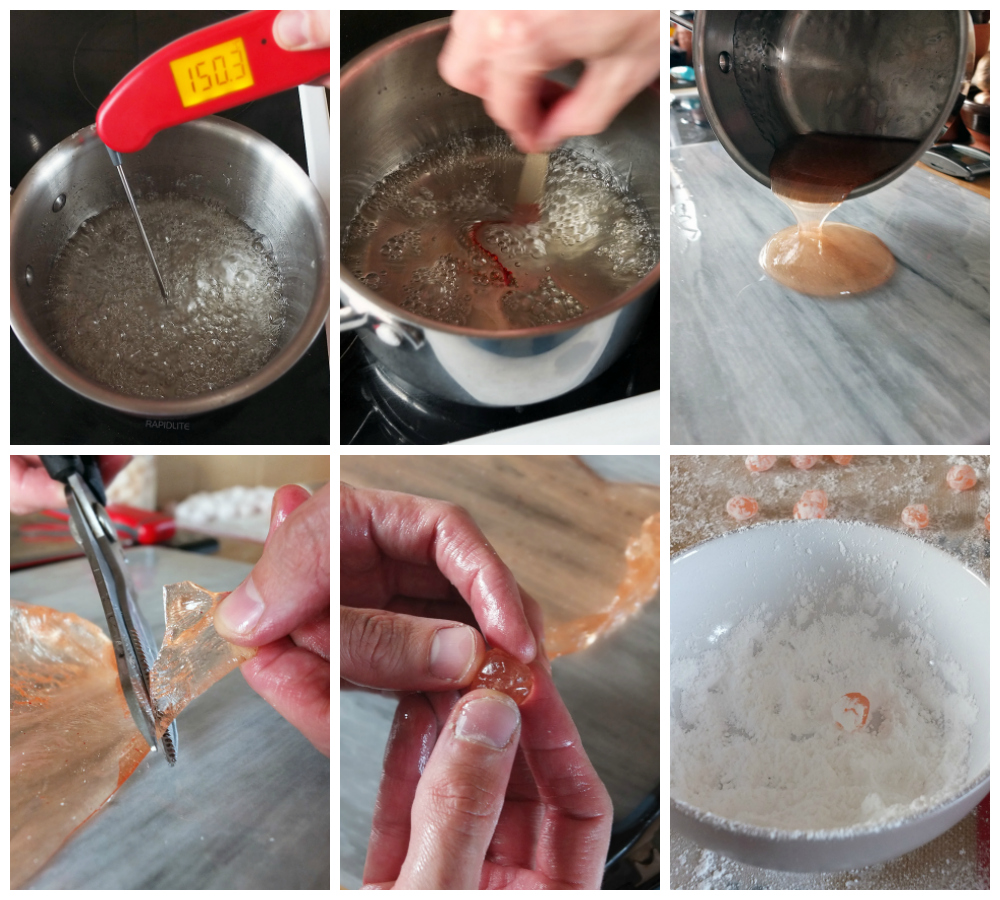 Working with boiling sugar can seem rather daunting at first, but trust me, it's really quite easy. Make sure you have everything prepared in advance because once that sugar is boiling things happen really quickly, and secondly, invest in a good digital thermometer or candy thermometer. The key to success when making your own sweets is to get the temperature right, and a decent thermometer will take the guesswork out of this for you.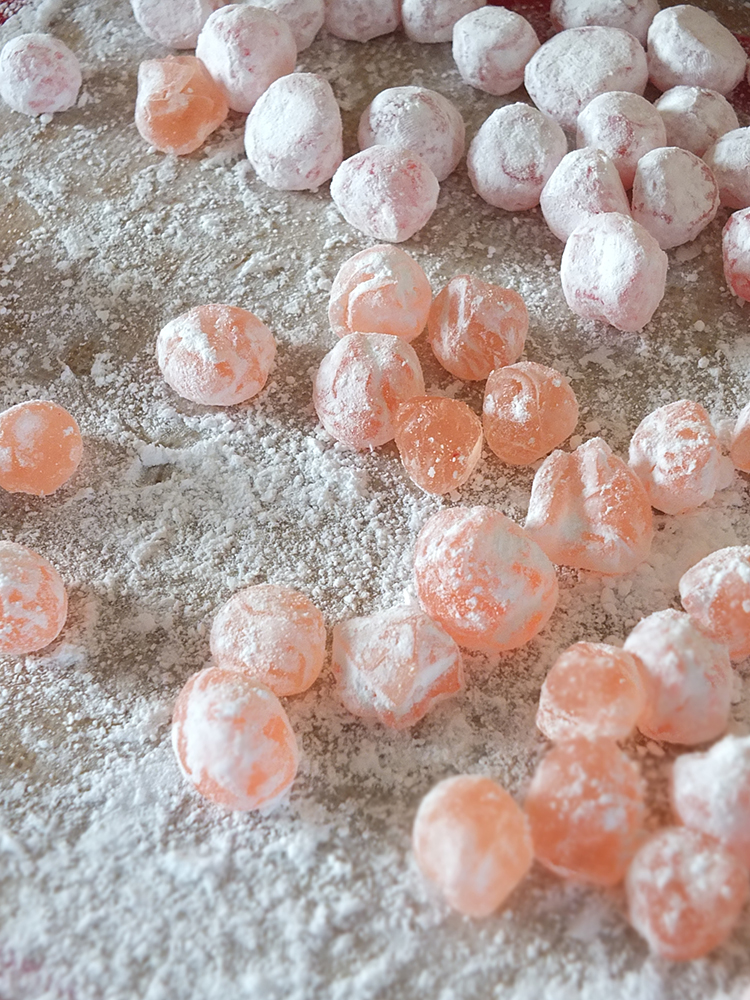 It also helps if you've got someone there with you to help roll the sweets in icing sugar. This step isn't required, to be honest, but it helps the sweets from sticking to each other in the tin. Set up your workstation so that you've got a cold, oiled marble slab to pour your sugar syrup over, and get your friend to stand next to you ready and waiting with a bowl of icing sugar in front of them.
Traditional boiled sweets contain only a few ingredients – sugar, liquid glucose (available in the baking section of your supermarket), water and a tiny bit of cream of tartar as a stabiliser to help stop the sugar from crystallising.
I've added a few drops of flavourings and matching colourings to my fruit drops – a mixture of lemon, orange, and strawberry.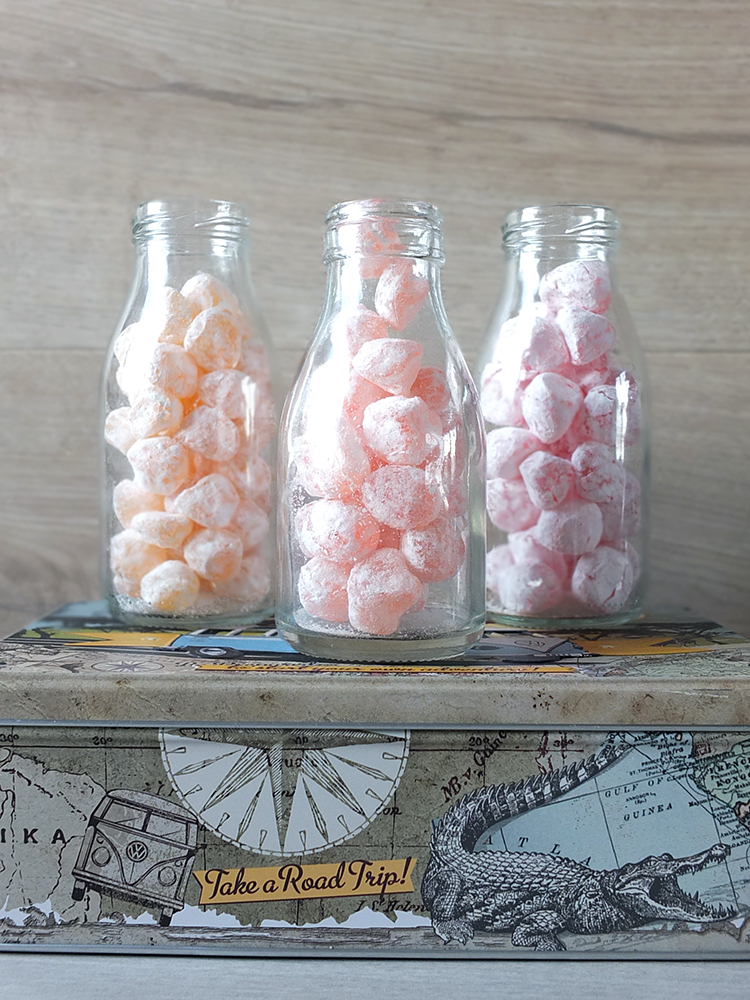 Each batch of these fruit drop travel sweets makes around 300 grams of sweet, so there's plenty to share with friends and family if you want. Mix them up and gift them in a nice bottle or travel sweet tin.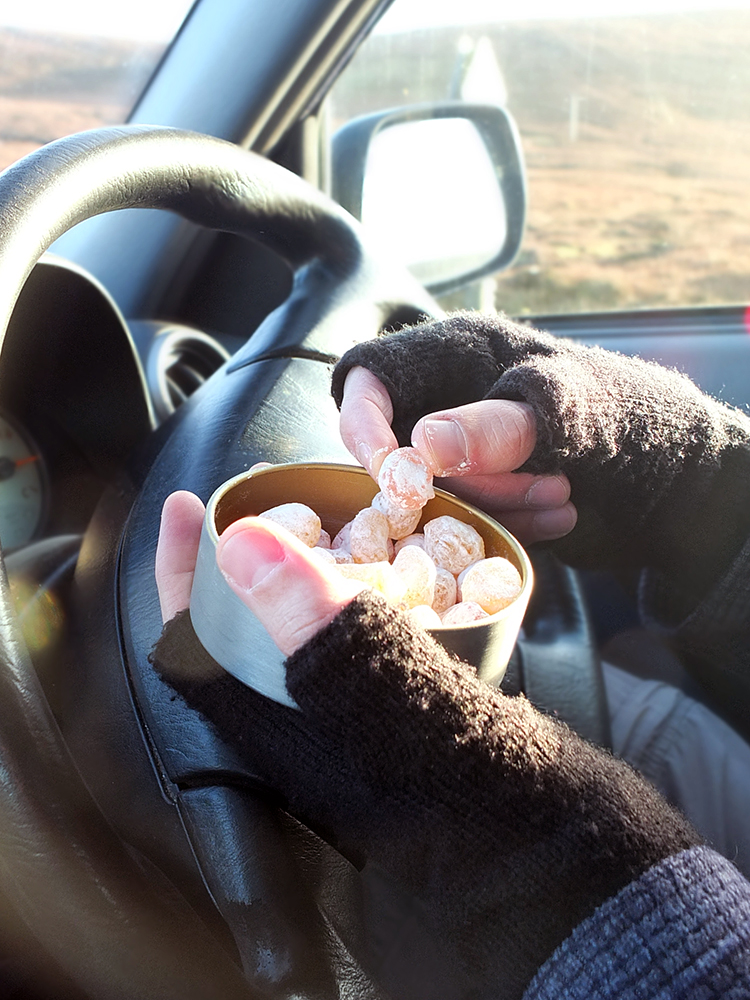 What's your favourite treat to eat in the car while you're travelling? Let me know in the comments!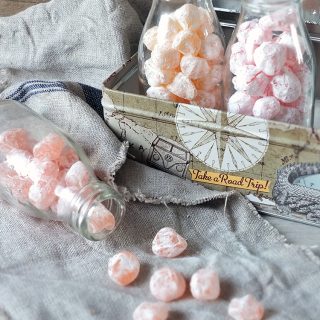 Fruit Drop Travel Sweets
Making your own travel sweets is remarkably easy, once you get the hang of it. Colour and flavour these treats with your favourite flavourings, or just leave them plain.
Print
Rate
Affiliate Links
This recipe card may contain affiliate ingredient and equipment links. As an Amazon Associate I earn from qualifying purchases.
Instructions
Get all the equipment you need ready first. Lightly oil your marble slab (or a large baking tray), your scissors and a dough scraper. Place the lid for your pot nearby. Set a timer for 3 minutes. Place a bowl of icing sugar on your work surface beside the marble slab and a plate or silicone mat to place the finished sweets onto.

Heat the granulated sugar, water and liquid glucose in a small saucepan over a medium-high heat (I use #4 on my hob), stirring with a wooden spoon until the sugar has dissolved.

As soon as it begins to boil (it will happen quickly), add the cream of tartar, stir until it dissolves, pop the lid on the pot and switch the 3-minute timer on. Don't touch the pot!

After the 3 minutes is up, remove the lid and check the temperature every 30 seconds or so. DO NOT STIR THE SUGAR or your sweets will crystalize.

When the temperature has reached 150 C, switch the heat off, add your colouring and flavouring, if using, stir (and wait a moment while the bubbles subside).

Carefully pour the hot sugar mixture over the marble slab, using the oiled dough scraper if it looks like it's getting too close to the edge.

Leave to cool for a minute or so until it's cool enough to handle (don't leave it too long as it hardens quickly). Using your oiled scissors and oiled hands, work quickly and cut off small pieces of the sugar mixture, roll into a ball and place in the icing sugar.

Leave the sweets to cool completely and store in an airtight container.

Repeat two more times with the remaining colours and flavours.
This is a sponsored recipe post commissioned by Volkswagen, although all thoughts and opinions expressed are our own. Thank you for supporting the brands who make it possible for me to do what I love: mess up my kitchen and share recipe stories.