As many of my readers may be aware, I participate in quite a few food blogging challenges where, each month, we are challenged to cook with a specified ingredient. I always look forward to the start of a new month and the new wave of challenges – what do we get to work with this month?! That's as close to 'meal planning' as I get! I was delighted when Jen of Blue Kitchen Bakes, who hosts the We Should Cocoa challenge alternately with Chele from Chocolate Teapot and Choclette at Chocolate Log Blog, announced the theme for this month's challenge: ginger!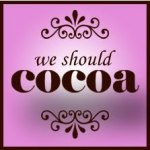 The first thing that popped into my mind when I read the challenge ingredient was crystallized ginger. I remember the first time I was introduced to this old fashioned treat – a dear, eccentric childhood friend had made some from scratch and I was very curious as to what it was. I have to say I didn't particularly care for it, back then, but I wasn't as keen on trying new things when I was a child. I haven't tried it since, hence my desire to make it myself and see what it's really like with my more refined taste buds. I love it! Fortunately my children do not have the same aversion I had to trying new things (unless it involves potatoes) and they love it too!
Ginger made its way into Europe in the ninth century and it was a popular spice during the Roman Empire. Marco Polo wrote about it, it is mentioned in the Jewish Talmud and Henry the VIII praised its use to ward off the plague. After the Roman Empire fell use of ginger in Europe declined until Marco Polo returned from an Asian trip and reintroduced the spice, which was often preserved in sugar and crystallized ginger became popular in England. (You can find out all sorts of interesting things about ginger here).
My 1790 copy of The New Family Herbal or Domestic Physician says: "Ginger is a warm and grateful aromatic. It strengthens the stomach, disperses wind, helps digestion, prevents, or cures the cholic, and is useful in all cold flatulent disorders, and weaknesses of the intestines."
There we go. It's a sweet and it's good for you! Win!
This recipe is adapted from David Lebovitz: Living the Sweet Life in Paris. I scaled down the quantities and dipped some of the crystallized ginger in melted dark chocolate as a little Valentine's sweet for my sweethearts.