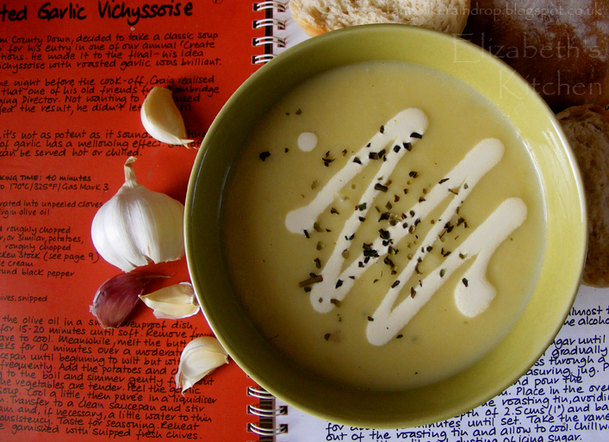 Jazz up your usual tattie and leek soup with some roasted Orkney smoked garlic and some Shetland seaweed. This recipe is slightly adapted (vegetarianized and using local produce) from a vichyssoise recipe found in the New Covent Garden Soup Company's Soup & Beyond cookery book (1999). You can use regular garlic, but Orkney smoked garlic takes the soup to a whole new level. Warming, comforting and filling this soup is not as garlicky as you might think, although it uses an entire bulb. Roasting the garlic in olive oil results in a sweet, mellow garlic taste. Served warm with some homemade crusty bread this soup is perfect on a cold day.
Roasted Garlic, Tattie & Leek Soup
Creamy with a mild garlic taste, this soup is sure to satisfy the taste buds.
Ingredients
1 bulb Orkney smoked garlic (or your usual garlic)
100 ml extra virgin olive oil
150 grams butter
4 leeks
900 grams J.K. Mainland Shetland local selected potatoes (or Maris piper)
2 pints vegetable stock
150 ml double cream, plus extra to garnish
salt & freshly ground black pepper
Shetland seaweed sprinkle, to garnish
Instructions
1. Separate the garlic into unpeeled cloves and place in a small, ovenproof dish.
2. Cover the garlic with the olive oil and roast at 170 C for 15-20 minutes, or until the garlic is softened. Leave in the oil to cool.
3. Meanwhile, melt butter in a large soup pan.
4. Slice leeks and saute in the butter for 10 minutes, until tender. Stir frequently.
5. Peel and dice the potatoes.
6. Add potatoes and vegetable stock to the pan. Cover and simmer for 15-20 minutes, until the vegetables are tender.
7. Remove from the heat, cool slightly, and add the the peeled garlic.
8. Puree the soup, stir in the double cream and return to a low heat to warm to desired temperature. Season to taste.
9. Serve with a swirl of cream and a generous grinding of Shetland seaweed sprinkle.
Details
Prep time: Cook time: Total time: Yield: Serves 6-8
As garlic, leeks and potatoes are in season in the UK just now I am entering this recipe into Ren's Fabulicious Food Simple and in Season food blogging challenge, hosted this month by Caroline from Cake, Crumbs & Cooking.