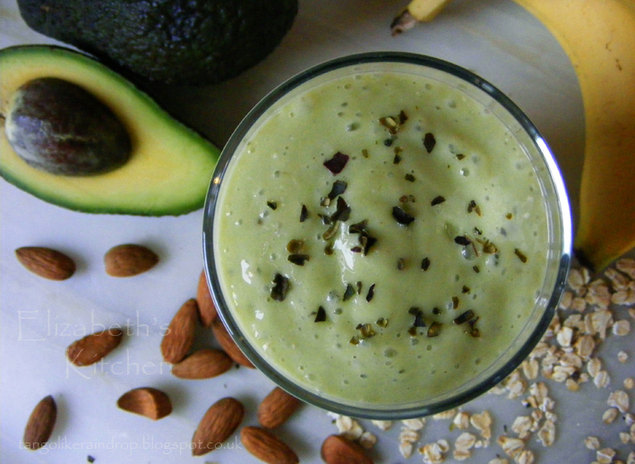 Breakfast is the most important meal of the day, they say. Many of us claim that we don't have enough time in the morning to make something healthy, opting for a bowl of dry shop-bought cereal or a slice of toast, if we eat anything at all!
Well, you have no excuse now! Smoothies are a fantastic to-go meal in a glass. They take minutes to make and can be portable – just pour into a travel mug and off you go out the door.
Almond Breeze®, the makers of "a delicious low-calorie alternative to dairy milk made from California's finest almonds" has teamed up with Foodies100 in a competition designed to get food bloggers creating breakfast smoothies using their almond milk. They sent me two litres of unsweetened Blue Diamond Almond Breeze® milk (to help get me experimenting in the kitchen) and this is the breakfast smoothie I developed with it.
It was a few days in the making, this smoothie, as it needed some refining (my first attempt was dreadfully sweet!) but I eventually came up with the final recipe and tested the result on the entire family. The children thought it was fantastic, with the 6 year old downing three small glasses in a row! Even the OH with his dislike of anything green in a glass tried some and declared that it was quite nice indeed! Personally, I could have this green vegan breakfast smoothie first thing in the morning or after a good workout session at the gym when I return home starving and in need of some serious protein!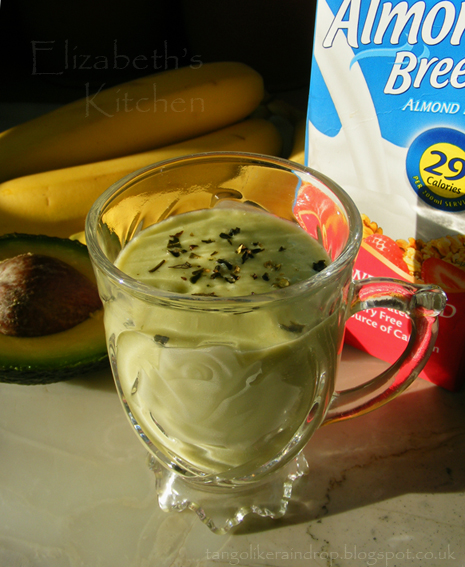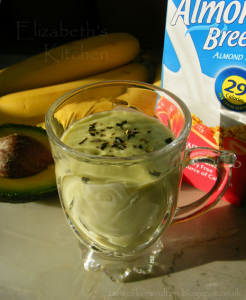 The avocado fruit is high in protein, as well as containing useful quantities of zinc, folic acid, B vitamins and plenty of fibre. It is also high in fat, but it is mainly high in the healthy monounsaturated fats, so it's all good as your body needs these fats to function properly. Bananas also contain plenty of B vitamins, as well as being valuable sources of potassium, manganese and fibre. The enriched almond milk provides a good source of calcium (it says so on the front of the packet) and the edible dried seaweed (or spirulina) provides a multitude of trace minerals which are reported to 
aid health and well-being
. The oats provide protein and a source of soluble fibre which leaves you feeling fuller for longer. All in all, this smoothie is jam-packed with plenty of natural plant-based nutrition and it's a perfect start to any morning!
Plus, it tastes fantastic. 🙂
Green Vegan Breakfast Smoothie
A creamy, tasty breakfast smoothie packed full of good things!
Ingredients
1 Fairtrade banana, broken into pieces
1/2 Fairtrade avocado, chopped
250 ml almond milk, chilled
1 tbsp quick porridge oats
1 tsp agave syrup
1/2 tsp dried seaweed or pinch of spirulina powder
Instructions
1. Place all the ingredients in a blender and blend until smooth.2. Serve with a sprinkling of seaweed over the top, if desired.
Details
Prep time: Cook time: Total time: Yield: Serves 1
Elizabeth's Kitchen Diary was sent some cartons of Almond Breeze for review. All opinions are our own. This is not a paid post.