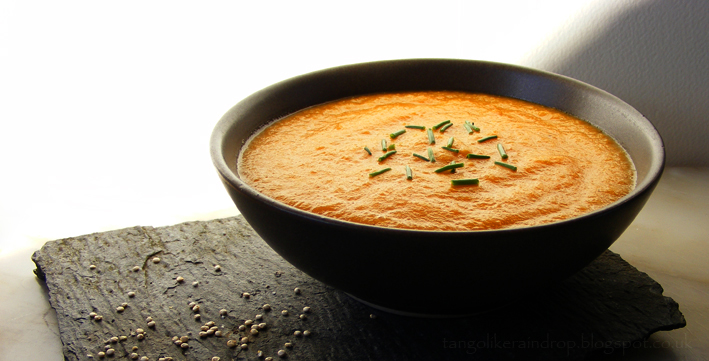 This delicately flavoured low calorie vegan soup is adapted from a Rose Elliot recipe found her book Vegetarian Cookery (1998). The original recipe has been veganized and quinoa has been added as a source of protein. Additional stock has been added to compensate for the liquid absorbing quinoa. It makes a superb, simple low calorie lunch.
Carrot, Ginger and Quinoa Soup
A delicately flavoured low calorie soup.
Ingredients
1 onion, finely chopped
1 tbsp olive oil
700 grams carrots, peeled and sliced
1 tsp fresh ginger, grated
1000 ml vegetable stock
25 grams quinoa
salt and freshly ground black pepper
Instructions
1. Heat oil in a large saucepan. Saute onion for five minutes, without colouring.
2. Add carrots, ginger and quinoa and cook for a further ten minutes, without colouring the vegetables.
3. Add vegetable stock and simmer for fifteen minutes, or until the vegetables are tender.
4. Remove from heat and puree with a hand blender.
5. Add more vegetable stock if you prefer a thinner soup. Season to taste.
Details
Prep time: Cook time: Total time: Yield: Serves 4
If you've got a glut of carrots to use up, why not try this carrot jam recipe – based on a recipe dating back to 1865!