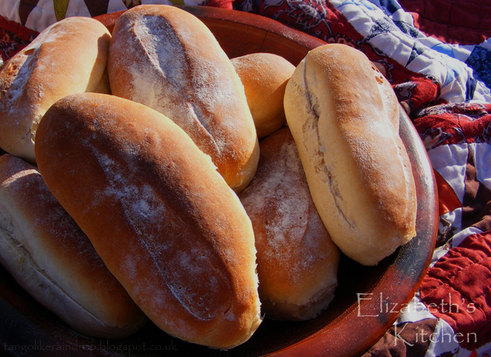 It's that time of year again (if we're really lucky!) – it's picnic and barbecue time!
Bread rolls are usually a staple at most picnics and barbecues. You can do so much with them with regards to filling, meaning each family member can tailor their own meal to their own liking. This is great if you have a family like mine where each person prefers a different type of barbecue! These rolls work best with a freshly barbecued sausage, I think, while our youngest would prefer just a slice of cheese, please!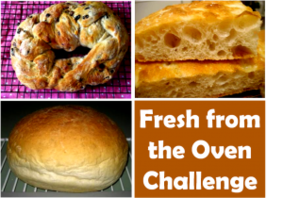 I am hosting the Fresh from the Oven challenge this month. This food blogging challenge by Michelle from Utterly Scrummy Food for Families and Claire from Purely Food tasks us to make and share our freshly baked bread recipes, each month having a different theme. This month I challenge you to share your picnic and barbecue bread recipes.
So, get baking and link up your bread recipes below. If you Tweet @TangoRaindrop @utterlyscrummy and @purelyfood and use the hashtag #FreshFromOven I will retweet all I see.
You can find the challenge rules here.
(Challenge is now closed)
Bread Rolls
Homemade bread rolls perfect for a barbecue or picnic.
Ingredients
450 grams strong white bread flour
1 1/2 tsp salt
2 tbsp caster sugar
1 1/2 tsp fast action dried yeast
315 ml lukewarm water
1 tbsp skimmed milk powder
2 tbsp butter, melted
Instructions
1. Combine flour, salt, caster sugar and yeast together in a large bowl.
2. Dissolve skimmed milk powder in the water and add melted butter.
3. Stir the wet ingredients into the dry with a wooden spoon until it clumps together to form a rough dough.
4. Turn out dough onto a floured surface and knead for ten minutes.
5. Place in a lightly oiled bowl, cover with clingfilm and leave to rise until doubled in size, around 1 to 1 1/2 hours.
6. Punch down dough and divide into 8 balls of equal size.
7. Form each ball into a sausage shape and place on a greased baking sheet.
8. Cover in clingfilm and leave to rise a further half an hour.
9. Preheat oven to 220 C while the rolls are rising.
10. Sprinkle with flour and bake for 20-25 minutes, until golden.
11. Transfer to a wire rack and cover with a clean tea towel to cool.
Details
Prep time: Cook time: Total time: Yield: 8 rolls