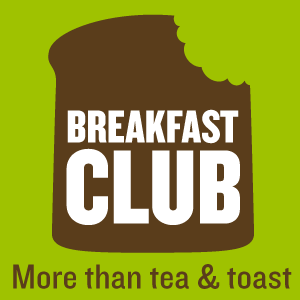 Breakfast Club: Because breakfast should be more interesting
than tea & toast or coffee & cereal!
Here we have, for your pleasure, a fantastic selection of high fibre breakfasts submitted by food bloggers from around the world for June's
Breakfast Club
, a food blogging challenge run by Helen from Fuss Free Flavours and hosted last month by myself. A big thank you to all you lovely foodies who contributed and a special thank you to Helen for giving me the opportunity to host.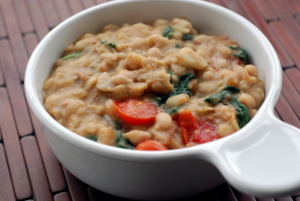 First off the mark we have this gorgeous vegan beany breakfast scramble. The beans are simmered with onions and garlic, along with tomatoes and spinach, while the nutritional yeast adds a cheesy flavour and black salt adds an egg flavour. This sounds like a very healthy way to start the day!
***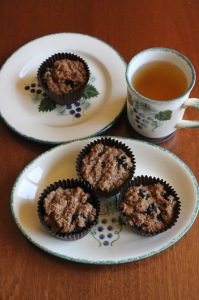 Next we've another vegan entry with these delicious sounding high fibre blueberry bran muffins made with wholemeal flour and extra wheat bran. They're sweetened with demerara sugar too, which lends a lovely caramel-like flavour to baking. These muffins would  make an ideal portable breakfast for those on the go!
***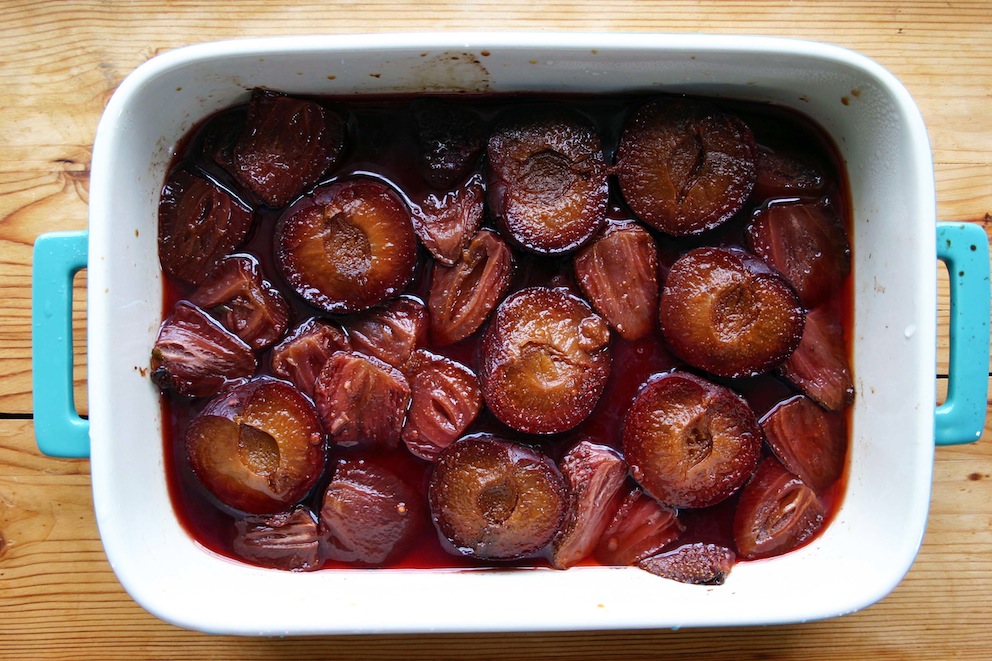 Baked Plums and Strawberries with Ginger & Balsamic by Dom from Belleau Kitchen
Next, Dom brings us his luscious plums stewed with strawberries! He says, "this combination of fruits is subtly and beautifully easy on the palate… the balsamic vinegar takes away anything too sickly and adds a little sophistication to the whole thing… plus the juice is simply heavenly drizzled over Greek yogurt." Yes please!
***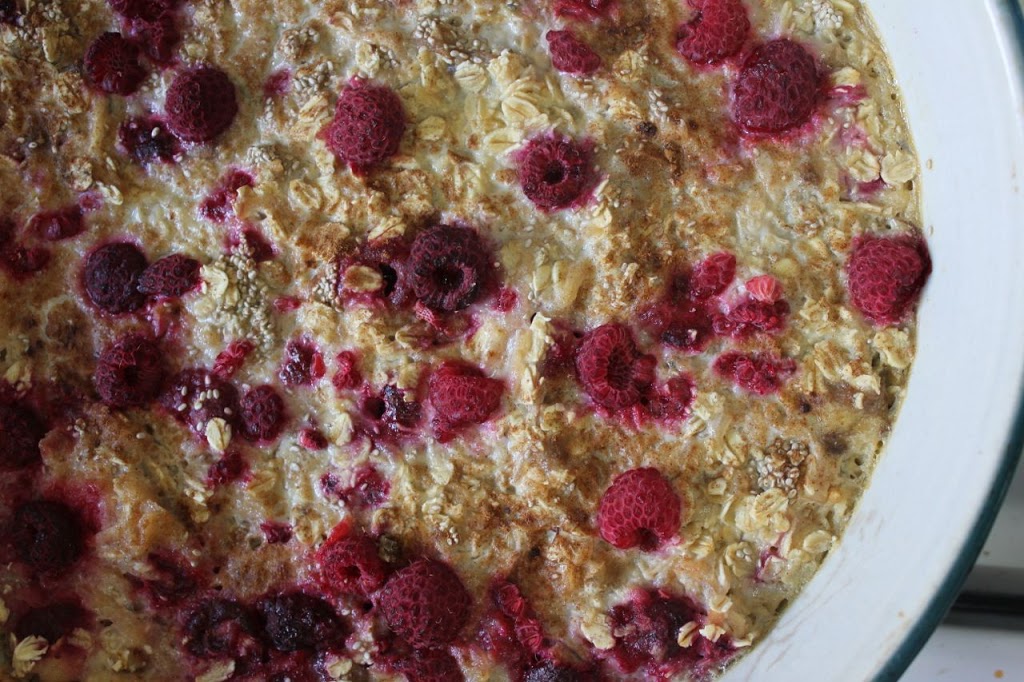 Joanna shares her baked porridge breakfast all the way from Australia. She was never a porridge fan as a child, but now she loves it. This baked porridge is an experiment in trying to vary her usual microwave porridge breakfast. Those raspberries look so inviting! Spoon, please!
***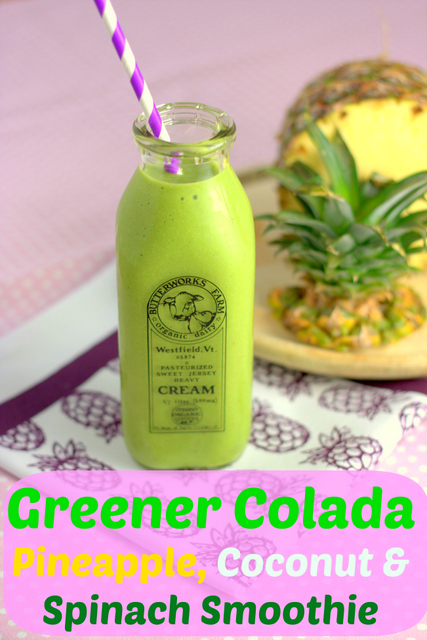 I am a big fan of liquid breakfasts, and this enticingly beautiful green smoothie by Helen sounds like the perfect start to any morning. This recipe is made in a Vitamix and so it still includes all the fibre present in the ingredients, unlike many juices and smoothies, so it's positively brimming with healthy goodness! Slurp!
***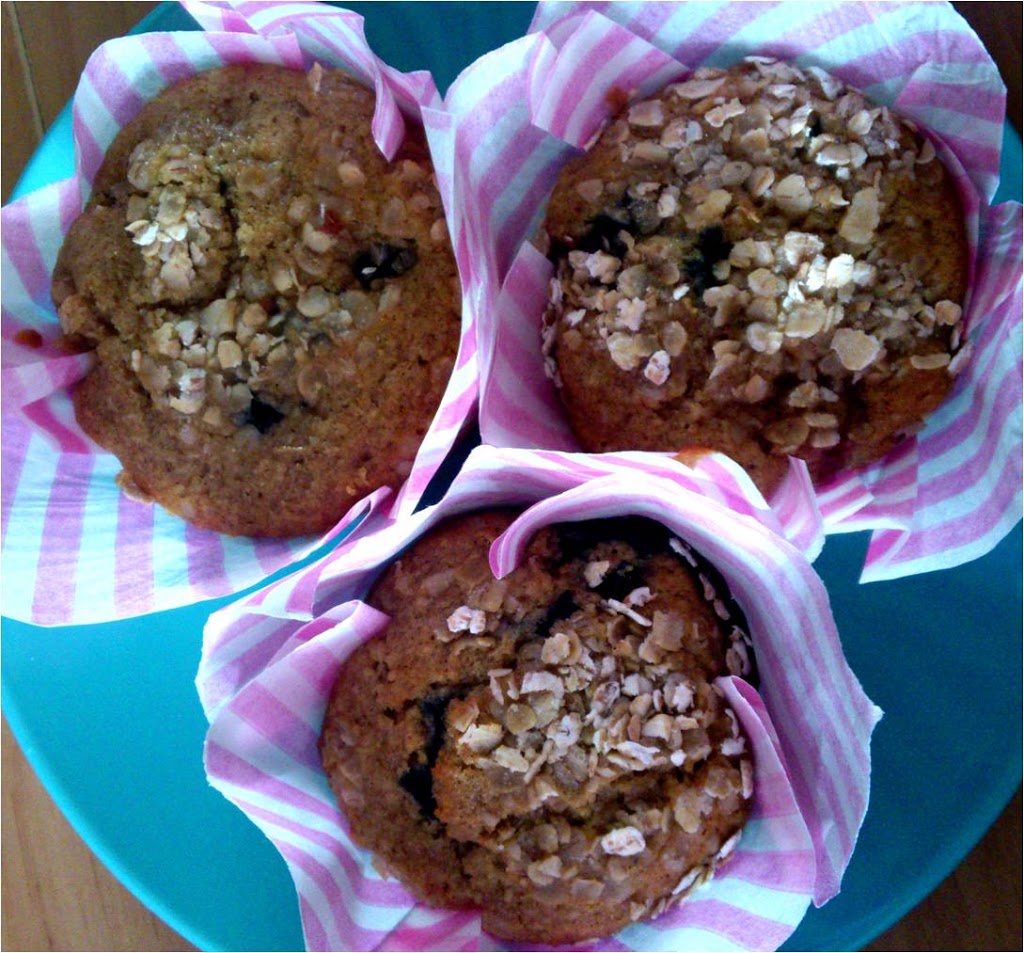 Michelle combines whole wheat and plain flours with wheat bran or oatmeal in these after school pick-me-up muffins which would also work as a tasty high fibre breakfast. The addition of fresh raspberries and blueberries makes them sound even more appealing – I can just imagine the little juicy burst of flavour in each bite.
***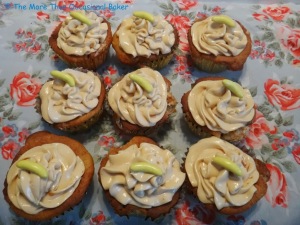 Banana cupcakes with peanut butter cream cheese frosting 
An ideal way to use up overripe high soluble fibre containing bananas these cupcakes sound like a delicious indulgent treat in the morning. The peanut butter cream cheese frosting sounds fantastic, although Ros suggests could be omitted if you wanted a healthier option. Banana and peanut butter sounds like a great combination here and I'm always up for a cupcake for breakfast!
***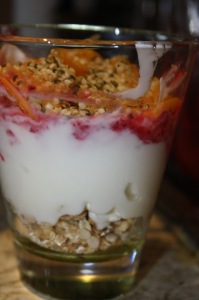 Caroline combines layers of crunchy cereal, creamy Greek yogurt, raspberry puree, fresh juicy peaches topped with a layer of hemp seeds in this very healthy sounding breakfast pot. I'm a big fan of yogurt with fruit and granola and this looks like a very visually attractive way to combine them.
***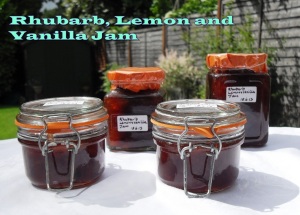 Rhubarb, Lemon and Vanilla Jam by Camilla from FabFood4All
Camilla has recently been bitten by the homemade-jam-making bug and has come up with this beautiful jam ideal for breakfast. She says this jam is, "A deliciously fresh and fruity jam where the rhubarb is given a zing of lemon and a subtle hint of vanilla!" Rhubarb is packed full of fibre and flavour, making this a perfect seasonal breakfast accompaniment.
***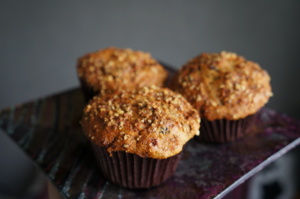 All Bran Breakfast Muffins by Riverside Baking
I'm so glad someone has shared an All Bran muffin recipe. I fondly remember these from my childhood and I've been looking for a recipe to try. Bookmarked! Riverside Baking topped her gorgeous looking muffins with some leftover pecan brittle, but crushed All Bran or oats would also work. These are the ultimate in high fibre breakfasts, I am sure!
***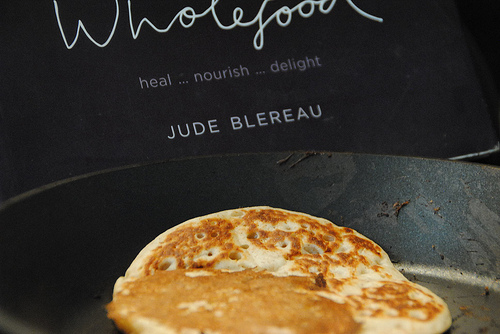 These sort-of pikelets were adapted from a poorly written recipe in the Wholefood: Heal, Nourish, Delight book. She says that although they were not very photogenic and nothing like pikelets (resembling drop scones instead) they tasted fantastic.
***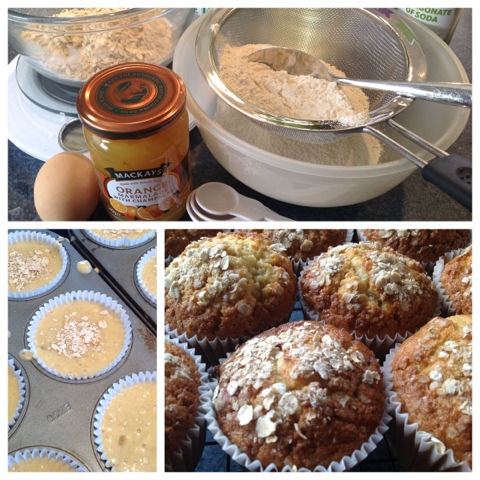 Last but not least we have these fantastically moist and exceedingly tasty Bucks Fizz breakfast muffins made with porridge oats and Mackays Orange Marmalade with Champagne. These sound like a very posh breakfast muffin indeed!
***
July's Breakfast Club is being hosted by Victoria Lee over at A Kick at the Pantry Door. Do pop over and see what this month's theme is!