The school holidays started this week and the weather, especially this morning, has been dreadful. It's been grey and dreary and this morning it was pouring down with rain. The children need entertained! So, we got out the bag of fabric scraps and got creative, making these applique flower pillows for our daughter's bedroom.
All the fabric is either bargain charity shop finds (one of my best fabric finds was several metres of the pastel shade Laura Ashley fabric in the right hand pillow), fabric which was given to me by friends who know I love to sew (thank you Joy, for the shimmery purple fabric!) or scraps cut up from garments. The pink flower on the left was one of my daughter's favourite dresses when she was a toddler which was destroyed by a tomato-based sauce and was subsequently transferred to the fabric bag.
This is a great day project to do with your children, but some sewing skills are required. Get your child to draw their design on the back of some fabric of their choosing, and involve them in deciding which colour threads to use. Older children could even use the sewing machine, with supervision of course!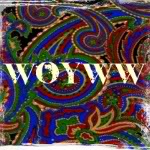 I'm linking this blog post up with Julia Dunnit's What's on your Workdesk Wednesday #213 over on her fabulous crafty blog Stamping Ground. When I first started blogging I was doing a lot of crafting and I loved linking up my blog posts and seeing what other crafters were up to all over the world. Alas, my Open University study sort of took over and I haven't has as much time as I'd like to craft. It was getting a bit samey sharing photographs of my study desk instead of lovely crafty things! Well, today it's the school holidays and it's wet outdoors, so I took the day off from study and we crafted instead.
We also made a set of pillows for a school friend of our youngest's appliqueing the child's name on the front of the pillow, making a unique personalized gift. The only limit for designs on these pillows is your imagination; why not try making hearts, geometric shapes or your child's favourite cartoon character?
There's something about children's hand drawn flowers that is so appealing, I think. I couldn't draw a flower which had so much innocence and creativity in it if I tried. It would just look like a flower drawn by an adult! I love that my daughter's drawing are now immortalised in a fabric work of art. One of these days we'll make something on a larger scale, like a quilt!