The ultimate comfort food as made by my after school chef!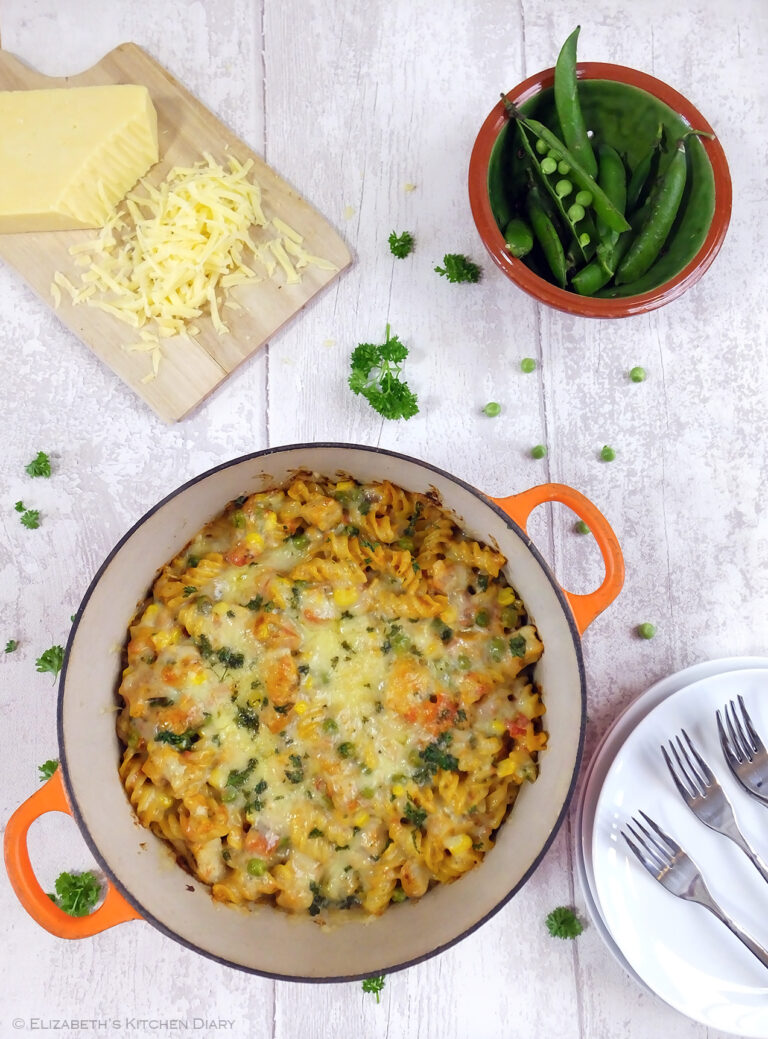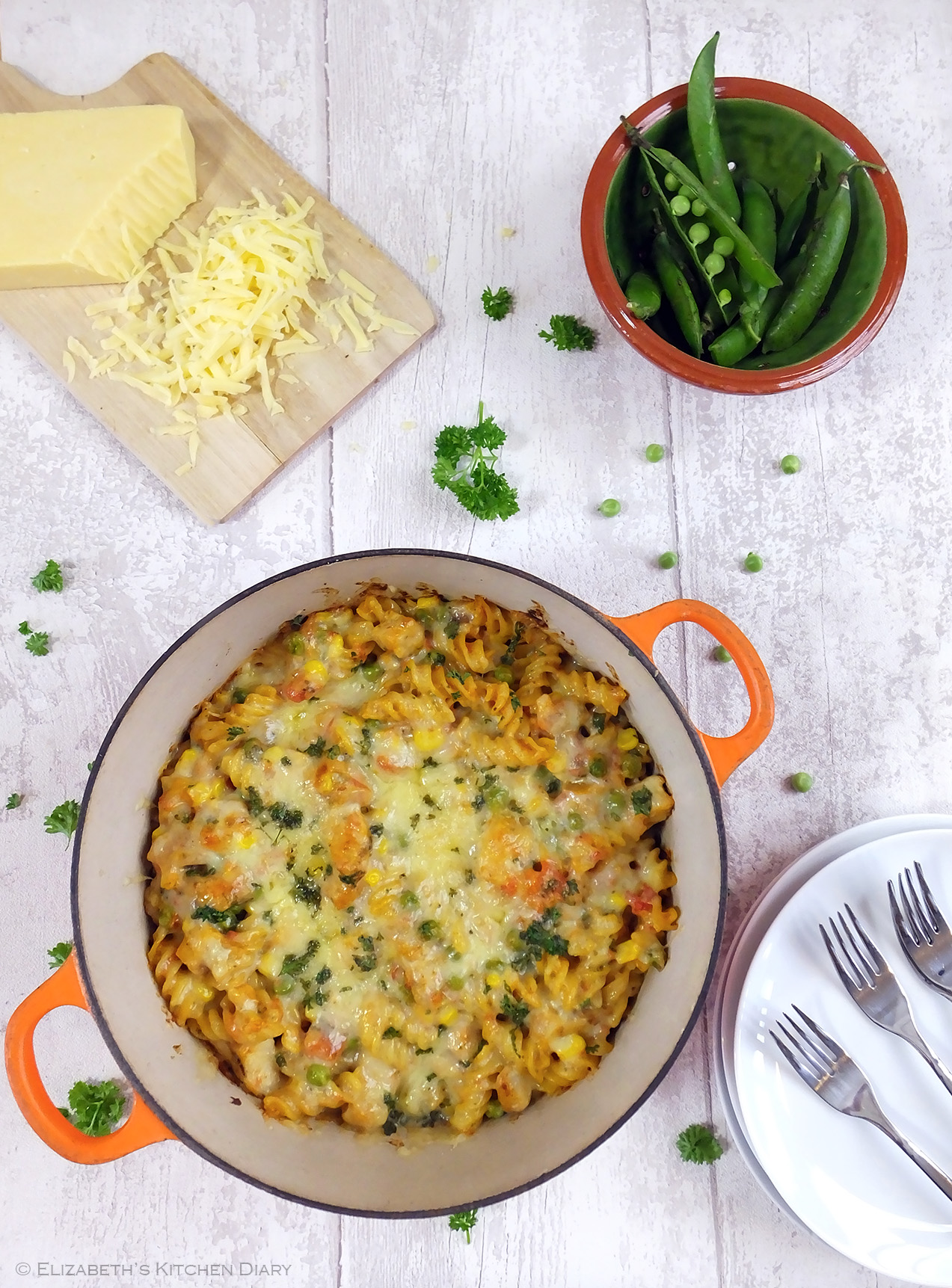 I do love food. I love cooking, I love shopping for food, I love preparing food.
But do you know what?
I also love having a day off every now and then.
When my husband and I began courting all those years ago he would occasionally whip up a delicious, mouthwatering meal, but those days are long gone. Now, if I ask him to make dinner a frozen pizza gets shoved in the oven or plain pasta is made. I know he can cook – he just doesn't any more. Meal preparation is pretty much 100% my department these days.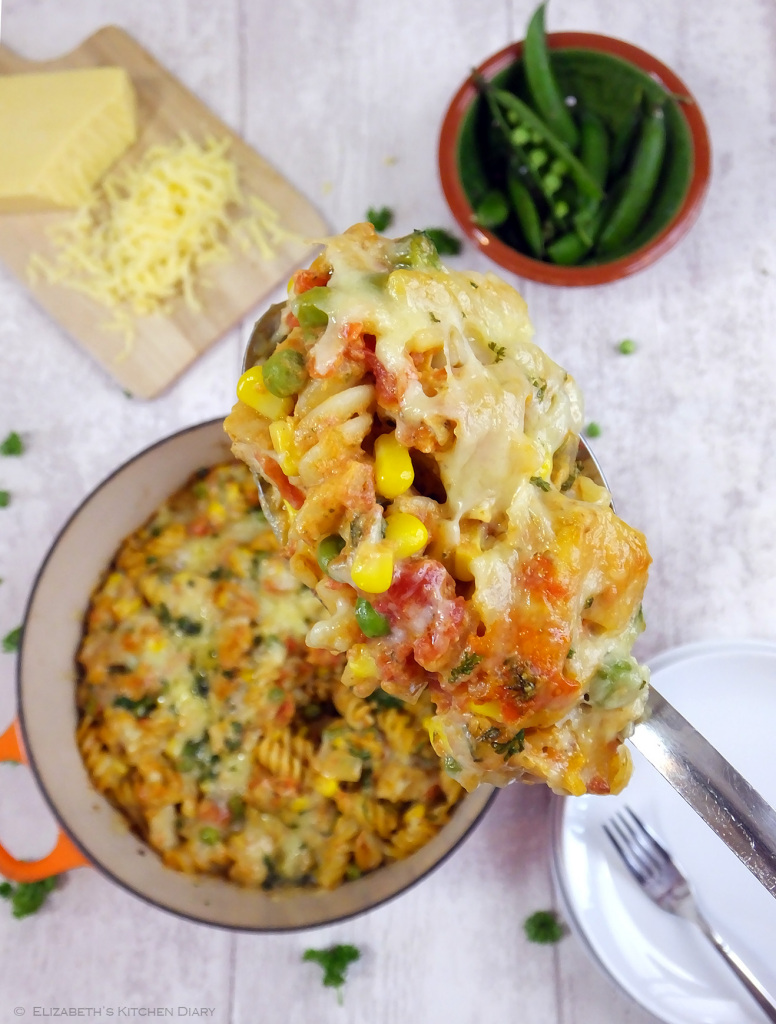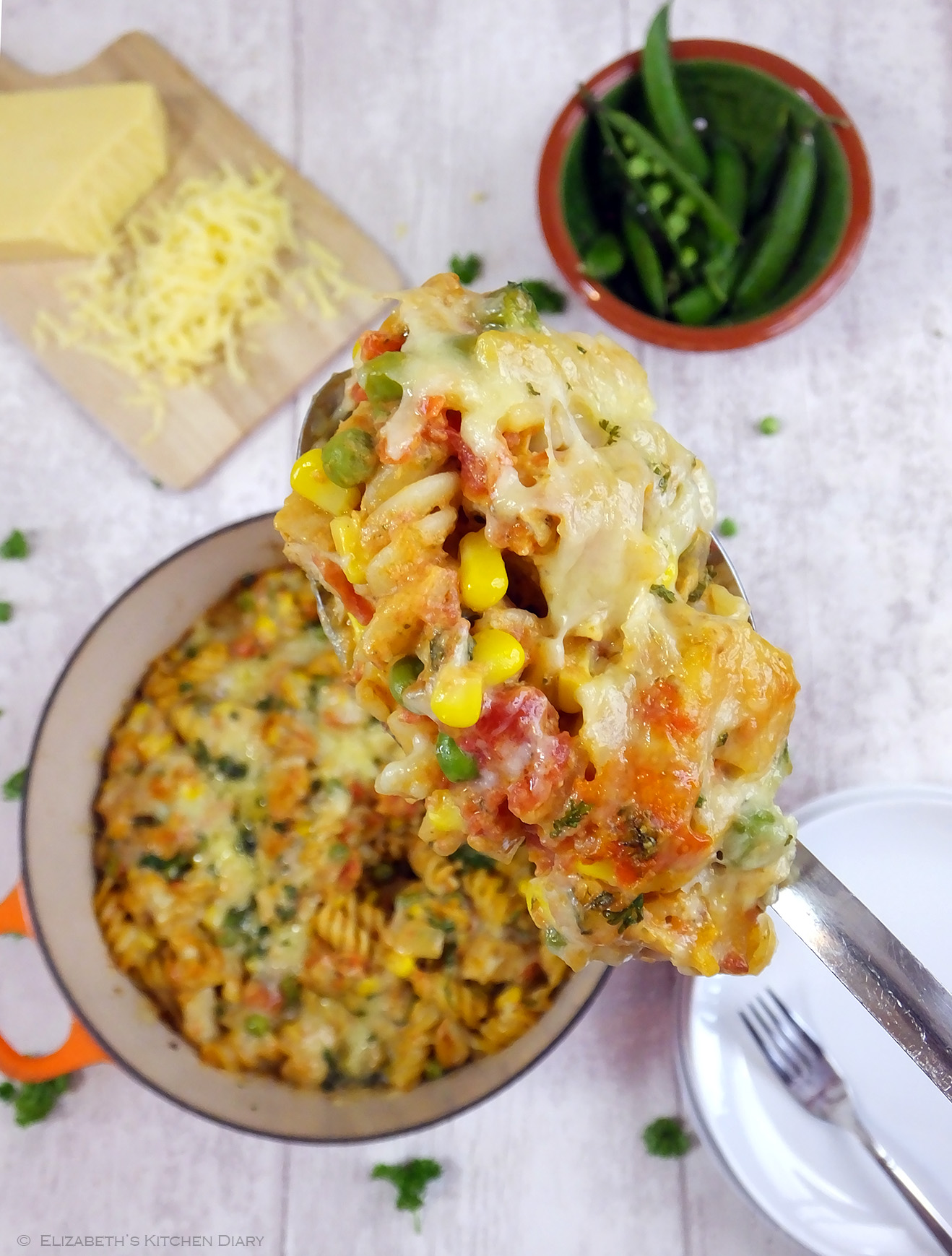 Well, I tell you things are about to change!
Our eldest also has an interest in cooking. A few weeks ago he began the hospitality course at the local college and he's regularly bringing home lovely dishes from his hospitality class at school (it's a sort of education share thing – one day a fortnight is spent at college with the rest of the week in secondary school.). Yesterday the two of us got creative in the kitchen making this four cheese chargrilled chicken pasta bake for the family. I mostly supervised and occasionally stirred the sauce while he was busy chopping or removing something from the oven.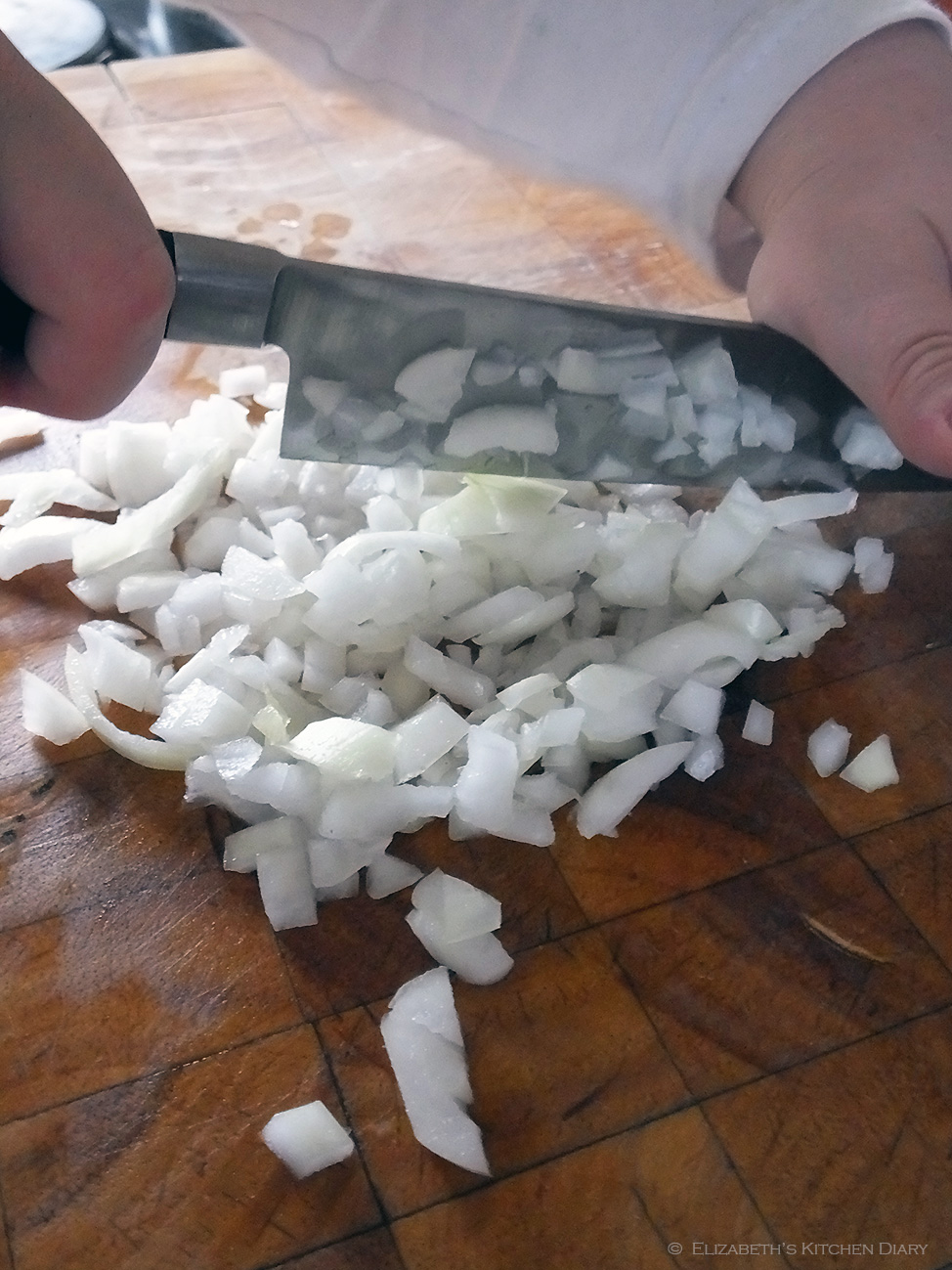 He taught me a new technique for chopping onions that he learned at school:
Peel the onion and leave the root end on; this holds the onion together. Holding the onion with one hand chop lengthwise through the centre  almost all the way through to the root end, and slice along either side, not cutting all the way through to the root. Then, rotate the onion 90 degrees and keep slicing across until you reach the root end. If there are any large bits of onion chop them up fine.  Oh, and his top tip if you don't want watery onion eyes: wear swimming goggles.
In exchange, I taught him how to finely chop the onion by pressing down on the tip of the knife while quickly moving the handle left and right while chopping.
Mum, why you're not a professional chef is beyond me.

– 14 year old admiring my onion chopping skills.
Together we massively adapted a quick sausage, pesto and tomato penne pasta recipe from Jo Pratt's Madhouse Cookbook (2013). After all, recipes are only guidelines, right? The original recipe includes sausages, tinned tomatoes, pesto, cream cheese and pasta (that's it!) but we thought we'd replace the sausages with chargrilled chicken and add a few other ingredients – oh, and cheese. Lots and lots of lovely, lovely cheese.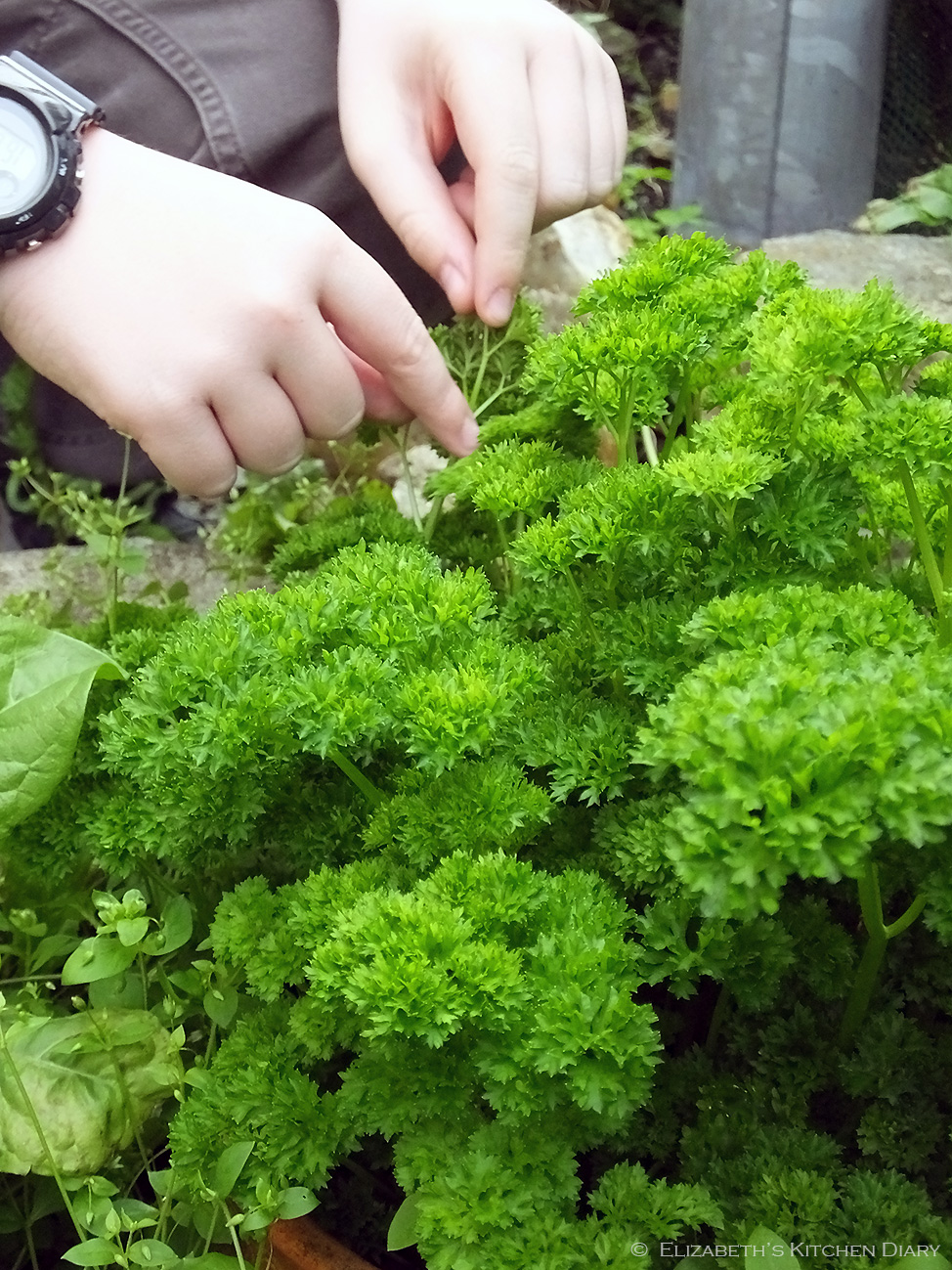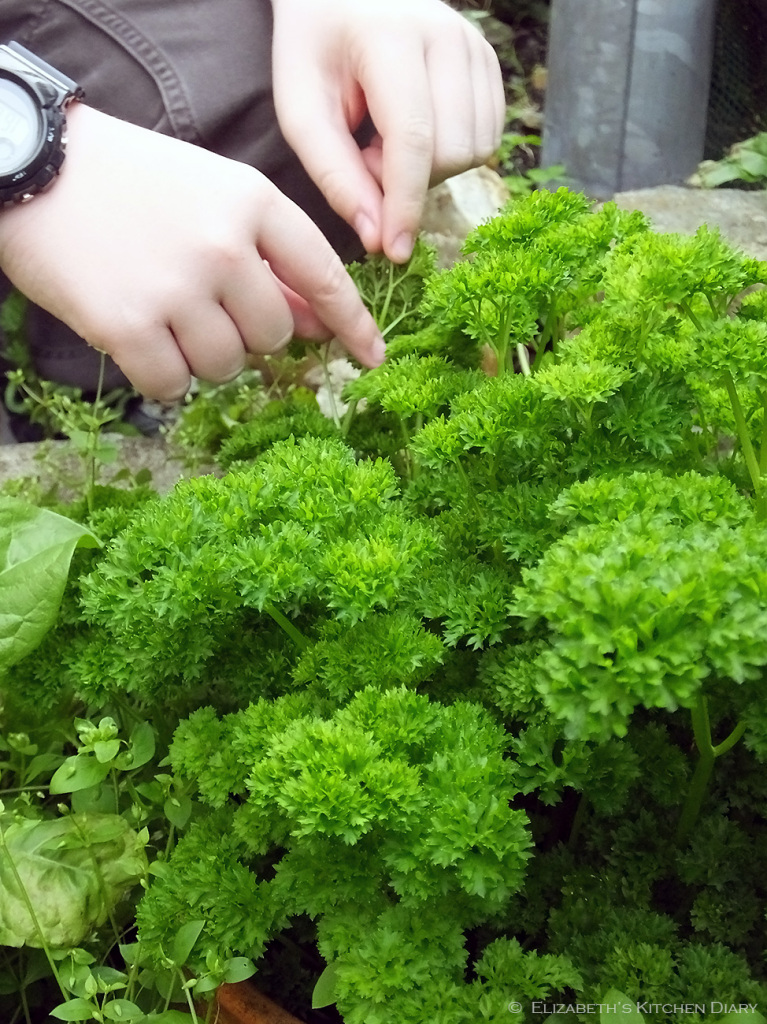 And parsley, straight from the herb garden.
After sprinkling the chopped parsley into the sauce and stirring, he remarked:
Oooooh, this is gonna be really good!
And he was right!
Fusilli pasta coated in a delicious creamy tomato pesto sauce with chunks of chargrilled chicken, peas and sweet corn sprinkled liberally with three types of cheese baked in the oven until the cheese goes all golden and bubbly? – absolute (calorific!) comfort food! I might have had thirds.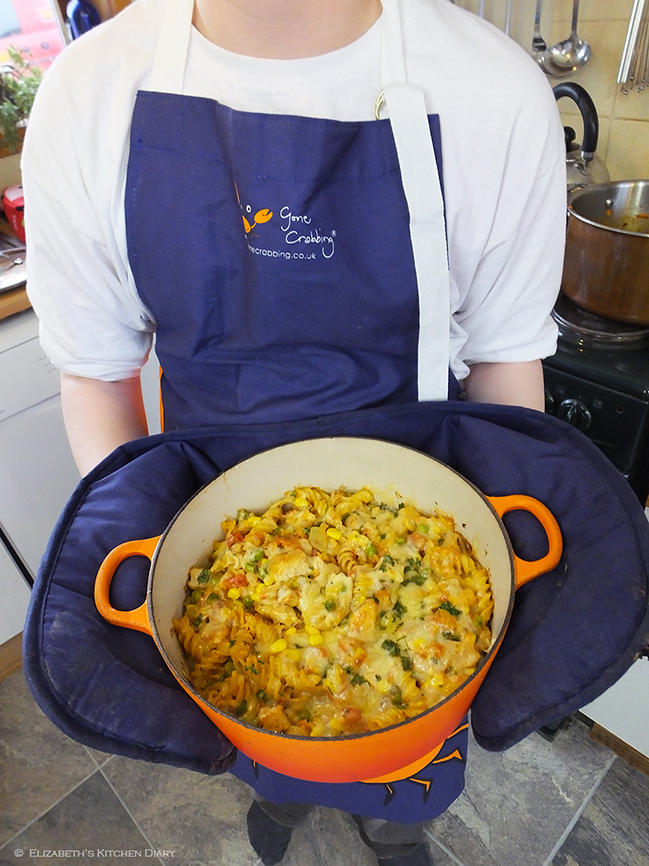 So, my tip for a successful family teatime routine is to get the kids involved. Get your #afterschoolchefs cooking, chopping, stirring, setting the table and tidying up afterwards. Get them involved in recipe preparation and teach them what flavours work well with each other and how to make the best with what you've got on hand – be it the last remaining herbs in the garden before winter sets in, ready made products in the deep freezer or plain boring pasta. My kitchen isn't some sort of cafeteria where you just come and help yourself – everyone needs to get involved! (That means you too dear husband!) 😉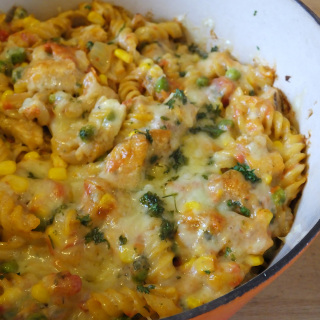 Four Cheese Chargrilled Chicken Pasta Bake
A hearty and warming pasta bake with chargrilled chicken, vegetables and tomato pesto sauce smothered in cheese.
Print
Rate
Affiliate Links
This recipe card may contain affiliate ingredient and equipment links. As an Amazon Associate I earn from qualifying purchases.
Instructions
Preheat oven to 180 C.

Bake the chicken chargrills according to the packet directions. If using the chicken breasts, brush with a little oil and grill until cooked.

Meanwhile, cook the pasta in boiling, salted water, for eight minutes.

While the chicken is baking and pasta cooking, prepare the sauce. Heat the sunflower oil in a saute pan and saute the onion until it begins to soften, about five minutes.

Add the garlic and cook for a further minute before adding the tinned tomatoes and tomato puree. Simmer gently for five minutes until the sauce thickens slightly.

Stir in the pesto and cream cheese and cook a further minute or so until the cream cheese melts. Stir in most of the chopped parsley (reserve some for the top), remove from heat and set aside.

Chop the cooked chicken chargrills into bite sized pieces.

Combine the cooked pasta, bite sized chicken pieces, frozen peas, frozen sweetcorn and sauce together and transfer to a casserole dish.

Sprinkle with the three grated cheeses and top with the remaining parsley. Turn the oven up to 200 C.

Bake in the middle of the oven for 15-20 minutes, until the cheese is golden and bubbly.

Serve with a side salad.
Environmental Information

Linking up with Tasty Tuesdays over at Honest Mum and #CookBlogShare at Supergolden Bakes.
OTHER PASTA BAKE RECIPES YOU MIGHT LIKE
Meatball Pasta Bake by Feeding Boys and a Firefighter
Enchilada Pasta Bake by Amuse Your Bouche
Ragu Pasta Bake by Dinner with Crayons
Cheesy Mushroom Pasta Bake by Blue Kitchen Bakes
Chicken Tarragon Pasta Bake by Kavey Eats
Chicken & Leek Pasta Bake by Fab Food 4 All
This post is an entry for the #Afterschoolchefs Challenge sponsored by Birds Eye. Learn more on the Birds Eye Facebook Page. Elizabeth's Kitchen Diary was sent vouchers to purchase the Birds Eye products used in this recipe, although all opinions expressed are our own. This is not a paid post.
If you want to be kept up to date on my recipes, occasional craft tutorials, adventure stories and giveaways then please subscribe to my weekly newsletter; it gets sent out every Monday morning if there is new content. Your email address won't be passed on to anyone, you will never be spammed and you are free to unsubscribe at any time, no questions asked. Make sure you confirm your subscription or you won't receive the newsletter – if it hasn't arrived check your junk mail folder.
[wysija_form id="1″]