A gluten free recipe in collaboration with Newburn Bakehouse by Warburtons.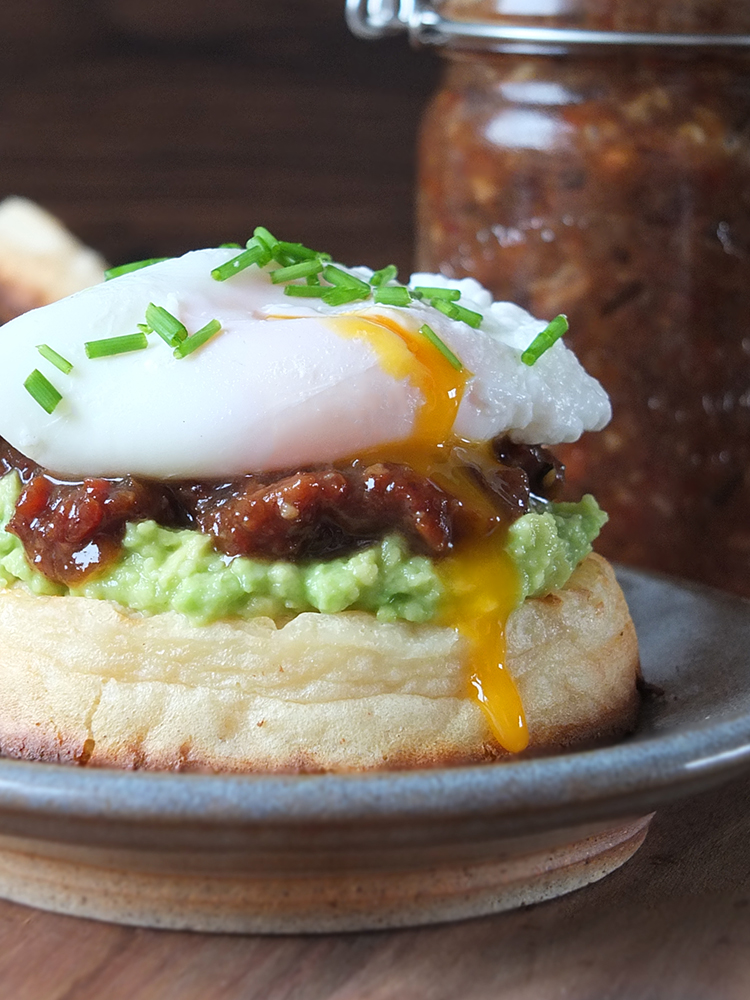 Did I ever tell you about that time I was lassoed? True story. I was only 19 and living in Banff, in the heart of the Rocky Mountains in Canada. My boyfriend and I had just broken up. We'd just had a huge row and I'd stormed out of the house in a rage to walk it off. Not even a minute later, as I stomped down the street thundercloud crashing above my head, I found myself abruptly halted with a lasso around my ankle.
You see, the annual Calgary Stampede was on that weekend. There wasn't enough room in the city to house the influx of cowboys and rodeo participants, so many of them were staying in nearby Banff. I looked up at a rather young and handsome cowboy with his suede cowboy hat, blue jeans and oversized belt buckle. I glared at him, wordlessly, as I lifted my ankle to have the lasso removed.
The poor lad was so apologetic, quickly removing the rope and letting me continue on my rage-stomp down the road. If I could go back in time and apologise to him I would. Talk about missed opportunities!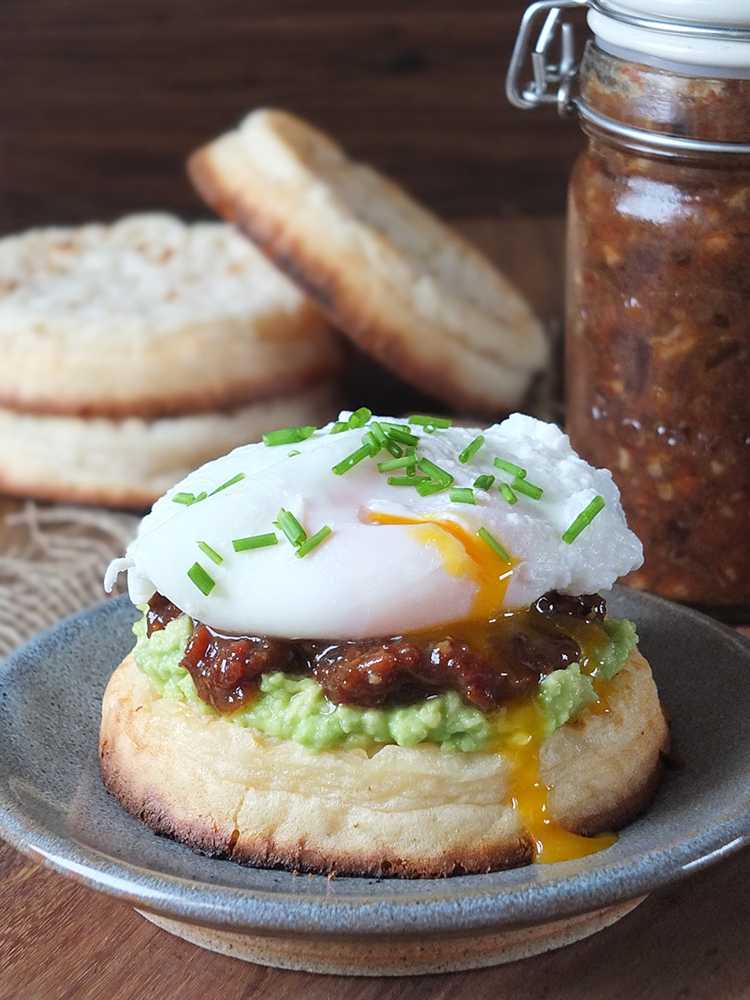 What has that got to do with crumpets, you might wonder (and rightly so!). Well you see, the baking company Warburtons have listened to customer feedback and have developed a new free-from baking range: Newburn Bakehouse by Warburtons.
This new extensive 'Free From' range including loaves, hand-crafted Artisan boules, rolls, wraps and sandwich thins and their newest addition: the quintessentially British crumpet.
Newburn Bakehouse challenged me to be creative and share something new as a crumpet topping.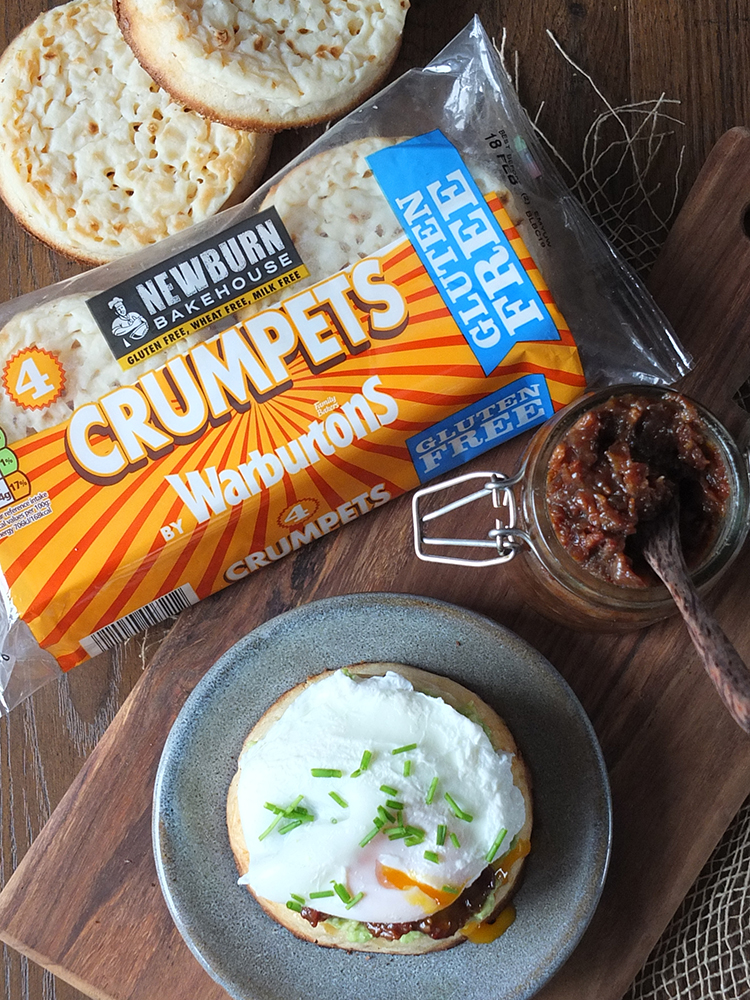 I love crumpets, especially toasted and eaten warm with lashings of butter and some strawberry jam. That's not nearly quirky enough to blog about, so I set to thinking. Maple syrup and bacon would work well on a crumpet, wouldn't it? How could I serve it – grill the bacon so that it's gorgeously crispy and pile it up like a tower and drizzle in maple syrup? What about candied bacon? Candied bacon….. mmmmm! Then, as I went for my daily hill walk, inspiration struck: bacon jam!
BACON JAM
I'd first tried bacon jam some months ago when I was sent a review sample, and oh my goodness gracious me it's a bacon-lovers perfect condiment! Avocado and a poached egg also go really well with bacon too, and so this delicious brunch idea was born.
My recipe idea needed a quirky name, though. "The Canadian" was my first thought, given that I'm an expat Canadian living in the UK and this recipe includes bacon and maple syrup, two of Canada's finest foodstuffs. Bacon, maple syrup, and cowboys. Cowboy thoughts led to reminiscing about being lassoed. You know how one thought leads to another like that? However, Canadians aren't terribly famous for eating avocados, except perhaps the Hipsters, so 'The Hipster Cowboy' was born.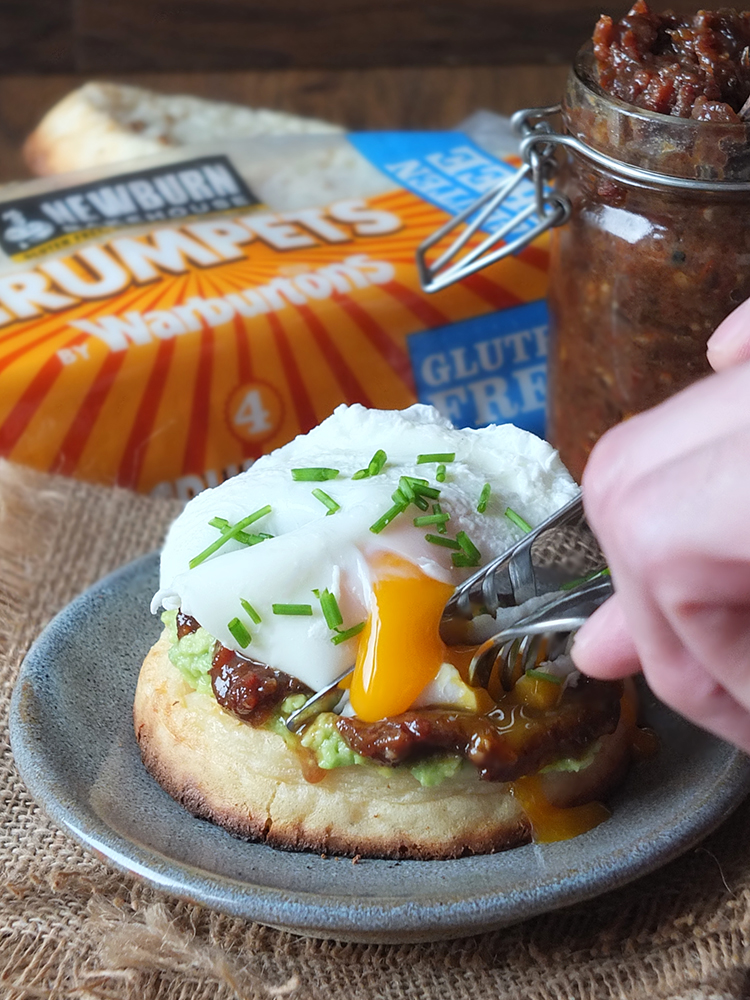 So with my Hipster Cowboy you've got a gorgeous hot buttered gluten-free crumpet with a layer of creamy mashed avocado topped with a generous spoonful or two of bacon jam finished off with a perfectly poached egg. Bliss!
Did you know that one in 100 Brits live with coeliac disease¹? Whether you suffer from coeliac disease, a gluten sensitivity or are choosing gluten-free options you can enjoy this traditional British breakfast item. Crumpets are ideal for winter brunches or for cosy afternoons in front of the television. Not only are these all-new Newburn Bakehouse crumpets gluten and wheat free, but they're milk free too!
Newburn Bakehouse crumpets are available in 'Free From' aisles and online in Morrisons, Ocado, Sainsbury's, Tesco, and Waitrose.
For more crumpet and gluten free inspiration visit the Newburn Bakehouse website and follow them on Twitter, Facebook, and Instagram. Check out the hashtag #CrumpetChallenge to see what others have been creating!
What's your favourite way to eat crumpets? Let me know in the comments!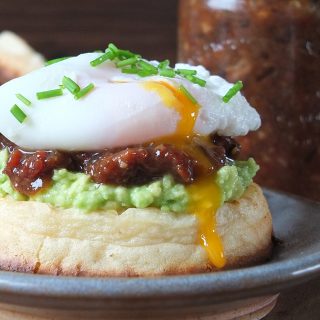 Crumpet with Avocado, Bacon Jam & a Poached Egg
A Newburn Bakehouse by Warburton's gluten-free crumpet is toasted, buttered and topped with mashed avocado, homemade bacon jam and a perfectly poached egg. The perfect brunch.
Print
Rate
Ingredients
For the Bacon Jam (prep: 2 hours)
Instructions
Poach your egg: heat a shallow pan of water (about one inch in depth) with the apple cider vinegar over a medium-high heat. Crack your egg into a mug and set a timer for two minutes. When the water is simmering add the egg and start the timer.

Toast your crumpet, butter and arrange on a serving plate. Top with the mashed avocado and the bacon jam.

Remove the poached egg from the water with a slotted spoon, drain on a piece of kitchen towel for a moment (if desired) and arrange on the top of the bacon jam.

Sprinkle with snipped fresh chives, season with more salt and pepper, if desired, and serve immediately.
To Make Your Own Bacon Jam
Heat a heavy based saucepan over a medium-high heat.

Cut the bacon into 1/2 inch pieces and fry, dry, until they start to crisp and brown (about 15-20 minutes).

Lower the heat to medium and add the onions. Cook gently for a further 8-10 minutes until they begin to soften.

Add the remaining ingredients, season well and reduce heat to low.

Simmer for 45-60 minutes until the jam is thick and glossy.

Allow to cool for half an hour before blending to a coarse spread in a mini food processor.

Store in the refrigerator for up to two weeks. Bring to room temperature before serving.
Notes
Use leftover bacon jam on burgers, heat up and use as a dressing for a spinach salad, turn it into a ravioli filling, add it to your grilled cheese sandwiches or just eat it by the spoonful!
[amazon_link asins='B071HNJVR7,B0013G4BRS' template='ProductCarousel' store='elizskitcdiar-21′ marketplace='UK' link_id='829c25b8-2db2-11e8-b05e-fdbd32dc454f']

[color-box]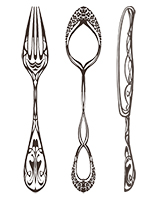 Have you made this recipe?
Take a photo and tag @tangoraindrop or use the hashtag #elizabethskitchendiary and share on Instagram and Twitter. It would make my day to see your creations!
[/color-box]
This is a sponsored post in partnership with Newburn Bakehouse by Warburtons, although all thoughts and opinions expressed are our own. Thank you for supporting the brands who make it possible for me to do what I love: mess up my kitchen and share recipe stories.