Crispy bits of bacon, grated mature Cheddar cheese, finely chopped spring onion, soured cream and some red chilli make these savoury cheese and bacon scones a perfect accompaniment to corn chowder.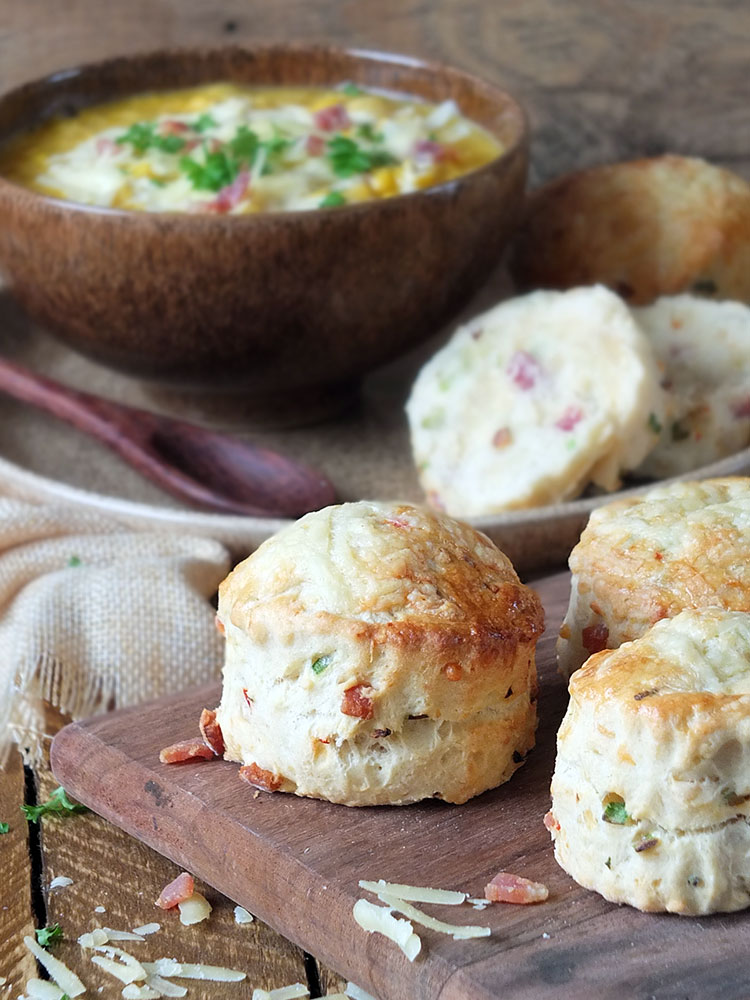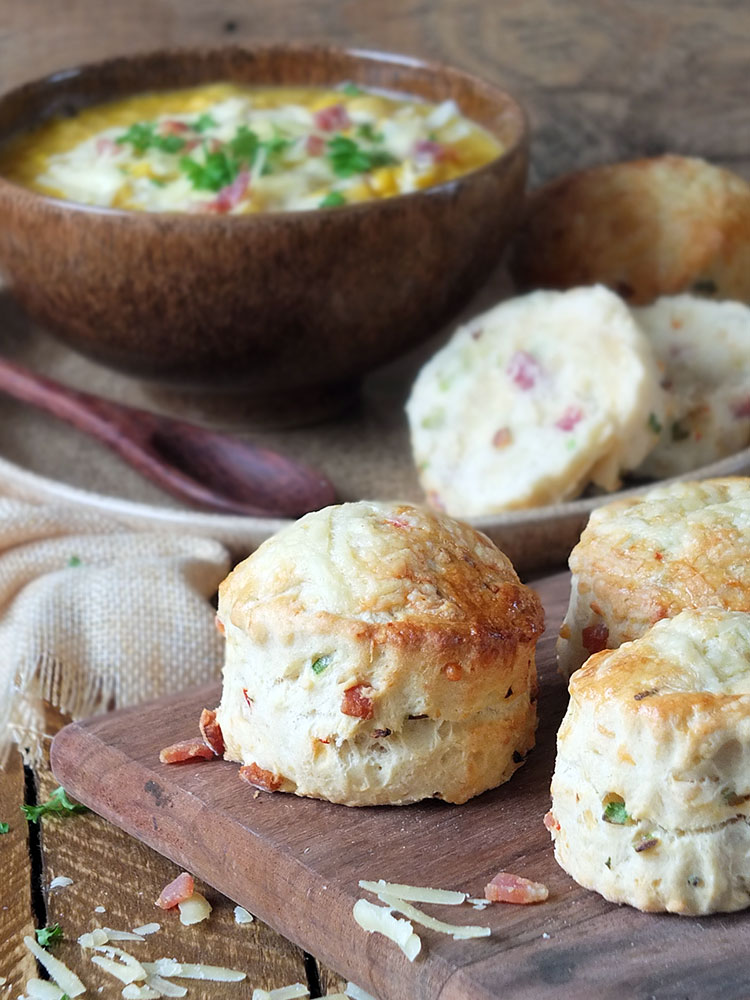 My eldest son works in a local cafe. This means, sometimes, he comes home from work at the end of the day with leftover food that hasn't been sold. Soups, scones and muffins usually. Perks of the job, we like to think, and we'll miss these little treats when he moves out next week (yes, my eldest baby is moving into his own house – let the empty nest syndrome commence!).
A few weeks ago he came home with a rather large tub of leftover corn chowder, which I portioned up into servings and froze for use at a later date.
Corn chowder, as filling as it is, isn't a complete meal unless served with a carbohydrate side of some sort, and so these bacon and cheese scones were created. Inspiration was drawn by bits and bobs I found in the fridge and freezer; a couple of rashers of bacon, leftover soured cream from taco night, a few sad spring onions at the bottom of the vegetable crisper and, as an afterthought, a little bit of fresh red chilli pepper for a kick. I confess I'm rather proud of these scones; they taste fantastic!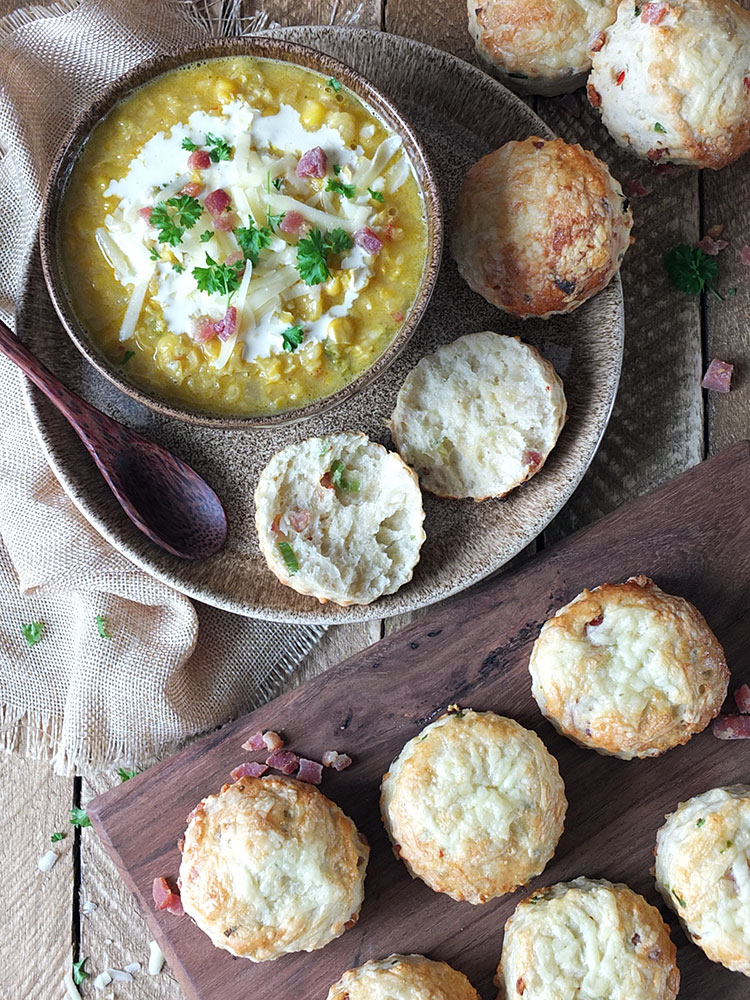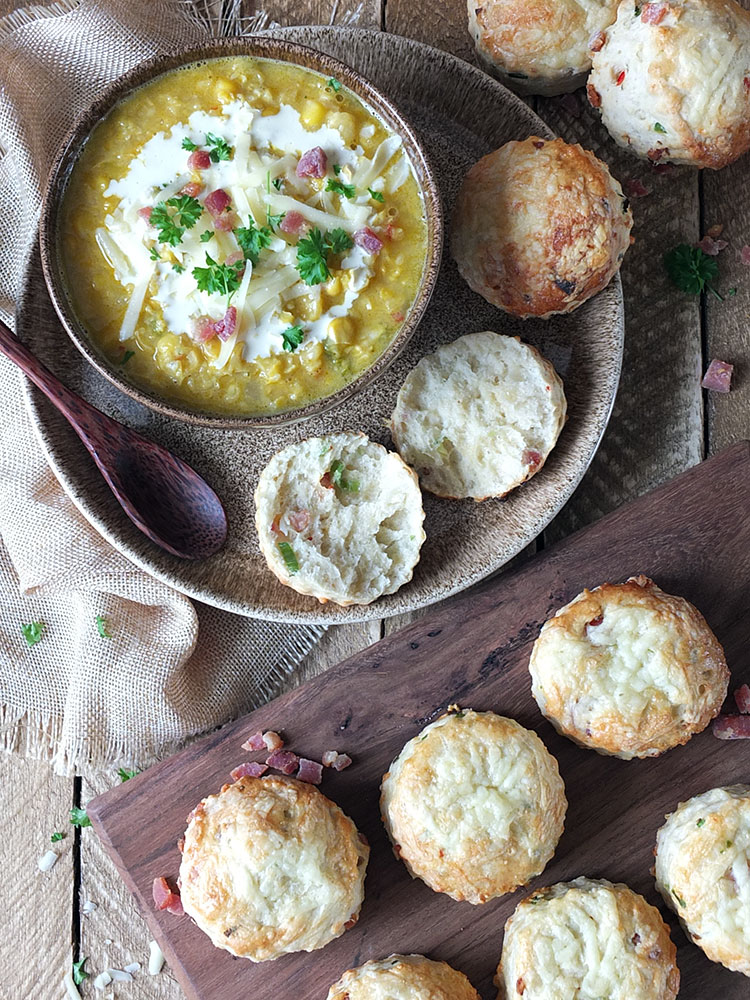 As an aside, I feel I ought to mention one of my not-so-secret tricks to getting perfectly risen scones (and bread, and pizza with the best crispy base) – my pizza steel.
I was sent a pizza steel for review over a year ago, and I confess it's since become one of the most used items in my kitchen. The Pizza Steel is a large, indestructible, rectangular piece of steel that stores heat energy. Simply pop it into the oven as it preheats, and then use a pizza peel to slide your scones, bread or pizza directly onto the preheated pizza steel (on a piece of baking paper). The hot base means your scones will cook from the bottom and the top, rising wonderfully and taking less time overall to cook. It's completely revolutionised my home baking.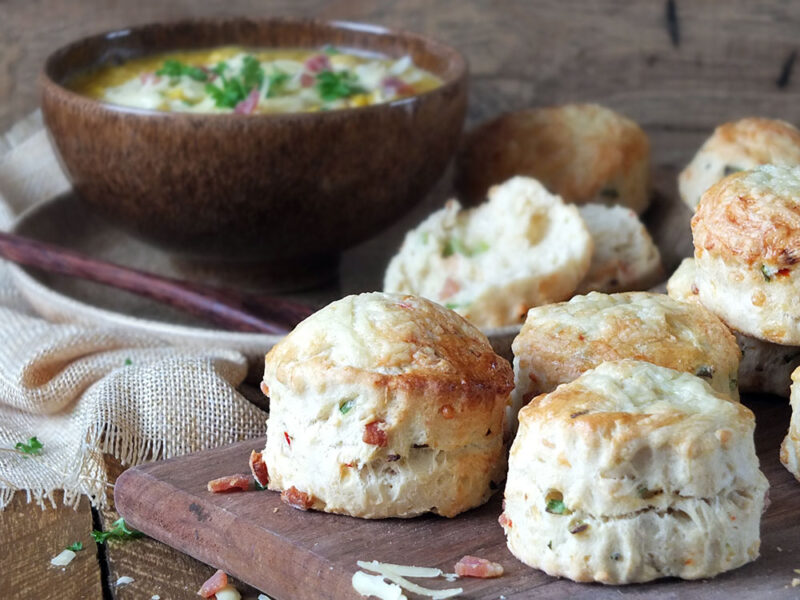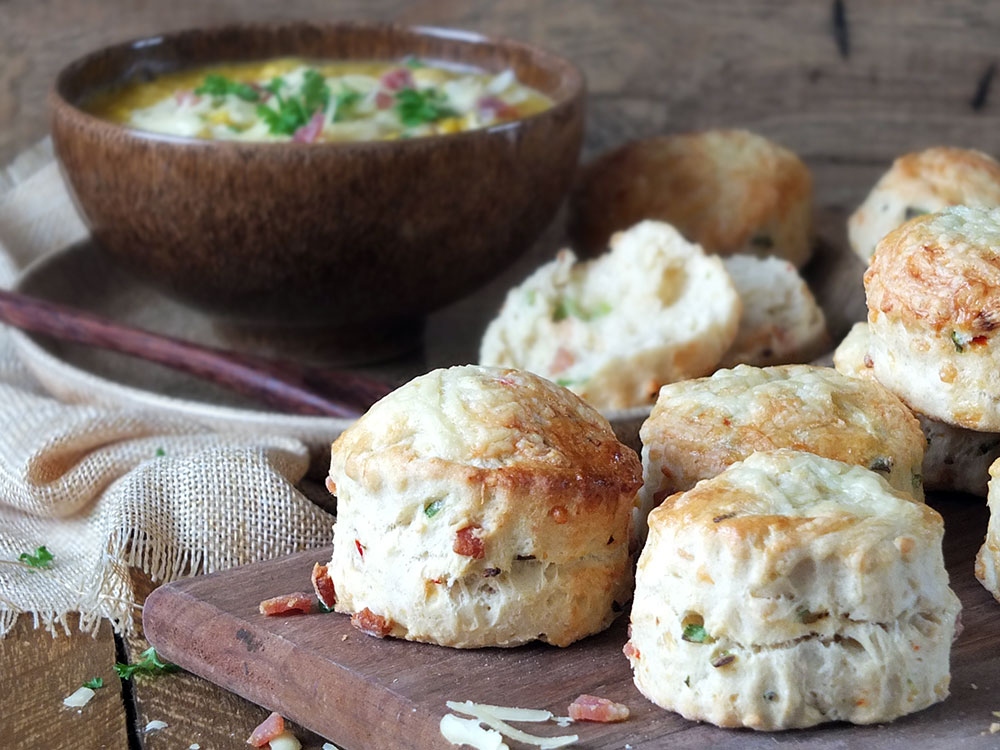 WHAT YOU NEED FOR THESE CHEESE AND BACON SCONES
bacon! two rashers of good quality smoked back bacon will work. Mine came from the Anderson Butchers.
a strong flavoured cheese like mature cheddar or Red Leicester
soured cream
butter
full-fat milk – we use milk from the local Shetland Farm Dairies
a few spring onions, chopped as finely as you can get them
plain flour – the Voe Bakery in Shetland do a lovely flour blend
baking powder
sea salt – I used Shetland sea salt
red chilli pepper, finely chopped – Turriefield in Sandness grow a fiery variety
a beaten egg to glaze – mine came from a croft on the island of Bressay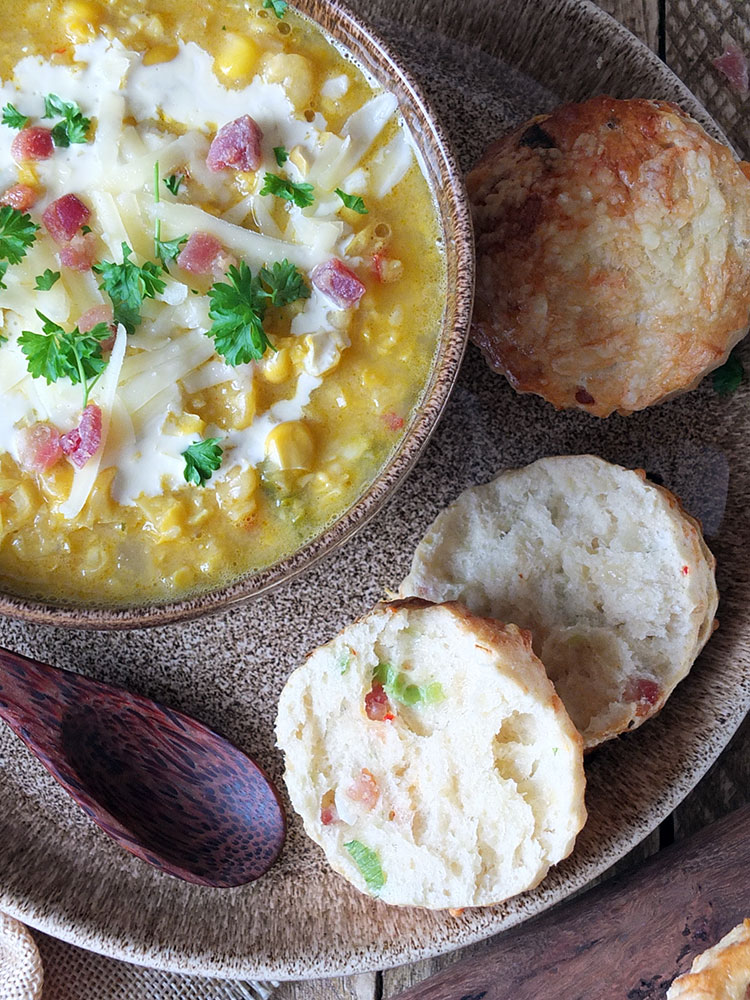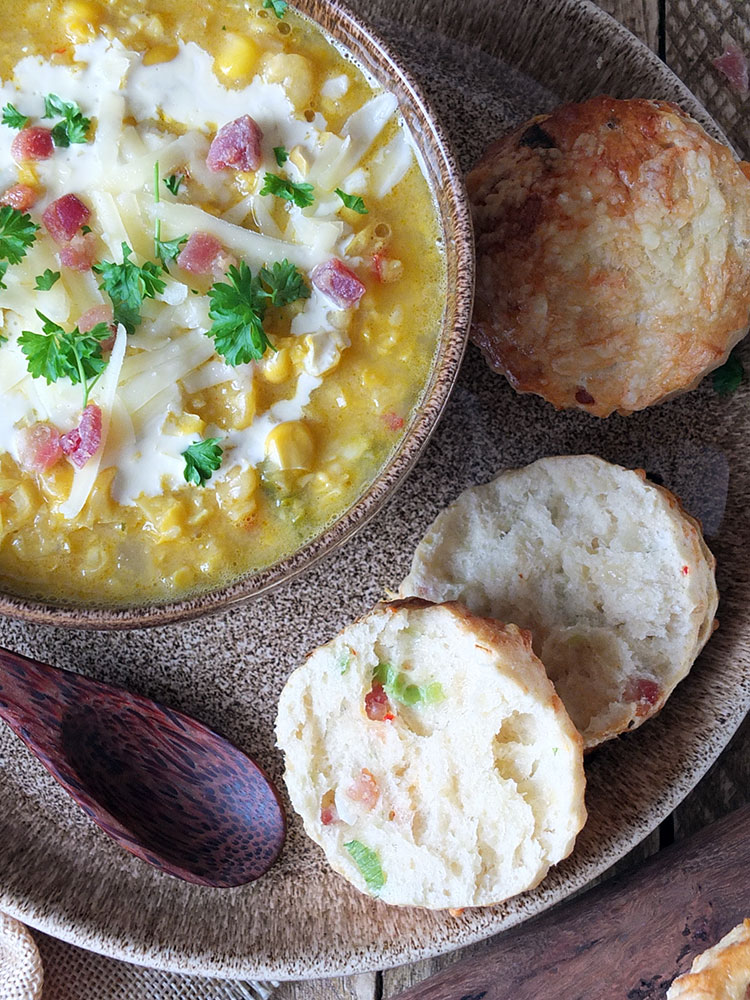 HOW TO MAKE THESE EASY CHEESE AND BACON SCONES
Step 1: Fry your bacon. Pop a non-stick pan onto your hob and put the bacon into it, cut into small half centimetre sized pieces, while it's still cold. As the pan heats the bacon fat will melt, and you'll end up with gorgeously crisp bacon bits. Drain on a paper towel.
Step 2: Put the flour, baking powder and salt into a large mixing bowl and rub the butter and grated cheese into it until it resembles coarse breadcrumbs.
Step 3: Add the soured cream along with the bacon, chopped chilli, spring onion and a little milk. Stir with a wooden spoon until a dough begins to form, adding enough milk to make a soft, pliable dough.
Step 4: Roll out the dough to a thickness of one inch, and cut with a 2.5-inch fluted cutter.
Step 5: Brush the scones with beaten egg, sprinkle with a little extra grated cheese and bake in the centre of the oven for 12-15 minutes.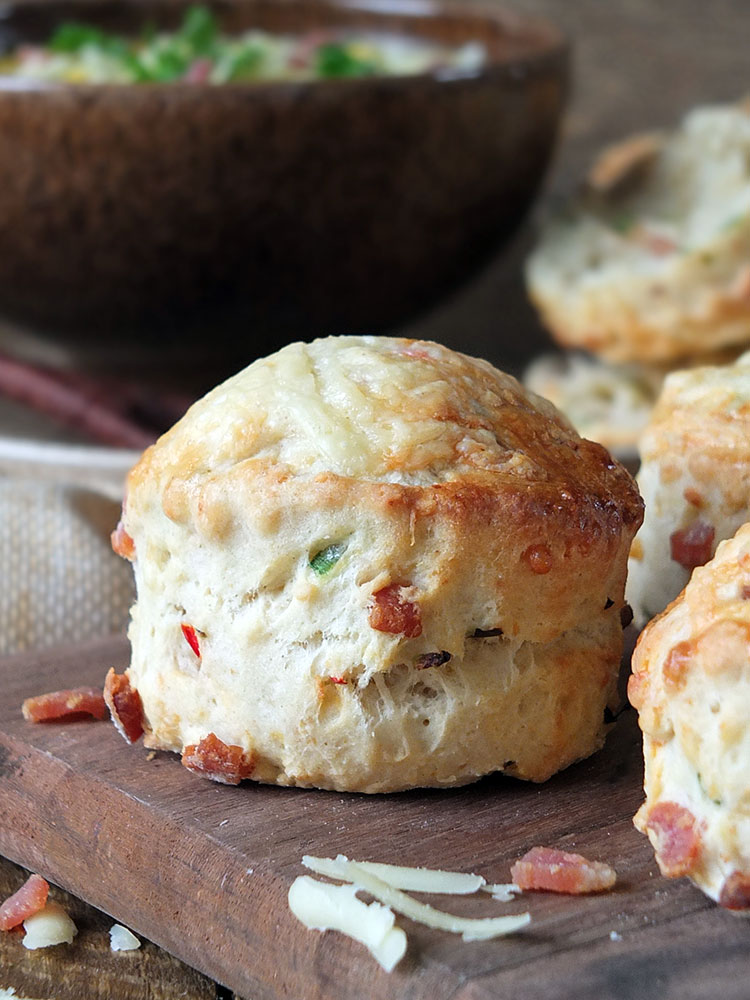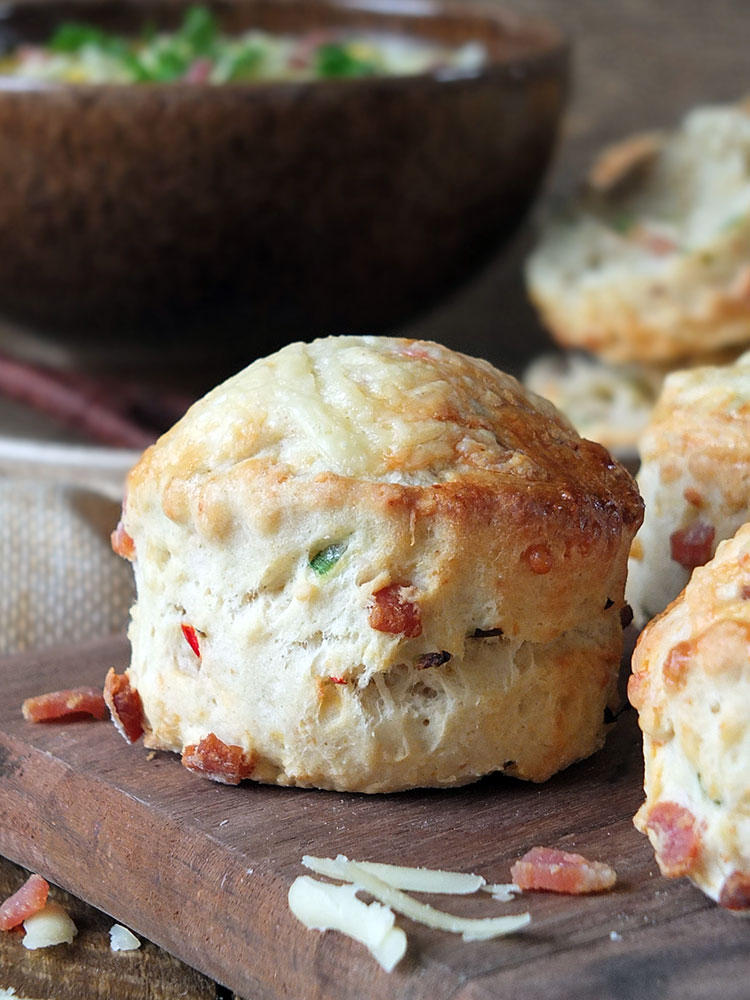 If these scones aren't quite what you're looking for you might be interested in Camilla's cheese, ham & potato scones or Claire's wild garlic tattie scones (as an aside, did you know wild garlic grows here in Shetland? You can find it in the lower wooded area in Kergord!). Jacqueline's cheese scones might be more to your liking, or perhaps Grace's cheese scones with Grana Padano and Prosciutto di San Daniele. Janice has a recipe for cheese and chive scones with marjoram and marigold cream cheese while Helen's polenta and cheese scones would make a rather fabulous corn chowder accompaniment. Lastly, Choclette has created these brie and chive scones with spelt flour.
What do you like to serve with your corn chowder? Let me know in the comments!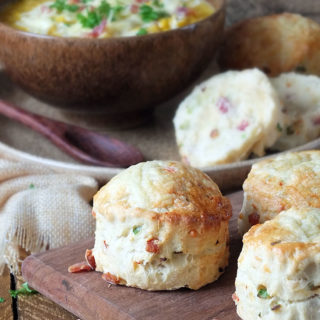 Easy Cheese and Bacon Scones Recipe
Crispy bits of bacon, grated mature Cheddar cheese, finely chopped spring onion, soured cream and some red chilli make these savoury scones a perfect accompaniment to corn chowder.
Print
Rate
Affiliate Links
This recipe card may contain affiliate ingredient and equipment links. As an Amazon Associate I earn from qualifying purchases.
Instructions
Preheat oven to 220 C/ 200 C fan/ 425 F.

Add the bacon to a cold, non-stick pan and turn the heat on medium high. As the pan heats the bacon fat will melt, stir until it has browned and crisped evenly all over. Drain on paper towel while you prepare the remaining ingredients.

Place the flour, baking powder, salt, butter and 30 grams of cheddar cheese into a large mixing bowl. Rub together with your hands until the mixture resembles coarse breadcrumbs.

Add the soured cream, bacon, spring onions, chilli and 2 tbsp of the milk. Stir well, adding more milk to make a soft dough.

Turn out onto a lightly floured surface and knead for 30 seconds until smooth. Roll out 1 inch thick and cut into circles with a 2.5 inch fluted biscuit cutter.

Glaze with the beaten egg and sprinkle a little grated mature cheddar on the top of each scone.

Bake in the centre of the oven for 12-15 minutes, until golden. Transfer to a wire rack to cool completely.
Notes
Food waste prevention tip: freeze leftover bacon. You can chop it into pieces and cook from frozen when needed.
Nutrition
Sodium:
178
mg
|
Calcium:
80
mg
|
Vitamin C:
1.7
mg
|
Vitamin A:
250
IU
|
Sugar:
0.4
g
|
Fiber:
1
g
|
Potassium:
63
mg
|
Cholesterol:
28
mg
|
Calories:
169
kcal
|
Monounsaturated Fat:
2
g
|
Polyunsaturated Fat:
0.4
g
|
Saturated Fat:
5
g
|
Fat:
8
g
|
Protein:
4
g
|
Carbohydrates:
20
g
|
Iron:
1.4
mg
Environmental Information
[amazon_link asins='B00VF6LSSQ,B074TZ649S' template='ProductCarousel' store='elizskitcdiar-21′ marketplace='UK' link_id='9e5bc6d2-3a41-11e8-ab81-15f8f610d826′]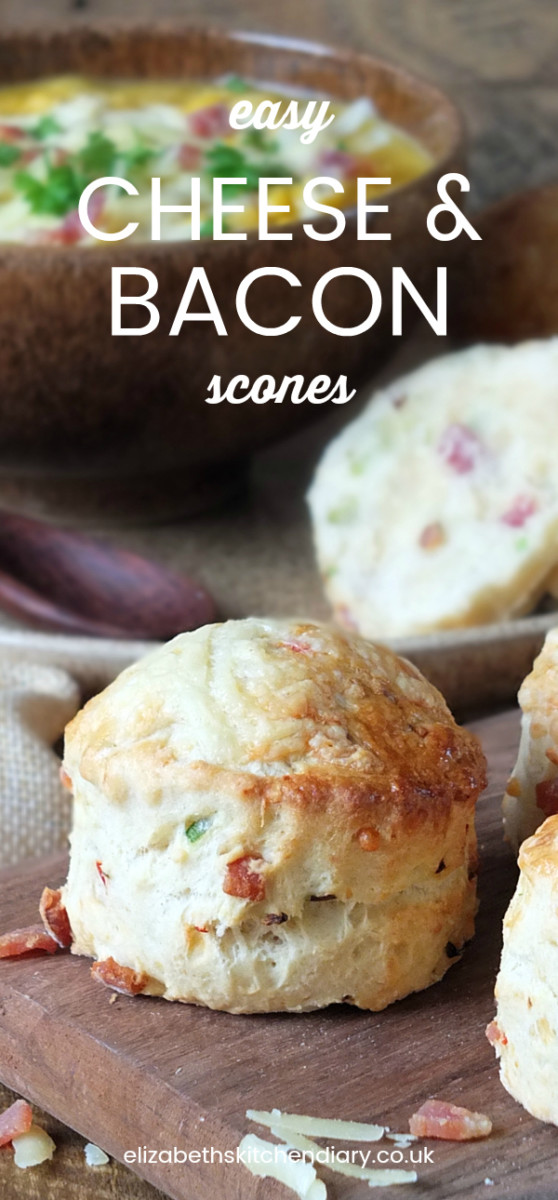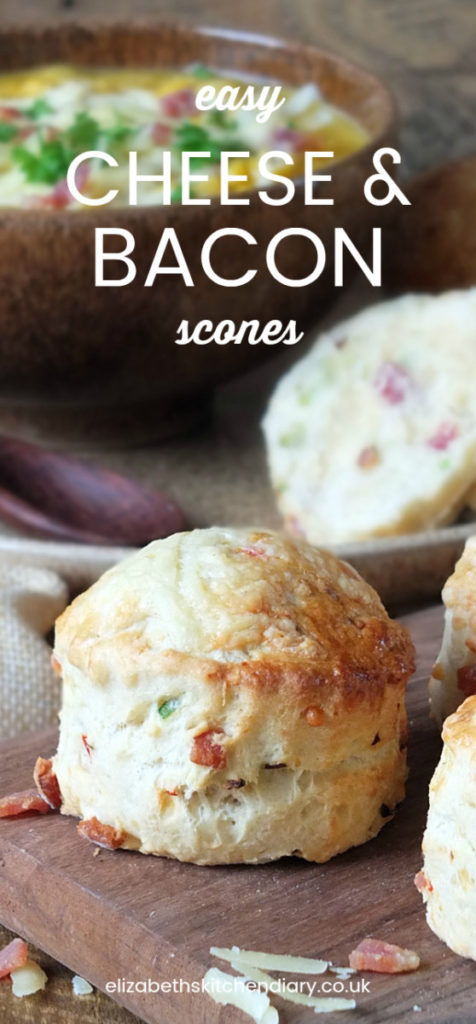 [color-box]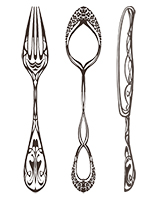 Have you made this recipe?
Take a photo and tag @tangoraindrop or use the hashtag #elizabethskitchendiary and share on Instagram and Twitter. It would make my day to see your creations!
[/color-box]