A Redmond Multicooker recipe.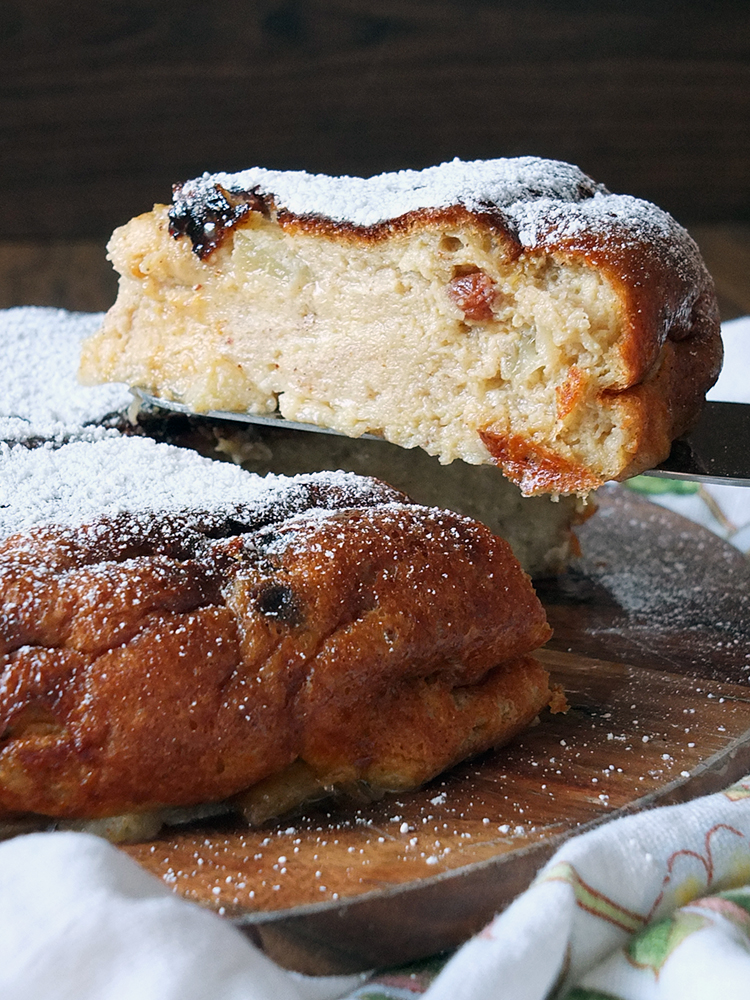 I'm a big fan of French Toast. That slightly crisper outside encasing a creamy custardy interior and the whole thing sprinkled with icing sugar and drizzled with maple syrup. Sugar overload, I know, but for a lazy Sunday morning brunch, this ranks pretty highly.
Last weekend I treated my family to something a little bit different – an apple and cinnamon French toast casserole cooked in my Redmond Multicooker.
I started with half a loaf of thick sliced bread that needed using up and added a chopped up Bramley apple that staff at our village shop had given me as it was unsaleable and destined for their bin. They reckoned that I'd be able to do something with it.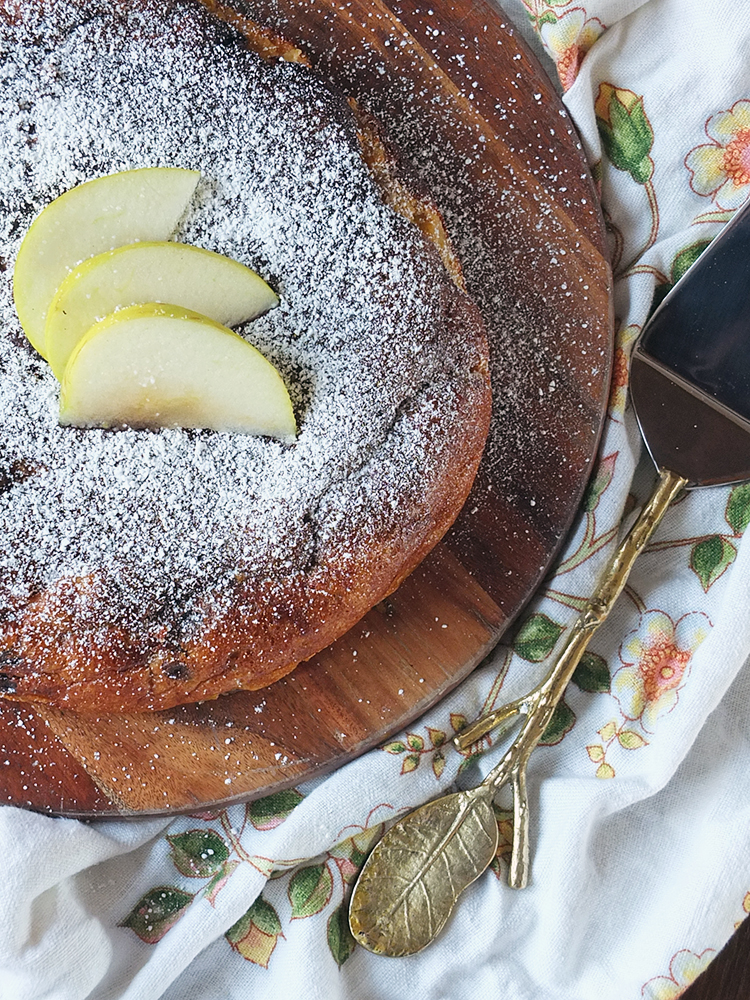 The Redmond Multicooker, in case you didn't already know about it, is an all-in-one kitchen appliance. It's a bread machine, a yogurt maker, a rice maker, a slow cooker, a frying pan, a steamer and a deep fryer. The model I have, the RMC-M4502E, has 34 programmes – 16 automatic and 18 manual. It can be used to cook meats, vegetables, porridge, soups, stews, pies, bread and to bake cakes and a wide range of sweet desserts.
Check out the video below to find out more!
Multicooker REDMOND RMC-M4502E
The Redmond Multicooker RMC-M4502E retails for £105, but it's currently on offer for only £55.
It also makes a rather wicked French toast casserole. The slow cooking of this recipe means that I have time to nip out for a quick mountain bike ride while it bakes away (before anyone else in the house is up!), and I get to come home and breakfast is made.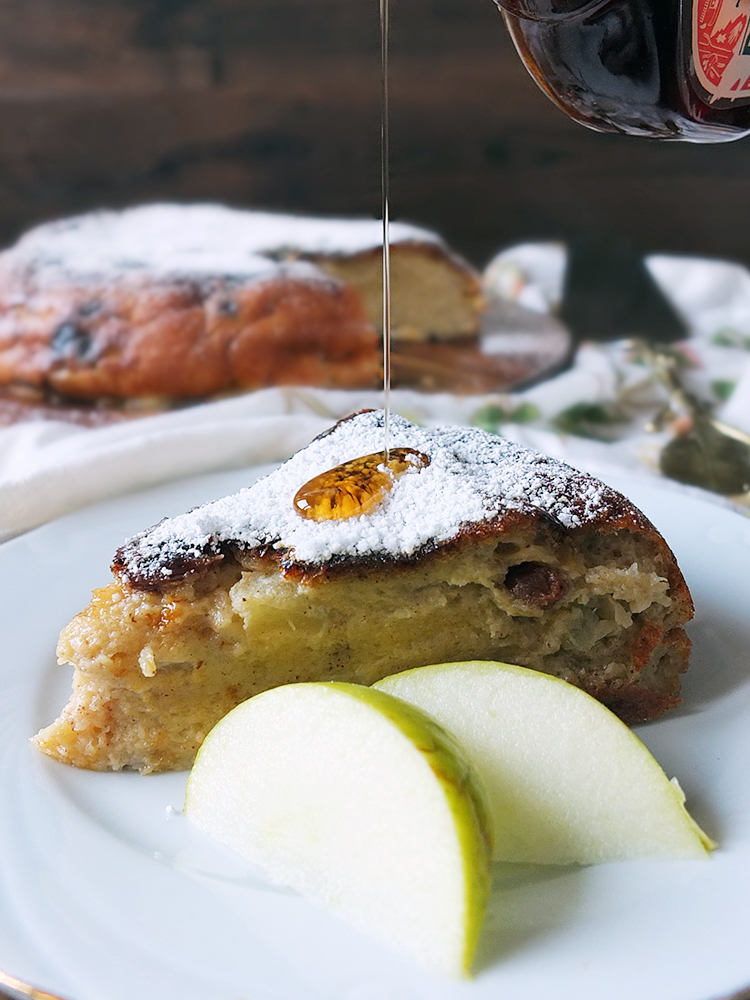 As I mentioned earlier, I love both icing sugar and maple syrup on my French toast. I think it pairs really well with the soft and creamy cinnamon and vanilla custard centre and slightly crunchy outer. The sultanas are optional.
How do you like your French toast? Do you own a Redmond Multicooker and have you created any recipes with it? Let me know in the comments!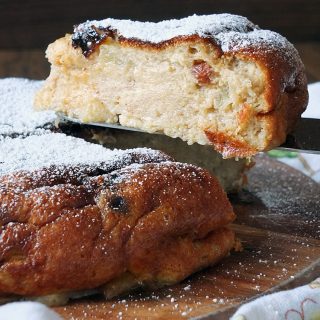 Apple & Cinnamon French Toast Casserole
Use up half a loaf of leftover bread in this rather delicious breakfast casserole. It has a crispy outside and custard-like centre - pudding for dessert anyone?
Print
Rate
Affiliate Links
This recipe card may contain affiliate ingredient and equipment links. As an Amazon Associate I earn from qualifying purchases.
Instructions
Cut bread into one-inch cubes, removing the crusts, if desired (this will give a creamier centre). Place into the non-stick bowl of your Redmond Multicooker.

Sprinkle over the Bramley apple pieces and the sultanas, if using.

In a bowl, combine the eggs, milk, maple syrup, brown sugar, cinnamon, nutmeg and vanilla. Whisk well until combined and then gently stir in the melted butter.

Gently pour this mixture over the bread cubes and stir to mix, taking care not to break up the bread pieces.

Sprinkle with the demerara sugar and dot with a further 10 grams of butter.

Select MULTI-COOK on your Redmond Multicooker. Set the temperature for 40 C and the time for one hour. Cook until the program finishes.

Select CAKE and set the time for 50 minutes. Cook until the end of the program.

When the timer has finishes you'll notice the casserole is risen and puffy. Leave with the lid off for a few minutes until the casserole settles and cools a bit before transferring, upsidedown to a serving platter.

Sprinkle with icing sugar and serve, warm, with extra maple syrup and some fresh fruit.
SHOP THIS POST
Redmond Multicooker RMC-M4502E
Branch & Twig Pie Server (USA)
Acacia Wood Chopping Board
Pure Canadian Maple Syrup
MY OTHER REDMOND MULTICOOKER RECIPES
Chocolate Hazelnut Hot Fudge Pudding Cake
Pineapple Upsidedown Cake & Vanilla Custard
Boulets de Liégoise – Classic Belgian Meatballs
Butternut Squash & Chickpea Curry
Braised Red Cabbage with Star Anise
Deep Dish Apple & Sultana Crumble
One Pot Lemon Chicken with Country Vegetable Rice
SHARING WITH SOME BLOG LINKIES
You might also like these apple pancakes from Little Sunny Kitchen.
This is a commissioned recipe for Redmond Multicookers. Thank you for supporting the brands who make it possible for me to do what I love: mess up my kitchen and share recipe stories.