There are hampers and then there are Cartwright & Butler luxury hampers. Their most popular products will leave any lucky recipient feeling very, very spoilt. What more could you want from a gift? #CandBwrappedup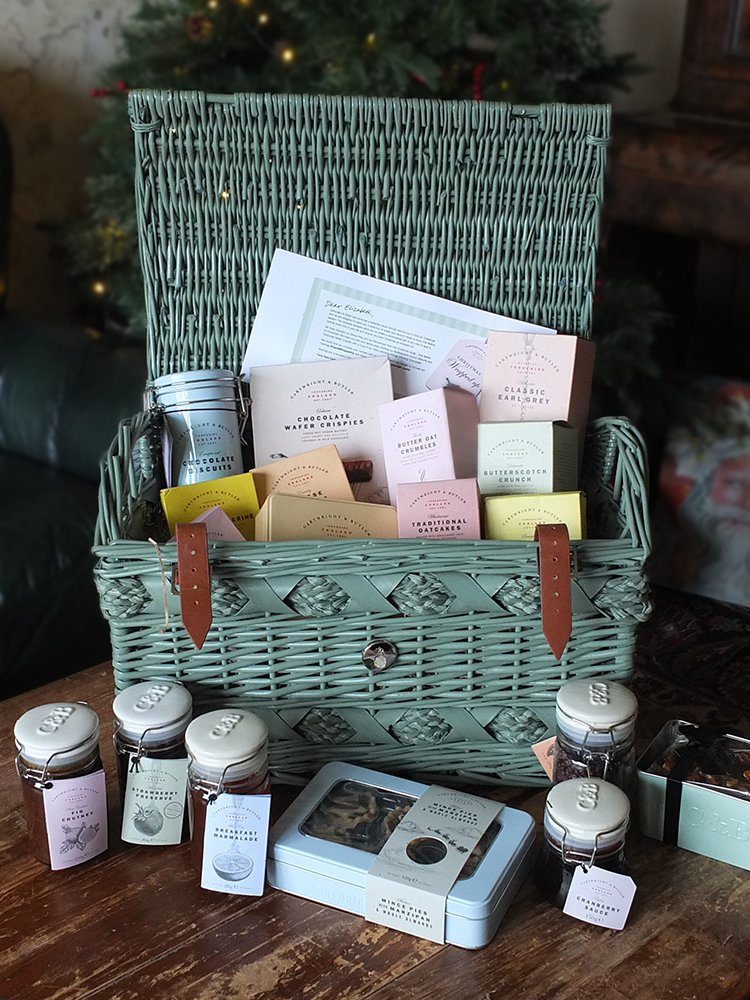 Cartwright & Butler very kindly sent us a hand-picked luxury Christmas Hamper this year for us to try. I tell you, it's like Christmas morning unpacking these hampers! There is so much delicious food presented in a rather fabulous treasure chest style wicker hamper.
SO, WHAT'S INSIDE OUR C&B CHRISTMAS HAMPER?
Cartwright & Butler Christmas Hamper 'Unboxing' #CandBWrappedUp
As you can see from the above video (thanks, Santa, for the special appearance for the unboxing video!), there's quite a wide range of food packed into this hamper. There's everything from mince pies to chutney, cheese biscuits to salted caramel fudge.
I love the treasure chest style wicker hamper itself; this will certainly get re-used. I also love the reusable glass jars that the sauces and condiments are in. I tend to keep these and fill them with dried spices and herbs.
Here's a breakdown of all the lovely hand-picked hamper items: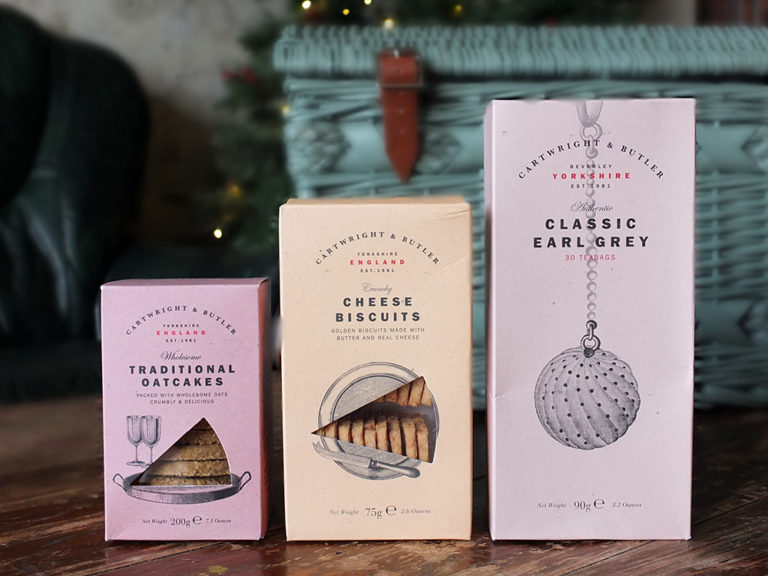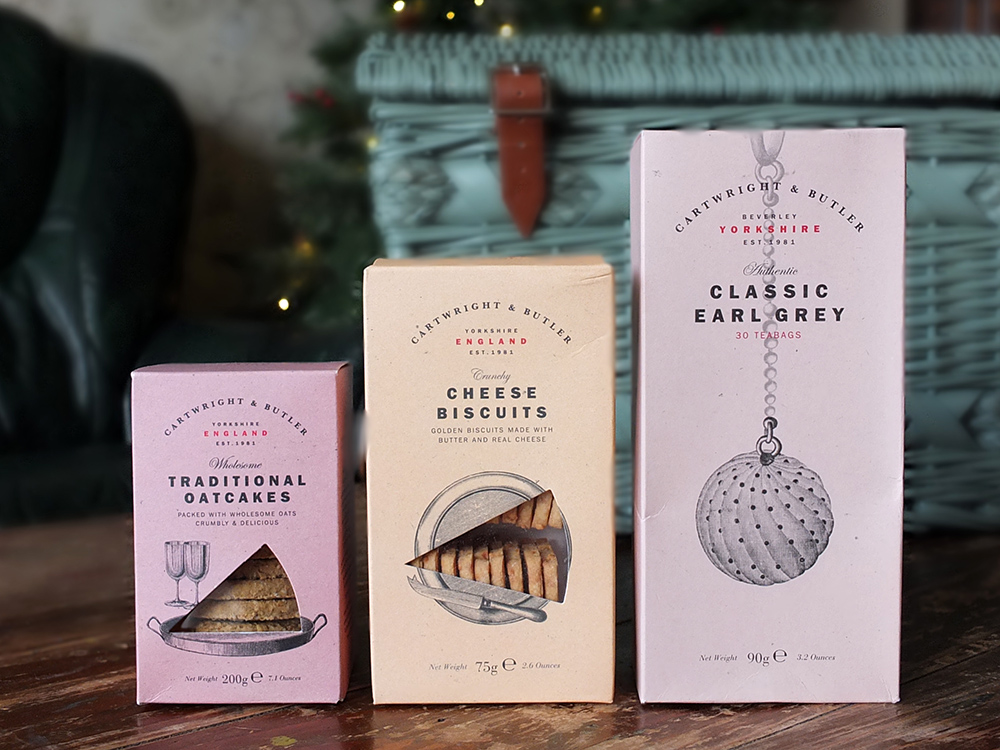 SAVOURY BISCUITS & TEA
Traditional oatcakes (200 grams) – packed with wholesome oats these are crumbly and delicious. £3.49
Cheese biscuits (75 grams) – golden biscuits made with butter and real cheese. £2.89
Classic Early Grey tea (30 tea bags) – £2.99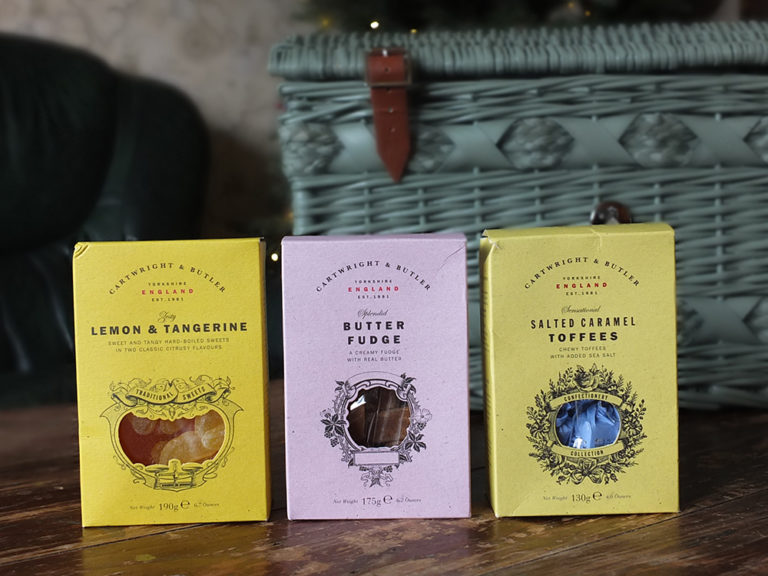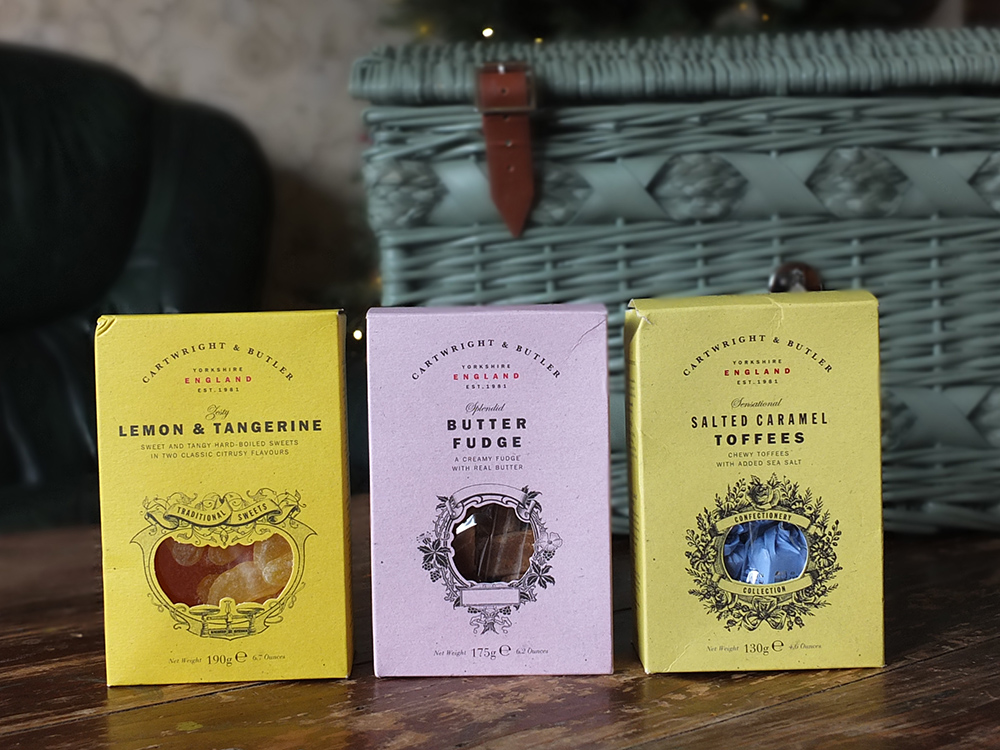 CONFECTIONARY
Lemon & Tangerine Sweets (190 grams) – sweet and tangy hard-boiled sweets in two classic citrusy flavours. £4.99
Butter Fudge (175 grams) – a creamy fudge made with real butter. £2.99
Salted Caramel Toffees (130 grams) – chewy toffees with added sea salt. £3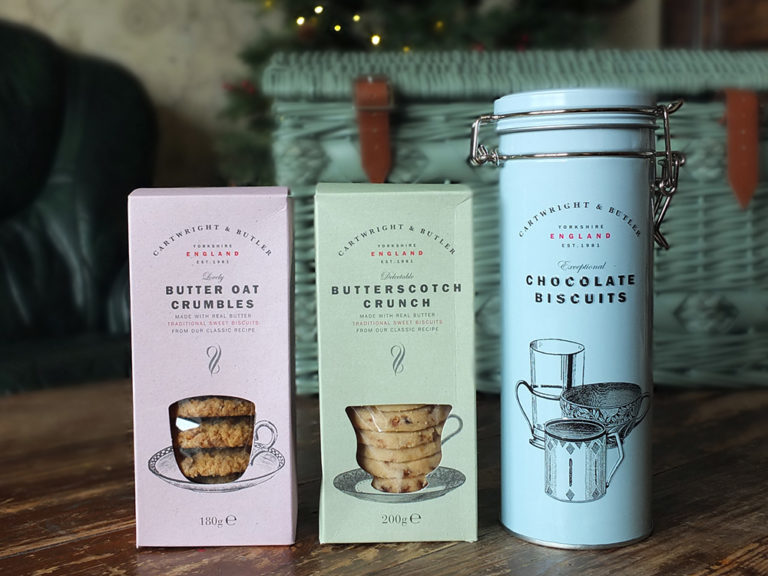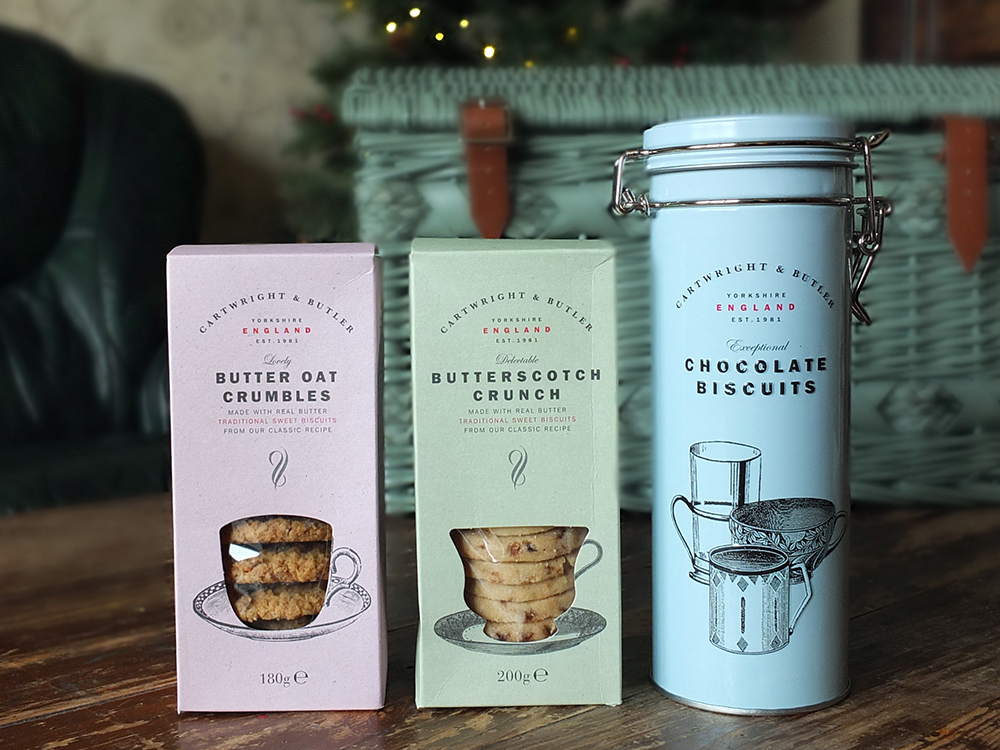 SWEET BISCUITS
Butter Oat Crumbles (180 grams) – made with real butter from their classic recipe. £3.49
Butterscotch Crunch (200 grams) – made with real butter these traditional sweet biscuits are also made from their classic recipe. £3.49
Chocolate Biscuits (190 grams) in a tin – ultra thick dark chocolate stem ginger biscuits. £10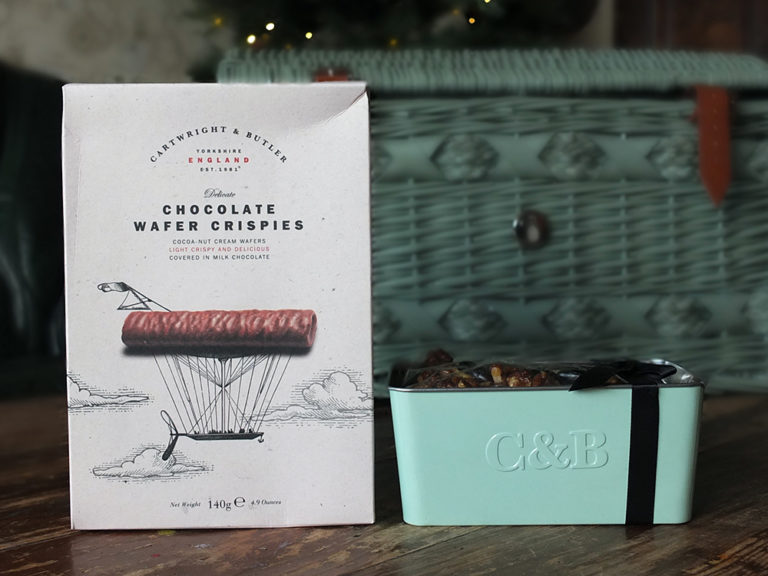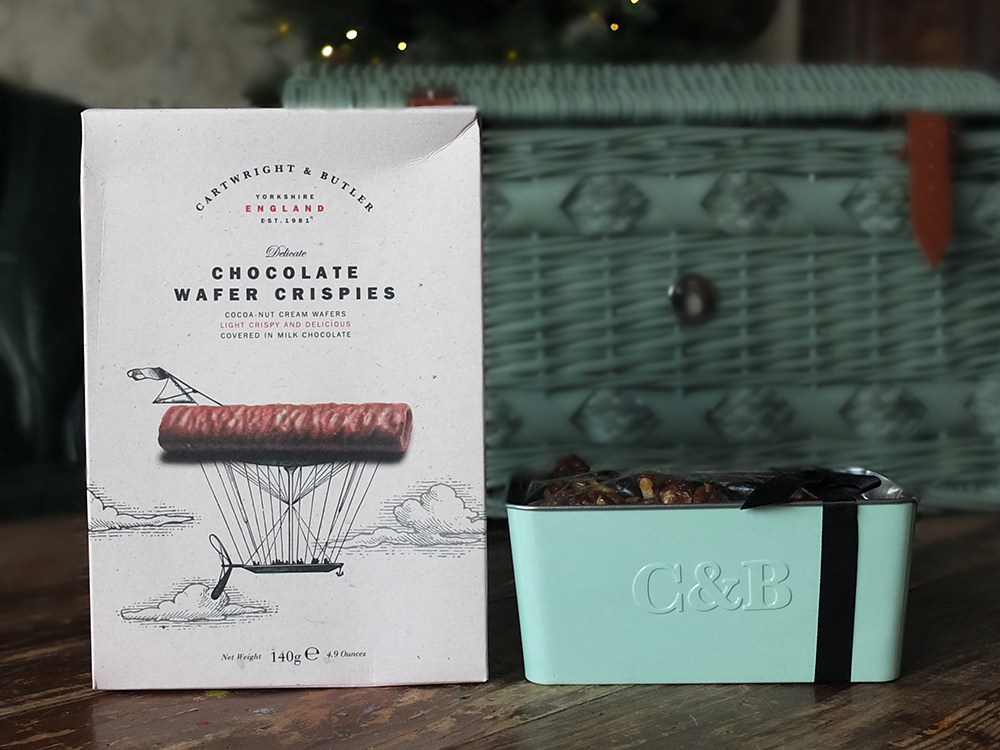 CAKE & CRISPIES
Chocolate Wafer Crispies (140 grams) – cocoa-nut cream wafers covered in milk chocolate. £3.50
Date & Walnut Loaf Cake in a tin (520 grams) – an age-old recipe rich in dates and walnuts, moist from real butter. £9.49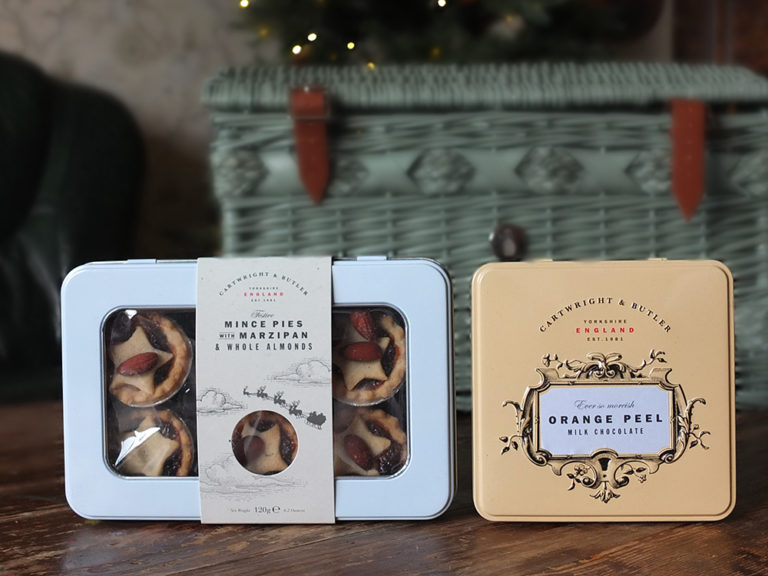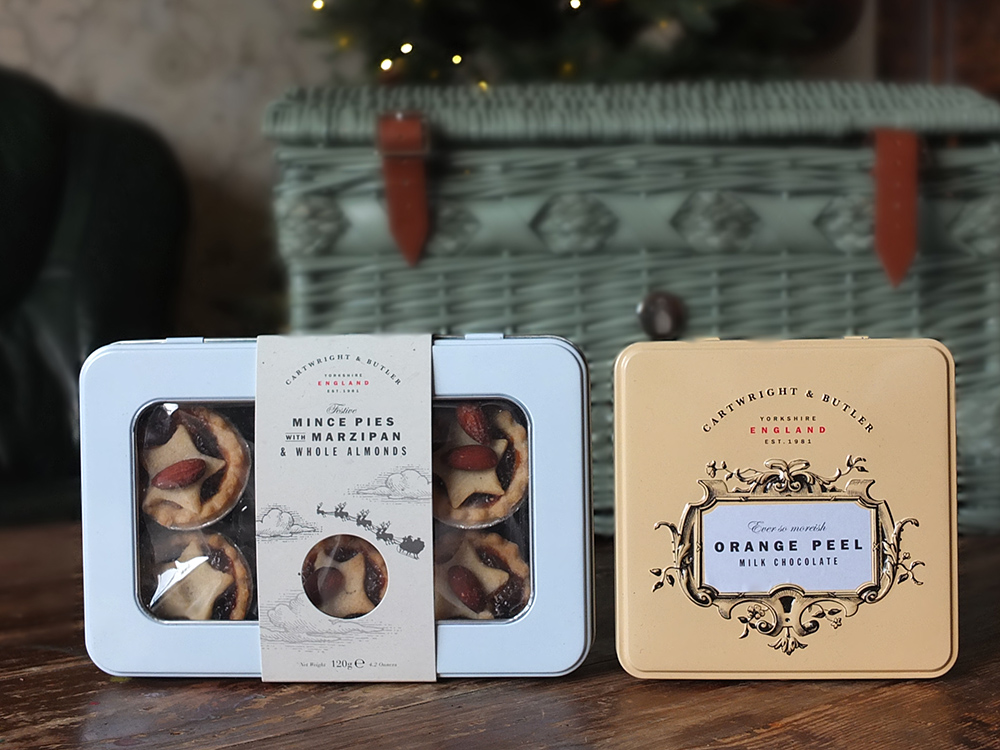 FESTIVE NIBBLES
Mince Pies with Marzipan and Whole Almonds (120 grams) – £7.49
Orange Peel with Milk Chocolate (180 grams) – delicate pieces of orange peel generously dipped in the finest milk chocolate. £10.99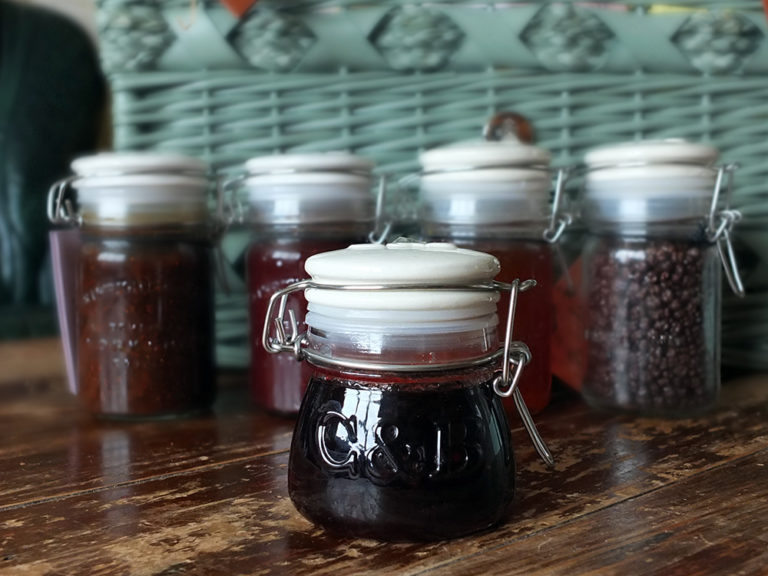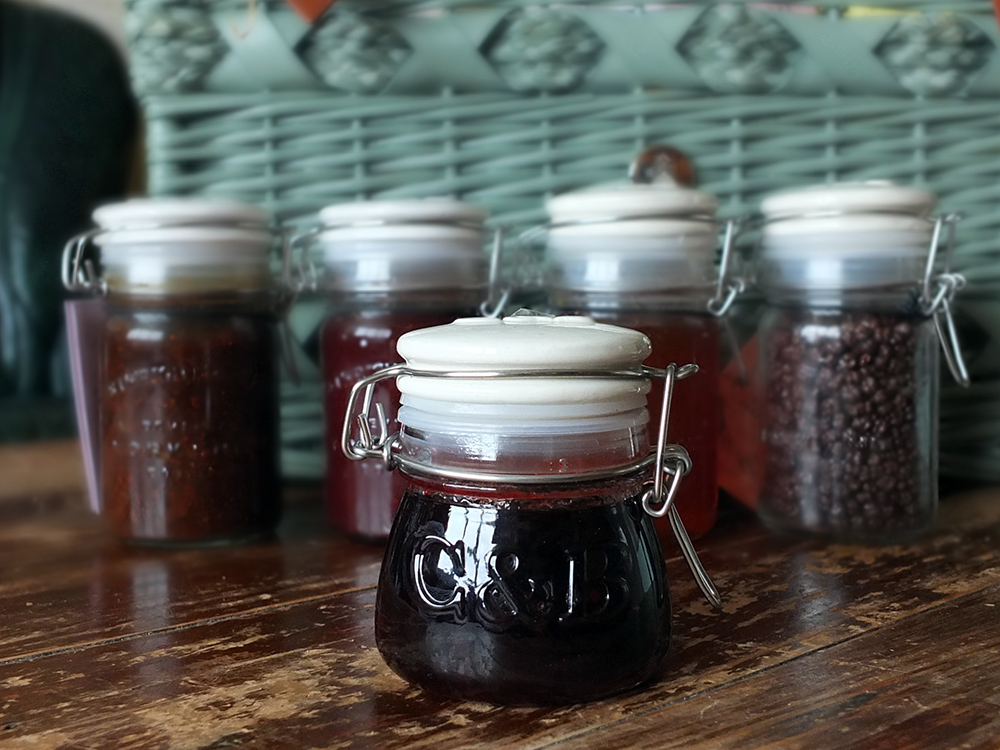 SAUCES, JAMS, CHUTNEYS & OTHER JARS
Cranberry Sauce (150 grams) – a true classic, our cranberry sauce is the perfect balance of sweet and tangy. £4.29
Fig Chutney (250 grams) – a perfect example of the alchemy of chutney making at its finest. £6
Strawberry Preserve (280 grams) – everyone's favourite jam made with fresh, field-grown strawberries £4.99
Marmalade –
Orange Drinking Chocolate (170 grams) – fine hot chocolate beads made from rich, dark chocolate and premium orange oil. £5.99

CREATE YOUR OWN CHRISTMAS HAMPER WITH CARTWRIGHT & BUTLER
The Cartwright & Butler range of hampers and gift baskets offers something for every occasion and every budget. Creating a cherished gift for family or friends or the perfect 'thank-you' and season's greeting for staff, colleagues or valued clients is as easy as 1,2,3. There is free delivery on orders over £30.
1. CHOOSE YOUR HAMPER
From traditional wicker baskets to wooden crates and pastel-coloured tins, the choice is yours when it comes to a Cartwright & Butler Christmas hamper. There's something to suit every occasion and budget. From £4.
2. SELECT YOUR CONTENTS
You can choose from the many products in the Cartwright & Butler range – preserves, biscuits, chocolates, tea, coffee, and so on until your hamper is full. If you want to keep filling, you can simply choose a bigger hamper
3. THE FINISHING TOUCHES
Last but not least, create your personalised gift message and set your delivery address. That's it, all done. You can put your feet up whilst the team at Cartwright & Butler carefully hand-pack and deliver your lovingly created gift.
CLICK HERE TO BUILD YOUR OWN HAMPER
PIN THIS CHRISTMAS HAMPER GIFT IDEA FOR LATER!
Elizabeth's Kitchen Diary was sent a C&B Christmas Hamper for review purposes. This is not a paid post, and all thoughts and opinions expressed are our own. Amazon links are associate affiliate links, and if you click through and make any purchase we will earn a small commission.