In collaboration with Tasty, Easy Lamb.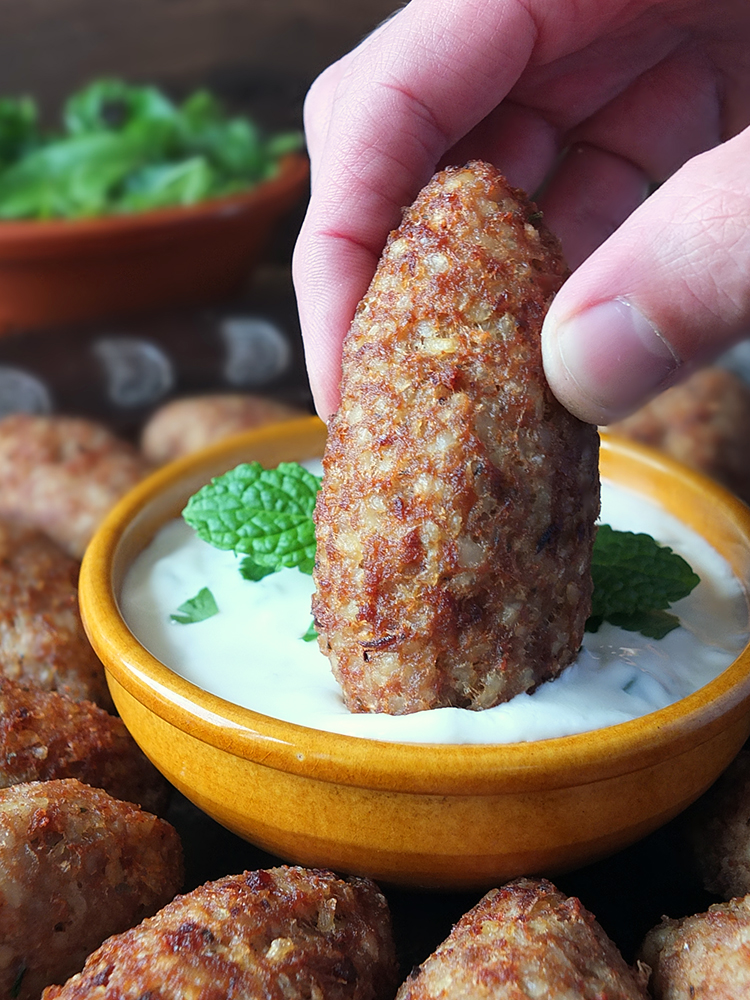 Brazil is a fusion of many different cultures. During the colonial period the original indigenous people met and mixed with migrants from Lebanon, Italy, Spain, Poland, Germany and Ukraine, to mention a few, and components of their food culture were adopted into the cuisine we know now in the country.
Fried kibe (fried kibbeh), a Brazillian beef croquette, has its origins in Lebanon, but it is now a popular street food snack found in the country. The original kibe is made from beef mince mixed with bulgar wheat and a special blend of spices called Syrian pepper and it is usually served with yoghurt or tahini sauce and lemon or lime wedges.
The Syrian pepper blend varies from household to household, but usually contains white pepper, cinnamon or allspice, cloves and nutmeg.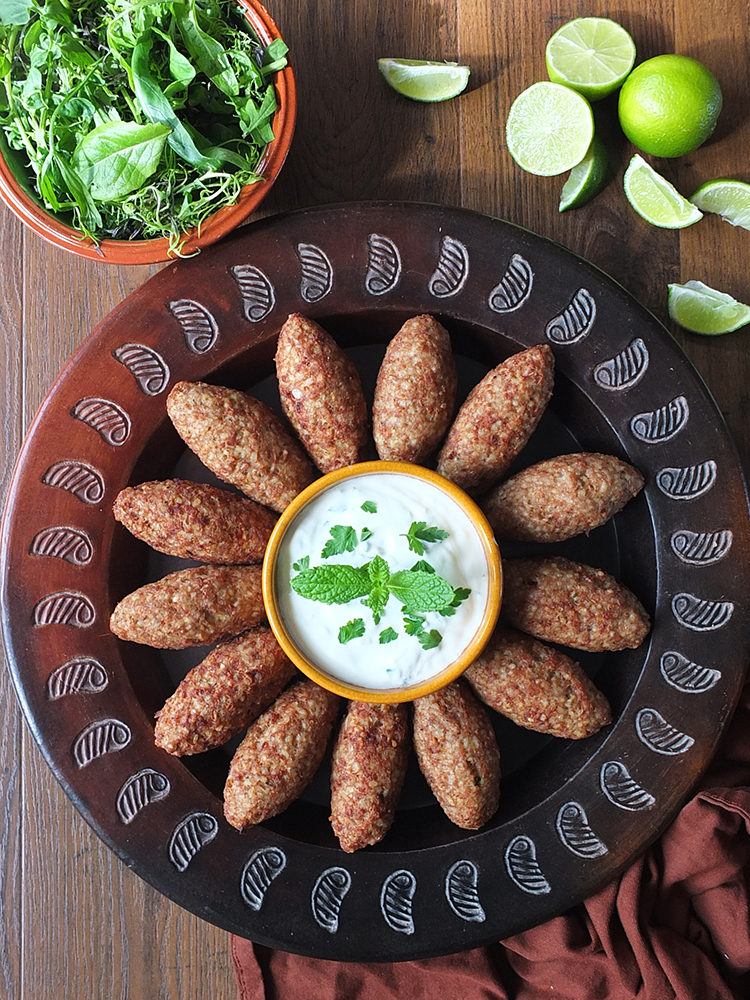 For my version, I've substituted the beef for lamb mince, and I've stuffed the middles with a delicious lamb mince with toasted pine nuts and fresh herbs.
These kibe are remarkably easy to make, although they take a bit of time what with the chopping, mushing the meat blend together and forming the football shaped croquettes. Once you do a few of them the process does get easier and quicker. Persevere, it's worth it.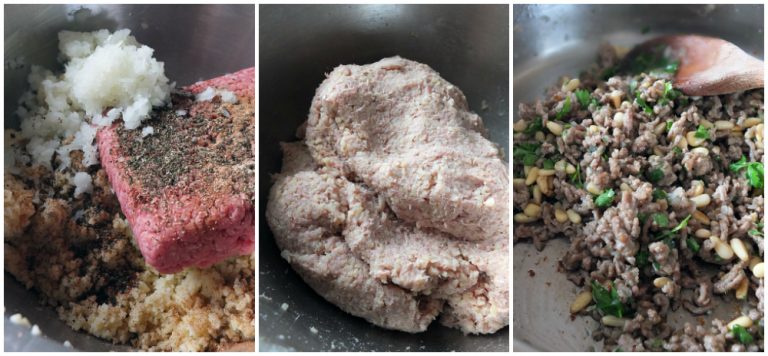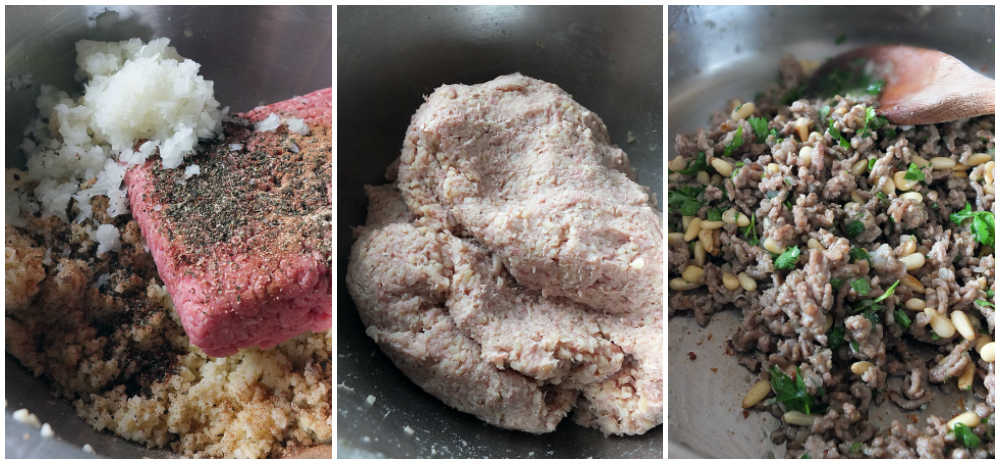 It's important to combine the outer layer ingredients very well. If you have your own meat grinder, run everything through that two or three times to turn the lamb, onion and spices into a thick paste. Alternatively, mash it all up with your fingers really, really well, squeezing and kneading until it reaches the right consistency.
Interestingly,  Brazilians often serve this paste (when made out of beef mince), raw, like a pate. It's known as kibe cru. I confess I haven't tried that version!
As the filling is already cooked, the kibe only takes a few minutes to deep fry as you're only cooking through a layer less than one centimetre thick. Cook them in small batches to make sure the oil doesn't cool down too much and continue to deep-fry until the outsides are deep brown and crispy, as pictured above. You could also bake them for a healthier dish.
Serve with a side salad, yogurt dip and some lime wedges. It's a flavour combination that totally works, trust me.
I must also confess, these kibe taste utterly fantastic cold straight from the fridge with a generous dollop of chilli infused mayonnaise. Midnight feast extraordinaire!
For more lamb recipe inspiration visit the Tasty Easy Lamb website, and follow them on Facebook, Twitter or Instagram.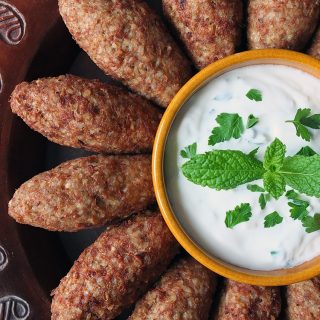 Street Food: Brazilian-style Lamb Kibe
A spiced lamb kebab bulked out with bulghar wheat and delicately seasoned with a special Syrian pepper blend. This is a lamb version of the popular street food found in Brazil.
Print
Rate
Ingredients
for the yogurt dip
250

grams

plain natural yoghurt

1

garlic clove

finely chopped

1

handful

fresh mint leaves

finely chopped

1

handful

fresh parsley

finely chopped
Affiliate Links
This recipe card may contain affiliate ingredient and equipment links. As an Amazon Associate I earn from qualifying purchases.
Instructions
Place the bulghar wheat into a large bowl and pour over one litre of boiling water. Cover and leave the bulghar wheat to soak for 45-60 minutes. Drain well, removing any excess water by placing the bulghar wheat into a clean tea towel and squeezing. You want it as dry as you can get it.

Add the lean lamb mince, finely chopped onion and spices. Using your hands, squeeze the mixture together until it forms a very thick paste. Set aside.

To prepare the filling, place 1 tbsp sunflower oil into a frying pan and fry the onion until it begins to soften without colouring. Add the lamb mince and fry until golden. Remove from the heat and add the toasted pine nuts, parsley and season to taste.

With wet hands, pinch off golf ball sized handfuls of the first lamb mixture and form into a ball.

Using your thumb press an indentation into the middle of the ball and fill with 2 tablespoonfuls of the filling. Pinch the edges together and form the ball into a tapered rugby ball shape with a thicker centre and slightly rounded yet pointed ends. Set aside on a clean plate and repeat with the rest of the meat.

Heat a large pan of vegetable oil to approximately 360 F/ 182 C (but no higher). If you don't have a thermometer if you dip a wooden cocktail stick into the hot oil it will bubble around the edges when it is ready.

Deep fry the kibe in batches of 3-4 until they are cooked through (approximately two minutes) and a delicious golden brown. Drain on kitchen towel and repeat with the remaining kibe.

To prepare the yogurt dip combine the yogurt with the garlic and herbs. Stir well.

Serve the hot kibe with the dip and lime wedges.
OTHER LAMB RECIPES YOU MIGHT LIKE
Chilean-inspired Lamb Burgers with Pebre & Marraqueta Buns
Brazilian-inspired Lamb Feijoada with Mango Salsa
Slow Cooker Lamb Chilli with Pasilla Peppers
Argentine-inspired Lamb Chops with Chimichurri
Lamb Casserole with Ale
Pistachio & Orange Crusted Mini Roast
Mediterranean-inspired BBQ Koftas, Couscous Salad & Baharat Yogurt Dip
Yiouvetsi – One Pot Greek Lamb with Orzo
Slow-cooked Shetland Lamb Casserole with Creamy Herbed Polenta
Pastitsio – Greek Macaroni Pie
Moroccan-inspired Slow-cooked Lamb
Korean-style Lamb Cutlets
Lamb Keema 
Slow-cooked Lamb & Filo Pies
Simple Spring Lamb Neck Stew
Welsh Lamb Moussaka Burgers
Slow-cooked Lamb Ras el Hanout
Roast Harissa Lamb with Harissa Apricots Stuffing
This is a commissioned recipe for Tasty, Easy Lamb, although all thoughts and opinions expressed are our own. Thank you for supporting the brands who make it possible for me to do what I love: mess up my kitchen and share recipe stories