A gluten-free Autumnal skillet breakfast crumble.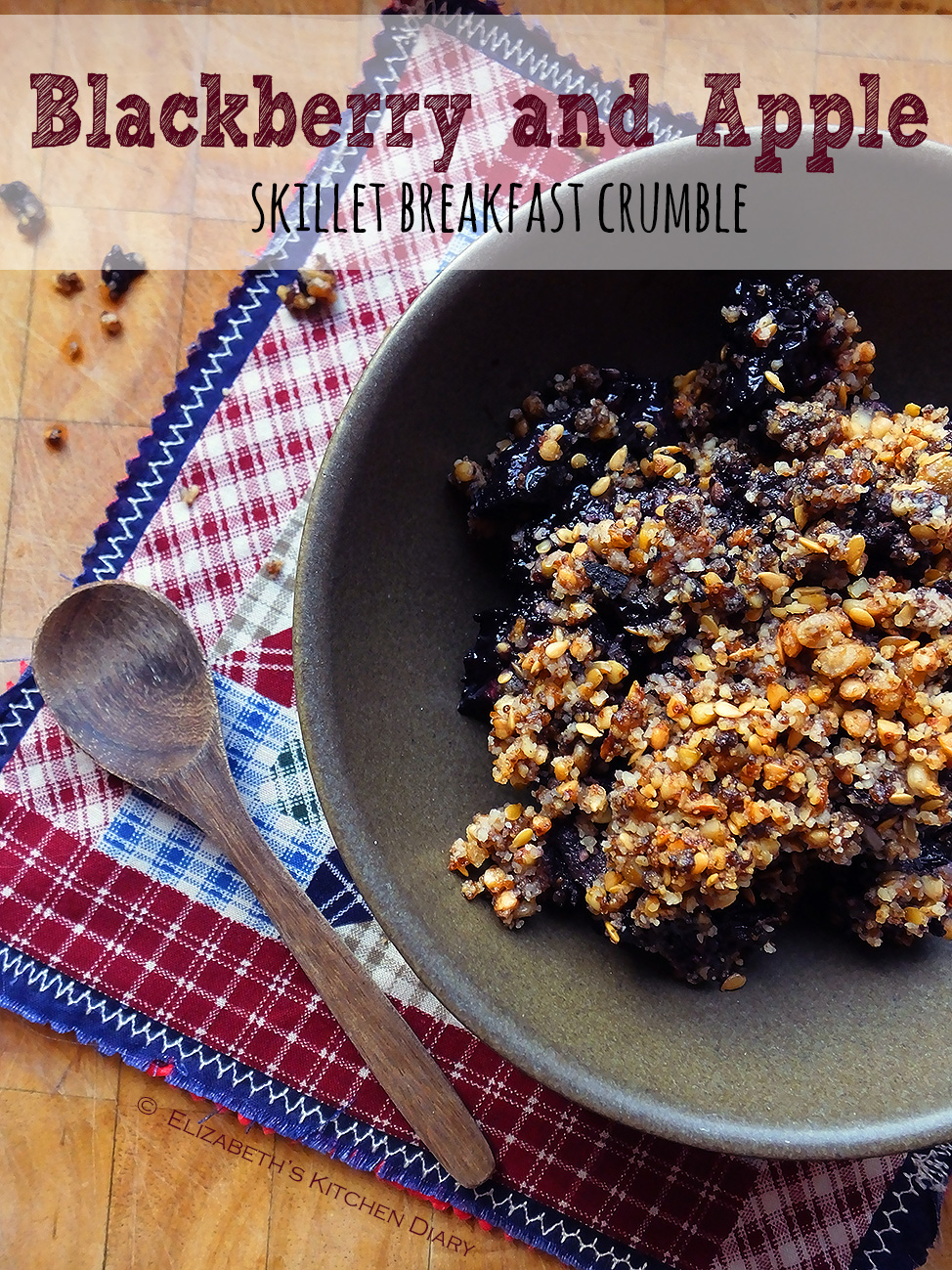 I have a confession to make.
I love cold fruit crumble for breakfast in the morning.
When the days begin to grow colder I start craving warm puddings like saucy hot fudge pudding, sticky toffee pudding or fruit crumbles. I will often scoff any leftover fruit crumble, cold, straight from the fridge in the morning. Absolute bliss.
I'm also partial to fruit and granola or muesli over plain yogurt (sometimes with a drizzle of honey). I usually make my own granola so I can tailor it to my family's liking.  Shop bought tends to be too expensive, or sugary, or containing dried papaya or banana (blergh!).
However!
I was recently sent a few boxes of Eat Natural's gluten free toasted muesli to try out. I was familiar with their range of oh-so-lovely snack bars but I'd no idea they made breakfast cereals too – they've got quite a range of them, I found out. The children refused to even entertain the notion of trying the toasted mueslis (too many different things touching each other!) so it was mine. All mine.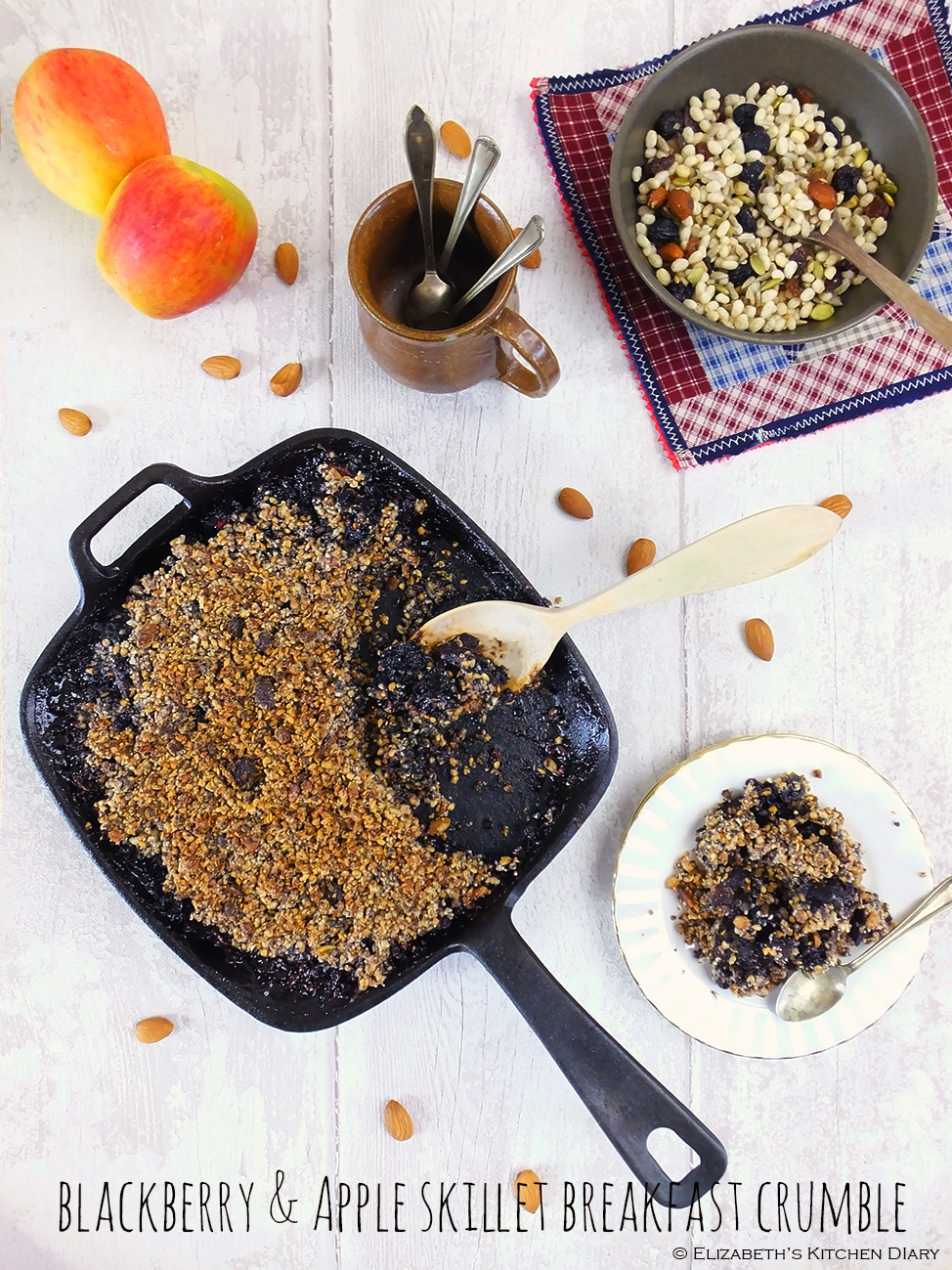 Every morning for the last week I've enjoyed a big bowl of the Eat Natural buckwheat toasted muesli (a gluten free blend of toasted buckwheat and crisped rice with mixed seeds, dried fruit, coconut and a pinch of cinnamon) over fresh fruit and natural yogurt. However, when I got to the bottom of the box I noticed the ratio of crisped rice and toasted buckwheat was a little… off.
All the buckwheat had sunk to the bottom of the box!
This tends to be a problem with shop bought granola and muesli – how do you get around it? Empty the contents of a new box into a container and shake it before pouring out each serving?
So here I was, left with the toasted buckwheat-heavy dregs of muesli. What to do…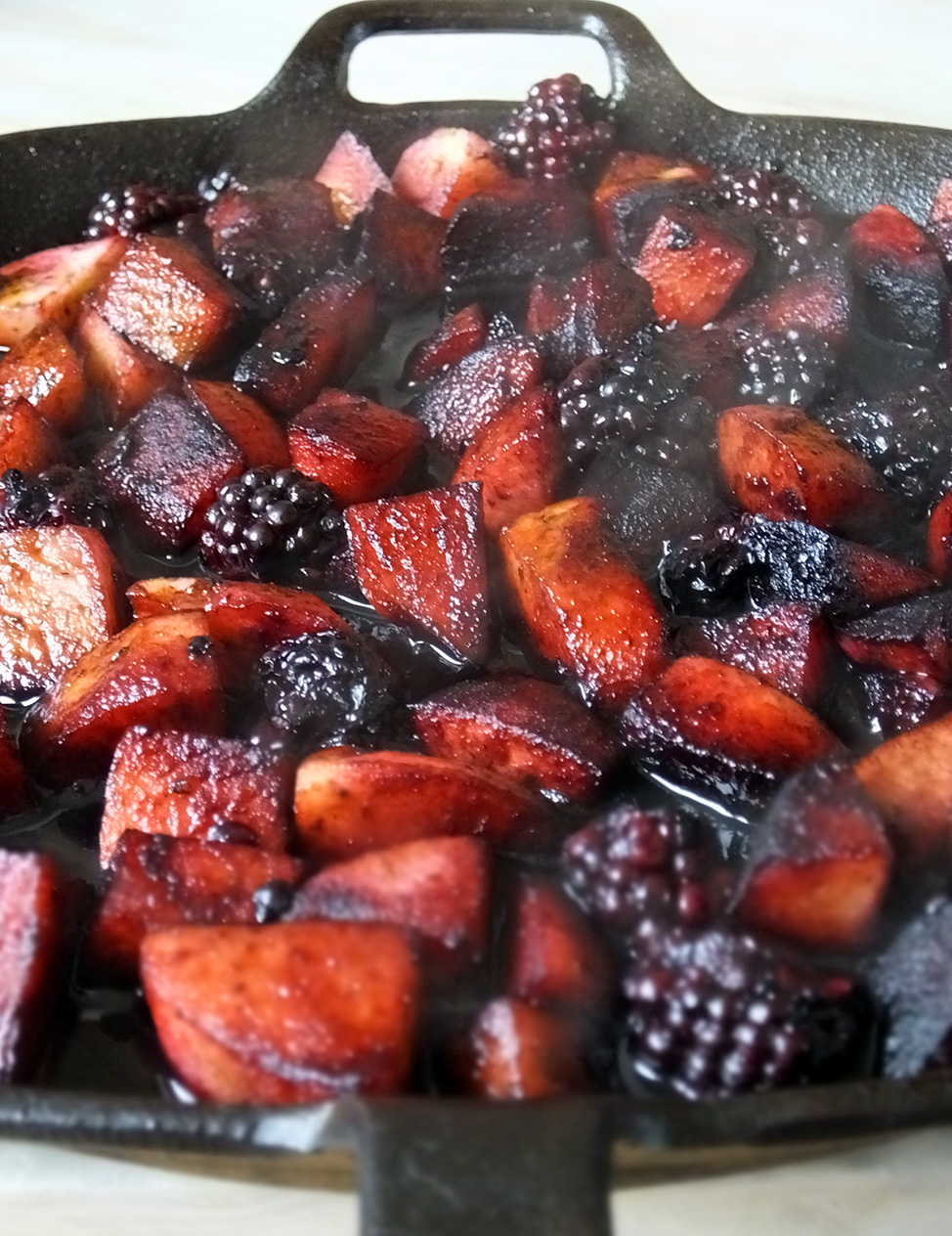 Crumble!!
Crumble where the fruit is softened slightly in a cast iron skillet before being sprinkled with a crunchy topping and popped in the oven to get all golden, bubbly and lovely.
I've made similar crumbles many times in the past with various home made and shop bought mueslis. You can tailor the spices to the fruit you've got on hand and the season. Cinnamon and nutmeg combine really well with most autumn fruits and sweetened with rich molasses sugar and topped with this crunchy topping – well I must say it makes a rather lovely breakfast indeed!
As I was using a gluten free cereal mix I thought I'd keep the whole recipe gluten free by bulking it up with raw almonds finely ground in my high power Froothie Optimum 9400 blender. This took a matter of seconds to do.
I used unrefined molasses sugar in both the fruit filling and crumble topping for an extra thick and rich flavour. If you can't get molasses sugar use as dark a brown sugar as you have. Be warned – the molasses sugar and the deep purple of the blackberries makes for a very dark, almost black, filling. A lighter brown sugar would retain the lovely purple colour of the berries, I would expect, if this black colour is undesired.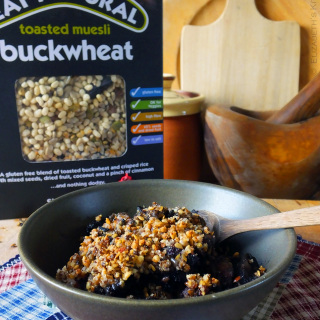 Blackberry & Apple Skillet Breakfast Crumble
Warming and comforting, seasonal blackberries and apples are coated in an autumnal spiced crumble.
Print
Rate
Affiliate Links
This recipe card may contain affiliate ingredient and equipment links. As an Amazon Associate I earn from qualifying purchases.
Instructions
Preheat oven to 190 C/ 350 F

Grind almonds in a high powered blender. Combine in a with the muesli, spices, salt and sugar. Stir in the melted coconut oil until well combined and set aside.

Peel and coarsely chop the apples into 3/4 inch chunks.

Stir the spices into the sugar and set aside.

Heat your oven proof skillet over a medium-high heat. Cook the blackberries and apples for a few minutes in the dry pan. The liquid from the fruit will keep it from sticking to the pan.

When the fruit has softened slightly sprinkle over the spiced sugar and stir well to combine. Cook for a further minute or so until the sauce is nice and thick.

Remove from the heat and sprinkle over the crumble topping.

Bake for 20-25 minutes, until the top is golden and the fruit juices are thick and bubbling.

Allow to cool slightly before serving. Alternatively, leave to cool and reheat in the morning for breakfast.
Environmental Information
Linking up with Anneli over at Delicieux and Louisa at Eat Your Veg and their joint Four Seasons Food challenge. This month we're challenged to 'get fruity!'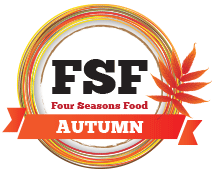 OTHER FRUIT CRUMBLES YOU MIGHT LIKE:
Rhubarb Quark Crumble by Maison Cupcake
Plum Crumble Tart by Franglais Kitchen
Plum Crumble by Fab Food 4 All (I've made this one a few times – it's lovely!)
Rhubarb Crumble Cake by Utterly Scrummy Food for Families
If you want to be kept up to date on my recipes, occasional craft tutorials, adventure stories and giveaways then please subscribe to my weekly newsletter; it gets sent out every Monday morning if there is new content. Your email address won't be passed on to anyone, you will never be spammed and you are free to unsubscribe at any time, no questions asked. Make sure you confirm your subscription or you won't receive the newsletter – if it hasn't arrived check your junk mail folder.
[wysija_form id="1″]
Elizabeth's Kitchen Diary was sent complimentary samples of Eat Natural gluten free cereal.  All opinions expressed are our own. This is not a paid post. However, this post contains an affiliate link. Elizabeth's Kitchen Diary is a Froothie Optimum 9400 ambassador, which means if you like the blender and choose to buy one through the links on this page we will get a small commission. This purchase helps support our family! Thank you 🙂