In collaboration with Breville and the #BlendActiveDiary Challenge.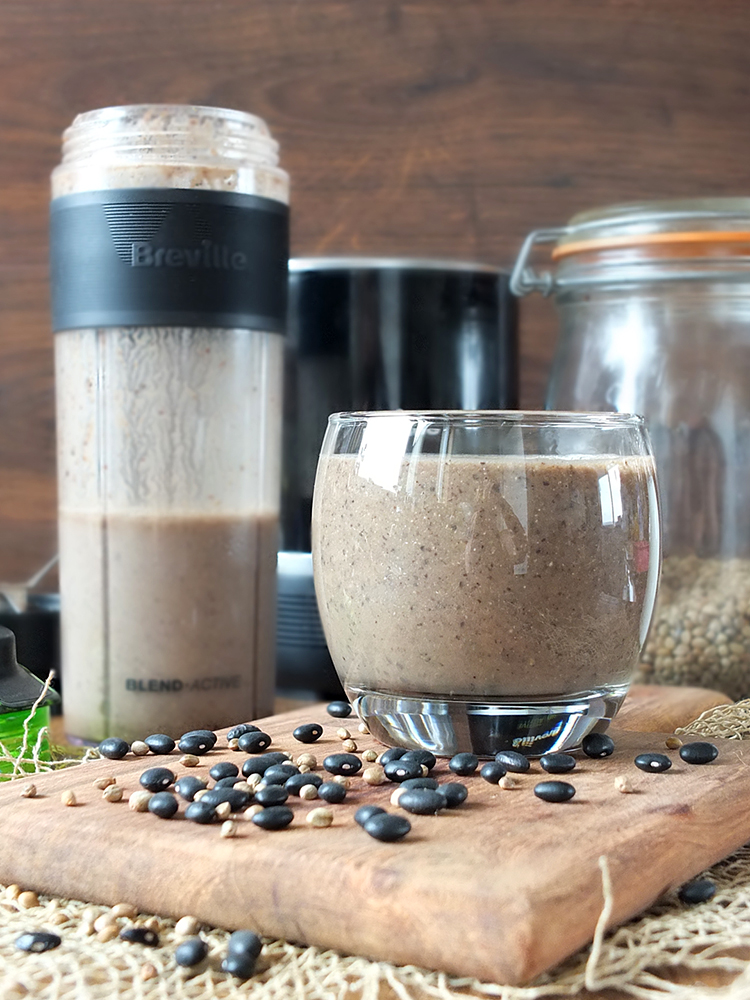 Regular readers will know that I like to keep active. I'm a keen cyclist (weather permitting) and I like to spend time outdoors trekking, exploring the local hills and coastline. I also like to daydream of far off adventures.
In fact, first thing this morning I finished mapping the locations of all the geocaches that can be found along Hadrian's Wall, as in a few weeks a friend and I are undertaking this 84-mile National Trail over the course of 5-6 days. I am so silly excited about this!
As part of a healthy lifestyle I like to include plenty of fresh fruit and vegetables juices, smoothies and protein shakes into my varied diet. I was recently sent one the new Breville Blend-Active Pro Personal Blenders to try out over the course of a week and to keep a diary of how I got on.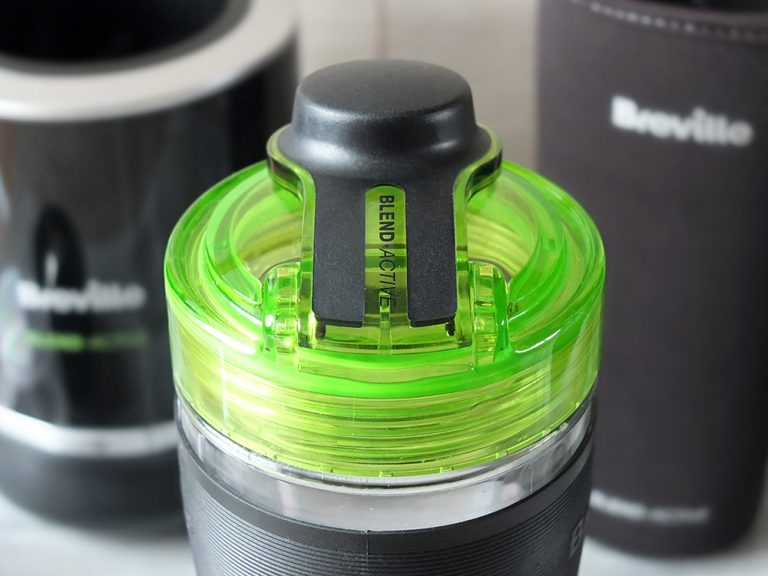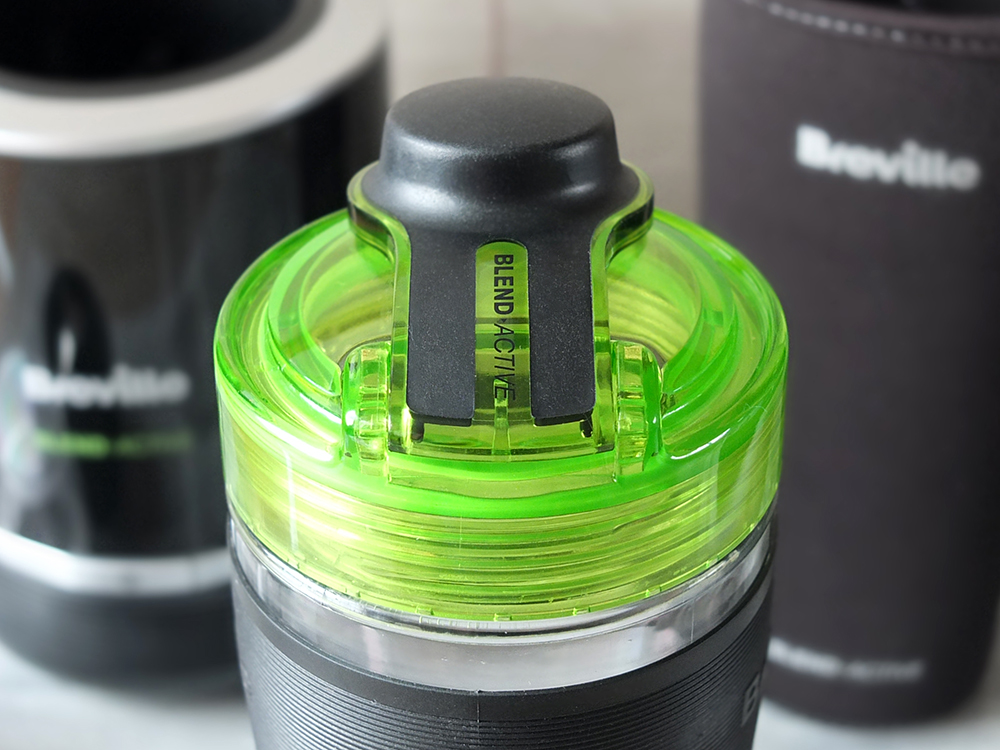 First, let me tell you about this awesome little personal blender. First, it's very small, sleek and stylish and will fit in well with any kitchen decor. Second, it's just the perfect size. The 500 ml blender bottle is made of Eastman Tritan® copolyester, which is a durable BPA-free, odour, taste and stain resistant material that will withstand repeated washing in the dishwasher. It also fits in a standard bicycle drinks holder! The bottle also features a non-slip grip for easy carrying and a neoprene sleeve for keeping drinks colder for longer.
With a 300 watt motor, this little blender is powerful enough to crush ice and seeds, as well as any fruit, nuts or vegetables you might want to blend. The blade cover also doubles as a mini nut/seed grinder, as I'll show you further on in this post.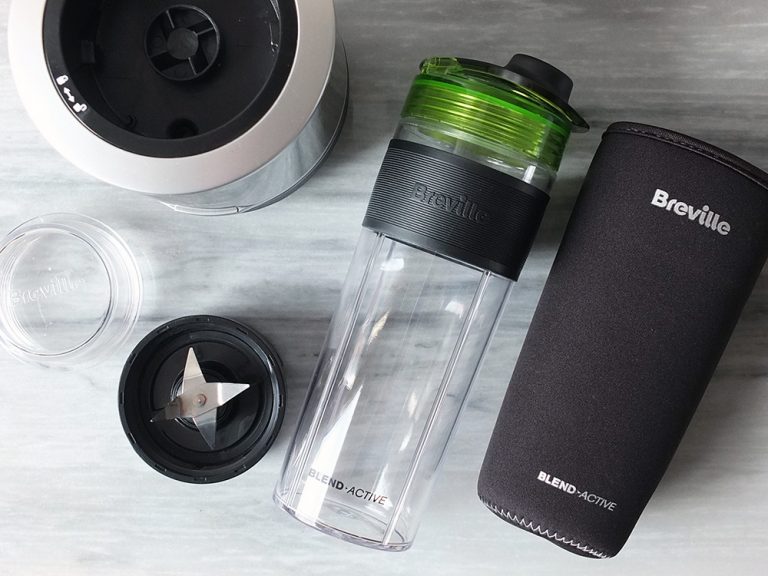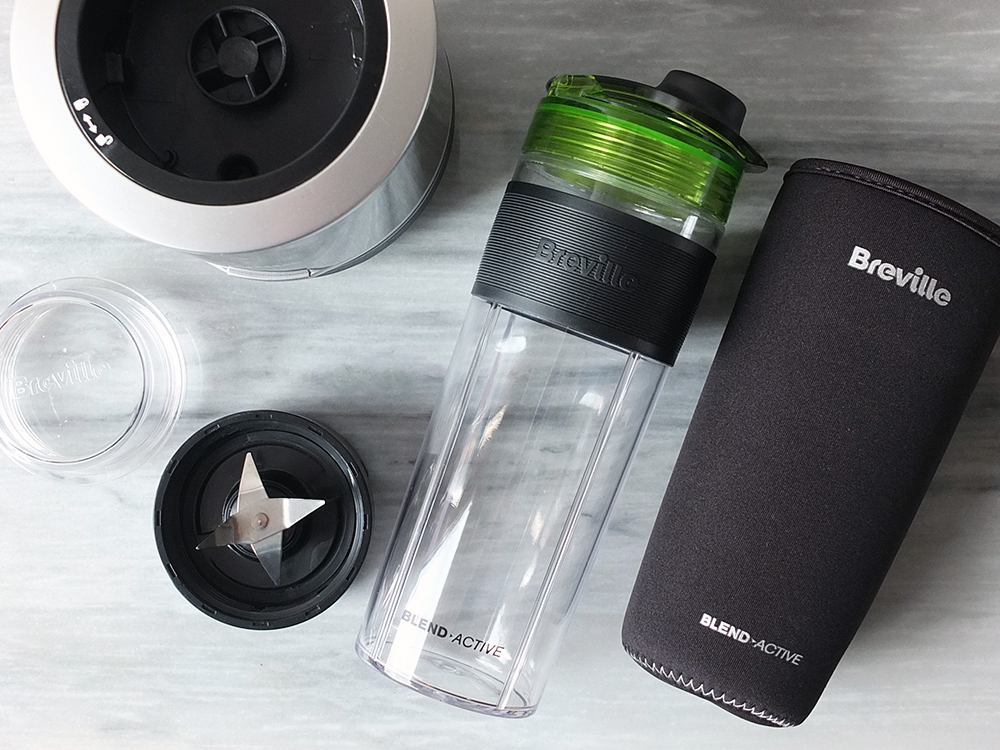 Although the bottle and lid can be washed in the dishwasher, it's a bit too long to fit in the top rack of mine, so I choose to handwash it immediately after use instead. The blades just need a quick rinse under the tap, towel dry and fix with the blade cover for safe storage.
So, how did I get on with my week long blender diary?
DAY 1 – SUPERGREENS COCOA BLAST
I'm not going to lie, I'm a bit of a caffeine junkie. I love my coffee, so I wanted to create a smoothie recipe with a nice caffeine kick to help me get through that mid-morning slump.
For this first recipe, I've combined a generous shot of Espresso with banana, yogurt, milk, agave and a serving of Bioglan Supergreens Cacao Boost powder which has been sitting in my cupboard for a bit longer than it should have been (in fact, as of today it's two weeks past its best before date). I'm going through a 'use up food in the cupboard before you buy new food' phase and I must say, this powder totally turned my chocolate caffeine shot into a 'health food' with the fact that each serving is equivalent to 14 portions of fresh fruit and vegetables.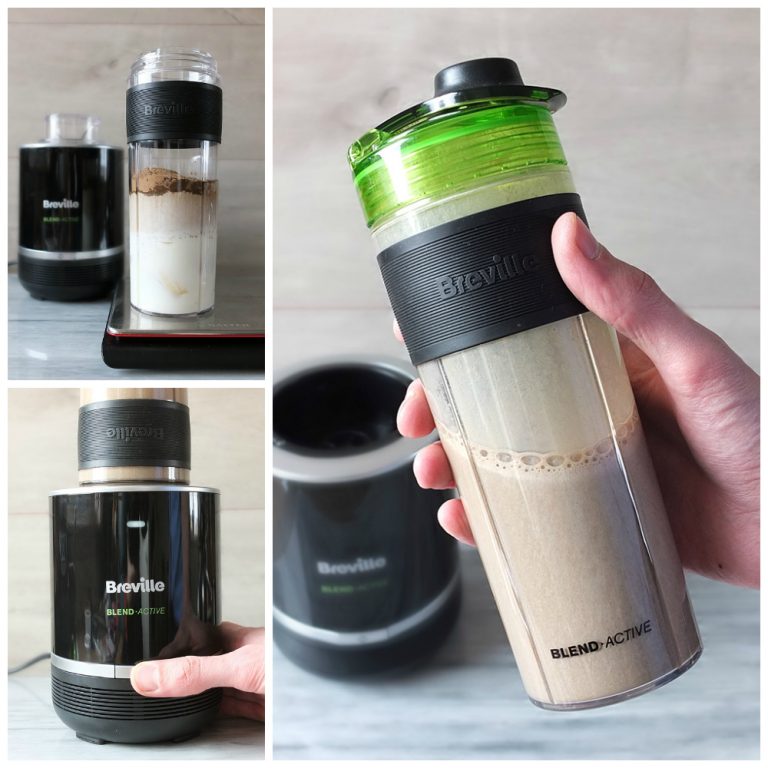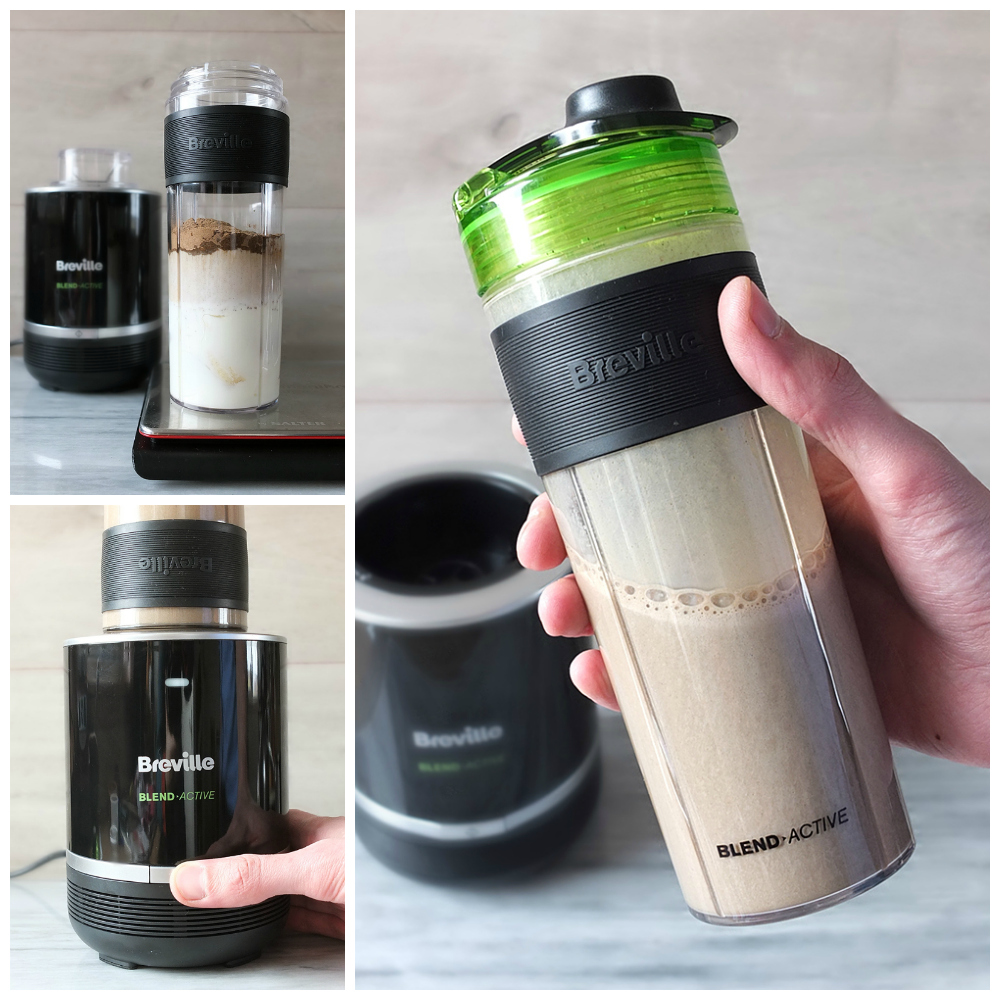 Note, in the theme of preventing food waste, if you make a super strong cafetiere of Espresso, simply freeze the rest in an ice cube tray and use two cubes per future smoothie.
How did it make me feel: energised, and somewhat virtuous about using up food which might otherwise have ended up in the bin. Plus, it's only 197 calories (using dairy milk and yogurt) and provides 7 grams of protein.
DAY 2 – LIQUID SUNSHINE: MANGO COLADA SMOOTHIE
The sun has stubbornly refused to come out here in Shetland in what feels like absolutely forever. So, my second recipe I've made a little bit of liquid sunshine, again, using up some leftover light coconut milk from a curry I'd made awhile ago that I'd frozen into ice cubes.
This one – oh my, light, zesty, refreshing and (if I am to be honest) wouldn't go amiss with a dash of rum! I made a smoothie for myself and then another for the kids to try out, which they loved.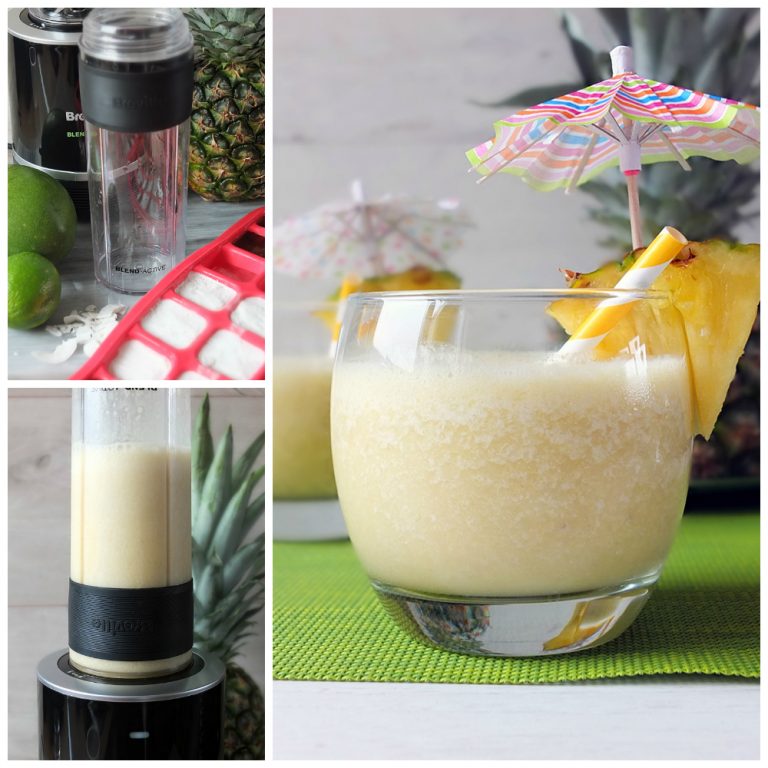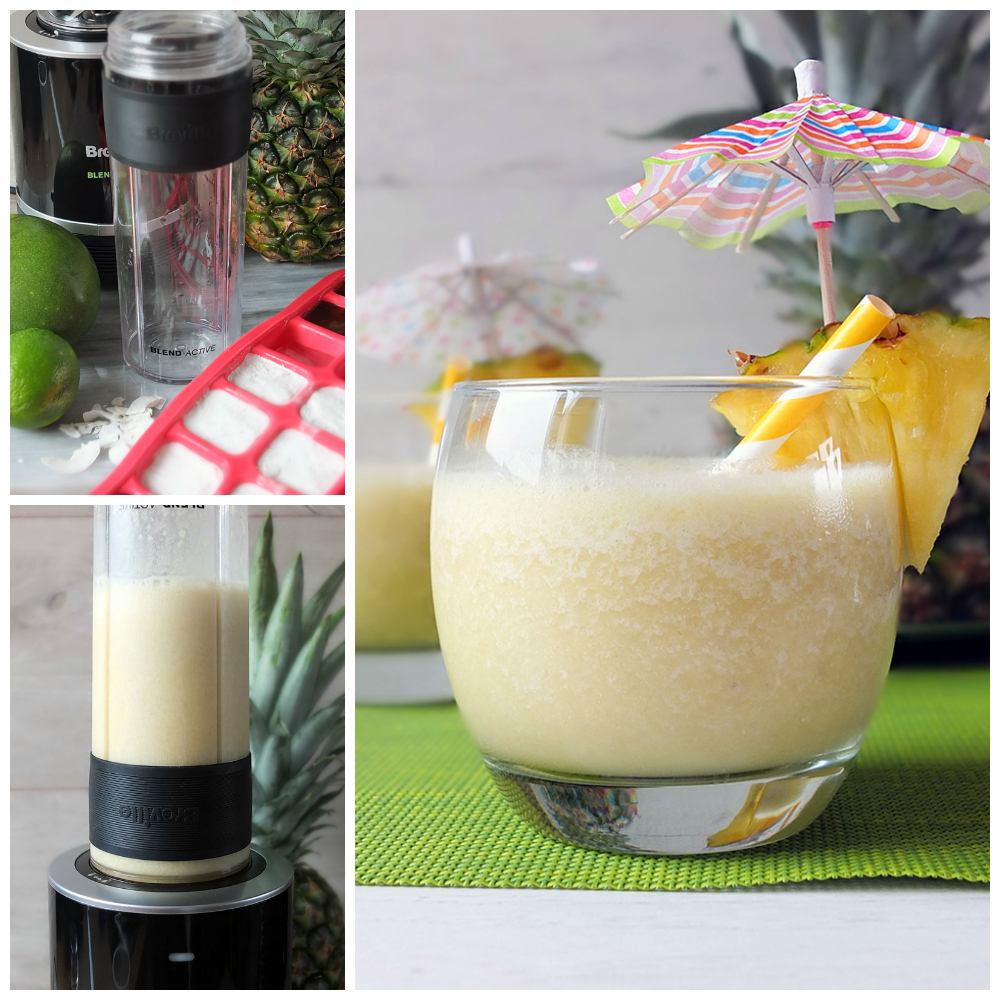 Each serving of this smoothie provides 55% of your RDA of vitamin C, and a modest 231 calories. Plus, it totally tastes like summer in a glass.
DAY 3 – CUCUMBER & LEMON QUENCHER
This particular recipe was an experiment based on the fact that Tony Horton, my DVD home fitness coach, says during one of the P90X3 daily workouts that he's drinking a special cucumber water. Cucumber is supposed to be incredibly hydrating, so I thought, in a moment of rushed inspiration before I headed out to my weekly Tank Built Conditioning Class, that'd I'd take along a cucumber water with a few lemon slices in it for flavour.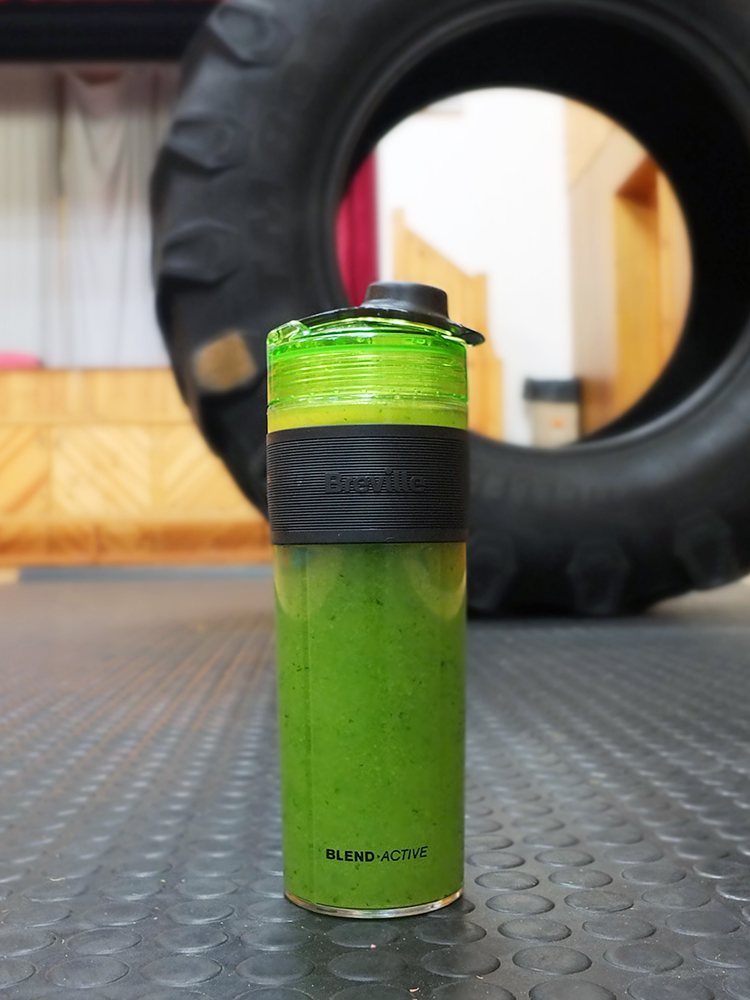 I want to like this but there's something about chunks of cucumber skin floating in your water that doesn't appeal. I might try peeling the cucumber next, or just finely slicing it along with some lemon slices with loads of ice cubes instead. It tastes fine enough, but a squeeze of honey or agave wouldn't have gone amiss.
Oh, and that tyre you see in the background there? That's Troy. He weighs 120 kg and, I am pleased to announce, I hit a PB in my last class by flipping him over eight times in 40 seconds. Twice. Go me!
DAY 4 – BLACK BEAN & HEMP BROWNIE PROTEIN SHAKE
Following on from flipping over heavy tyres, I'm all about the protein just now. I've got a few summer adventures planned and I need to build and maintain lean muscle if I want to enjoy myself on them.
I've also run out of protein powder. I could just buy some new protein powder, but again, I'm all about using up the food I've got in the cupboard before I buy new food.
Quite some time ago I bought some whole hemp seeds to sprinkle on my breakfast yogurt. What I didn't know about whole hemp seeds, back then, is that the little blighters will break your teeth as they're hard as rocks. If you're wanting to sprinkle hemp on your breakfast (it's packed full of essential fatty acids you know, and no, it won't get you stoned!) go for shelled hemp seeds. Just sayin'.
So, this fab little Breville Blend-Active Pro has a plastic blade guard which doubles as a mini seed/nut crusher. Perfect! I ground up some of these rock hard hemp seeds and popped them into a vegan smoothie made with black beans, which are an incredibly high source of protein.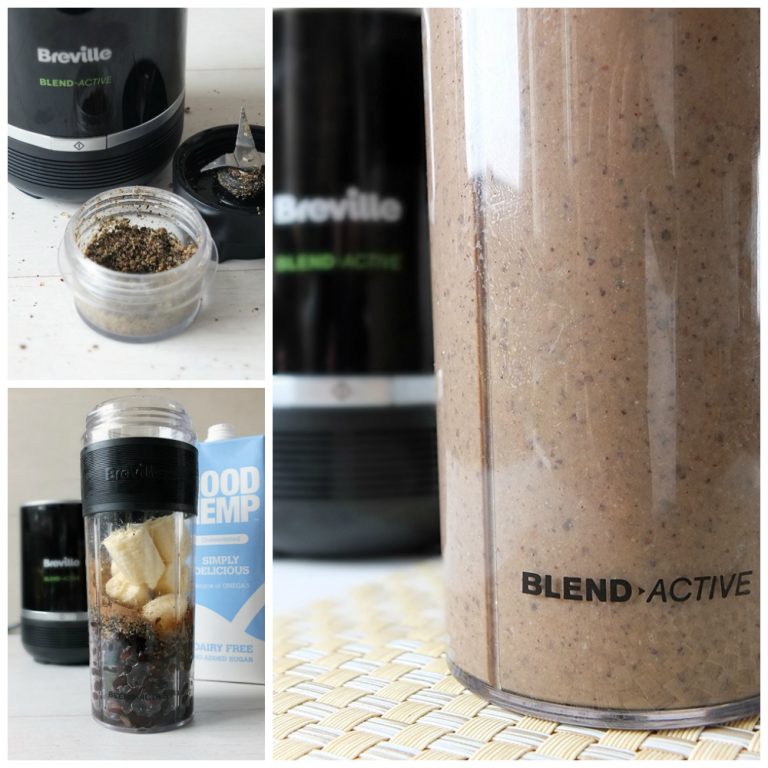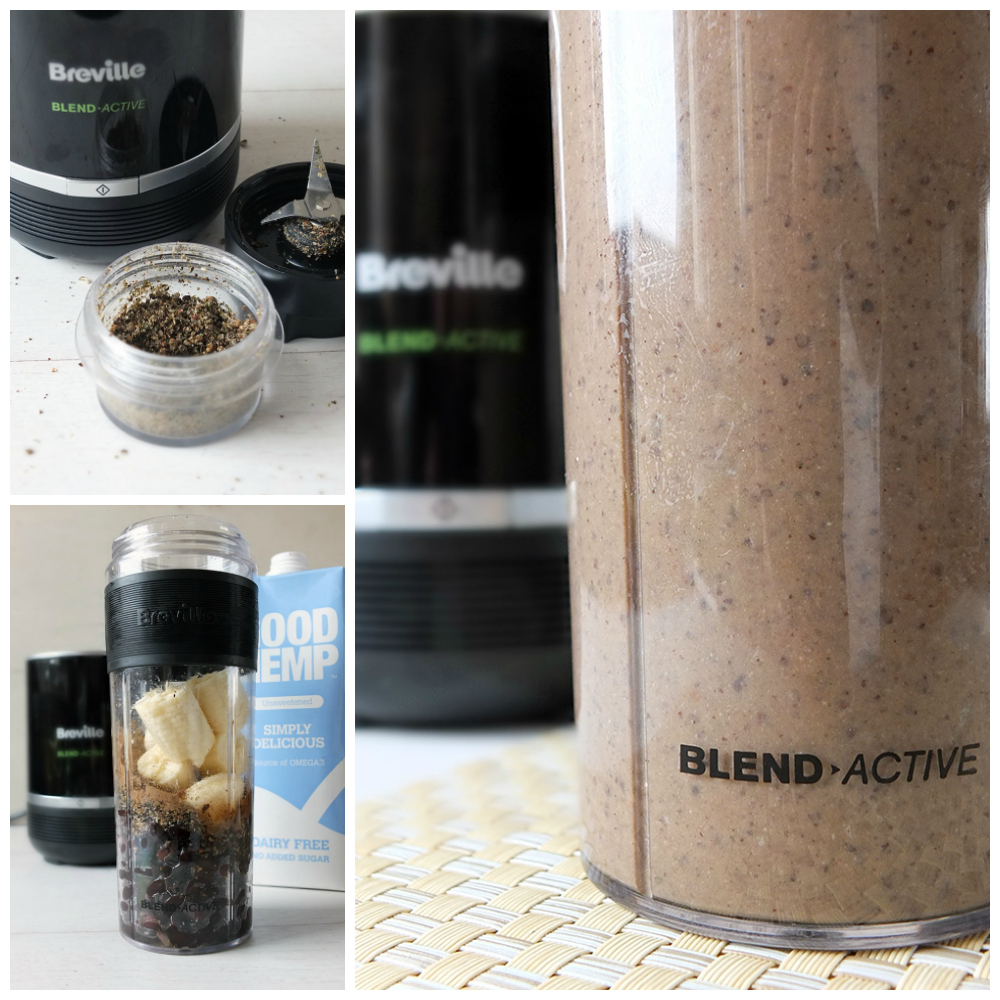 This plant-powered protein shake packs a whopping 15 grams of protein, 10 grams of fibre and 341 calories. It works as a complete meal in a glass, to be honest, leaving you feeling quite full and satisfied for some time afterwards. It also tastes like a delicious chocolate brownie, win!
DAY 5 – GREEN VEGGIE MADNESS!
Again, this was another experiment which wasn't wholly successful. Green smoothies are not my forte – I make a mean kohlrabi, apple, celery and cucumber thirst quencher with my juicer, so I thought I could transfer this green deliciousness into a smoothie form. No. You can't blend kohlrabi without it tasting like a blended broccoli stem no matter how much yummy avocado, spinach and lime you stick in it. It's a pretty colour though!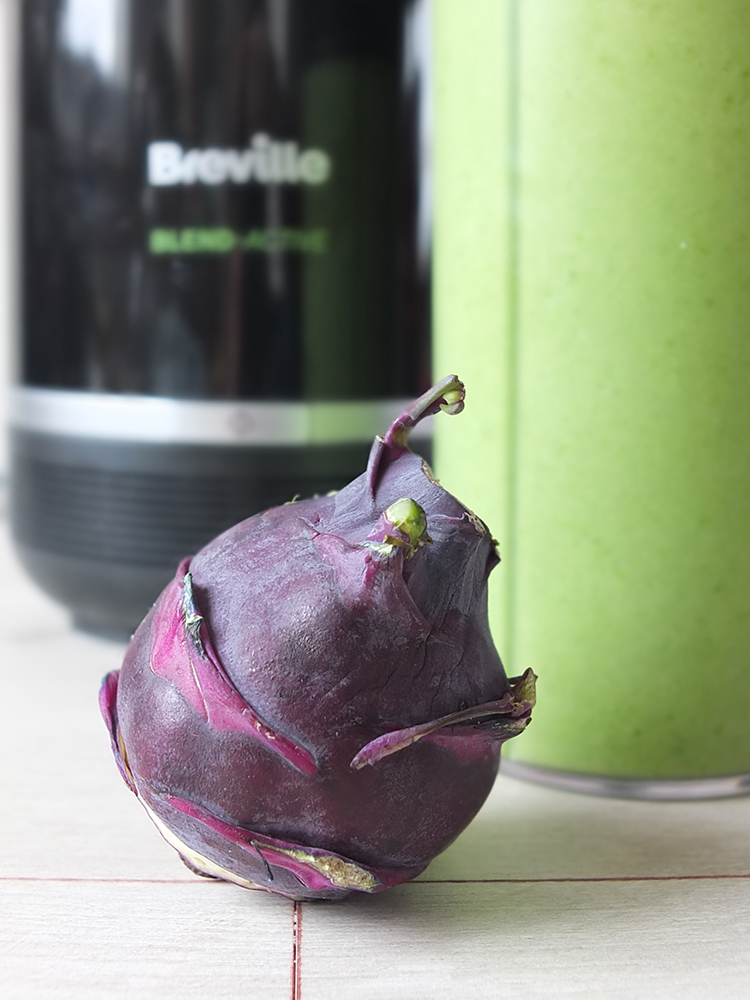 All in all, I am really quite pleased with my new little blender. It's so quick and easy to use, and I love that you can drink straight from the bottle you've blended your recipe in, saving on washing up.
The Breville Blend Active Pro Personal Blender retails for £54.98 and spare bottles are also available at an additional cost. At the time of writing Breville have a sale on where you can buy the blender with an additional bottle and neoprene sleeve for only £32.99 instead of the usual £68.98.
What are your favourite blender recipes? Do you have any high protein recipes to share? Let me know in the comments!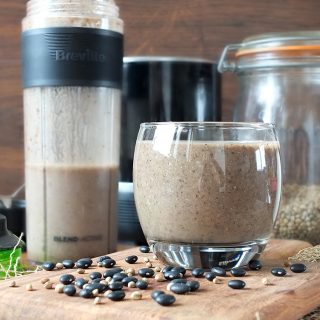 Black Bean & Hemp Brownie Protein Shake
A vegan protein-packed post workout shake made with black beans, hemp and Bioglan Supergreens, plus two other blender recipes.
Print
Rate
Ingredients
Black Bean & Hemp Brownie Protein Shake
Supergreens Cocoa Blast
1

banana

fresh or frozen

50

ml

espresso

cold (2 frozen ice cubes)

90

grams

plain natural yoghurt

(dairy, soy, rice, etc.)

100

ml

full fat milk

(dairy, soy, rice, etc.)

10

grams

Bioglan Supergreens

1

tsp

agave syrup

or other liquid sweetener

3

ice cubes

if not using frozen banana
Mango Colada Smoothie
200

ml

pineapple juice

50

ml

light coconut milk

(2 ice cubes worth)

60

grams

mango

fresh or frozen

1

small

banana

fresh or frozen

0.5

lime

juice only

3

ice cubes

if not using frozen fruit
Affiliate Links
This recipe card may contain affiliate ingredient and equipment links. As an Amazon Associate I earn from qualifying purchases.
Instructions 
Black Bean & Hemp Brownie Protein Shake
Place the whole hemp seeds into the blade cover of your Breville Blend Active and affix the blade assembly. Attach to the motor unit, locking into place (the white light will illuminate) and blend for 10-20 seconds, pausing every few seconds to remove from the motor unit and shake so that all the seeds are ground.

Add the remaining ingredients to the blender bottle and spoon the ground hemp seeds in. Affix the lid and attach to the motor unit. Blend for 20-30 seconds until it reaches the desired consistency. Serve immediately.
Supergreens Cocoa Blast
Place all the ingredients in the blender and blend until it reaches the desired consistency. Serve immediately.
Mango Colada Smoothie
Place all the ingredients in the blender and blend until it reaches the desired consistency. Serve immediately.
Environmental Information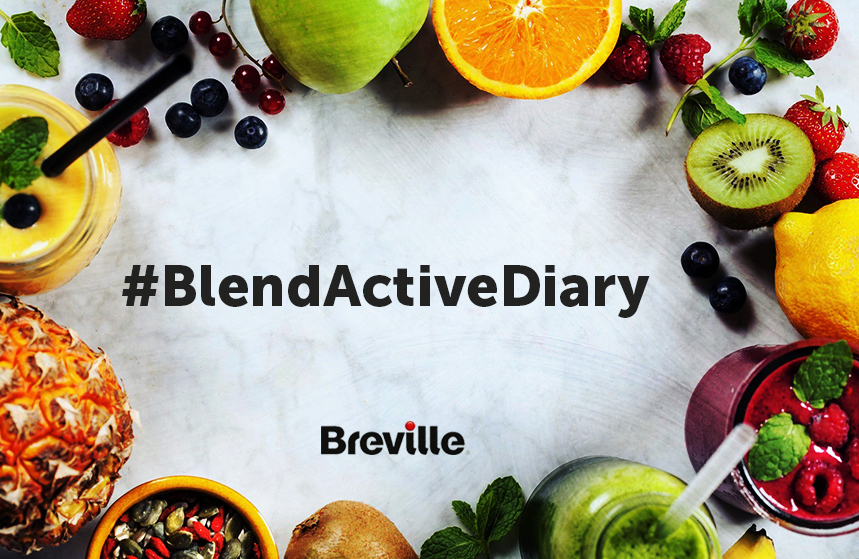 OTHER BLENDER RECIPES YOU MIGHT LIKE
Blackcurrant & Coconut Post-workout Smoothie
Post-workout Green Smoothie Quencher
Carrot Cake Smoothie 
Date Tahini Smoothie
The Green Vegan Breakfast Smoothie
Pineapple & Coconut Smoothie
Mega-Berry Green Smoothie
Banana Nut Protein Smoothie
Cottage Cheese Crepes
Quick Breakfast Smoothie
SHOP THIS POST
Breville Blend Active Pro Personal Blender
Bioglan Supergreens Cacao Boost
Raw Organic Unshelled Hemp Seeds 
SHARING WITH SOME BLOG LINKIES
No Waste Food Challenge
We Should Cocoa
This is a sponsored post in collaboration with Breville. All thoughts and opinions expressed are our own. Thank you for supporting the brands who make it possible for me to do what I love: mess up my kitchen and share recipe stories.