#ExtraVeg – a simpler way to a healthier diet.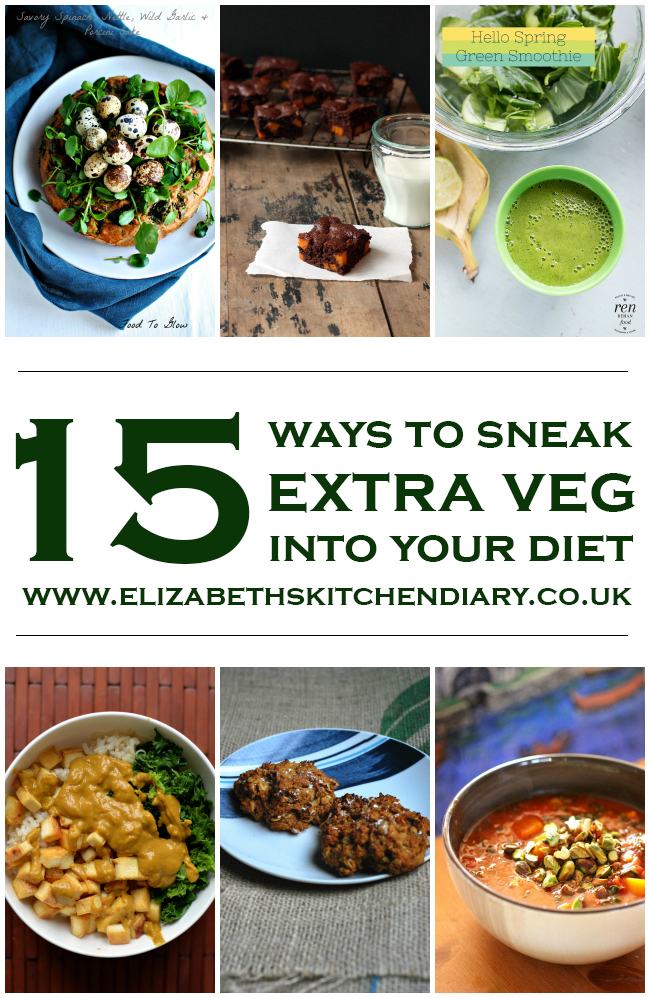 There is plenty of scientific research showing that increasing one's daily consumption of fresh fruit and vegetables reduces the risks of heart disease, cancers, obesity and lowers overall mortality. Government guidelines suggest we should aim to consume five portions of fresh fruit and vegetables to maintain good health, but new advice released last year recommends increasing this to 7 or even 10 portions per day.
Vegetables are naturally high in fibre, filling you up quicker, meaning if you include plenty in your diet you will, by default, eat fewer unhealthier foods.
So how do you get this Extra Veg into your diet?
In this food blogging challenge from Helen at Fuss Free Flavours, and Michelle at Utterly Scrummy, which I had the pleasure of guest hosting for the month of March, food bloggers from around the world were asked to share the recipes they make which add an extra portion of vegetables into their meal.
Do feast your eyes on this month's beautiful selection!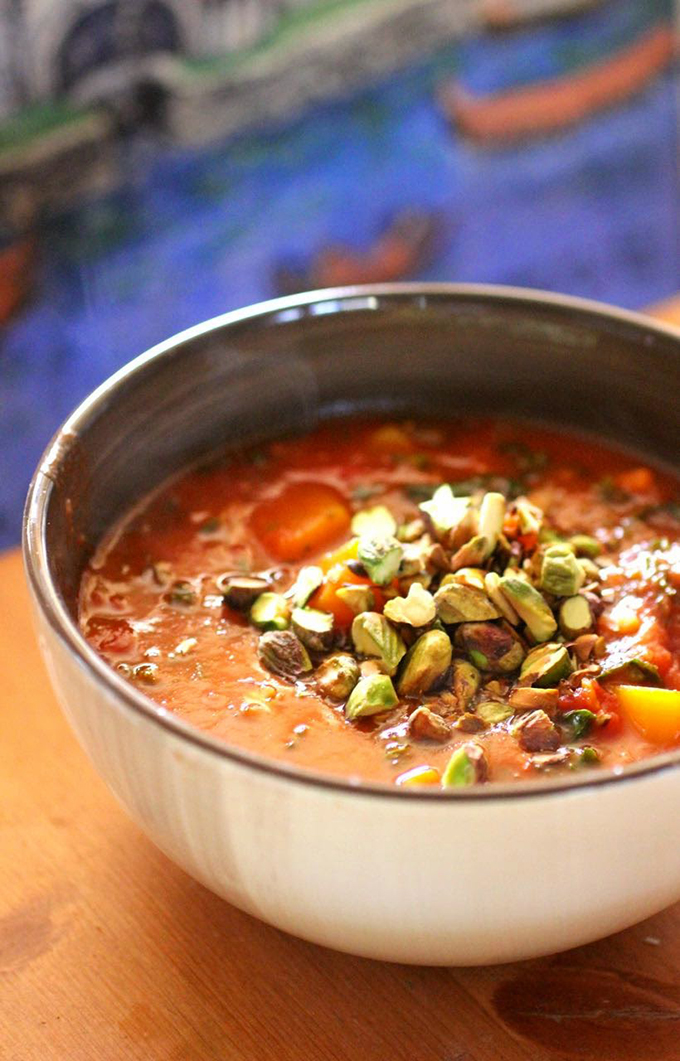 Johanna over at Green Gourmet Giraffe considers soups to be dumping grounds for leftover and tired vegetables. This recipe is packed full of leftover vegetables, from pumpkin, cherry tomatoes and a good dose of healthy kale!
---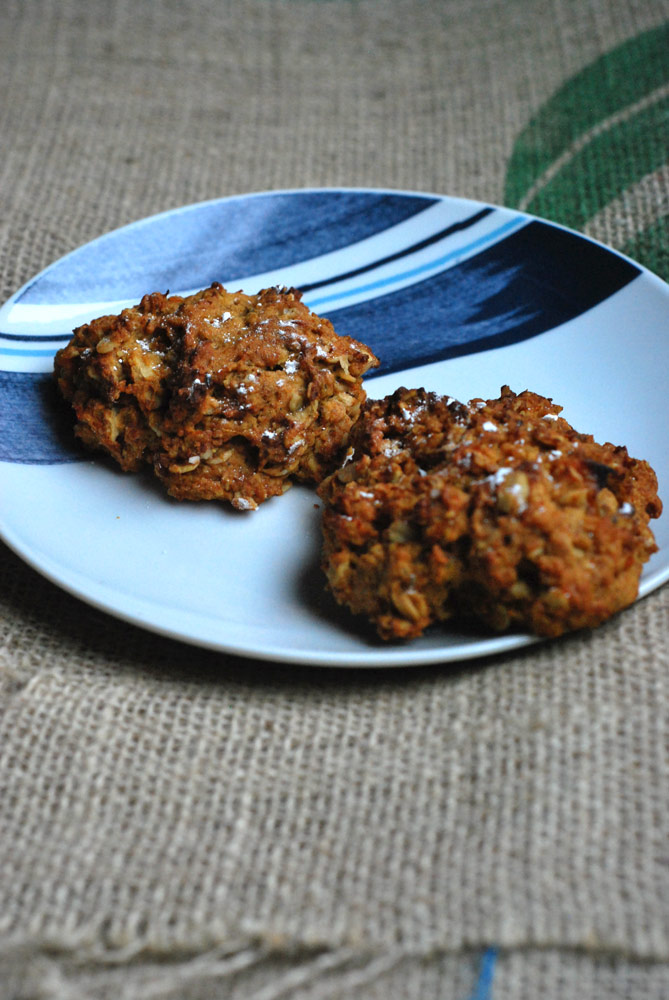 Sus over at Rough Measures gets creative with a vegan sweet potato and ginger cookie recipe made with roasted sweet potato, fresh ginger root, wholemeal flour and plenty of oats! Gorgeous!
Get the recipe.
---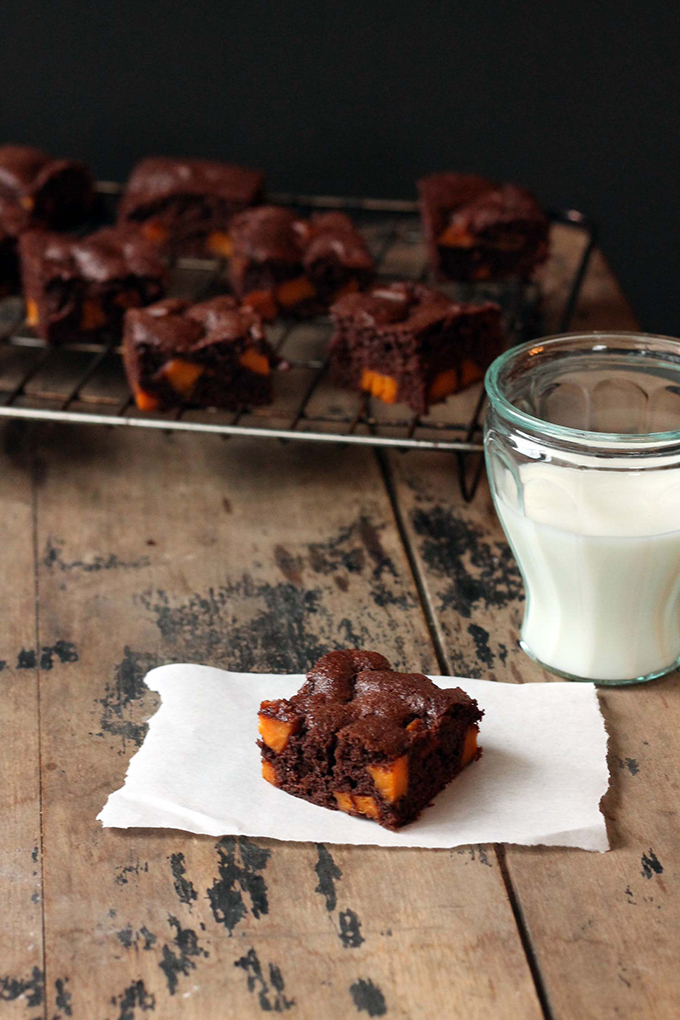 Sweet potato is a very versatile root vegetable, and Kate over at Veggie Desserts uses it in these gorgeous sweet potato maple brownies – vegetables, and chocolate, together – and it's good for you!
---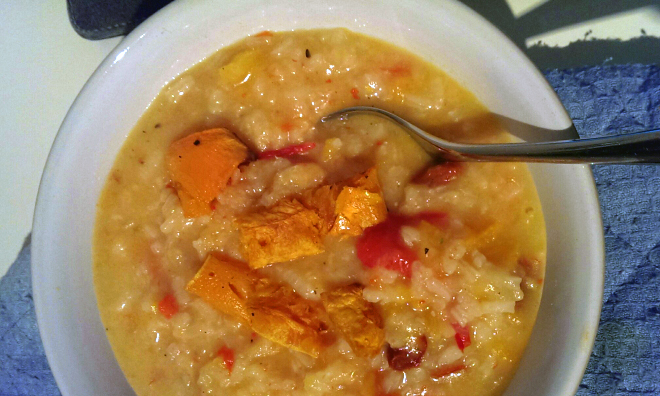 Risotto is livened up in this dish with the addition of roasted butternut squash, roasted red peppers and some sun-dried tomatoes from Eating, Enhanced. Sunshine, in a bowl!
---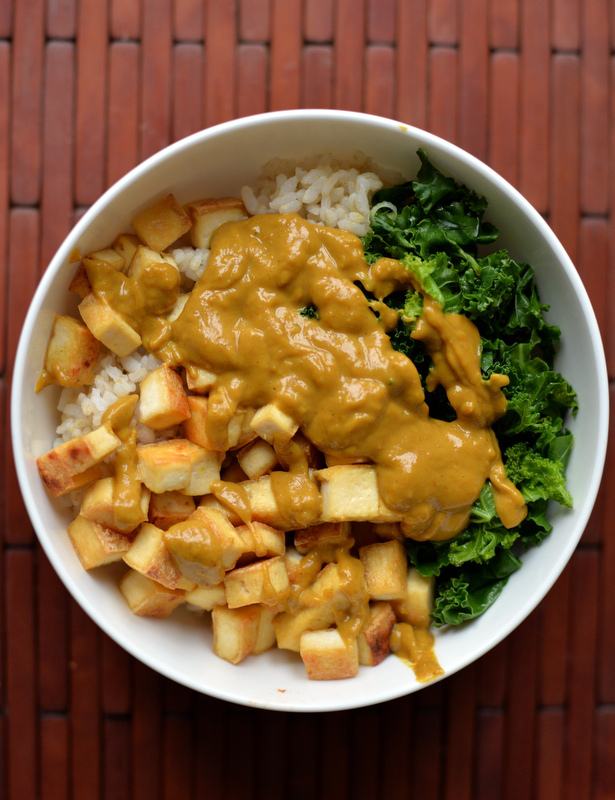 Janet over at The Taste Space impresses with this simple but elegant tofu and kale bowl with a curried peanut sauce. I'm a big fan of kale, and I bet it would taste fantastic with her curried peanut sauce. Lovely!
---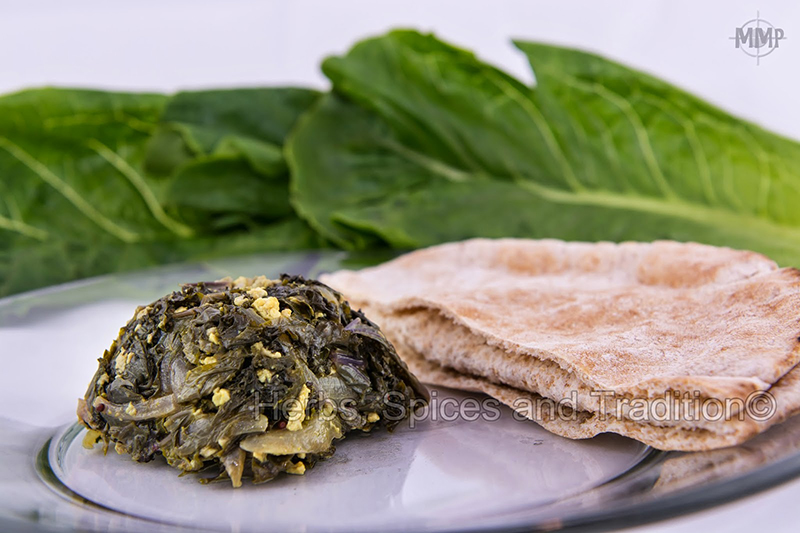 Sadhna over at Herbs, Spices and Traditions transforms tofu and kale into a delectable side dish spiced with cumin and coriander. I can almost smell it!
---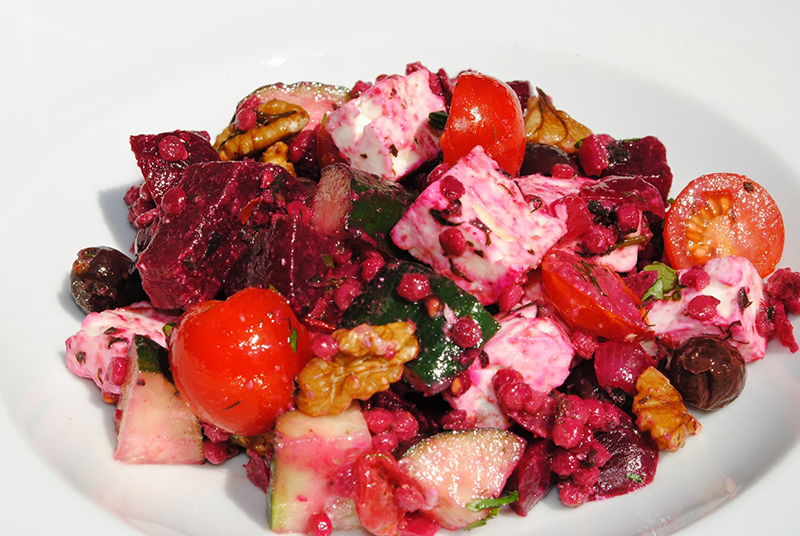 Beetroot, onions, cucumber, tomatoes, olives and feta cheese are combined in this giant couscous Greek salad by Chardonnay & Samphire – a feast fit for a prince!
Get the recipe!
---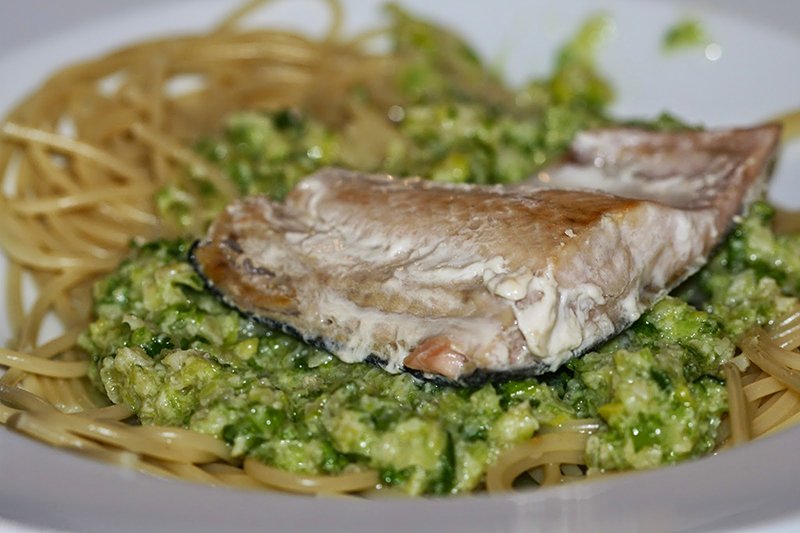 Caroline over at Caroline Makes breaks away from tradition and creates a superb leek loaded pesto for her pasta dish – stunning!
---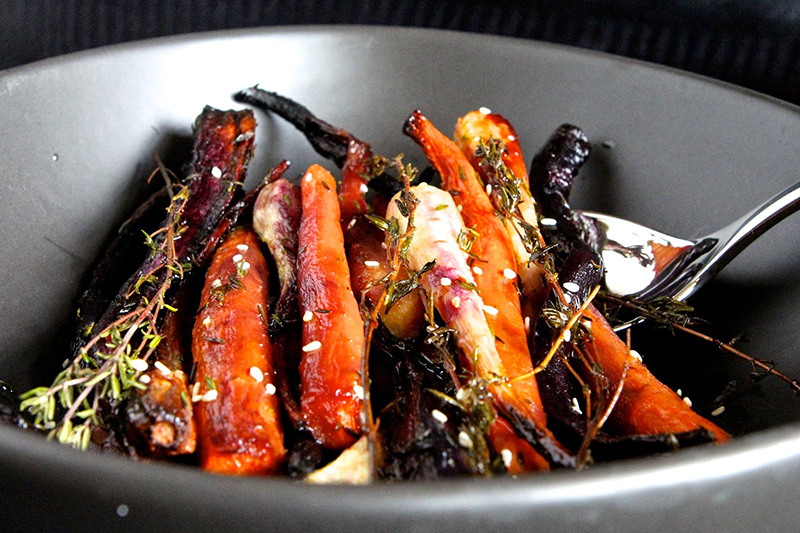 Kate, the Gluten Free Alchemist, creates a classic side dish – Honey-Glazed Thyme-Roasted Spring Carrots & Parsnips. Isn't it just beautiful! Just the name of it alone gets me salivating…
---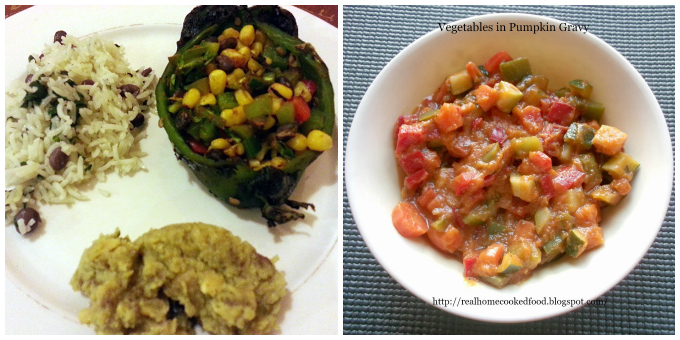 Linsy at Real Home Cooked Food shares two beautiful vegetable loaded recipes this month. Such vibrant colours!
Get the recipe for Roasted Vegetables and Black Bean Stuffed Poblano Peppers.
Get the recipe for Vegetables in Pumpkin Gravy.
---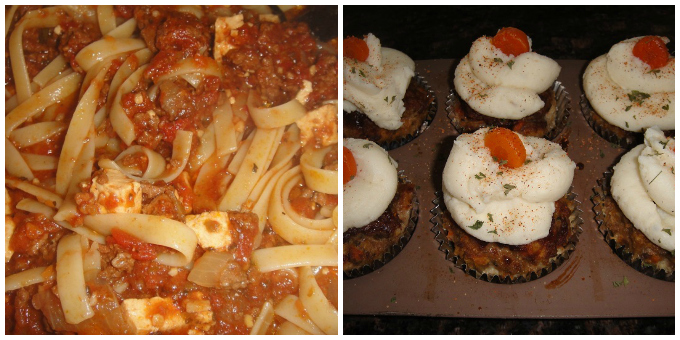 Cindy over at Seasonal Holiday Recipe Exchange sneaks an extra portion of carrots into her spaghetti with meat sauce and her meat loaf cupcakes with mashed potato frosting, a favourite with her grandchildren!
Get the recipe for the spaghetti with meat sauce.
Get the recipe for the meatloaf cupcakes with mashed potato frosting.
---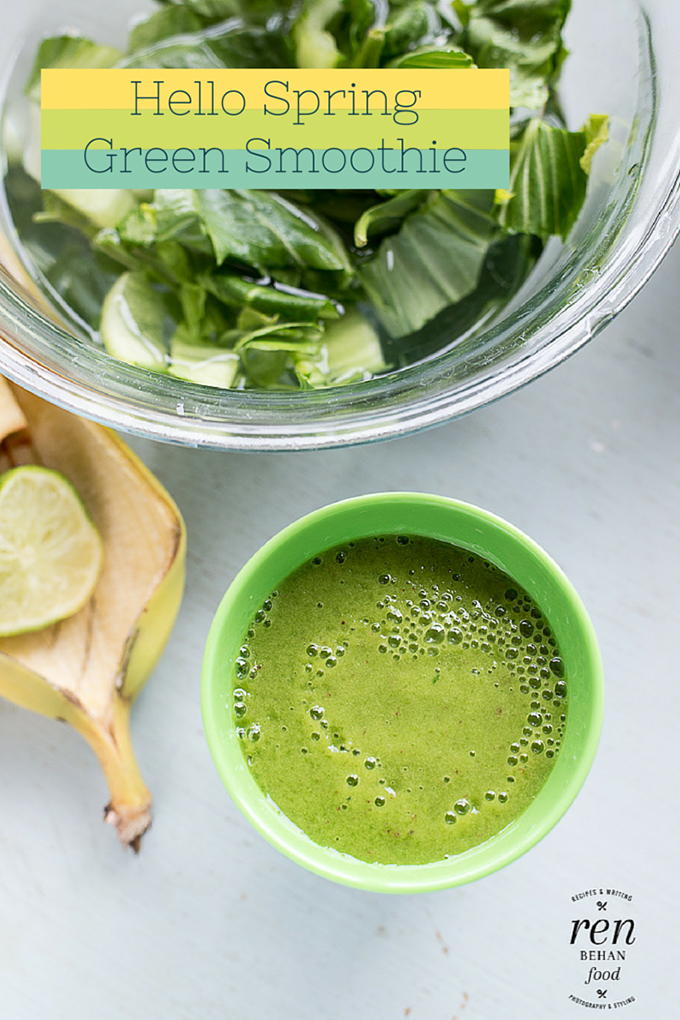 Ren Behan greets Spring with this beautiful and vibrant green smoothie made with baby spinach leaves, pea shoots and pak choi.
---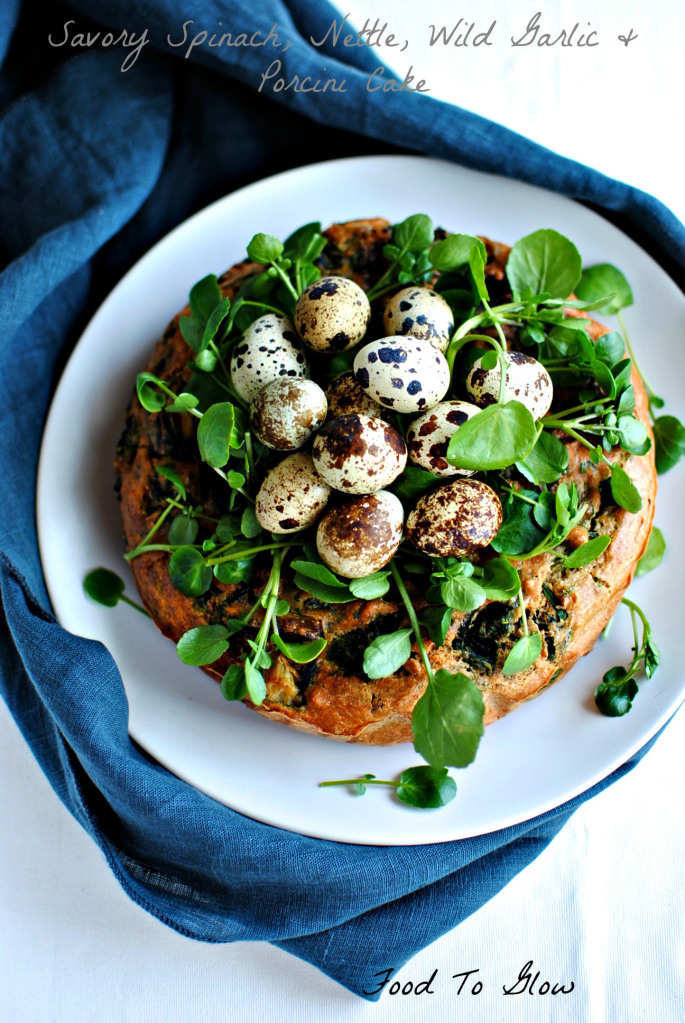 Kellie over at Kellie's Food to Glow is a culinary genius. Just look at the creation above! Don't you want to jump into the photo and start eating!
---
FORGET DIETS AND EAT A GENEROUS PORTION OF (RAW) VEGETABLES WITH EVERY MEAL WHENEVER YOU CAN.
Fuss Free Helen's philosophy is simple, and as the gorgeous recipes above illustrate, it can be remarkably easy to sneak an extra portion of vegetables into each meal.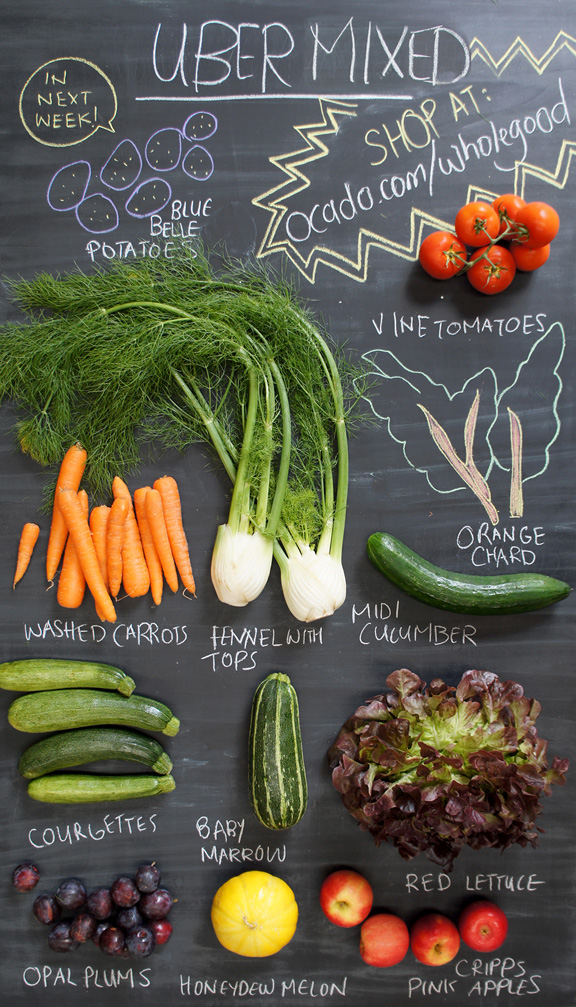 To help you on your vegetable journey we are delighted to announce that Wholegood, an organic fruit and vegetable supplier in London, have offered the prize of one veg box for a randomly selected #ExtraVeg entry each month (selected via random.org)! Wholegood vegetable boxes can only be delivered in Ocado areas and contents of the veg box will change depending on season and availability. Watch the space for the winner announcement!
If you are feeling inspired, April's #ExtraVeg is being hosted over at Jo's Kitchen.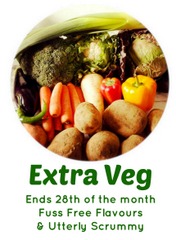 If you want to be kept up to date on my recipes, occasional craft tutorials, adventure stories and giveaways then please subscribe to my weekly newsletter; it gets sent out every Monday morning if there is new content. Your email address won't be passed on to anyone, you will never be spammed and you are free to unsubscribe at any time, no questions asked. Make sure you confirm your subscription or you won't receive the newsletter – if it hasn't arrived check your junk mail folder.
[wysija_form id="1″]