Going back in time to a Middle Devonian lake bottom!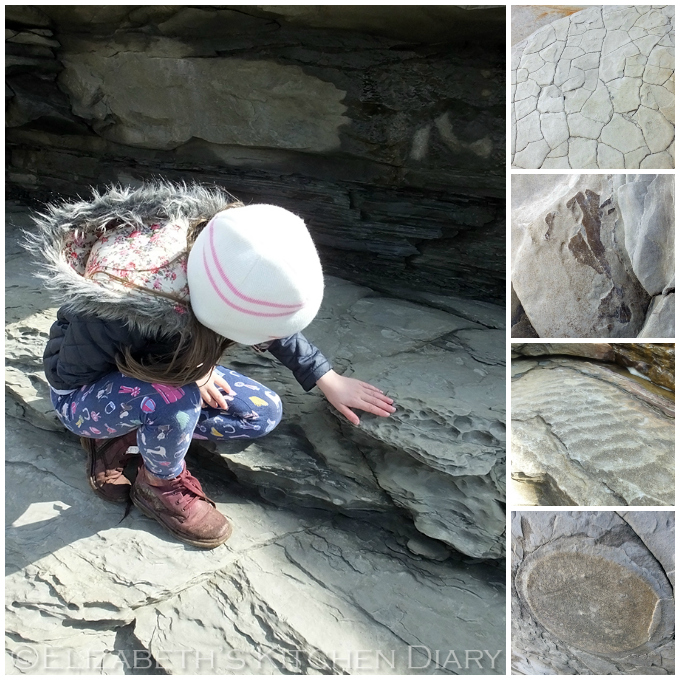 It's the Easter Holidays.
I completely forgot about the Easter Holidays until the Thursday before the schools broke up for the Spring Break. This meant that I had to take the kids to work with me (there being no childminders around where I live, and all), so they've been enjoying playing the iPad while I have been doing a bit of interviewing and filming for a freelance piece I am currently working on.
My work took me to Sandness, on the far west side of Shetland yesterday. Filming and interviewing was fairly quick, and the sun was making a fairly decent attempt to shine down upon us, so I thought, perhaps, this would be a good time to go exploring at the Melby Fish Beds, what used to be the bottom of a lake situated near a volcano a very, very long time ago. Just imagine how much fun that would be for the kids me – fossilized fish just laying around waiting to be found in their very own fish bed! It was supposed to be a one to two hour walk (so says the Shetland Amenity Trust leaflet) – and it was a place I've been keen to explore since I learned of its existence last year.  There was plenty of time for a walk, to explore, and to be back in town for our dentist appointments later on that afternoon.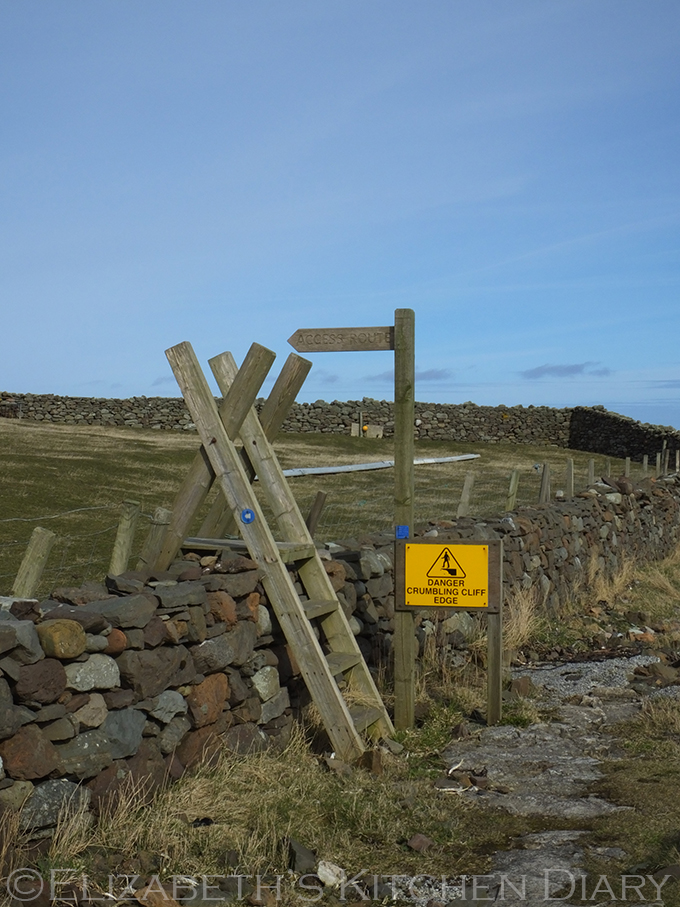 Our journey began at the car park next to the Sandness Pier. The warning sign next to the first stile was all that was needed to keep the children away from the cliff edges during our adventures.
In hindsight I would have parked up by the Huxter Water Mills car park as the walk between our starting point and the mill wasn't particularly scenic, or dry. It was seriously muddy (being April) and there was an awful lot of sheep poo (it being crofting territory, and all). There was much whinging had by the small people in my company.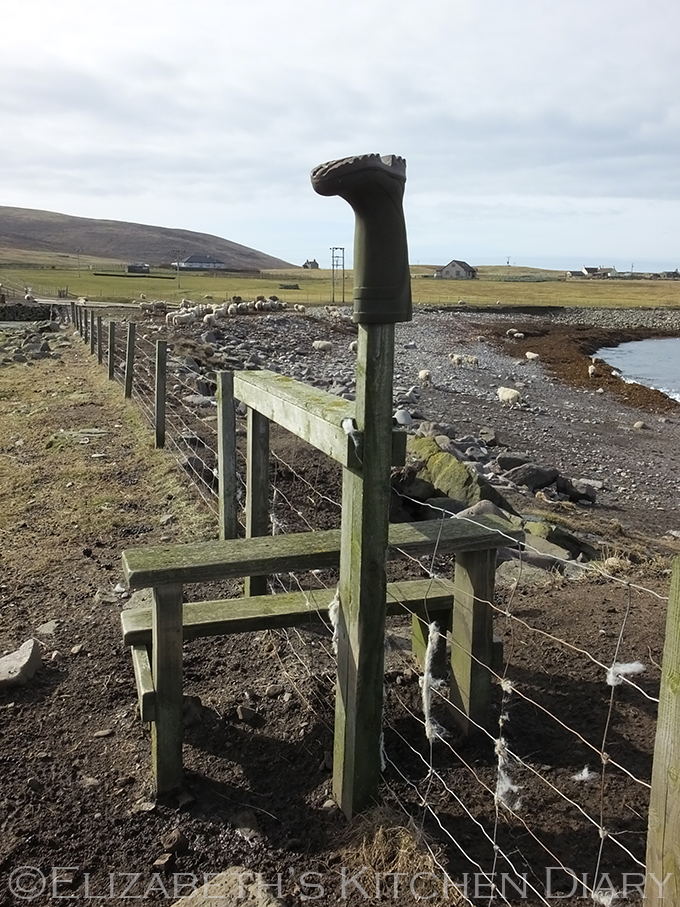 Fast forward to near the Huxter Water Mills, where things started to get more interesting. These three water mills date back to the Norse times, and used horizontal wheels. The kids were really excited to have a peek inside.
"What's in there?" I shouted from way back.
"Rabbit poo!" shouted DD, "and lots of it!"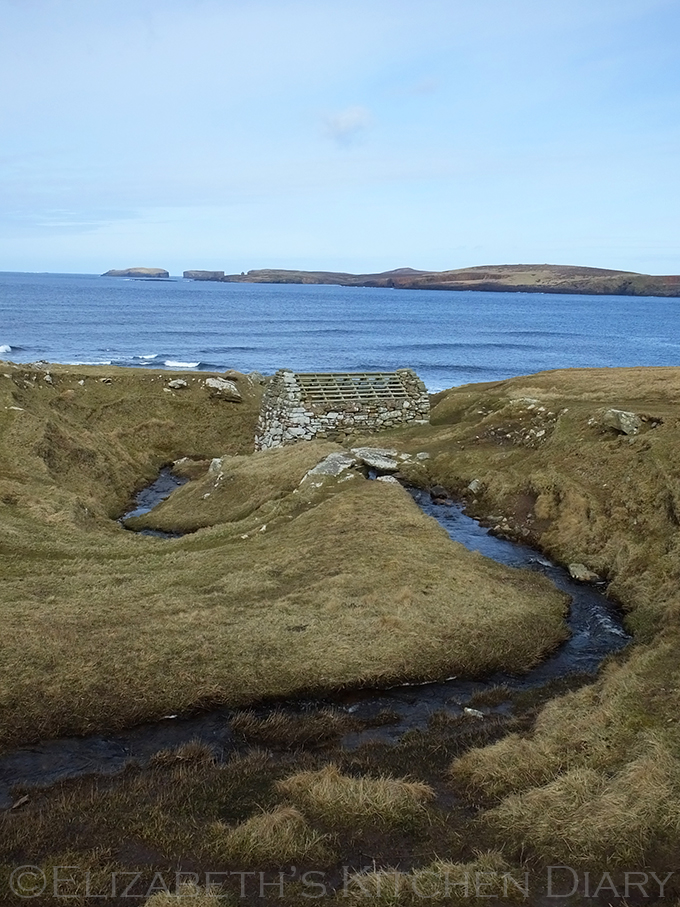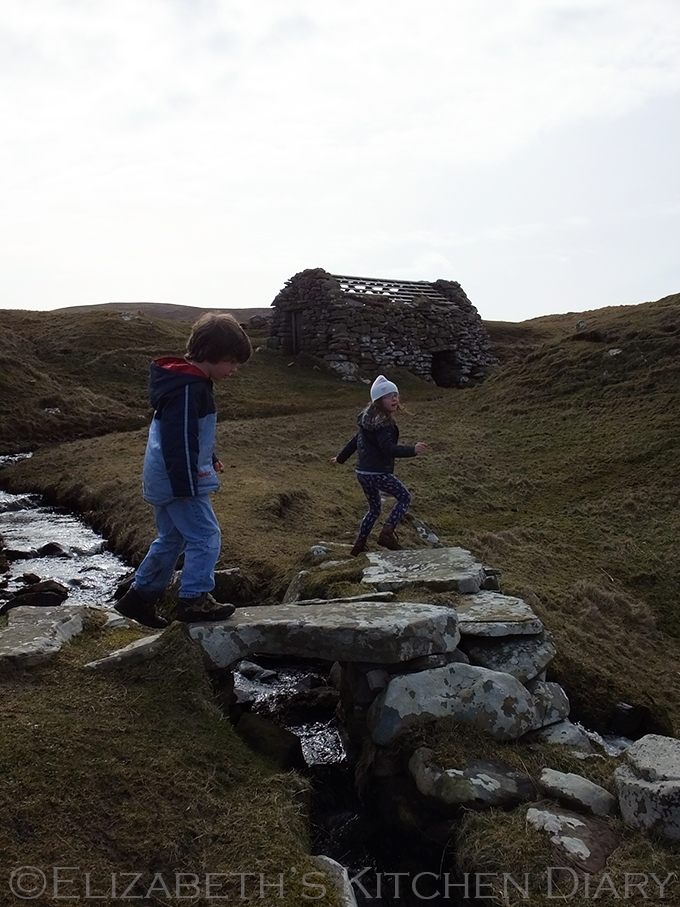 Moving on!
On our coastal walk we encountered three little works of art. I don't know who put them there, or why, but all three were simply lovely! Handpainted ceramic tiles were fixed into the side of some old fence posts; the first was near the coast where we saw plenty of oyster catchers.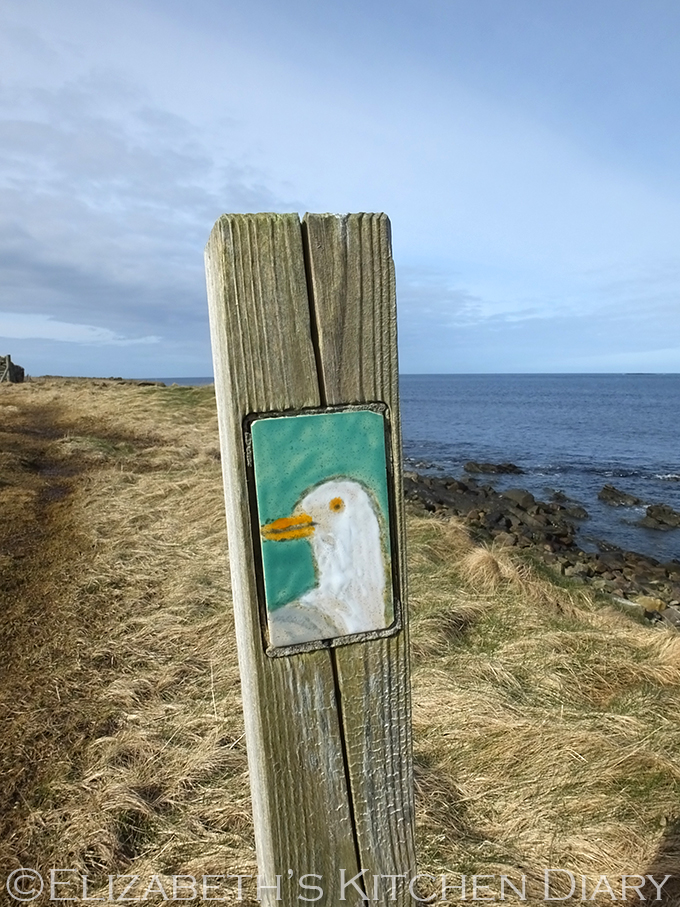 The second was further along – I can only assume it is a lichen or moss of some sort.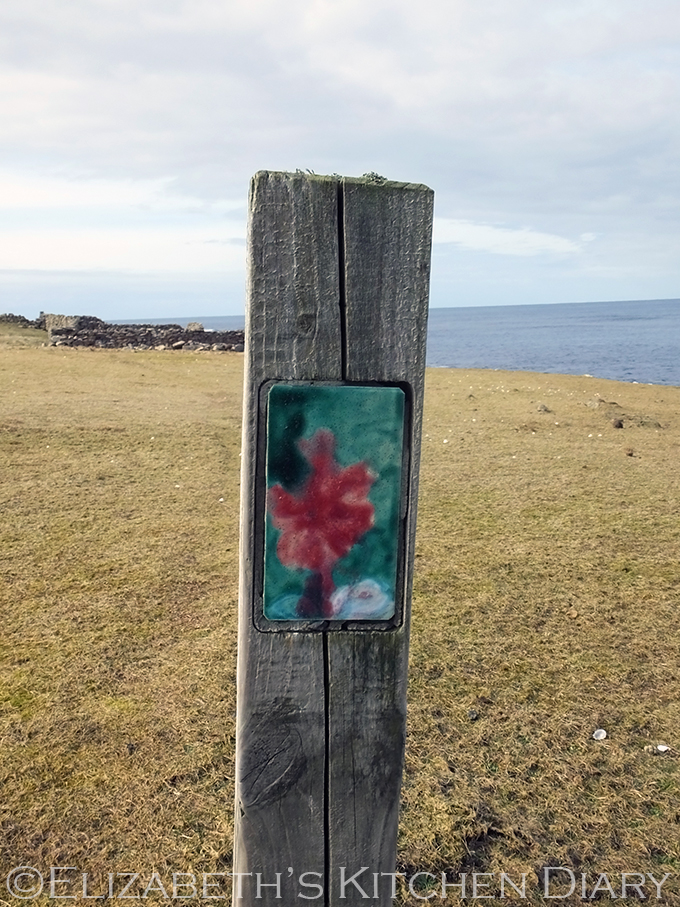 The third – a fish! We must be getting near to the Melby Fish Beds!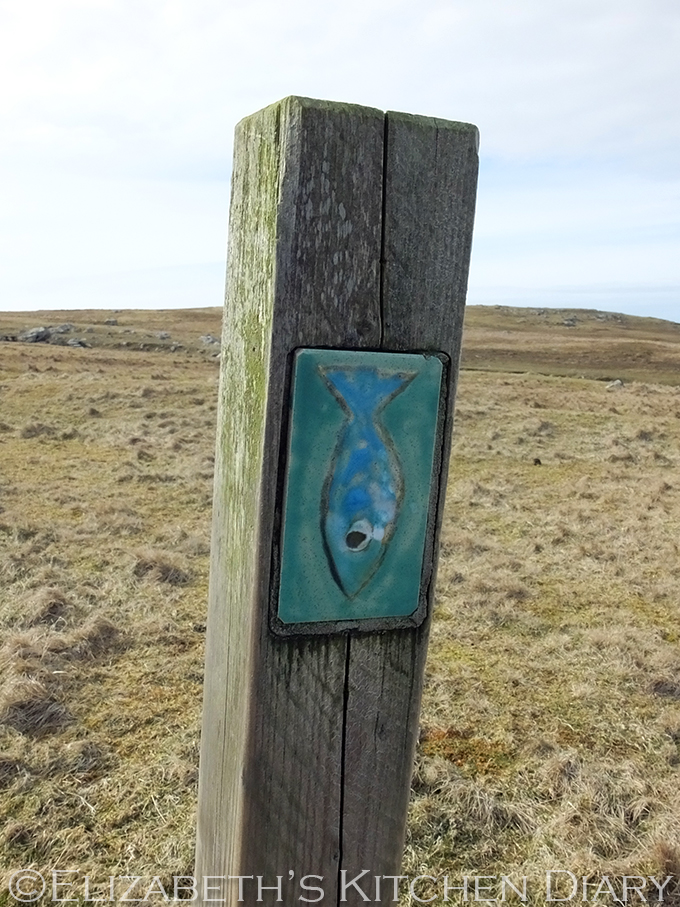 It was shortly after this point when we got the GPS out. There are quite a few steep cliffs along this section of coastline and I wasn't wanting to get too close, what with the younger ones in tow. Plus, yay Garmin eTrex, keeping whinging children silent for how many years?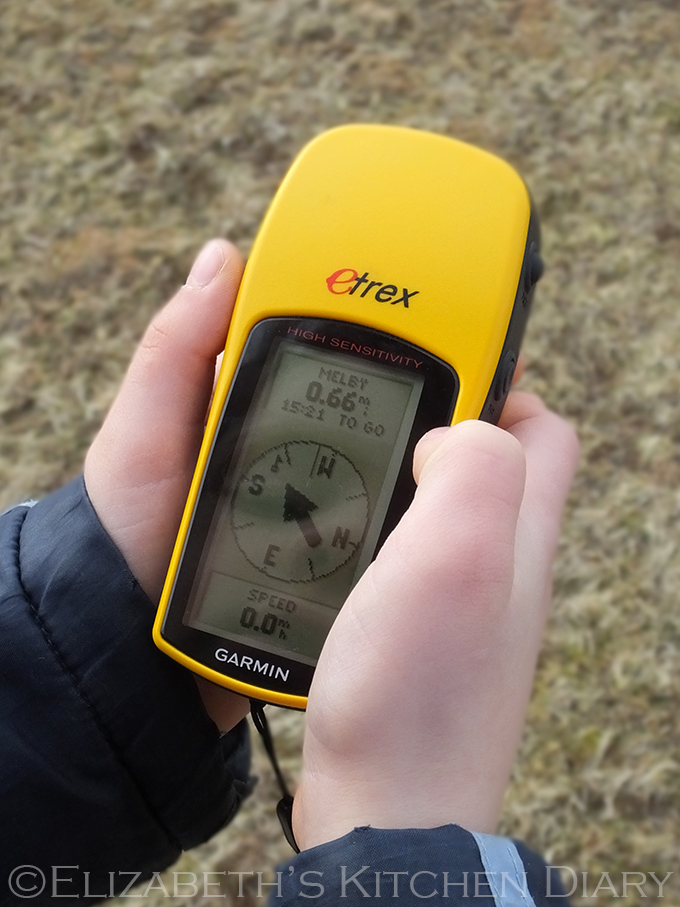 Before we had left the house I had plotted the co-ordinates N 60 17.269 W001 42.096 after converting them from HU 16643 56070 found on the leaflet I mentioned above. A word of caution though, never use the batteries out of the Wii drawer – they will invariably be flat (as no one knows how to recharge batteries in my house but me!) and so our GPS ran out of juice about five minutes after switching it on.
At least we knew we were headed in the right direction!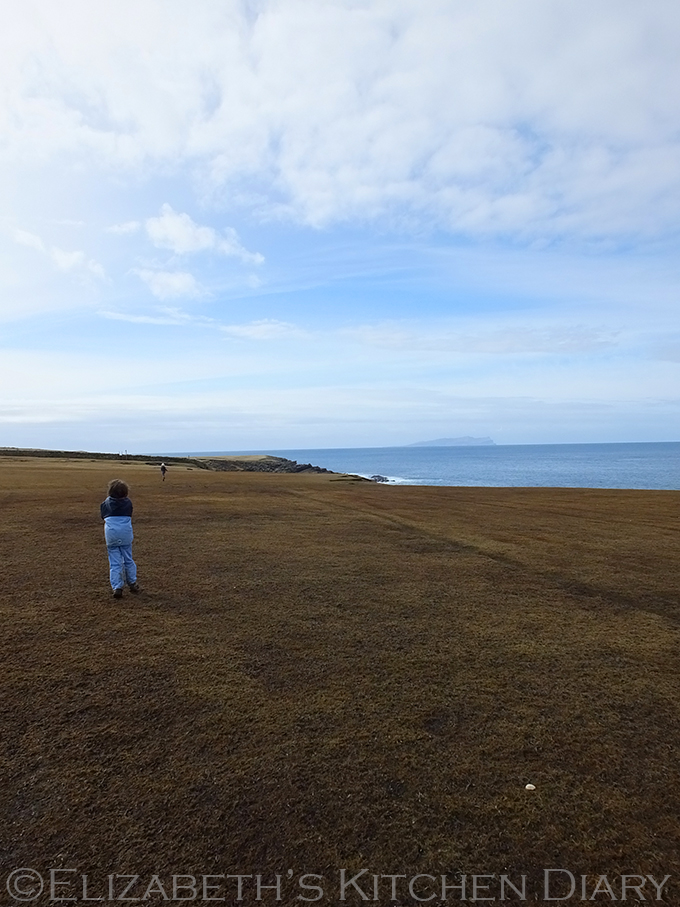 You can see the island of Foula in the distance. This is the only inhabited Shetland Island I have not yet had the pleasure of visiting. It's on my bucket list!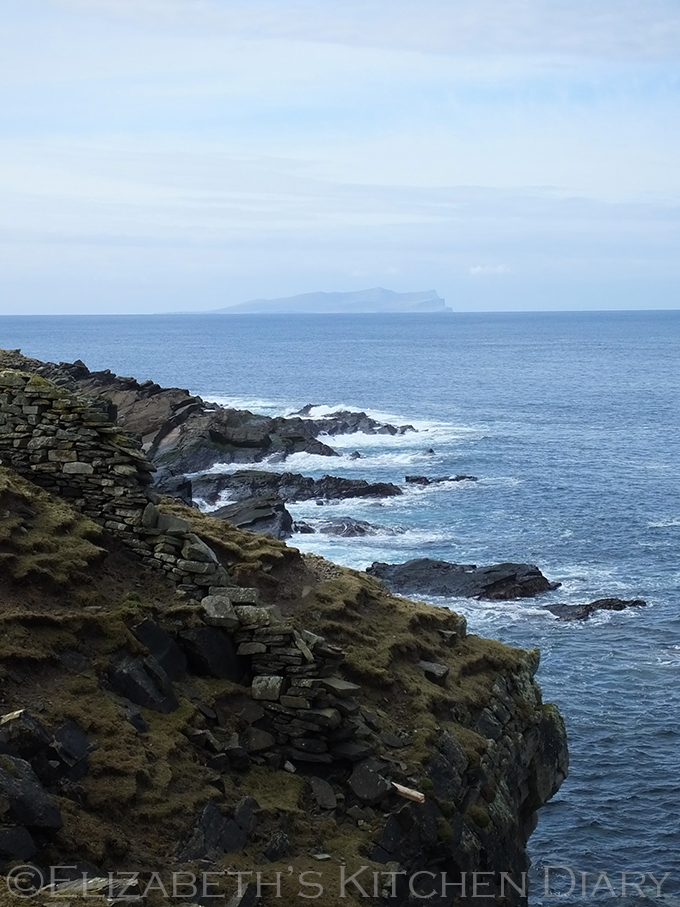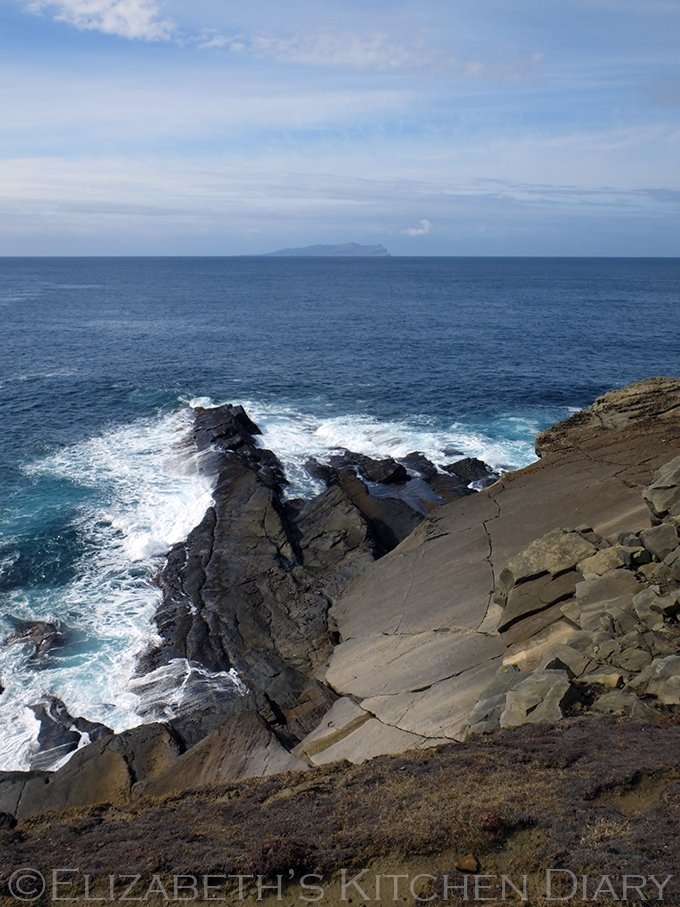 I had absolutely no idea where the Melby fish beds were, and I was getting mildly annoyed as a) I was hungry, b) the kids were hungry (we had a packed lunch in my rucksack), and c) I didn't remember seeing Foula in the background of the image in the leaflet. Was I in the right place?
There was enough juice left in the battery to last about 60 seconds, enough time to check our location against the co-ordinates. We were in the right place. The photo above was not what I remember seeing in the leaflet, and there was no way I was taking the kids down there!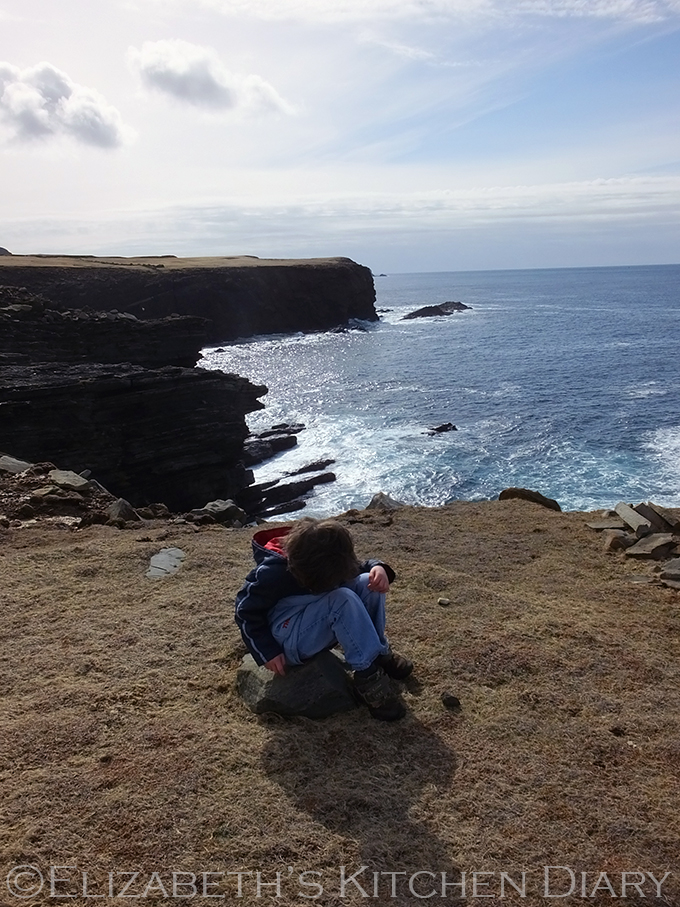 Little Mister was very patiently waiting on his rock (under strict instructions not to budge one single inch from it!) while I looked for the right location. We found it – a few metres off to the right.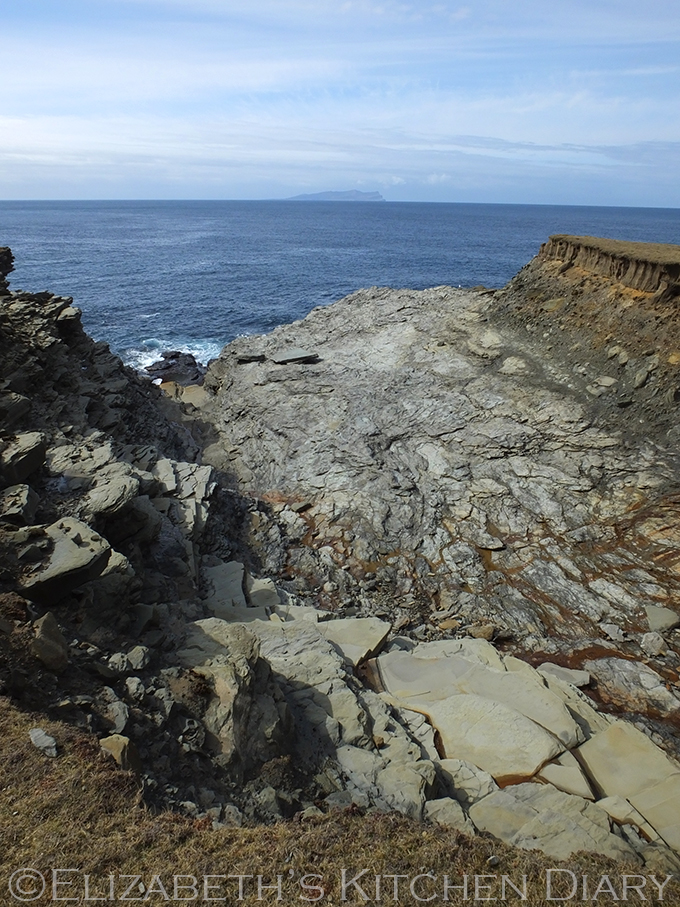 It was a bit of a scramble to get down to the bottom, but it was completely manageable with my six and eight year olds explorers.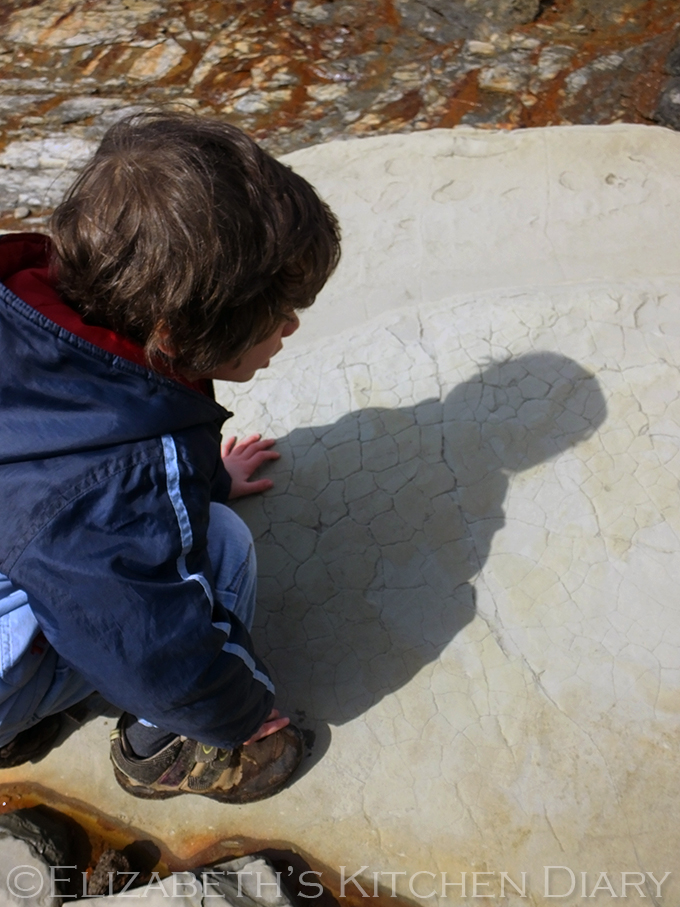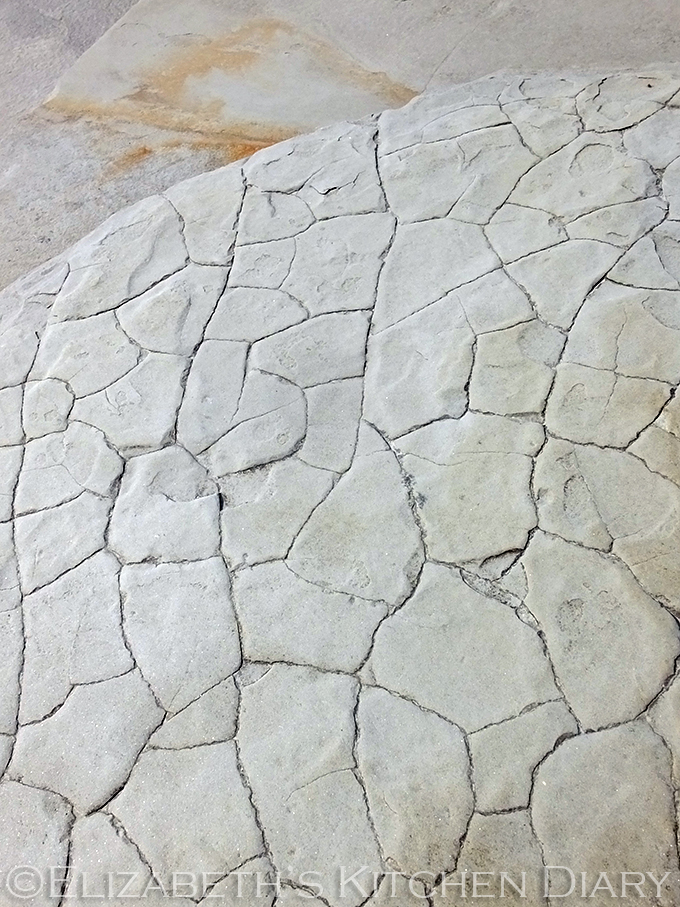 Do you see any fossilized fish? No, me neither, but the fossilized remains of the bottom of a lake is still pretty cool.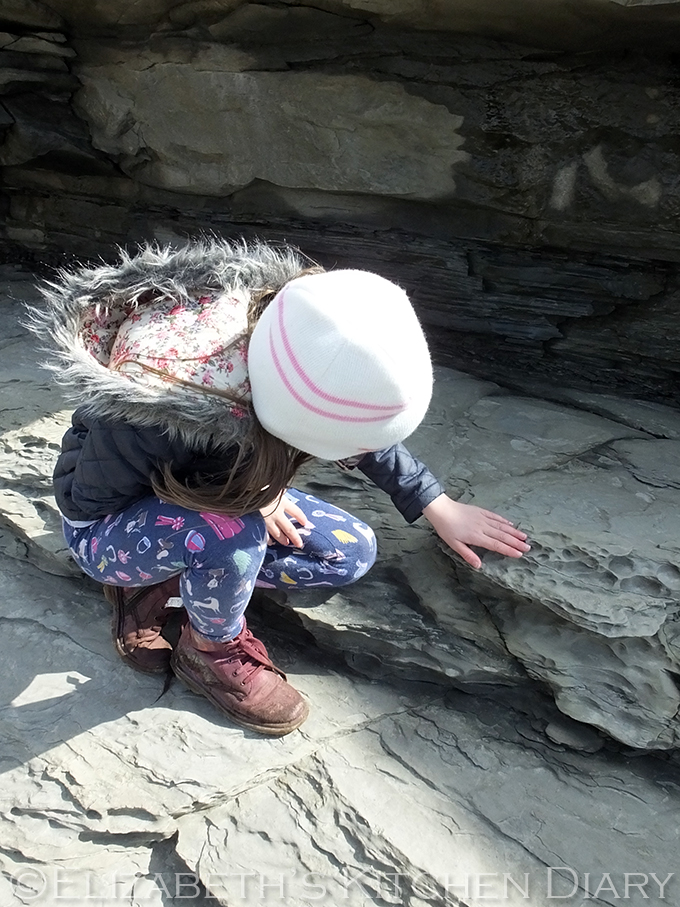 No fossils here either, but some pretty neat erosion effects in the sandstone!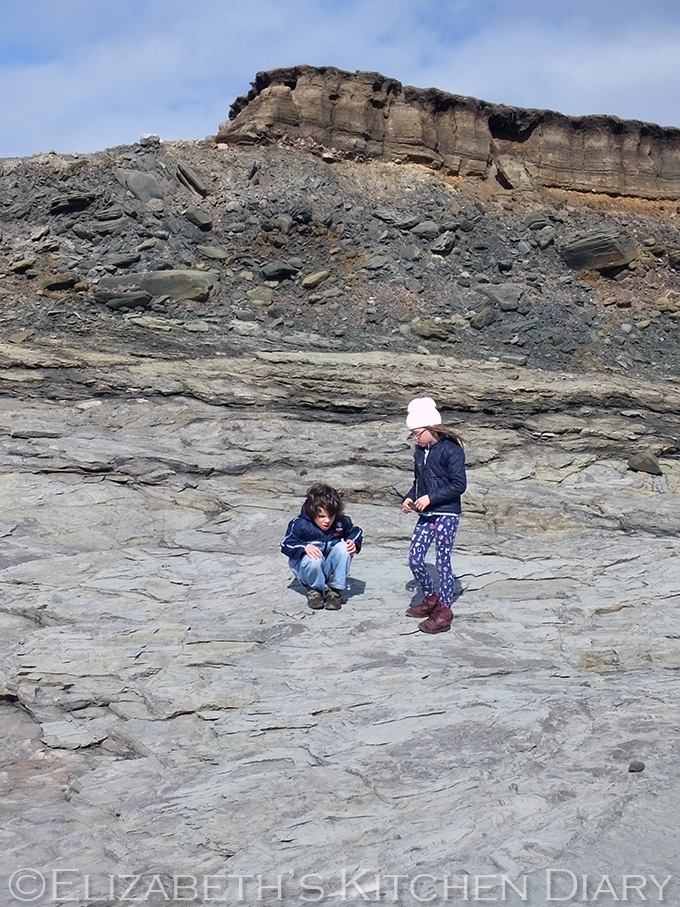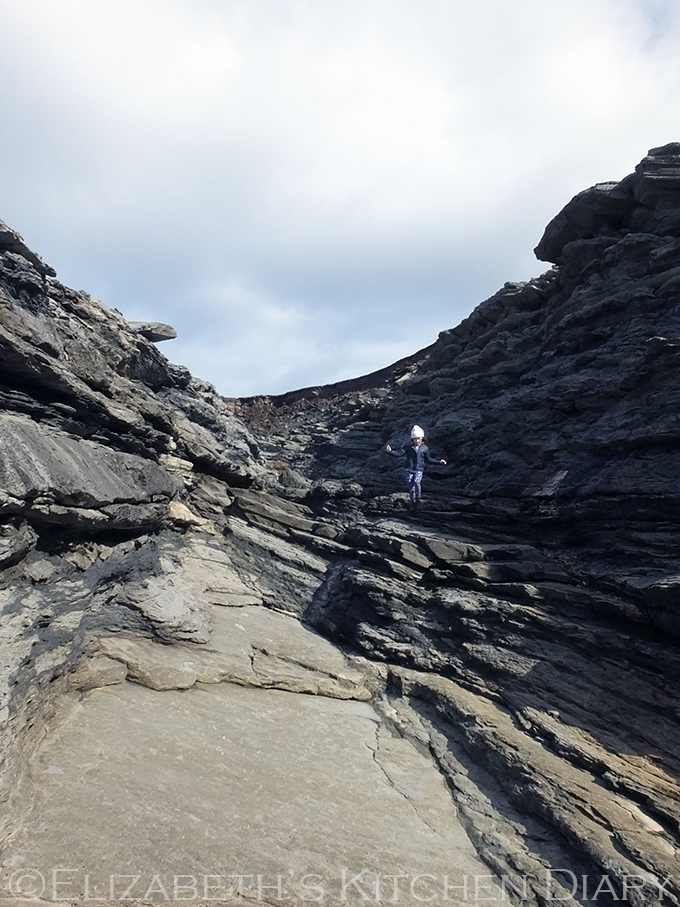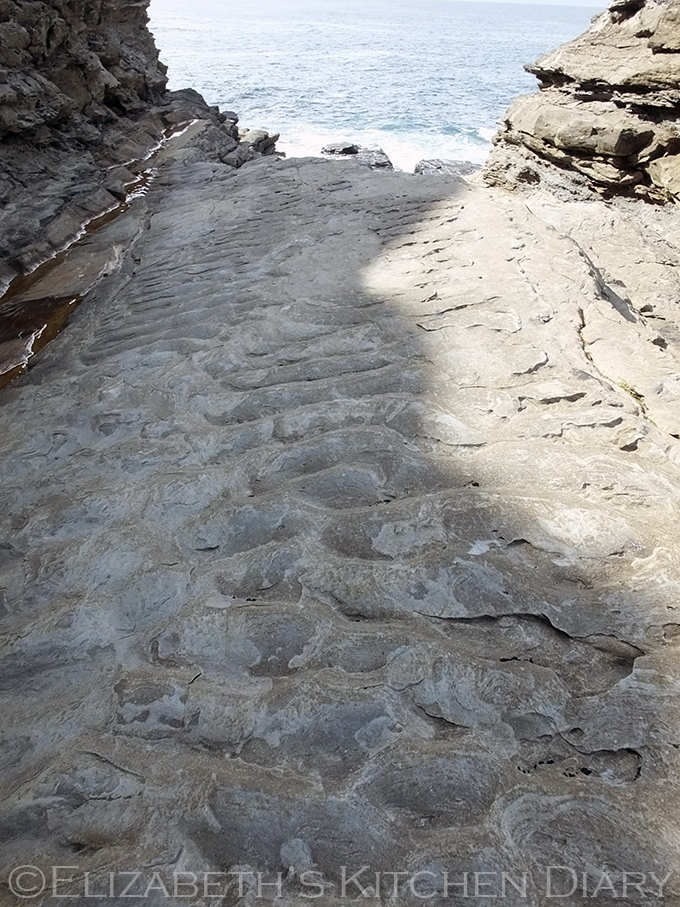 No fossils here either, but there are some awesome ripple marks in the stone!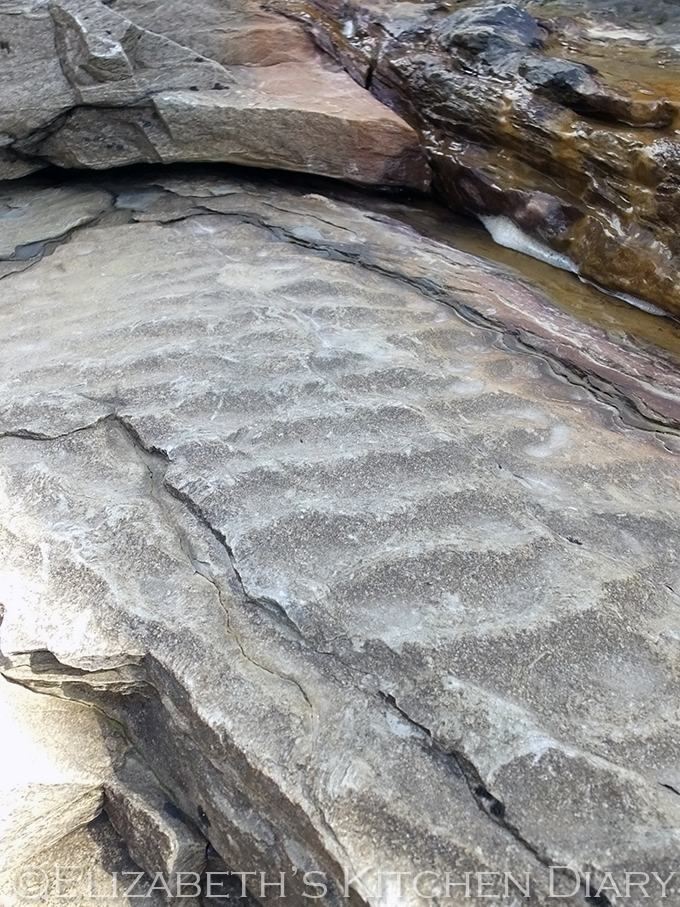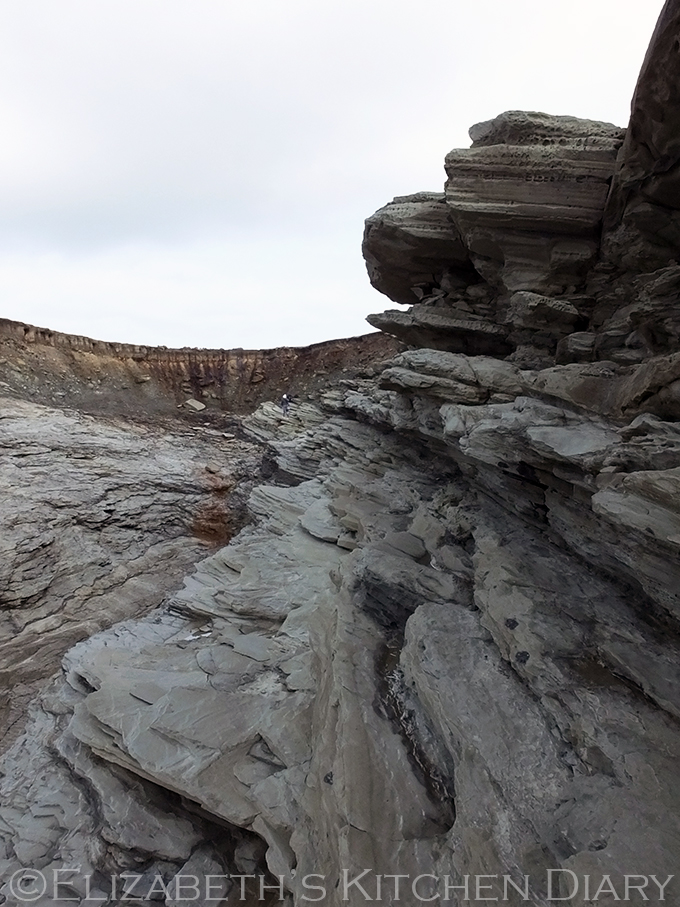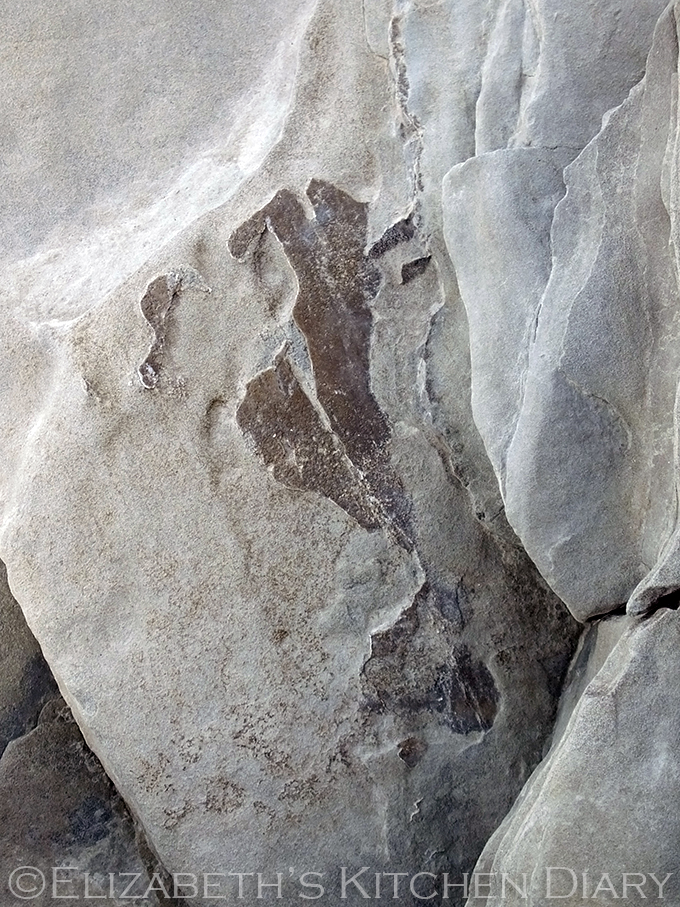 I got really excited when I found this, for a minute, and then I realised it wasn't a fossil either. Is it? Meanwhile, the kids have helped themselves to our packed picnic lunch and I am searching every single nook and cranny of this large area for a fossilized fish. There has to be at least one, somewhere!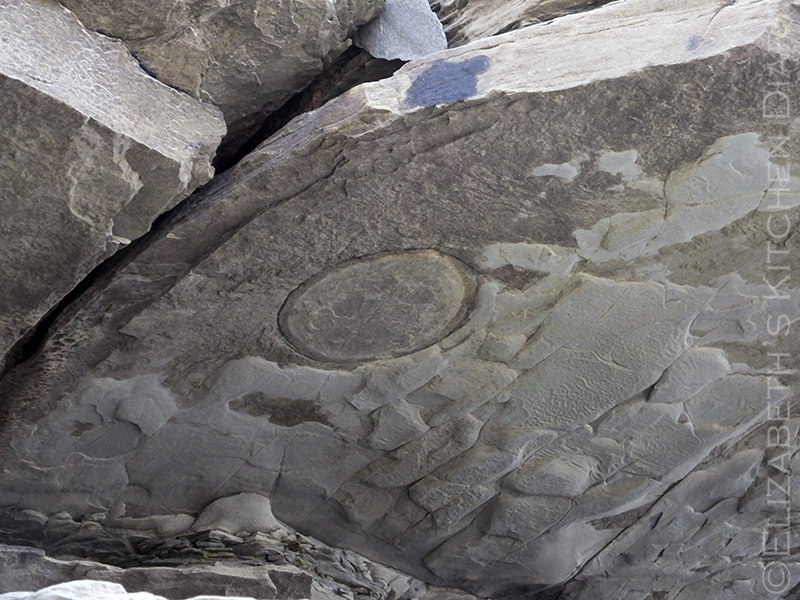 There are four of them nearby each other (the image I took of all four is blurry so I've only included these two images), but how intriguing! I wonder what they are…. if anyone can enlighten me, please do!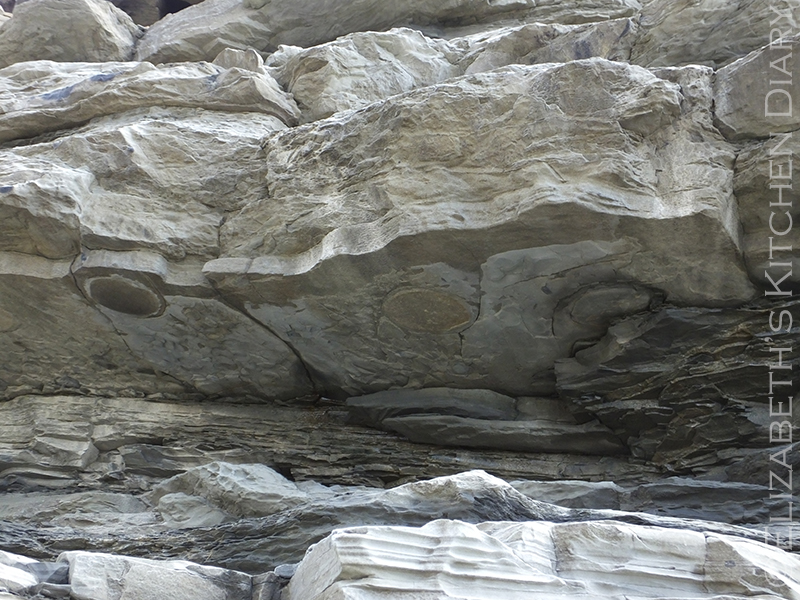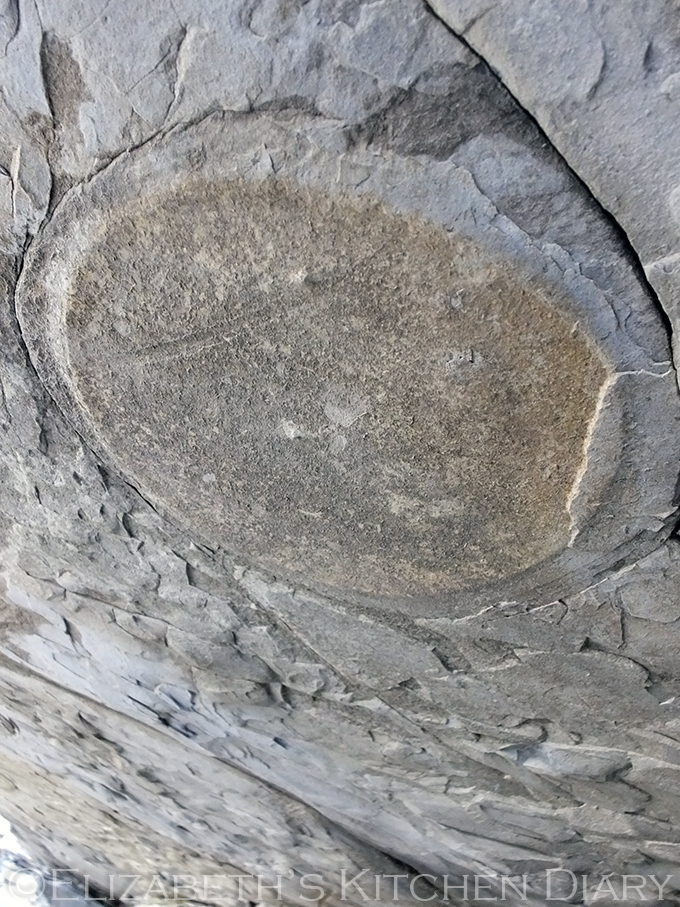 What are they?! And what's this?! Note to self – make friends with a geologist and bring them back to the Melby Fish Beds on your next visit!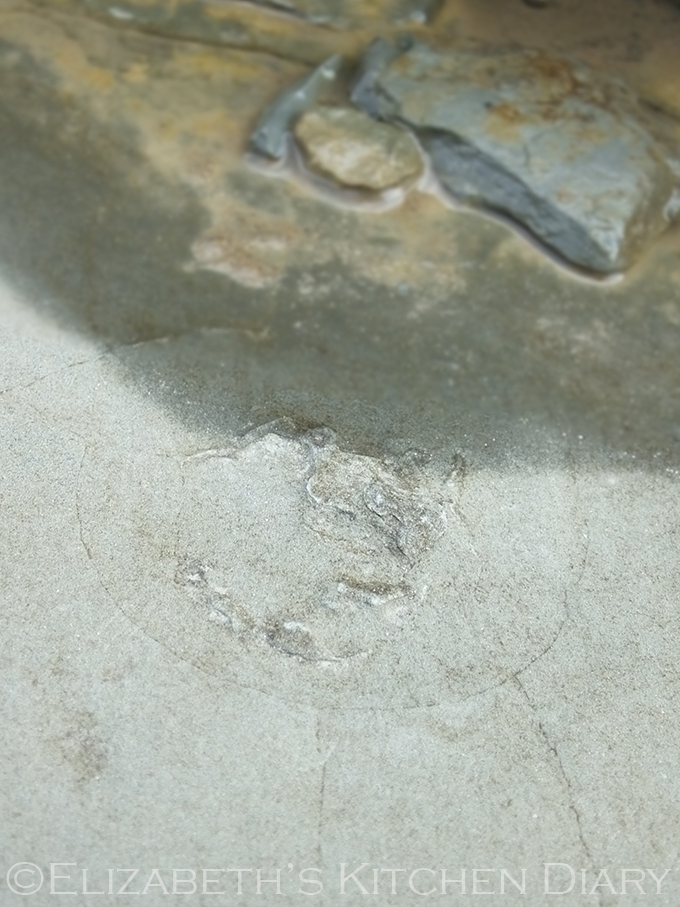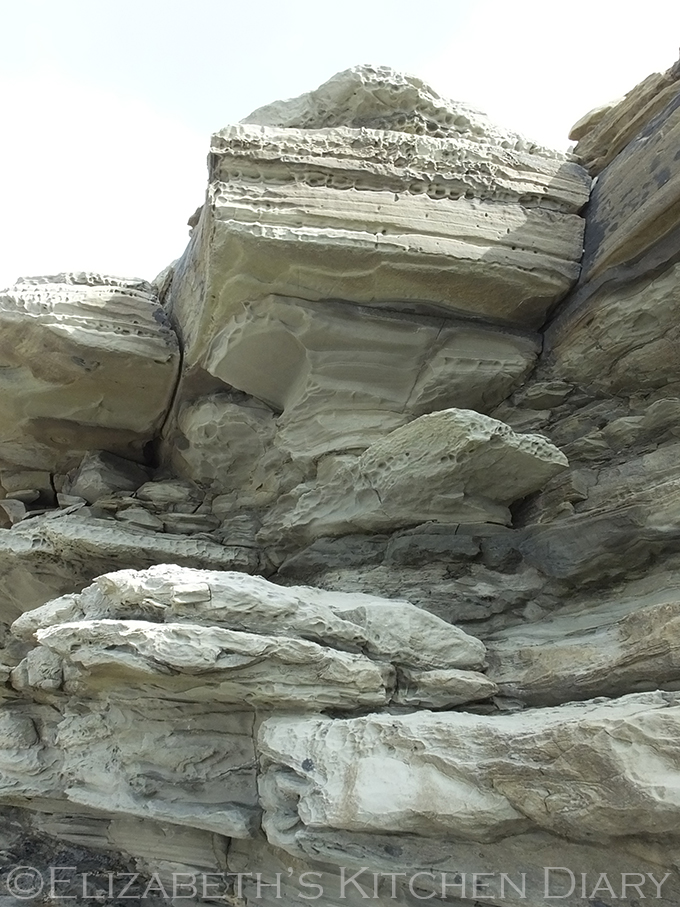 It was at this point I gave up. It was just after 1 pm, we were an hours' walk away from the car, and an hour's drive from the dentists (via home to pick up the husband) and our dentist appointment was for 3. I could have spent another several hours, quite happily, searching for fossil fish, but I suspect that although this area is part of the Melby Fish Beds, the fossil fish may be in other areas along the coastline. I will have to return without the children for a closer look!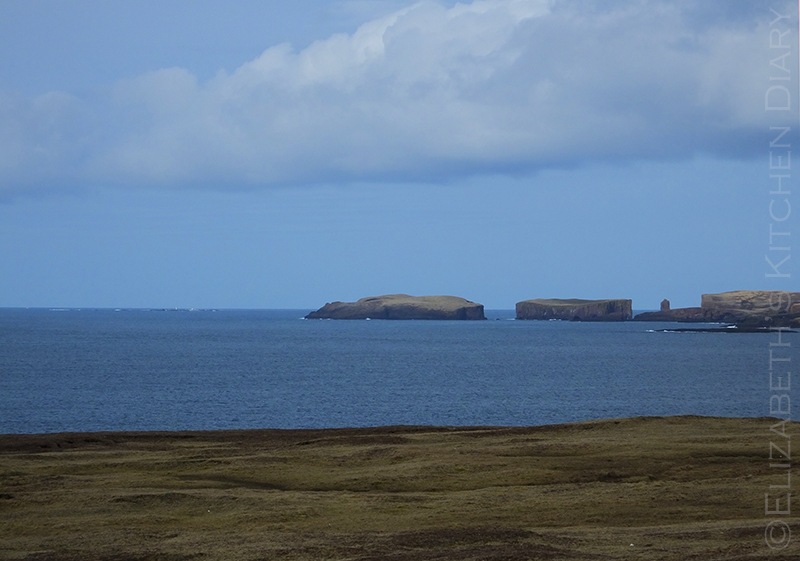 A quick scramble back up and we were off again across the fields. In the distance you can see the island of Papa Stour, and if you look carefully at the far left you can see a lighthouse warning sailors about the shallow Ve Skerries.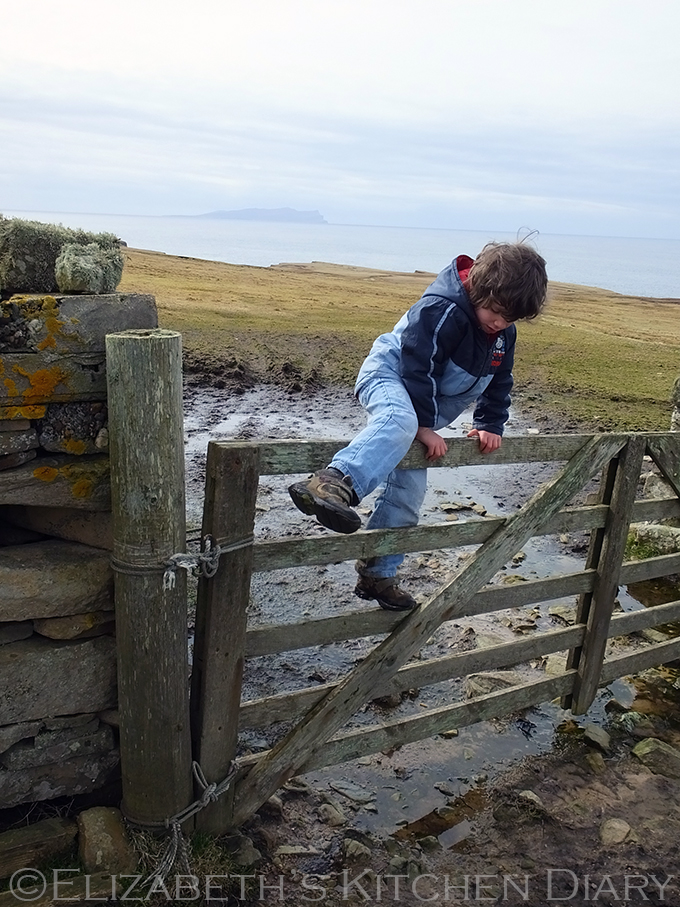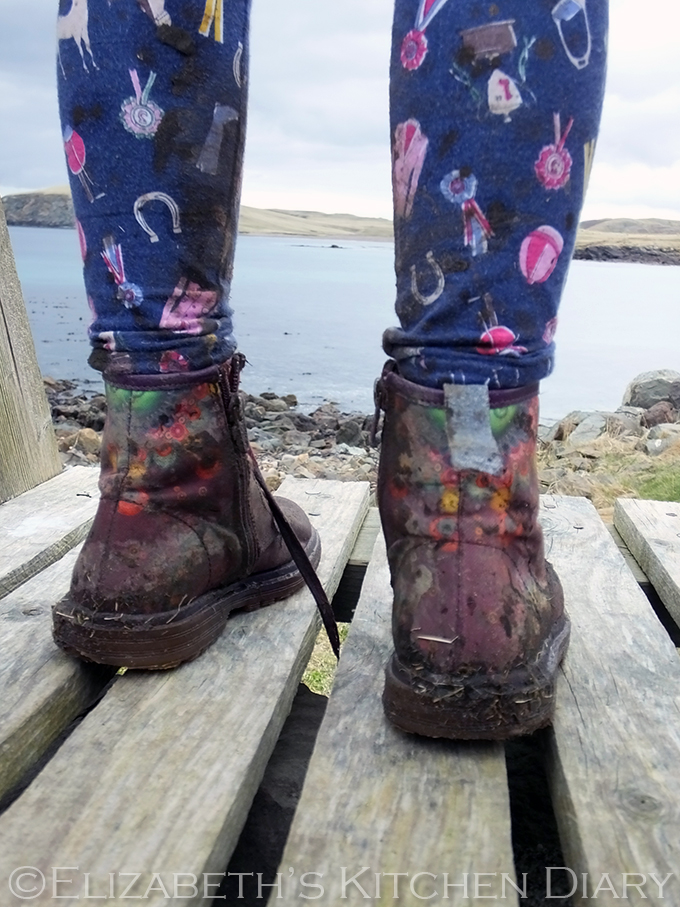 Mud = adventure, no? 🙂
We made it to our dentist appointments just in time. We were caked in mud, rabbit and sheep poo, but we had big smiles on our faces! Although we didn't find any fossil fish we saw all sorts of other interesting things, and we now have a reason to return! I think I need to check some nearby geos for the fossils.
There is very little available online about the Melby Fish Beds, but this paper here is reasonably informative, if you want to know more. I don't feel too terrible about not finding any fossil fish given that a whole geological society team couldn't find any in the area either, I read. Have you visited Melby, did you find any fossils?
Follow Elizabeth's Kitchen Diary's board Shetland on Pinterest.


If you want to be kept up to date on my recipes, occasional craft tutorials, adventure stories and giveaways then please subscribe to my weekly newsletter; it gets sent out every Monday morning if there is new content. Your email address won't be passed on to anyone, you will never be spammed and you are free to unsubscribe at any time, no questions asked. Make sure you confirm your subscription or you won't receive the newsletter – if it hasn't arrived check your junk mail folder.
[wysija_form id="1″]