"These gluten free brownies give my tummy a hug!"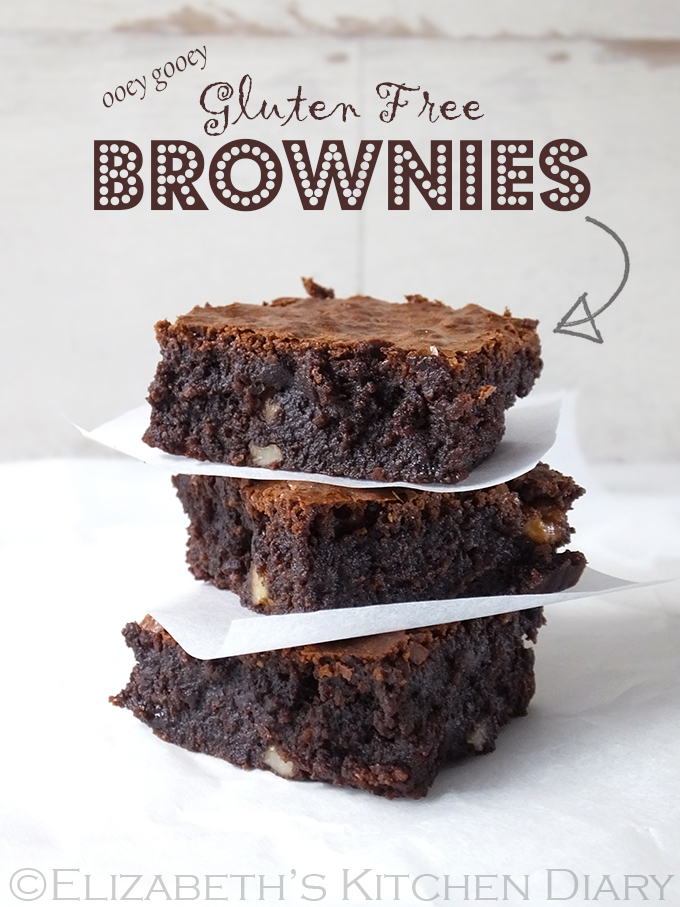 Gluten-free brownies
Brownies come in a variety of textures, and everyone has their favourite version. Some like them cakey, some like them fudgy. Some think they should have frosting and some prefer them without nuts. At this time of year (Easter) some like them with copious Cadbury creme eggs plunged into the top before baking for the ultimate sickly sweet treat.
There are no rules when it comes to brownies, really, except that they need to be square with a consistency halfway between a chocolate cake and a soft chocolate cookie.
My friends, this chocolate brownie recipe is a really rather nice one, if I do say so myself! It came about when I finally decided to attempt a Baker's Best Blockbuster Brownie recipe written in my ancient cookery notebook. The recipe has been in that book for about 20 years and I'd never before attempted it.
To celebrate my husband's return from his travels in India back in February this year I thought I'd play the loving dutiful wife and bake him a batch of these brownies, UK-ifying the recipe and giving it a few tweaks here and there.
They were awful!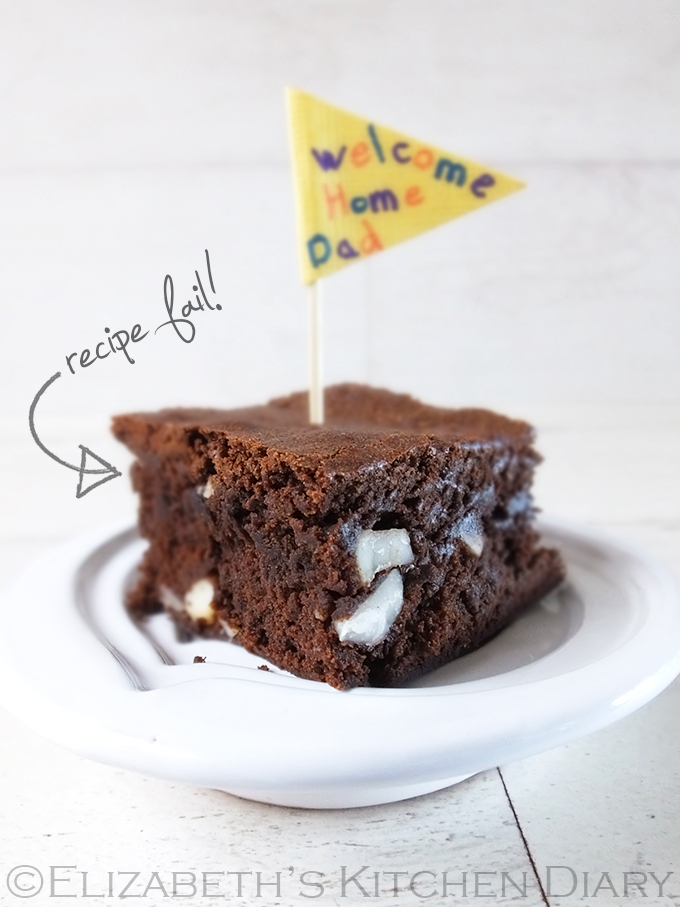 They were dry, cakey and like hockey pucks in texture. The leftovers are currently sitting in my freezer waiting to be turned into something else.
Back to the drawing board!
A few weeks later a friend of mine came over for a visit. I had planned on experimenting with the brownie recipe again that day and she let me know she couldn't eat gluten. Sorted: I'd make the brownies gluten-free. I had a bag of ground almonds in my cupboard and lo, these gorgeous ooey gooey gluten-free chocolate brownies were born!
You can make them super gooey by not baking them as long (35 minutes, as pictured below) or leave them an extra 5-10 minutes to make a firmer textured brownie.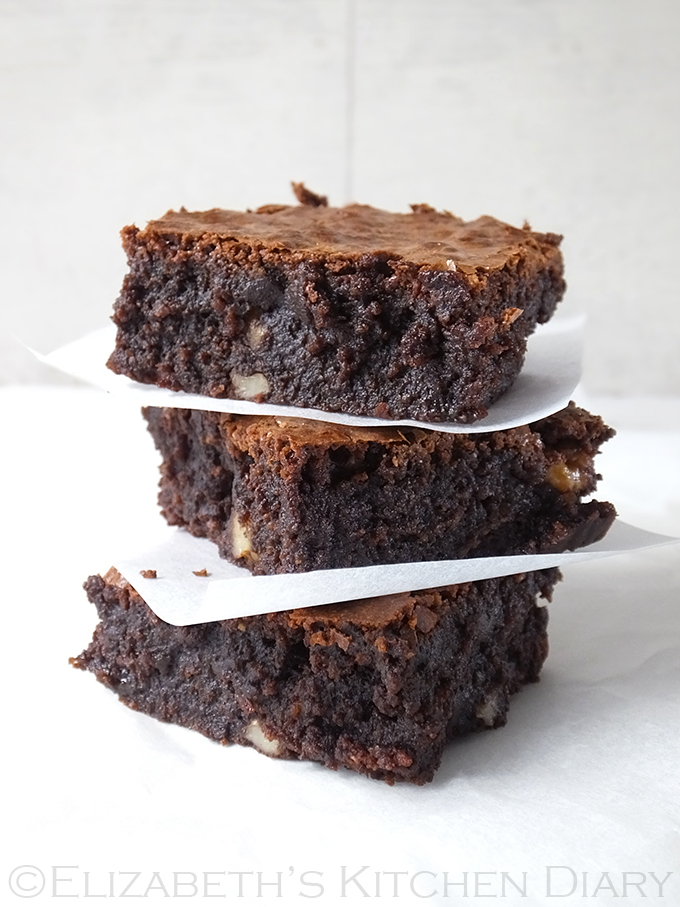 I have had this recipe taste tested by no fewer than 25 people, and they can all attest to its awesomeness. One comment I found particularly amusing: "These brownies give my tummy a hug!"
I've made them with chopped walnuts and chopped brazil nuts, both with success. You must also use a high percentage of cocoa solids chocolate – at least 85%. Proper chocolate, you know!
Enjoy! x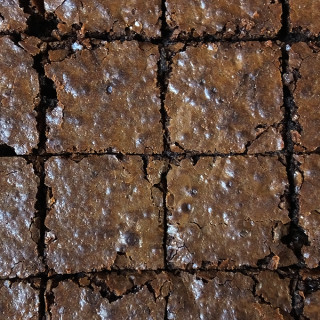 Ooey Gooey Gluten Free Brownies
The ultimate dark chocolate gluten free brownie recipe!
Print
Rate
Affiliate Links
This recipe card may contain affiliate ingredient and equipment links. As an Amazon Associate I earn from qualifying purchases.
Instructions
Preheat oven to 180 C/350 F. Lightly grease a 9 inch baking tin and place a piece of baking paper on the bottom.

Break the chocolate into small pieces and place in a heat proof bowl along with the butter. Suspend the bowl over a pan of barely simmering water and leave to melt.

Beat the eggs with a whisk in a large bowl until they are lemon coloured.

Gradually add the sugars, beating continuously, until the mixture is thick (about 3 minutes).

Stir in the melted chocolate mixture and the vanilla extract.

Fold in the ground almonds and the chopped walnuts.

Spoon the mixture into the prepared tin and bake for 35 minutes (for a really gooey brownie) or 40 minutes if you prefer a less gooey variety.

Leave to cool completely in the tin before removing and cutting into squares.
Notes
WEIGHT WATCHERS POINTS IN THIS GLUTEN FREE BROWNIE RECIPE
There are 13 Weight Watchers Smart Points in each serving of this brownie.
Nutrition
Calories:
290
kcal
|
Carbohydrates:
25
g
|
Protein:
4
g
|
Fat:
20
g
|
Saturated Fat:
8
g
|
Cholesterol:
62
mg
|
Sodium:
21
mg
|
Potassium:
120
mg
|
Fiber:
2
g
|
Sugar:
21
g
|
Vitamin A:
325
IU
|
Vitamin C:
0.1
mg
|
Calcium:
41
mg
|
Iron:
1.8
mg
Environmental Information
OTHER GLUTEN-FREE BROWNIES YOU MIGHT LIKE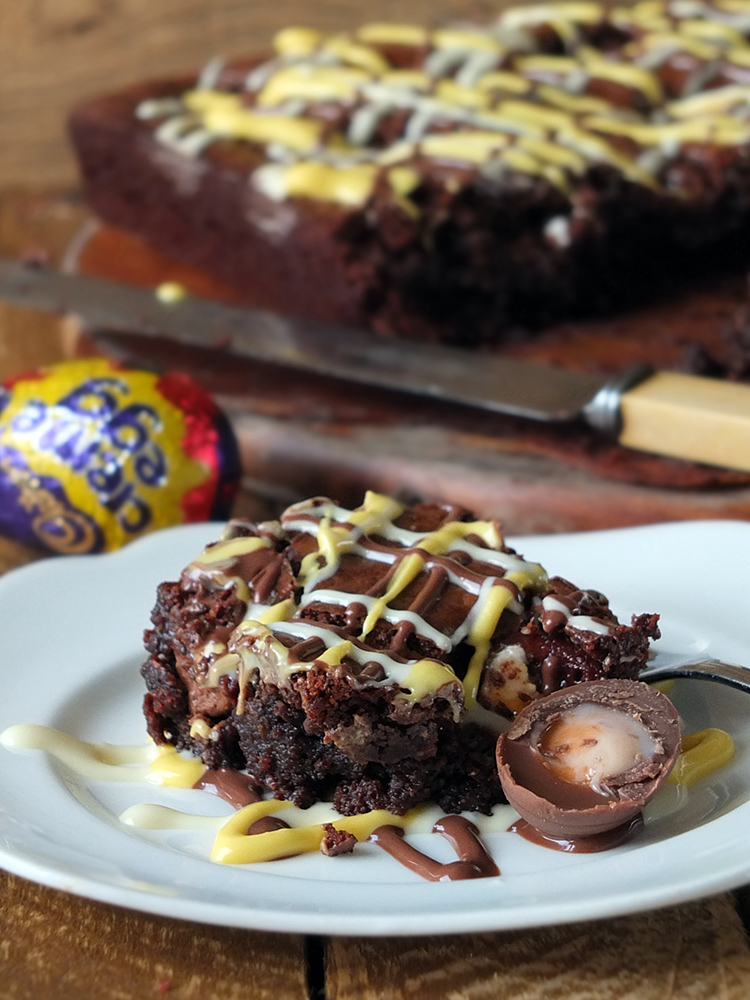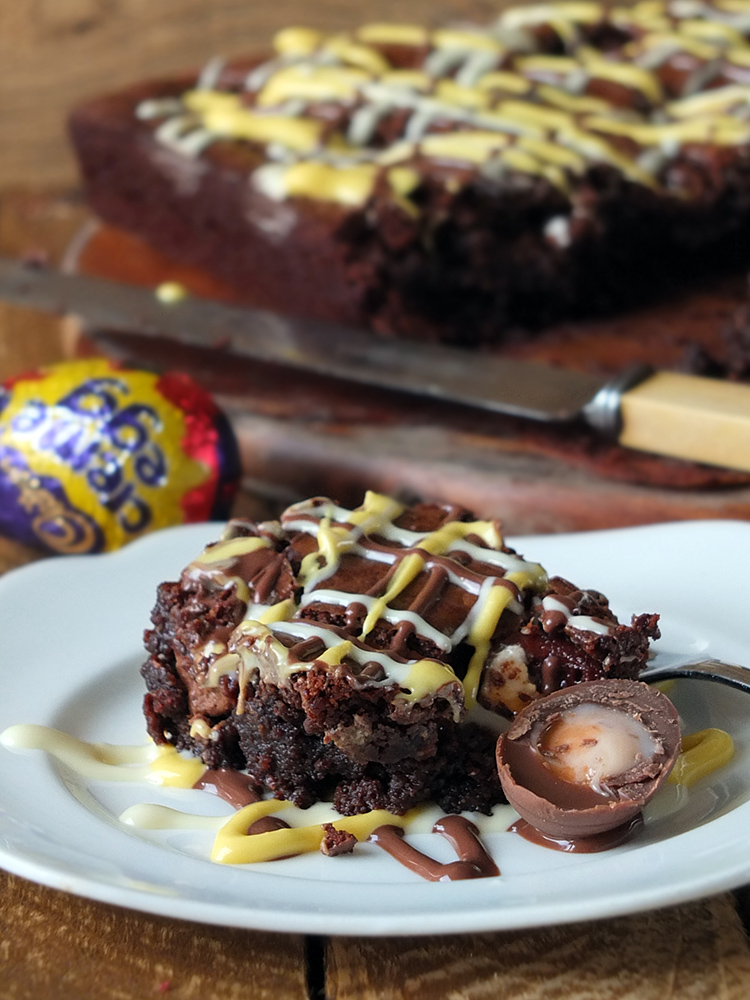 Have you seen my gluten-free creme egg brownies? My reader tried-and-tested recipe has been jazzed up for Easter!
Flourless Salted Caramel Brownies by My Fussy Eater
Sweet Potato Brownies by A Little Spoonful Of…
Popping Candy Brownies by Emily's Recipes
Tahini Brownies by Rough Measures