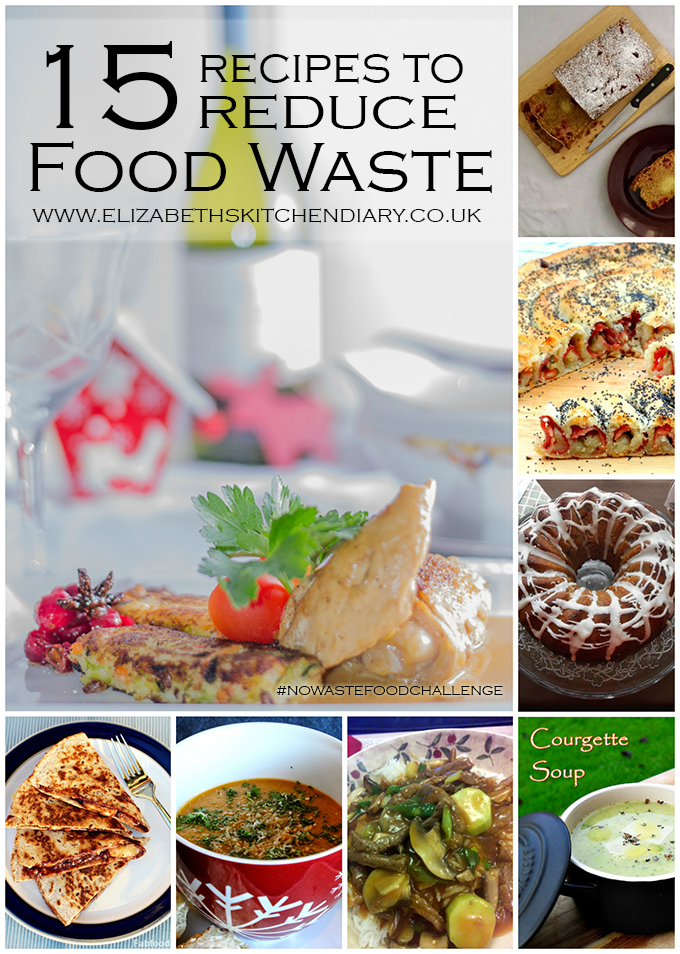 Did you know that the UK wastes, on average, 18 million tonnes of food and drink per year? 4.2 million tonnes of this comes straight from our own kitchen tables, with the average family throwing out almost an entire meal every day, worth up to £60 each month (source).
Inspired by the Love Food Hate Waste campaign, Kate from Turquoise Lemons began the No Waste Food Challenge – a food blogging challenge dedicated to helping us prevent food waste by sharing our recipe tips and ideas. Kate's blogging has since taken a back burner in her busy life and so I've carried on with her fantastic blogging challenge.
Here we have the round up of last month's challenge entries, I hope you enjoy them!


1. Spiced Cranberry & Marzipan Loaf by Jen over at Blue Kitchen Bakes (uses leftover marzipan from decorating the Christmas cake!)
2. Ham and Cheese Puff Pastry Rolled Tart by Alida over at My Little Italian Kitchen (ham on it's best before date? Use it up in this recipe!)
3. Apricot & Almond Stuffing Balls by Elizabeth's Kitchen Diary (uses up stale breadcrumbs!)


4. Courgette Soup by Camilla at Fab Food 4 All (Glut of courgettes? Make soup!)
5. Colourful Bell Peppers with Chickpea Flour by Herbs, Spices & Tradition (Fridge full of peppers? Try this!)
6. Broccoli 'water chestnuts' by Jane at Onions and Paper. (Don't throw out those broccoli stalks!)


7. Banana, Apple & Cranberry Muffins by Ros, The More Than Occasional Baker (leftover fruit)
8. Christmas Soda Bread by Camilla at Fab Food 4 All (uses up store cupboard baking ingredients)
9. Turkey Meatloaf by Camilla at Fab Food 4 All (uses up that leftover Christmas turkey!)


10. Vegetable Mish-Mash Soup by Kate, The Gluten Free Alchemist (leftover veggies? No problem!)
11. Brussels Sprout and Root Vegetable Hash with Braised Chicken by Nazima at Franglais Kitchen (leftover Christmas dinner never looked so good!)
12. Cranberry & Camembert Quiche by Ros, The More Than Occasional Baker


13. Boozy Mincemeat & Marzipan Puff by Anne of Anne's Kitchen (leftover mincemeat!)
14. Fig & Mincemeat Christmas Bundt Cake by Choclette of Chocolate Log Blog (leftover mincemeat!)
15. Banana & Chocolate Quesadilla by Camilla at Fab Food 4 All (leftover bananas & tortillas!)
Many thanks to everyone who joined in last month; it's so lovely so have so many people regularly contributing to the challenge and sharing their ideas to help reduce food waste.
If you would like to join in too, you can find the rules and current linky over on the official #nowastefoodchallenge page.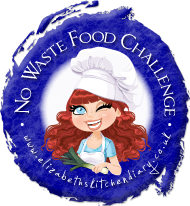 Follow Elizabeth's Kitchen Diary's board No Waste Food Challenge on Pinterest.
If you want to be kept up to date on my recipes, occasional craft tutorials, adventure stories and giveaways then please subscribe to my weekly newsletter; it gets sent out every Monday morning if there is new content. Your email address won't be passed on to anyone, you will never be spammed and you are free to unsubscribe at any time, no questions asked. Make sure you confirm your subscription or you won't receive the newsletter – if it hasn't arrived check your junk mail folder.
[wysija_form id="1″]