Recipe from Kerstin Rodgers' cookery book V is for Vegan.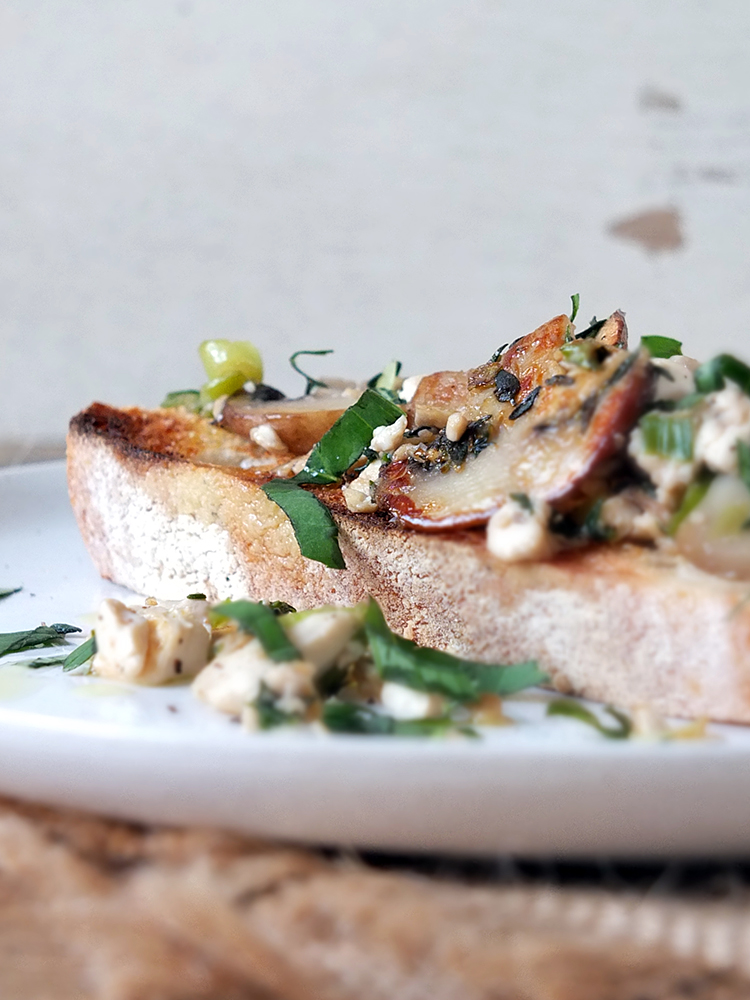 I have had this breakfast three times in the last week. True story.
Back in January this year I had the pleasure of meeting the wonderfully charming Kerstin Rodgers, the author behind the popular London food and travel blog Ms. Marmite Lover and several cookery books – including V is for Vegan.
Kerstin was visiting Shetland on a press trip, covering our local Up Helly Aa celebrations. She sent me a message – would I like to meet for lunch one day?
I can't even begin to describe how nervous I was. Kerstin is one of those old school bloggers. You know, the ones who have been doing it for a very long time – long before food blogging became so increasingly popular and trendy. She's one of the original bloggers who have made food blogging popular and trendy – her blog posts date back to 2004. She's one of those bloggers that us bumbling newbie bloggers look up to in awe and admiration.
I'd seen her speak at BritMums Live in 2014 and again at Food Blogger Connect in 2015.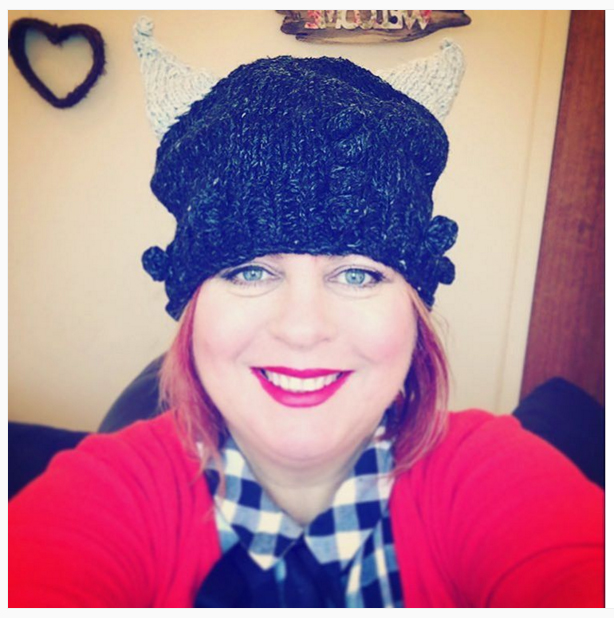 It turns out that my nervousness was completely unfounded. Her charming personality and warmth shone through and I was immediately put at ease when we met. We had a lovely coffee together and I suggested we walk around the town so I could show her some of the sights. She'd just bought a fantastic knitted viking hat which she was wearing with pride (pictured above).
I spent the next four fantastic days playing tour guide and personal assistant to Kerstin, from getting us last minute tickets to a hall for an Up Helly Aa night of dancing and revelry, sourcing local ingredients, holding up light reflectors for photography during an afternoon's cooking over an open peat fire in the Old Haa on the island of Yell to relaying stories and anecdotes of the scenery around us. You've got to read her Shetland cookery post written for the online magazine Ham & High – you might recognize the Fair Isle knitwear I bought especially to wear to BritMums!
It was a very memorable four days and made me wish Kerstin lived closer – she's a rather inspirational woman.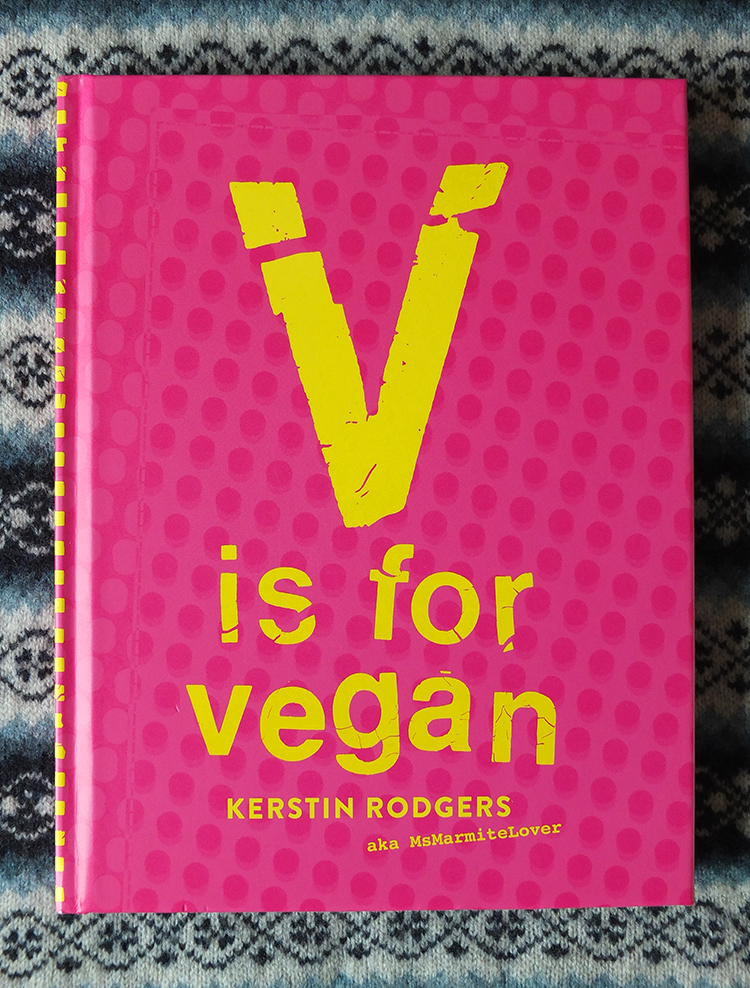 So yes, in addition to her blog, launching the supper club/pop up/underground restaurant movement in the UK in 2009 with her supper club The Underground Restaurant (check out her website to find out where your nearest supper club is) and freelance food and travel writing, Kerstin has written several books – Supper Club: Recipes and notes from the underground restaurant (2011); Ms. Marmite Lover's Secret Tea Party (2014); V is for Vegan (2015) and Get Started in Food Writing (2015).
She very kindly gifted me a copy of V is for Vegan – the cookbook that blows the myth that vegan food is brown and bland out of the water. With over 150 delicious and vibrant mouth watering recipes to choose from this book has everything you need to know about how to eat vegan – from what to stock up your pantry with (including some ingredients you might not know exist!), vegan techniques and recipes for snacks, breakfast, lunch, dinner and dessert.
I am planning on going vegan for the month of August as part of my 40 Things I'd Like to do Before I Turn 40 list. I chose August because that's the month my community supported agriculture scheme veg box is simply bursting with produce. During Veganuary when many people try out veganism – everything in Shetland is dead. I'm going to go vegan when I can eat as much local produce as possible. But that's another story (rant?). This book will be my staple-go to cookery book during that month.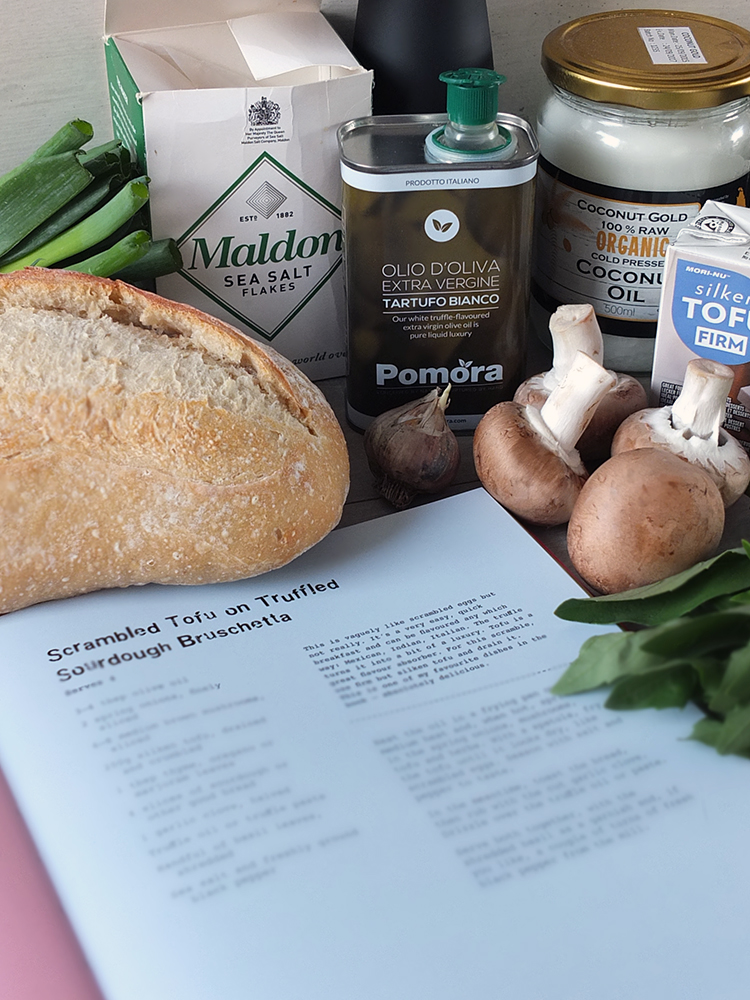 Being a food blogger means I often get sent some weird and wonderful foodstuffs to try. I was recently sent a few packages of silken tofu from Mori-nu. It has, in all honesty, been a few decades since tofu was a regular part of my diet. I might have tried it once or twice over the last few years with my family, but I confess, as a store cupboard staple it's fallen by the wayside.
So I turned to V is for Vegan for some recipe inspiration. You would be surprised at the number of cookery books out there that don't have an ingredients listing in the index. This is how I find new recipes to try – I start with an ingredient and find a recipe I like the sound of. I was pleased to see that V is for Vegan had such a comprehensive index. I just happened to have all the ingredients on hand for scrambled tofu on truffled sourdough bruschetta which Kerstin describes as one of her favourite dishes in the book – absolutely delicious. This seemed as good a place to start as any!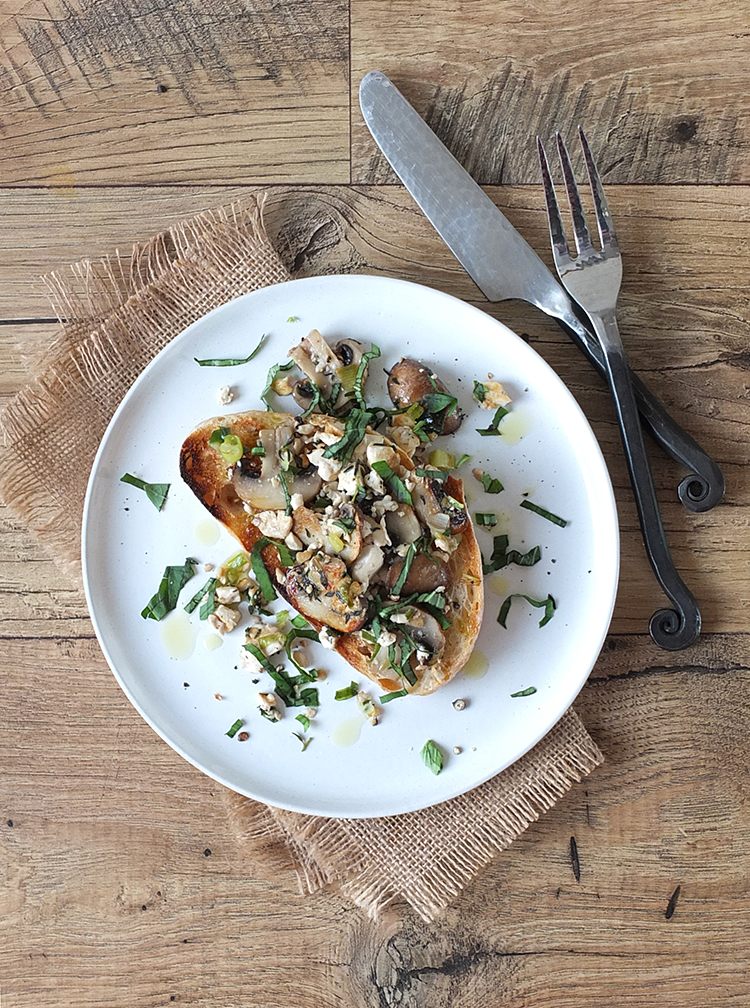 What an incredibly delightful and mouthwatering recipe this was! I was really pleasantly surprised, so much so I ate it for breakfast for three days in a row.
It's really quick to make and there are all sorts of different tastes and textures. I used some white truffle infused olive oil from Pomora to drizzle over the sourdough toast. This, with the combination of egg-like scrambled tofu, sauteed mushrooms, fresh herbs, spring onions and plenty of sea salt and black pepper – it's amazing. Even my husband was impressed, and when it comes to vegan food he's not really that much of a fan. As a note – I replaced the olive oil used in the recipe for coconut oil.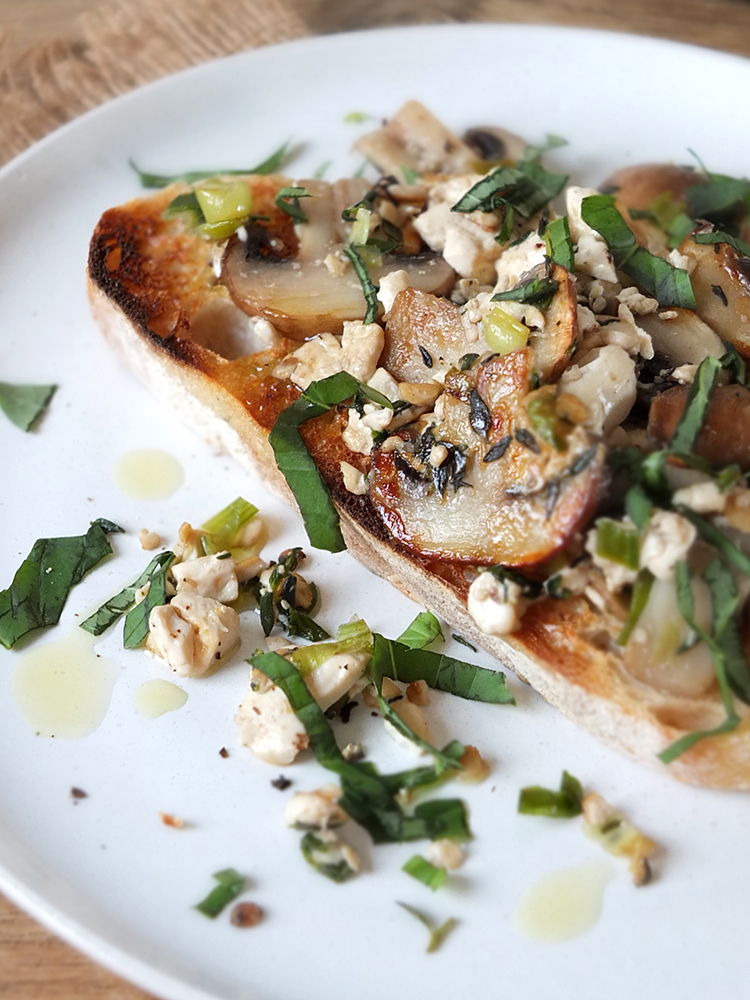 I was really impressed with the tofu too – it really does have a gorgeous silky texture and it did resemble scrambled eggs when cooked. Tofu has a fantastic ability to soak up flavours like a sponge, as well as providing a low fat, high-protein, dairy and gluten-free addition to meals, whether you're a veggie, vegan or looking for a healthy and protein rich alternative.
Mori-Nu Firm Silken Tofu has a really impressive shelf life. It can keep in your cupboard for 12 whole months, with no fridge needed until it's opened – just the sort of thing I need living so rurally. Look for it on-shelf alongside other authentic Japanese ingredients.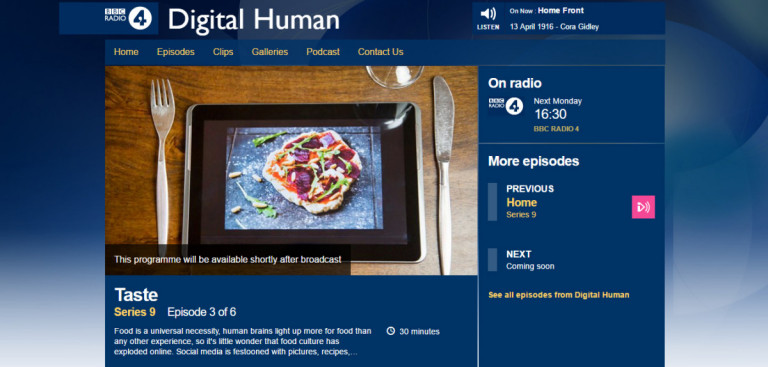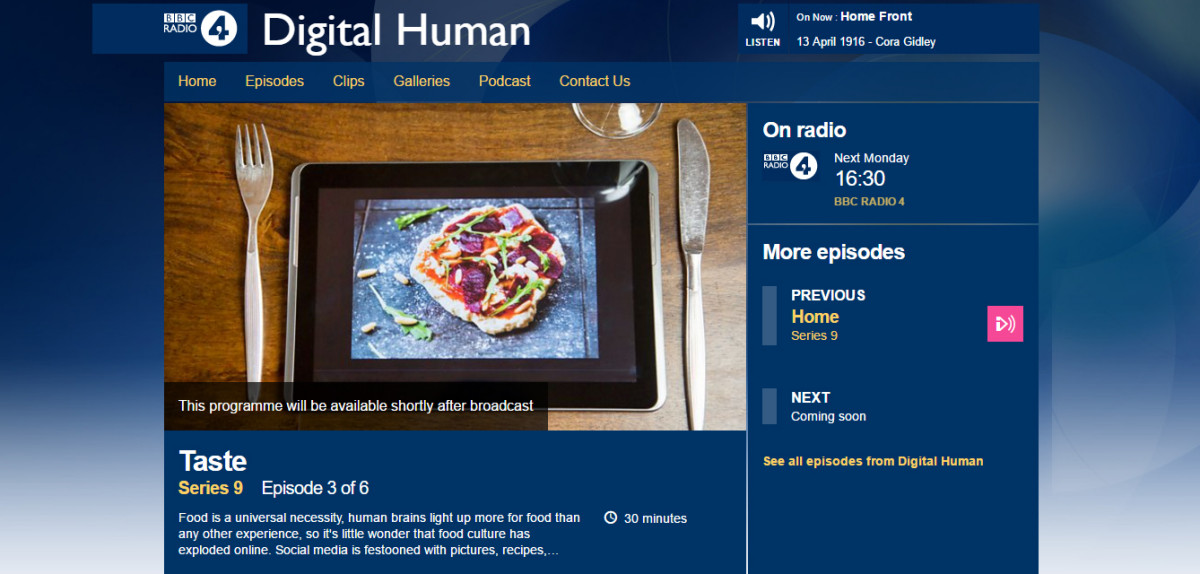 And, as stories are wont to unfold, Kerstin subsequently wrote a blog post on Ms. Marmite Lover all about me as Britain's most northerly food blogger. There's even a couple of photos of me if you want to know what I look like!
BBC Radio 4 read that post and got in contact, and I spent a morning recently recording with the BBC, on site, for an episode in the BBC Radio 4 technology series Digital Human: Taste. Apparently they thought I was a very interesting person! The radio program will be aired on Monday the 18th of April at 4:30pm, if you fancy tuning in! It'll be available to download and stream for a year after airing too, if you miss it.
You should also follow Kerstin on Twitter, Facebook, Instagram and of course, her fantastic blog Ms. Marmite Lover.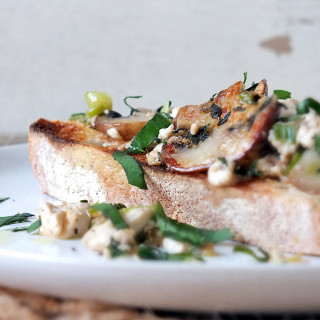 Scrambled Tofu on Truffled Sourdough Bruschetta
A quick and easy breakfast recipe from Kerstin Rodgers book V is for Vegan.
Print
Rate
Ingredients
3-4

tbsp

olive oil

2

spring onions

finely sliced

6-8

medium

brown mushrooms

sliced

200

grams

silken tofu

drained and crumbled

1

tbsp

fresh thyme leaves

or oregano or marjoram

4

slices

sourdough bread

or other good bread

1

garlic clove

halved

truffle oil

or truffle paste

1

handful

fresh basil leaves

shredded
Affiliate Links
This recipe card may contain affiliate ingredient and equipment links. As an Amazon Associate I earn from qualifying purchases.
Instructions
Heat the oil in a frying pan over a medium heat and, when hot, sprinkle in the spring onions, mushrooms, tofu and herbs.

With a spatula, fry the tofu until it looks dry, like scrambled eggs.

Season with salt and pepper to taste.

In the meantime, toast the bread, then rub with the cut garlic clove.

Drizzle over the truffle oil or paste.

Serve both together, with the shredded basil as a garnish, and, if you like, a couple of turns of fresh black pepper from the mill.
Environmental Information
Click here for the nutritional information for this recipe.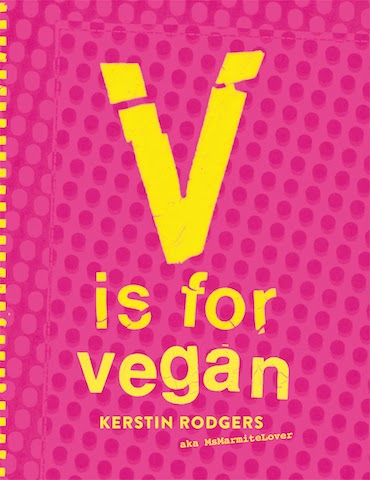 V is for Vegan is a hardback book retailing for £20. You can buy a copy on Amazon right now for £16.49 or a Kindle edition for £6.80. It's well worth every penny.
GIVEAWAY
Quadrille, the publishers of V is for Vegan, have kindly offered two copies as a giveaway to two of my UK readers. To enter, simply fill out the Rafflecopter entry form below!
HOW TO ENTER
For your chance to Win one of two copies of V is for Vegan by Kerstin Rodgers enter using the Rafflecopter form below. Come back and tweet about the giveaway every day for more chances to win!
TERMS & CONDITIONS
This giveaway is open to UK entries only. Entrants must be age 18 or over. The winners will need to respond within 30 days of being contacted; failure to do this may result in another winner being selected.
The prize is offered and provided by Quadrille. The prize is to Win one of two copies of V is for Vegan by Kerstin Rodgers There is no cash alternative and the prize is not transferable.
There is no entry fee and no purchase is necessary to enter this giveaway. The promoter (Elizabeth's Kitchen Diary) reserves the right to cancel or amend the giveaway and these terms and conditions without notice.
Entry into our giveaways will be deemed as acceptance of these terms and conditions.
If you need some help using Rafflecopter, here's a quick clip to show you how. Rafflecopter will pick the winners at random from all the entries received. I will be verifying entries and any automated entries or those who have claimed they have made the mandatory blog post comment and really haven't will be disqualified. It's mandatory! Please make sure your comment is eight words or longer or Google views it as spam.
Closing date is midnight (that's 00:00 hours, 12 am on Sunday night/Monday morning) on Monday 25 April 2016 (GMT) and the winner will be announced shortly afterwards.
LINKING UP WITH A FEW FOOD BLOGGING CHALLENGES
Meat Free Mondays by Tinned Tomatoes
Cooking with Herbs by Lavender & Lovage
Elizabeth's Kitchen Diary was gifted a copy of V is for Vegan, and all thoughts and opinions expressed are our own. Recipe reproduced with permission from Kerstin Rodgers. With thanks to Mori-Nu for the tofu samples. All links in orange are Amazon affiliate links, meaning if you make any purchase through them we will earn a small commission.