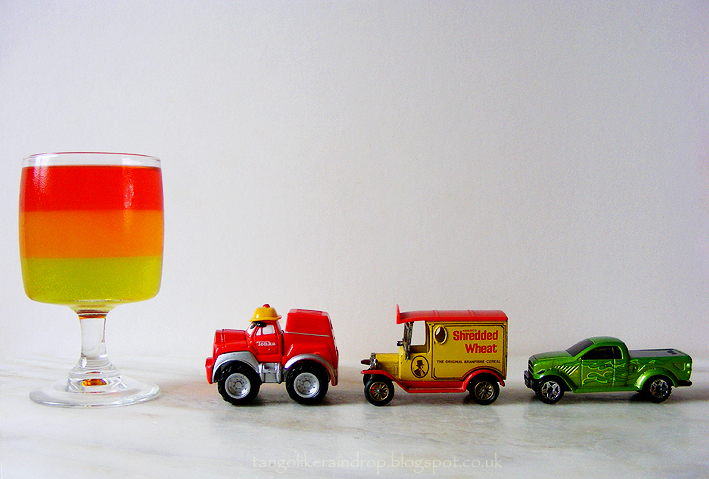 I am still a child at heart. I really am, and as a child I was absolutely in love with jelly, especially red jelly. I was positively mad for it, if my mother is to be believed. Apparently, as a small child growing up in Canada, I used to scream blue murder when we were doing our Walmart shopping trip when we passed by the cafeteria. They used to have bowls of red jelly laid out in the coolers with whipped cream on the top and I'd scream and scream until my mother bought me some. She used to have to avoid that section of the shop to avoid a child-meltdown!
To be honest, I am still mad for jelly (although I stopped screaming for it years ago!). I won't ever say no to a nice bowl of jelly with a generous dollop of whipped cream.
My friend Julia over at Jaydee's Ramblings gave me the idea for this clever use of jelly. Her lovely mother was having a little clear-out of kitchen stuffs when we were up at hers for our last fortnightly Craft Group and I was handed three packets of jelly in strawberry, orange and lime flavours. Julia commented, "Oh look, they're just like traffic lights!" So, come pudding night at our house (Wednesday's are designated pudding night – it keeps the kids from nagging for pudding every other day of the week!) I thought I'd treat the children to some traffic light jellies, as per Julia's suggestion.
A quick internet search shows that this isn't a unique idea, although I'd never thought of it until Julia mentioned it.  Still, it's clever, and I'm sure there might be a few folk out there wanting to make something for a child's birthday party or their own pudding night who might draw inspiration from this idea.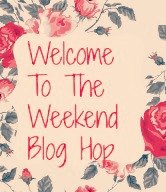 To prepare the jelly all you need to do is make up your green jelly as per the package instructions and evenly divide it into glasses or plastic cups. Leave for about two hours to set and repeat with the orange jelly and red jelly. For best results leave overnight to set.
My children were all delighted with their clever little pudding. Big rewards for such little effort. 🙂
I'm linking this recipe to The Weekend Blog Hop alternately hosted by Claire Justine and Nekky from Life Reflections. Scroll down to see what other parent bloggers are talking about!
I have also linked this recipe up with the Kid's Delight – Sweet Treats recipe linky at Nivedhanam and Spicing Your Life. Recipes for this linky must be vegetarian. Vegetarian jelly crystals can usually be purchased at your local wholefoods shop if you can't source them in your supermarket.