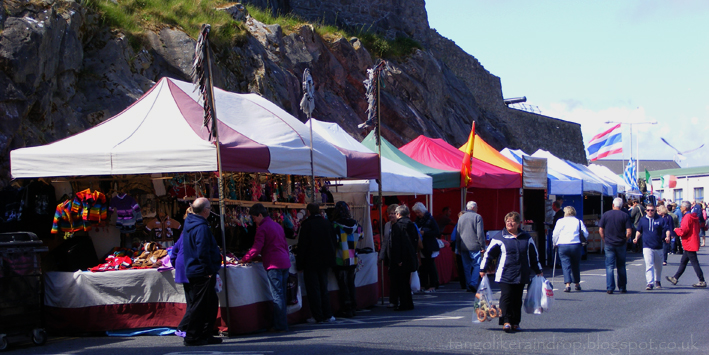 When I woke yesterday it was cold, windy, raining and dreary day in Shetland. Warming comfort food would be required for the evening meal, so I popped a shoulder of locally reared Shetland lamb into the slow cooker with some Moroccan style seasonings.
As the day progressed the sky cleared and the wind died down. I needed to get a few messages in town and I'd heard, through the grapevine, that there was some mighty fine baklava to be found at a travelling market set up in the parking area on Commercial Road beneath the stone walls of Fort Charlotte.
I was not expecting to find what I did! All the sights, smells and sounds of a bustling continental market teeming with shoppers who had emerged, like me, out of our houses and into the glorious warming sun. The market was filled with stall after stall of beautifully arranged continental delicacies. As a foodie usually limited to what I can pick up at the supermarket, local Farmer's markets and pop-up stalls, I thought I'd died and gone to heaven! Not that I don't value the local markets, but it was nice to have a different range of foods available.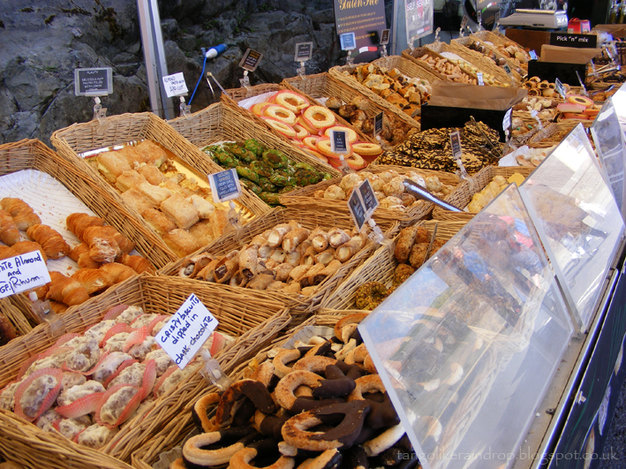 Everyone at every stall was incredibly friendly and welcoming, offering samples of sweets, olives, cheese, bread and dips to try before buying. I had to make two trips to the bank as I ran out of cash before I had seen even half of the stalls! Fortunately, one of the errands I had to run that day was to deposit a £100 cheque sent to me as a prize from the University of Stirling. I'd filled out a long-forgotten survey sometime last year about the retail habits of rural islanders and I'd won the prize draw! I was told by a friend that prize money is considered blue money and should only be spent on enjoyable things (and not wasted on sensible things like paying off debt) so I could spend until my heart was content.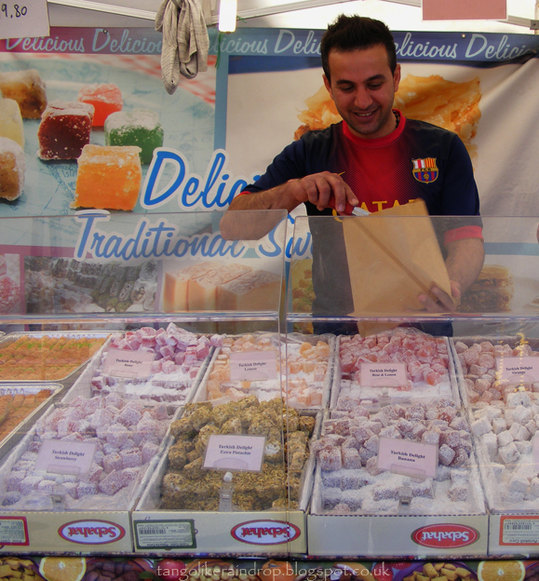 Oh and my heart was content! A friendly Italian seller asked for my name, and to hear 'Elizabet' said in the thickest of Italian accents… oh swoon!  Mr. Elizabeth's Kitchen completely understood, by the way, and was most pleased with the selection of Turkish Delight, Italian sweets and baklava I brought home.
The baklava was superb! I was introduced to the honey walnut sweet when I was living in the Rocky Mountains in Canada in the late 90s. I was staying in cramped hotel staff accommodation and I had to do my laundry at a local laundromat, owned by a Greek fellow. He sold baklava as well, and I fell in love with the sweet. I'd not had baklava as good until yesterday when I tried some from the Greek stall. Absolutely heavenly!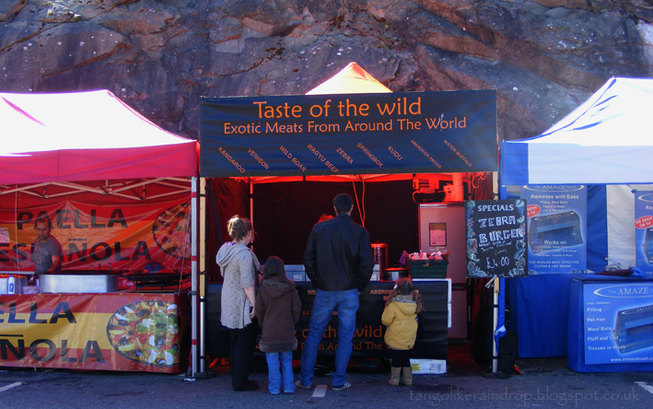 This was a sign I was not expecting to see on a small island at 60 degrees north: Zebra burgers?! I resisted, seeing as how my Shetland lamb was still slow cooking at home and I didn't want to spoil my appetite. I was mildly amused at seeing Aberdeen Angus listed among the exotic meats from around the world. Are they roaming wild in Aberdeen?
A very friendly gentleman approached me while I was taking photographs and he introduced himself as the manager of the continental market. We had a lovely conversation and it was nice to hear more about the market background. I hope, the next time they return, that they get to see more of Shetland than just the high street of Lerwick.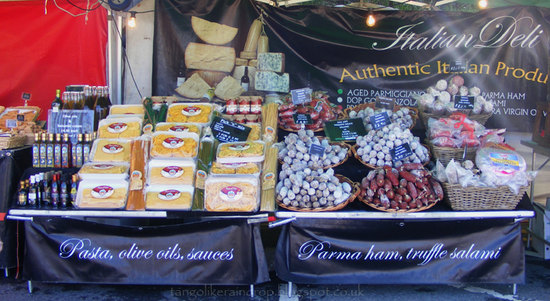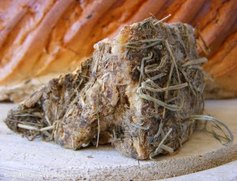 From the stall pictured above I picked up a gorgeous stoppered bottle of unfiltered olive oil, balsamic cream with white truffles and a slice of the most gorgeous cheese wrapped in straw! I have no idea what type of cheese it is (I wish I'd brought my pen). It started with 'fen' if I recall correctly. (edit: it was fenseck cheese!) I've never tried unfiltered olive oil before either, but I hear it has a much stronger flavour than the filtered type, but it also has a shorter shelf life. If anyone can tell me more about it that would be great, as there was no label on the gorgeous stoppered bottle. Should I filter out the sludge at the bottom or just leave it there?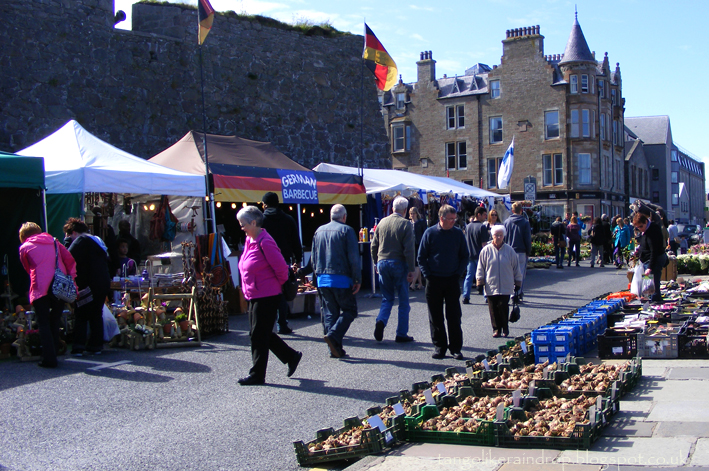 There were plenty of non-food stalls at the market as well, but I am afraid I didn't pay any attention to these ones (apologies to those stall owners). I was just there for the food!
I returned from my market adventure with a canvas bag filled to the brim with continental delicacies. Our dinner of slow-cooked Moroccan inspired Shetland lamb was served with couscous, a range of kalamata, pimento-, garlic- and cheese-stuffed olives, sun dried tomatoes, olive bread dipped in balsamic cream with white truffles and thick slabs of exotic straw-covered cheese. For dessert we shared a range of Italian biscuits (the ground pistachio and almond paste one with the vibrant green centre was my favourite), a delicious honey-dripping selection of baklava, nougat brimming with berries and a pastel collection of gorgeous Turkish Delights (the children loved these the best).
All in all it was one of the best afternoon trips to town I've ever had. I don't want the continental market to ever leave!