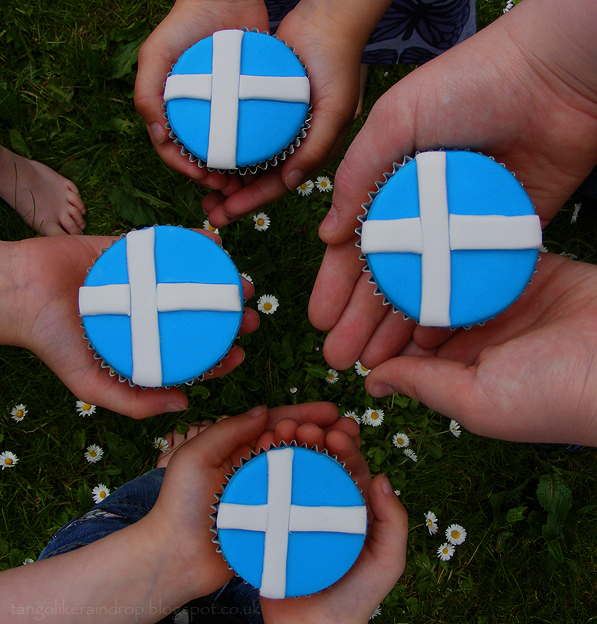 The 21st of June is Shetland Flag Day. Designed in 1969 to commemorate the 500th anniversary of the transfer of Shetland from Norway to Scotland the Shetland Flag was not officially recognised until 2005 by the heraldic authority in Scotland. In 2007 Midsummer Day was adopted as Shetland Flag Day.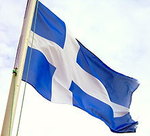 Image from Wikipedia
We see many Shetland flags around the islands now as the flag, incorporating a Nordic cross, is now an established and recognised symbol of Shetland's identity.
Unfortunately, our family Shetland flag has long since disappeared into the dark recesses of a child's bedroom so to honour Shetland Flag Day I made fairy cakes with Shetland ingredients and topped them with sugar paste Shetland Flags. The children loved them. 🙂
What are you doing to celebrate Shetland Flag Day?
Shetland Flag Fairy Cakes
Lemon fairy cakes with a touch of Shetland seaweed topped with a sugar paste Shetland Flag in honour of Shetland Flag Day: 21 June
Ingredients
125 grams Shetland Dairy butter
125 grams caster sugar
2 large Shetland hens eggs
125 grams self-raising flour
1/2 tsp lemon extract
2-3 tbsp Shetland Dairy milk
1 tsp Shetland seaweed sprinkle *note: this company is no longer trading
6 heaped tsp homemade lemon curd
250 grams blue sugar paste
50 grams white sugar paste
Instructions
1. Preheat oven to 200 C and line a 12-hole muffin tin with paper cases.
2. Place butter, sugar, eggs, flour, lemon extract and seaweed in a food processor and blitz until well combined.
3. Add enough milk to form a soft consistency.
4. Spoon into the paper cases and bake for 15 minutes, until golden.
5. Transfer to a wire rack to cool while you make the toppers.
6. Roll out blue sugar paste on a surface sprinkled with icing sugar until 4 mm thick.
7. Using a drinking glass the width of the size of your paper cases, cut out 12 circles.
8. Roll out the white sugar paste and cut into 1 cm long strips.
9. Cut strips into the width of your circles and stick to the blue sugar paste with a finger dipped in a little water.
10. Cut the tops off the fairy cakes if they've risen too much and spread 1/2 tsp lemon curd on the top of each.
11. Place the sugar paste flags on the top of the fairy cakes and serve!
Details
Prep time: Cook time: Total time: Yield: 12 fairy cakes