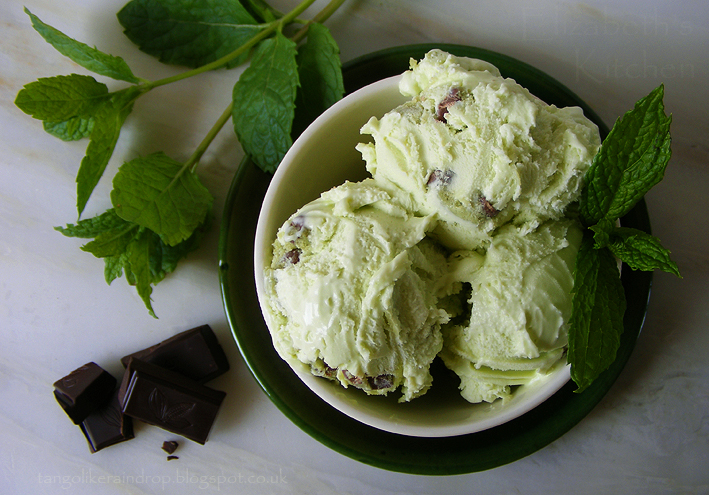 Following on from my confession in the Rhubarb Ripple Ice Cream with Hazelnut Oat Clusters blog post, my love of all things ice cream and cookie continues to be strong. But who says the cookies have to be cooked? Everyone loves cookie dough, no? When I found a recipe for a simple 5 minute mint chocolate chip cookie dough dip via Pinterest I was intrigued (and slightly aghast at the thought of eating all that cookie dough dip in one sitting) but an idea took form.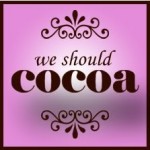 The We Should Cocoa food bloggers challenge is co-hosted by Choclette at Chocolate Log Blog and Chele from Chocolate Teapot and challenges us to share our recipes combining chocolate and a specified ingredient each month. This month Victoria Lee at A Kick at the Pantry Door is guest hosting and she's chosen the wonderful flavour combination of chocolate and mint.
Kavey's Bloggers Scream for Ice Cream food blogging challenge over at Kavey Eats asks us to make an ice cream involving a special ingredient. This month it is herbs. My first plan was a green tea and Shetland seaweed ice cream, which I do intend on developing once I can source Matcha powder, but in the meantime, mint will do!
I was desperate to try the cookie dough dip recipe and I thought I would combine both blogging challenges with the dip to make a mint chocolate chip cookie dough ice cream.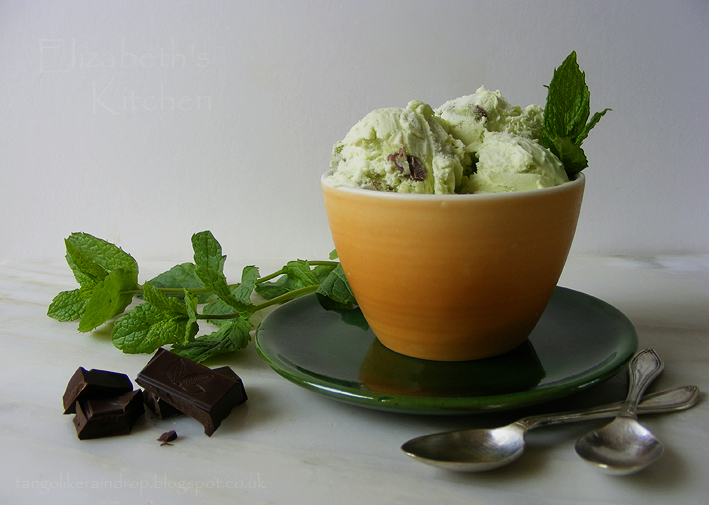 Oh I'm so glad I did! I'm not sure my hips and thighs will be as forgiving, but oh my goodness this ice cream is fantastic!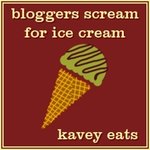 First, the cookie dough: I made the full batch as per the recipe on the original website. It makes a massive batch of cookie dough and I had enough for two lots of ice cream plus two evenings of being a glutton in front of the television (perhaps a little bit was shared with the children, but just a little bit. Sugar is bad for their teeth you know). I've scaled down the original cookie dough recipe to make just enough for this ice cream recipe.
I've also provided two different ice cream bases, not because I'm trying to be really helpful for those of you who either a) don't own an ice cream machine or b) are madly in love with condensed milk ice creams. It was because of c) I underestimated the amount of custard base I would need and ended up making far too little, meaning I didn't have enough time before tea time to make another custard base to chill and had to come up with another ice cream recipe and quickly or some of our family of five would be going without pudding that evening.
So, to correct my error I made two lots of ice cream: the first was a custard based one where milk is heated and poured while whisking over creamed egg yolks and sugar and then mixed with double cream when cooled. This version requires churning in an ice cream machine. The cookie dough is then folded into the soft scoop ice cream and left to harden in the freezer.  The second version involves a lot less work and makes a deliciously chewy creamy ice cream. Sweetened condensed milk and double cream are whisked together until thickened and then popped straight into the freezer after adding the cookie dough.
Both ice creams are lovely. The custard base one tastes like a sophisticated grown-up ice cream while the condensed milk one makes me feel like a small child again. It makes a perfect ice cream cone scoopable ice cream.
Ice cream is certainly a seasonal food, so I am submitting my recipe to a new food blogging challenge: Four Seasons Food Challenge by Louisa at Chez Foti and Anneli at Deliceaux. This month we're asked to share picnic food and outdoor nibbles.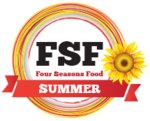 Four Seasons Food hosted by Delicieux and
Chezfoti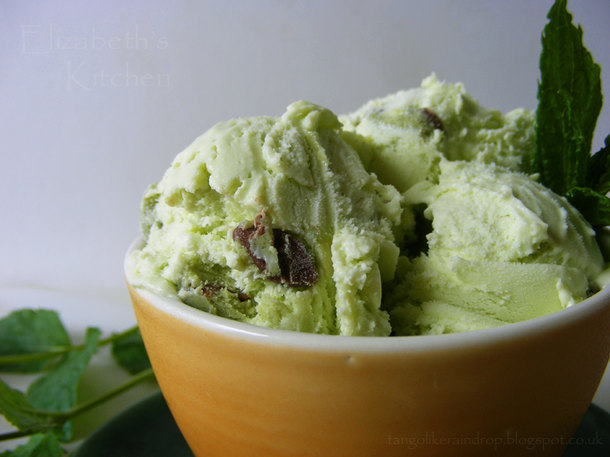 Mint Chocolate Chip Cookie Dough Ice Cream
Chunks of mint chocolate chip cookie dough suspended in a creamy mint ice cream. Take your pick – a  traditional custard base or go for a more indulgent condensed milk base!
Ingredients
Mint Chocolate Chip Cookie Dough
30 grams unsalted butter
15 grams soft light brown sugar
15 grams granulated sugar
1/2 tsp peppermint extract
1/8 tsp vanilla extract
pinch salt
40 grams plain flour
1 1/2 tsp double cream
50 grams plain chocolate chips
a few drops natural green food colouring
Custard Base
4 egg yolks
100 grams caster sugar
300 ml full fat milk
300 ml double cream
1 tsp peppermint extract
a few drops natural green food colouring
Condensed Milk Base
397 gram tin sweetened condensed milk
400 ml double cream
1 tsp peppermint extract
a few drops natural green food colouring
Instructions
For the Cookie Dough
1. Cream butter and sugars together until light and creamy.
2. Add peppermint, vanilla and salt and mix well.
3. Gradually add the flour followed by the cream and a few drops of green food colouring.
4. Stir in the chocolate chips and combine well.
5. Leave to chill in the refrigerator for at least an hour, until the dough solidifies and you can break pieces off.
For the Custard Base
1. Pour the milk into a saucepan and slowly bring to the boiling point.
2. Whisk egg yolks and sugar together in a bowl until light and creamy.
3. While whisking, pour the hot milk over the egg mixture.
4. Return the mixture to the pan and heat, stirring constantly, until the mixture forms a film over the back of a wooden spoon. When you can draw your finger through the mixture and it stays clear it is ready. Do not boil or it will separate.
5. Remove pan from heat and leave to cool.
6. When cooled, stir in the double cream and vanilla.
7. Leave to chill for several hours and then churn in an ice cream machine.
8. While the ice cream is churning add a few drops of natural green food colouring and break the cookie dough into small pieces.
9. Transfer the ice cream into a freezer proof container and fold in the cookie dough.
10. Leave to harden for at least two hours.
For the Condensed Milk Base
1. Mix condensed milk, double cream and a few drops of natural green food colouring together in a large bowl.
2. Whisk until thickened and then fold in the cookie dough chunks.
3. Spoon into a freezer proof container and leave to freeze for at least six hours, preferably overnight.
Details
Prep time: Cook time: Total time: Yield: Serves 6